A few months ago, the jewellery department of Christie's Paris underwent a change of face with the arrival of the sparkling Violaine d'Astorg at its head. After a long experience as director of jewellery at Osenat in Fontainebleau, she took over the management of one of the most highly regarded jewellery departments in Paris with one objective: to continue its development in order to make the house's sales even more unforgettable. With a first very nice appointment, the jewellery sale of December 4, 2018. With this in mind, we wanted to meet the new Director of Jewellery of the house, as well as François Curiel, President of Europe and Asia, to talk about their respective careers, the place of Paris in the jewellery market, how to put together a catalogue, and also the December sale, where Boivin and Belperron's signatures will shine through thanks to numerous rare pieces.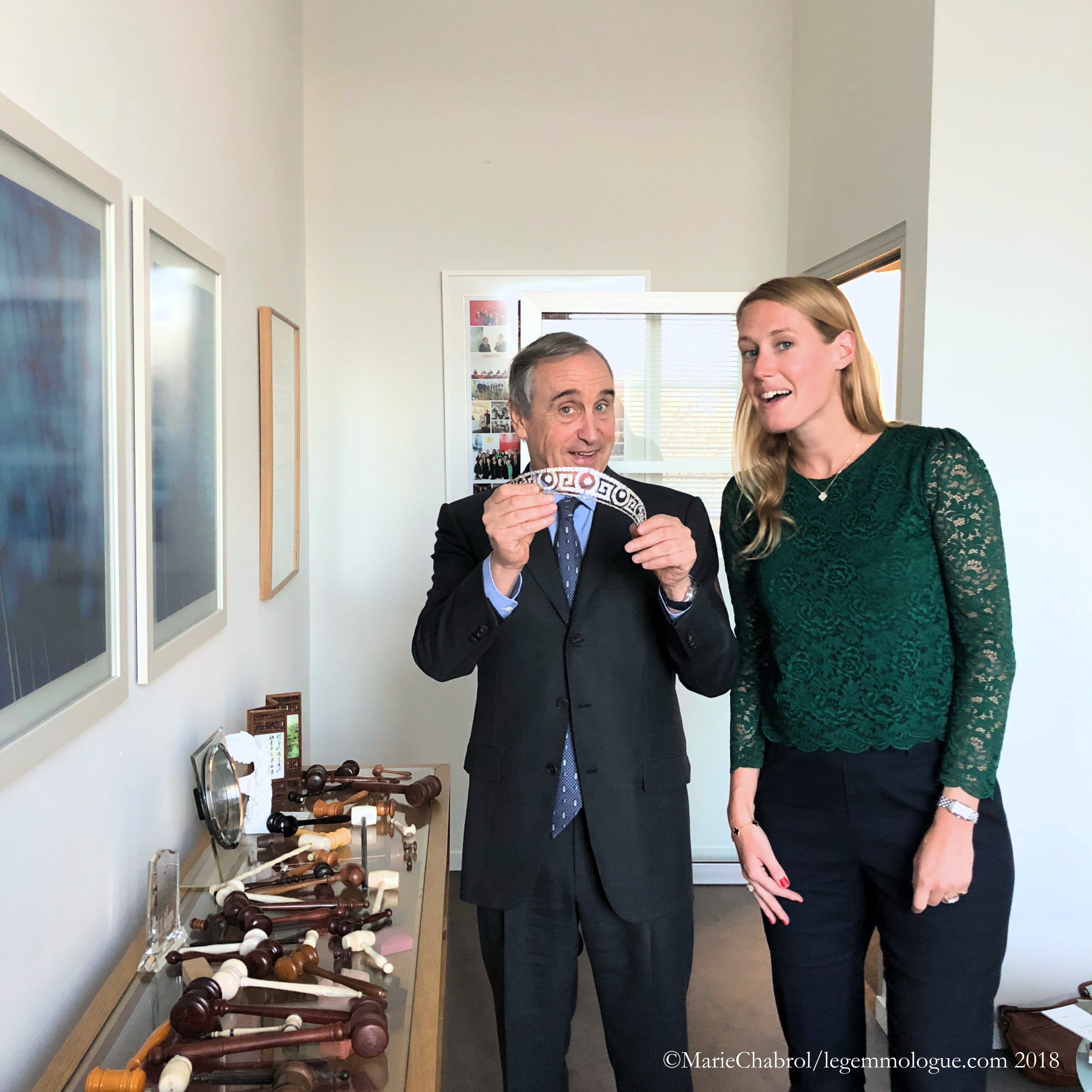 François Curiel and Violaine d'Astorg. In the hands of François Curiel, the Bapst & fils tiara estimated at €150,000 to €200,000. Photo : Marie Chabrol
1- Before starting this interview, we wanted to give our readers an idea of Paris' place in the jewellery market. The French capital remains a place of choice even if Geneva remains the reference city for jewellery in Europe. How can this be explained?
François Curiel (F.C.) the place of Paris in the jewellery market can be explained by the presence of the great houses and the French jewellery tradition. It is therefore normal to organise important sales there. Nevertheless, its position remains less important than that of Geneva or New York, mainly for tax reasons which can sometimes slow down the appetite of international buyers.
In Europe, Geneva is the major centre; for obvious tax reasons. The first sale took place in May 1969. I'd like to say that it was for strategic reasons, but in reality it was a fluke that propelled this city into the international jewellery spotlight. Peter Chance had managed to secure the sale of the collection of Nina Dyer, who had taken her own life in Paris a few months earlier. The choice of the French capital was impossible because of a very old law from 1556 that prohibited sales by bodies other than the SVVs that we knew until the opening of the market in the early 2000s and the arrival of operators such as Christie's. London was also impossible because of a 20% customs duty on jewellery imports. So we thought of Switzerland. Initially Zurich, but in the end Geneva was renowned for its pleasant living environment. So that was our choice! All the more so as the great jewellers had already chosen this city for a long time.
This delighted the buyers and sellers who started to send in potential lots. But the catalogue was full. Fifty years later, we still hold our two major annual sales here in November and May.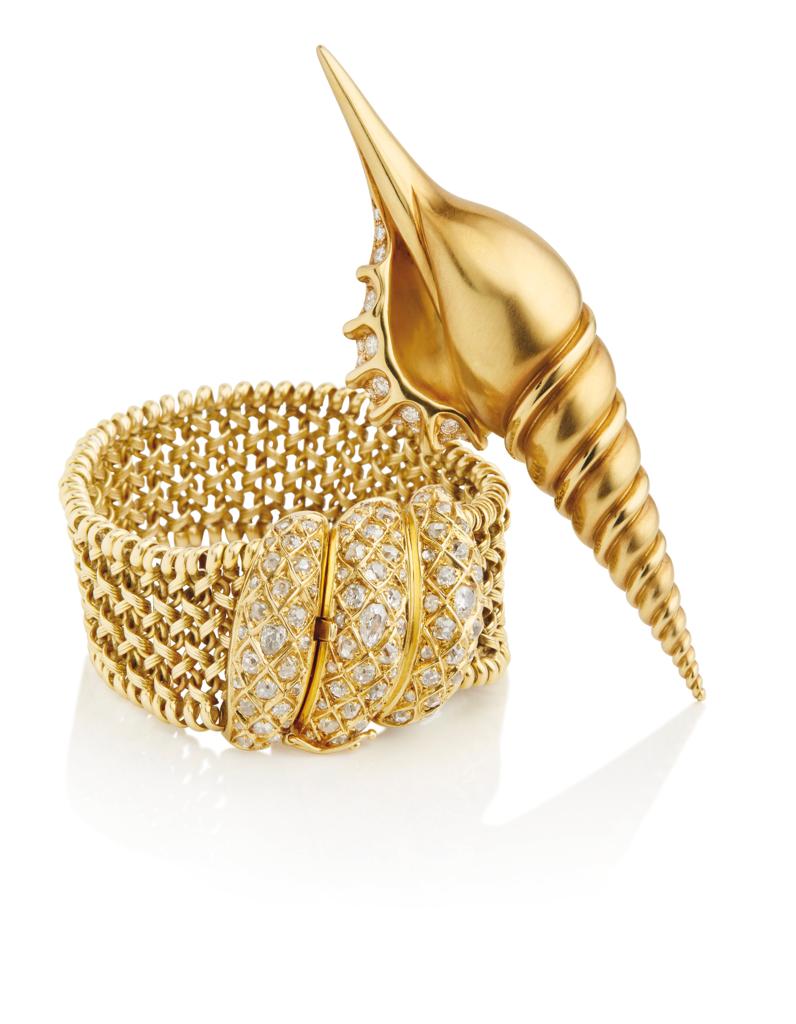 Lots 199 and 201 are particularly representative of the fine René Boivin pieces that will feature in the December 4, 2018 sale. The respective estimates are €10,000-15,000 for the bracelet and €10,000-12,000 for the brooch. Photo: Christie's
2- How did you get into the jewellery business?
F.C. when I was a child, jewellery was not my first passion. However, my father was a jewellery dealer in the Drouot district, but there was little or no talk of jewellery at home. He knew the boss of Christie's. And here I was in June 1969, doing an internship in London to fill my holidays during my law studies. A few days before the end of my internship, an assistant to an assistant…etc. left the department. And I was offered to stay. You know, in those days the jewellery department was very small and there was no HR department. Today it would be unthinkable. So I called my parents, explained that I was hired if I wanted to. My mother would have liked me to finish law school, but I still had three years left to study. So that was impossible. I had to make a choice. I didn't like law that much and I stayed at Christie's. I've been there for 49 years now!
Violaine d'Astorg (V.A.) violaine d'Astorg (V.A.): I fell into this sector during my studies of law and art history. I had a grandfather who loved his grandchildren very much and who considered us specialists according to our studies. When he knew that I wanted to work in auctions, he took me to the vault one day to show me some jewellery that he wanted to sell. I knew absolutely nothing about these pieces and it was a real discovery. So I set out to understand his jewellery and to get an estimate. But you go to ten dealers and you get ten radically different prices. So I tried to understand the market better, I started to get interested in the important players in the market and one thing led to another and the jewellery never left me. First as an intern at Tajan, then I joined Osenat where I set up the jewellery department. And today at Christie's Paris since April 2018.
3- This question is mainly for you, François Curiel. What was the turning point for you in the public's interest in jewellery?
F.C.: The sale of the Duchess of Windsor was clearly a radical event in auction sales. But I would say that a turning point had already been reached a little earlier in April 1984 with the Florence Gould sale. Up until then, jewellery sales had been between $1 million and $1.5 million. This sale was an evening sale, the first for jewellery, and it was held at the Delmonico Hotel. It was a "black tie" sale, which had never been done before because the evening was reserved for painting sales. We announced the sale, we communicated in a very important way and two days before we received a letter from the NY consumer protection service which gave the approval for the sales. And they tell us that we have to cancel the sale because the jewellery sales can only take place when there is daylight, because people have to be able to see for sure if the diamonds are real. This was an old law from 1820. We asked for an exception, we got it, and Christie's promised to reimburse in case of disputes. We made 7 million dollars. For me, it was this sale that started something in the interest of buyers in the provenance of a jewel. And then three years later, the Duchess' sale broke all records at Sotheby's with $50 million. The world of jewellery auctions had changed!
Lots 55 and 56 are among the most beautiful lots in the sale. Number 55 is a brooch in platinum and gold, diamonds, amethyst, rubies. It is estimated at €6000 to €8000. Lot 56 is a very fine example by René Boivin circa 1930 in gold and diamonds. Estimate between €15,000 and €20,000. Photo: Christie's
4- How is the catalogue put together at Christie's?
V.A.: In a house like Christie's, there are identities for each sale. In the case of Paris, which is now the department I'm in charge of, I already think of Parisian design, the flagship signatures of Place Vendôme. Boivin and Belperron are now part of the names intimately linked to our department. We are going to work with French families who are custodians of remarkable jewels. Like the tiara that will be sold on 4 December from the Bapst house. We also work a lot on the notion of French heritage and culture. But the very important stones and the extremely prestigious jewels will go to Geneva. Our guiding principle is really to obtain the best price for our client. So we don't hesitate to export. A Parisian catalogue is mainly composed of European sellers. But French VAT makes it almost impossible to convince an American or Asian seller. That said, for December, we have almost 30% of the catalogue that is not French. This is very high and it's a good surprise. This is proof that Paris is still an important selling place and that buyers outside France trust us to sell their jewellery here. As we said, the aura of Paris is extremely important.
F.C. i would like to follow up on what Violaine said. Indeed, you have to bear in mind that jewellery travels. Depending on the pieces and the time of year when they arrive, we will then direct them to the best place to be sold. We also have to take into account the requirements of the sellers. Finally, we must not forget the distribution of the catalogue. You come to Paris but your pieces will be visible in New York, London, Hong Kong, etc. It's a real plus for sellers to know that their jewellery will be seen everywhere. And the internet has changed so much.
5- What about the weight of restorations in an estimate and to what extent can this influence your choice of whether or not to include a piece in the catalogue?
V.A. at Christie's, we advertise all repairs and restorations. But if the main materials are there and in good condition, that is also what will take precedence. For example, a piece of jewellery with a Burmese sapphire. If it has been badly repaired but the stone has not been damaged, the stone will give the estimate. On the other hand, for some pieces, it is absolutely necessary that they are free of any intervention to obtain a certificate of authenticity. This is the case with the René Boivin where Françoise Cailles is particularly fussy about the condition of the pieces. We also rely heavily on the opinions of the experts we work with.
F.C. there are also jewels that we don't take because they have been too much modified. If the object has been transformed too much, it is no longer of any real interest. This is often the case with jewellery with important centres. The stones have been changed. It is therefore necessary to guarantee the Vendôme quality of pieces signed by houses and if this is no longer the case and only a signature remains… It can be complicated to value a jewel.
Lots 63 and 64 are very fine Art Deco jewellery. The first is a gold, diamond, onyx and aquamarine bracelet in a Fouquet case. The estimate is €20,000 to €40,000. The brooch is signed by Raymond Templier and is in gold, rock crystal, enamel and diamonds. Its estimate is €6,000 to €8,000. Photo : Christie's
6- Provenance is now of crucial importance to many buyers. Is the story-telling too important in the valuation of a piece of jewellery?
V.A. at Christie's, it's really the piece before everything else. The provenance is important but you can't lie about the quality of a piece. If the history of the piece is inseparable, it is nonetheless complicated to quantify. This is also what is exciting about our profession, because between the estimate and the hammer blow, there is an unknown world made up of desire and the will of collectors. And between what we think and what happens, we are often extremely surprised and in a very positive way!
F.C.: Provenance is now very much in demand at sales. It plays a role but we let the buyers decide. With us, the estimate is based on the intrinsic value of the piece, the metal and the stones and possibly the signature if it exists. We leave the provenance as it is a factor that cannot be quantified. But we know that it will strongly influence the final price. For example with Elizabeth Taylor's jewellery, it was absolutely incredible.
7- What is the role of auction houses in increasing an artist's price?
V.A. one object always brings another object. When the Boivin and the Belperron started to reappear on the market, we saw a rise in the number of pieces of this type available. On the other hand, the estimate is always fair in relation to the material, the signature, and the latest sales results. Then the enthusiasm of the buyers is not decided. We are there to do the maximum for our clients, our role is to carry the pieces and to take them to the maximum of what we can do. So we are readers of the market, actors as well because we build sales and then spectators at the moment of the hammer blow. Of course, we have a certain amount of control, but we are nevertheless spectators of the results and of a possible surge in bids.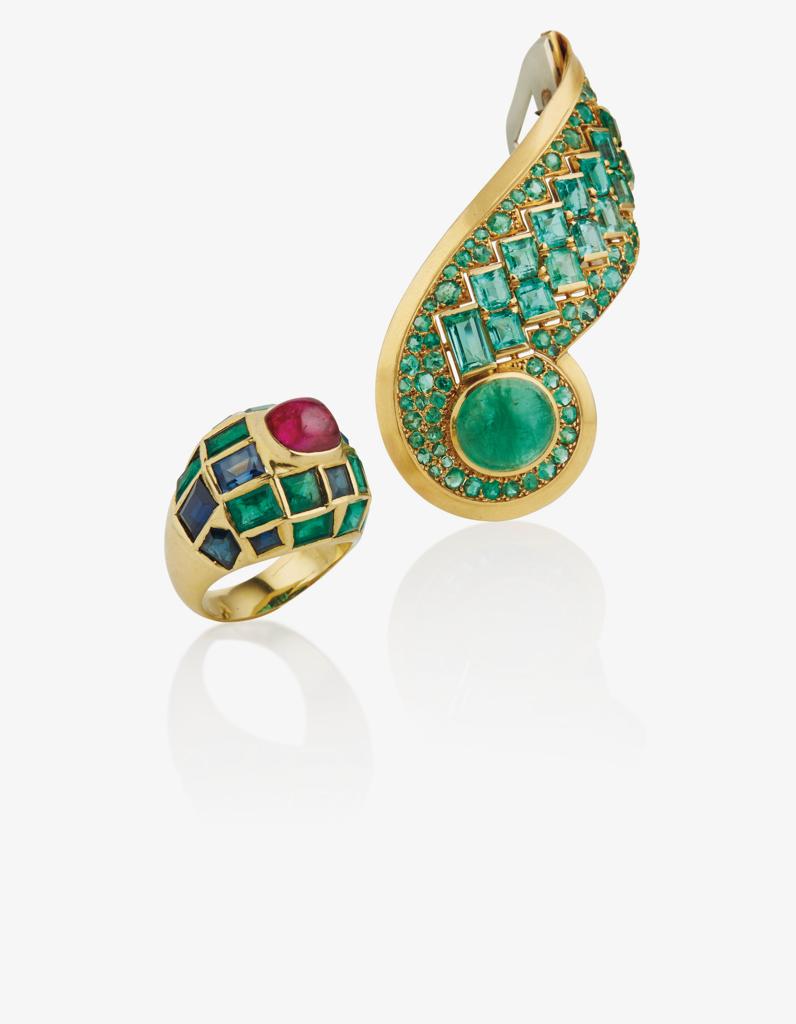 Lots 251 and 252 show how important colour was to René Boivin and Suzanne Belperron. The gold, ruby, sapphire and emerald ring (Belperron) is estimated at €15,000-20,000. The Boivin gold and emerald brooch is estimated at €20,000 to €30,000. Photo: Christie's
8- What is your best memory of a sale?
F.C.: The best, I think, is the Elizabeth Taylor sale. When I was asked what I would like to appraise, I often said the Queen of England's pieces, but I don't think that's going to happen, and then the Mrs Taylor pieces. And then, one day, we were called to see her coins. So, in 2002, I was asked to go and do an inventory of the pieces for her insurance. I went to Los Angeles because we had to update her jewellery lists. So we went to his house, we start working at 9 o'clock in the morning and then around 11 o'clock I heard a noise on the first floor of the house. In the room we were in, there was a big American-style staircase, unbelievable, and there she was coming down dressed in a majestic caftan. She sat next to us all day and commented on her jewellery. She knew them by heart: "This is a cashmere, it looks like Ceylon, but I have the SSEF certificate"… She started talking about her jewellery because she loved it so much. Then she took out some Art Deco pieces signed by Yard, and suddenly she said: "I'm going to show you some pieces from a jeweller you probably don't know" and she brings a piece from JAR. She added: "He's an American who lives in Paris, he's next to the Place Vendôme in a tiny office and he's amazing. My day with Elizabeth Taylor is still my fondest memory.
V.A. i loved the power of history over the plays. We were matching what we were saying about provenance. The memory of Napoleon's engagement ring remains engraved in my memory. When we received this ring with this sapphire and diamond at Osenat, we made an estimate of between 10,000 and 15,000€. And the piece went for €900,000 with expenses. And there is a phenomenon during the sale. It was not the material that we sold but clearly the story. That's the power of auctions.
See you soon!