In the summer of 2015, the Mad Lords concept store opened in Paris. This singular place, radically different from all jewellery boutiques, was founded by Serge and Caroline Muller. For almost four years now, this boutique has been distilling with talent its eclectic style and a successful selection of international designers. Regularly, festive events are organised here, ranging from the presentation of designers such as Beth Bugdaycay(Foundrea) or Salama Khalfan Fine Jewellery, to parties bringing together the cream of the Parisian indie scene, such as Joe Starr or more recently Melvil and Yarol Poupaud. A meeting with its founder Serge Muller, whose astonishing background explains the choices made by this enthusiastic House of Jewelry.
In the Mad Lords boutique in the rue Saint-Honoré. Photo: Mad Lords
Serge and Caroline Muller. Photo: Stéphane de Bourgies for Mad Lords
Before being a jewellery talent scout, Serge Muller is first and foremost a talented financier with a degree in law and finance from the University of Dauphine, but describes himself as"a true creative stooge". Born into a family of artists with Hungarian roots, Serge grew up with a father who was an art photographer close to Willy Ronis but also inspired by his painter uncle Lazar Berson who founded the Ben Uri Gallery now part of the London Jewish Museum of Art. As a teenager, he saw himself in"law, theatre or finance". "Good at mathematics and hard working, he was interested in finance for what it could bring to the realization of projects. After his master's degree, his first job was in a consultancy firm, followed by the adventure of the investment bank Exane, of which he was co-founder and partner before selling all his shares when it merged with BNP Paribas. He concludes on this chapter of his life: "I loved finance for its capacity to create. (…) I had a lot of fun in it and it gave me a lot of fulfilment. thirty years of life is no mean feat. Then came the idea of creating this amazing place called Mad Lords….
During the Guitar Players Show on 22 November 2018 in the presence of Yarol Poupaud and Manu Lanvin. Photo: Mad Lords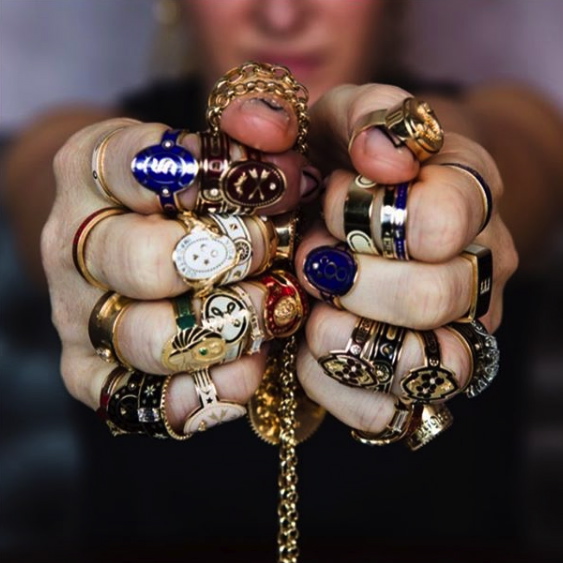 Beth Bugdaycay's jewellery for her house Foundrae can be seen at Mad Lords. Photo: Mad Lords
At the dawn of his life change, Serge Muller imagines the creation of a place that would bring people together. He explained to his wife and partner – Caroline –"that societies are no longer organised as they used to be according to the historical model of social classes. Instead, today's society is made up of 'tribes'. Historically, tribes are identified by various elements, including jewellery and tattoos". Based on this fairly realistic vision of today's societies, which are adopting a more transversal approach, Serge and Caroline are going to imagine a place that breaks the codes of jewellery. And thus return to one of their common passions: jewellery. For Caroline Muller, it is also a professional continuity after many years in the USA and in the marketing departments of major luxury houses such as Ralph Lauren.
The Jacquie Aiche space at Mad Lords. Photo: Mad Lords
The space is located in the former premises of a photographic framing company that saw the greatest photographers such as Cartier-Bresson or a certain Willy Ronis… Here, it is"the love of beauty" that guides Serge and Caroline in their acquisitions and proposals. "Gold, platinum, stones, wood and leather find a perfect setting here. Naturally, a name had to be found for it… Thus was born Mad Lords, whose name is a synthesis of several sources of inspiration. First of all, there is a link with the English poet Lord Byron, who can be defined as a"muse of dandyism and whose father was nicknamed John "Mad" Byron". The French translation of the shop's name should also be looked at: "Mad Lords can be translated as exuberant bourgeois, in the most positive sense that one can give to this adjective. And that's exactly what our customers are. They can buy beautiful jewellery, beautiful signatures, but our pieces have an identity of their own. We are geographically very close to the Place Vendôme and yet so far away. Finally, there are the initials M.L., where the L is"the first letter of the first names" of Serge and Caroline: Lionel and Léonore. And Serge Muller adds"There are three words that define the place: belief because this project and the people behind it are atypical and – therefore – you have to believe in it; passion because Caroline and I spend our lives in this project and we want to communicate this passion we have for jewellery; and finally incarnation, because I sincerely think that an entrepreneurial project has no chance if it is not incarnated and it is for this reason that we do not wish to develop anywhere else than rue Saint-Honoré."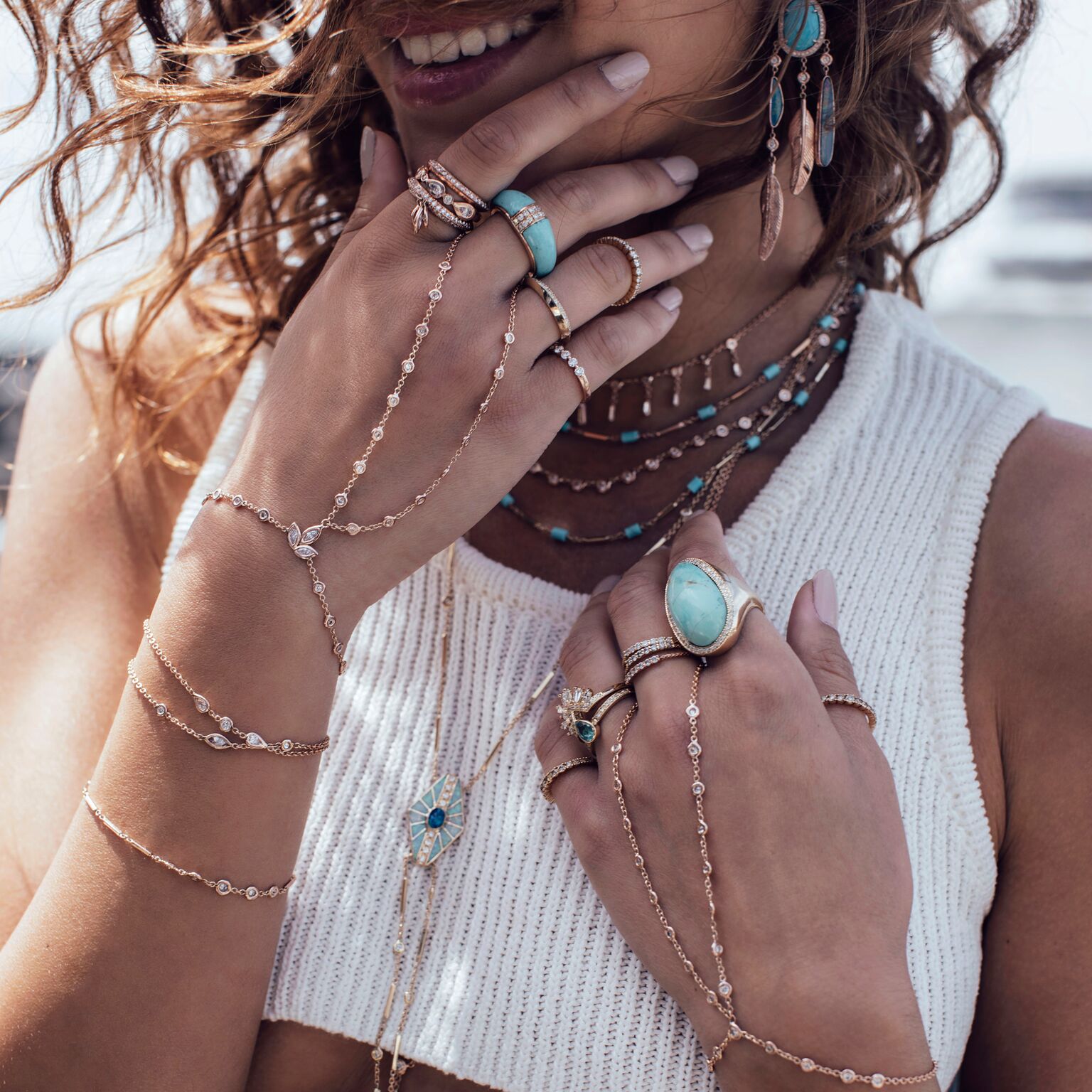 The jewellery of the bohemian and tribal brand Jacquie Aiche. Photo: Mad Lords
Necklace with enamelled gold and diamond medals by Jacquie Aiche. Photo : Mad Lords
And choosing the rue Saint-Honoré is not a coincidence. We needed an"address that embodies the place and I would like this place to become mythical in the world. It's a very ambitious project. Of course, with Caroline we embody this project but we also have a great team with people who complement us and are like us. So when you come to Mad Lords for the first time, you will notice that the place is not visible from the street. This was a strong desire of Serge who"absolutely wanted a hidden place to have time to receive customers in optimal conditions, a bit like if I received people at home". The adventure therefore began with a small flat in this same area and then became the place we know today:"the rue Saint-Honoré corresponded perfectly to the state of mind we wanted to create. We wanted a neighbourhood that was certainly Parisian, but also internationally oriented," adds Serge. The discovery of this former factory was by chance:"My offices on the second floor overlooked the glass roof in which we are currently located.So I found the owner, who was the Fondation d'Auteuil, to which an old lady in the building had bequeathed her property, and things just fell into place.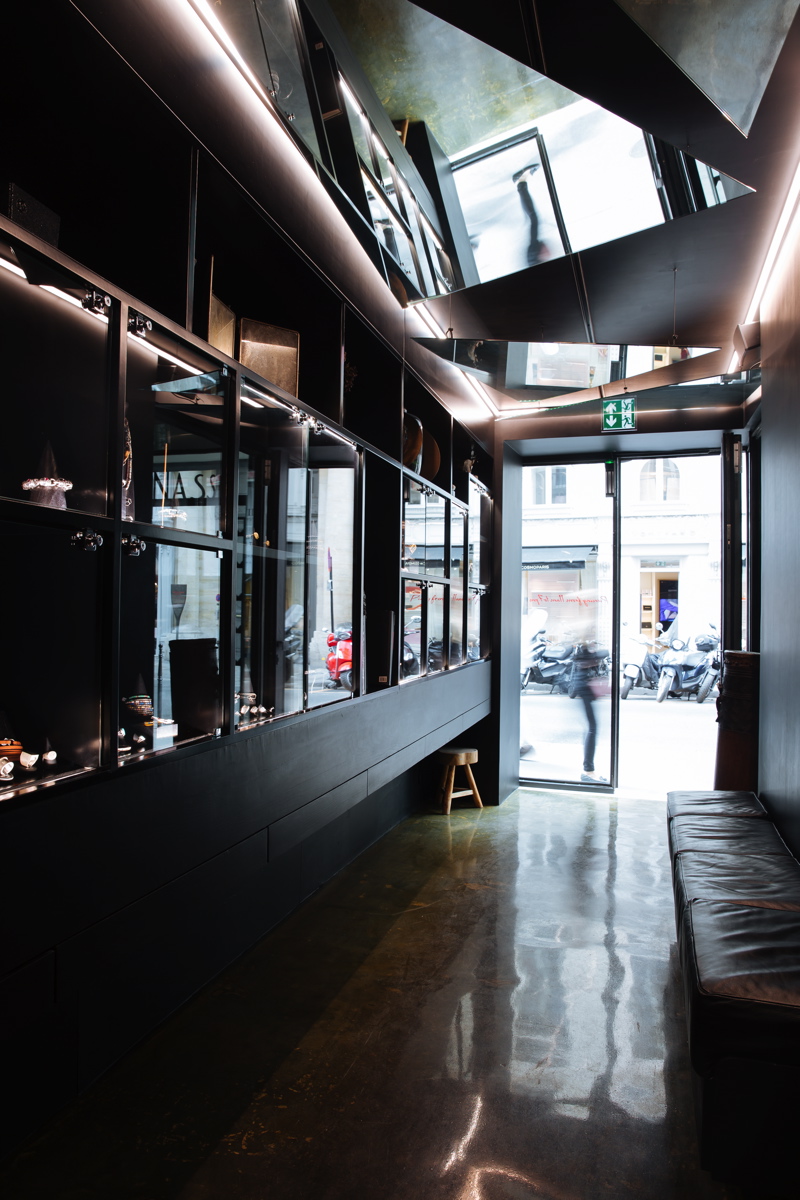 As an appetizer, Mad Lords offers a very small space visible from the Rue Saint-Honoré. Here, it is possible to have your ears pierced and to admire a small panel of the Mad Lords collection. Like a perfect invitation to push the door of N°316… Photo : Mad Lords
The philanthropic aspect that surrounds the discovery of the place"deeply touched" Serge Muller. He himself explained that he is"an active member of his former university" since Valérie Pecresse's LRU law, which authorised universities to have their own foundations. He is one of the three most important patrons and is a member of the board of directors, reminding us of"the importance of this university" in his career:"I feel indebted to this place where I received a high quality education and training that have forged the entrepreneur that I am. When asked if this place is a kind of incubator for creators, Serge acknowledges"that Mad Lords must also serve to help creators who often spend more time creating than communicating". Here, they find a place where their jewels are fully expressed. You will find well-known brands such as Maor Cohen or Jacquie Aiche, but also more discreet houses such as Verger Frères or Sophie d'Agon whose beautiful creations are offered to you in this beautiful setting!
See you soon!
*****
Mad Lords welcomes you at 316 rue Saint-Honoré and also at the Bon Marché, from Monday to Saturday from 11am to 7pm. Enjoy your visit and discoveries!