Arina Pouzoullic's generosity and then her smile are the most important things to remember. Or the other way round, it is you who will decide the day you meet her. It was the chance of links in the world of jewellery that put her on my path or vice versa. And I liked her from the very first second. Joyful, sparkling, full of humour, unconditional lover of jewellery and creator of the digital gallery Second Pétale dedicated to vintage jewellery, it didn't take much for us to get along. So I asked her to take part in the portrait game to introduce her to you. Dear readers, I am taking you to meet a woman who is as discreet as she is amazing. And a woman who knows exactly what she wants.
Arina Pouzoullic. Photo: Simon Martner
Arina has many memories of the Siberia where she was born and the Moscow region where she grew up. Raised by her grandparents as a child, she moved to Moscow at the age of 17. She describes this time as " intense, because there were huge changes in the country ". For the woman who experienced the political upheavals of the early 1990s, " the opening up of capitalism " was an opportunity and a chance to travel and to make the world she dreamed of discovering her own. When it came time to choose a career path, she decided on the Moscow University of Finance. The school – founded in 1919 – is the best in the field and provides the highest quality of training.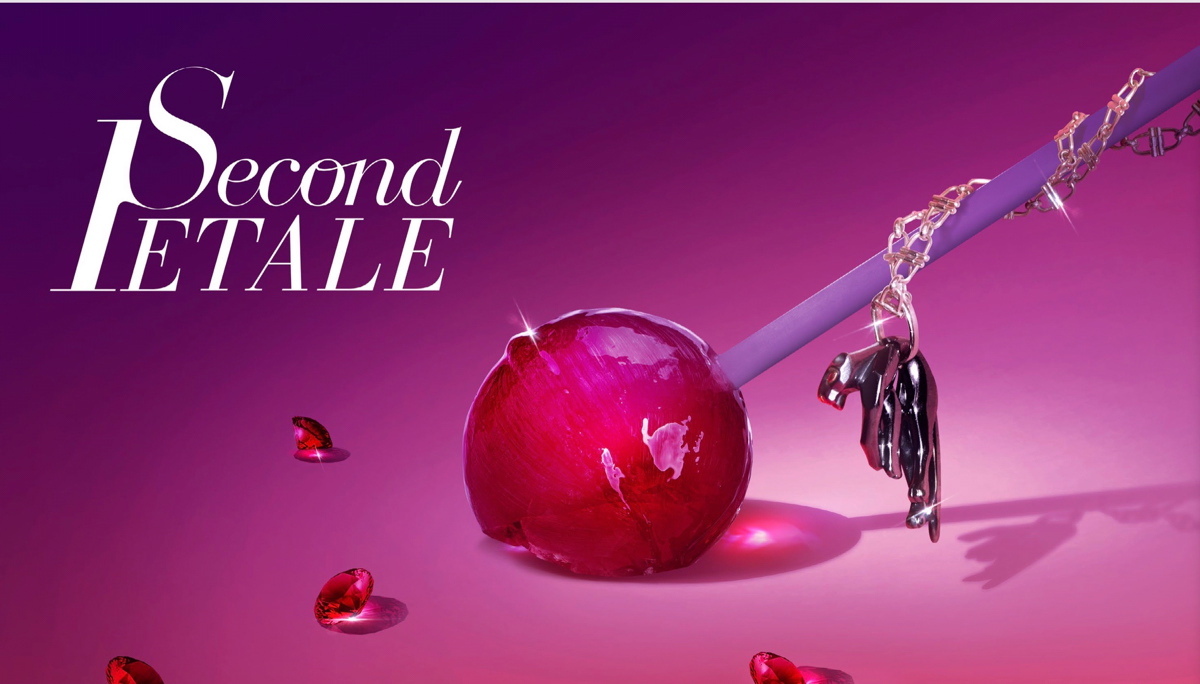 The Second Petale gallery is dedicated to vintage jewellery, such as this gold and silver pendant from Cartier. Photo : Damien Berger
JEAN COCTEAU "Lion" brooch in yellow gold 750, stylized with an openwork lion head and a ruby. Monogrammed. Photo : Yann Kukucka
With the opening of Russia, the country became a playground for companies and investors from all over the world: " I was sure I could find a good job when I left this school and so I was able to work with the first big companies that were setting up in Russia ". This is how she started her professional career in the Accor Group and participated in the establishment of the first Novotel in Moscow. With an additional strength, Arina speaks perfect English that she learned at university, a skill that was rare in the country at the time, and that will make her employer decide to hire her: " For seven days, I went to their offices to meet someone and was always told no. Finally, after a week, they agreed to see me and I got my first job. I was already extremely determined.
Arina Pouzoullic wearing several pieces from her collection. Some of them can be found on her digital gallery. Photo: Simon Martner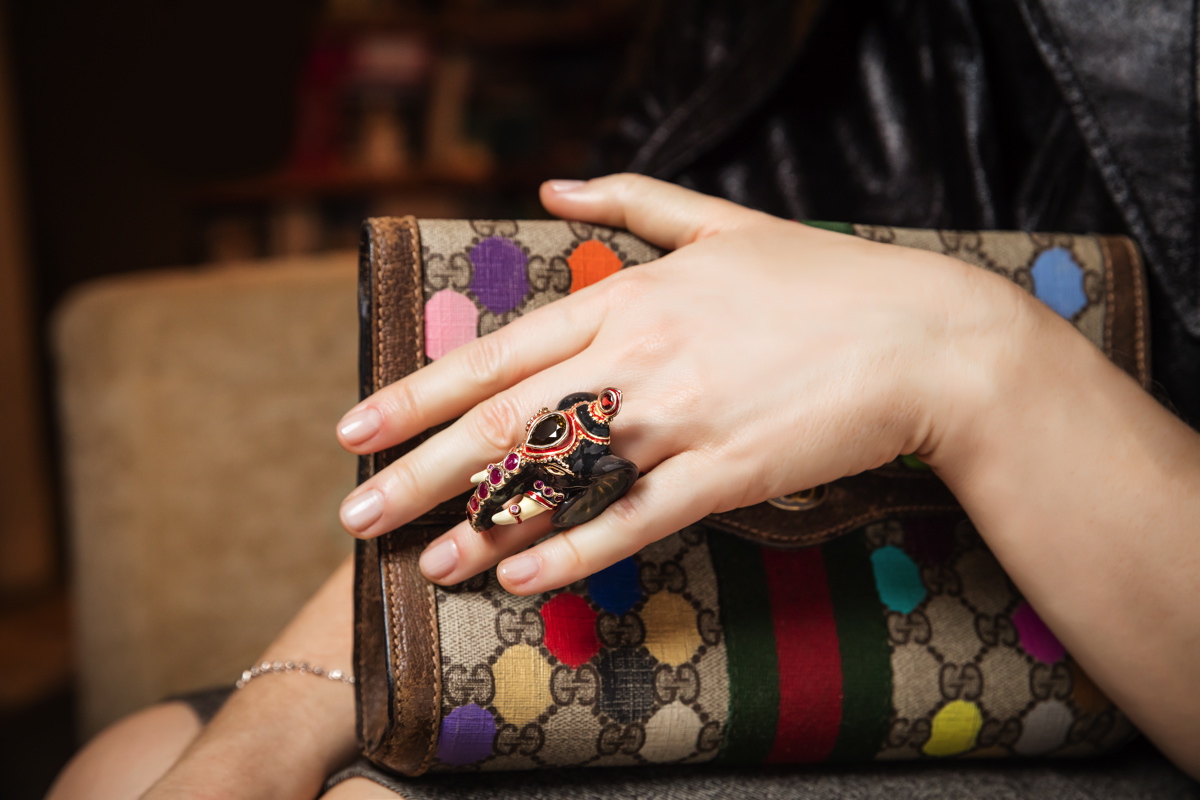 This incredible elephant ring has already found a new owner. And it's easy to see why. Silver ring with an elephant's head, enamelled, decorated with synthetic rubies, the head decorated with a smoky quartz. Photo: Simon Martner
When asked if this self-confidence has always been present, Arina answers in the affirmative, recalling a childhood in which she received much love and consideration from her mother and grandparents. But she also talks about her mother as an extraordinary role model because " she beat the life she wanted ", instilling in her the " value of work and the importance of convictions ". She went on to create the life she wanted. Creative but also with a scientific mind, a city girl and in love with the energy of big cities, she chose finance because it allowed her to understand the world and how it works. She explains that in this field "it's all about balance, almost subtlety ". And this is exactly what will guide her life and her choices, including professional ones.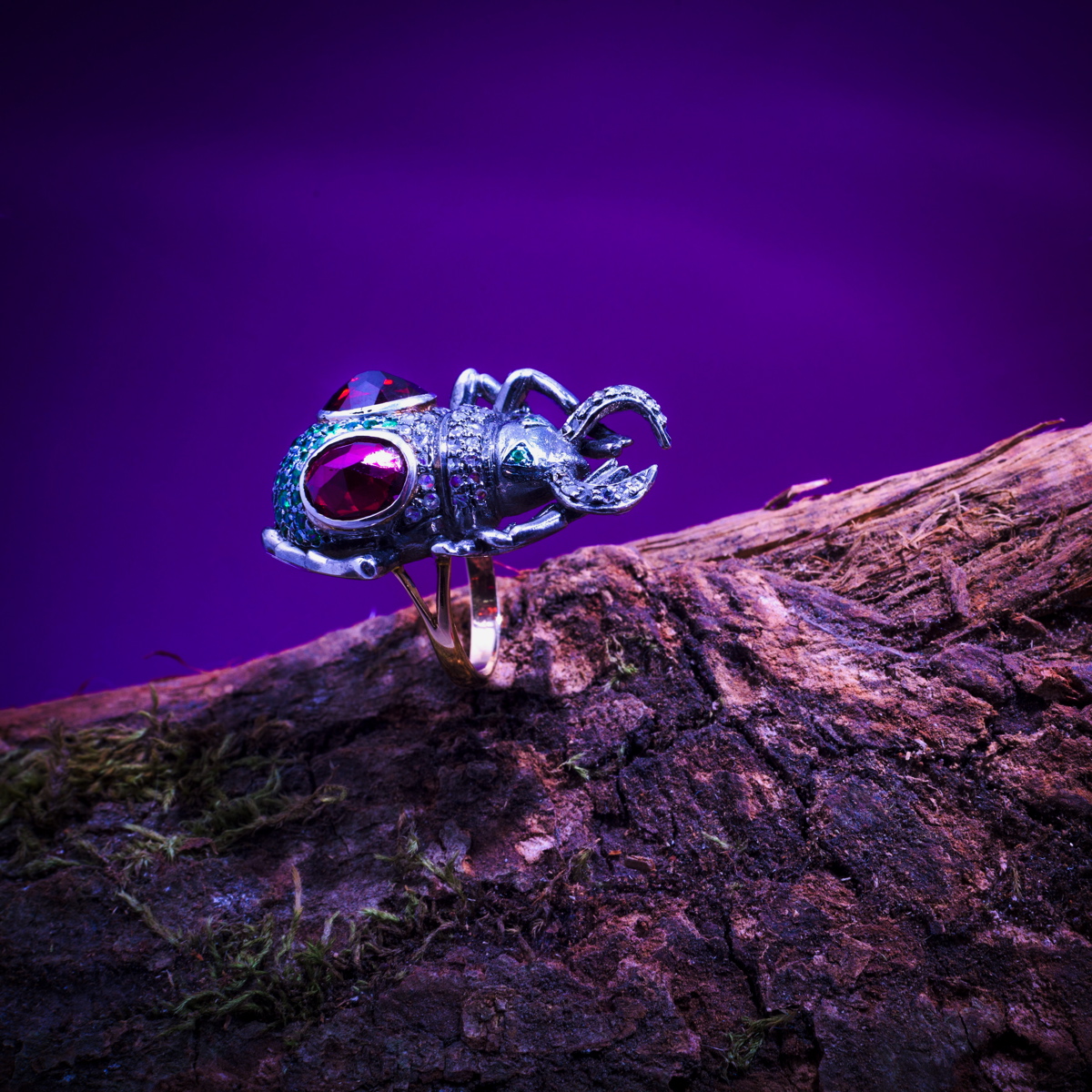 Ring in silver and 585 gold, stylising the beetle, body set with green and red garnets, the head decorated with diamonds. Photo: Yann Kukucka
At the end of her mission for the Accor group, she had the opportunity to join the University of Lyon to study French. For a year, she became fascinated with French culture and learned to love our country, whose links with Russia are well known. On her return to Moscow, she joined one of the country's largest gas groups as a financial director. She then met the man who was to become her husband. Very quickly, she decided to return to France and her employer at the time allowed her to settle in France, from where she never left. She was then in her thirties and France held out its arms to her. Her background and her intimate knowledge of Russian culture opened all the doors for her. She travelled a lot and grew more and more within the gas group that employed her. But after many exciting years, she decided to put her skills to use in an entrepreneurial adventure. And she initiated the project of creating a gallery dedicated to antique and vintage jewellery that she has been collecting since her first job in Russia.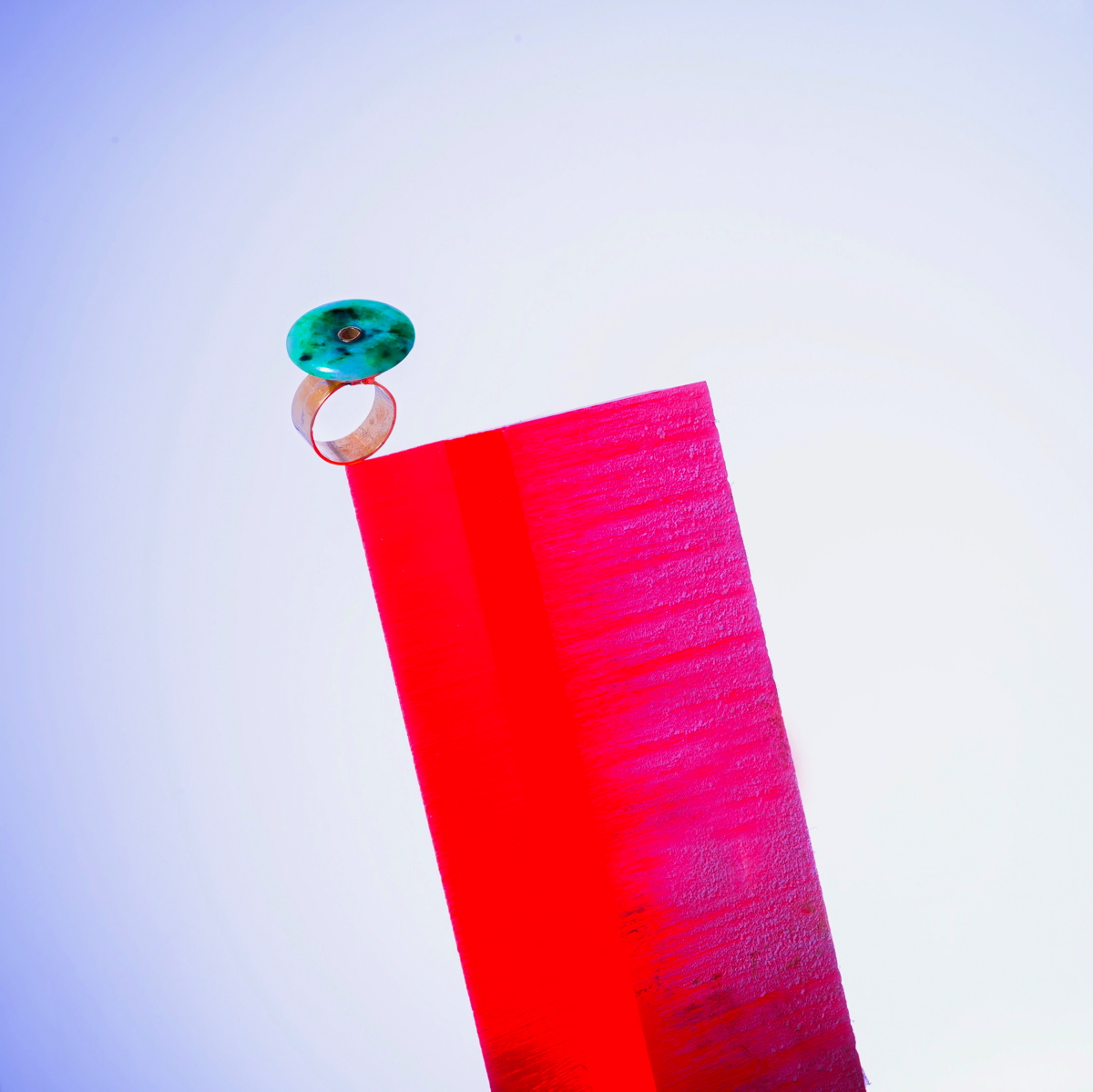 JEAN VENDOME "Ludique" ring in 750 gold, with a mobile jadeite bi. Photo: Yann Kukucka
If jewellery has been part of Arina's world since she was a child, it is thanks to a very specific memory and a habit she developed with her mother when she came to visit her grandparents every weekend: " Every Friday, from the age of 7/8, I waited for my mother at the goal stop. And I was very impatient because I was always looking forward to seeing her. Very soon we got into the habit of going to funfairs, most of which were Czechoslovakian. I often played a game where you had to throw a ball to win something and you could never lose. And the gift was always a little ring with coloured rhinestones. It was an extremely precious moment for me. I had up to a hundred of these little jewels. I would lose some and then gain others. I wore them. They were with me all my childhood ". And that's how she began to love them and how they became, little by little, an integral part of her life.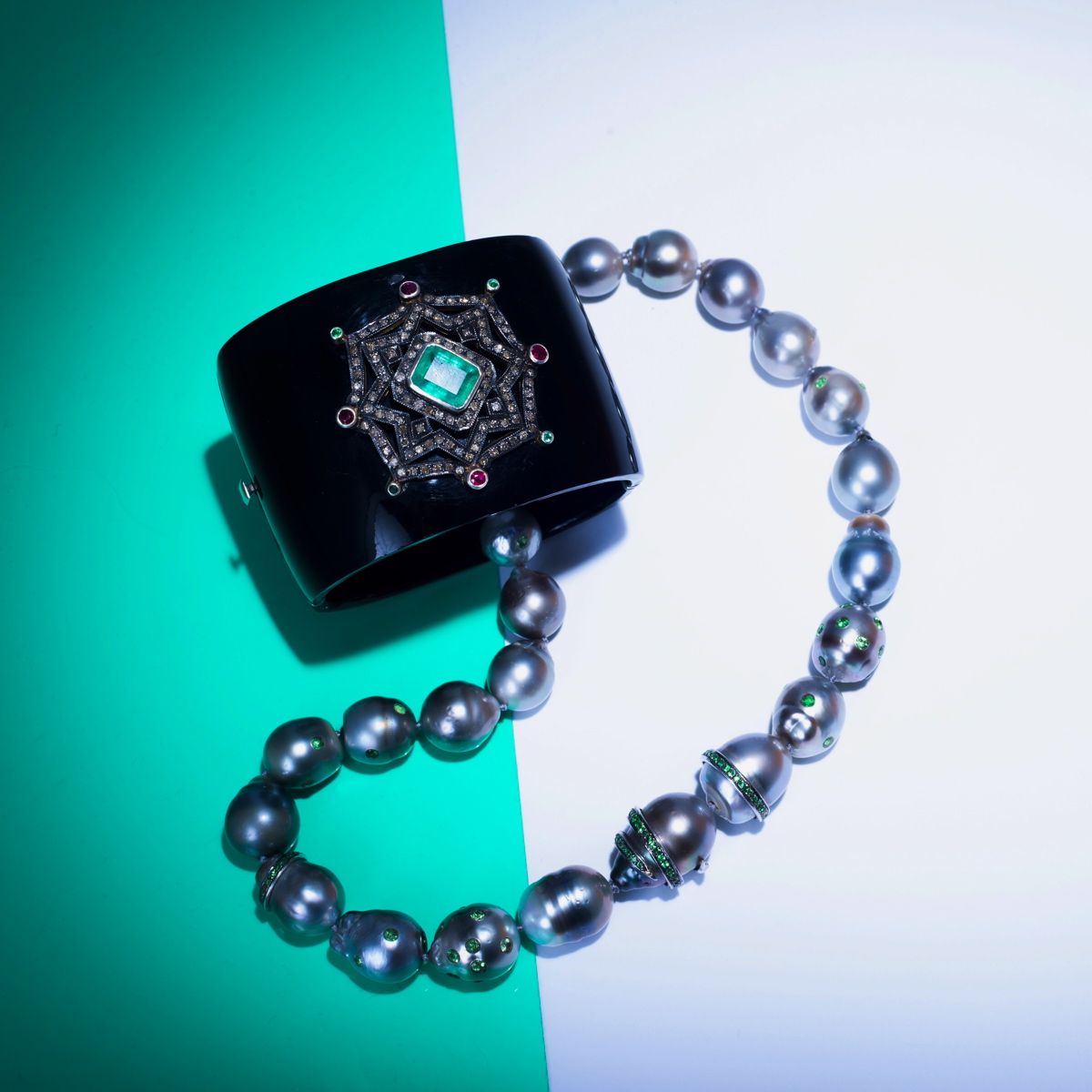 Opening silver cuff bracelet, enamelled, decorated with a silver star motif set with a rectangular emerald and pale brown diamonds, the ends finished with a ruby or emerald. Necklace of 27 Tahitian grey cultured pearls, some set with green peridots and garnets. Photo: Yann Kukucka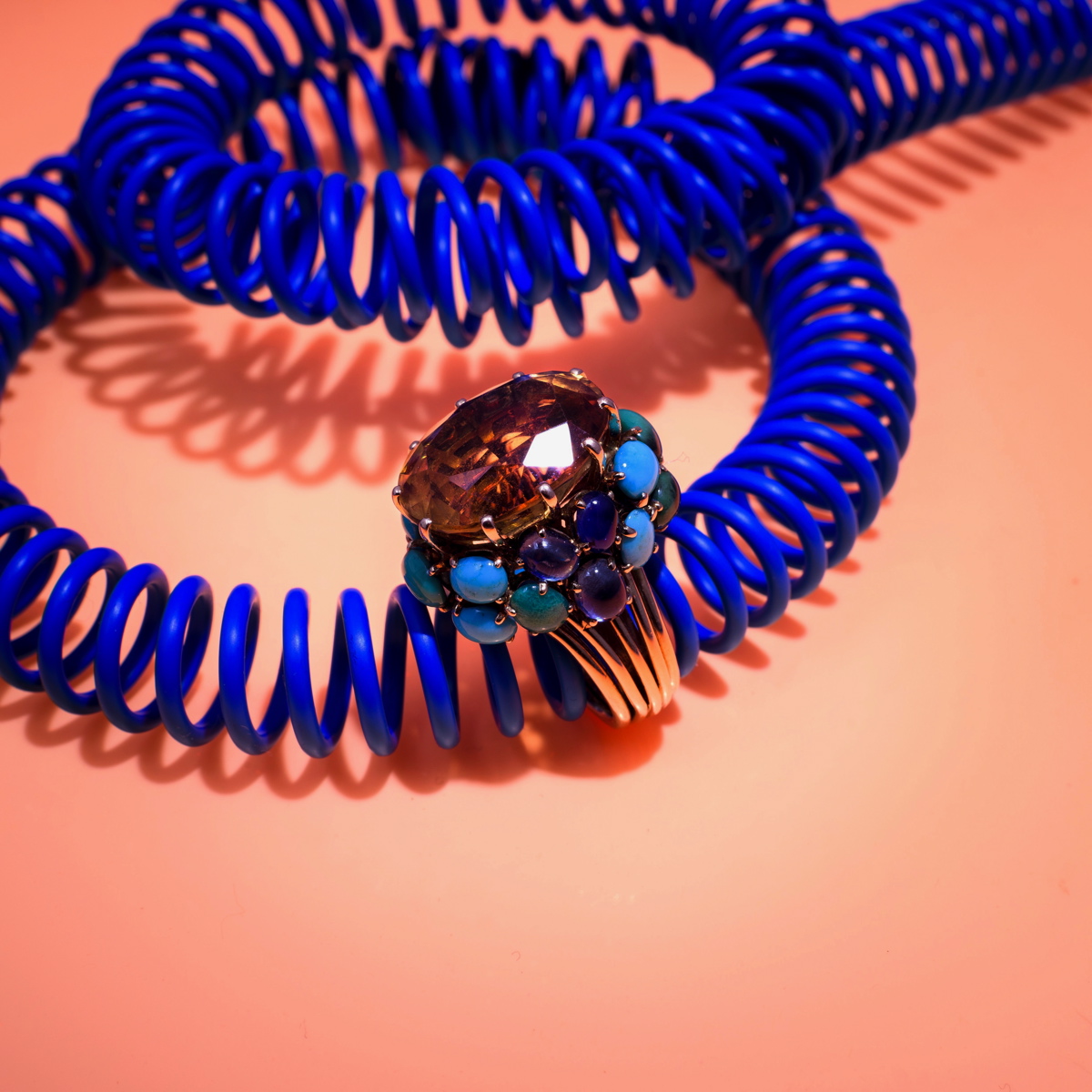 Yellow gold 750 cocktail ring set with an oval citrine highlighted with turquoise and sapphire cabochons. Photo: Yann Kukucka
Jewellery is also an important accessory to an outfit. She describes her mother and grandmother as " women with a lot of style ". When she was 16, her mother gave her her first precious ring, for which she had saved up to make the gift. " I understood the value of such a piece of jewellery and how important it was to my mother," explains Arina. So my first gift, with my first salary, was a gold ring with small diamonds. I will give it to my daughter for her sixteenth birthday. Like a handover. It is this last word that perfectly expresses the starting point of her entrepreneurial adventure. " The jewel embodies something deeply emotional and I like the idea that it remains and that it passes over time to another owner. It's the idea of transmission and it's something beautiful.
Silver ring, covered with green garnets, synthetic ruby eyes. Photo: Yann Kukucka
Second Pétale, Arina Pouzoullic's gallery, was created with a very specific idea in mind: to offer a modern curation of vintage jewellery and to show – even more so – how extremely modern it actually is. In the same way that she has built up a collection that resembles her, she wants to offer her public a different view of jewellery. Her discovery of auctions will open up an incredible world to her. And she will then catch a glimpse of the multitude of pieces that are found on the market. And in these numerous catalogues, of course, are hidden nuggets and treasures: unknown signatures, atypical stones, astonishing and endearing antique jewellery. Ella will then train, sharpen her eye and, above all, wear and mix jewellery to create her own style. " So when I wanted to start my own business, vintage jewellery seemed obvious to me. I wanted to offer different pieces, signed or not, but with a strong identity for women who love life and who are looking for things that cannot be found elsewhere. Also, at Arina, you will find rarer and more confidential jewellery. Far from the classic antique jewellery and the iconic designs of the big houses, be prepared to discover pieces that you will wear because they touch you directly. She will teach you how to mix and match them, giving them an unexpected lightness and a modernity that is sometimes unsuspected.
See you soon!