Fashion weeks are always intense and inspiring moments. Covering them, season after season, is a great source of pleasure despite the fatigue that results. But this "geyser" of creativity is a great barometer of the diversity of what the jewellery industry can bring us. So I always look forward to January and July, and also to March and September, so that I never lose track of this exciting sector.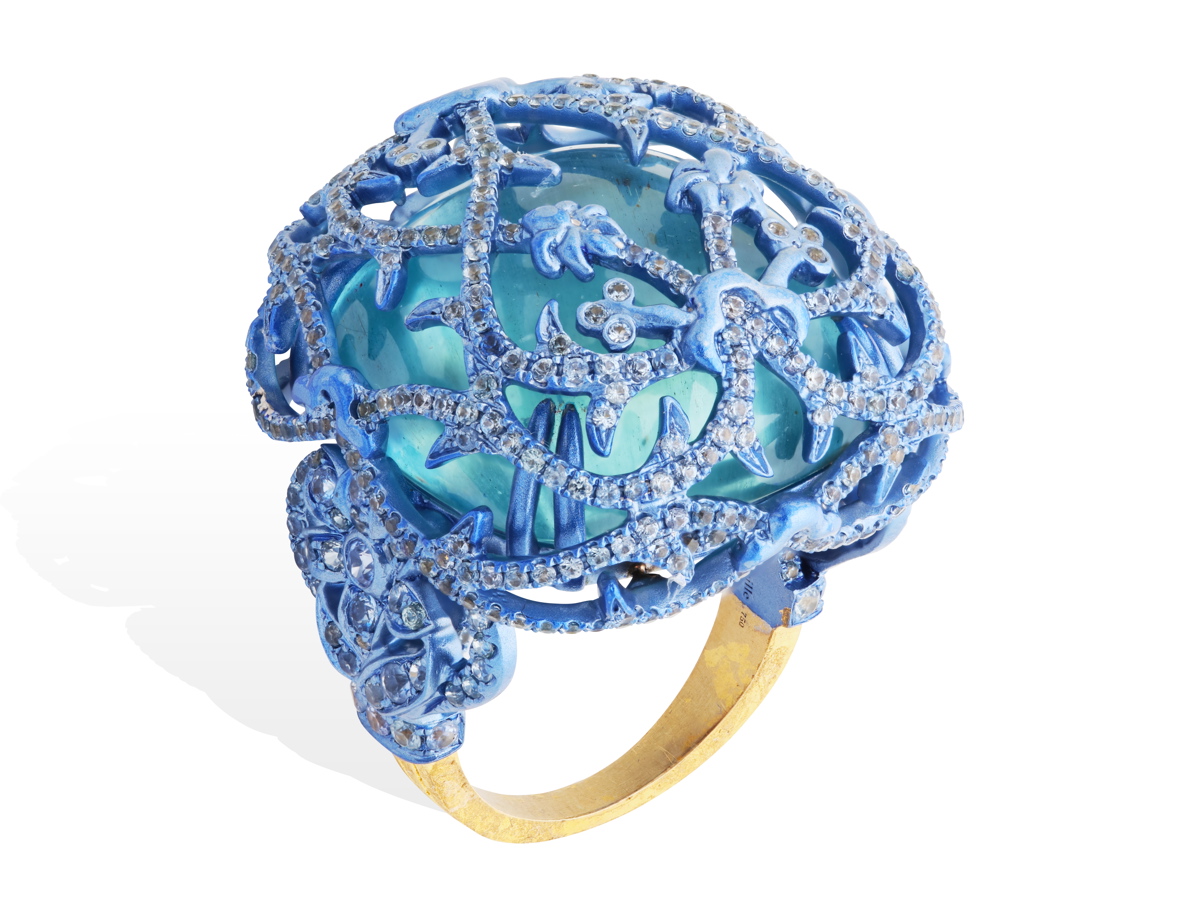 1- I liked many of the models in the new Lydia Courteille collection. The mix of yellow gold and blue titanium works perfectly. Finally, the designer has played with the colours of the sapphires and aquamarines which add really interesting contrasts. We love the cage rings where the stones are beautifully suggested and thus perfectly highlighted. Photo: Lydia Courteille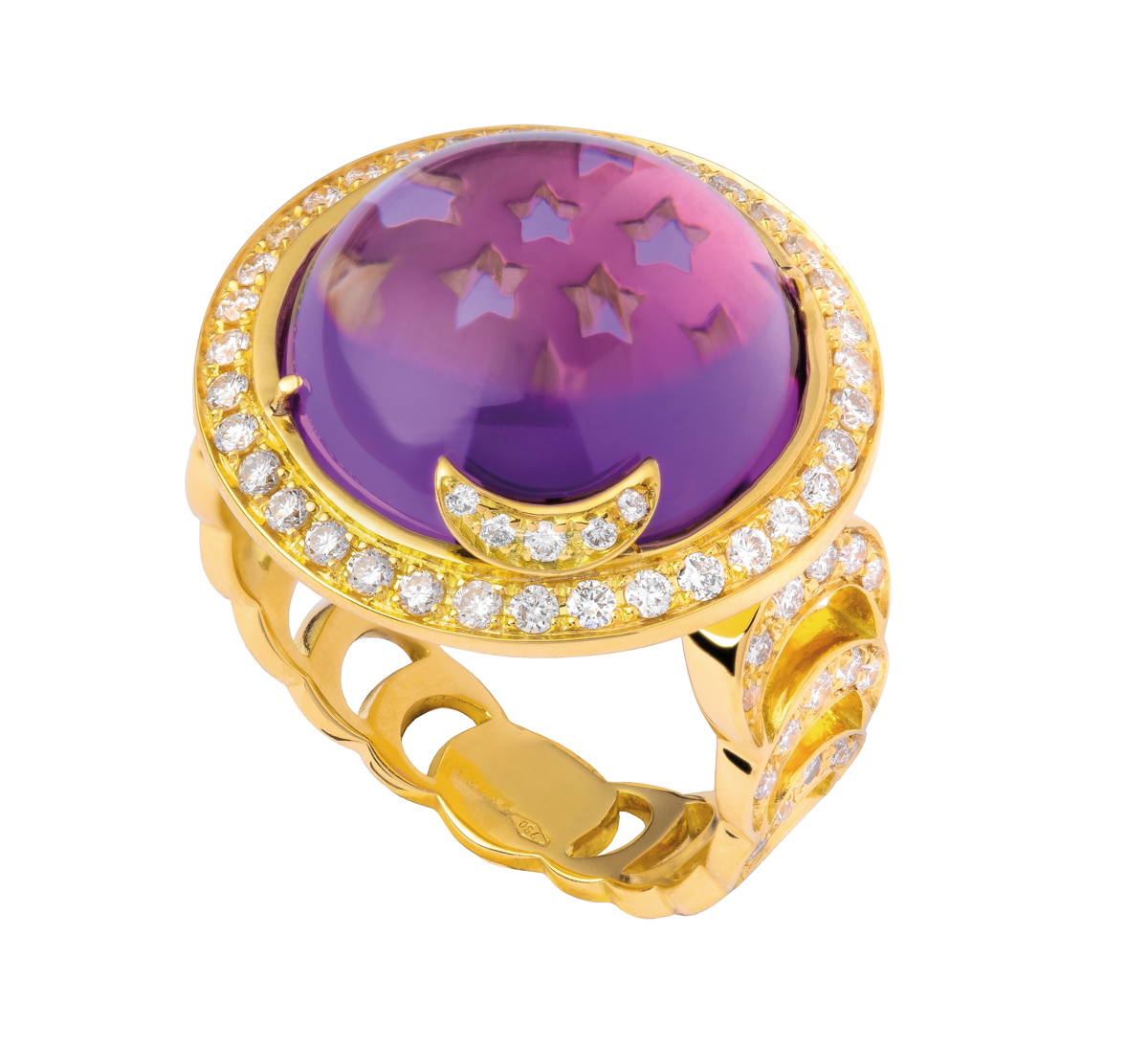 2- Jenny Dee imagines talismanic jewellery. Numerous symbols, a hint of esotericism and beautiful Italian workmanship give her pieces an elegance. I particularly liked the rings in the "Andromeda" line where the stones play with their own transparency and are adorned with gold and diamonds. Photo: Jenny Dee
The end of January 2019 was no exception to the rule and even though there were few presentations (compared to July), I was pleasantly surprised by the quality of the pieces presented. Of course, among the collections that caught my attention, I already told you about Chanel and Piaget, who took up the exercise with a certain brilliance.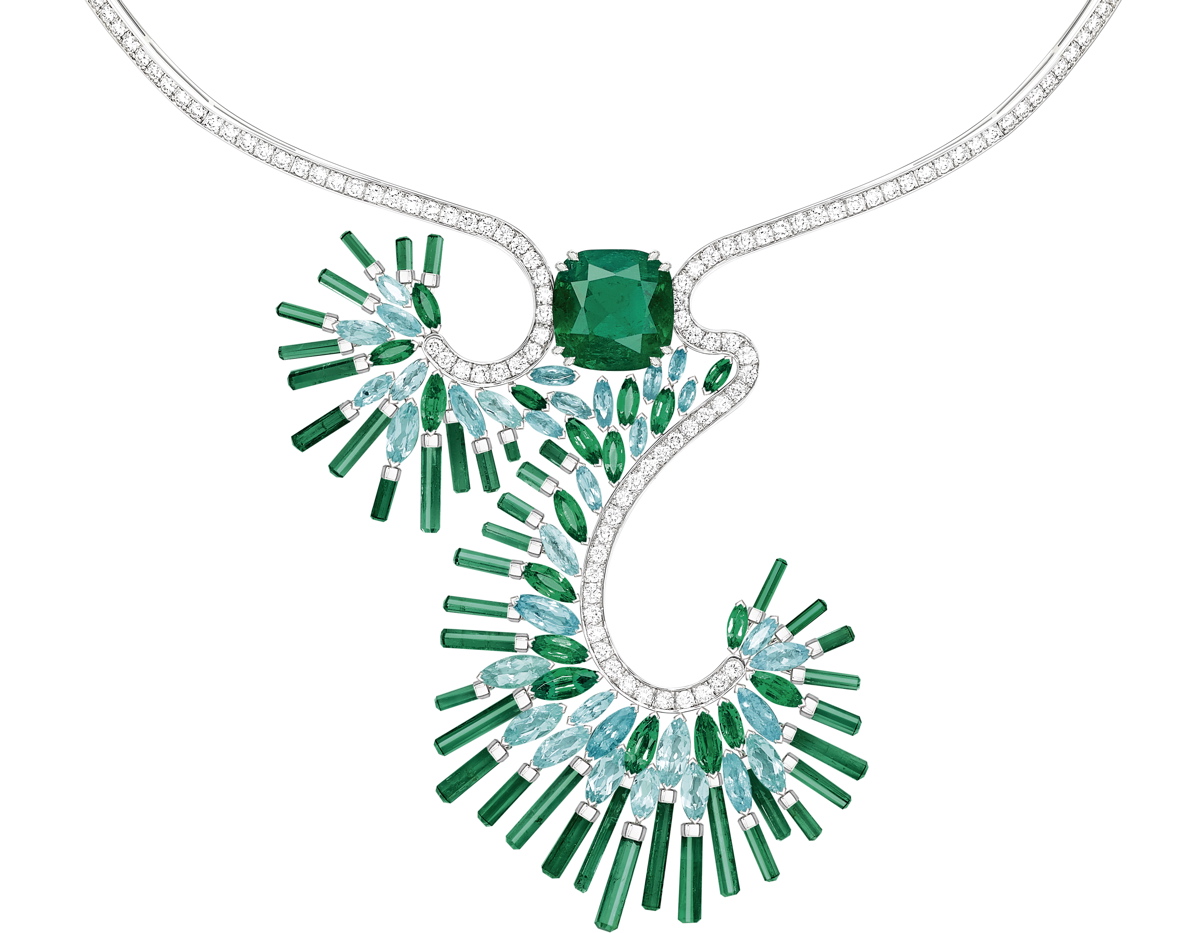 3- Impossible not to remember this magnificent Night Illusion necklace from Piaget. Made of white gold 750 set with a cushion-cut Colombian emerald (approx. 10.76 cts), 18 marquise-cut emeralds (approx. 5.23 cts), 230 brilliant-cut diamonds (approx. 6.44 cts), 33 blue tourmalines (approx. 6.22 cts) and 42 baguette emeralds (approx. 15.21 cts). Unique creation. Photo: Piaget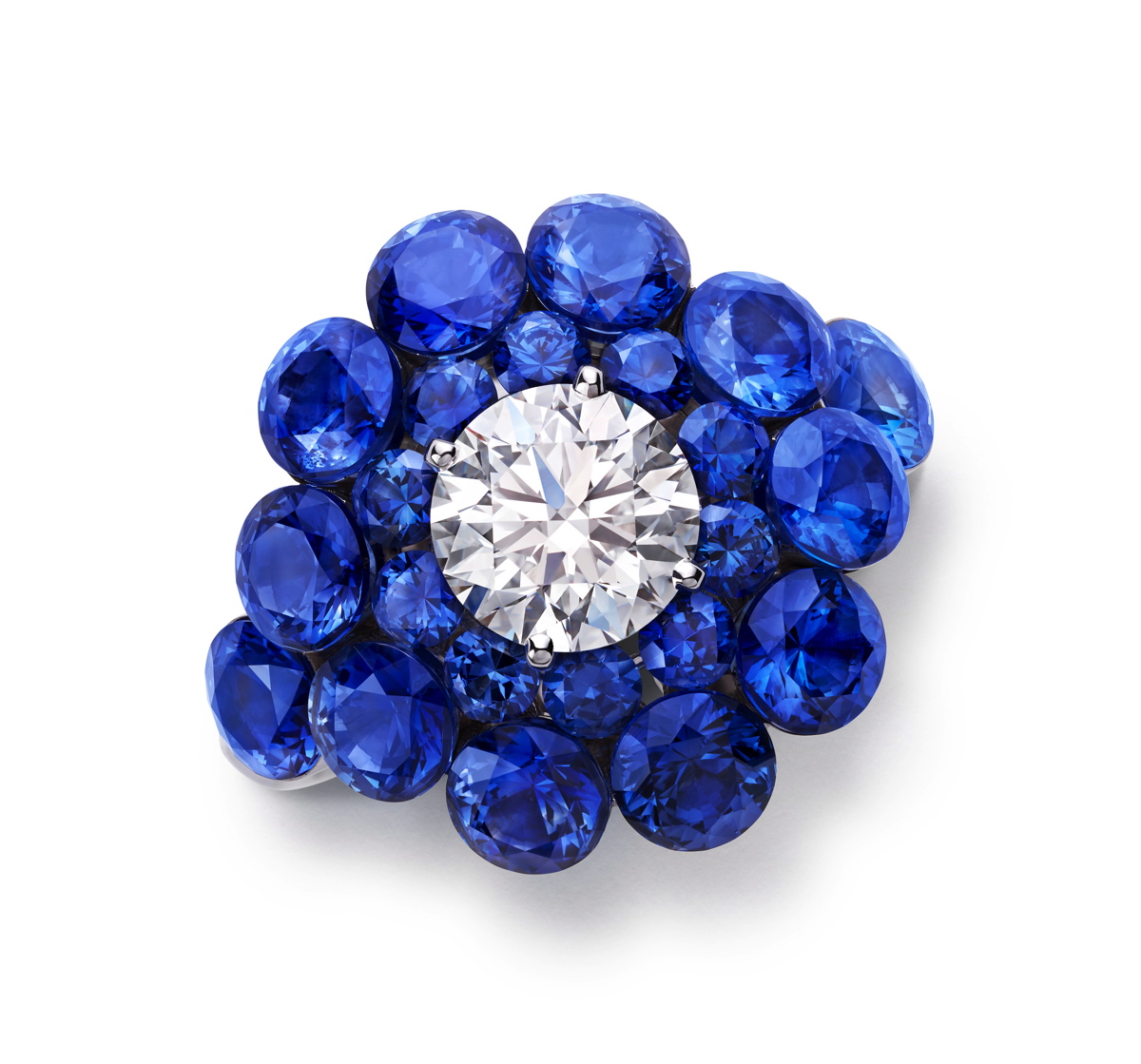 4- There is no doubt that the models presented by Chopard will remain in our minds. The setting technique (and stone cutting) developed by the company allows for truly astonishing results. Here, the absence of metal is truly at the service of the stones but will require particular care from the wearer. This gold ring features a 1.6 carat diamond centre and sapphires. Photo: Chopard
But we should not forget Lydia Courteille, Suzanne Syz, Jenny Dee, Boucheron, Chaumet, Reza and the superb Alexis Mabille, Chopard, Harry Winston or David Morris show. So many creative and colourful proposals offering a sometimes very different vision of jewellery. Of course, there was also a question of stones: incredible opals and conch pearls at David Morris, Malagasy sapphires with a real Kashmir feel at Chaumet or aquamarines at Lydia Courteille… And then there was also a question of techniques, with transformation pieces at Chanel, atypical and patented settings at Chopard and Piaget, titanium and aluminium at Lydia Courteille and Suzanne Syz, and a new type of clasp at Boucheron.
5- Perhaps the most unforgettable earrings of the January 2019 fashion week. Gold and titanium, sapphires, diamonds, tourmalines and especially sublime Australian opals for 85.99 carats. David Morris by Jeremy Morris always knows how to dazzle us. Photo : David Morris
6- The QUINTESSENCE brooch by Chanel in white gold, rose gold, sculpted rose quartz and diamonds. I liked the sculpting work but also the play of transparency between the quartz and the diamond-set setting. Photo : Chanel Joaillerie
So, while reading this note, I propose you to discover the ten jewels which held my attention the most. To be offered or to be admired, they have in common to have surprised me and to have provoked an emotion. I hope that you will feel the same way.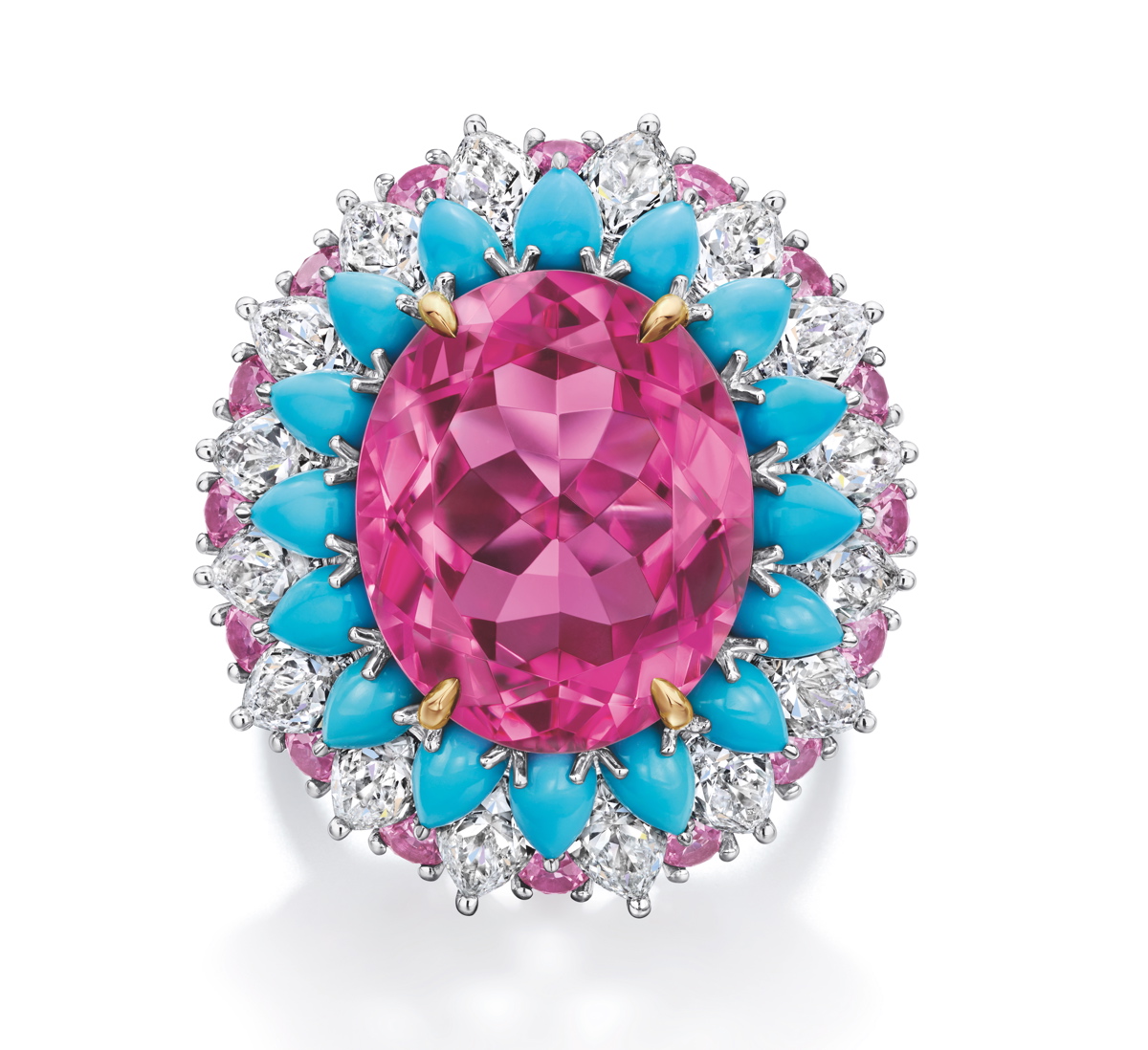 7- Harry Winston decided to play it retro. And the result is really successful. The Candy collection features colourful, cheerful and almost bewitching cocktail rings. The creative department used old sketches to recreate rings that pay tribute to the jewellery of the 1950s. With extremely beautiful stones on the programme. Among the pieces to remember is this ring in platinum and yellow gold, diamonds, turquoise, pink sapphires and an 11.22-carat tourmaline centre. Photo: Harry Winston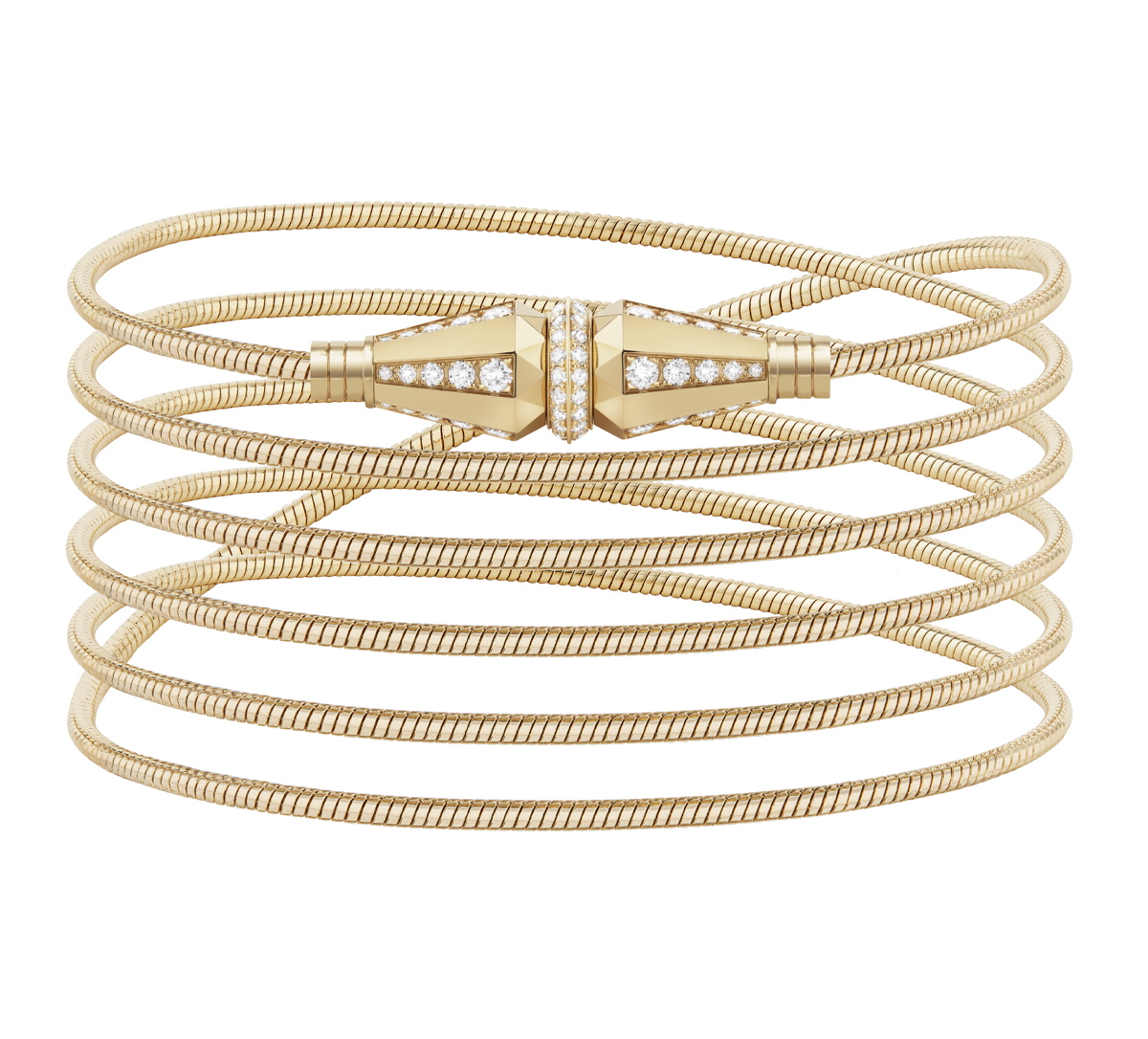 8- Boucheron has revisited the jack plug to make a bracelet that can be wrapped almost endlessly around the wrist. But it can also be worn as a necklace, long necklace or belt. All gold or paved with diamonds, it is the successful diversion of the season. Photo : Boucheron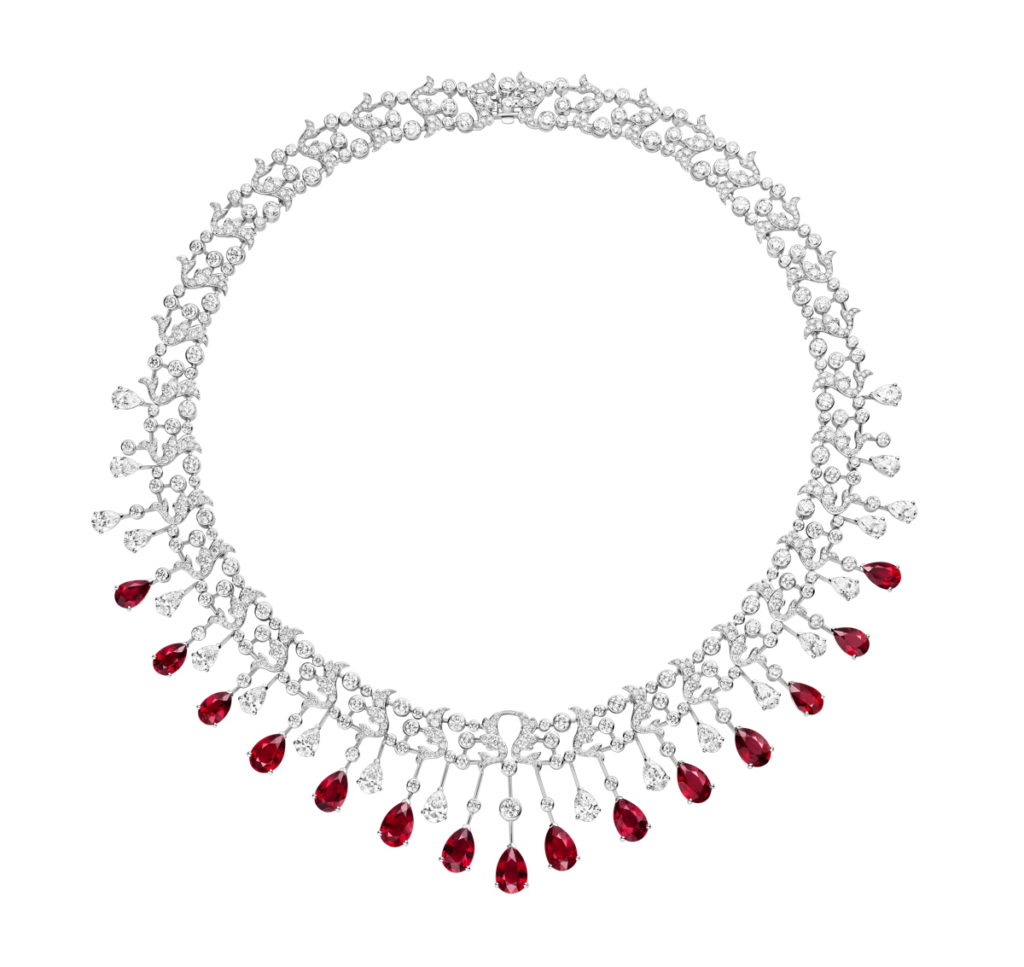 9- For its new high jewellery collection, Chaumet has opened a boutique at 165 bld Saint-Germain. The time it takes for the historic boutique on Place Vendôme to be completely renovated. Among the new pieces, we will retain the remarkable choices of the stone department: fancy vivid diamonds, a fantastic pairing of Mozambique rubies that required three years of work, sapphires from Madagacar as captivating as those from Kashmir and emeralds from Colombia as rare as they are voluminous. I'm particularly fond of this gold and Mozambique ruby necklace (30 carats, three years to match the stones), whose design was inspired by a tiara created in 1919 for Hedwige de la Rochefoucault. Photo: Chaumet
10- I wanted to finish with Suzanne Syz whose creations constantly make me laugh and travel. I hope you will continue to explore the enchanting world of jewellery and continue to love it as much as I do. Sylvie's space ship" earrings in gold, titanium and diamonds. Photo: Suzanne Syz
See you soon!