Nestled in a courtyard in the 9th arrondissement is one of the oldest lapidary workshops in Paris. The Lemercier company, which was founded at the end of the 19th century in 1893 by Paul Edmond Lemercier, still works for the greatest jewellery houses, both French and international. With a speciality: cutting and adjusting the stones used in the composition of the most prestigious jewellery.
Behind the grand façades of the 9th arrondissement of Paris, there are often hidden nuggets. By following us on our jewellery peregrinations, you will almost know as well as we do this arrondissement where the jewellery industry has long since set up shop, with its men, women, machines and know-how. A large porte cochère, then a discreet garden where bicycles and geraniums are intermingled. We climb the steps of the building four by four, where we have an appointment with Damien Lemercier, director of the eponymous company since his father passed it on to him at the beginning of 2018.
Mr. Damien Lemercier in the workshop with one of his lapidaries. Photo: Michel Rubinel
Tall, smiling and very much of his time, Damien Lemercier has been with the family business for many years: " I arrived nine years ago now. I came here to train and learn. That was my choice. I passed my CAP at the BJOP(today HEJ, nda). My training is exactly the same as the one we give to our current apprentices. We don't train people to leave afterwards, our aim is that they stay as long as possible When asked if joining his father's company was a natural choice, Damien admits that " it was not obvious ". Initially interested in training in engineering or architecture, he was looking for something that mixed technical and artistic aspects: " With the stones, I was combining all of that, I had the feeling that I was learning as much as I was being productive. I gave myself six months to see how it went. And I never left ", he adds with a laugh.
The workshop is full of materials that are as surprising as they are exciting, waiting to be worked on by the in-house lapidary. Here, white agate. Photo: Marie Chabrol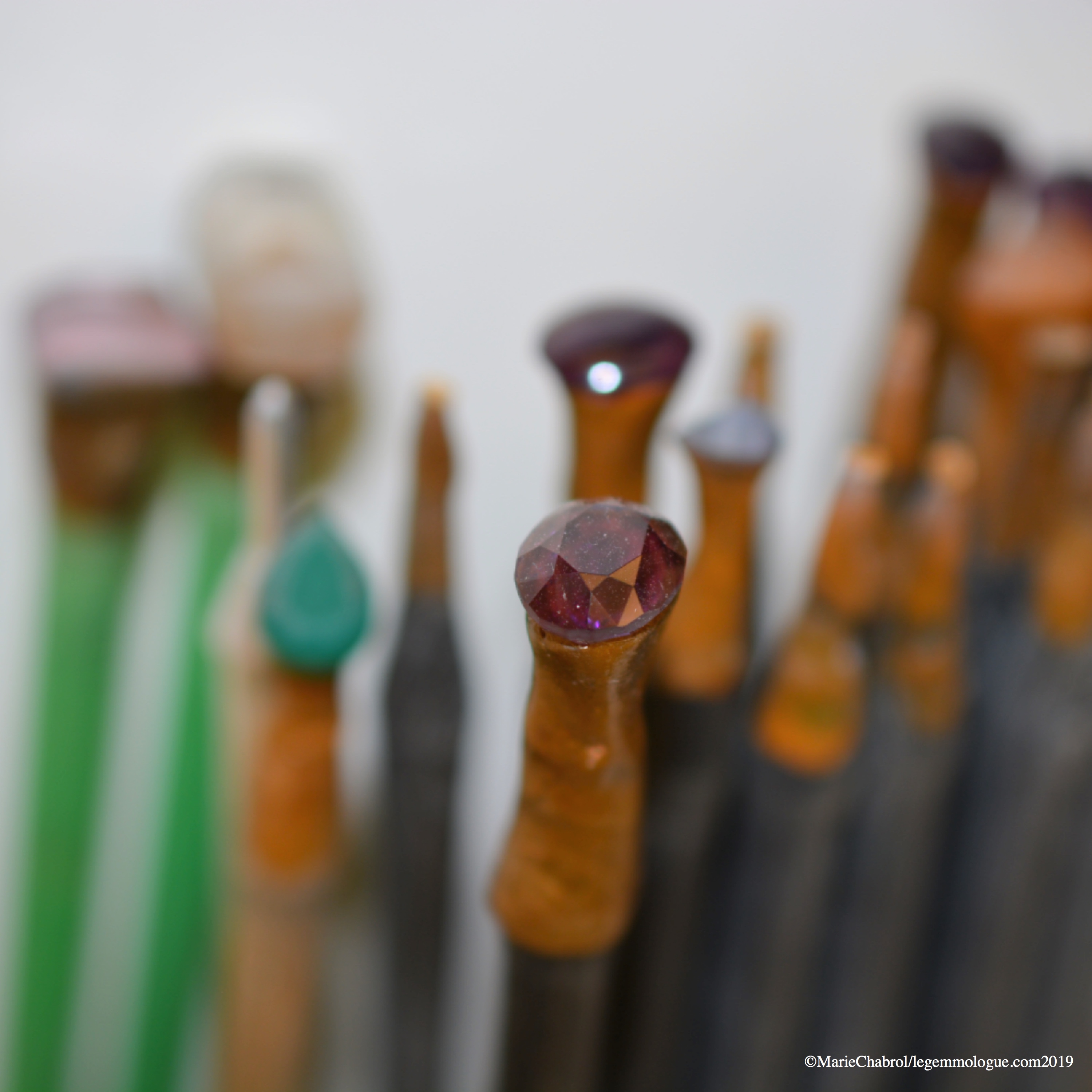 Here, several stones waiting to be cut. Photo: Marie Chabrol
Lemercier is one of those French companies whose know-how has been enriched and strengthened decade after decade. As Damien rightly explains: " That's what I liked here when I discovered my father's company in a more intimate way. If we had only done faceted stone, I'm not sure I would have stayed. But there were so many things and the company has always been ahead of its time. It knows how to respond to complex and atypical orders. Here, challenges don't scare us, and that's what we prefer. I arrived at a time when the profession was undergoing changes in manufacturing methods. A few years later, we invested by integrating machining for complex or repetitive sizes. Because this trade, although it cannot do without the human hand, is nonetheless faced with some quite astounding technological developments!
A special cut in progress, this is the speciality of the Lemercier company. Photo: Marie Chabrol
Fixing a stone before it is cut to size. Photo: Marie Chabrol
If the company can afford to work on very small faceted stones, from 8/10ths, it quickly understood that ornamental stones (lapis lazuli, agate, malachite, etc.) were going to take up an important place on the market and that it was necessary to be ready to respond to the demands of the company's clients. Neither Marc nor Damien Lemercier were wrong about this. The last five years have allowed us to admire pieces of high jewellery where the formerly "hard" stones are now perfectly matched with the rarest faceted gems: Paraiba tourmalines, tsavorite garnets, emeralds, rubies and even diamonds are boldly mixed and bring a welcome contrast and freshness to the collections. Thus " we initiated very early on partnerships and close collaborations with lapidary factories based outside France, in Germany for example, where we pushed the development of techniques and machine tools. We imagined ever more complex, more technical projects. By initiating a form of R&D department within Lemercier, we have been able to offer our customers things that are unheard of in the world of fine jewellery. We have also been able to respond to a demand for repetition from the houses for series and thus provide a material that is consistent in both shape and colour. This is one of the great strengths of our company, which has certainly been able to keep its artisanal framework, but which today can respond to requests from product managers, most of whom are often engineers by training," adds Damien Lemercier, who adds: " I like the idea that the Lemercier company is associated with its level of quality and high standards
A wide range of materials to meet all requirements. Photo: Marie Chabrol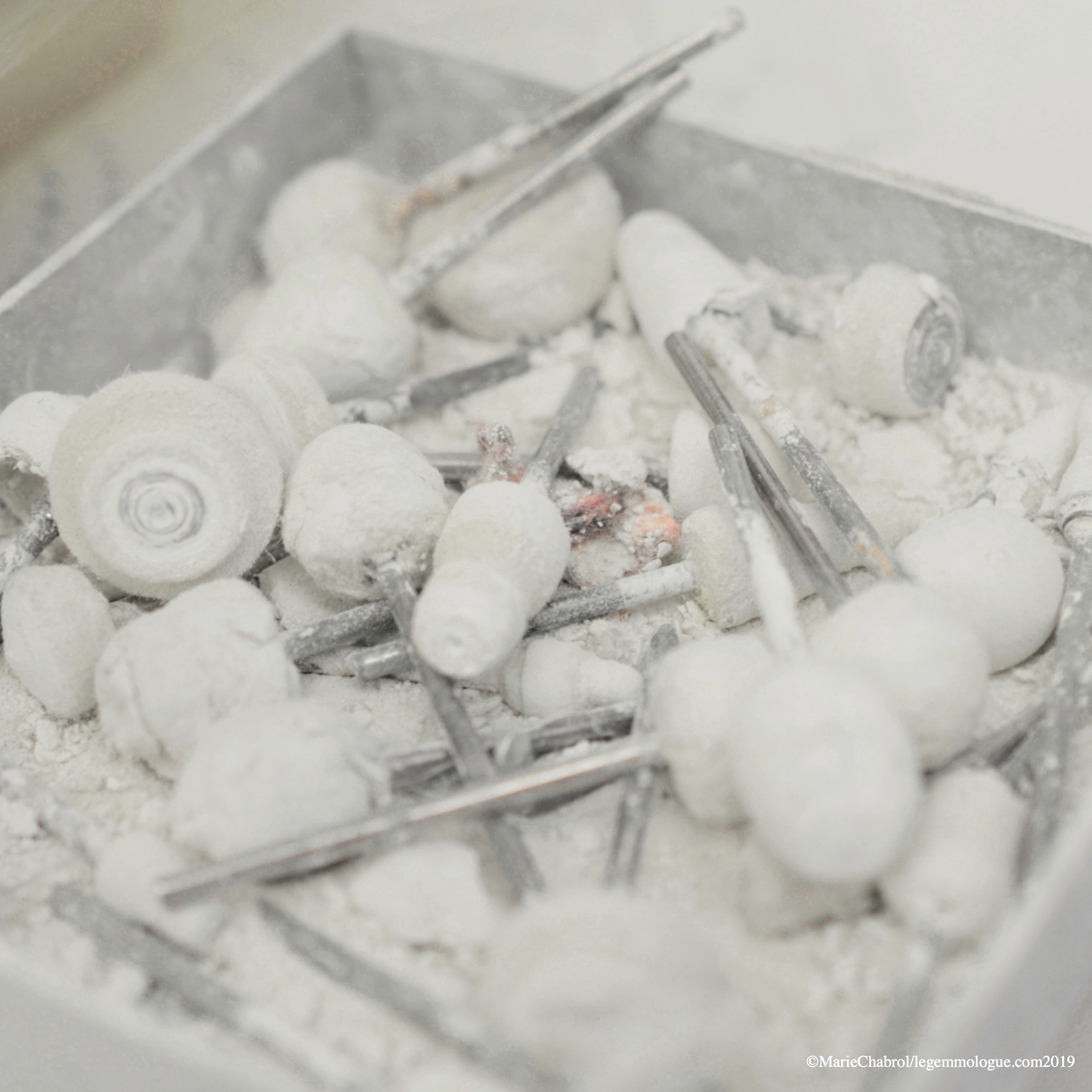 Here, felts for polishing stones. Photo: Marie Chabrol
In terms of proposals, the company can respond to almost any request: facets, cabochons, stone engraving and also sculpture. " We buy raw material to work with. It can be ornamental stones but also exceptional rough for faceted or complex cuts. This specificity is necessary for the realization of particular pieces: amethysts, agates, rock crystal, aquamarines, turquoises… etc. We start from the raw material to meet our customer's order. But we also do some re-cutting work from stones that are supplied by our customers It is this way of conceiving their lapidary activity that allows them to work with the biggest jewellery brands. " Two years ago, we integrated an in-house machining centre because this technology is undeniably part of the future of the business. It is our most important investment in recent years. It was a real financial, human and technical risk. But it has aroused the interest of our customers and they have responded. Thanks to this, we can offer very complex adjustments that would be difficult to do by hand. This means that we can make a rough draft in a machine and then finish by hand
The Lemercier company is a force of proposals, so it is able to propose very different materials to its customers. Photo: Marie Chabrol
The company has always worked for the biggest names in jewellery. And this since its creation. And yet the company, which has been passed down from father to son, " there was Pierre-Edmond, Paul, Marc and now myself," explains Damien Lemercier, has few archives. It does, however, have a small treasure trove of sketchbooks from its great-grandfather, who used to draw all the pieces that passed through his workshop. We note that the demand at the time was almost exclusively for calibrated pieces with rubies, sapphires and emeralds: " I particularly like a small clip representing a car, a sign that this new form of circulation was absolutely revolutionary A touching wink at a time when we dream of getting cars out of the cities!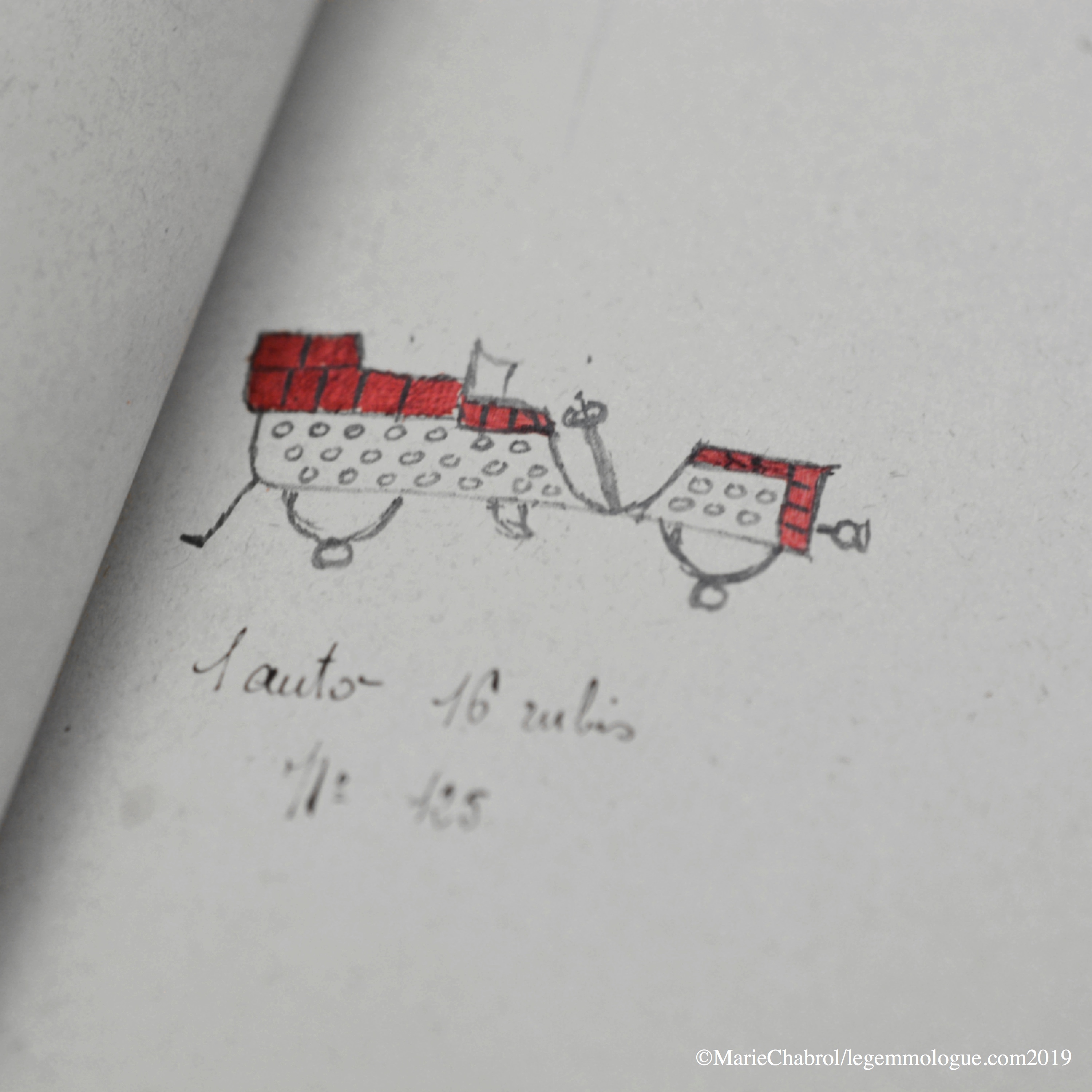 This sketch shows a small car on which 16 rubies had to be fitted. Around 1908. Photo: Marie Chabrol
A long family history dating back to 1893. Photo: Marie Chabrol
Today, the Lemercier company employs about fifteen people, divided between administration and the workshop. While Damien Lemercier took over the reins of the company almost two years ago, his father – Marc – has just made his departure official for the end of 2019. " The handover took place smoothly and very gradually. He got used to delegating and I gradually took on more responsibility. He is very happy to be retiring, but I have no doubt that he will continue to come and greet his team on a regular basis; his professional family, I should even say," adds the man who is now in charge of the company's future.
Detail of a brooch in the company's archives on which fifteen rubies and nine emeralds had to be cut. Photo: Marie Chabrol
Cutting an onyx in the workshop. Photo: Marie Chabrol
And precisely, the destiny of a craft business of this scale also means recruitment. This is a sensitive issue in manual trades, which sometimes struggle to recruit. " The company is specialised in complex requests, and it is also on this specificity that we rely to recruit. We have profiles here that like difficulty and permanent challenge. Our recruitment policy is therefore primarily based on training and transmission. We try to train one young person every three years or so Moreover, the company admits that it does not have too many difficulties in finding young people motivated by this very special profession. No, the weak point in recruitment is its location, explains Damien Lemercier: " Paris is certainly a great city, but today more than 80% of our staff are more than an hour away from the capital and back. They are often based far away in the suburbs, by choice. Most of our lapidaries like peace and quiet and nature. This is certainly due to the profession, which requires great concentration. And this luxury is almost impossible to find in Paris, given the prices in the capital. But as a result, bringing in people who are not familiar with Parisian life and its drawbacks is always complicated. At the same time, this geographical distance from our employees is part of our management challenges This is a very topical argument at a time when the city, which is losing inhabitants, must reinvent itself to continue to attract people.
In the workshop. Preparing the dopps, the wooden sticks used to fix the stones. Photo: Michel Rubinel
In the workshop, hundreds of materials are waiting. Here, fossilised wood. Photo: Marie Chabrol
Lemercier is one of those remarkable French companies. It excels in the art of lapidary and contributes to the creation of high quality pieces. Many of which can be admired at fashion week after fashion week. What will she have in store for us in the years to come? Certainly some incredible pieces. The future looks bright, and there is no doubt that in this little hidden corner of the 9th arrondissement, the lapidaries at work will be able to respond positively to the most unlikely challenges. And we are already looking forward to admiring their future creations!
See you soon!