In November 2018, the first Sotheby's France jewellery sale took place. A first for twelve years. A way for the house to celebrate the 50th anniversary of its installation in France and its 20th anniversary in its historical offices of the Galerie Charpentier, a former and superb private mansion in the rue du Faubourg Saint-Honoré. As the 29 October 2019 sale gets underway, and the last two sales totalled €4 million each, we wanted to meet with Ms Magali Teisseire, Director of the Jewellery Department at Sotheby's France, to explain why the house has decided to reopen jewellery auctions in Paris. We also invite you to take note of the exhibition event that will precede the sale and that will present twenty pieces from the private collection of the Buccellati family members. Not to be missed!
Mrs Magali Teisseire, Director of the Jewellery Department at Sotheby's France. Photo: Sotheby's
For several years now, we have been witnessing an increase in the number of fine jewellery sales in Paris. Although the capital has always offered sales of this type, it is only recently that the most qualitative auction houses have changed their policies in Paris. Although the City of Light is not the same as Geneva or even Hong Kong, mainly for tax reasons, the catalogues of houses such as Sotheby's, Christie's or Artcurial offer remarkable prospects for lovers and collectors of rare pieces. The inaugural Sotheby's sale featured pieces from some very fine houses and collections, including the Zizi Jeanmaire estate, Boivin and Gérard jewellery, as well as a rare Kashmir sapphire weighing over 12 carats.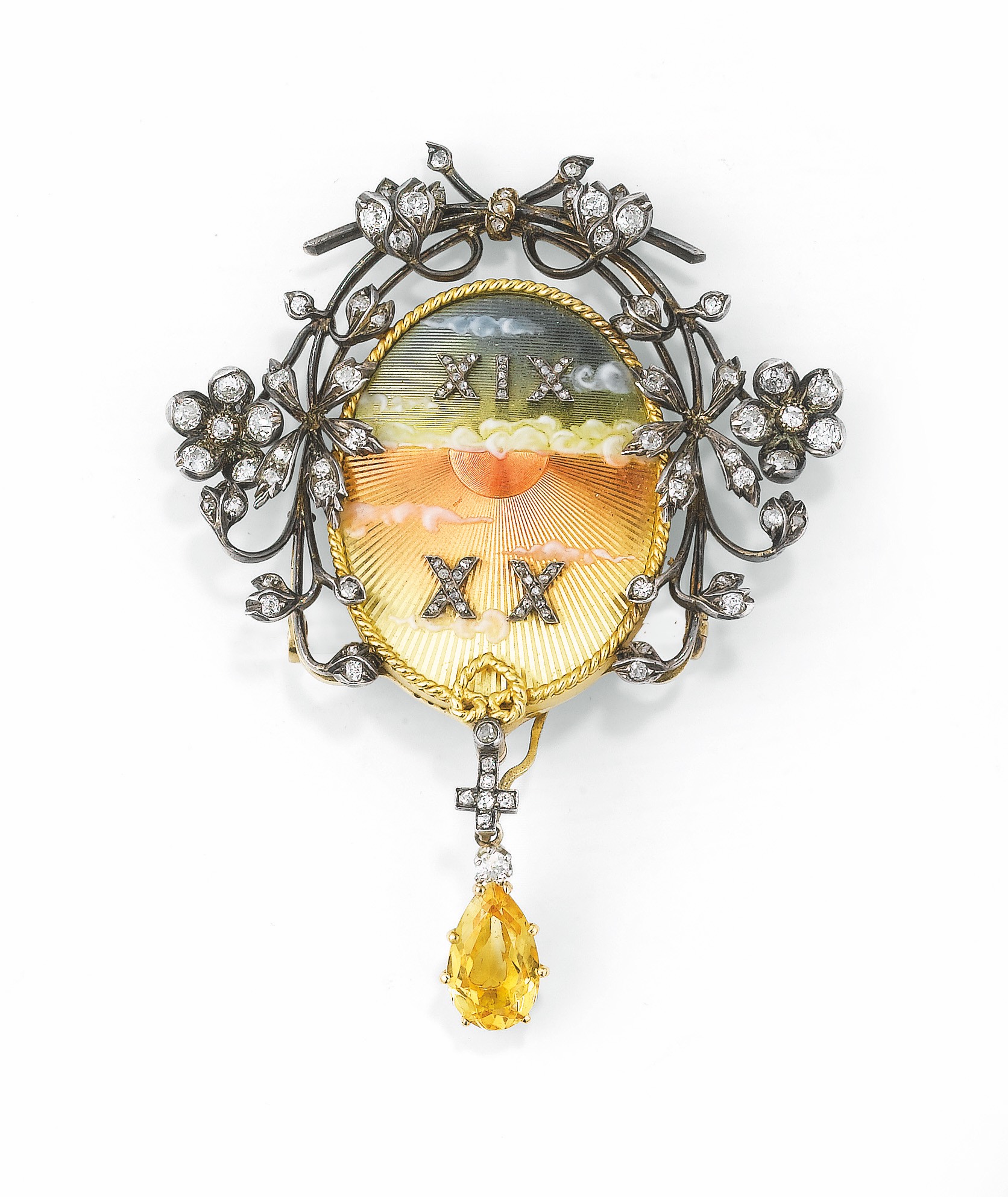 Lot 11 – Enamel and diamond brooch/pendant, circa 1899. The oval medallion decorated with multicoloured guilloché enamel, decorated with Roman numerals XIX and XX enhanced with rose-cut diamonds, within a floral setting of old and rose-cut diamonds, surmounting a detachable pear-cut citrine. Estimate: EUR 3,000 – 4,000. Photo Sotheby's

1- Why did you relaunch the sales in Paris?
It is important to know that the department existed despite the fact that no sales were organised in situ. In this respect, the Paris department used to export all the pieces it received and it exported a great deal because many objects passed through it. In the process, it made a turnover of several million euros, almost invisible to the general public. So there was and still is material. As the English say with the expression " Business getting ", the Paris market is buoyant because France is a sort of permanent treasure chest for jewellery with strong identities. So there was a desire to recreate a dynamic in Paris both with the organisation of sales, whether they were on site or online. I had a good knowledge of digital auctions, which seduced the house in its decision to recruit me. We will be holding our third sale in October 2019, building on the great success of the previous two, which confirmed the interest of buyers in the Parisian market.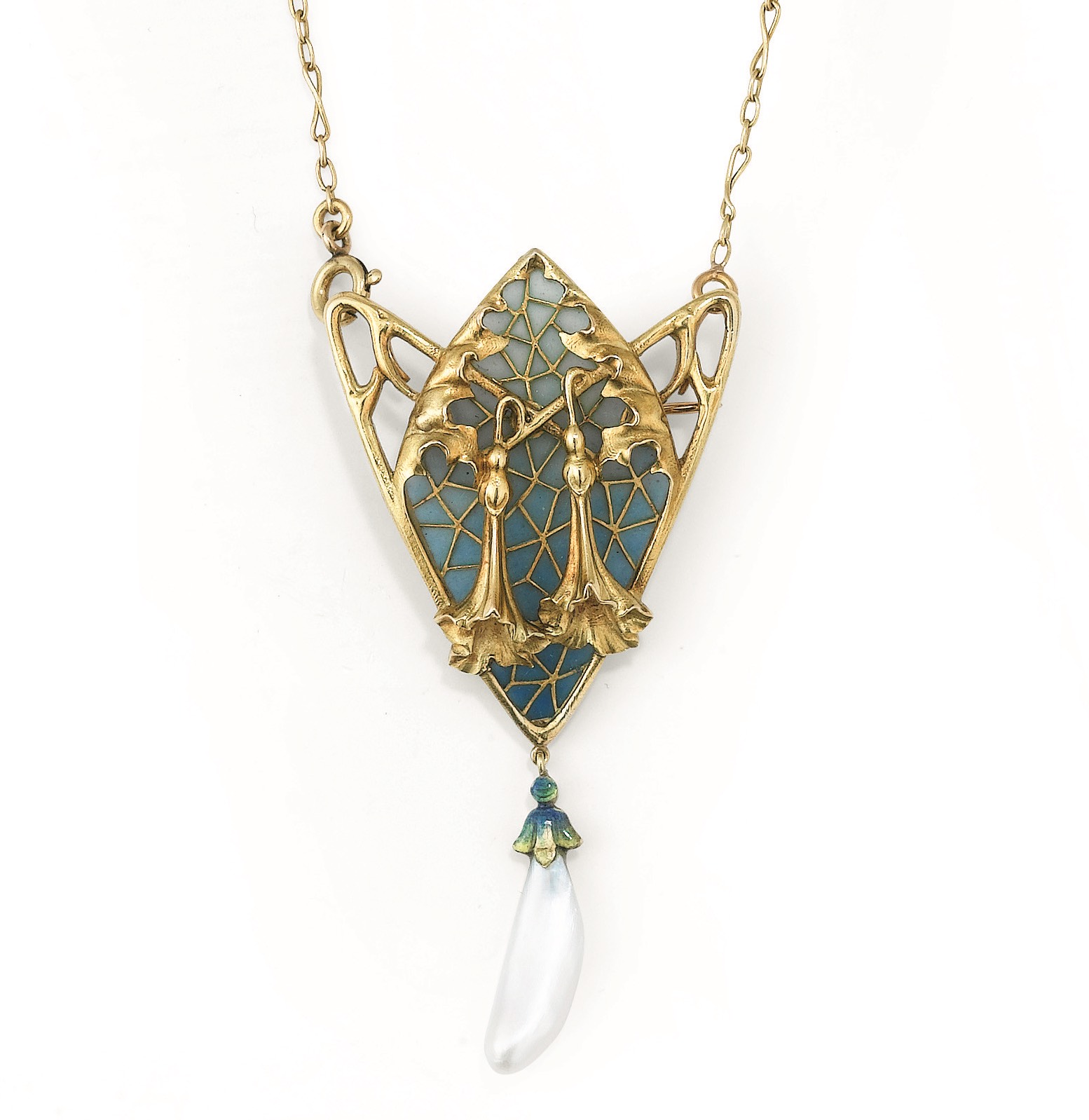 Lot 15 – Enamel and freshwater pearl necklace/brooch, René Boivin, circa 1900. The brooch/pendant with datura flower decoration adorned with plique-à-jour enamel holding a freshwater pearl, hallmarked for René Boivin. Estimate: EUR 7,000 – 10,000. Photo: Sotheby's
2- Did the recurring argument about the French tax system, which many consider too heavy, make you hesitate?
It is true that the very beautiful pieces or the most exceptional stones generally go either to Geneva or to Hong Kong. However, we didn't really hesitate to relaunch the Paris sales. And this is all the more true as our estimates are conservative and at the right value of the pieces. This generates good results because we often sell well above our high estimates, to the satisfaction of the sellers who can thus sell objects that would not necessarily find buyers elsewhere than in Paris. Moreover, the first sale brought us many French buyers but also many international buyers. And among the latter, many Americans, Swiss and buyers based in England and Asia. In the first sale alone, over 60 lots went to Asia. This is an excellent result for a sale of around 250 lots. But this is also due to the composition of our catalogues, which we want to be very qualitative.

Lot 30 – Diamond bracelet, circa 1930 Diamond bracelet, circa 1930. Linear shape, with clouds and sunset decoration, set with diamonds and coloured old-cut, marquise and pear diamonds in millegrain setting, with a larger coloured diamond in the centre. Estimate: EUR 15,000 – EUR 30,000. Photo: Sotheby's

3- To follow up on your last words, how do you adjust your catalogues to the international international clientele?
We have a network of experts with offices in the major international cities. They are the ones who are often on the front line with buyers based in these same cities. So, to answer your question, we are very responsive to their requests on the quality of the parts. We provide condition reports, photos of the worn pieces, documentation of the quality of the stones. Asian customers are very demanding on quality and authenticity documentation. So they make us be impeccable.
4- How do you explain the interest of foreign buyers in French sales?
The situations are very different depending on the culture of our buyers. For example, Asian customers are more buyers than sellers because they do not have the same history of jewellery as Europe. Jewellery from family traditions and from houses like Van Cleef & Arpels, Cartier or Boucheron are not common in Asia. The attraction for signed European jewellery is quite recent after all. Our second sale was very rich in old diamonds consigned by a private clientele almost exclusively French. Of the 257 sellers, we had 197 sellers. This configuration does not exist in the constitution of Asian sales, where it is easier to find beautiful coloured stones and recent acquisitions. But as they are big buyers, there is no doubt that in the next 10 to 15 years, they will become more and more sellers in order to renew and develop their own collections. Our second sale was a success with Asian and American buyers and the Paris department received many enquiries. France represented only 4% of our buyers.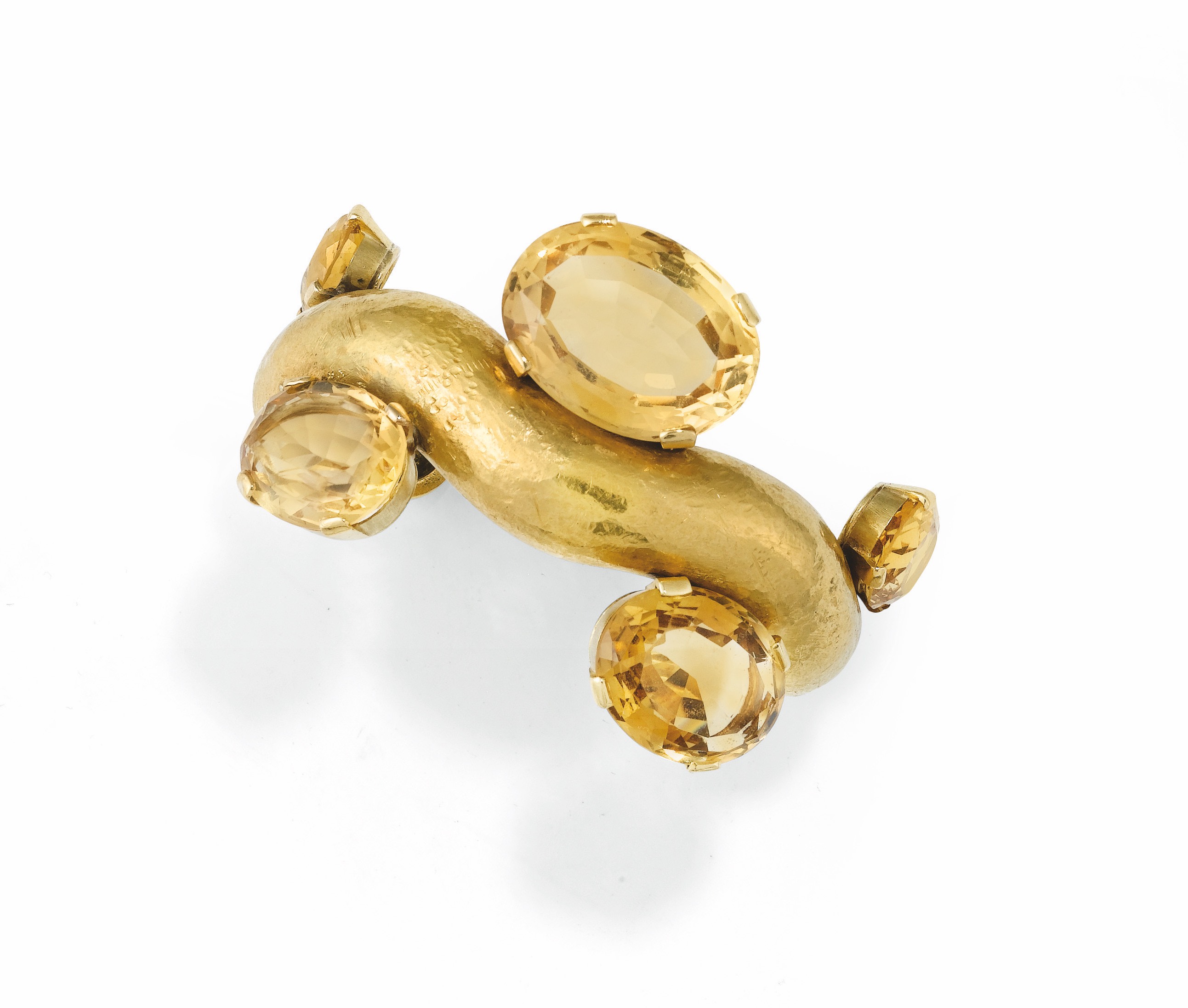 Lot 78 – Citrines Cuff, Suzanne Belperron, 1955-1970
In textured gold, set with oval citrines in claw setting, hallmarked for Darde et Fils. Accompanied by a certificate from Monsieur Olivier Baroin. Estimate: EUR 15,000-30,000. Photo: Sotheby's

5- Does France still have a lot of new things to offer at auction? Is it really this miraculous attic?
Absolutely. There is a long history of jewellery in this country and family traditions of giving gifts for special occasions. Families who only go to Cartier or Van Cleef & Arpels. Or families who were only customers of Boivin, for example. This is linked to the presence of the Place Vendôme, but also to the long-standing and historic jewellery tradition in France and in neighbouring countries such as England and Belgium. As a result, there are still some very fine pieces coming out of the vaults and being offered for sale. I think this country still has a lot of great jewellery and historical pieces to offer.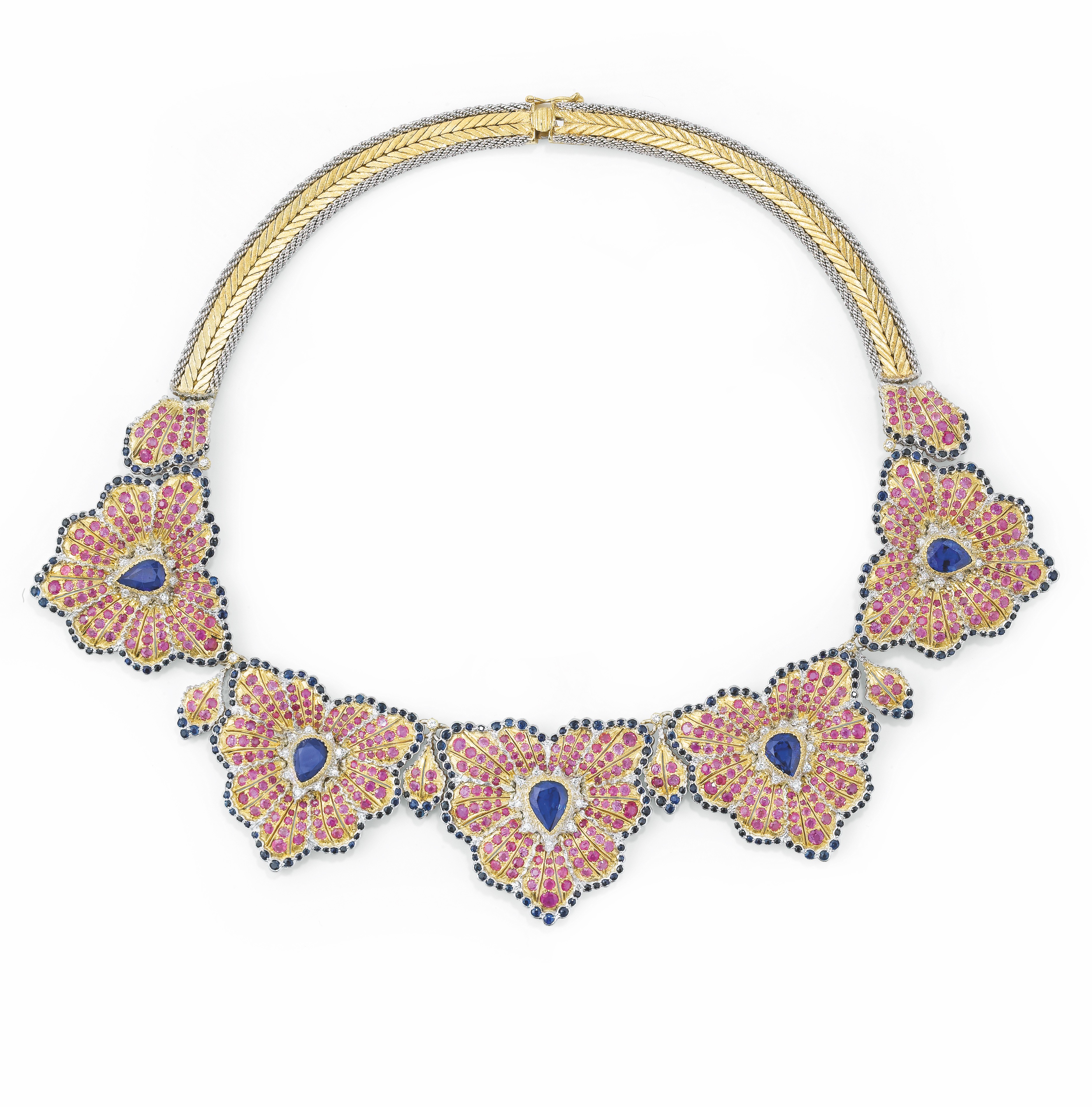 Lot 102 – Sapphire, ruby and diamond necklace, "Anthurium", Gianmaria Buccellati, 1993. Forming a succession of five stylised anthurium flowers, each paved with round-cut rubies and sapphires, the centre adorned with a pear-cut sapphire and enhanced with brilliant-cut diamonds, signed Buccellati, numbered, French import hallmark for 18K (750°/00) gold, accompanied by a reproduction of the original design and a case signed Buccellati. Estimate: EUR 7,000 – EUR 14,000. Photo: Sotheby's

6- You spoke earlier of exporting to better meet buyers' desires. What guides you in putting together a catalogue?

First of all, there is a sales calendar that has been set up for the jewellery division for the whole world. The aim is that the departments should not compete with each other. Our objective is to help each other between departments. Then we do it according to the sales and categories of lots that come into these sales. For example, the Magnificent sales only include rare and therefore exceptional pieces. For Hong Kong, it's even more special, you need jade, remarkable centre stones and coloured diamonds for example. There are particular cultural codes, among others for Asia. So you have to know these specificities well to get it right. In Asia, as in the USA, we have a lot of women who buy: women who are very aware of fashion and trends, with good tastes and specific requests for pieces that have real character. There is also a notion of investment that will guide many buyers. This explains the presence of iconic pieces that are in high demand. In France, it is more often a pleasure purchase or a "coup de coeur", which is not at all depreciative, but depending on the country, the clientele is very different. While Asia buys historical pieces, Art Nouveau and Art Deco, Americans buy a lot of diamonds. Many US based dealers buy here, they find it hard to find merchandise at home.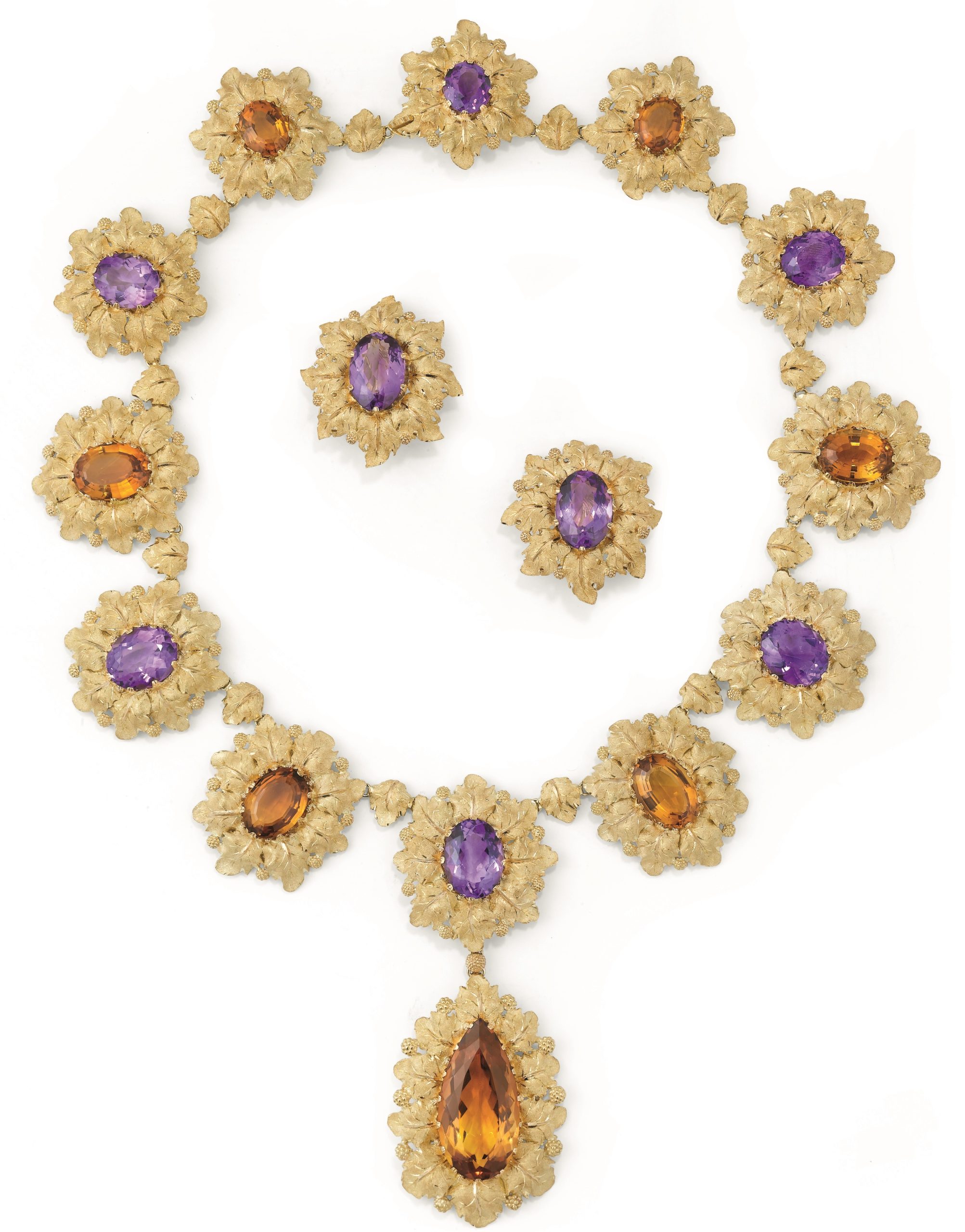 Lot 113 – Citrine and amethyst half set, "Jacqueline", Gianmaria Buccellati, 1988 & 1990. Comprising a necklace and a pair of ear clips, the necklace composed of a succession of leaves engraved in the segrinato technique, decorated alternately with citrines and oval-cut amethysts, holding in the centre a pear-cut citrine weighing 35.66 carats, the matching ear clips decorated with oval-cut amethysts, signed Buccellati, numbered, accompanied by a reproduction of the original design and a case signed Buccellati. Estimate: EUR 20,000 – EUR 30,000. Photo: Sotheby's

7- What would you like to bet on in the jewellery department of Sotheby's France?
We are betting a lot on digital because it allows us to do many things. We can bring together worlds that don't talk to each other. We are also interested, for example, in bringing luxury and auctions together, because luxury customers did not necessarily come to auction houses. This trend has largely been reversed and it has profoundly changed the face of sales. We are in the process of setting up online jewellery sales with particular themes: we have had couture jewellery from the House of Dior, and recently jewellery by artists, and we know that the public is now very keen on these particular signatures. At the same time, we have developed a real customer policy, from the request for information to the finalisation of the sale and shipping. Our aim is to leave an excellent impression on everyone who comes into contact with our departments.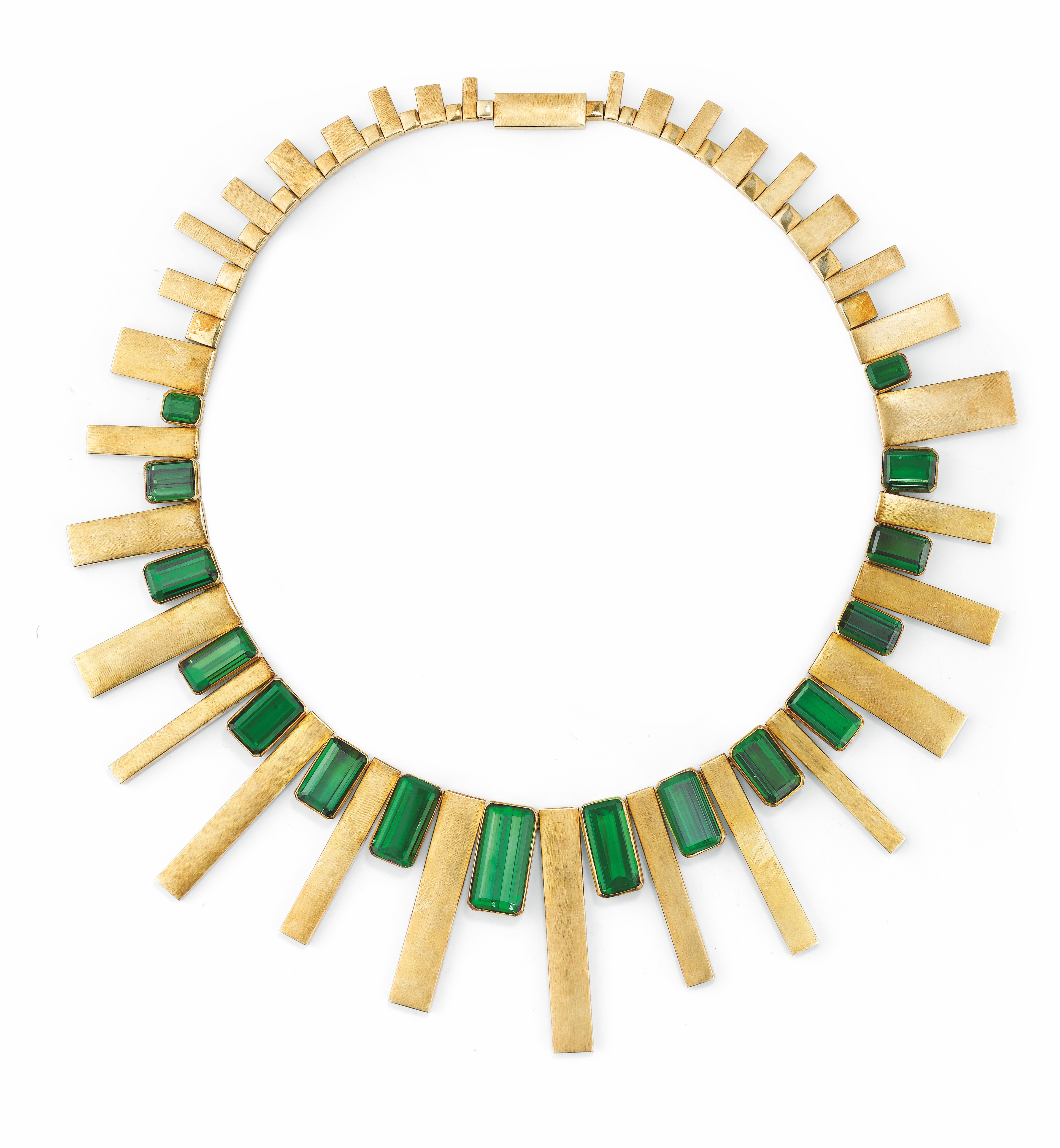 Lot 164 – Tourmaline necklace, Haroldo Burle Marx, circa 1970
Embellished with rectangular green tourmalines in closed settings, alternating with brushed gold rectangles, signed Burle Marx. Estimate: EUR 3,500 – EUR 5,500. Photo: Sotheby's

8- Finally, what makes you choose one piece over another?
This is a complex question, but I would say that it is the potential of the piece that guides me in my choices. I pay attention to the condition of the piece, the stones, the history… There is also a question of value, for digital sales the lower limit is €3000 when it is €5000 for catalogued sales. This is due to the fact that the pieces are all photographed, studied, etc. Also, a piece costs time and energy, so it must be interesting for the seller to go through our house. After that, there is always an emotional side to it. If the piece is charming, atypical and consistent with the catalogue being put together, I sometimes take pieces that are below the values mentioned above. Finally, I try to have a theme and that the pieces respond to each other to create a dynamic. To conclude, the October sale will offer pieces that we all find very nice. I hope you'll enjoy them!
See you soon!