At the beginning of September 2019, from the 6th to the 9th, the BIJORHCA Paris trade show took place at the Porte de Versailles. While I'm already starting to look at the new products and the programme of the January 2020 edition that I'll be bringing to you, I wanted to come back on my discoveries of the last edition of 2019. On the programme, young talented houses that deserve to be talked about, craftsmen recognised for their skills and know-how and, of course, materials that are as atypical as they are delightful and that open up – ever more – new perspectives in the world of jewellery.
A wax made by Jean Boggio. Video : Marie Chabrol
First steps in the salon and first good impressions: soft and pleasant colours welcome the visitor. Gone is the loud music that often made the visit difficult and in its place is a more serene soundtrack that facilitates the visit and the discovery of the 345 exhibitors. An opinion shared by most of the buyers I spoke to. Again this year, the show was visited by more than 12,000 buyers who came to discover 40 nationalities who came to present their cultures, their creative specificities and their inspirations.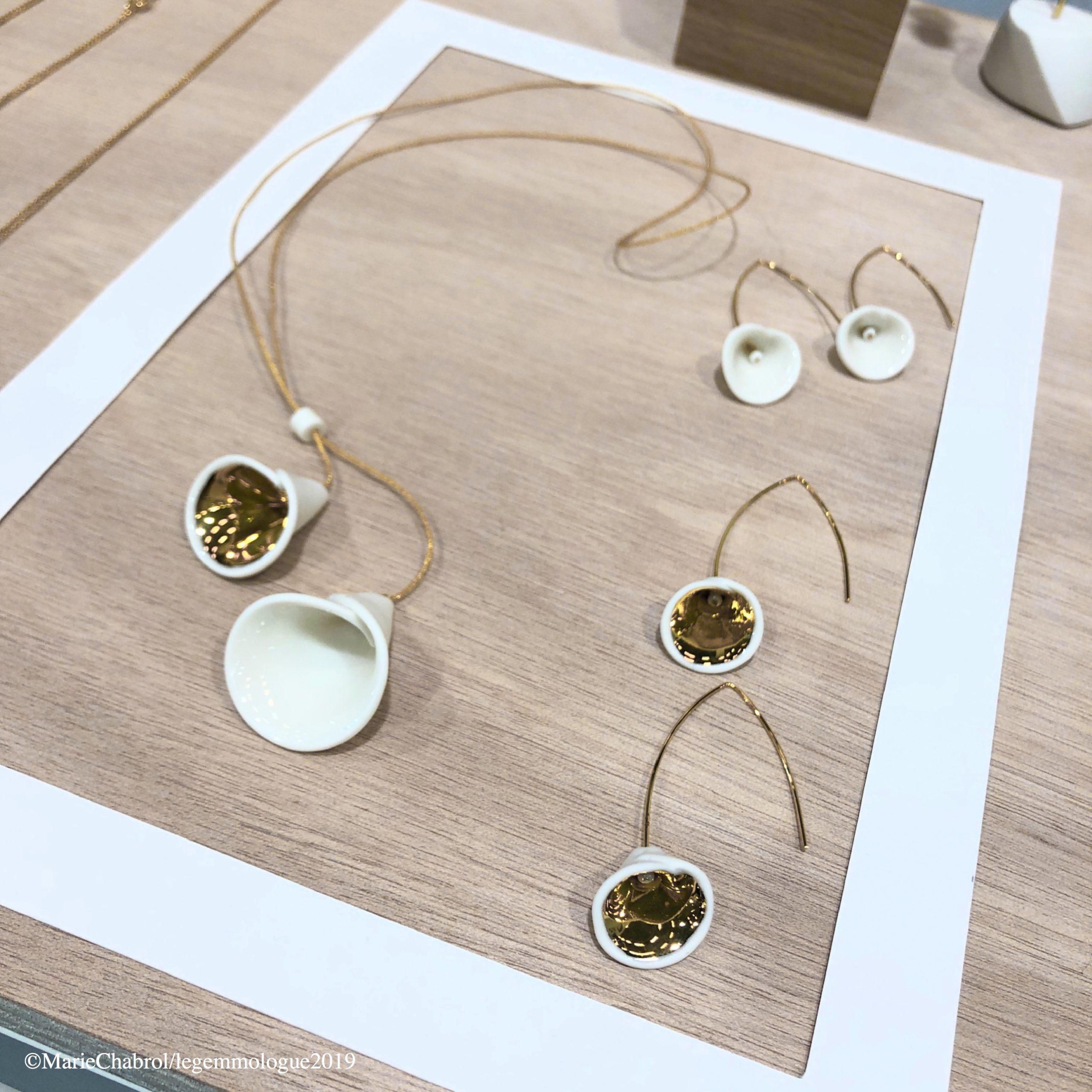 The beautiful porcelain pieces by Vesna Garic. Photo: Marie Chabrol
Gilt bronze and agate cuff by Jade Jewellery. Photo: Marie Chabrol
While the show is working to bring back the precious sector and to recreate a real dynamic around the houses that work with metals such as gold, platinum and gemstones, it was worth noting the presence of many entities that were not present until now: maison Piat, which came to demonstrate stone cutting, Maison Bermudes, which showed visitors the difficult job of polishing jewellery, the presence of Jean Boggio for work on wax or Genevieve Cailleteau, who introduced the curious to the art of stringing pearls on silk threads. A way of reestablishing a link between the visitors, the buyers but also the professionals present. An excellent way of reminding people that jewellery is not an easy object to make, that it is not a creative hobby and that it is necessary to have a network of competent technicians to be able to ensure the manufacture of a qualitative and durable line over time. Moreover, Bellonor was also present during the whole of BIJORHCA Paris to carry out a performance: the entire manufacture of a jewellery ring over four days while answering questions: a great challenge!
Brooch by Michael Michaud in patinated bronze and freshwater pearls. Photo: Marie Chabrol
I began my visit with Nazuna and an immense pleasure to see Minoru Miki, the generous creator of this Japanese house whose jewellery inspired by nature is as poetic as it is delicate. Here the choice of stones and the position of the diamonds are carefully studied. It is not a question of setting stones to offer as many as possible. Here the stones tell a story, representing the dew on a leaf, illuminating the centre of a flower or suggesting that the rain has lingered on a petal. The designer reminds us how Japan lives in osmosis with nature and why it is an endless source of inspiration for jewellers.
Modular rings from Persta. Video : Marie Chabrol
It was impossible to miss the talented creators of the house of Persta, whom I now follow with pleasure in their jewellery adventures. The two brothers, winners of the Chall'Angel competition, presented their new pieces but also their entire range of modular pieces, their signature. The house offers jewellery of impeccable quality, the sign of a long experience in the best Parisian jewellery houses, where diamonds, opals, mother-of-pearl or pearls respond to each other and invite you to create the most unique ring. So, follow their news and run to discover them as soon as you can!
Jade Jewellery necklaces. Photo: Marie Chabrol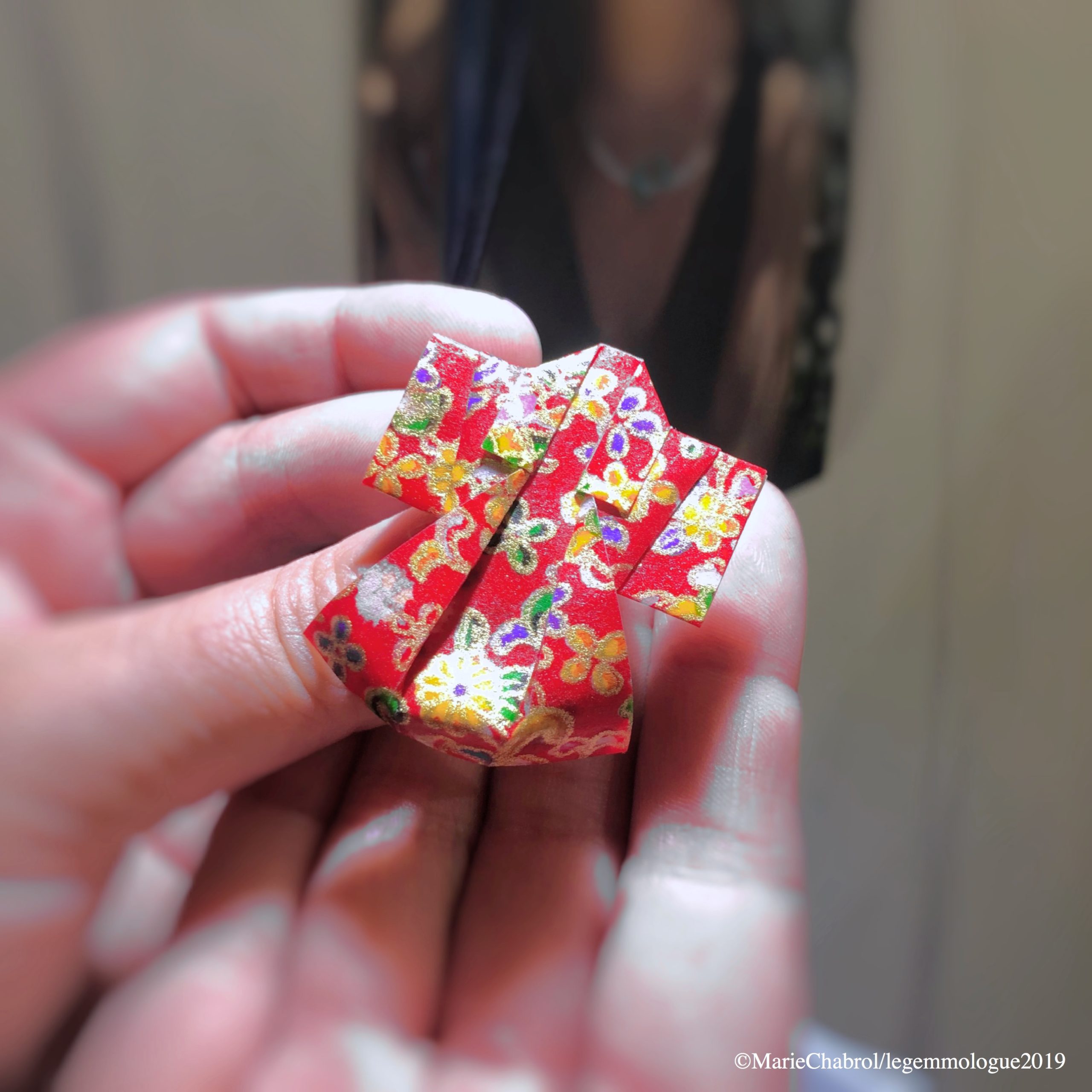 Origami brooches by Joyas de Papel. Photo: Marie Chabrol
Speaking of materials, I got lost for a long time on the stand of Terre, spirit of stones. Based in Germany, the company offers extremely simple silver rings where the interest lies in the materials it offers: here Astrophyllite, there Eudialyte or even Cobaltocalcite. I could have looked at the trays for hours and pulled out all the pieces. I love the idea of jewellery stepping out of its comfort zone and innovating in its proposals. I continued my search for materials with the young Vesna Garic who proposed a small porcelain collection. Based in Paris, the young woman – a member of the Ateliers d'Art de France – works with this material by enhancing it with liquid gold. And if you ask yourself, the answer is "no, it's not fragile! Finally, I was delighted to discover the stand of the Spanish company Joyas De Papel, which offers jewellery made from Japanese origami: here an adorable little kimono on a pin, there little fans on a necklace, and elsewhere tiny cranes on earrings. A precise and delicate work that I particularly admire.
When Jean Boggio turns jewellery into magic. Video : Marie Chabrol
My visit was not complete without a visit to Michael Michaud, based between Germany and New York. His work is right on the borderline between costume jewellery and precious jewellery. It is worth noting the impeccable modelling and casting work that characterises his creations. This year, he proposed a collection that highlighted citrus fruits. A line developed in collaboration with the V&A Museum in London, which has the oldest tea room in the world, since it was founded in the 1860s. It has exceptional murals of lemons and oranges painted by Philip Webb around 1866. A cup of tea is a must right now!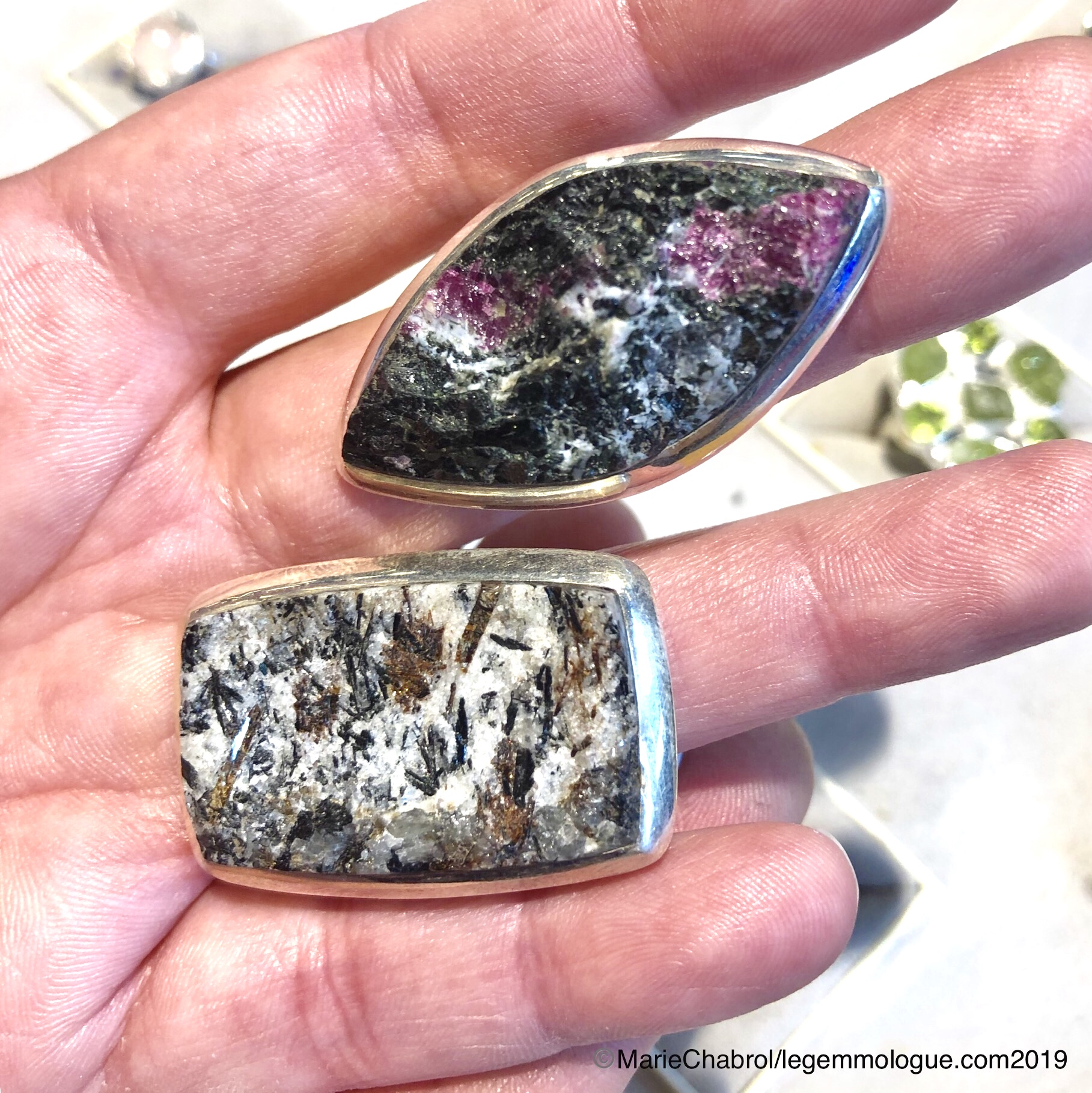 Rings from the house of Terre, Spirit of Stones, which feature rare materials in jewellery: here eudialyte and astrophyllite. Photo: Marie Chabrol
A final stop in South Africa to discover the ceramic jewellery of Heather Jane Smith or the cuffs and necklaces of Jade Jewellery which showcased all kinds of gemstones to create opulent and colourful pieces. As you can see, I loved this new edition for its diversity. I hope that future shows will further strengthen the presence of the precious and the contemporary, which I am happy to discover and admire at every visit. I look forward to January 2020!
See you soon!