By Emmanuel Thoreux
A few months ago, I was at the Denver show, one of the most important American shows. It was an opportunity to meet and interview Lowell Cahart, the man behind this exciting event where the finest American mineral, fossil and gem lovers meet.
The Denver Coliseum. Photo: Emmanuel Thoreux
1- Dear Lowell, can you introduce yourself in a few lines? How did you become the organizer of such an important event?
My wife is in the USAF and she was sent to Yokota Air Force Base in 1999. It is located outside of Tokyo. One weekend we decided to fly to Hong Kong for a visit. While we were there, we stopped at an antique shop and I noticed that the door was held open by a pair of fossil dinosaur eggs. They were priced at $60 each and I quickly bought them and everything else in the shop. I sold them a few days later on eBay for $500 each. Then I bought more and continued the process. Eventually I was selling 4 eggs a day for over 3 years. Soon, I started selling at fairs in Tokyo and Germany. When my wife was sent back to the US in 2006, I found that the trade shows in the US were not as well organised as the trade shows in France and Germany. So I decided to start the Denver Coliseum Show in 2010 using a different philosophy: make booth fees as cheap as possible, get the biggest venue, have the longest show and advertise the event widely to attract the most customers.
2- How did the history of the Denver Gem & Mineral show start? How did it become so important?
Our philosophy of offering very inexpensive booths + the biggest venue + the longest show + the most advertised show meant that we made no profit for 5 or 6 years, worked for free and had to borrow a lot of money from friends, family and banks to pay for the "Hungry Beast" and keep it growing. But we were confident that the Denver Coliseum Show would grow quickly, and it did. Within 5 years, in 2015, it was Denver's most attended show, and today it is one of the most attended shows in the world, with almost double the attendance of the Munich show (which, however, only lasts 3 days).
Preparing for the opening.
3- What makes the Denver Gem and Mineral Fall show special?
Large-scale advertising is the most important: it attracts more customers, supports more dealers, which attracts more customers, which attracts more dealers from further away, etc. Today, there are 3 times as many vendors in Denver as there were 10 years ago when we started, all because of our advertising – and our willingness to work for free for so many years. For example, this year we spent $210,000 on advertising, or about $500 each for each of our 400 dealers. (Only two other shows come close to this kind of investment: our own Tucson 22nd Street Show and our own NJ Show.) But we still have room to add another 400 dealers in Denver. This growth is important because a new showroom will be built in 4-6 years and because it will be new and modern, the rental cost will be very, very high. Only with a large number of dealers will we be able to pay the rent.
4- How many exhibitors are there and how many visitors are you expecting this year?
We have 400 and our partner show, the Denver Expo Show on level 2 of the National Western Center, has 65. But the total number of 465 is misleading. Measured by exhibitor floor space, our show is 50% larger than Munich, because we have tents and most vendors have more space than in Munich. Attendance is very difficult to calculate as we do not charge for parking. Also the entrance is free and many people attend for 2 or 3 days, and there are 8 car parks, 12 main entrance gates in both buildings. But we estimate it to be between 40,000 and 50,000.
The crowd is waiting to enter the Coliseum.
5- How many days does it take to fully visit the show?
If a buyer is only looking for one thing, they can usually find it in a few hours. But if they are buying for their shops, they need to spend at least two days. Three is better.
6- What are the iconic minerals of Colorado? Do you have one that is your favorite?
I'm a fossil guy so I'm not sure how to answer. But my preference is turquoise because it's a beautiful colour and my wife, who is brown, wears it beautifully.
7- Do you think the Denver Gem and Mineral fall show is an event that particularly highlights American gems? If so, why?
Absolutely! Because now Denver is like Tucson: a must-see show for miners, prospectors and quarrymen from Canada, the US and Mexico.
Into the show. Into the show.
8- Where does the Denver Gem & Mineral (Fall) rank in the world hierarchy in terms of size and visitors?
In September in Denver, the show includes 14 gem, mineral, fossil, pearl and jewellery exhibits – with 900 suppliers. Our four venues (Denver Mineral Show, Denver Coliseum Show, Denver Expo Show and Miners' Co-Op Show) are spread over almost 6,000 square metres in the two floors of the Denver Coliseum, the two floors of the adjacent National Western Centre (NWC), and in tents at both venues. In total, there is perhaps 8,000 square metres of sales space in Denver.
9- What would you say to European buyers who want to visit the show?
Wear trainers
Don't forget the sun cream
Bring your business cards to give to the seller
Open a current account in a US bank to facilitate transactions
Rent a van instead of a car
Buy a hand truck or cart to carry your items
Go home on the Tuesday or Wednesday after the show ends (Sunday) so you have time to pack and ship your items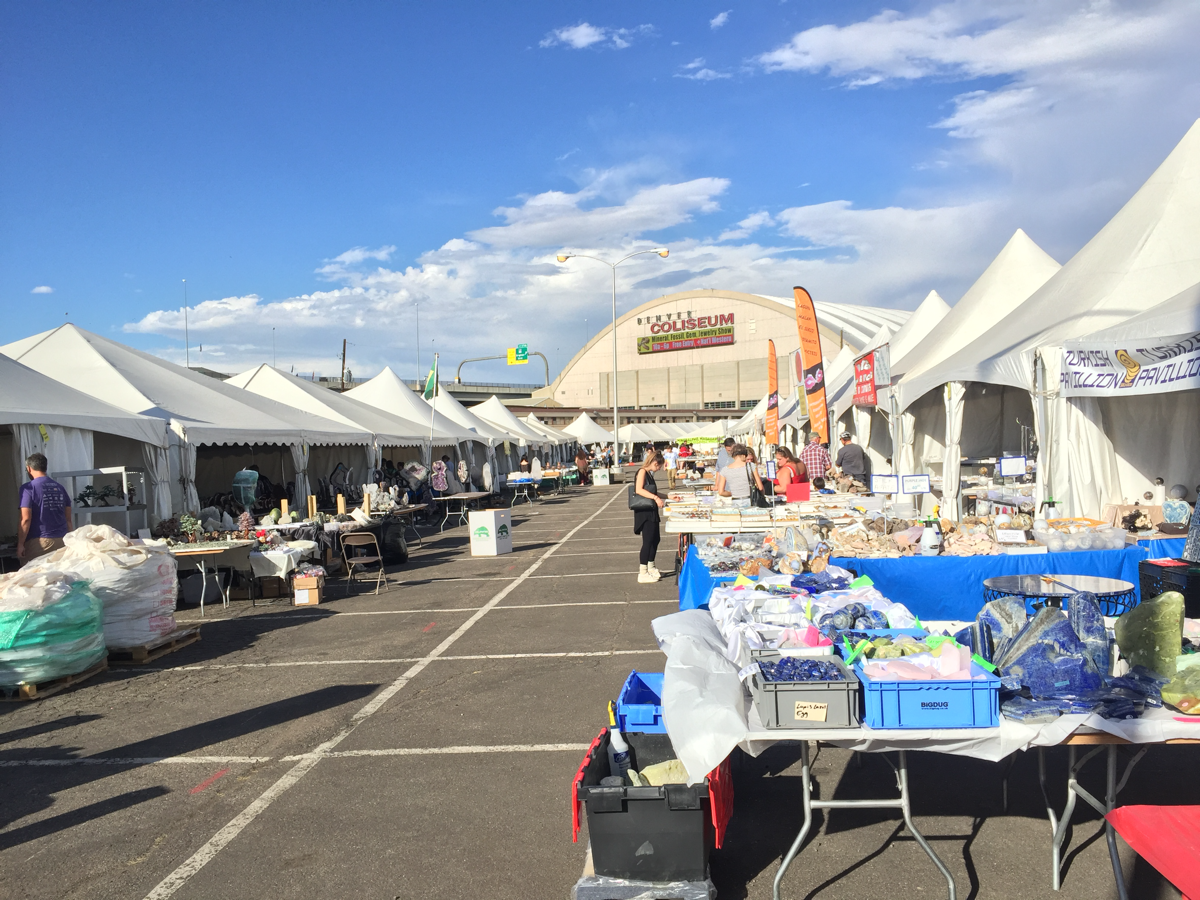 Trainers are a must!
10- Finally, how do you see the future of the Denver Gem & Mineral (Fall)? and what are the plans for Showcase development?
Next year we will be adding the Denver Wholesale Show in an unused 48,000 square foot hall (about half the size of a Munich hall) in the NWC + another 25 tents for dealers who prefer to sell from outside. When I-70 is completed in 2021 and there is more parking, we will add more tents. So in two years we will add maybe 100 more dealers. Then we will slowly grow (~20 dealers per year) until the new showroom is built in 4-6 years. Then we can add another 200 dealers. As for the Denver Showcase, I see it getting smaller because it's hard for a small show to attract the number of customers we do. However, dealers and buyers prefer one big show because no one likes driving in traffic to visit different shows.
See you soon!