A little over a year ago, the international association The Glitterati was born. Co-founded by Melissa Wolfgang Amenc and Faye Caris Toyon, two women as dynamic as they are committed, the association pursues a simple yet crucially important goal: to promote the support, education and mentoring of women in the jewellery and watchmaking industry. So I wanted to meet these two young women who are unstoppable and whose boundless energy is as infectious as their respective passions for the jewellery industry. And if you feel like a Glitterati, don't hesitate and join the movement!
Faye Caris Toyon & Melissa Wolfgang Amenc. Photo: The Glitterati
1- Hello Melissa and Faye, can you introduce yourselves?
Melissa Wolfgang Amenc. I am Melissa Wolfgang Amenc. I am 43 years old, born in Switzerland, raised in California. With an American mother and a Swiss father, I moved back and forth between Los Angeles and Geneva until I decided to move to Geneva in 1996.
Faye Caris Toyon. I am Faye Caris Toyon. I am 35 years old and half Caribbean and half Dutch.
2- When you were a child, what did you want to be when you grew up ?
MWA. I don't remember having any. It sounds futile! As a young woman, I realised that working with stones and jewellery was a real profession with soul, emotion and passion, and not just"something my father did". I fell in love with it straight away. Looking back, it is true that I loved going to the shop with my father on Saturdays, going through his trunk and especially cleaning the coloured diamonds.
FCT. When I was 10, I could see myself living abroad, and having a job that would allow me to travel and meet lots of people, and in connection with the Earth.
3- And today, what are your jobs?
MWA. I work in my family business, Golay Fils & Stahl, buying and selling diamonds, precious stones, and signed period jewellery. I also work with private clients for creations and unique pieces.
FCT. About the same as expected (laughs).
4-What studies have you done?
MWA. After graduating from the Gemological Institute of America (GIA) in 1996, I moved to Geneva and started working in the trade with my father.
FCT. After a Master's degree in Geology (I loved the fieldwork, with my geological hammer!) and then business school, my first job was doing market and feasibility studies for companies in the energy and environment sectors, in a consulting firm.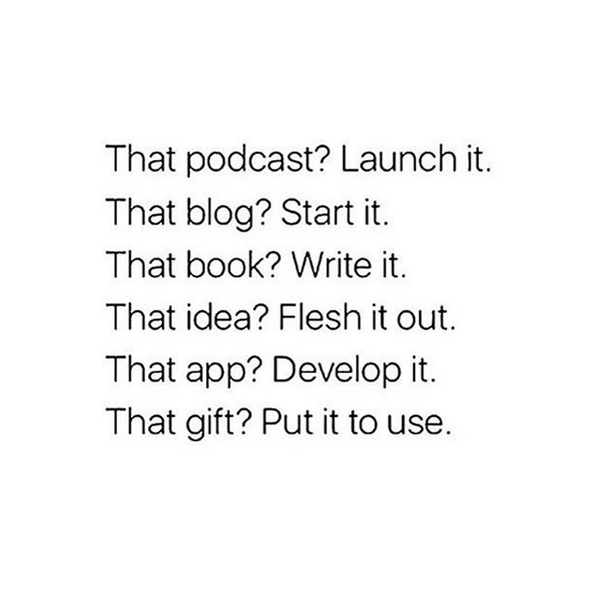 "Make it possible" say the Glitterati! Photo from The Glitterati Instagram account.
5- What are your links with the jewellery industry?
MWA. I am the 6th generation of my family in the jewellery and gemstone industry. Both of my father's parents came from diamond families in Belgium and Poland, who later moved to Paris and then to Geneva via New York during the Second World War.
FCT. When I decided to make a career transition, I moved to New York, where I attended the GIA Graduate Gemologist on-campus programme
6 – What is your professional background and how did you get to your current position?l ?
MWA. I moved to Geneva to work with my father. After about a year, he felt I would learn more by working elsewhere. I started an internship in the jewellery department at Christie's, and managed to get hired after the internship was over. I did a lot of weight estimates for condition reports, catalogue and photo archive management, and really any work that was delegated to me: I was hungry to learn. I also worked in François Curiel's office. After two years, I left and started working as a stone buyer for De Grisogono, sourcing and buying stones for the production of jewellery and watches. And two years later, in 2001, I left to join the family business alongside my father.
FCT. After two internships at Christie's and Rapaport, I realised that my real passion was coloured stones. So I moved to Paris and worked for Garaude, a coloured stone dealer. After a few years, I had the opportunity to open an office in Switzerland for Maison Piat: I took the three suitcases I had with me (I travel light) and moved to Geneva for good.
7- You are now working in the field of coloured stones and diamonds? Tell us about your business!
MWA. Golay Fils & Stahl, founded in 1837, is one of the oldest watch and jewellery companies in Geneva. Historically, Golay Fils & Stahl were well known watchmakers/jewellers with retail shops in Geneva, Paris and Lugano, catering to a very international clientele. My grandfather, a stone dealer and supplier to the company, bought the company in 1961. When he died in 1976, my father took over the business.
FCT. Maison Piat has been trading coloured gemstones for three generations, based in Paris, Geneva and Bangkok, for the international Haute Joaillerie Houses. We are very involved in the sustainability of the jewellery industry and work hard on traceability from the mine.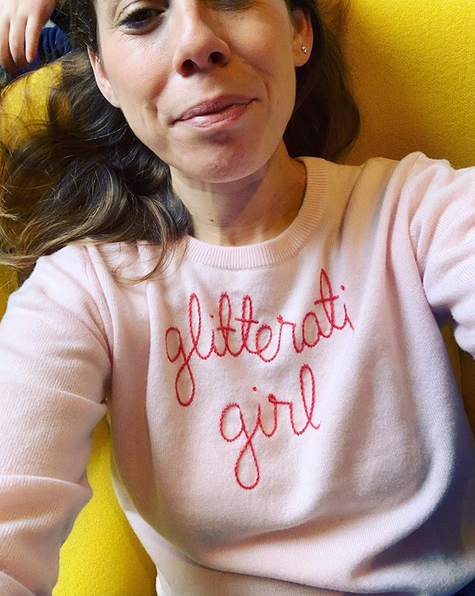 Do you wear the Glitterati colours? Photo: The Glitterati
8- How do you organise your working day/week?
MWA. Apart from the exhibitions I attend (Hong Kong, Miami & GemGenève), which usually take place at the same time each year, I don't really have a daily schedule, fortunately! Our job would be described as " feast or famine ": I work when there is something to do and fortunately I always find something to do. Also, as The Glitterati is a new and growing organisation, we are constantly working on ideas for the future. I am also a member of the Ethics Committee of the Swiss Association of Gemstone Traders with whom I have worked on some important projects over the past 12 months.
FCT. No two weeks are alike and that's the fun part of the job: I can be in Geneva following auctions, or at our booth at a trade show, or at my office sorting out graded lots for a project, or on a sales or buying trip, or meeting with the Ethics Committee of the Swiss Gemstone Traders Association. So diverse!
9- The jewellery industry remains an opaque mode for the general public even if things are changing. Tell us where you find your motivation and what you prefer in your current professional activities?
MWA. I have the immense privilege of being able to do what I love. When you are passionate about your job, there will always be something new to discover, something to learn or a new encounter to make. New challenges, pushing yourself, it's motivating. I love most of the things I do, but there is a special place in my heart for engagement rings. It's touching to be part of a couple's history.
FCT. The diversity is my favourite thing I do and it is also the source of my motivation as I have not yet found a routine aspect to this job: the diversity of the tasks, which we discussed earlier, but also the diversity of the people I meet in terms of knowledge, personal history, origin, or opinions.
10- What is the most boring thing?
MWA. Strangely, I don't think there is anything boring, maybe paperwork.
FCT. Without hesitation: accounting!
11- Let's talk about trends in the stone sector. Is it more complicated to work now that you need many certifications for a stone?
MWA. We are rather traditional, so our customers are often traditional too. We don't adhere much to trends, we buy and sell pieces that we like and that move us. We find that when we like something, it's easy to translate and pass on to our customers. We are rarely asked for a "trendy" stone, but when we are, we always love the idea of seeing and learning something new while making a customer happy. As technology and enhancement techniques evolve, the need for certificates, even multiple certificates, will increase. Sometimes this is indeed frustrating, but it is part of our new daily life and we have to adapt.
FCT. I can't really define trends in coloured stones. It's like fashion: tastes change with the seasons. But the big trend, as in other industries, is the consumer's need to know the origin, the source of what they are buying. The traceability of coloured stones will be the major challenge in the coming years.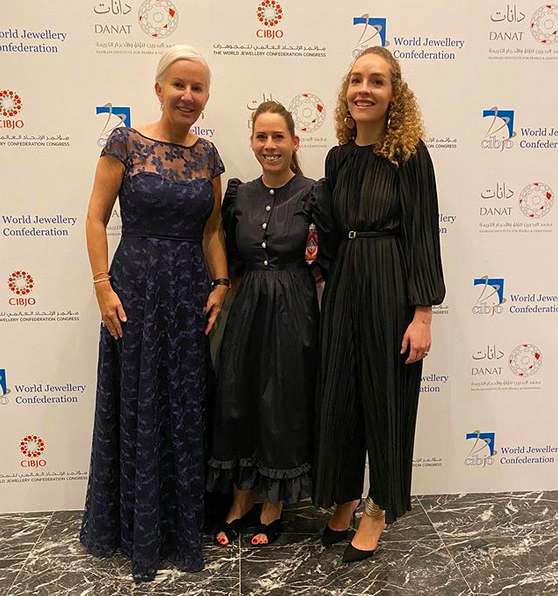 RJC Executive Director Iris Van der Veken, Melissa Wolfgang Amenc and Faye Caris Toyon at the 2019 CIBJO Congress. Photo: The Glitterati
12- What is your favourite stone and why?
MWA. Demantoid garnets from Russia, I've always loved the bright colour and their incredible fire! Old Mine diamonds, who doesn't love a diamond? Charming and traditional. But… if I could only choose one stone, it would be an emerald, old and from Colombia.
FCT. Spinels. And in particular the vibrant pink spinels from the Mahenge region in Tanzania.
13- Do you have a memorable memory to share with us?
MWA. One memory that stands out, although it is not amazing or incredible, it is unforgettable because it is sentimental: when I was a child and I was with my father, no matter where we were in the world, he always stopped to look in the jewellery shop windows. Every shop! It drove me crazy. Come on dad! Now, so many years later, I find myself laughing out loud while walking down the street because I catch myself doing the same.
FCT. I remember once, I was studying at GIA in New York, a real beginner, and I was at a dinner in a prominent restaurant and I was sitting right next to a stone dealer. At one point, out of nowhere, he pulls out a little box of spinels. I was very impressed: the room was rather dark and the stones shone like little suns.
14- How do you imagine the future? The Internet has become such an important part of the stone industry…
MWA. Who knows? I will always hope that people will need advisors to guide them and, more importantly, will want to hold a stone or object in their hands, see it with their eyes, possibly feel something. Jewellery and stones remain an emotional purchase for many, there is no emotion attached to clicking "add to cart".
FCT. Online sales exist, of course. But nothing can replace the eye of the buyer and the emotion that the stone gives him for the decision.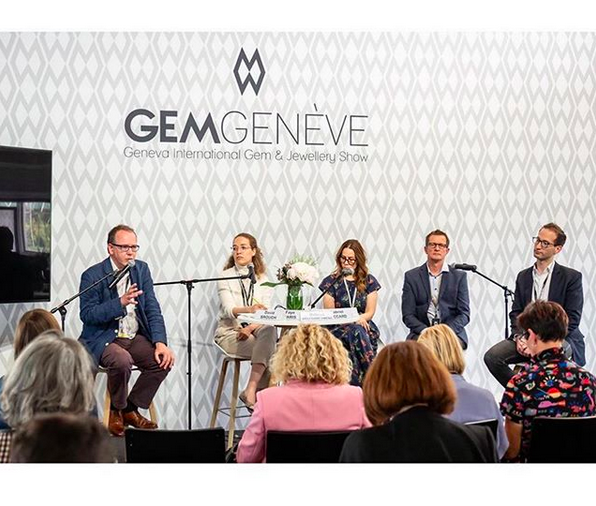 The founders of the association, with journalist David Brough and the Gübelin laboratory, at a panel on gem sourcing and traceability during the 2019 edition of GemGenève. Photo: The Glitterati
15- What advice would you give to young people who want to start in this industry?
MWA. See as much merchandise as possible. Be curious, ask questions. Leave your ego at the door, do the work that nobody else wants to do, that's where you really learn things. Believe in yourself.
FCT. Never be afraid to ask.
16- Why did you start The Glitterati? What is your goal?
MWA. Faye and I started The Glitterati because we felt there was a real need for an entity promoting the support and education of women in the industry. Faye and I have worked hard and grown in our careers, we didn't do it alone, we had help! We believe it is important to pass on our experiences to those who are just starting out in the industry and to share with our peers. We want to encourage women to support each other. We also want to highlight the amazing and successful careers of women we know and in doing so encourage the younger generation who are fighting the misconception that this is a male-led industry.
FCT. The Glitterati is a non-profit organisation that promotes the support, education and mentoring of women in the jewellery and watch industry. Melissa and I founded it last year because we wanted to showcase the amazing journeys of our members and other women in the industry to inspire all of us, especially the younger generation. If you feel like a Glitterati, join us at www.theglitterati.ch/join
17- What is the place of women in the industry today?
MWA. I can imagine! I see women working in all branches of our industry, from jeweller to laboratory gemologist to CEO.
FCT. The position of women in the jewellery industry is probably easier now than it was before, but I think this is true in all sectors where money is predominant. What is obvious is that in the great jewellery houses of Place Vendôme, the teams are largely female!
See you soon!