One confinement, one deconfinement, one overload of work in the workshop and one move later, I am working on this note on the collections presented in July 2020. With delay and I sincerely apologize for that. With the closure of the high jewellery workshops, the vast majority of the houses were unable to present the collections. But some chose to present the models they had received from the workshops. Less than twenty pieces at Messika Joaillerie, three jewels at Van Cleef & Arpels, six at Cartier and barely thirty at Buccellati. No excessive presentations or sumptuous dinners, but some special appointments, this July 2020 fashion week was like between two worlds: no euphoria, but no dead calm either. And in the end, it was very pleasant. Instead of running from one appointment to another, I could take my time. I didn't go to everything but my few appointments were particularly enjoyable. I'd like to see all fashion weeks become like this!
HEMIS necklace: platinum, a 71.08 carat cushion kunzite, opals, brilliant-cut pink and white diamonds. Photo: Cartier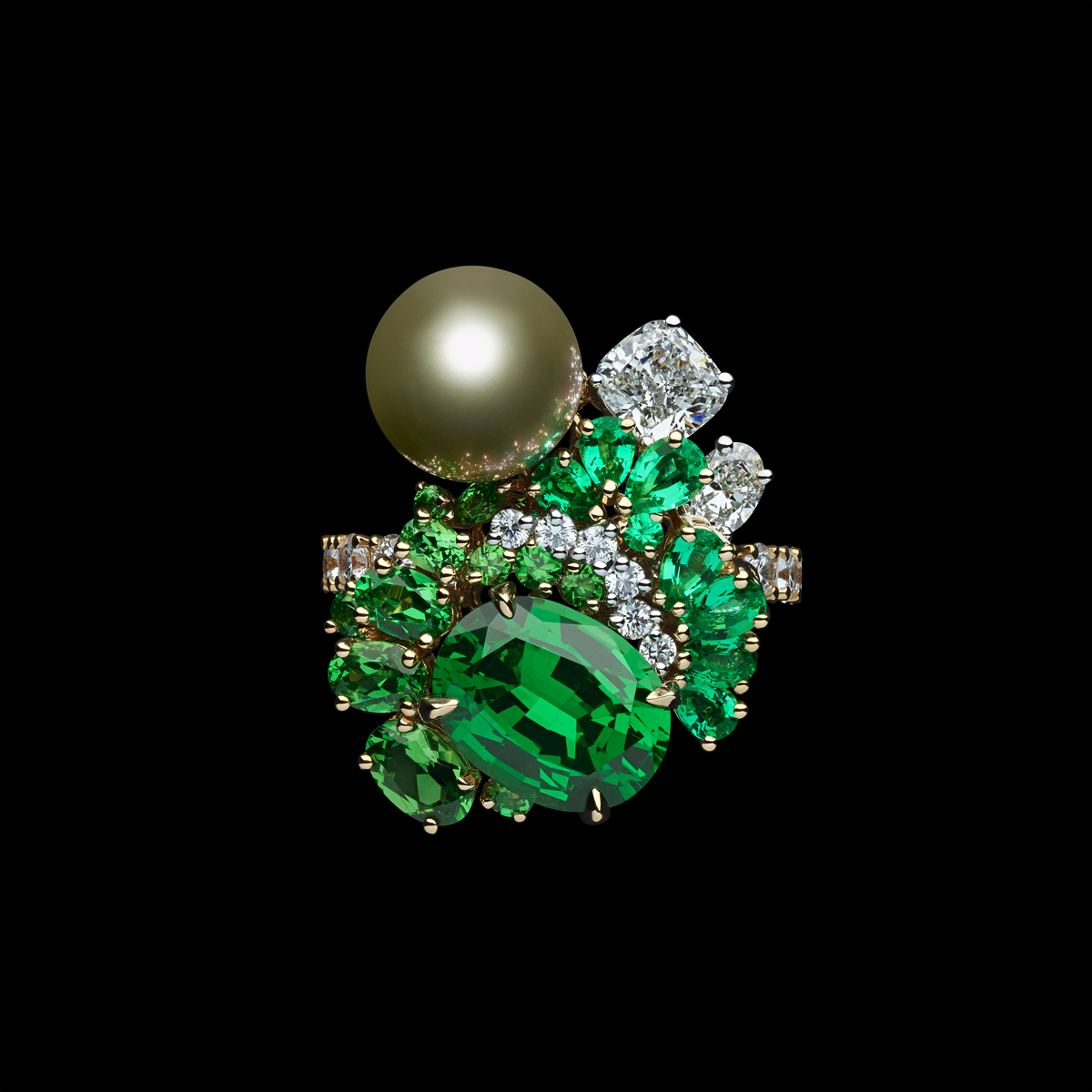 Ring from the Tie & Dior collection in yellow gold, diamonds, emeralds, tsavorite garnets and cultured pearl. Photo: Dior
The house that managed to present the most pieces was Dior, which finally chose to unveil its new Tie & Dior collection at a gala dinner in Shanghai on 25 July. The reason for this is quite obvious: the vast majority of the high jewellery collections designed by Victoire de Castellane are sold in Asia. It was certainly one of the most beautiful events of this strange month of July… The collection is an ever finer variation of the play of colours that the Artistic Director of the house, who has just celebrated her 20th anniversary as head of Dior jewellery, loves. We find cascades of gemstones of all colours, mixtures of shades and pearls – sometimes in surprising shades – that come together for a surprising and fresh contrast. The house generally does not communicate much about its stones, but the models I was able to have in my hands are extremely beautiful. They have all the hallmarks of the house: impeccable quality, intricate craftsmanship, and stones with tangy, gourmand hues.
Ring from the Tie & Dior collection in yellow gold, diamonds, sapphires and cultured pearl. Photo: Dior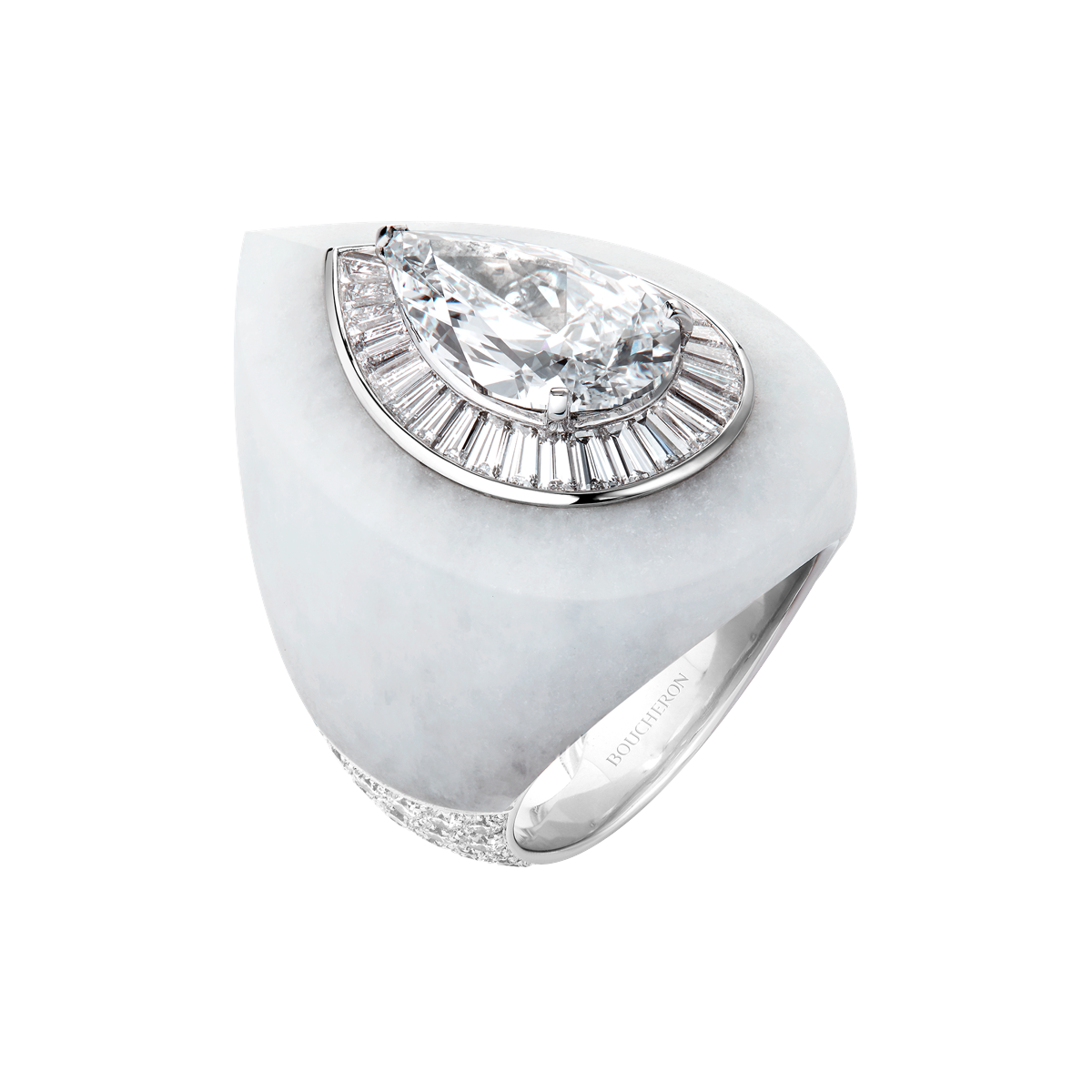 Ring in white gold, 5.08 ct DIF diamond, diamonds and white jade. Photo: Boucheron
Boucheron also managed to make a very nice presentation in its private salons, now remarkably renovated into a private flat – 26 – which I wrote about at length here. Composed of 67 pieces, the collection is called "Contemplation" and it perfectly echoed what we had experienced during the confinement: certainly often a lot of work with remote work, but also a reflection on our private as well as professional lives. It is a very intimate collection that Claire Choisne delivers to us, it is also a collection that puts forward a lot of technique and materials as innovative as surprising. The "Murmure d'étoile" bracelet features adventurous glass, but above all, aerogel, a material composed of over 99.8% air and silica that the company has encapsulated in a piece of rock crystal. This necklace, which is a real aesthetic success, is also terribly confusing: is it a moonstone? An opal? Is it something else? Boucheron sought out this material from NASA, which uses it as an insulator but also to capture stardust for fundamental research. A way of proving Marilyn Monroe right:"The sky is not the limit. Only your mind is".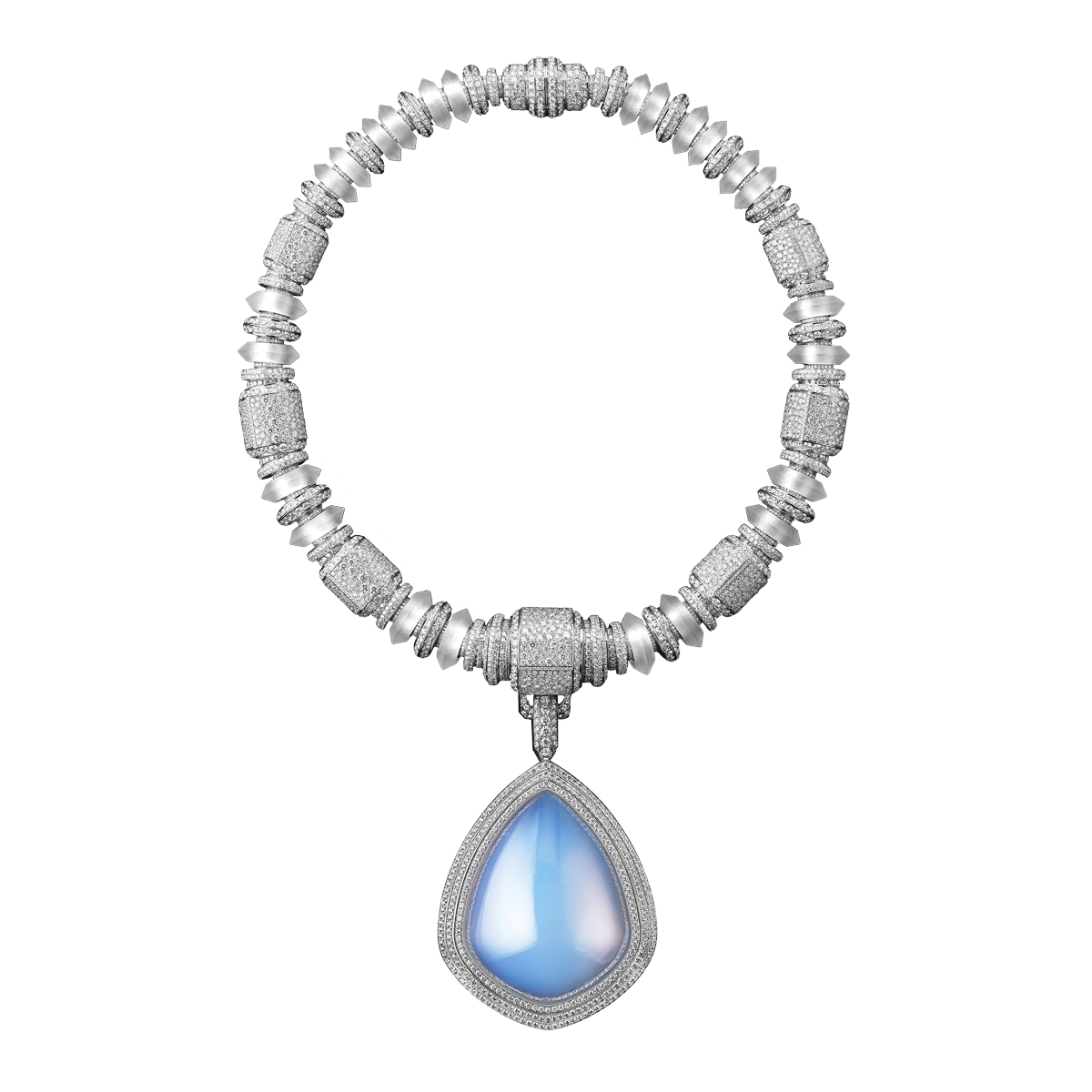 The Goutte de Ciel necklace in rock crystal, diamonds and aerogel. All in white gold. Photo: Boucheron
The Trio ring, a 5.02 ct E VS1 pear diamond, a 0.73 ct VS2 pink to purple diamond and a 0.7 ct VS1 blue diamond. Photo: Messika
Messika presented a dozen pieces featuring only diamonds, its speciality. The designer – Valérie Messia – played on the notion of balance by imagining the Voltige collection. Here, the sets are called Aerial Dancers, Bascules, Trapeze artists or illusionists. The diamonds seem to float without any constraint to simply reveal the brilliance that is theirs. The house has chosen to use centre stones with weights that are more than substantial, ranging from 3 to more than 10 carats, like this 10.19 carat fancy yellow diamond. The settings are bold but light, the stones deliberately set in an airy manner giving the illusion of holding on as if by magic.
Flying Diamonds ring with a 10.19 carat yellow diamond. Photo: Messika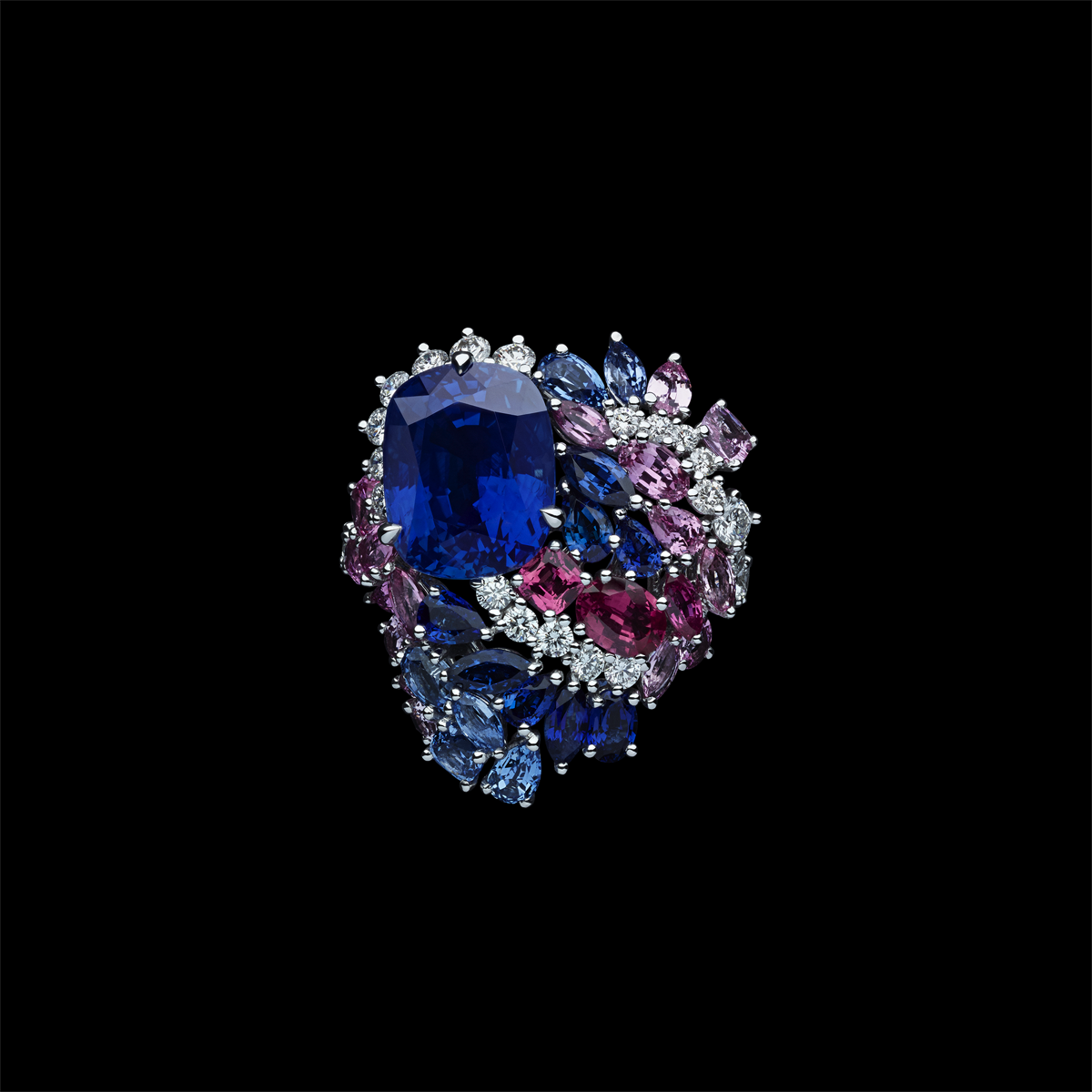 Ring from the Tie & Dior collection in yellow gold, diamonds, sapphires and cultured pearl. Photo: Dior
TILLANDSIA necklace: white gold, two oval green beryls for 163.97 carats, one 0.55 carat fancy yellow pear diamond, one 0.53 carat fancy dark orangey-brown pear diamond, rutilated quartz, pear brown diamonds, rose-cut yellow diamonds, white and brilliant-cut yellow diamonds. Photo: Cartier
Cartier presented six pieces, each more impressive than the last. At the heart of the jewels are rare, remarkable stones with vibrant contrasts: perfect pairings of Madagascar sapphires, green beryls and Australian opals. The most desirable stone: perhaps this 59-carat Zambian emerald, but I believe – on a more personal note – that the Tropical Panther watch is one of the most beautiful creations of the house among the latest collections.
TROPICAL PANTHER watch in yellow gold, two octagonal aquamarines for 12.71 carats, two octagonal blue tourmalines for 20.58 carats, coral, onyx, brilliant cut diamonds, quartz movement. Photo : Cartier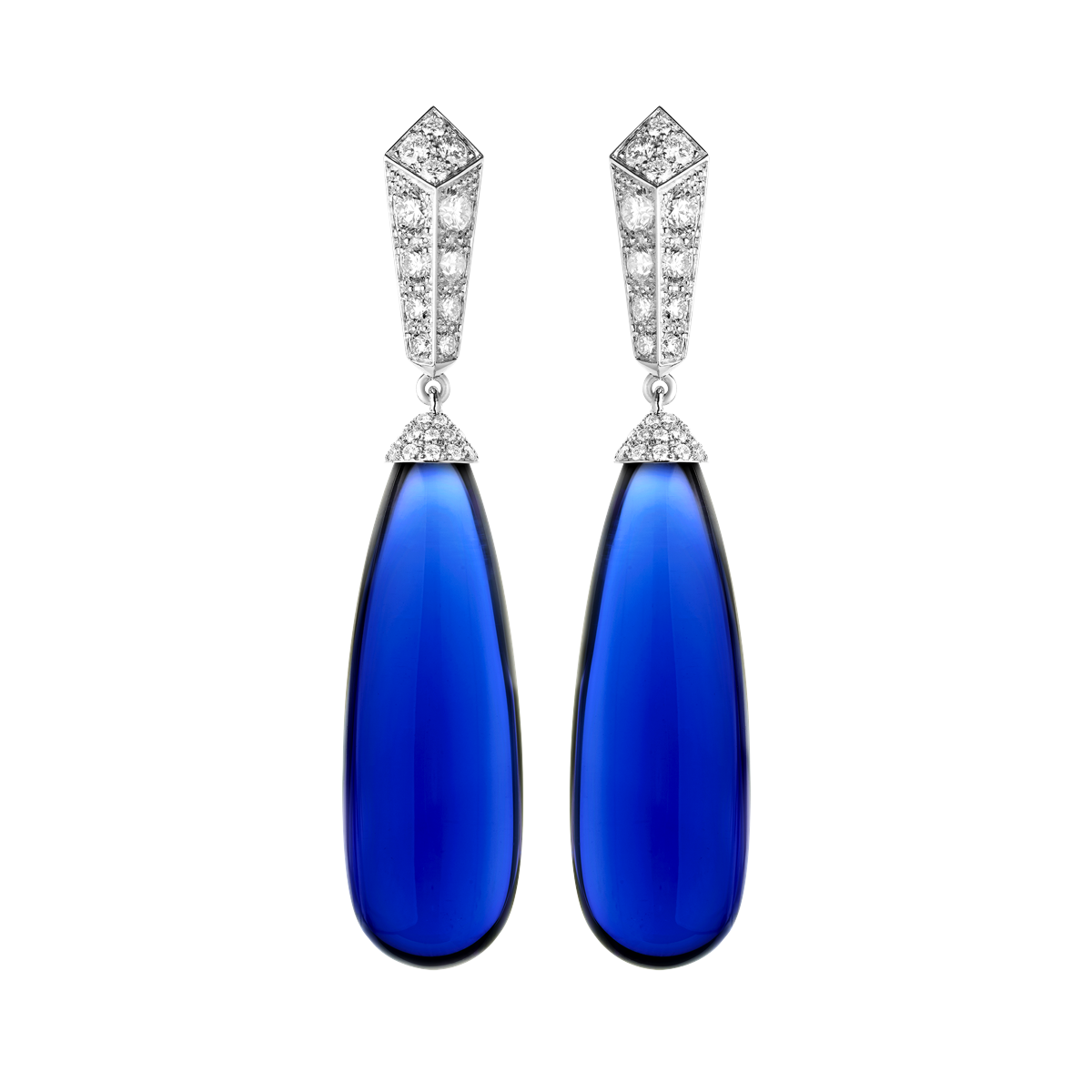 Murmure d'étoiles" earrings in white gold, diamonds and two tanzanite drops for 79.06 ct. Photo: Boucheron
Ring from the Caravanes Lointaines collection in gold, sapphires, diamonds and azurite nodule. Photo: Lydia Courteille
This year, the designer Lydia Courteille takes us on a journey along the Silk Road, and more particularly to the city of Samarkand. But also to the borders of Russia and China, where the landscapes and age-old traditions have inspired the designer. The whole of Central Asia is reinterpreted in this new opus, which highlights sapphires, but also rarer materials such as an azurite nodule or Biggs jasper (Oregon, USA), which allows her to represent these deserts where the saxaul, a plant endemic to this region, flourishes. A collection that allows us to dream of these distant lands that were so important to jewellers.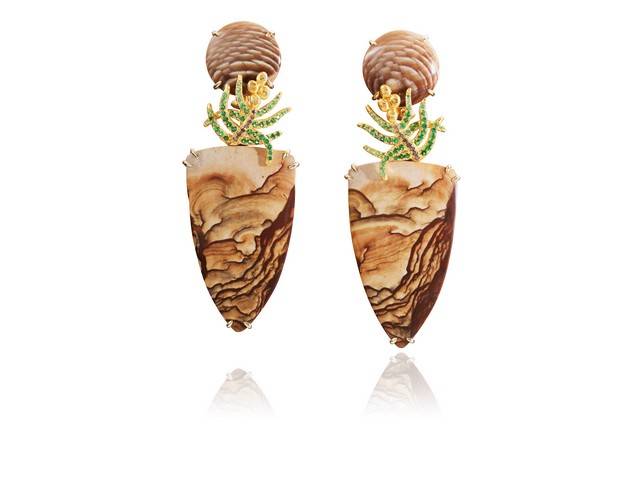 Gold earrings, sapphires, tsavorites, Biggs jasper, fossils. Photo: Lydia Courteille
Gold ring, diamonds and aquamarine cabochon of 31.53 ct. Photo: Boucheron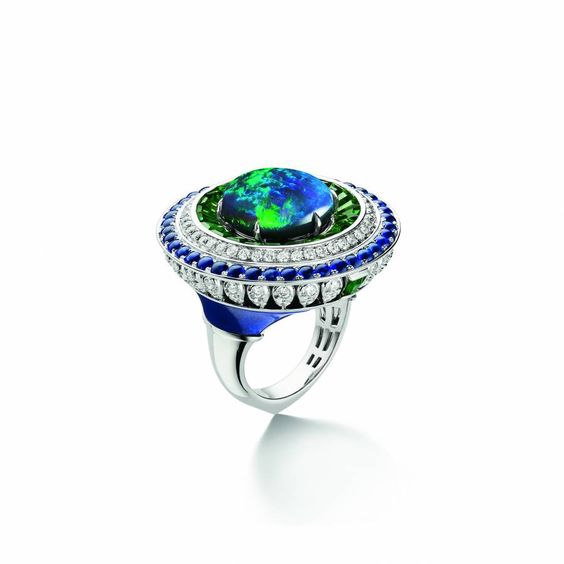 Ring from Chaumet's Perspectives collection, in white gold, sapphires, diamonds, emeralds, lacquer and a black opal centre of 8.70 cr. Photo : Chaumet
Chaumet's new collection was to be dazzling. Containing almost 100 pieces, its official presentation was to coincide with the July 2020 fashion week and was intended to be sumptuous, reflecting the renovation of the Hôtel Baudart de Saint-James, the house's showcase since 1907. Unfortunately, as with many houses, the confinement and closure of the Parisian workshops disrupted the planned festivities. We were not able to see many of the pieces but we did enjoy the equally magnificent designs. Having said that, the house nevertheless had some very beautiful pieces to present: several necklaces, including one in gold mesh encapsulating an imposing tourmaline, this ring set with a black opal with a powerful fire, and this very beautiful ring in yellow gold and diamond, an obvious tribute to Pierre Sterlé, who was one of the house's historic manufacturers.
Yellow gold ring, type IIa asscher D Flawless diamond of 7.34 ct. Photo: Chaumet
Secret Cenote watch in white gold, diamonds, sapphires and black opal. Photo: Piaget
Unica necklace in yellow and white gold, 57 rubies for 23.05 ct. Photo: Buccellati
The new Buccellati boutique was the place to be to discover the new collection, handmade in Italy in the company's workshops. The brand never presents many pieces because of the long execution time needed to create the gold lace of which it has the secret. As always, the presentation was delicate, charming, in the image of this house whose discretion is matched only by its talent. I loved all the pieces I was able to admire and handle. The balance is there, the beautiful materials too. The jewellery is deceptively simple, extremely refined, as joyful and colourful as the Italy that gave birth to it. Special mention should be made of several pieces, including a ring set with a rose-cut diamond weighing more than 14 carats and a necklace with more than 60 perfectly matched spessartite garnets.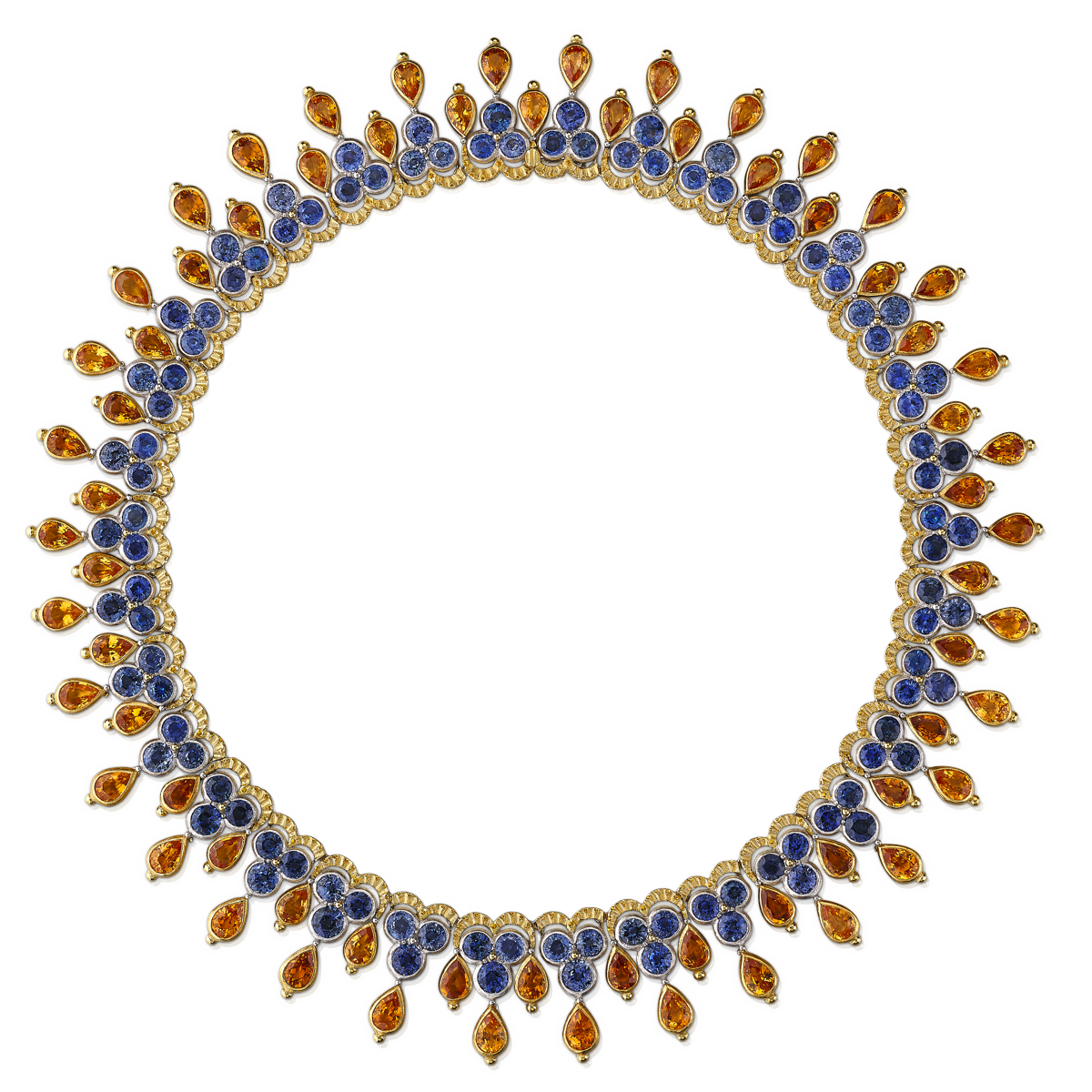 The Unica necklace is in yellow and white gold, 68 spessartite garnets (65.58 ct) and 102 sapphires (58.80 ct). Photo: Buccellati
The Merveille d'émeraudes necklace in white gold, 5 Colombian emeralds for 70,40 ct, 1 Type IIa DFL diamond for 5,81 ct and two Type Iia DIF diamonds for 7,18 ct. Photo: Van Cleef & Arpels
At Van Cleef & Arpels, only three pieces were presented to the press. As the collection was not yet complete, the house chose to show three pieces of jewellery that reinterpreted three of the house's historic pieces: the necklace that was commissioned in 1929 for Princess Faiza of Egypt, the ruby bracelet that made Marlene Dietritch's reputation, and finally, the pair of earrings that were given by Onassis to Jackie Kennedy-Onassis. Of the three pieces, I retained the necklace, for its emeralds. But the bracelet and the earrings are also worth a look: 84 ct of top quality Burmese rubies on the former and two type IIa DFL diamonds of more than 10 carats on the latter. Dazzling and grandiose!
Cocktail ring in white and yellow gold, diamonds including the 14.83 ct rose-cut centre. Photo: Buccellati
Ecstatic Dance ring from Piague's Wings of Light collection: rose gold, diamonds, sapphires and tourmaline. Photo: Piaget
Piaget's artistic direction continues its exploration of light. With Wings of Light, the beautiful materials are still there, the colours are bold and strong and we have the pleasure of finding what has been the signature of the house for several seasons: the woodwork of the talented Rose Saneuil and the feathers of Nelly Saunier. A successful bet with this dazzling jungle, full of birds with magical plumage and plants as tempting as they are dangerous. Not forgetting the poetic sunsets over secret coves… From Cartier to Piaget, it is a perfect ode to this wild nature untouched by man. As if to remind us – perhaps – that it is time, seriously, to protect it. The house remains discreet about the superb stones that adorn the pieces, but it is enough to admire them to understand the months of work that were necessary to find and recut them so that workshops could have the privilege of mounting them.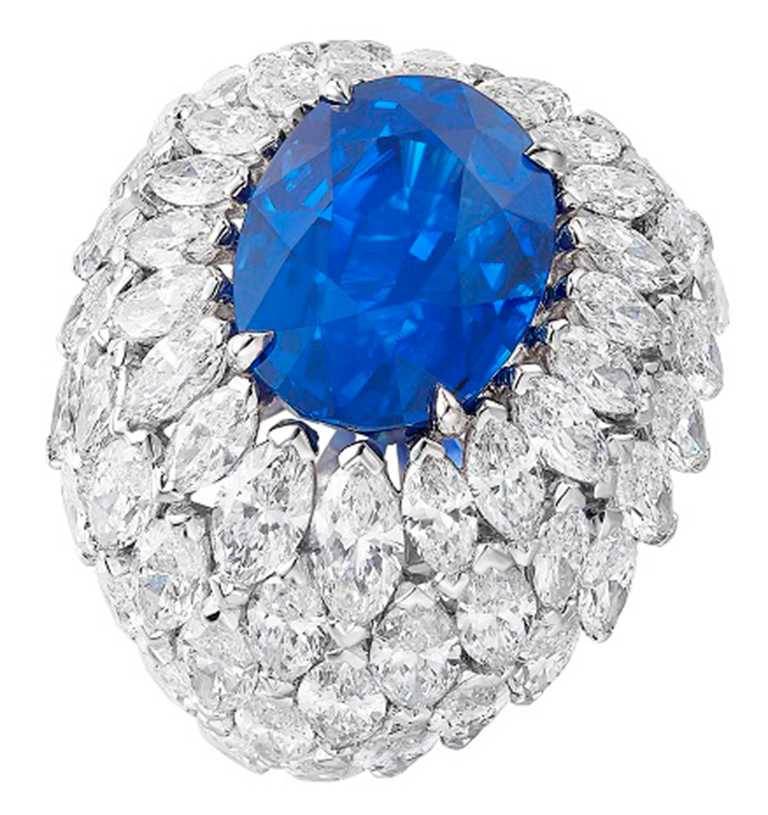 Secret Cenote ring in white gold, diamonds and sapphire. Photo : Piaget
See you soon!