Un confinement, un déconfinement, une surcharge de travail en atelier et un déménagement plus tard, je m'attèle à la rédaction de cette note sur les collections présentées en juillet 2020. Avec retard et je m'en excuse sincèrement. Avec la fermeture des ateliers de haute joaillerie, la grande majorité des maisons n'ont pas pu présenter les collections. Mais certaines ont fait le choix de présenter les modèles qu'elles avaient reçu des ateliers. Moins d'une vingtaine de pièces chez Messika Joaillerie, trois bijoux chez Van Cleef & Arpels, six chez Cartier et à peine une trentaine chez Buccellati. Pas de présentations démesurées ou de diners fastueux mais des rendez-vous particuliers, cette semaine de la mode de juillet 2020 était comme entre deux mondes : pas d'euphorie mais pas le calme plat non plus. Et finalement, c'était très agréable. A la place de courir d'un rendez-vous à un autre, j'ai pu prendre mon temps. Je ne suis pas allée tout voir mais mes quelques rendez-vous étaient particulièrement agréables. Je militerai bien pour que toutes les semaines de la mode deviennent comme cela !
A lockdown, an overload of work in the workshop and a move later, I am getting down to writing this note on the collections presented in July 2020. With delay and I sincerely apologize for it. With the closure of the high-end jewelry workshops, the vast majority of houses were unable to present the collections. But some have chosen to present the models they had received from the workshops. Less than twenty pieces at Messika Joaillerie, three jewels at Van Cleef & Arpels and barely thirty at Buccellati. No oversized presentations or sumptuous dinners but special meetings, this fashion week in July 2020 was like between two worlds : no euphoria but no dead calm either. And finally, it was very pleasant. Instead of running from one appointment to another, I was able to take my time. I did not go to see everything but my few appointments were particularly pleasant. I will campaign so that all fashion weeks become like this !
Collier HEMIS : platine, une kunzite coussin de 71,08 carats, opales, diamants roses et blancs taille brillant. The Hemis necklace: platinum, a 71,08 ct cushion-cut kunzite, opals, colorless and pink diamonds. Photo : Cartier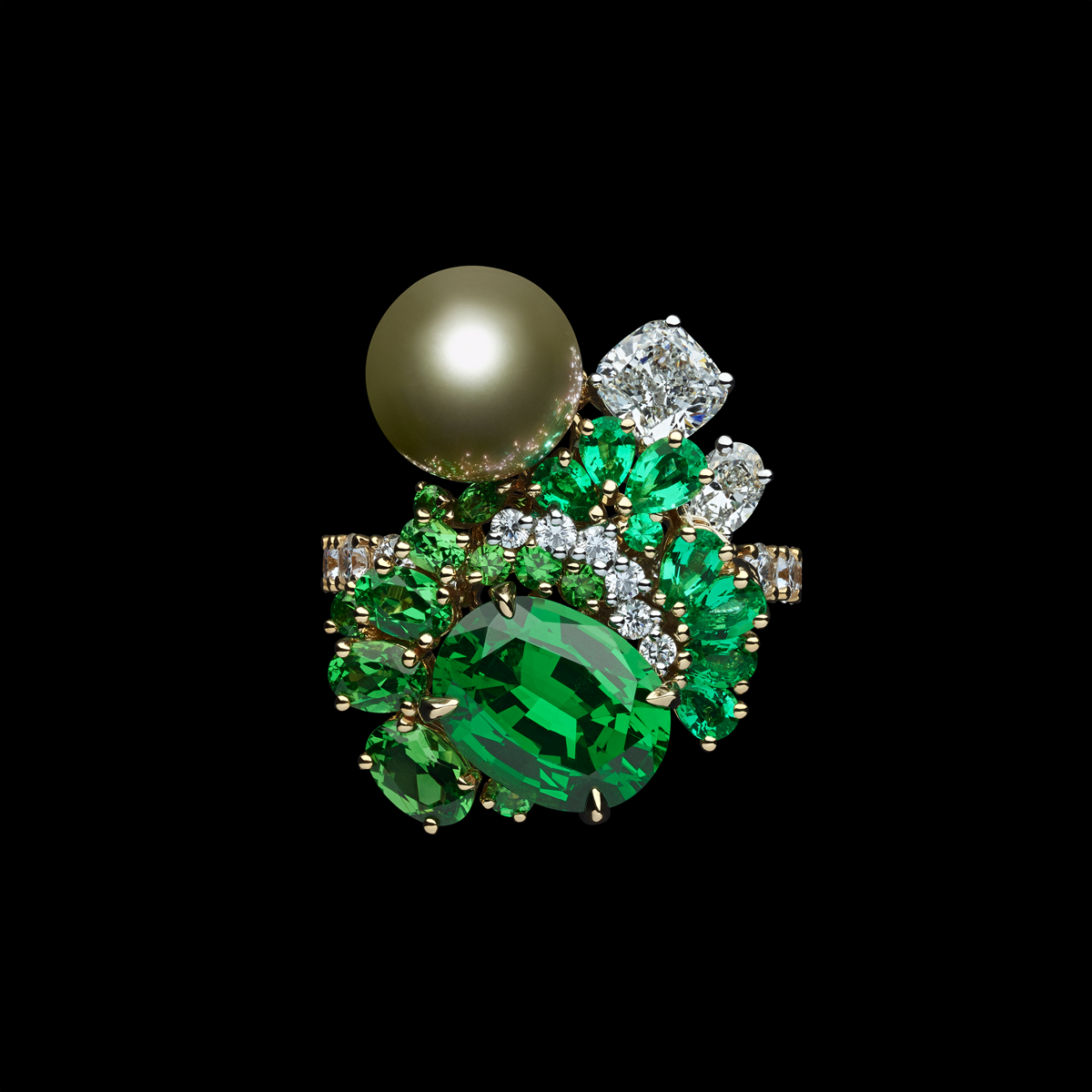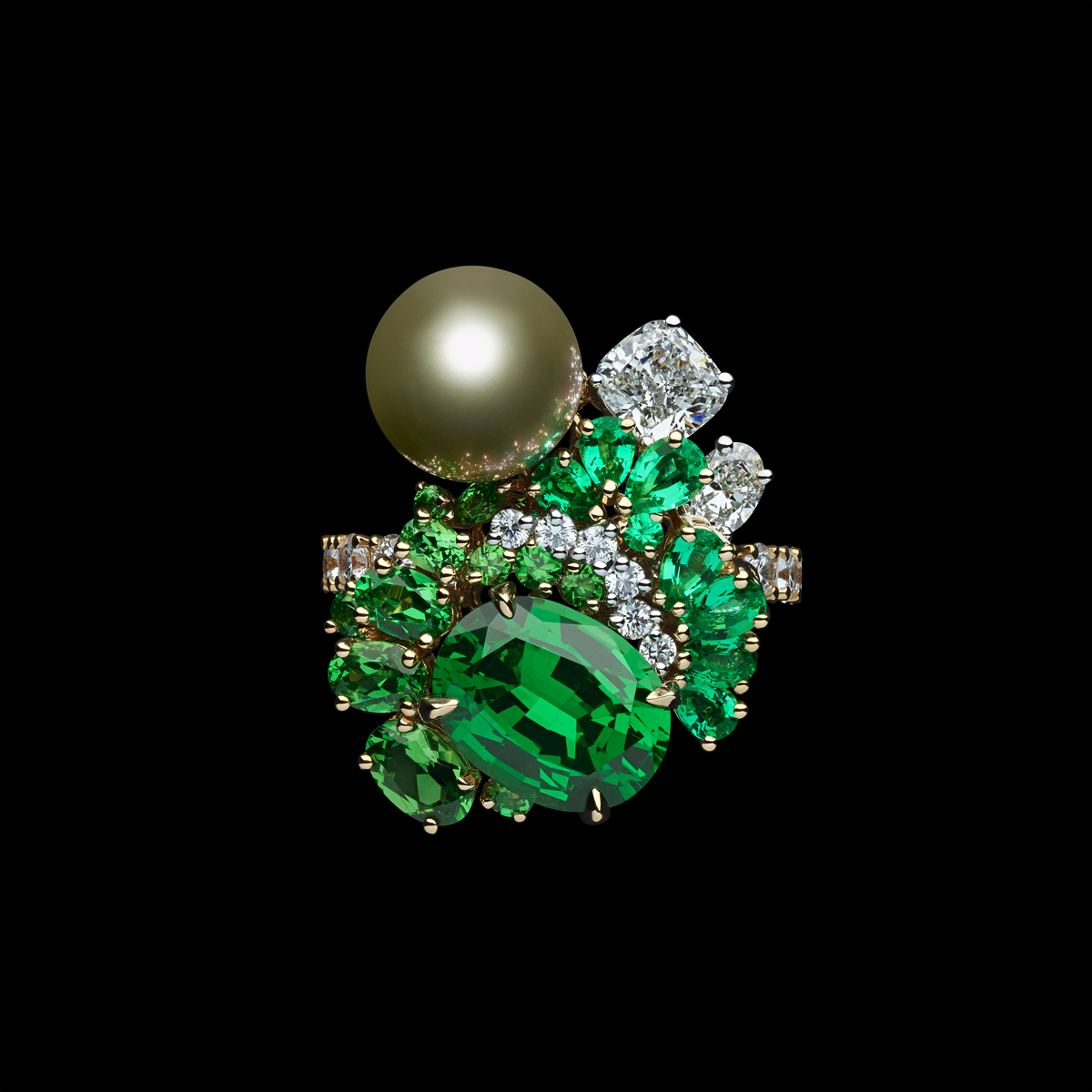 Bague issue de la collection Tie & Dior en or jaune, diamants, émeraudes, grenats tsavorites et perle de culture. Ring from the Tie & Dior new high-end jewelry collection in yellow gold, diamonds, emeralds, tsavorite garnets and cultured pearl. Photo : Dior
La maison qui a réussi à présenter le plus de pièces a été la maison Dior qui a finalement choisi de dévoiler sa nouvelle collection Tie & Dior lors d'un diner de gala à Shanghai le 25 juillet. Pour une raison assez évidente : la grande majorité des collections de haute joaillerie imaginée par Victoire de Castellane se vendent en Asie. Ce fut certainement l'un des plus beaux événements de ce drôle de mois de juillet… La collection se veut une déclinaison toujours plus fine des jeux de couleurs qu'affectionne la Directrice Artistique de la maison qui vient de fêter ses 20 ans à la tête de la direction de la joaillerie Dior. On y retrouve des cascades de pierres gemmes de toutes les couleurs, des mélanges de nuances et des perles – aux teintes parfois surprenantes – qui viennent de confronter pour un contraste étonnant et frais. La maison communique généralement peu sur ses pierres, mais les modèles que j'ai pu avoir entre les mains sont extrêmement beaux. On y retrouve ce qui fait l'âme de la maison : qualité impeccable, complexité de fabrication, pierres aux teintes acidulées et gourmande.
The house that managed to present the most pieces was Dior, which finally chose to unveil its new Tie & Dior collection at a gala dinner in Shanghai on July 25. For a fairly obvious reason: the vast majority of the high-end jewelry collections imagined by Victoire de Castellane are sold in Asia. It was certainly one of the most beautiful events of this strange month of July… The collection aims to be an ever finer variation of the color schemes that the Artistic Director of the house loves, who has just celebrated her 20 years in the head of the direction of Dior jewelry. There are cascades of gemstones of all colors, mix & match of shades and pearls – sometimes with surprising hues – which come together for an astonishing and fresh contrast. The house generally communicates a few about its stones, but the pieces that I have had in my hands were extremely beautiful. We find there what makes the soul of the house: impeccable quality, complexity of manufacture, stones with acidulous and delicious colors.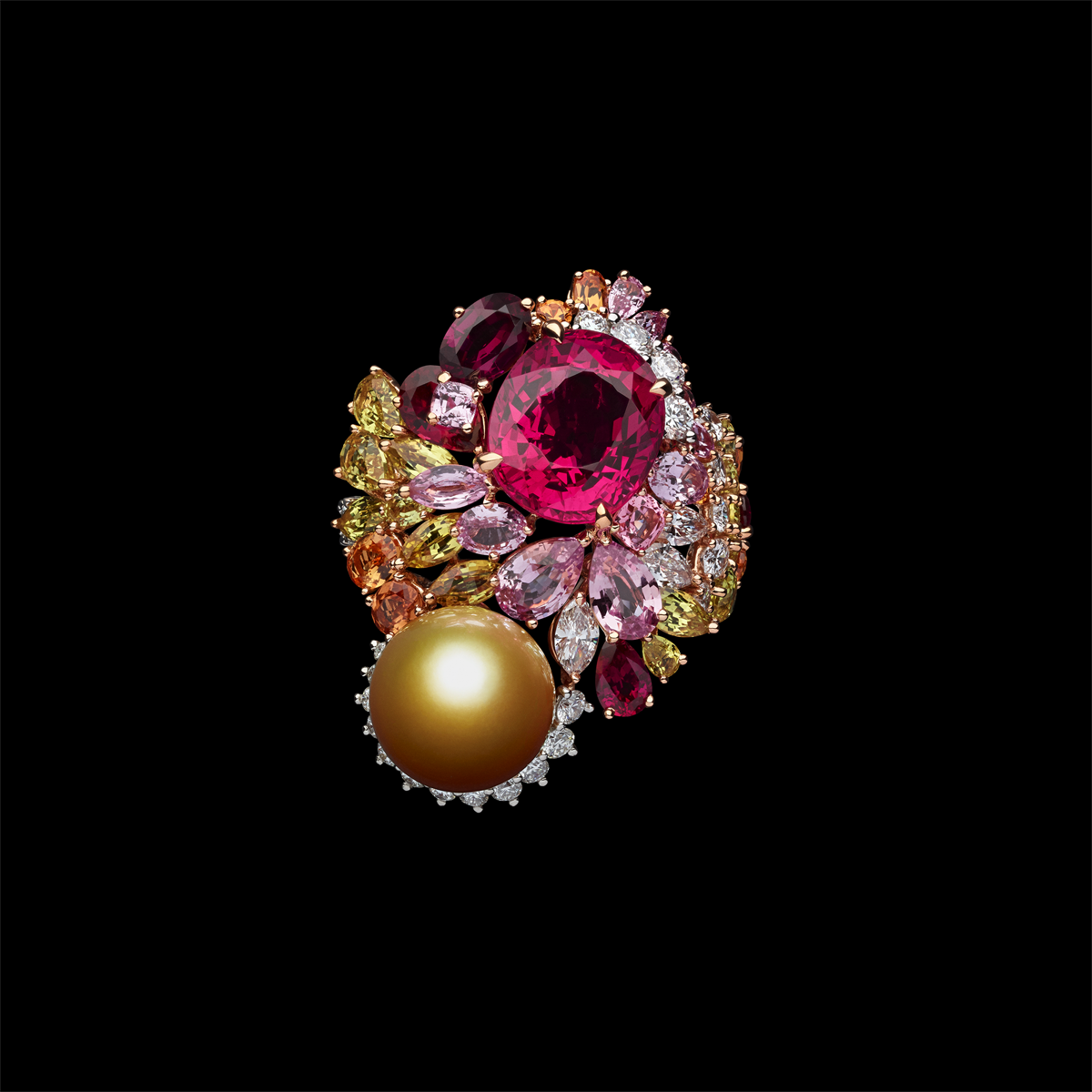 Bague issue de la collection Tie & Dior en or jaune, diamants, saphirs et perle de culture. Ring from the Tie & Dior new high-end jewelry collection in yellow gold, diamonds, sapphires and cultured pearl. Photo : Dior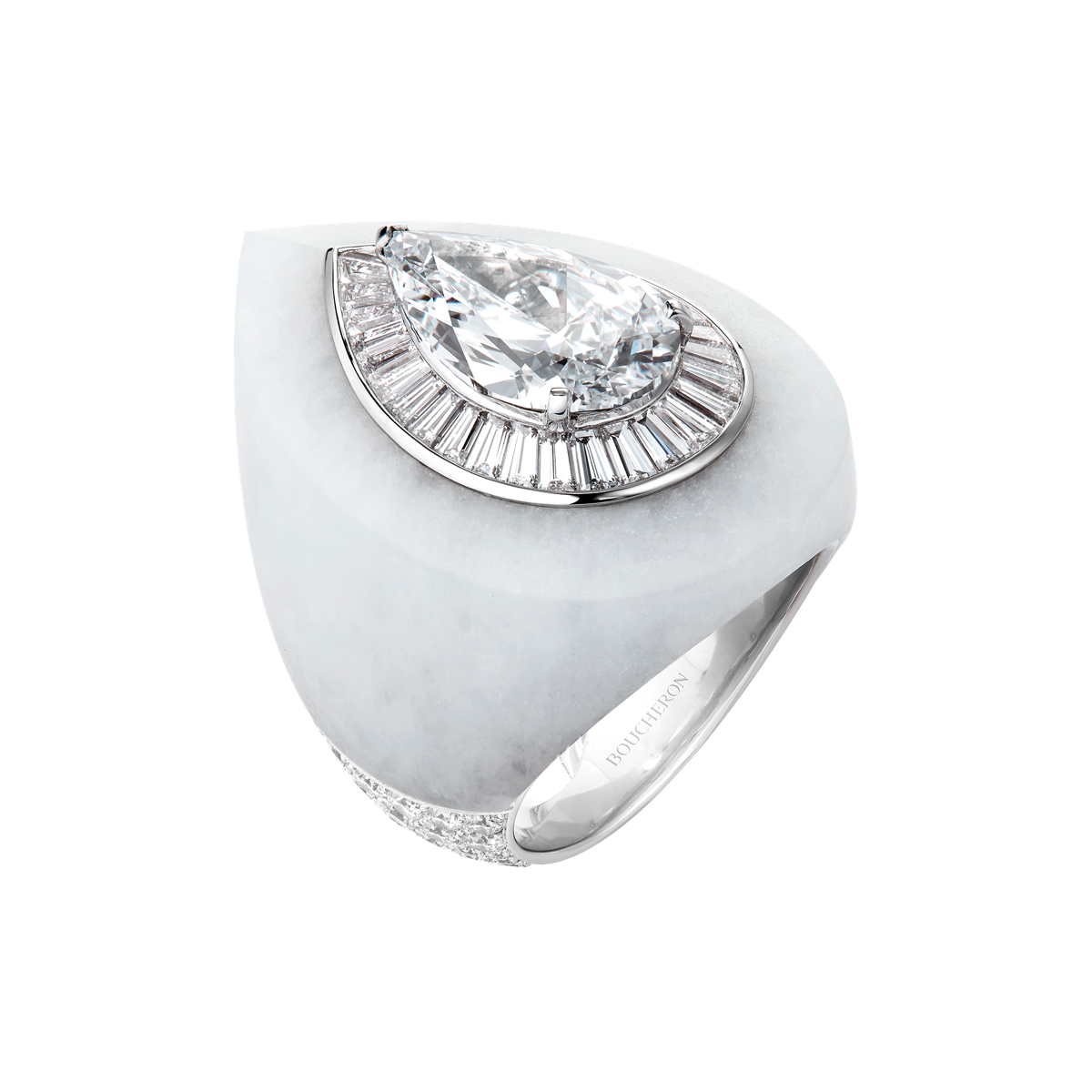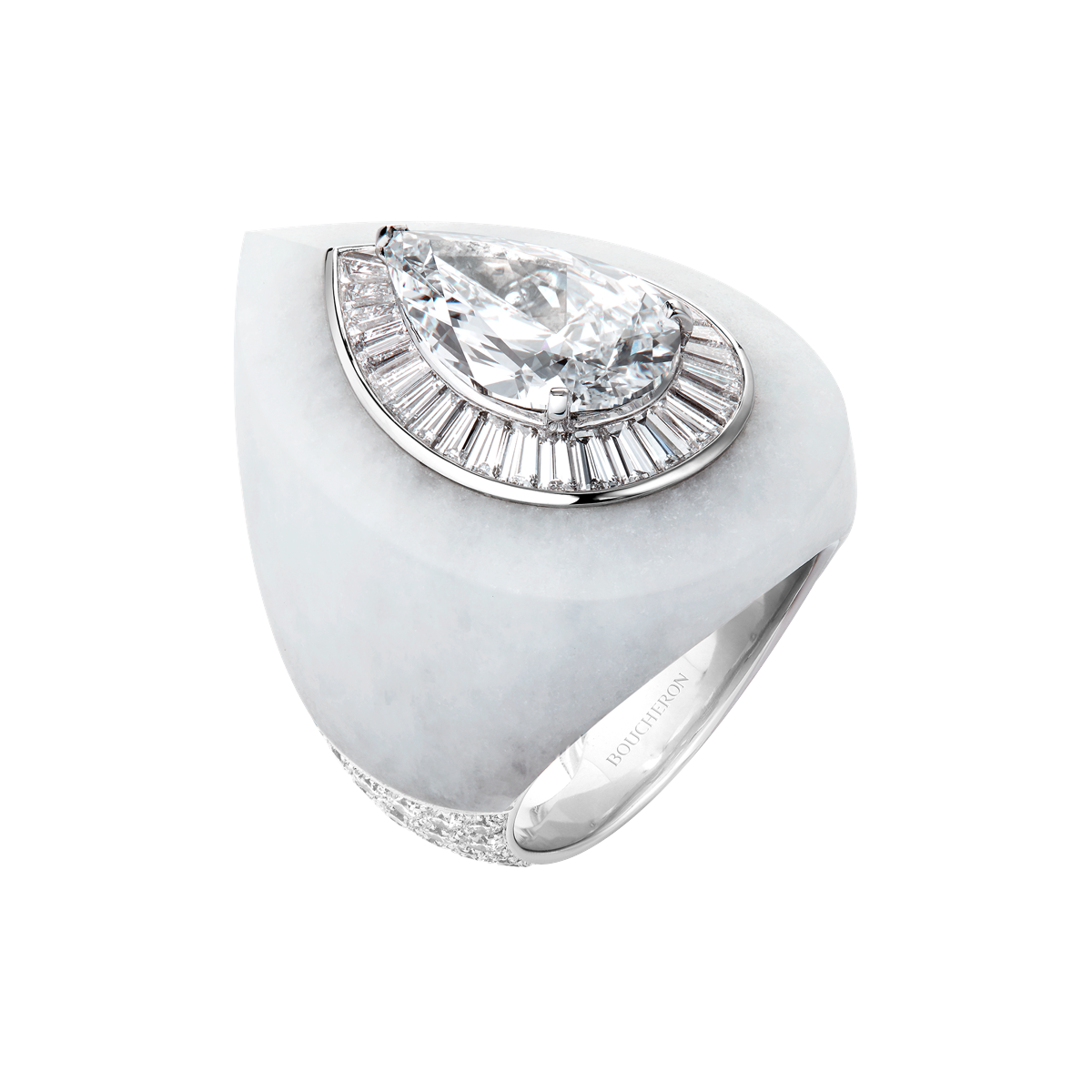 Bague en or blanc, diamant DIF de 5,08 ct, diamants et jade blanc. Ring set with a 5.08 ct D IF pear diamond and white jade, paved with diamonds, in white gold. Photo : Boucheron
La maison Boucheron a également réussi à faire une très belle présentation dans ses salons privés, désormais remarquablement rénovés pour en faire un appartement privé – le 26 – dont je vous longuement parlé ici. Composée de 67 pièces, la collection s'intitule « Contemplation » et elle faisait parfaitement écho à ce que nous avions vécu durant le confinement : certes souvent beaucoup de travail avec le travail à distance, mais également une reflexion sur nos vies privées comme professionelles. C'est une collection très intime que nous livre Claire Choisne, c'est également une collection qui met en avant énormement de technique et des matériaux aussi inovants que surprenants. Le verre aventuriné, déjà, sur le bracelet « Murmure d'étoile » mais surtout, l'aérogel, une matière composée à plus de 99,8% d'air et de silice que la maison a encapsulé dans une pièce de cristal de roche. Ce collier qui est un vrai réussite esthètique est aussi terriblement déroutant : est-ce une pierre de lune ? Une opale ? Autre chose ? La maison Boucheron est allée chercher ce matériaux auprès de la NASA qui l'utilise comme isolant mais également pour capturer de la poussière d'étoile pour la recherche fondamentale. Une manière de donner raison à Marylin Monroe qui aurait déclaré « le ciel n'est pas la limite. Seul votre esprit l'est« .
The Boucheron house has also succeeded in making a very nice presentation in its private rooms, now remarkably renovated to make it a private apartment – the 26th – which I have already spoken to you here. Composed of 67 pieces, the collection is called « Contemplation » and it perfectly echoed what we had experienced during lockdown: certainly often a lot of work with remote work, but also a reflection on our private and professional lives. Claire Choisne delivers a very intimate collection, it is also a collection that highlights a lot of technique and materials as innovative as they are surprising. First was aventurined glass on the « Murmure d'étoiles » cuff and then, the aerogel, a material composed of more than 99.8% air and silica that the house has encapsulated in a piece of rock crystal. This necklace which is a real aesthetic success is also terribly confusing: is it a moonstone? An opal? Something else ? The Boucheron company went to get it from NASA, which uses it as an insulator but also to capture stardust for fundamental research. One way of proving Marylin Monroe was right when have declared « the sky isn't the limit. Your mind is ».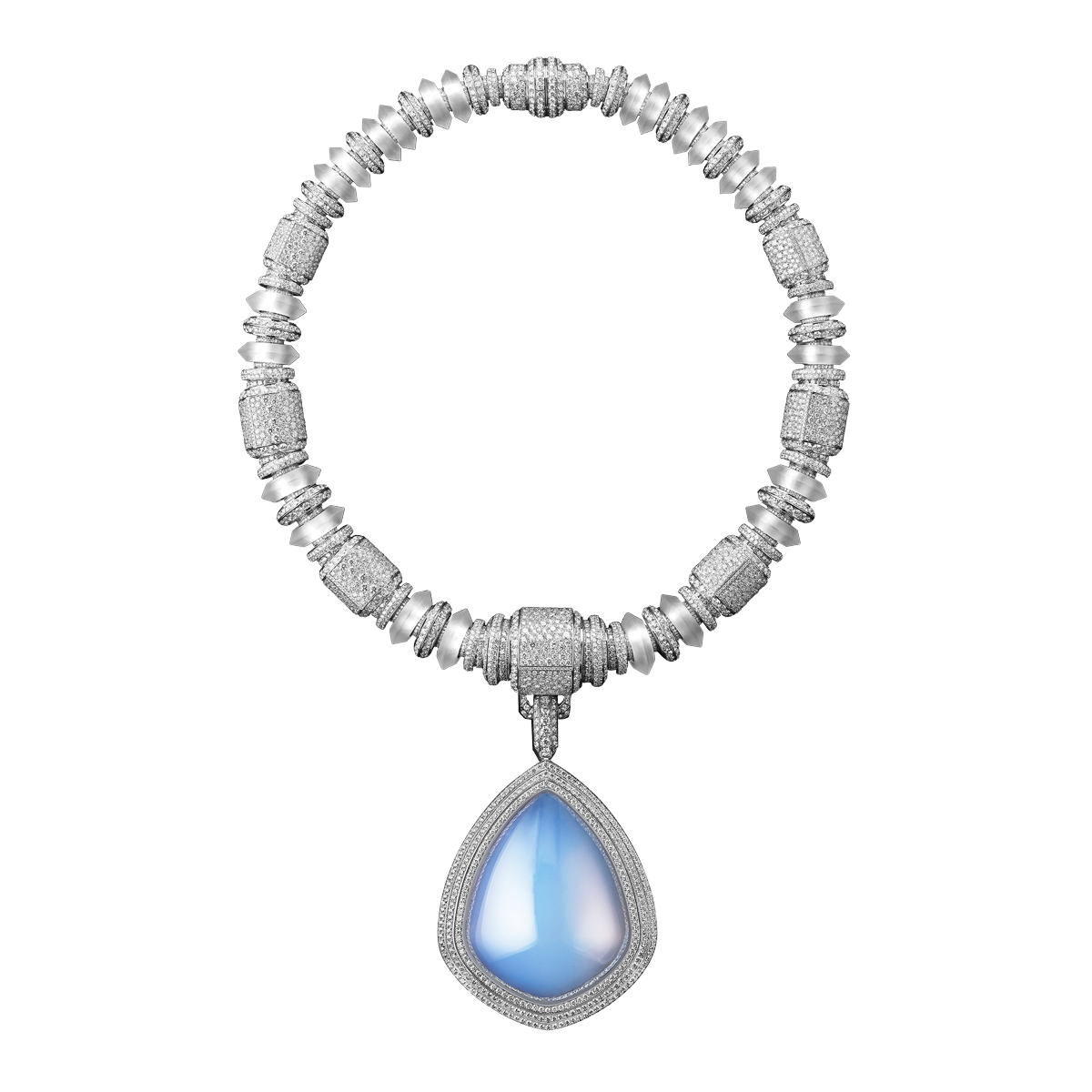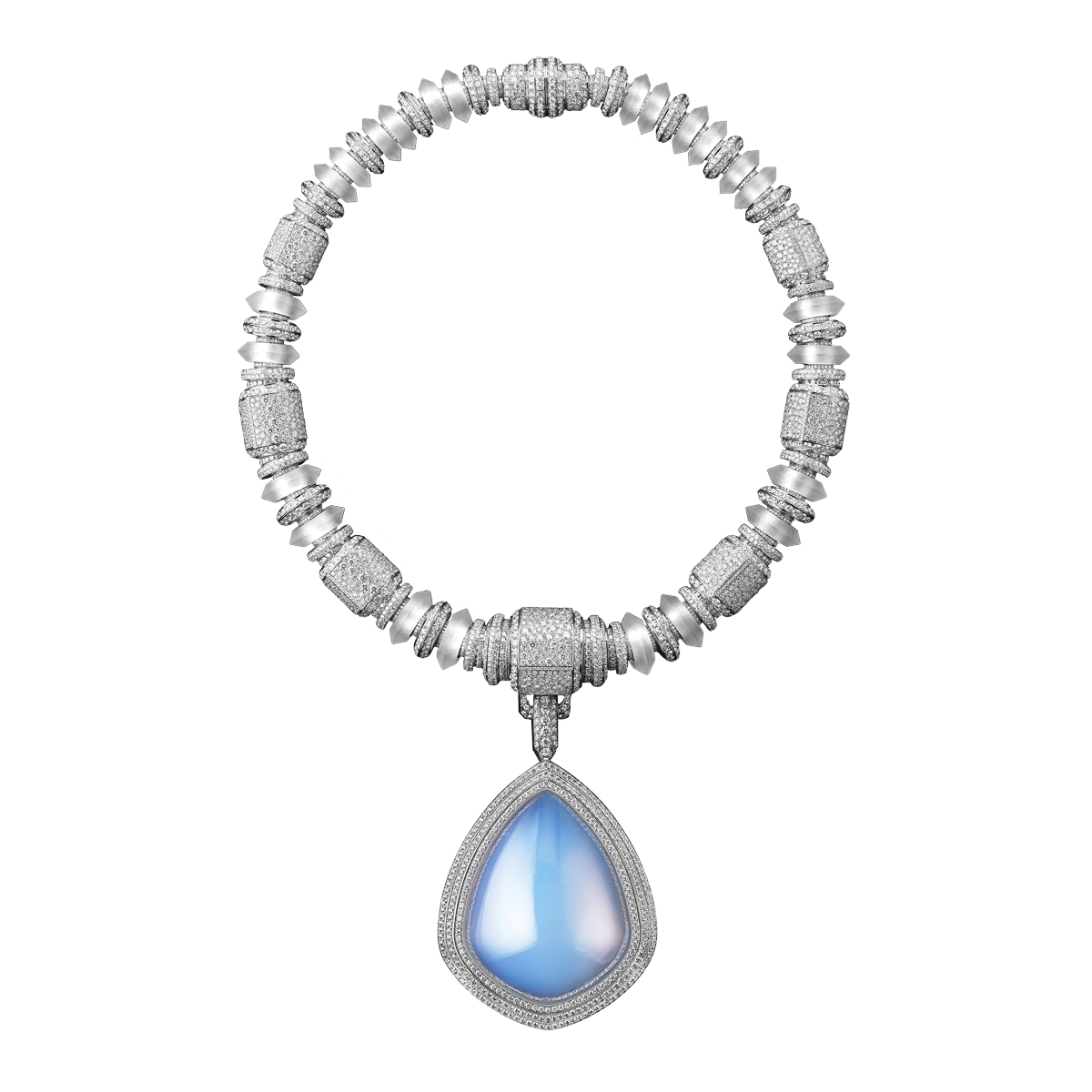 Le collier Goutte de Ciel en cristal de roche, diamants et aérogel. Le tout en or blanc. Necklace in rock crystal and paved with diamonds, set with a drop of rock crystal in aerogel, in white gold. Photo : Boucheron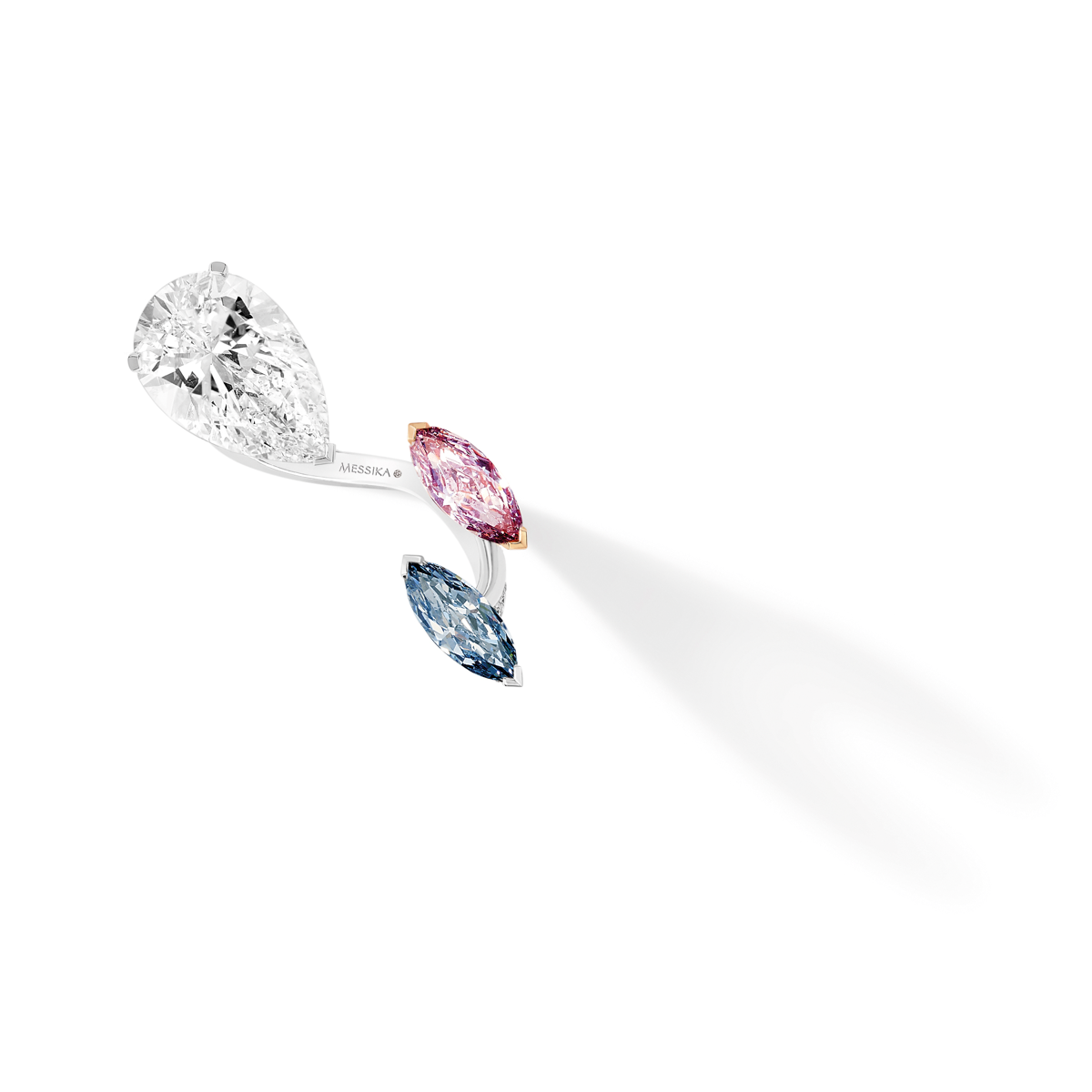 La bague Trio, un diamant poire de 5,02 ct E VS1, 1 diamant rose à pourpre de 0,73 ct VS2 et un diamant bleu de 0,7 ct VS1. The TRIO ring : 1 pear shape diamond of 5.02ct E VS1, 1 pink-purple marquise shape diamond of 0,73ct VS2 and 1 fancy intense blue marquise shape diamond of 0,7ct VS1. Photo : Messika
La maison Messika a, de son coté, présenté une dizaine de pièce mettant en avant uniquement des diamants, sa spécialité. La créatrice – Valérie Messia – a joué ici sur la notion d'équilibre en imaginant la collection Voltige. Ici, les parures s'appellent Danseurs Aériens, Bascules, Trapézistes ou illusionistes. Les diamants semblent flotter sans contrainte aucune pour simplement révèler l'éclat qui est le leur. La maison a fait le choix d'utiliser des pierres de centres avec des poids plus que conséquents, allant de 3 à plus de 10 carats comme ce diamant fancy yellow de 10,19 carats. Les montures sont audacieuses mais légères, les pierres volontairement serties d'une manière aérienne donnant l'illusion de tenir comme par magie.
Messika, for its part, presented a dozen pieces highlighting only diamonds, its specialty. The designer – Valérie Messia – played here on the notion of balance by imagining the Voltige collection. Here, the sets are called Aerial Dancers, Bascules, Trapeze artists or illusionists. The diamonds seem to float without any constraint just to reveal their own sparkle. The house has chosen to use center stones with more than substantial weights, ranging from 3 to over 10 carats, such as this 10.19 carat fancy yellow diamond. The jewels are daring but light, the stones deliberately set in an aerial way giving the illusion of holding as if by magic.
Bague Flying Diamonds avec un diamant jaune de 10,19 ct. The Flying diamond ring with 1 fancy yellow pear shape diamond of 10,19ct VVS1. Photo : Messika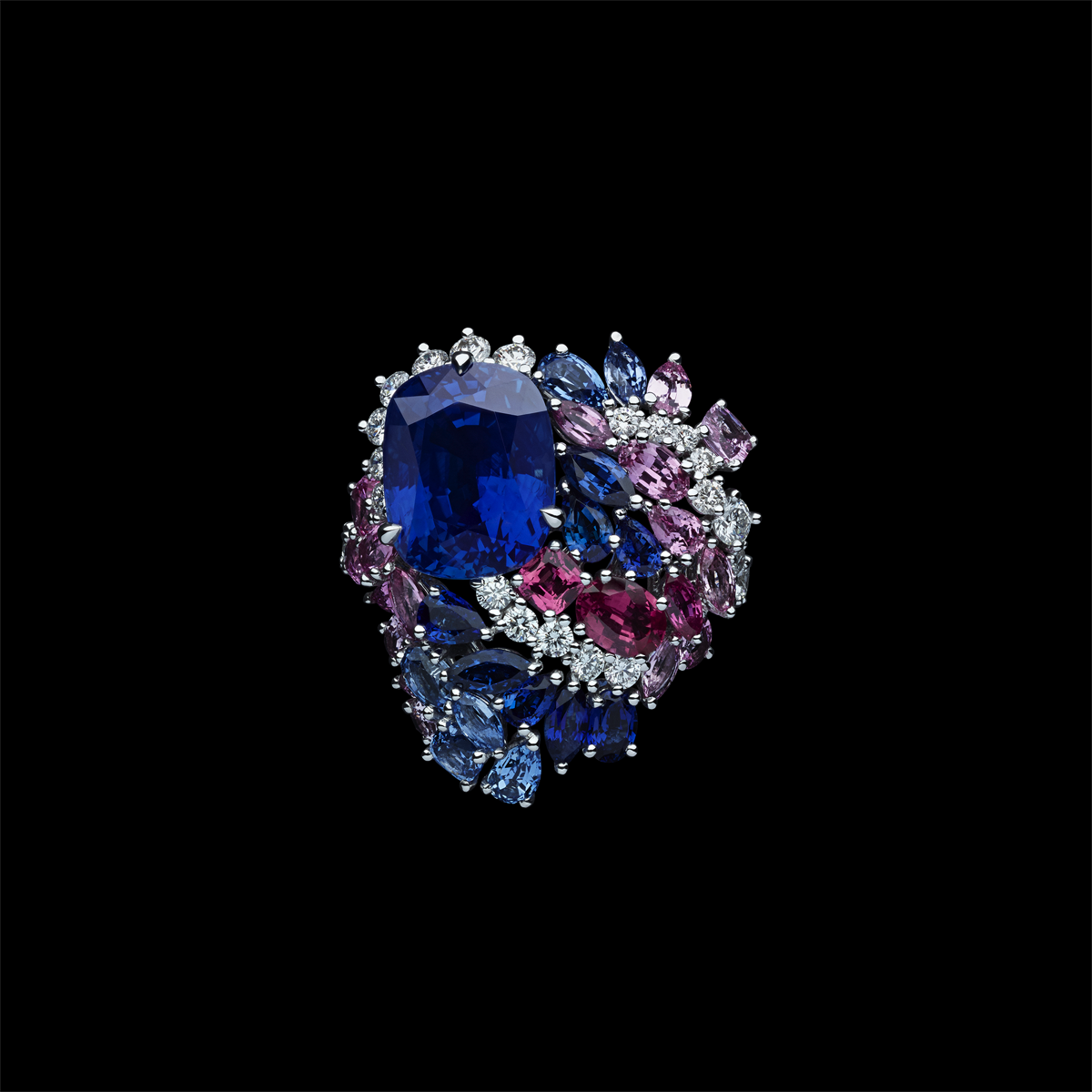 Bague issue de la collection Tie & Dior en or jaune, diamants, saphirs et perle de culture. Ring from the Tie & Dior new high-end jewelry collection in yellow gold, diamonds, sapphires and cultured pearl. Photo : Dior
Collier TILLANDSIA : or gris, deux béryls verts ovales pour 163,97 carats, un diamant poire fancy yellow de 0,55 carat, un diamant poire fancy dark orangey- brown de 0,53 carat, quartz rutile, diamants bruns poire, diamants jaunes taille rose, diamants blancs et jaunes taille brillant. The TILLANDSIA necklace: white gold, two oval green beryls for 163.97 carats, one fancy yellow pear diamond of 0.55 carat, one fancy dark orangey-brown pear diamond of 0.53 carat, rutile quartz, pear brown diamonds, yellow diamonds rose cut, white and yellow brilliant cut diamonds. Photo : Cartier
La maison Cartier a présente six pièces toutes plus impressionantes les unes que les autres. Au coeur des bijoux, des pierres, rares, remarquables, aux  contrastes vibrants : on retrouve ainsi des appairages parfaits de saphirs de Madagascar, de béryls verts, d'opales d'Australie. La pierre la plus désirable: peut-être cette émeraude de Zambie de plus 59 carats, mais je crois – à titre plus personel – que la montre Panthère tropicale est l'une des plus jolies créations de la maison parmi les dernières collections.
The Cartier house has introduced six pieces, each more impressive than the last. At the heart of the jewels are, rare, remarkable stones with vibrant contrasts: we thus find perfect pairings of sapphires from Madagascar, green beryls and Australian opals. The most desirable stone: perhaps this Zambian emerald of over 59 carats, but I believe – on a more personal note – that the Tropical Panther watch is one of the house's prettiest creations among the latest collections.
Montre PANTHÈRE TROPICALE en or jaune, deux aigues-marines octogonales pour 12,71 carats, deux tourmalines bleues octogonales pour 20,58 carats, corail, onyx, diamants taille brillant, mouvement à quartz. TROPICAL PANTHER watch in yellow gold, two octagonal aquamarines for 12.71 carats, two octagonal blue tourmalines for 20.58 carats, coral, onyx, brilliant-cut diamonds, quartz movement. Photo : Cartier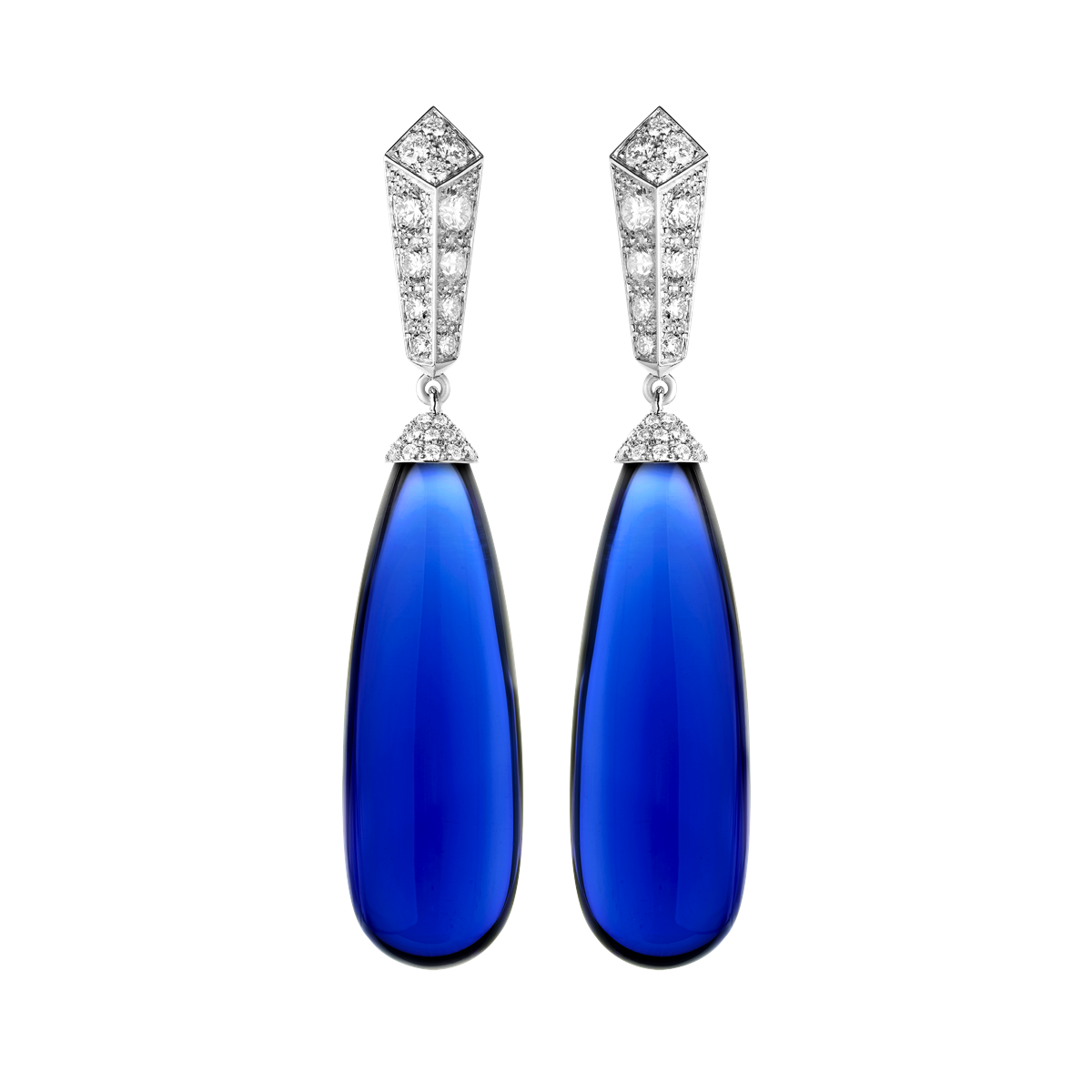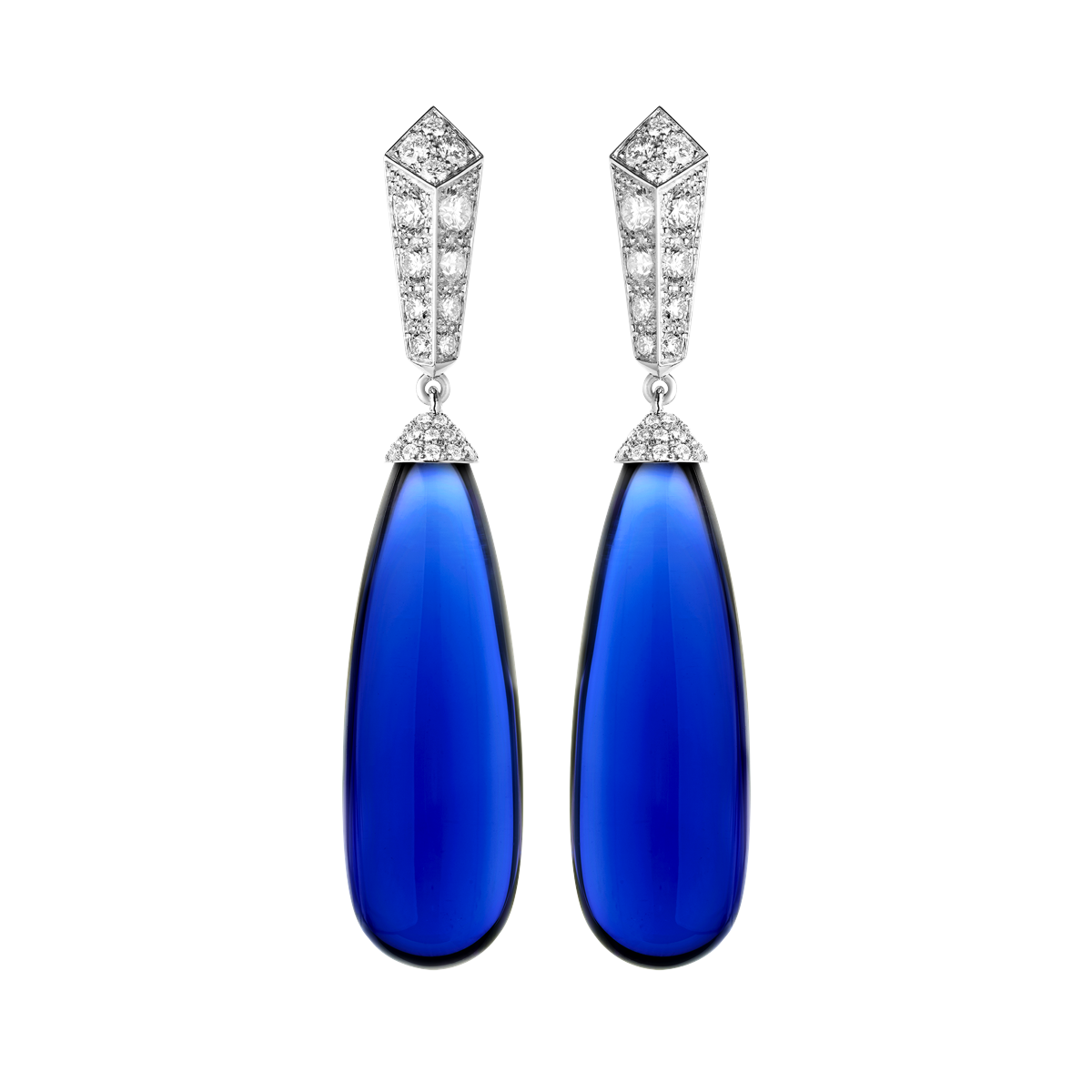 Boucles d'oreilles « Murmure d'étoiles » en or blanc, diamants et deux gouttes en tanzanite pour 79,06 ct. The « Murmure d'étoiles » earrings set with a total of 79,06 ct drop cabochon tanzanites and paved with diamonds. Photo : Boucheron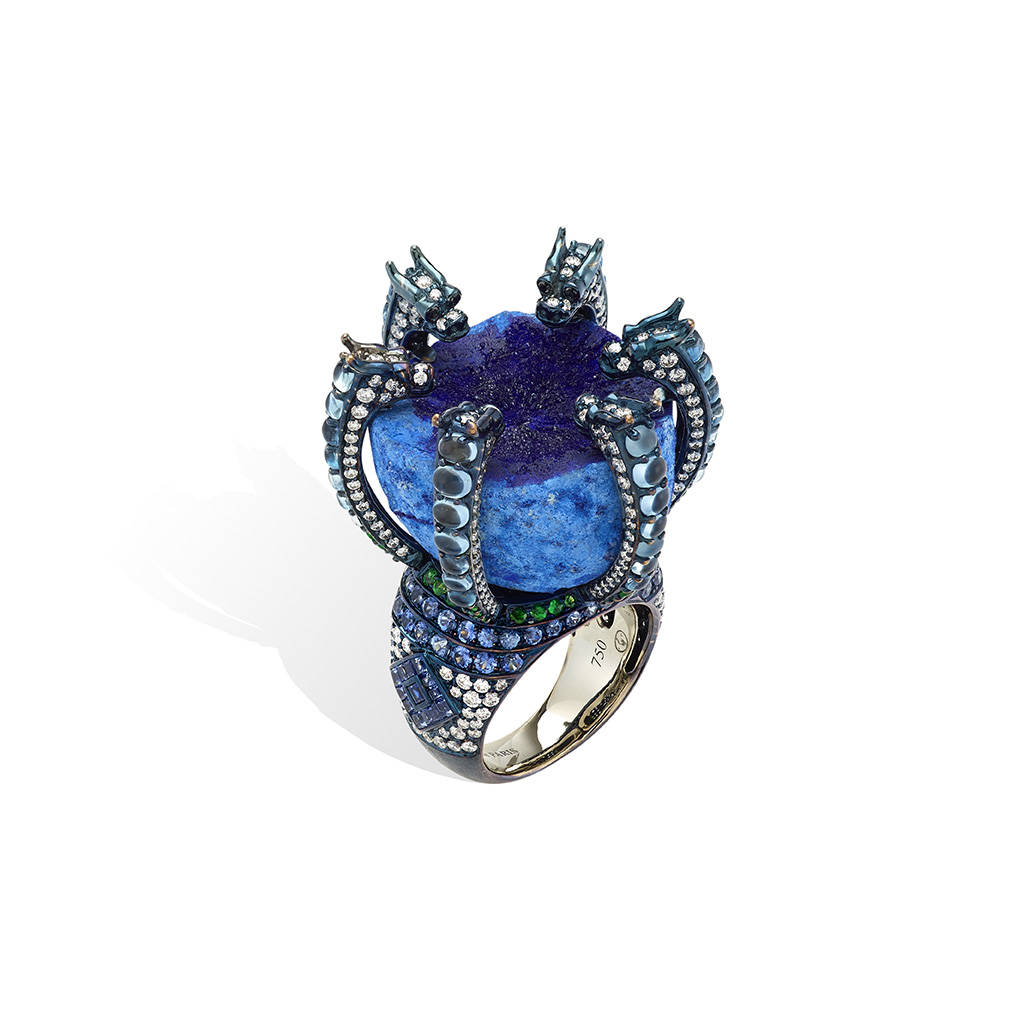 Bague de la collection Caravanes Lointaines en or, saphirs, diamants et nodule d'azurite. Ring from the « Caravan » collection in gold, sapphires, diamonds and azurite. Photo : Lydia Courteille
La créatrice Lydia Courteille nous emmène cette année sur la route de la soie et plus particulièrement dans la ville de Samarcande. Mais également aux confins de la Russie et de la Chine, où les paysages et les traditions séculaires ont inspiré la créatrice. C'est ici toute l'Asie centrale qui se trouve réinterprétée dans ce nouvel opus qui met en avant les saphirs, mais également des matières plus rares comme un nodule d'azurite ou du jaspe de Biggs (Oregon, USA) qui lui permet de représenter ces déserts où le saxaoul, une plante endémique de cette région, s'épanouit. Une collection qui permet de réver à ces terres lointaines qui furent tellement importantes pour les joailliers.
The designer Lydia Courteille takes us this year on the Silk Road and more particularly in the city of Samarkand. But also on the borders of Russia and China, where landscapes and centuries-old traditions have inspired the designer. It is here all of Central Asia that is reinterpreted in this new opus which highlights sapphires, but also rarer materials such as a nodule of azurite or Biggs jasper (from Oregon, USA) which allows her to represent these deserts where the saxaoul, a plant endemic to this region, flourishes. This collection allows us to dream to these distant landscapes which were so important for jewelers.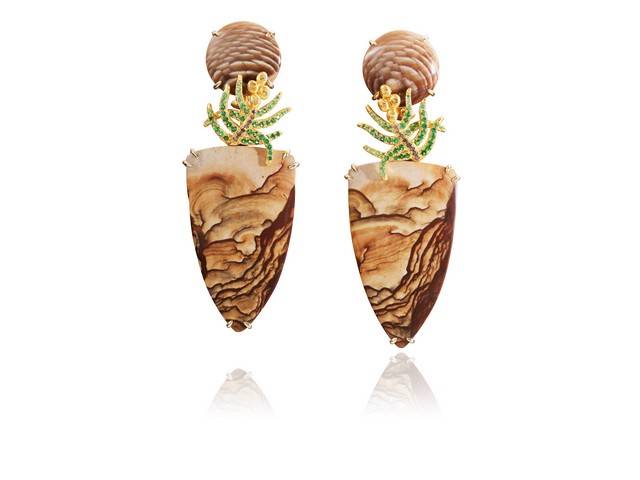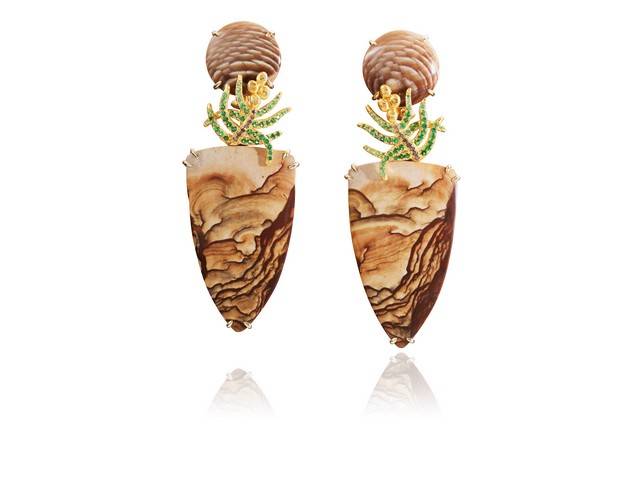 Boucles d'oreilles en or, saphirs, tsavorites, jaspes de Biggs, fossiles. Earrings in gold, sapphires, tsavorites, Biggs jaspers and fossils. Photo : Lydia Courteille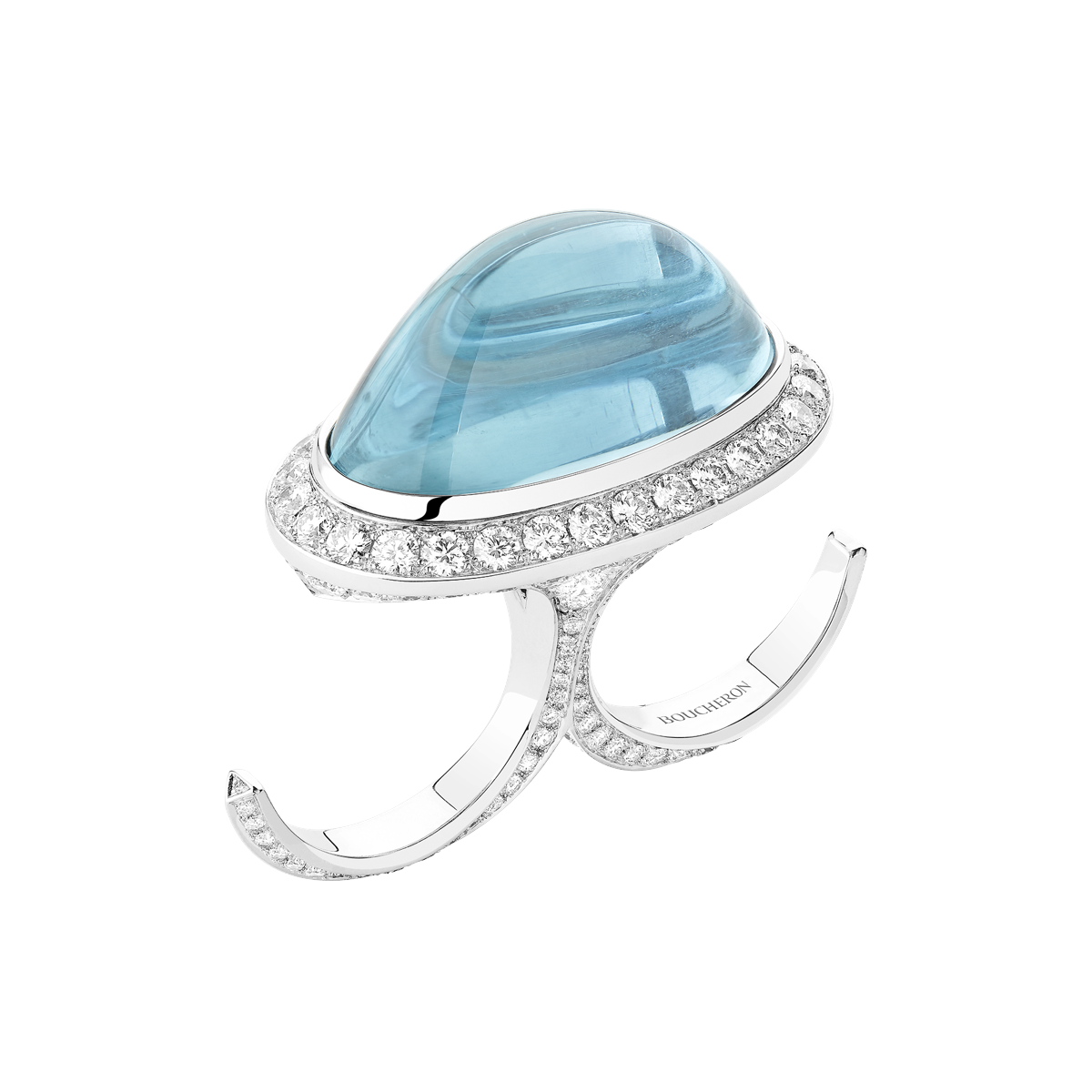 Bague en or, diamants et cabochon d'aigue-marine de 31,53 ct. Ring set with a 31.53 ct cabochon aquamarine and paved with diamonds. Photo : Boucheron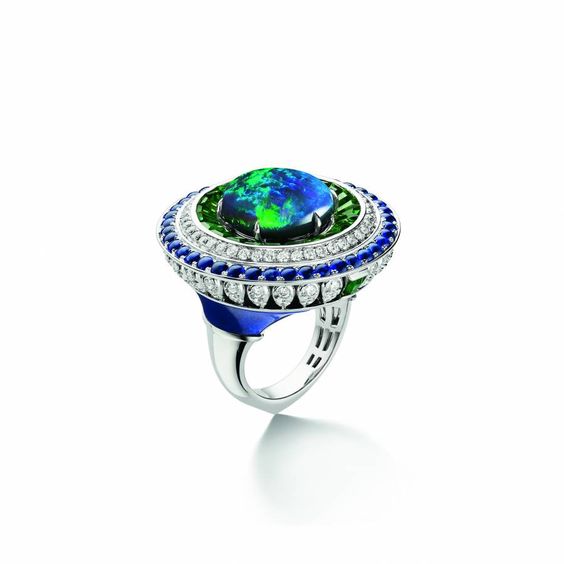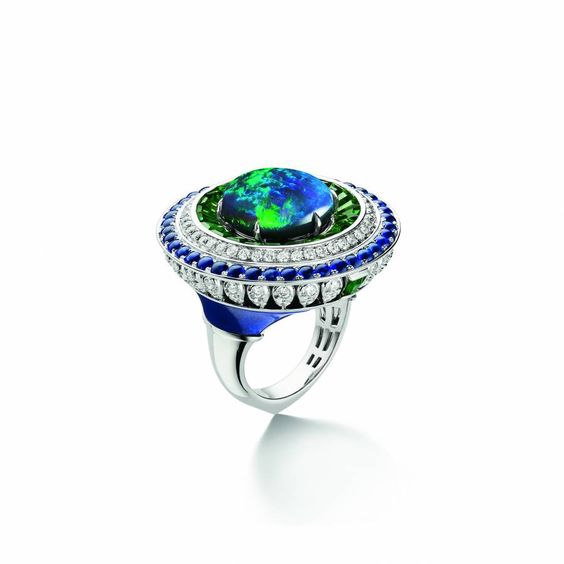 Bague issue de la collection Perspectives de Chaumet, en or blanc, saphirs, diamants, émeraudes, laque et centre opale noire de 8,70 cr. Ring from the Perspectives Collection by Chaumet in white gold, sapphires, diamonds, emeralds, lacquer and 8,70 ct black opal. Photo : Chaumet
La nouvelle collection de la maison Chaumet devait être éblouissante. Contenant presque 100 pièces, sa présentation officielle devait coincider avec la semaine de la mode de juillet 2020 et se voulait somptueuse, à l'image de la rénovation de l'hôtel Baudart de Saint-James, écrin de la maison depuis 1907. Malheuresement, comme pour beaucoup de maisons, le confinement et la fermeture des ateliers parisiens auront pertubé les festivités prévues. Nous n'avons pas pu découvrir beaucoup de pièces mais nous nous sommes régalés des dessins, tout aussi magnifiques. Cela dit, la maison avait néanmoins de très belles parures à présenter : plusieurs colliers dont un en résille d'or encapsulant une imposante tourmaline, cette bague sertie d'une opale noires aux feux puissants ou encore cette très belle bague, en or jaune et diamant, homage évident à Pierre Sterlé qui fut l'un des fabricants historiques de la maison.
The new collection from Maison Chaumet must have been dazzling. Containing almost 100 pieces, its official presentation was to coincide with the fashion week of July 2020 and was meant to be sumptuous, like the renovation of the Baudart de Saint-James private mansion, the home of the house since 1907. Unfortunately, as for many houses, the lockdown and closure of the Parisian workshops will have disrupted the planned festivities. We weren't able to discover many pieces but we enjoyed the designs, just as magnificent. That said, the house nevertheless had very beautiful sets to present: several necklaces including one in gold mesh encapsulating an imposing tourmaline, this ring set with a black opal with powerful fires or even this very beautiful ring, in yellow gold and diamond, an obvious homage to Pierre Sterlé who was one of the house's historic manufacturers.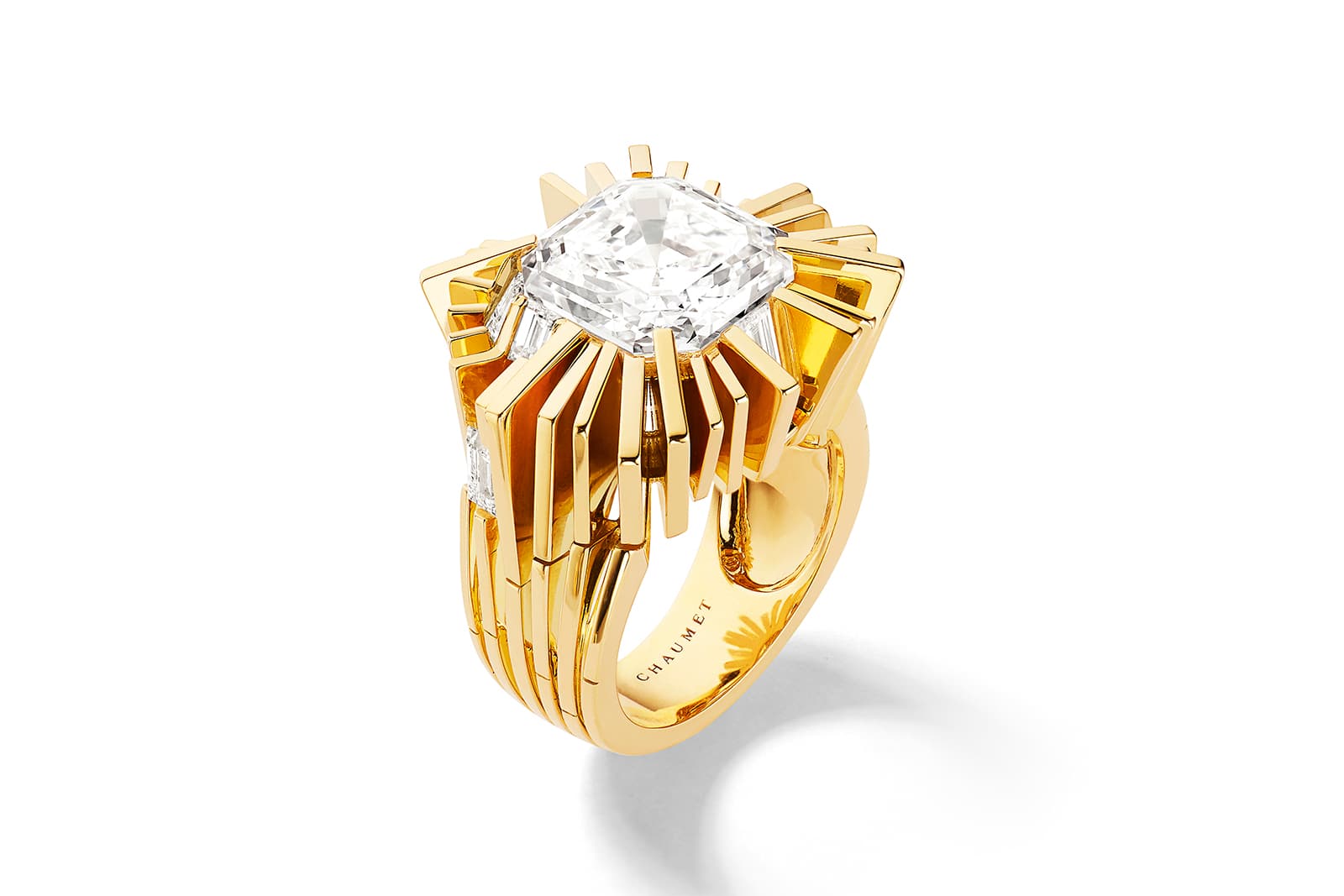 Bague en or jaune, diamant type IIa taille asscher D Flawless de 7,34 ct. Yellow gold ring with an Asscher-cut D Flawless Type IIa diamond of 7,34 ct. Photo : Chaumet
Montre Secret Cenote en or blanc, diamants, saphirs et opale noire. The Secret Cenote watch in white gold, diamonds, sapphires and black opal. Photo : Piaget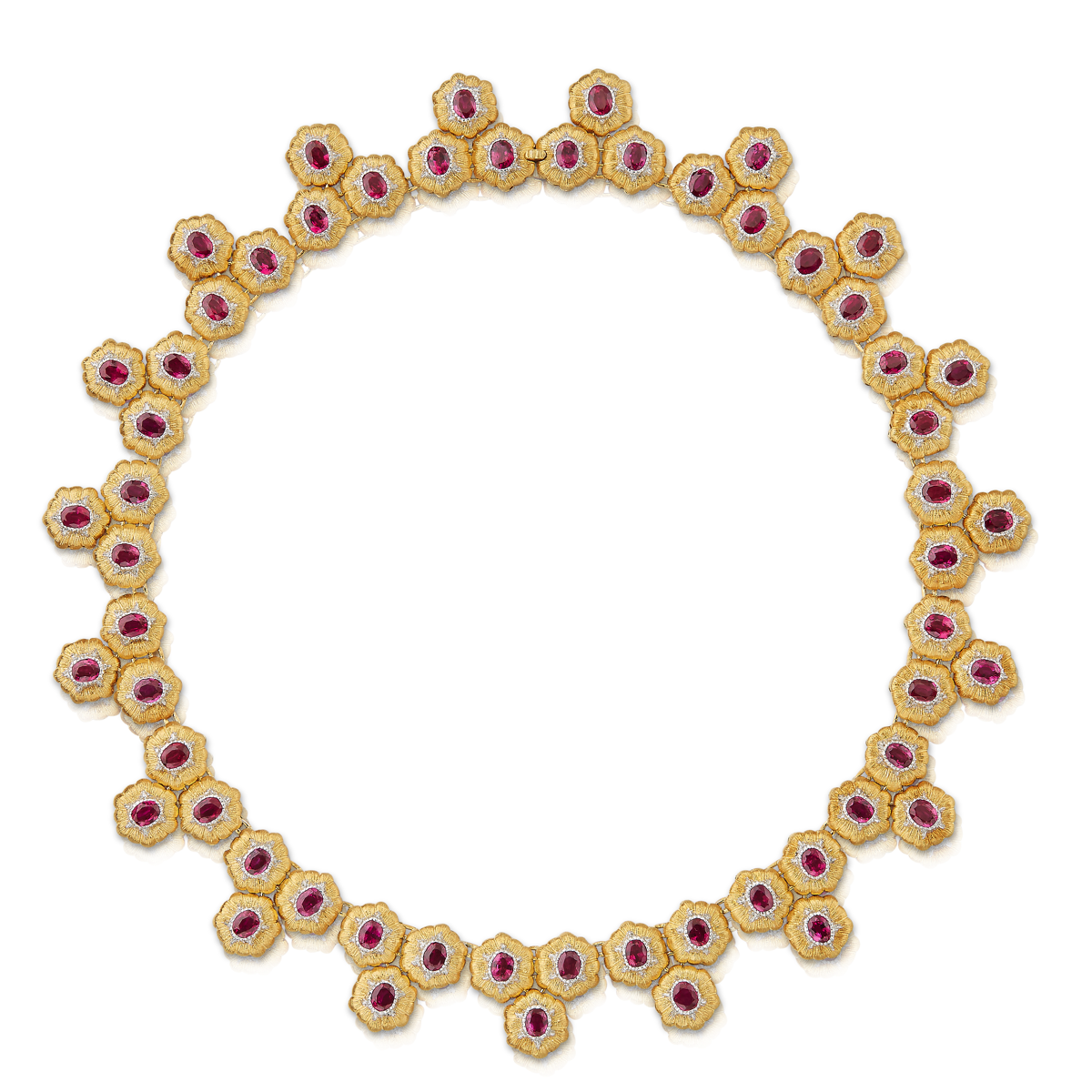 Collier Unica en or jaune et blanc, 57 rubis pour 23,05 ct. Necklace Unica in yellow and white gold set with 57 oval faceted rubies (ct. 23,05). Photo : Buccellati
Rendez-vous était pris dans la nouvelle boutique Buccellati pour découvrir la nouvelle collection faite à la main en Italie dans les ateliers de la maison. La marque ne présente jamais beaucoup de pièce car le temps d'éxécution nécessaire est long pour créer les dentelles d'or dont elle a le secret. Comme à chaque fois, la présentation était délicate, charmante, à l'image de cette maison dont la discretion n'a d'égal de son talent. J'ai aimé toutes les pièces que j'ai pu admirer et manipuler. L'équilibre est là, les belles matières également. C'est une joaillerie faussement simple, extremement rafinée, aussi joyeuse et colorée que l'Italie qui l'a vu naitre. Mention spéciale pour plusieurs pièces dont une bague sertie d'un diamant rose-cut de plus de 14 carats ou encore pour ce collier où vibrent plus de 60 grenats spessartites parfaitement appairés.
Appointment was in the new Buccellati boutique to discover the new collection handmade in Italy in the workshops of the house. The brand never presents many pieces because the execution time required is long to create the gold lace of which it has the secret. As always, the presentation was delicate, charming, like this house whose discretion is matched by its talent. I liked all the pieces that I was able to admire and handle. The balance is there, the beautiful materials too. It is deceptively simple jewelry, extremely refined, as joyful and colorful as the Italy that saw it born. Special mention for several pieces including a ring set with a rose-cut diamond of over 14 carats or for this necklace in which vibrates more than 60 perfectly matched spessartite garnets.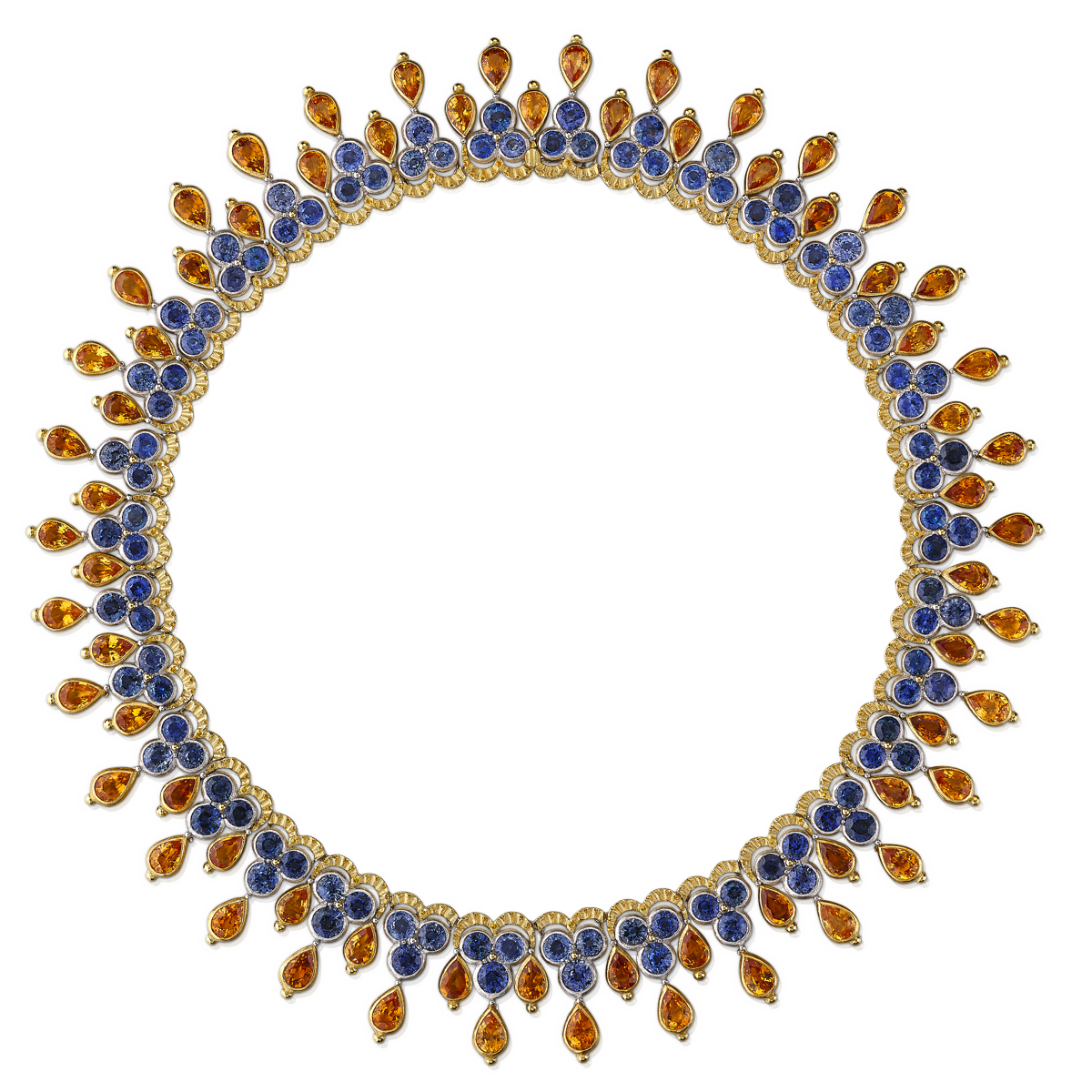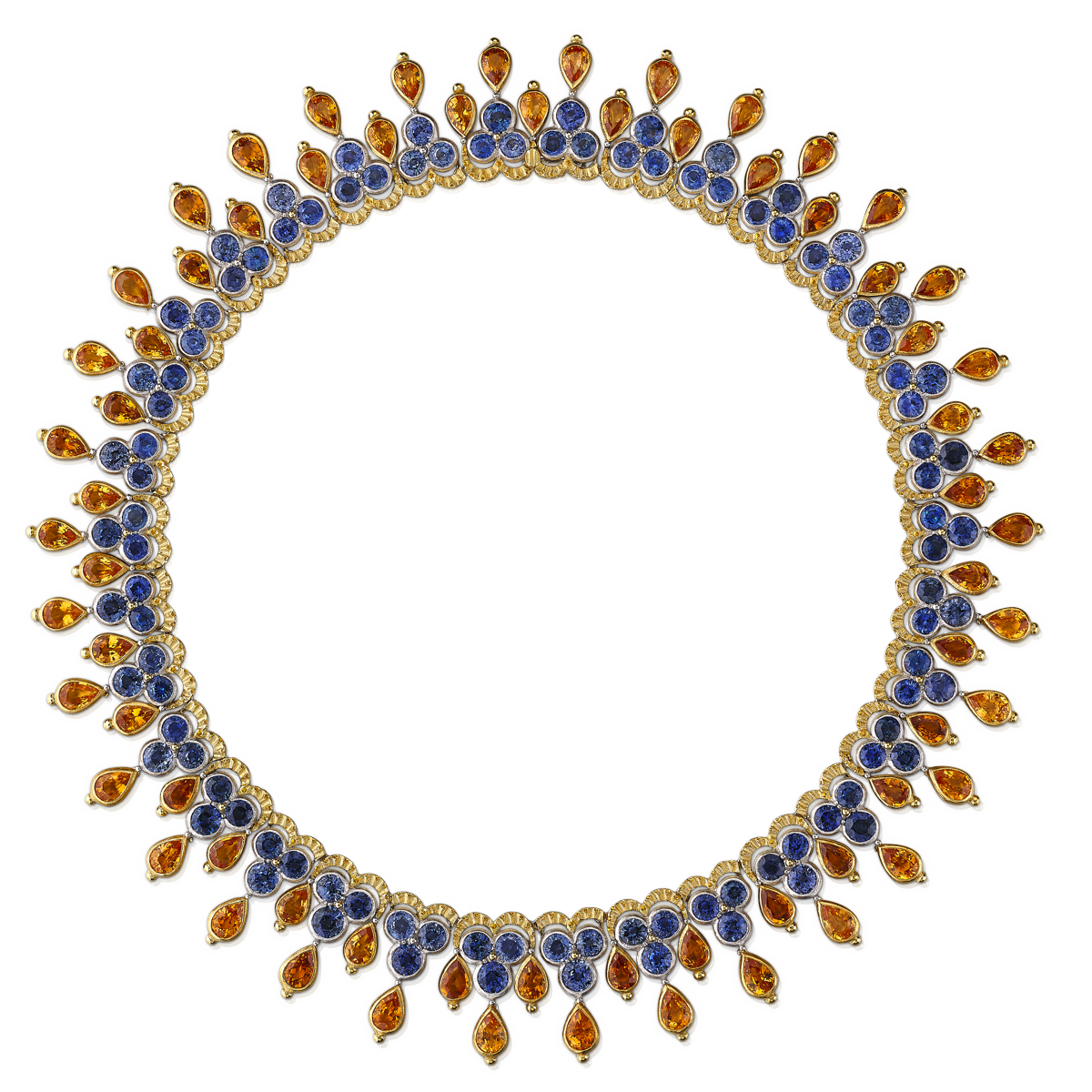 Le collier Unica est en or jaune et blanc, 68 grenats spessartites (65,58 ct) et 102 saphirs (58,80 ct). Necklace Unica in yellow and white gold set with 68 faceted spessartine (ct. 63,58), 13 faceted sapphires (ct. 6,84) and 89 round faceted sapphires (ct. 51,96). Photo : Buccellati
Le collier Merveille d'émeraudes en or blanc, 5 émeraudes de Colombie pour 70,40 ct, 1 diamant Type IIa DFL de 5,81 ct et deux diamants type Iia DIF pour 7,18 ct. Merveille d'émeraudes necklace in white gold, 5 pear-shaped emeralds for 70.40 carats (Colombia), one pear-shaped DFL type 2A diamond of 5.81 carats, two pear-shaped DIF type 2A diamonds for 7.18 carats, diamonds. Photo : Van Cleef & Arpels
Chez Van Cleef & Arpels, seules trois pièces ont été présentées à la presse. La collection n'étant pas finalisée, la maison a fait le choix de montrer trois bijoux réinterprétant trois bijoux historiques de la maison : le collier qui fut commandé en 1929 pour la Princesse Faiza d'Egypte, le bracelet de rubis qui fit la réputation de Marlène Dietritch et enfin, la paire de boucles d'oreilles qui fut offerte par Onassis à Jackie Kennedy-Onassis. Des trois pièces, j'ai retenu le collier, pour ses émeraudes. Mais le bracelet et les boucles d'oreilles valent également le détour : 84 ct de rubis birmans de la meilleure qualité sur le premier et deux diamants type IIa DFL de plus de 10 carats sur cette dernière paire de boucles. Eblouissant et grandiose !
At Van Cleef & Arpels, only three pieces have been presented to the press. The collection not being finalized, the house has chosen to show three jewels reinterpreting three historic creations of the house: the necklace which was ordered in 1929 for Princess Faiza of Egypt, the ruby bracelet which made the reputation of Marlène Dietritch and finally, the pair of earrings which was offered by Onassis to his wife Jackie Kennedy-Onassis. Of the three pieces, I chose the necklace, for its emeralds. But the bracelet and the earrings are also worth a look : 84 ct of the best quality Burmese rubies on the first and two type IIa DFL diamonds over 10 carats on the latter pair of earrings. Dazzling and grandiose!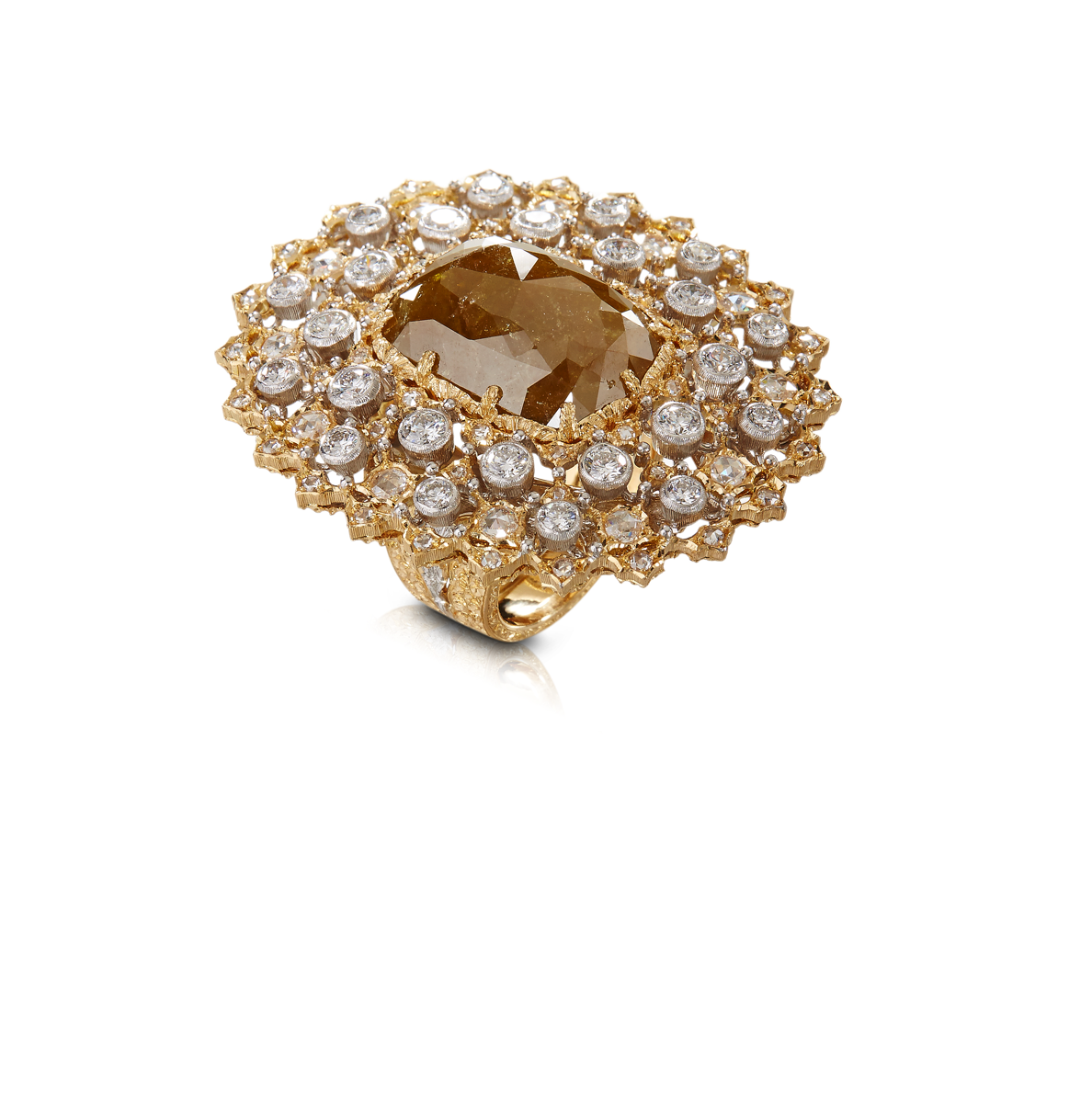 Bague Cocktail en or blanc et jaune, diamants dont le centre rose-cut de 14,83 ct. Cocktail ring in yellow and white gold set with 24 round brilliant-cut diamonds (ct. 1,56) and 1 rose-cut damond (ct. 14,83). Photo : Buccellati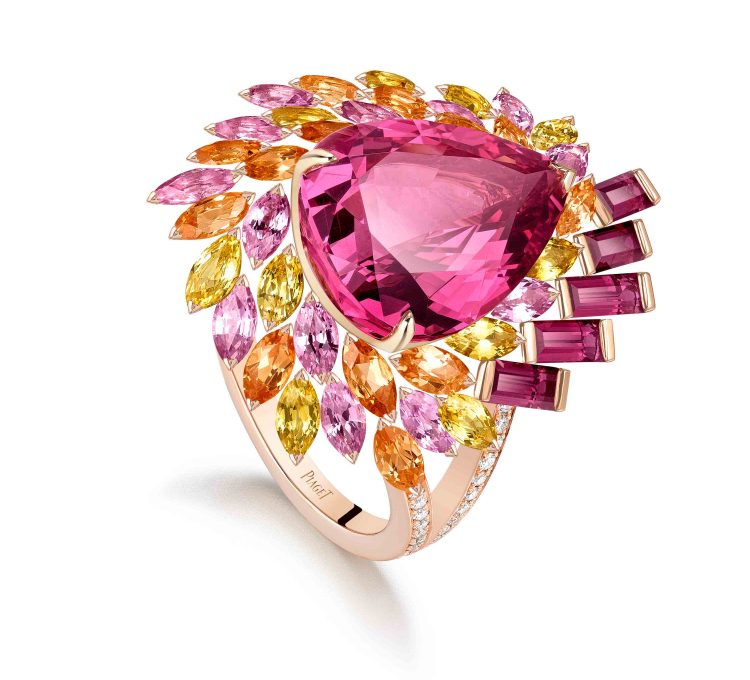 Bague Ecstatic Dance de la collection Wings of Light de Piague : or rose, diamants, saphirs et tourmaline. The Ecstatic Dance ring from the last Piaget collection, Wings of Light, pink gold, diamonds, sapphires and tourmaline. Photo : Piaget
Chez Piaget, la direction artistique continue son exploration de la lumière. Avec Wings of Light, les belles matières sont toujour au rendez-vous, les couleurs sont franches, soutenues et nous avons le plaisir de retrouver ce qui fait la signature de la maison depuis plusieurs saisons : la marquéterie de bois de la talentueuse Rose Saneuil et les plumes de Nelly Saunier. Pari réussi avec cette jungle éclatante, riche d'oiseaux aux plumages magiques et de plantes aussi tentantes que dangeureuses. Sans oublier les couchers de soleil poétiques sur des criques secrétes… De Cartier à Piaget, c'est une ode parfaite à cette nature sauvage et inaltérée par l'homme. Comme pour nous rapeller – peut-être – qu'il serait temps, sérieusement, de la protéger. La maison reste discrète sur les superbes pierres qui ornent les pièces, mais il suffit de les admirer pour comprendre les mois de travail qui ont été necessaires pour les trouver et les retailler afin que ateliers puissent avoir le privilège de les monter.
At Piaget, the artistic direction continues its exploration of light. With Wings of Light, beautiful materials are always present, the colors are frank, luminous and we are pleased to find what has been the signature of the house for several seasons: the wood marquetry of the talented Rose Saneuil and the feathers of Nelly Saunier. The bet succeeded with this dazzling jungle, rich in birds with magical plumages and plants as tempting as they are dangerous. Without forgetting the poetic sunsets over secret coves… From Cartier to Piaget, it is a perfect ode to this wild nature unaltered by man. As if to remind us – perhaps – that it is time, seriously, to protect it. The house remains discreet about the superb stones that adorn the jewels, but you only need to admire them to understand the months of work that were required to find and re-cut them so that workshops can have the privilege of assembling them.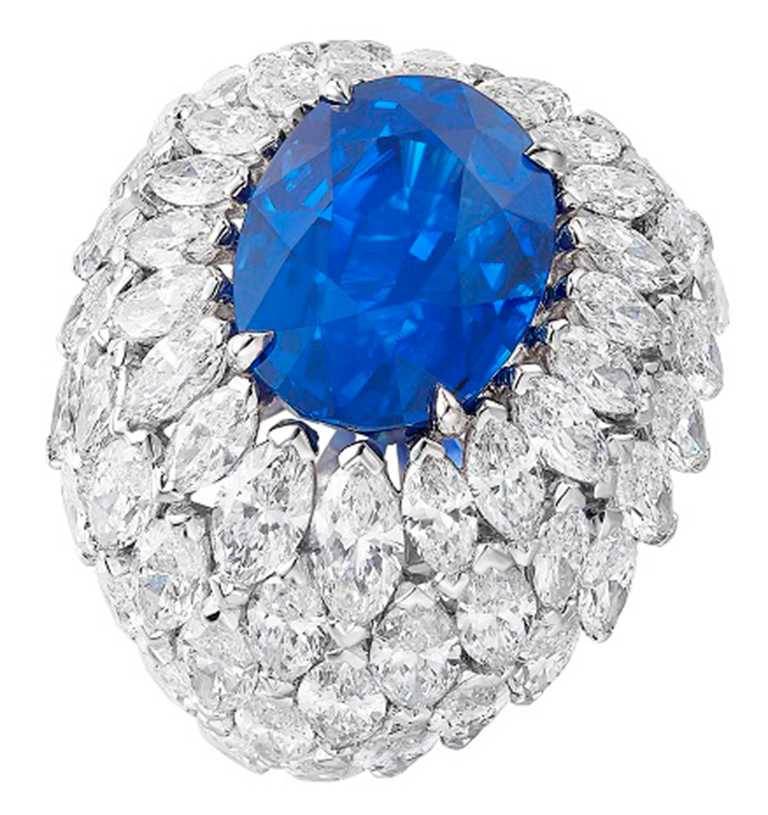 Bague Secret Cenote en or blanc, diamants et saphir. The Secret Cenote ring in white gold, diamonds and sapphire. Photo : Piaget
A bientôt !
See you soon !