Autumn is here, the sky is a bit grey, the temperatures are dropping and the mood is a bit down. And yet, there are also very good reasons to enjoy this month of October 2020. There are many jewellery exhibitions and beautiful auctions on the horizon. There is plenty to warm up the cold days ahead. One of the first and most beautiful sales of the season is that of the House of Aguttes which will be held on 28 October 2020 in Neuilly-sur-Seine. It's a small sale with less than 120 lots but it's a delicate sale with some very nice antique jewellery and some rare and surprising pieces.
I was therefore delighted to dive into this catalogue and talk to Philippine Dupré la Tour to discuss the beautiful pieces in the sale and present them to you. I hope that they will light sparks in your eyes and that you will enjoy this selection. As always, I have deliberately distanced myself from the main lots in order to carefully choose jewels that have aroused my interest: surprising materials, delicate workmanship, unexpected signatures or rare models make up this selection.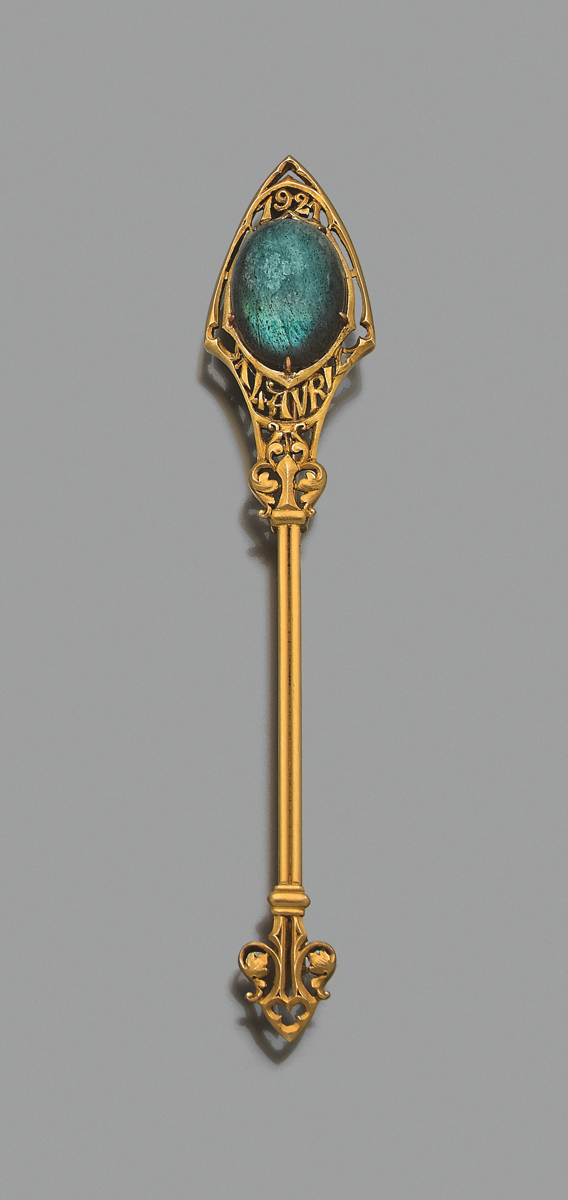 Lot 4: Gold and labradorite pin. Estimate between 400 and 600 €. Photo: Aguttes
The first piece of jewellery I wanted to present to you is an adorable little gold pin set with a labradorite (lot 4). This particular feldspar is known for its beautiful play of colours – including blue and orange – which are sought after when they are very intense. This little gem could easily be overlooked if you pay attention to the delicate little details that make it up. Its manufacture is very simple and yet completely mastered, note the care taken in the realisation of the date, the shape of the letters and numbers. There is no doubt that this 14 April 1921 was very important for its owner at the time. And of course there is this stone. If it is better known now, it is not necessarily the case at the time. We know very few jewels from this period with this stone and this is certainly what attracted my attention. Don't let it escape you!
Lot 14: A gold, diamond and fine pearl pendant in a case by Paul Templier, circa 1905. Estimate between €3000 and €3500. Photo: Aguttes
For the second piece, I could tell you many stories but I will try not to be too talkative. A piece of Paul Templier jewellery that comes up for auction cannot be ignored. Lot 14 is a beautiful white gold, diamond and fine pearl pendant. It is in very good condition although two pendants may be missing. These have certainly been transformed into earrings. This jewel is removable and can be worn as a brooch. It dates from about 1905, its "garland" style being perfectly recognisable. But Paul Templier is above all the father of Raymond Templier, who will come to work with his father at the end of the 1910s. Paul will be installed at 3 place des Victoires in Paris, his work will be rewarded many times; moreover the case of the necklace specifies that he received in 1900 the Gold Medal of Paris and also a Grand Prix at the Universal Exhibition of 1904. Did you know that he was one of the first jewellers to use platinum from 1900? He is also an important name for the jewellery union as he became its president in 1907. Historically, this jewel and its case are very interesting. The Templars have honoured French jewellery with some very fine creations, not to be missed!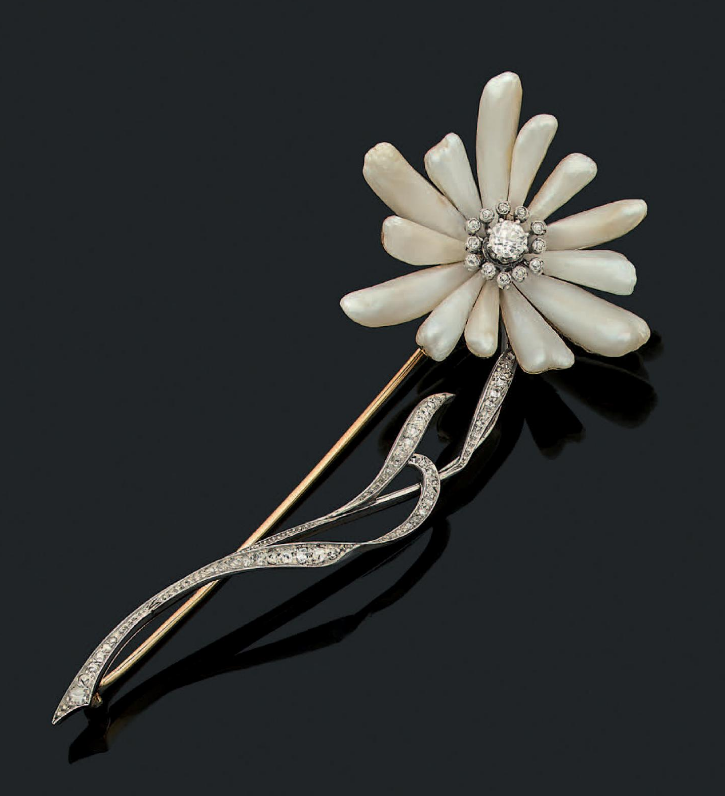 Lot 23: Rose gold and platinum brooch, diamonds and Mississippi pearls. Estimate between 2000 and 4000 €. Photo: Aguttes
I think I can say that I love lot 23. The shape, the subject and the pearls inevitably evoke Henri Vever's chrysanthemums that passed through the Faerber Collection. But this pretty brooch will keep its secret. No legible hallmark, no case. It will remain an unknown, but a very, very beautiful unknown. The kind of person you meet in the street and whose face and attitude remain forever in your mind. I like this idea, this part of the secret, this veil that you can't completely lift. In any case, this jewel is magnificent, its state of conservation impeccable and that is rare enough for a jewel of this type. So, it is necessary to point it out. I am convinced that it will find an owner who will know how to love it, appreciate it and will honour it from time to time when a beautiful piece of jewellery is needed to accompany an outfit. Because with its 10 cm, it is nevertheless imposing and is not intended for simple figuration. The pearls bear witness to this by the obvious realism they confer on this pretty lady.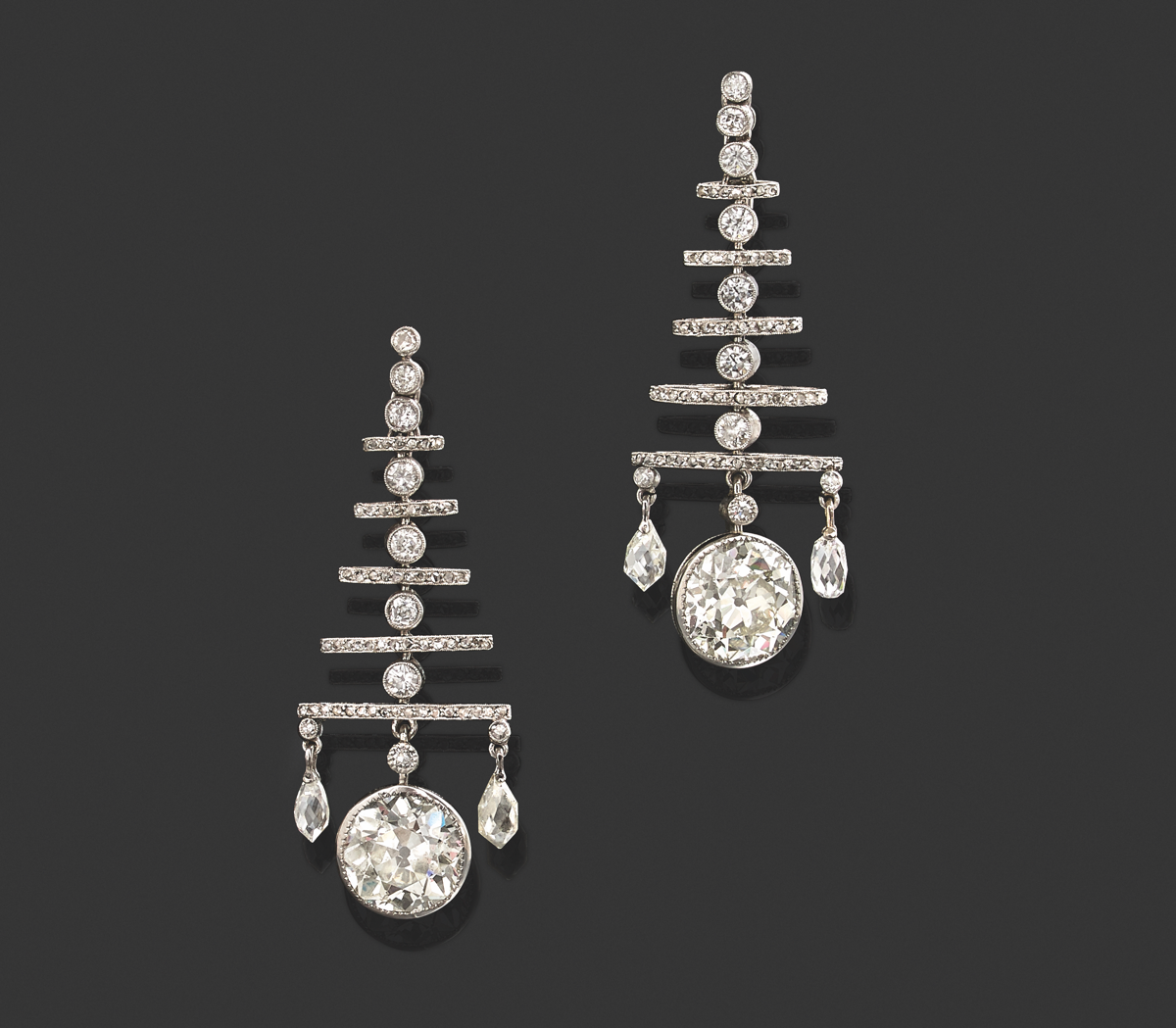 Lot 30: pair of platinum and gold earrings, diamonds, centres for approx. 3.40 ct. Circa 1920. Estimated at €30,000 to €35,000. Photo: Aguttes
As you know, I have always loved jewellery that moves and dances. Because a piece of jewellery must absolutely follow the movements of the body, it must adapt to the person wearing it. Like this delicate pair of gold and platinum earrings set with diamonds, which is as joyful as it is playful. The jewellery of the 1920s is always full of surprises and I find that it reflects the permanent "party" that was the years between the wars: we find this joy, this desire for brilliance, this non-conformism that revolutionised this period, making it magical and beautiful. Undoubtedly, the lady wearing this jewel must have had a very nice lifestyle and she must have gone out or entertained a lot. It is easy to imagine this elegant woman in straight dresses that simplify her movements, in this Chanel-like fashion that is as beautiful as it is simple and yet sophisticated. We like to imagine her playing with her jewels, making the diamonds sparkle thanks to the electric fairy… These earrings are an invitation to dance, so don't hold back and get on stage.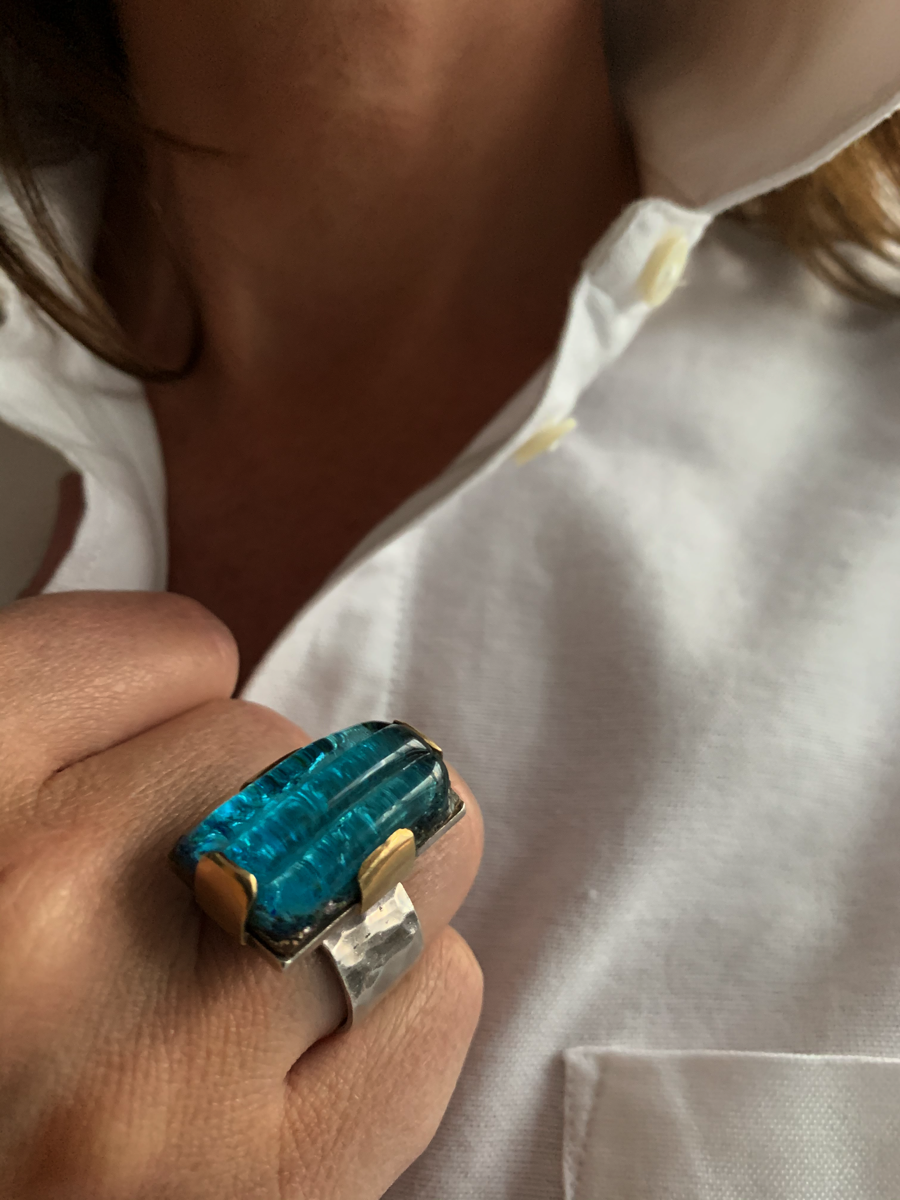 Lot 69: A silver, gold and blue glass paste ring signed by the artist Jean Després. Estimated at €2,000 to €3,000. Photo: Aguttes
Astonishing is the right word to introduce this magnificent ring by Jean Després. If its general shape and spirit reflects the designer well, this blue glass paste is not common in the work of the modernist jeweller that Després was. We know of a few examples with stones, often ornamental, but I have not found any jewellery that comes close to this one. It is sufficiently massive, imposing even. It dresses the hand and one does not fail to notice it. This jewel is not fancy, it is not really precious in the sense that we use this word nowadays and yet it has everything to please and not to bore. In this sense, then, it becomes precious. We find in it the great inspirations of the artist: the forms of Braque, the colour of Picasso or Modigliani, whom he would frequent for a long time and who would all nourish his creative spirit. There is something very free in this jewel which could make one think of a utopian and architectural structure. This is certainly what makes it so singular in the work of the goldsmith jeweller. Aguttes presents a wide range of pieces by the artist, but this ring clearly stands out!
Lot 86: A gold Hermes "anchor chain" necklace by Georges Lenfant. Estimate between €6500 and €8500, plus the bracelet (lot 87). Photo : Aguttes
Because we have to finish sometime, I wanted to finish with this necklace by Hermès, which is part of lot 86; lot 87 consists of the bracelet to form the set. If I chose this piece, it is first of all because it is in white gold and this model is mostly known in yellow gold. But it is above all for the incredible work on the links that make it up. Because, inevitably, with such a meticulous manufacture, one can only think of the Georges Lenfant house whose links are as famous as they are sought after. I am in love with these jewels, I love their false simplicity and their true complexity. Because to achieve this, you need a lot of know-how and a perfect knowledge of metal. Look at the perfect leakage of the links, because here there is no false note. No stones, they are not necessary and so much the better. The Lenfant workshop has also marked the history of Parisian jewellery. As an apprentice, I had the chance to admire some of the archives of this beautiful house. Their jewellery is as timeless as it is beautiful. Whether it is the mesh or the animals, they are also famous and celebrated. There are jewels that make a mark and become iconic. The "anchor chain" necklace is definitely part of this particular caste of jewels that remain.
See you soon!