The use of mother-of-pearl in jewellery goes back to the Middle Paleolithic, as extremely ancient objects have been found all around the Mediterranean. From time immemorial, this material has fascinated people and has satisfied designers looking for natural and sometimes atypical materials as some mother-of-pearl is much rarer than others. Easy to cut and to work, it has made the happiness of the workers of Méru in Picardy where a large-scale table-making activity lasted between the 17th and 20th centuries. To better understand this material, its origin and its traceability, I went to meet Benoit Guirlet, a trader specialising in this very particular field.
Tahitian mother-of-pearl. Photo: Benoit Guirlet
1- Could you introduce yourself to our readers and explain to us what exactly is your current job?
As a mother-of-pearl specialist, I supply the various mother-of-pearl products to craftsmen and manufacturers who use them: Haute Joaillerie, Haute Couture, jewellery craftsmen, costume jewellers, cabinet makers, manufacturers of luxury boxes, watchmakers, accessory makers, packaging manufacturers, fashion manufacturers, fan makers, etc. In single pieces, small or medium series. I am often consulted from the definition of a project to ensure that the material exists in the required specifications.
I have also just carried out an important study to advise the government of French Polynesia, which wants to promote a better use of black mother-of-pearl. And like all enthusiasts, I also collect exceptional pieces in shell or in creation. For example, I have very large mother-of-pearl, now unobtainable, of more than 20 cm (compared to 9 cm on a breeding farm).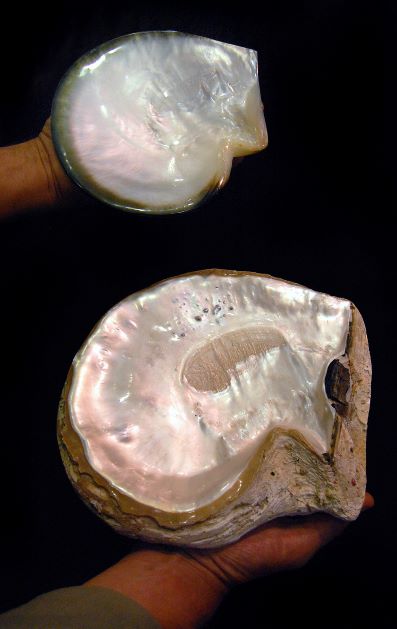 Large white polished mother-of-pearl. Photo: Benoit Guirlet
2- What is your professional background and how did you get to this position?
After studying business, economics and history, I was brought to Tahiti by my national service. I travelled around the country, even to the most remote archipelagos (Marquesas, Tuamotus, etc.), for several years before leaving for Japan for three years. Back in France, I worked for several years as an export engineer in imaging and industrial crystals.
To help a friend, I took part in a jewellery start-up that eventually took up all my time. Using Tahitian craftsmen, I designed jewellery in black mother-of-pearl from Tahiti, then I became interested in the rich history of mother-of-pearl in France: genius craftsmen in the region of Méru or in Paris created masterpieces with mother-of-pearl from all over the world until the 1960s: fan makers, table makers… I quickly realised that professionals who use mother-of-pearl had difficulty obtaining mother-of-pearl that met their specifications and that designers were delighted to find innovative materials for their projects.
3- Why did you decide to specialise in mother of pearl?
White mother-of-pearl is a well known and much sought-after classic in fine jewellery and many other branches of the fine arts and industry. Black mother-of-pearl has come back in the wake of the magnificent black pearls of Tahiti but is still used far below its potential. The other mother-of-pearl types are unknown or little known today.
I felt it was important to offer a complete range of this family of pearls, as well as an advisory service on the resource, as the major brands are paying more attention to the ethics of their suppliers.
New issues have emerged recently:
⁃ How to ensure that the supply chain is fully ethical, sustainable and eco-compatible? This question is asked to us very often by big luxury brands and their workshops;
⁃ The COVID crisis, stopping pearl sales altogether, caused a major shock even in the nacre production areas. We are closely following the evolution of the situation.
Polished Haliotis iris shells. Photo: Benoit Guirlet
4- What types of nacre do you offer to professionals and the general public?
⁃ White mother-of-pearl(Pinctada maxima) remains the great classic, still in the windows of the Place Vendôme (Alhambra by VCA…), on the dials of Haute Horlogerie and on the antique furniture of the best cabinet makers (Riesener, Weisweiler, Tahan, Vervelle, ..)
⁃ the Tahitian black mother-of-pearl(Pinctada margaritifera), after years of disappearance, has gradually returned in the wake of the Tahitian black pearl, of which it is in fact the mother. (In English, the mother-of-pearl is called Mother of Pearl!). With its sometimes discreet, sometimes spectacular beauty, it opens the way to a quantity of classic or original creations.
⁃ The gold mother-of-pearl(Pinctada maxima too), also coming in the wake of the South Sea Pearls has yet to enter the eye of consumers;
⁃ The blue mother-of-pearl(Haliotis iris) , coming from New Zealand offers an incredible cameo of colours in the blue-green;
⁃ Pink mother-of-pearl comes from Mississippi with its delicate pastel hues;
⁃ Burgau can compete with white mother-of-pearl but its supply is irregular;
⁃ Freshwater mother-of-pearl from China, is widely available in natural or tinted form. It should be distinguished from true white mother-of-pearl(Pinctada maxima) because its qualities and price are much lower.
⁃ I would like to promote another mother-of-pearl, from Brittany, which has been used extensively in violin making, abalone mother-of-pearl, to create a luxury industry entirely in France;
⁃ other mother-of-pearl exists but the commercial circuits are not very strong (brown mother-of-pearl, violet mother-of-pearl etc…)
Tahitian mother-of-pearl. Photo : Benoit Guirlet
5- Is mother-of-pearl easy to use in jewellery? Are there any special precautions to be taken?
Mother-of-pearl is used by all jewellers… every time they pierce a pearl! It is in fact exactly the same material that covers the pearl and constitutes the shell.
Like all materials, it creates a bit of dust when it is worked on and it is advisable to protect yourself from it with a mask and a suitable vacuum. Rather than buying whole shells which require a lot of stripping, I advise working with blanks, pieces of cut mother-of-pearl, sometimes polished, which are closer to the desired final shape. It is very easy to get your hands on scraps.
6- Can all shellfish be exploited for their nacre?
No, a very small minority of shellfish produce nacre. They are designated by their Latin name, which is the only legally binding name. If a supplier does not know the Latin name of the species or is reluctant to write it on the invoice, there is a significant risk of deception.
7- Are some molluscs protected? Is it possible to obtain their nacre?
Few species are subject to CITES, but the fishing of some is indeed regulated and it is necessary to find out about the local legislation, which may operate under a licensing system. I can provide you with most of the species that are allowed to be traded:
– White mother-of-pearl and black mother-of-pearl now come from pearl farms and are therefore perfectly renewable products.
⁃ Blue mother-of-pearl is subject to fishing quotas set by a New Zealand government agency.
⁃ Burgau is the subject of licensed fishing campaigns in some countries.
Mississippi mussel. Photo: Benoit Guirlet
8- In your opinion, what is the most beautiful mother-of-pearl in the world and why?
The black mother-of-pearl of Polynesia has an incomparable and inimitable iridescence and shimmer. It can be worked simply to bring out these qualities or used as a support for stylish engravings. It is born in a universe of lagoons with incredible colours, among the most beautiful landscapes in the world.
9- What makes this material so special in the world of gems?
Mother-of-pearl is, in itself, a family of gems because of its different species as we have just seen. White, black, gold, blue, pink, brown… It has been present in most of the disciplines of Fine Arts or luxury of all civilizations. Its history has been enriched by many historical and geographical elements: mother-of-pearl from the Red Sea fisheries, mother-of-pearl worked in China, sumptuous fans made since the 18th century in Méru, fishing hooks in the Pacific, mother-of-pearl engraved by the convicts of New Caledonia in the 19th century, decoration of lacquered panels in Asia, facing of the most beautiful musical instruments…
It is a bio-mineral, a mineral (calcite aragonite) manufactured directly by a living organism. It is therefore a more renewable resource than any other gem.
To go further:
www.specialiste-de-la-nacre.com
Museum of Mother-of-Pearl and Tablettery in Méru (60): https://musee-nacre.fr/
See you soon!