On 24 June, at 2.30 pm, in Neuilly-sur-Seine, the auction of the Aguttes house will take place. Soberly entitled "Bijoux", it contains some very beautiful pieces and cascades of fine pearls, one of the house's specialities that the jewellery department – headed by Philippine Dupré la Tour – likes to source from forgotten jewellery boxes all over France. So when the house asked me to make a selection in the next sale, I answered present to choose the jewels which surprised me the most in a catalogue which counts no less than 150. I retained 8 lots which are a balance between beautiful stories, astonishing materials and creative audacity. I hope you'll like them!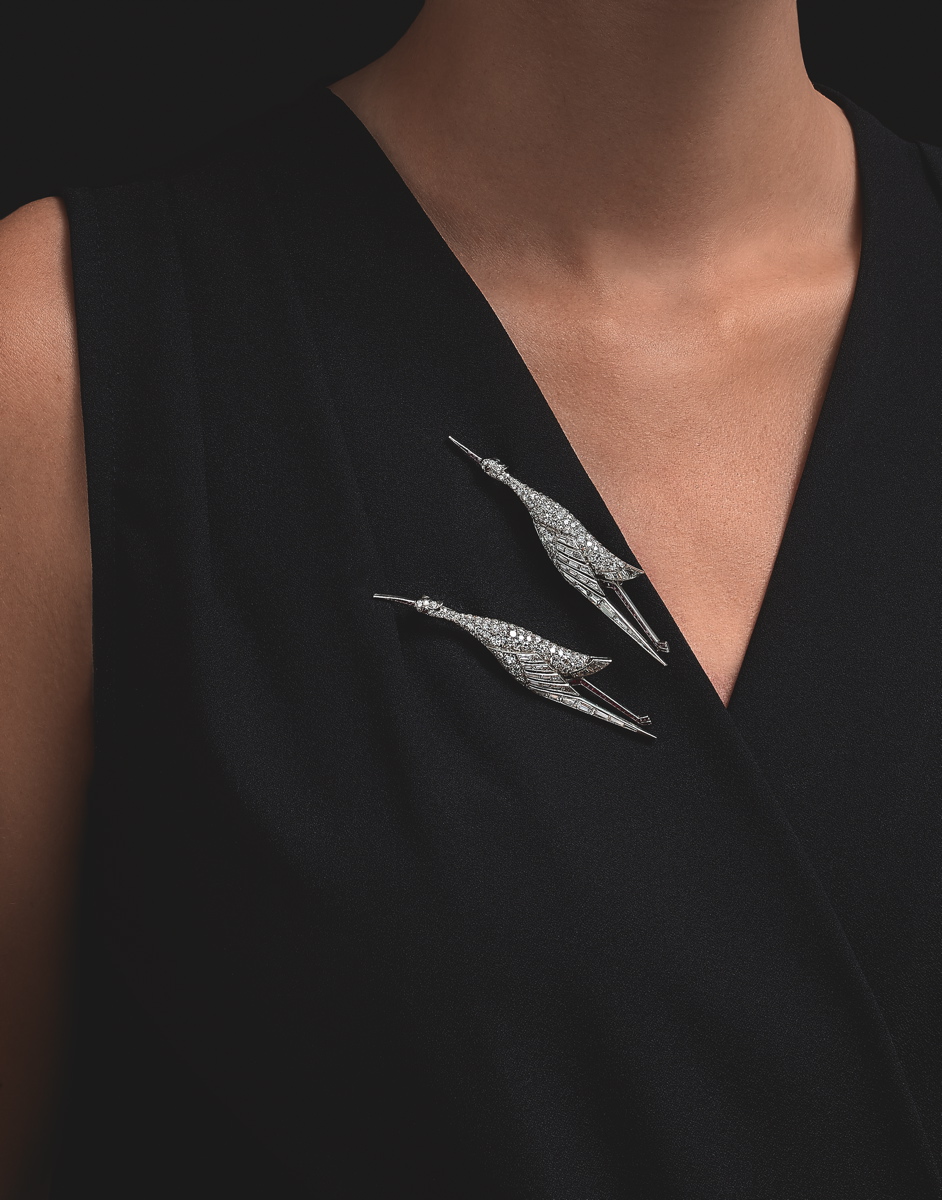 Lot 64: A pair of 750 gold and platinum stork brooches, diamond and ruby. Signed Van Cleef & Arpels. Art Deco period. Estimate between 10000 and 15000 euros. Photo: Aguttes
Can you tell me what storks are in the French army? No? "Les cigognes" is the name given to an aeronautical combat unit which was the birthplace of some of the great names in aviation between 1914 and 1918. When Lieutenant Bellanger bids farewell to his pilots, comparing their imminent arrival in Belfort to the storks that herald spring, he unwittingly gave this squadron its nickname. This pair of brooches, made by Van Cleef & Arpels, was commissioned by the grandmother of the present owner. She was the godmother of a unit of this squadron. The position of the storks with folded wings will be the one that will illustrate the aircraft of the SPA 26. In this unit was a gentleman who gave his name to a famous clay court tournament: Mr Rolland Garros. I wish him to fly to a home that will cherish them as much as they have been up to now!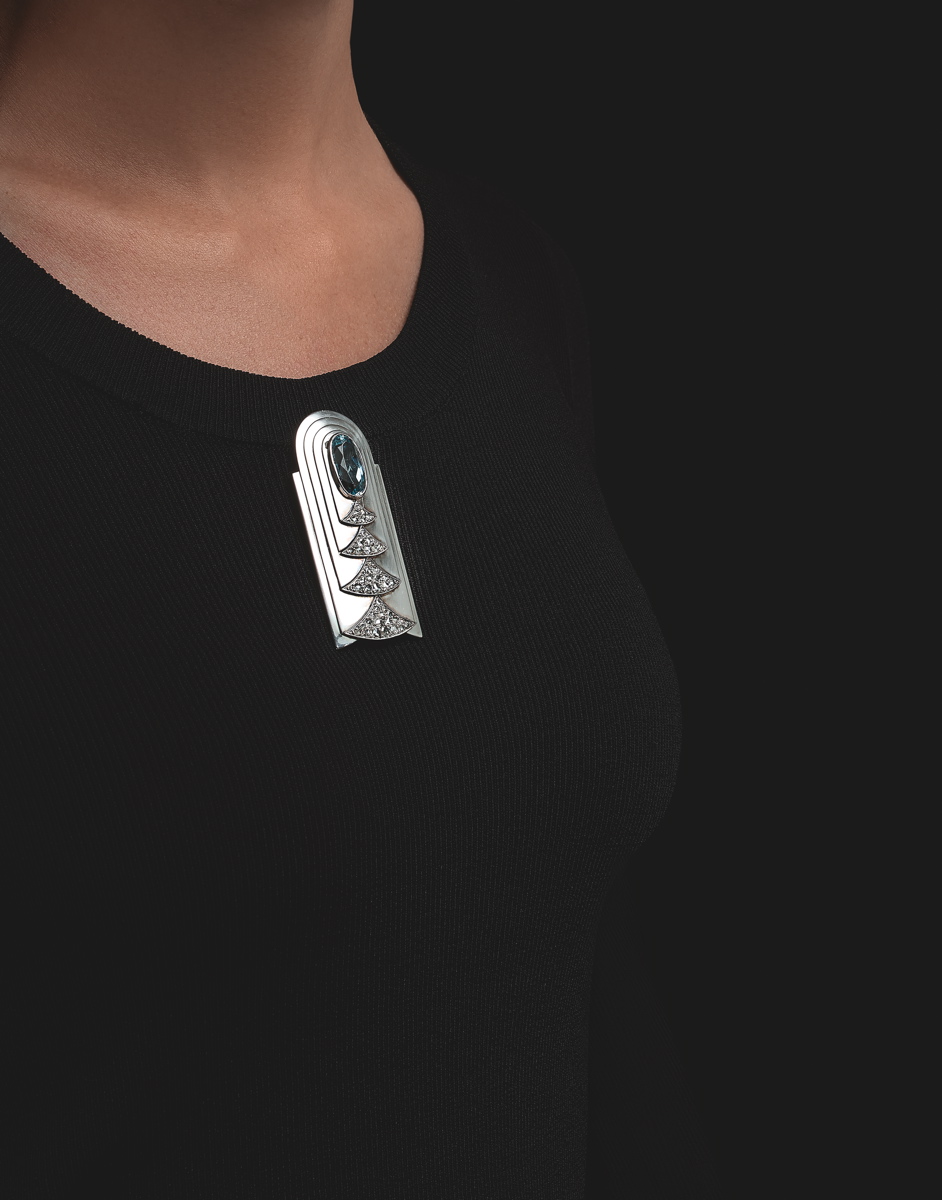 Lot 67: A modernist gold, platinum, diamond and aquamarine brooch. circa 1930. Estimated at 8,000 to 10,000 euros. Photo: Aguttes
When I saw this piece in the catalogue, I inevitably thought of Templier or Fouquet. Because everything reminded me of their respective pieces. But there was also something of Belperron or Dusausoy in it… I searched, I opened my books, I compared and I found many pieces that were close to this marvel but none of them was this one precisely. When there is no hallmark, it is the drama. Or not. Mystery is also good in the end. In any case, this piece is of a rare elegance. Its balance is perfect, there is no false note here in the design of this small object made mainly of platinum. I see a water jet, or a French garden around a pool of clear water, this brooch transports me. One day, perhaps, we will know who made this jewel. In the meantime, speculation is rife, and I hope that the fireworks will go off at the sale on 24 June…
Lot 72: CARTIER, "Bagpipe" clip. Red, green and white enamel, 18k (750) gold. Estimate between 2500 and 3000 euros. Photo: Aguttes
I had never before come across a bagpipe signed by Cartier. However, I have seen some amazing pieces, often made to measure, from the workshops of the house. But this bagpipe is a first. I selected it because it clearly stands out from the crowd. Signed Cartier Paris, it was made in France. The red and white colours are a reference to the St George's cross found on the English flag but also on many other flags all over the world. The green and red mixture is the colour of many traditional tartans used by Scottish and Irish clans. You will notice that this brooch also depicts a Sporran, the Scottish Gaelic word for satchel, which is part of the traditional male costume of the Highlands in Scotland. The sporran makes up for the lack of pockets in the kilt. It is derived from the saddlebags commonly worn on the belt throughout medieval Europe. No doubt this piece would have belonged to a lover of the Highlands, or of Scotland more generally.
Lot 78: A patriotic gold, sapphire, diamond and ruby ring. Estimated at €4000 to €4500. Photo: Aguttes
Recently I was talking to you on Instagram about patriotic jewellery from Lorraine. There would be enough material to write an entire book on the subject, as politics and jewellery are so closely linked. French "tricolour" rings are not common on the market, we have a very different relationship to our national flag than the Americans, who, for example, fly it in their gardens or on the front of their houses. This is not seen as a political sign. Rings with the French colours existed mainly at the end of the Second World War. We remember Jeanne Toussaint, arrested by the Gestapo for having displayed a brooch with a bird in French colours in a small cage in the window of Cartier. At the liberation and until the 1950s, these rings were quite common, then gradually disappeared… So to see one, whole, in good condition, is really not common. So, as the 14th of July approaches, I don't know if we'll be able to celebrate, but at least we'll be able to show off our chic and shocking style with a ring!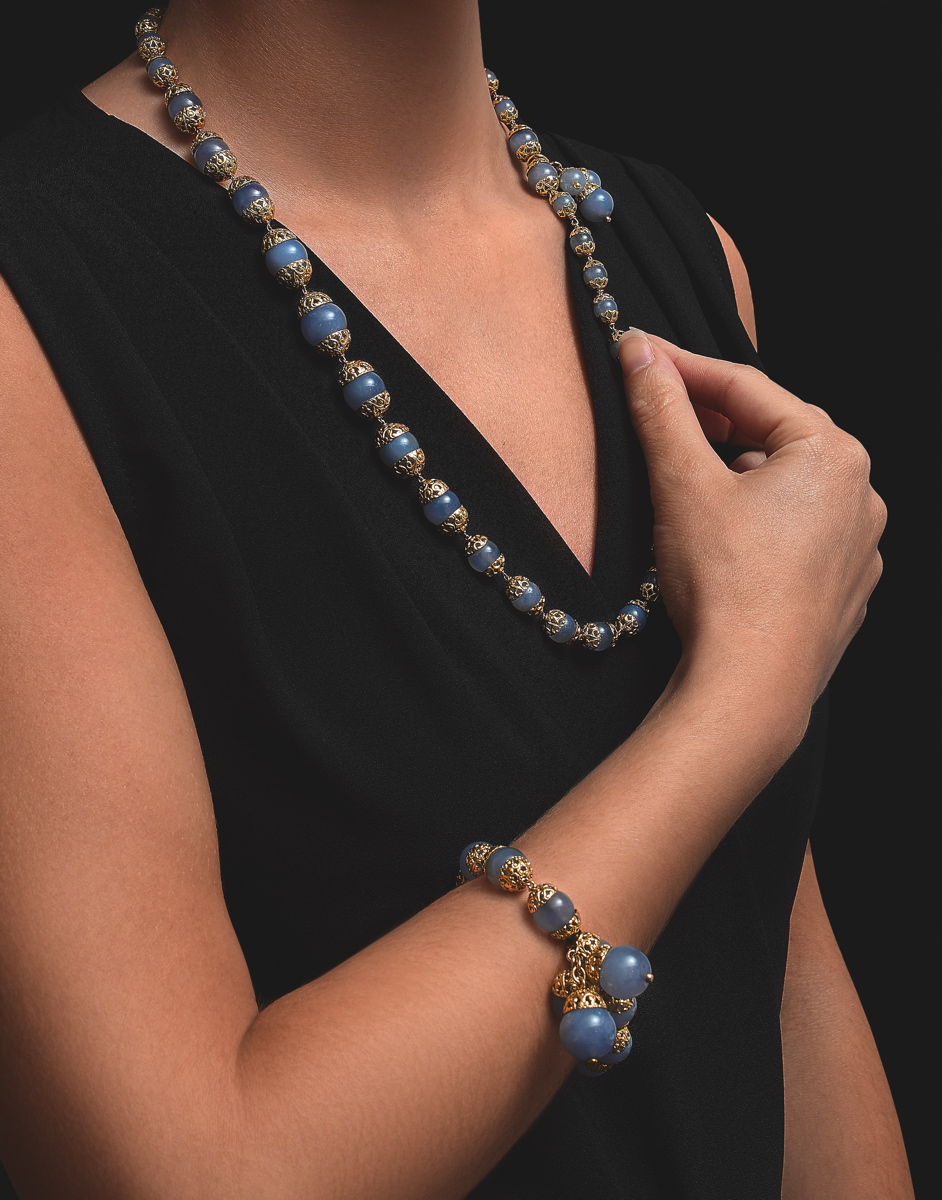 Lot 79: René Boivin gold and blue chalcedony set. circa 1950, in original box. Estimated at €10,000 to €15,000. Photo: Aguttes
It's funny, because when I see jewels with blue chalcedony, I can't help but think of the Duchess of Windsor whose jewels have marked the collective imagination. This set from the 1950s is a very good example of the creations of Juliette Moutard, who joined René Boivin in 1933 and remained there until 1976, when she retired. This material is not so common in the creations of the house. We know of a few examples but I can't think of anything as imposing and graphic with this stone. I particularly liked the suppleness of this set and the delicate work of the gold that encloses the chalcedony balls. Although this set seems very simple, the metal work and the scroll patterns, reminiscent of Sardinian filigree, should be carefully observed. The tassels add that musical touch, one can imagine them tinkling with the wearer's movements… A beautiful object that will undoubtedly delight its future owner. I can already imagine this set around the neck and on the wrist of an elegant woman.
Lot 81: Gold, ruby and enamel flower brooch by Mellerio. Estimate between 2500 and 3000 euros. Photo: Aguttes
Mellerio's talent for making flower brooches is well known. On this jewel, I particularly like the work of stamping to realize the petals of this sufficiently imposing piece which measures nearly 8 cm in height. The ruby-set pistils add a touch of elegant colour and I love the enamel centre which invariably reminds me of a star sapphire. I have long felt that Mellerio pieces have a real place in the auction market but the prices are still relatively low. And yet, the pieces are not numerous and always very well executed. So if you like beautiful jewellery, with a careful manufacture, this flower clip will illuminate your jackets and coats. Its retro feel is really perfect and you can feel that the designer was a keen observer of nature. Look at the blooming of the flower, the delicate fall of the leaves, the clever dissymmetry of the pistils. This brooch is first and foremost a botanical work before being a jewel. Perhaps because jewellers are storytellers of nature…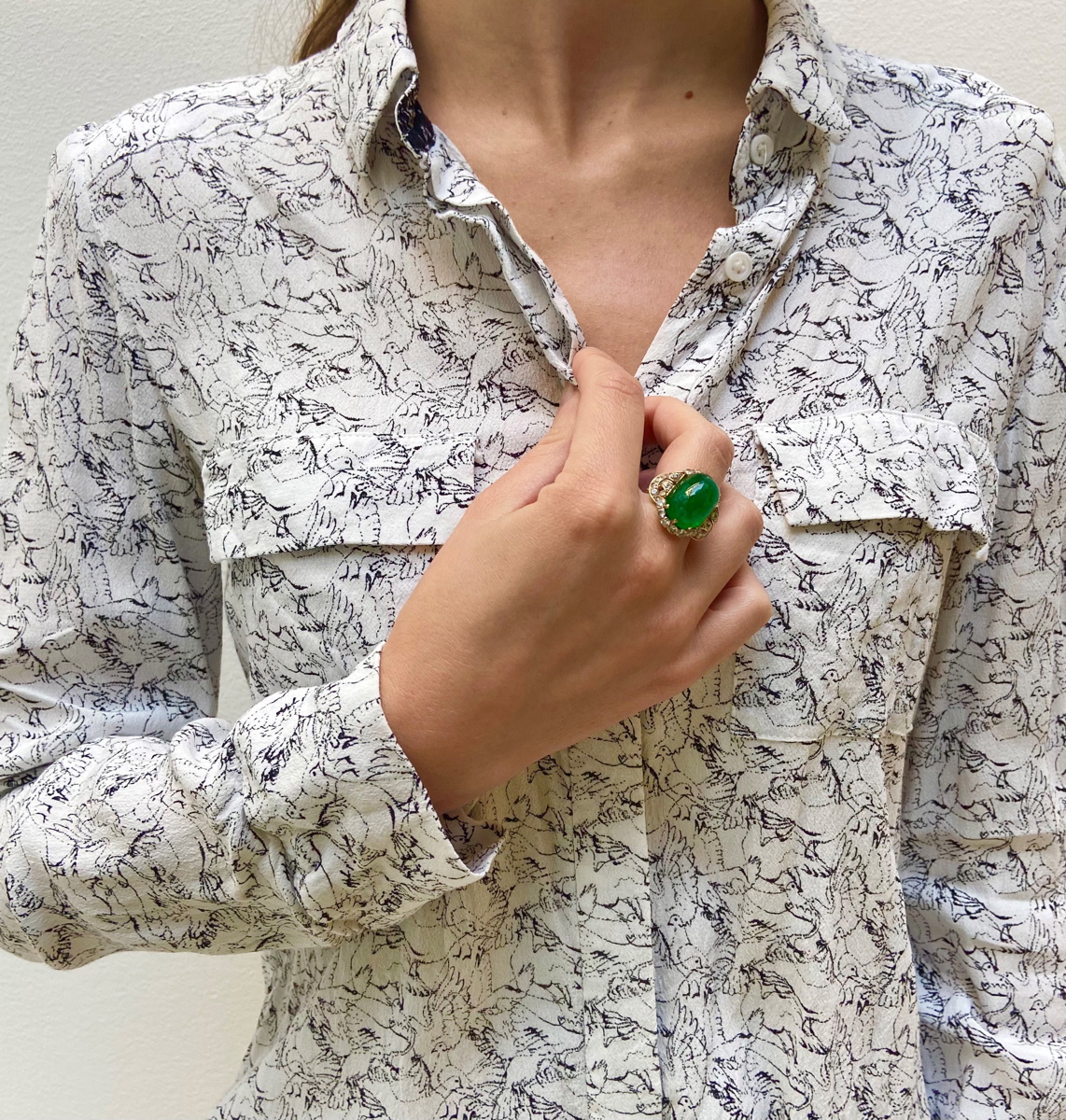 Lot 83: Gold, diamond, emerald ring, circa 1955. Signed Van cleef & Arpels. Estimated at 12,000 to 15,000 euros. Photo: Aguttes
There is something terribly greedy about this ring. At first glance, I didn't think of a Van Cleef & Arpels piece, but rather a Bulgari piece for example. It's all down to the imposing emerald cabochon, which I find really beautiful with all its inclusions that tell the story of its natural formation. For a moment I saw myself under the burning sun of Rome before returning to stroll in the city of all lights. Here, the making of the basket shows all the talent of the jeweller who, at the time, worked only by hand. Have you seen the setting, in successive stages, which gives a particular volume to this piece? There is a joyful, frilly, festive side to this setting where the diamonds add a real plus to the whole. The Place Vendôme house is known for its spectacular stones, and this 1955 piece already demonstrates the brand's talent for presenting rare gems. At a time when the absence of inclusions and the purity of the stones are guarantees of quality, this ring shows how much the opposite is possible. And to what extent, even included stones can be as beautiful as they are desirable. Look at this colour, intense, vivid, frank, you would think you were holding one of those mint ice cubes that remind us as much of the burning summers as of the joys of childhood. Those summers that never end!
See you soon!