Ever since Suzanne Syz left the world of jewellery, lovers of offbeat, storytelling jewellery have been crying. But that was without counting on Van Cleef & Arpels, which was able to think of and create an exhibition dedicated to humour in jewellery. It is true that at first glance, associating this great Parisian jewellery house with humour is not obvious, as the brand is rather known for its adorable fairies, its delicate dancers and its greedy and opulent sets. Launched during the lockdown, the exhibition was forced to close its doors only to reopen them a few weeks ago. I took advantage of my visit to Paris for fashion week to go and see it and I didn't regret this addition to a very very busy schedule. I found myself laughing in front of the windows of the heritage gallery of the Place Vendôme boutique. As I prepare to escape for the summer, here's an idea for a stroll for Parisians at heart as well as those passing through. Because you have until August 31st to go and discover it. Visit. And a great summer to you all!
Drawing representing a "lion in a cage" pendant, circa 1960. Van Cleef & Arpels archives.
In today's world, where the lack of humour is glaring and political correctness is rampant, the company has chosen to delve into its archives to show how, over the decades, it has been able to play on words and situations to use humour as a means of communication, reinventing its message in times of peace as well as in times of crisis. With talent. Here, illustrators, designers and jewellers have reinterpreted funny attitudes, childish figures and motifs, bringing a smile to the faces of customers. Thus, from 1916 onwards, the company's windows display symbols of an era as well as timeless subjects. Let's mention a drawing of a facetious harlequin (around 1930), a sailor with an accordion or a figurative clip of a soldier with a nurse, both dating from the 1940s. The end of Prohibition gave rise to bracelets whose charm's allowed the reproduction of famous cocktails. After the Liberation, the 1950s and the following years were marked by a freedom of tone, an ambient joy marked as much by important political events as by the advances necessary for our society.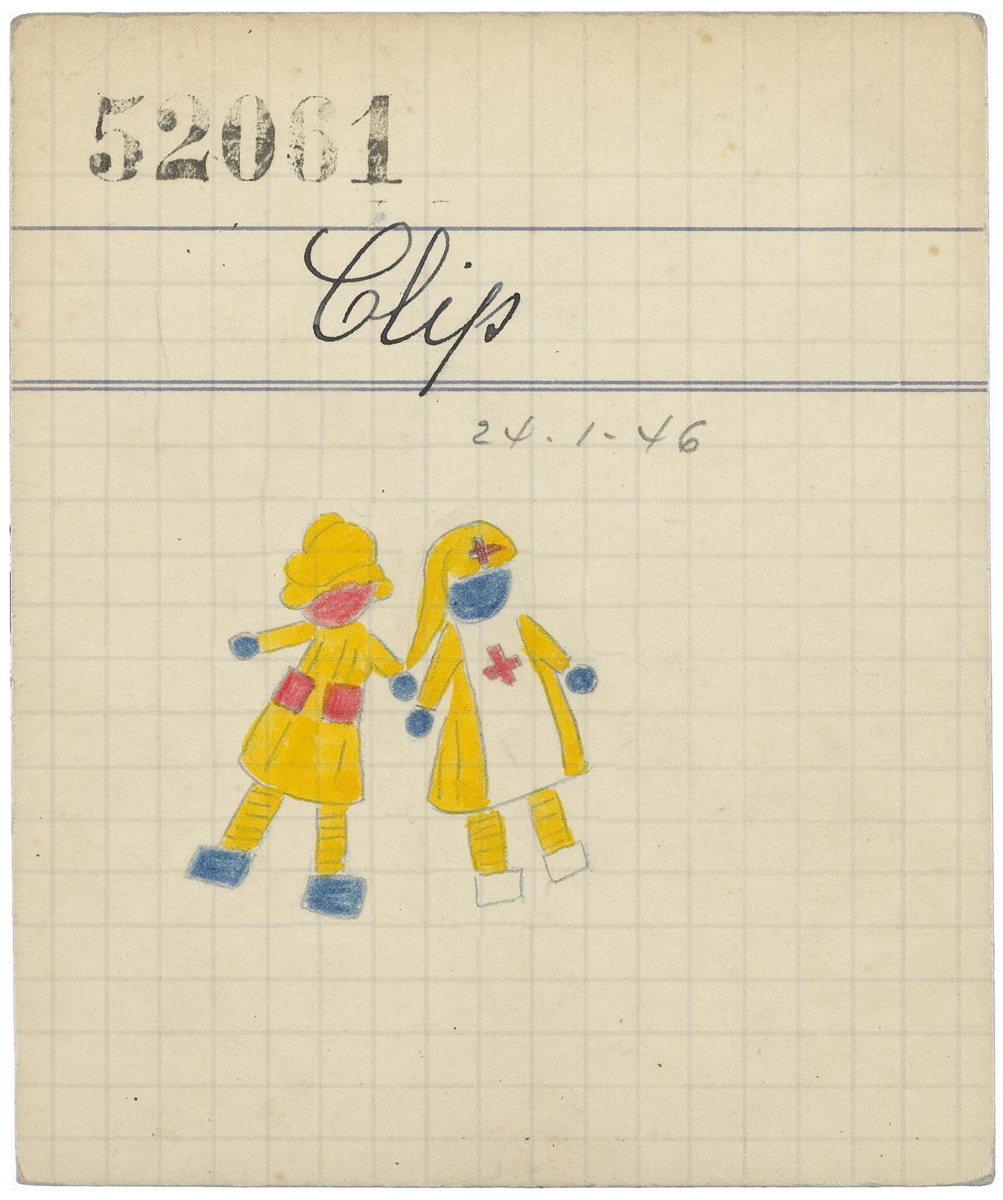 Product sign from a Nurse and Soldier clip, 1940. Van Cleef & Arpels Archives
Bracelet whose charm's allow the reproduction of a Martini, circa 1930.
Then came the small animals that contributed to the brand's success. This desirable menagerie is made up of dishevelled lions, mischievous cats, mice and even ducks on the prowl. Set with diamonds, rubies and emeralds, these adorable little brooches have met with incredible success both in Europe and across the Atlantic. You only have to open the auction house catalogues to discover these jewels, which today reach prices that are sometimes record-breaking, giving reason to the 1969 advertisement that praises the Parisian boutique "where you will discover jewels full of gaiety and fantasy, easy to buy, easy to wear, and spiritual gifts such as you like to make…" The spirit of the world-famous American cartoons can be found in these pieces. Beyond the furry beasts, Van Cleef & Arpels does not restrict itself to anything. This enamelled pirate, this scarecrow set with coloured stones or these Cowboy clips are proof of this. And let's talk about this Paradoxe lighter, in yellow gold, which reveals real matches inside to prevent running out of fuel.
Pirate clip, 1967. Yellow gold, enamel. Van Cleef & Arpels collection. Pirate clip, 1967.
Paradoxe lighter in yellow gold. This one contains real matches and a scraper. At the time, it was sold thanks to an advertisement saying "Works even if you run out of gas". Van Cleef & Arpels archives.
The exhibition is open until 31 August 2021. Don't miss it because it shows another way of experiencing jewellery. It is certainly a question of humour but also of that lightness which the era does not show. So to find it, push open the doors of 20 Place Vendôme and let yourself be charmed by these small objects that tell more than you think about the times in which they were made.
See you soon!