An Aguttes catalogue is a bit like a box of gourmet sweets for me. Diving inside brings me great joy and propels me into a world I'm particularly fond of. Historic jewels, beautiful signatures, rare or atypical materials collide and reveal themselves on every page. On 21 October, the head of the jewellery department will be offering no fewer than 159 lots for a delightful sale. The sale may be smaller, but the quality of the lots is superb, with a predominance of pieces from Cartier. I invite you to discover my selection in this article, which I hope will inspire you to bid!
Lot 12: Gold and citrine bishop's ring, 19th century. Estimate between 500 and 800 euros. Photo: Aguttes
Why choose a bishop's ring? Firstly, because they are relatively uncommon at auction. These honorary rings are so precious because of what they represent that they are often kept in families. But some very fine examples do appear in auction rooms from time to time. This ring, with its decorative grape, a fairly common Christian symbol, appealed to me as much for its relative simplicity as for its discreet opulence. Its estimate will enable you to acquire a ring charged with symbolism. If you're a fan of distinctive jewellery, far from boring standards, you know what you have to do!
Lot 23: A gold and enamel ring signed Georges Fouquet, circa 1900. Estimated at between €3,000 and €4,000. Photo: Aguttes
It's hard to say no to a piece of Fouquet jewellery, whether it's the father's or the son's! Talent has never been lost in this dynasty of jewellers. This extremely simple ring has all the codes you'd expect from an Art Nouveau jewel. It is sensual, graceful and delicate. Did you know that the company's boutique has survived in a Paris museum? You can admire a reconstruction of it at the Carnavalet museum, where it has been superbly reassembled. In its day, you had to go to rue royale. This signed and numbered piece of jewellery must have adorned the hands of many an elegant woman, as evidenced by the patinated gold, the colour of which I find absolutely perfect. Art Nouveau demonstrates all its complexity with each piece, but sometimes more everyday objects make an appearance on the market, like this ring. And therein lies the appeal of this movement, which was all about beauty, but beauty that was accessible. Since then, the price of this type of piece has soared, making them even more precious and desirable.
Lot 48 and 49: two coral, onyx, diamond and white gold necklaces. Estimate for the first between €2,000 and €3,000, the second between €3,500 and €4,000. Photos: Aguttes Aguttes
These two necklaces, made of red coral and onyx, are totally in the art deco style without being from that period. Yet they have all the same stylistic codes. The combination of black and red is one of the signatures of this artistic movement, whose pieces are sober and perfectly geometric. Far removed from Art Nouveau, which was no longer popular at the time, the designers dared to offer a jewellery style that would become fully successful in the 1920s. Bold geometries, contrasting colours, colourful ornamental materials, the use of coral, jade and onyx – the jewellers of the period never ceased to have fun, creating pieces that were unaffected by the passage of time. Note the length of the chains, 50cm for the first and over 60cm for the second. Once again, women dared to take off their corsets, dresses became straight and flowing, constraints in clothing began to disappear, and jewellery followed suit. Gone were the necklaces that were too close to the neck, tight and austerely elegant. After the First World War, people were looking for lightness to forget the dramatic years that had just passed. Jewellery was moving and jingling. There was joy in the air!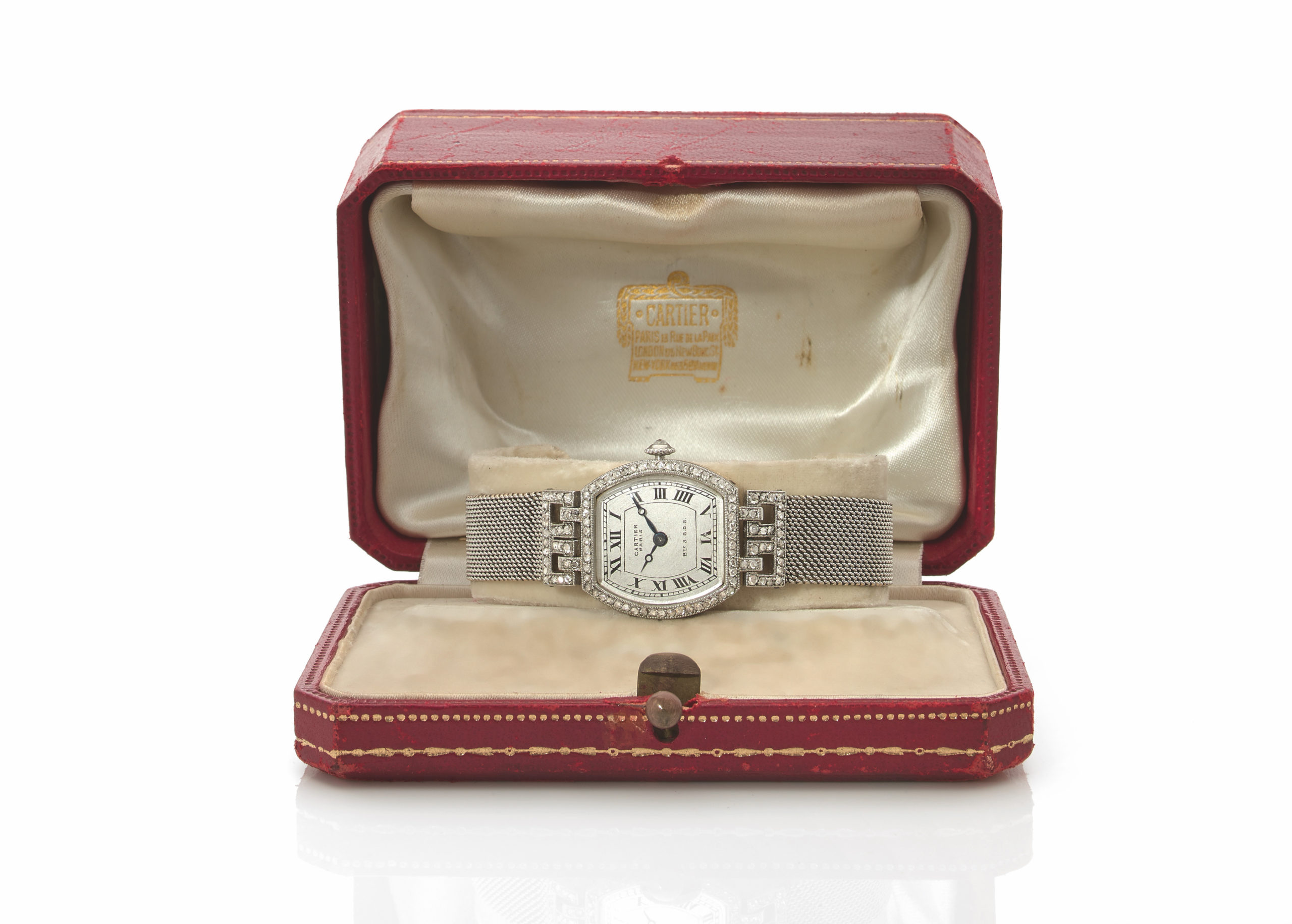 Lot 50: Cartier "Tortue" ladies' watch, platinum, gold, diamonds, circa 1915. Estimated at between €7,000 and €10,000. Photo: Aguttes
Designed and marketed from 1912, the Tortue watch is a classic from the French jeweller's house. Just ask Google and you'll find dozens and dozens of them, vintage though they may be, recent nonetheless. In fact, what is on offer in the Aguttes sale is a treasure trove. This gold and platinum Tortue watch dates from 1915. So it's a turtle from the early days, one that has survived history, both large and small, one that has been protected and loved so as not to disappear. This makes it all the more rare. All the more so since the brand relaunched this model a few years ago, modifying it slightly to make it less domed and more discreet. It has also lost some of its charm. Everything about this object is beautiful: the fine mesh that makes up the strap, the diamond on the winding mechanism, the Art Deco feel that is unmistakable and totally assumed, with the geometric frieze framing the dial, which is itself adorned with diamonds. This rare object deserves only one thing: to end up on your wrist!
Lot 61: Cartier gold, platinum, diamond, sapphire and aquamarine bracelet. Circa 1960. Estimated at between €7,000 and €10,000. Photo: Aguttes
This bracelet is everything I love about special orders. A unique piece, out of the ordinary, yet with all the hallmarks of the period in which it was made. The aquamarines are perfectly coloured and saturated, and the chaton chatons on the clasp tell the story of a jewellery industry without CAD, where jewellers soldered in plaster, adjusting the curve of the clasp by hand, the motif here taking the shape of a chain link. The overall design of the piece is very much inspired by the pieces imagined and created by Cartier for numerous clients, including the Duchess of Windsor. The twisted stones were fashionable in the 40s and 50s, and the clasp motif is reminiscent of a bracelet made in the late 40s. I have a real weakness for this type of jewellery, which I find easy to wear and always very well balanced. I also like the echo of Wallis Simpson's elegance and chic.
Lot 71: Cartier 'Feuille' gold necklace, circa 1950. Estimated at between €5,000 and €7,000. Photo: Aguttes
We always tend to associate Cartier with the profusion of gemstones on a piece. And there's a good reason for that, as Cartier's fine jewellery rivals in colour, astonishing combinations and stunning materials. This is a house that makes its mark. So when we see an all-gold necklace, we're almost astonished. And yet, have you noticed the delicacy of the work, the discreet fall of the motif and the regularity of the workmanship that evokes certain Greek friezes? The chain, a kind of square tubular mesh, which holds the motif is also very pretty. You wouldn't necessarily think of a large house when you saw this piece, even if the workmanship automatically points to a quality workshop. At first glance, you might think of Lenfant, for example, whose knits are now famous and sought-after. So if you're looking to invest in a perfectly crafted, timeless piece, this necklace is a wise choice.
Lot 73: Rare carp clip by Cartier, circa 1950-1960, gold, jade and diamond. Estimated at €12,000 to €15,000. Photo: Aguttes
8 cm, no less, for this imposing and perfectly atypical gold brooch, a special commission from Cartier. Admittedly, the jade disc has been damaged over the years, but the piece is nonetheless astonishing. All the symbols of Asia are represented here, with the carp, among others, representing perseverance, courage, determination and wisdom. The House of Cartier has never been afraid to look further afield and cross borders to see what foreign cultures could bring to their house. There are many examples of pieces that include elements of the Asian imagination from countries such as Japan and China. Engraved jade Bi discs (sometimes called Pi) are highly prized in Asia, where they are often worn simply on a cotton or silk cord. The symbolism of this object is very special, as the disc is seen as a symbol of heaven, the celestial universe that Asian cultures venerate. As for jade, it is the precious gemstone par excellence. Even today, its price often exceeds that of a diamond, so sacred is its symbolism.
Lot 147: a sapphire bracelet signed by Vergers Frères. Estimated at between €3,000 and €3,200. Photo: Aguttes
I ended my selection with a Vergers Frères bracelet. I'm particularly fond of their work. The object in question here is very classic. But I particularly like its movement. It looks like a ribbon. There aren't that many Vergers Frères pieces at auction, but the company still exists. Even if the current style is a far cry from the brand's earlier production. As with the Cartier gold necklace shown above, this type of item offers the chance to acquire a classic design, carefully crafted but signed. And that's where the difference lies. It's a little piece of French jewellery history. So if you like jewellery that's easy to match, this piece might just appeal to you.
See you soon!