A few weeks ago in Geneva, pieces by René Lalique attracted and astonished lovers and specialist dealers at Sotheby's. The exhibition at the Mandarin Oriental featured both flagship lots that were sold a few days later and pieces that will light up the end-of-year sales. Part of the Claude H. Sorbac collection was revealed before our very eyes.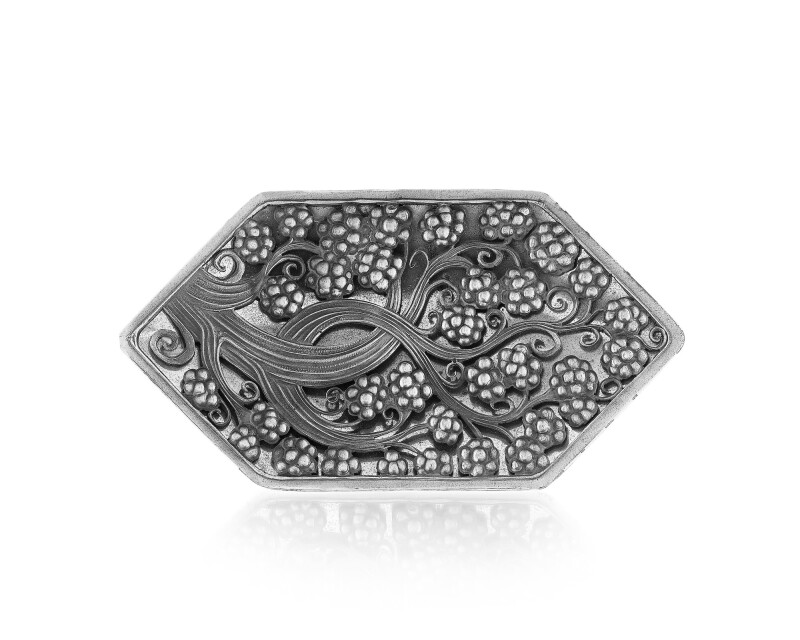 Steel and aluminium brooch. Acquired from a London dealer in 1979. Estimated at between 8,000 and 12,000 euros. Photo: Sotheby's
We know so much about René Lalique, and sometimes so little. All it takes is one piece that is completely different from the others to reveal a facet of a creator. When one of Claude Sorbac's daughters, Marie-Louise, agreed to talk to us about her father and his collection, a whole world was revealed. Through the story of her family, her father's collection was revealed. Although Sotheby's will shortly be offering 39 lots, the collection numbered as many as fifty pieces. "Dad used to say that this man was a genius for the eye he had, for the diversity of materials he always used. He always regretted, in his time, that he was so little considered. Each object is a testament to his multidisciplinarity and curiosity," begins Marie-Louise, setting out one of the guidelines for the interview. Fascinated by glass objects, Claude began by collecting items by Daum and Gallé, to name but two. Although he didn't turn to jewellery until he was 45, he had already been fascinated by glass for a long time. And it was through glass that he discovered the work of Lalique. A taste for art is a pillar of the family. To understand this, we need to unravel the family history and situate Claude within it. "Our great-grandfather was called Jules Strauss. He was a great collector. Paintings and objects were everywhere in his home. He passed on this taste for beauty to all his family," adds his daughter. The family collection includes works by Renoir, Sisley, Degas and even Tiepolo.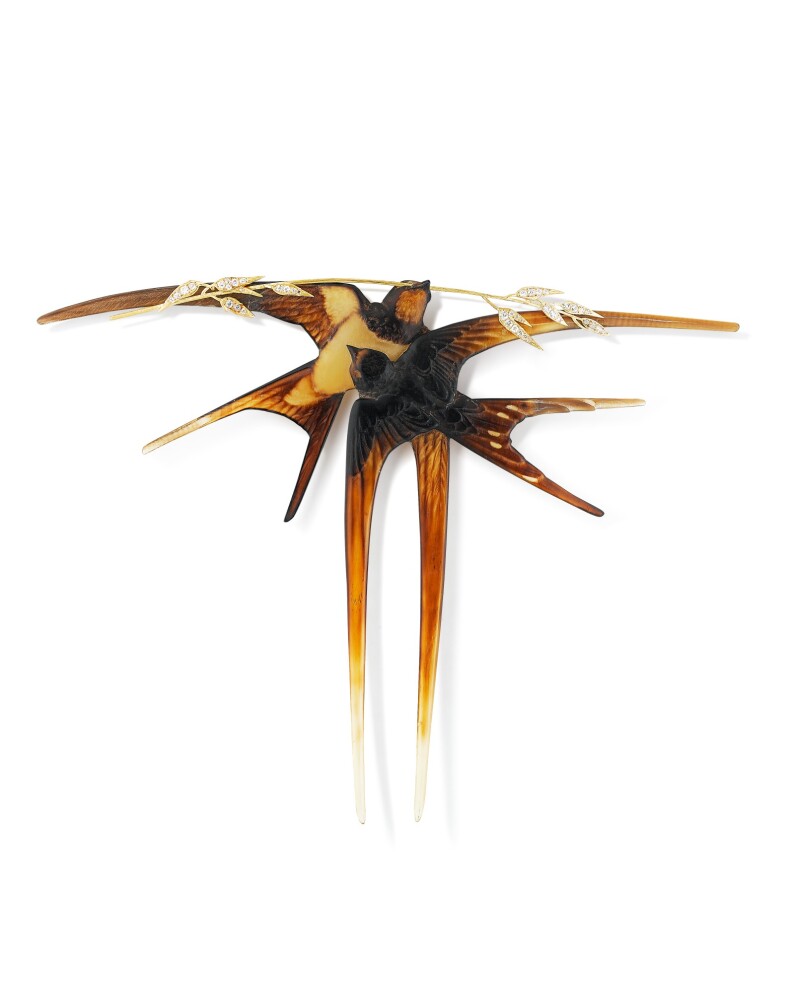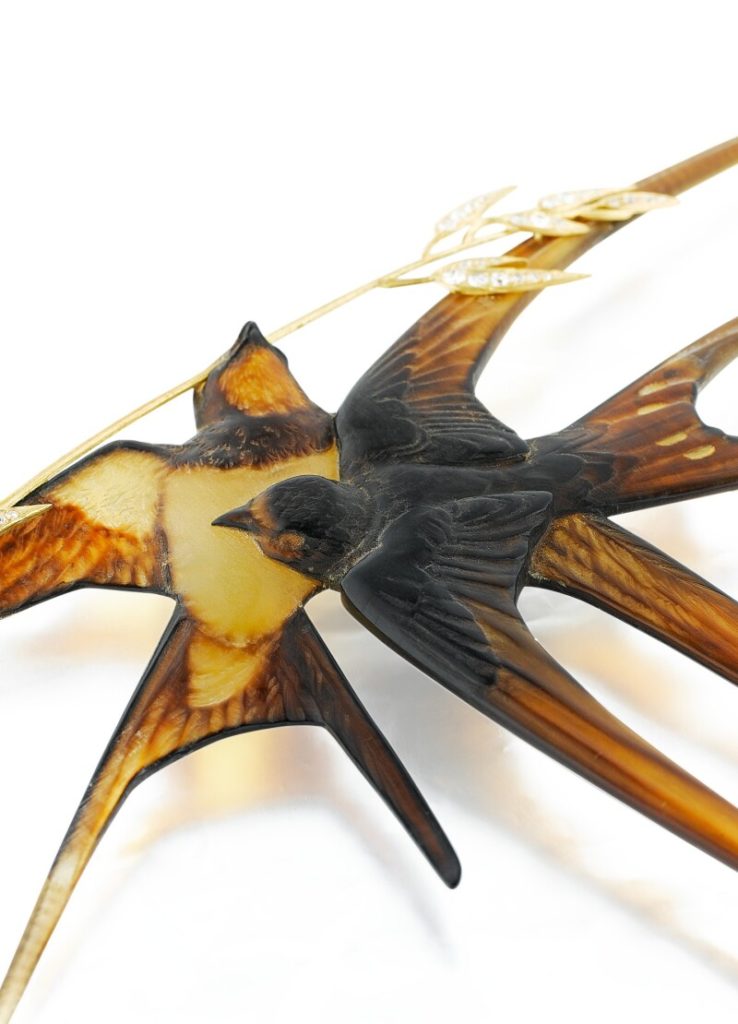 René Lalique | Horn and diamond comb, "Hirondelles Amoureuses". Forming two horn swallows, one holding in its beak a branch enhanced with old-cut and 8/8-cut diamonds, size approximately 218 x 167 mm, signed Lalique, gross weight 31.55 g, circa 1906-1908, in its case signed Lalique. Heirs of René Lalique. Acquired in 1979 in Paris from a descendant of René Lalique. Estimate between 400,000 and 600,000 euros. Photo: Sotheby's
Claude Sorbac was born in 1921. His father, Roger, was also an art collector, while his mother worked as a decorator for a major Parisian house. His studies at the HEC business school were interrupted by the war when he had to enlist for the STO. At the age of 22, he joined the 1st Moroccan Spahis regiment and took part in the liberation of Paris with the 2nd DB. At the end of the war, he learned of the death of his father, Roger, who had been deported to Auschwitz following the"roundup of notables". After resuming and completing his studies, he felt the need to get away from France and the complicated post-war situation. "He accepted a job in Buenos Aires to relaunch a factory that manufactured zip fasteners. He was tempted by the Argentine adventure and said yes," explains his daughter. After several years, he became self-employed and set up several companies, again in Argentina. "He met our mother there and they had five children, including me," adds Marie-Louise. Unfortunately, the 70s saw the political situation deteriorate. Claude closed his companies and decided to return to France. It was at this time that he began to acquire objects. He tirelessly visited antique shops and markets, and his friends also gave him advice. Wherever he travelled, he looked, observed and bought, most of the time in connection with Art Nouveau.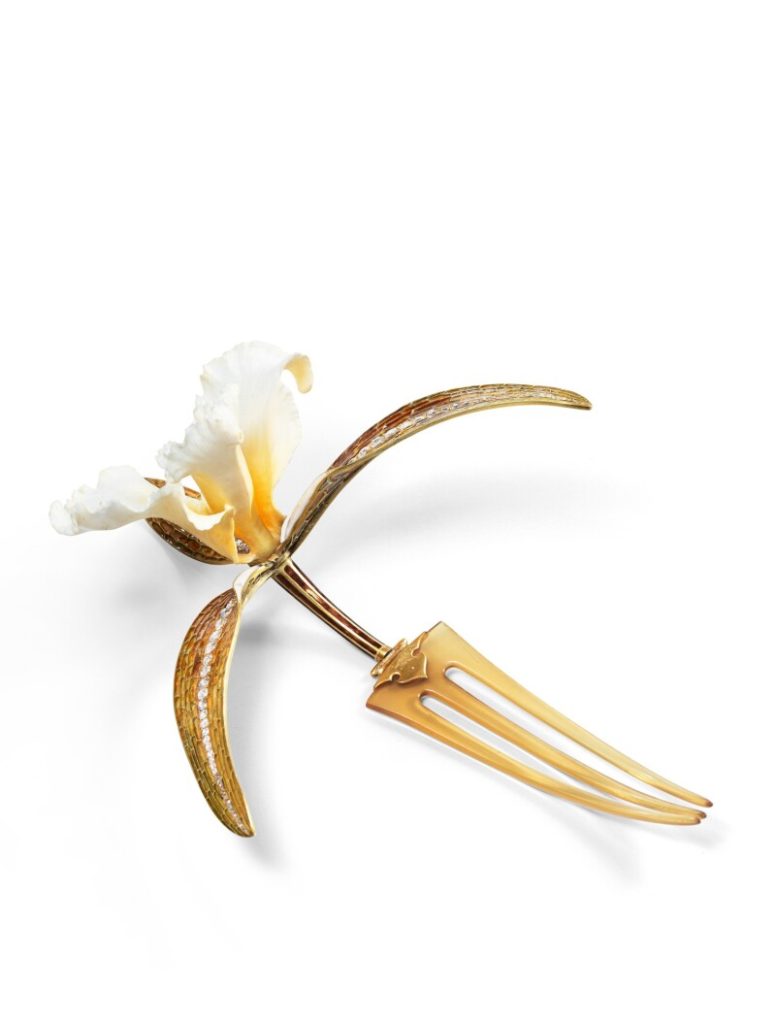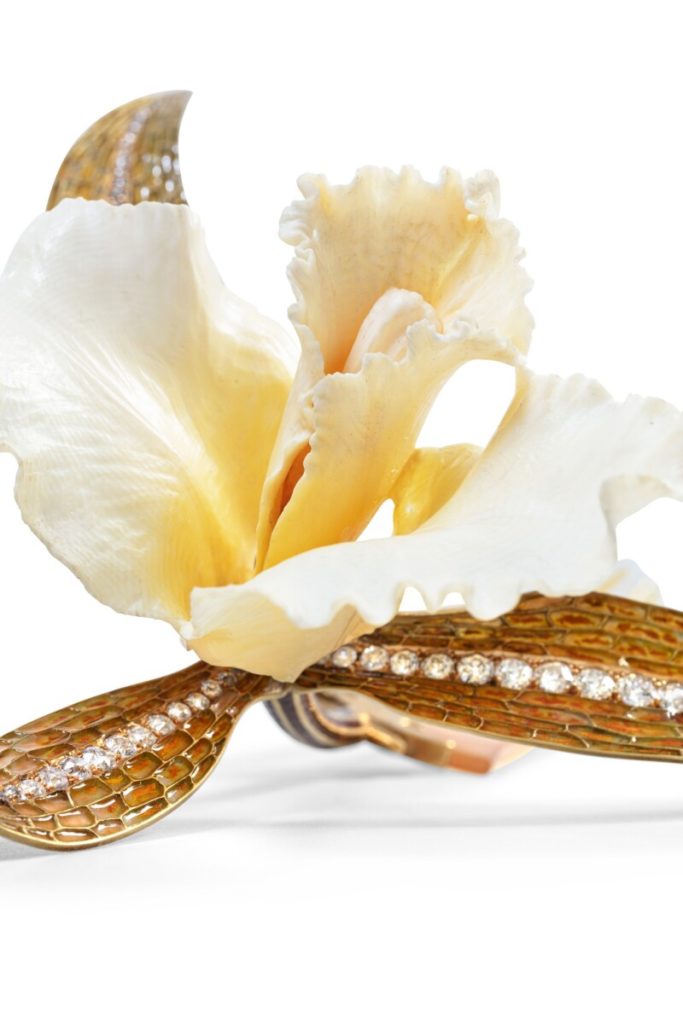 Ivory comb, horn, enamel and diamonds, "Cattleya". Heirs of René Lalique. Acquired in 1976 in Paris from a descendant of René Lalique. Estimate between 700,000 and 1.5 million euros. Photos: Sotheby's
The collection as a whole is striking. The pieces are remarkable, many of them astonishing and revealing a little more about the artist behind them. Of course, the pâte de verre is sublime. And so is the metalwork. The two steel and aluminium brooches are stunningly modern and totally unexpected. Glass is a common feature of many of the jewels presented here. "Theword 'wearable' comes up regularly in the discussion with her daughter, but it's worth noting here the false simplicity of the pieces that makes them all the more desirable. While the jewellery is plentiful, there are also medals, an imposing cloak buckle and a necklace linked to Edmond Rostand's play Chantecler, which took him eight years to write, and crockery. The eclecticism of the whole ensemble makes it fabulous. There is no doubt, we hope in any case, that there will be many fans. Claude Sorbac died in March 2021 in his 100th year. Lalique's wink. Its Wingen-sur-Moder factory has just celebrated its centenary. If you want to discover the pieces, you'll have to go to Sotheby's in Paris from 11 December. The event promises to be as sumptuous as the sale itself!
See you there!