On 16 December, the Aguttes auction house will be offering a sale of 172 lots. As always, when the auction house offers it, I immersed myself in this catalogue with a certain delight, and it had some very nice surprises in store for me. A catalogue is like a box of sweets or chocolates, depending on the season. In this one, I chose seven pieces, each very different from the next, but all of which seduced me and which I could see myself wearing if I had the chance. So I won't keep you waiting any longer, and invite you to follow me on this winter jewellery stroll.
Lot 6 – Calendar ring Calendar ring, gold and enamel, estimated between 150 and 200 euros. Photos: Aguttes
Capturing and marking time. This is a theme that has monopolised the minds of mankind for as long as we have been on this earth. We can talk for a long time about the appropriation of time, what it represents, and how not to lose or waste it. Jewellers from the very end of the eighteenth century to the very beginning of the nineteenth also tried to find a solution to the problem of how to mark time in the most beautiful way possible. Jewellery with perpetual calendars made a notable appearance around the 1800s. Most of the pieces on the market are English, and are typical of the Georgian period. So a French ring was bound to catch my eye. Admittedly, this one is a little damaged, but it must have been worn and loved. This one has the particularity of being engraved and of certainly having been given to a beloved woman. "May they all be happy for my dear friend" says the phrase inside. We can see here a sort of reappropriation of the Latin phrase "horas non numero nisi serenas" – I only count the happy hours – which would, years later, be reused by the House of Cartier on its mysterious clocks. So if you want to count time and see it pass with a piece of jewellery, don't miss this ring.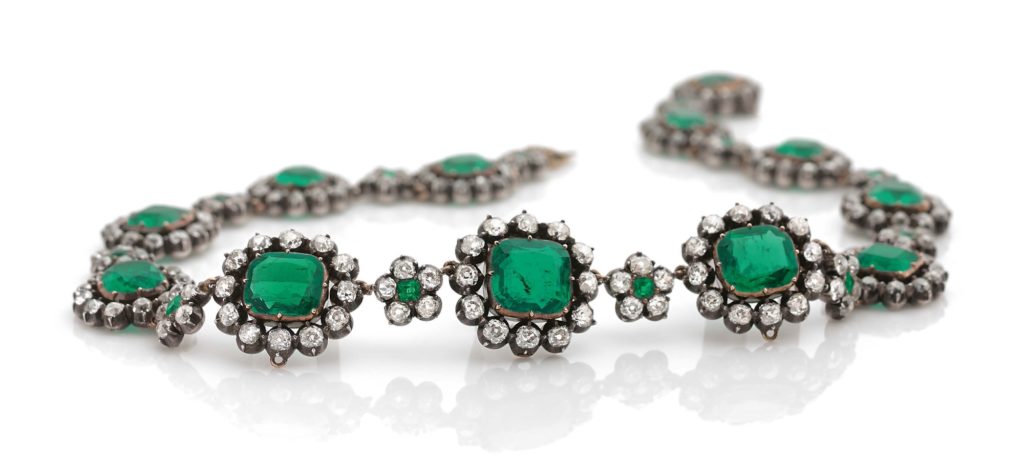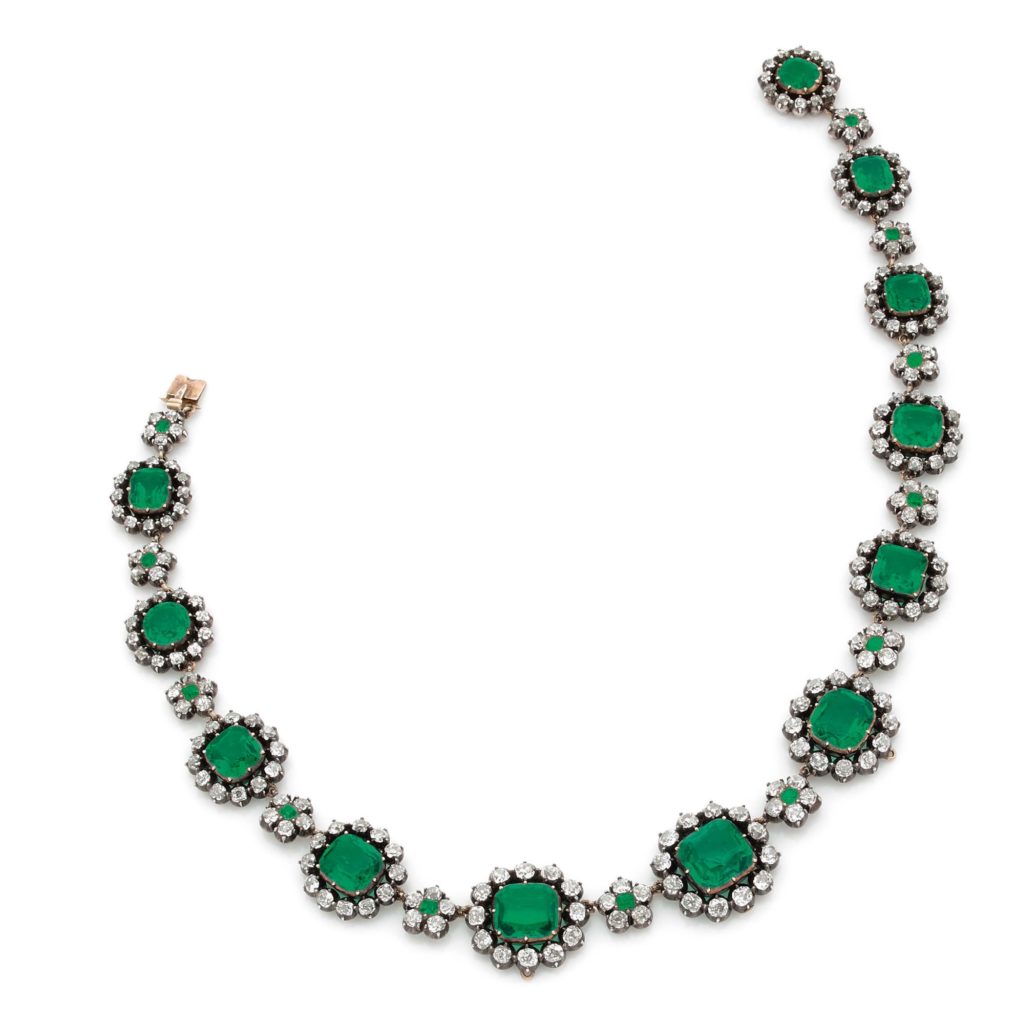 Lot 20 – A gold, silver, diamond and emerald necklace given by Napoleon I to Nicolas-Charles Oudinot (1767-1847). Estimate between 100,000 and 120,000 euros. Photos: Aguttes
This is one of the major pieces in this sale. But it is also a piece that bears witness to the marvels that lie dormant in family jewellery boxes. This necklace, as simple as it is elegant, is totally in the style of early 19th-century jewellery. The shapes are simple but effective, and the workmanship is a true demonstration of the jewellery art of the period. If the piece is beautiful, it is even more so because of its provenance and its beautiful family history. Tradition has it that this necklace was given to Marshal Oudinot (also Duke of Reggio) after he distinguished himself at the Battle of Wagram. There are many known statues of the Marshal. I'm thinking in particular of the one you can admire in Bar-le-Duc, for example. You have to remember that Napoleon I and his wife were fond of jewellery and gifts. Parisian jewellers would often advise and then deliver to the imperial palace. These objects then found their way into the private collections of France's great aristocratic families. It was an honour to receive a gift from the Emperor. This necklace, therefore, was presented shortly after 1809. The Marshal passed it on to his daughter Stéphanie Oudinot de Reggio when she married Baron James Georges Tom Hainguerlot in Paris on 31 December 1828. The play has remained in the family ever since. However, the piece is short. It is certainly possible that this necklace was shortened over time. There are also a few small rings, indicating the possibility of hanging removable pendants. Emeralds, fine pearls, the period offered few stylistic possibilities. The object is sublime. It also bears witness to a bygone era. But what a history!
Lot 23 – Gold, diamond, ruby, emerald and sapphire monogram brooch. Probably 19th century foreign work. Estimated at between €1,500 and €1,800. Photos: Aguttes
To say that this piece struck me is an understatement. I love everything about it. I love everything about it: the overloaded side, the mystery of the monogram, the multicoloured stones… This is a special piece of jewellery because, although it is now a brooch, it certainly wasn't one to begin with. It's not a very delicate piece to make, and the reverse shows a side that was in fact invisible from the outset. So don't let this detail stop you. The set side is really superb. I think it was used to decorate a box or a casket. There are two traces of prongs, which indicate that the piece was probably set in something else. The letters remain. ASN in diamonds, SEY in emeralds. This blue motif reminds me of an anchor. Is this the sign of a marriage, a financial alliance between two families, an honorary title… Should I see it as the symbol of a family of shipowners? A gift from a monarch? Or the union of Sophie and Albert, for example, heirs to two powerful families wishing to perpetuate their separate fortunes. I have thousands of ideas in my head, all more or less close to an absolutely improbable film scenario. It's true to say that this play takes me on a journey. One day, perhaps, I'll discover the meaning of this play. For the moment, it's keeping its secrets, unless someone among my readers has the beginnings of a solution. But in the meantime, I'm buying.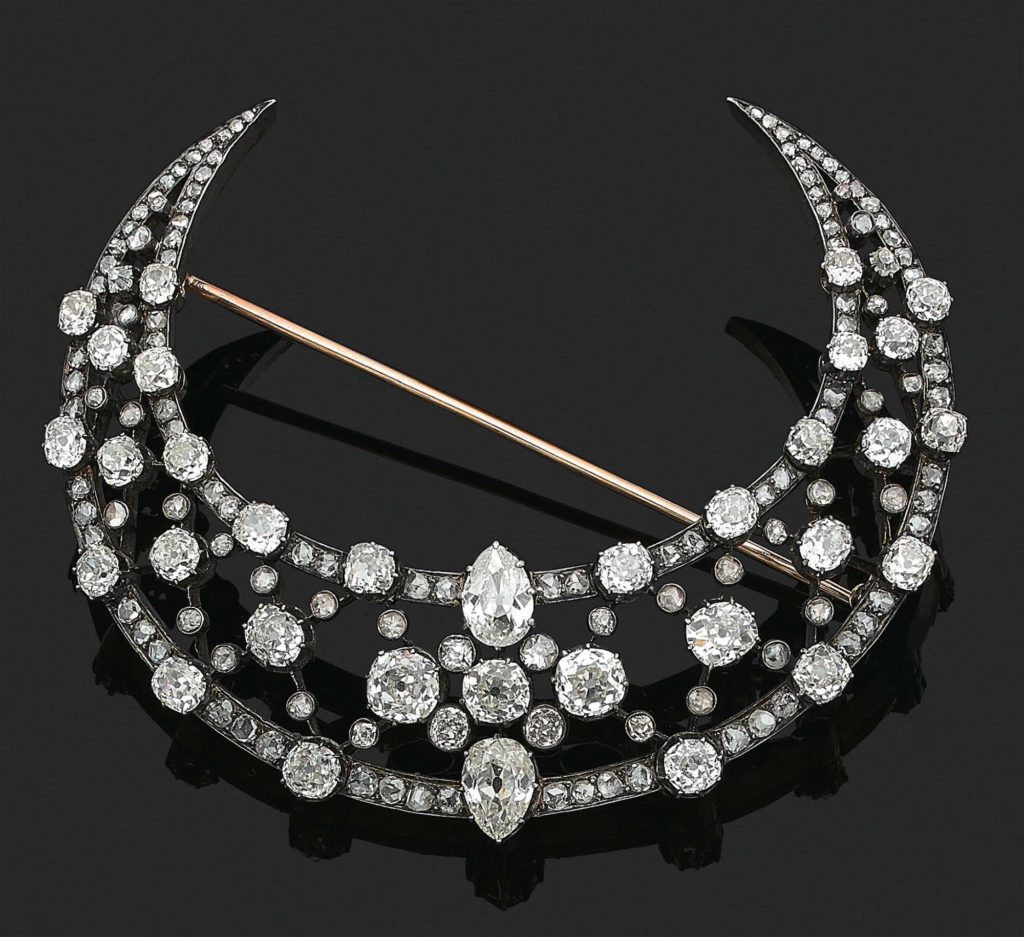 Lot 28 – Silver, gold and diamond moon brooch. 19th century. Note the large size of the object: 7.5 cm in diameter. Estimated at between 8,000 and 10,000 euros. Photo: Aguttes
The moon brooch is a jewellery classic from the mid-19th century. The advent of the occult, spiritualism, astronomy and, more broadly, applied sciences partly explains the taste for these remarkable pieces. Recently, in Geneva, I handled two exceptional pieces. The one on display at Aguttes in a few days' time is one of these jewels, as beautiful as it is imposing. At almost 8 cm in diameter, this silver, gold and diamond moon is unexpected. Like the rest of the catalogue, it needs to be seen, weighed and handled, because moons of this size are extremely rare on the market. The use of knife wires gives the piece great lightness, aerating the diamonds and allowing the light to pass through more easily. I hope it finds a loving owner who will allow it to continue to exist, as I find it quite simply fascinating.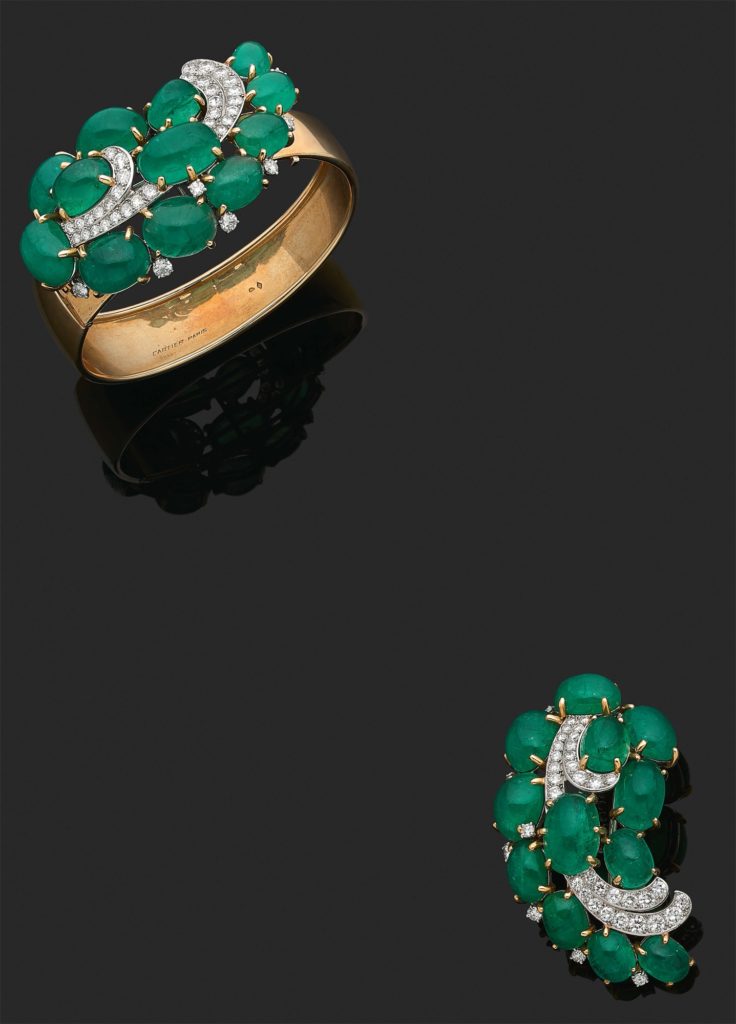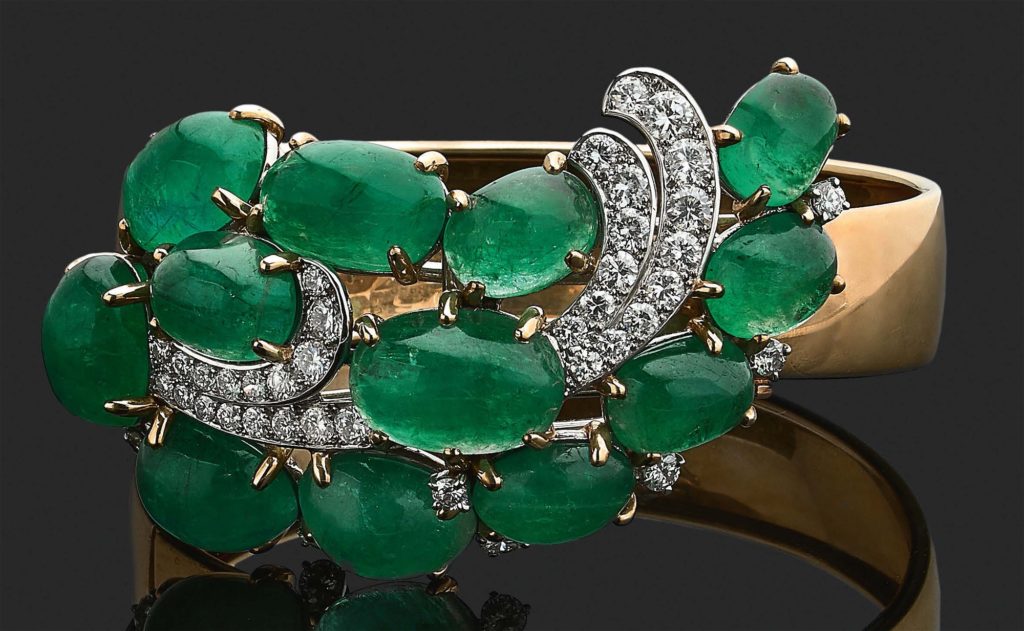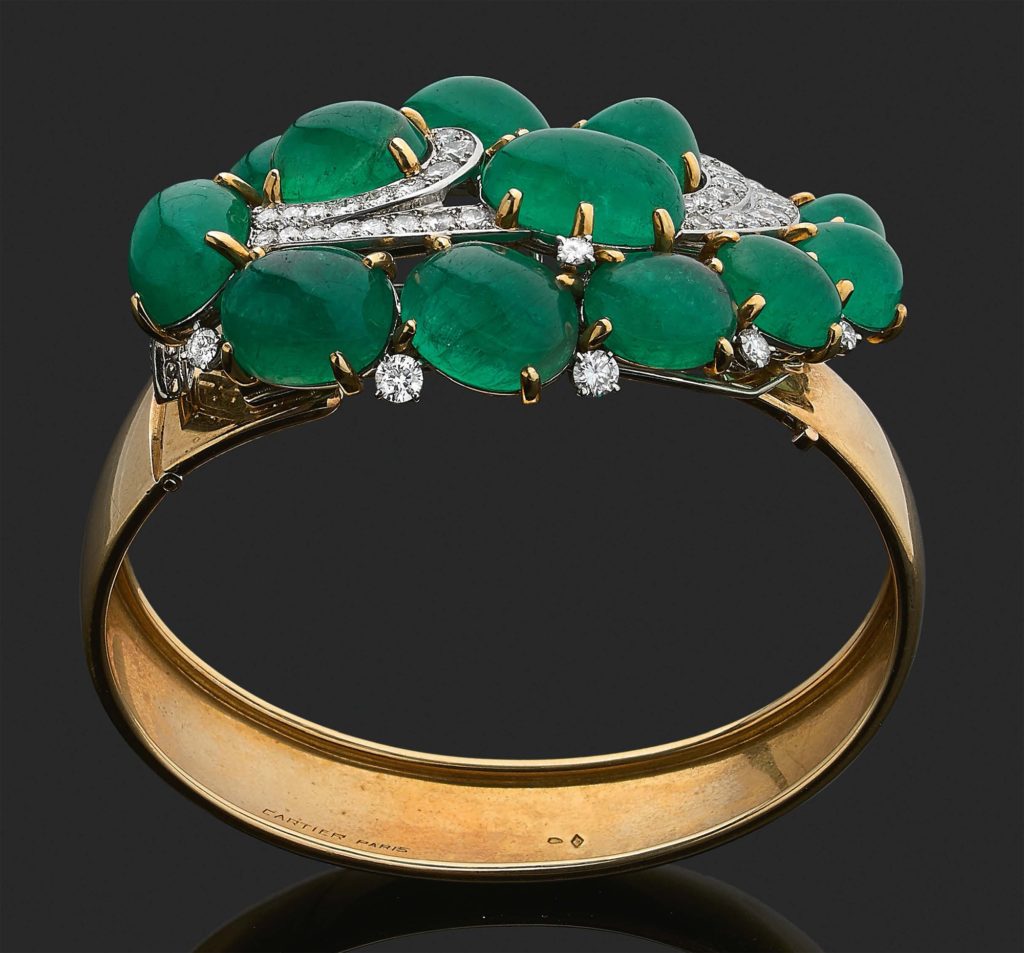 Lot 45 – Important Cartier Cashmere, gold, diamond and emerald bracelet. Estimate €60,000-80,000. Photos: Aguttes
With the "Cartier and the Arts of Islam" exhibition in full swing at MAD Paris, I was delighted to see this piece featured in the forthcoming Aguttes sale. The reason we're talking about paisley here is that it's a well-known form in the Persian stylistic repertoire. It is often referred to as the 'paisley pattern', but also as 'Boteh', which means 'bouquet of flowers' in Persian. Some see it as Zarathustra's tongue of fire, a Buddha tear or even a pine cone. The boteh djegheh is a mystical Iranian flower. These flowers are usually paired, often representing the union of man and woman in the carpet. It is the imaginary rose of Iran, the most romantic flower, the symbol of love. It has been found everywhere since the 17th century, in stylised or geometric form. From the beginning of the 20th century, Islamic and Oriental influences dominated Cartier's creations, as evidenced by the designs of Charles Jacqueau. When the Russian ballet company staged Shéhérazade in Paris in 1910, a sudden passion was born, a passion that was to permeate fashion as much as objects. Technically, this bracelet by Cartier Paris is perfect. The brooch is superb, and the combination of platinum and yellow gold works remarkably well. The structure that holds it together to make a bracelet allows for other daring ways of dressing. It's not often you see a piece like this on the market. While the motif is common in Cartier objects, this piece is totally spectacular in its volume and composition. It is almost reminiscent of a certain Suzanne Belperron…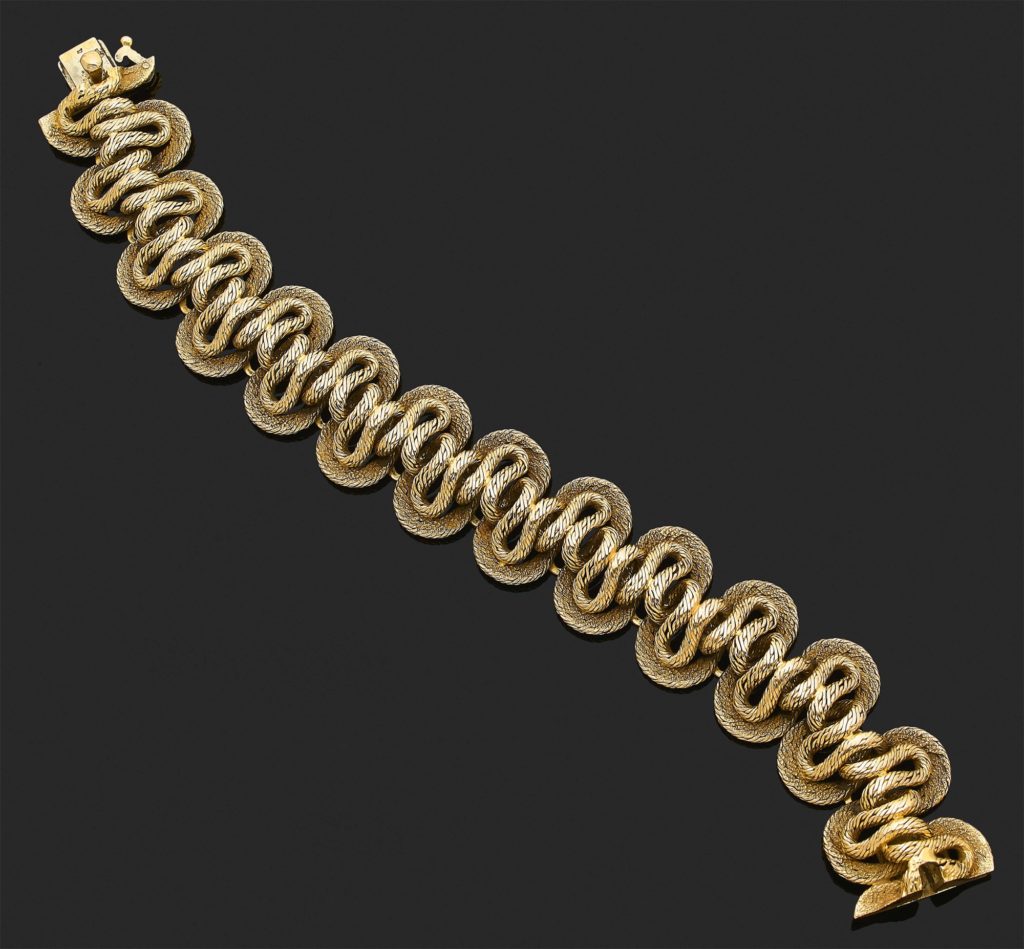 Lot 89 – Georges Lenfant gold bracelet for Jean Eté. Estimated at between 5,000 and 7,000 euros. Photos: Aguttes
I had to choose this jewel for the incredible work on the links that make it up. Inevitably, with such meticulous craftsmanship, one is reminded of Georges Lenfant, whose meshes are as famous as they are sought-after. I'm in love with this jewellery, I love its false simplicity and its real complexity. Because to make this kind of jewellery, you need a hell of a lot of skill and a perfect knowledge of metal. No stones, they're not necessary and that's just as well. The Lenfant workshop has also left its mark on the history of Parisian jewellery. As an apprentice, I was lucky enough to be able to admire some of this fine company's archives. Their jewellery is as timeless as it is beautiful. Whether it's the mesh or the animals, they too are famous and celebrated. There are jewels that make a mark and become iconic. The subtlety of this jewel is its signature. Because this bracelet was made for Jean Été. So maybe the name doesn't ring a bell. But it will bring back memories for the old-timers in the trade. Jean Été is heir to a family of jewellers that has been working since 1852. He made his name when he set up shop at 70 rue du Faubourg Saint-Honoré, almost opposite the Élysée Palace. He produced many pieces for heads of state and guests of the French government. There are few documents on this brand, although a few advertisements have survived here and there, testifying to the luxury of the house and its refined clientele. Like this bracelet.
Lot 99 – Gold, coral and chrysoprase set, signed Van Cleef & Arpels. Estimated at between 8,000 and 10,000 euros. Photos: Aguttes
Pink coral and agate are a signature combination for Van Cleef & Arpels. The Delphes collection continues to offer lovers of antique jewellery heavy long necklaces and marvellous brooches adorned with imposing cabochons of coral, chrysoprase and amethyst… The combination of these colours inevitably brings to mind the famous house from Place Vendôme. This set is no exception, but it's the very first time I've admired it. I was not familiar with this model. The earrings and bracelet that make up Lot 99 are exceptional in their supple workmanship, in which you can recognise Georges Lenfant's touch. Lenfant was one of the brand's regular suppliers. Although this model was unknown to me, I see it as an interpretation or variation of the Twist model, which is seen more regularly on the second-hand market. With its festive spirit, this set bodes well for the festive season ahead. So if you want to look your best at the Christmas table, you know what you have to do.
See you soon!