Spring has officially sprung, and with it comes the excitement of the beautiful auctions that are about to begin and will continue until the end of May. God, I love this season, when wonders are revealed and jewels seem to wake up from a long winter. To kick off this season, I'm starting with Aguttes, who will shortly, on Thursday 31 March, be offering a sale worthy of the season as it gets underway. With 184 very different lots, it's a catalogue just the way I like them. With surprises, with exceptional pieces, with atypical jewels, with pieces with stories, with hallmarks that are little known to the general public. So when the jewellery department asked me to make a selection, I didn't hesitate. So when the jewellery department asked me to make a selection, I didn't hesitate, and I embarked on the exercise that I love so much, which is to present you with the jewels that seduced me the most, to give you, I hope, the desire to up the ante!
Lot 1: Yellow gold and diamond bracelet. Two removable clips. A third must have existed when the bracelet was created. They are used to make the engravings discreet, namely "René", a count's crown and "Bertrand". Estimate between 2000 and 3000 euros.
I have a passion for jewellery that tells family stories, even if it's complicated to decipher them if no-one explains the ins and outs of a jewel's design. This bracelet was supposed to have three brooches. Only two remain. Three flowers, in gold and diamonds, designed to be positioned on the three engravings: two first names, René and Bertrand, and a count's crown, recognisable by the nine pearls that adorn it. As it's a piece of women's jewellery, you can imagine all sorts of things. Are they two sons? Her husband and her son? A count's title acquired through marriage? As we'll certainly never know, I'd like to focus on the delicacy of the workmanship. The bracelet is as sober as it is beautiful. As for the two brooches, they are remarkably well made and in very good condition. The piece may not have been worn much. The old-cut diamonds are reminiscent of family stones that have been reassembled. So, if you like jewellery enigmas, this bracelet has lots of stories to tell.
Lot 17: Ivy set in gold and silver, then platinum and silver, all set with old-cut and rose-cut diamonds. Nineteenth-century work but with modifications during the twentieth century. Estimated at between €4,000 and €6,000.
When this piece was created, I suppose it was intended as a corsage front. Or a wedding basket. Although this set has undergone a few changes, it is still superb. I'm talking about a potential wedding basket because ivy is a very appropriate symbol for this occasion. A symbol of attachment, friendship and fidelity, and even of being anchored in a long life, ivy has long been a favourite motif of jewellers. A signature motif of Boucheron, it is also impossible to ignore the nineteenth-century pieces by Oscar Massin and Paul Frey. Ivy was also a regular inspiration in Art Nouveau jewellery. Although this set does not have a hallmark, the workmanship is meticulous and masterful. You can feel the hand of a fine workshop. Look at the position of the leaves and the way they open out, the "sunburst" bezels that set off the solitaire diamonds like so many dewdrops… The beauty of a piece of jewellery depends on very little.
Lot 18: Yellow gold bracelet with fine pearls, amethysts and enamel. French 19th century. Estimated at between €1,200 and €1,500
This French 19th century piece has very specific colours. While the combination of green, purple and white inevitably brings to mind the English suffragettes, the motifs and colours of this bracelet also refer to the passion flower, whose symbolism (given by the Jesuits) is associated with the passion of Christ. The movement for women's suffrage began in the mid-19th century, but was to gain momentum from the end of that century to the beginning of the 20th. The appearance of these three colours actually dates back to the 1870s, when jewellery in these contrasting shades began to appear during the Napoleon III and Victorian eras. In 2008, Sotheby's sold an imposing bodice front in these colours. It wasn't yet a symbol of the right to vote, but perhaps it was an expression of assertive feminism. Purple has long been the symbol of feminism. And yet it is far from being an insignificant colour, as it was associated with royalty, the clergy, mourning and penitence. In short, a colour of submission to a patriarchal society. A man's colour. So it's easy to understand why these women adopted it, and why it was so important for our rights to evolve. For my part, I suggest you see the symbolism you want: religious or feminist, even if I prefer the latter.
Lot 20: Yellow gold, amethyst and pearl trefoil set. French work, Napoleon III period. Estimate between 2000 and 2500 euros. Lot 21: Yellow gold, old-cut and rose-cut diamonds and amethyst brooch. Estimate between 2000 and 3000 euros.
Do you like Napoleon III like me? As a general rule, I really like jewellery from this period. They are opulent, full, with colours that are often contrasting, sometimes violent and strong. It was a period of black, blood red, purple, tortoiseshell, ebony and enamels in saturated hues. The craftsmen and artists of this period drew on previous eras and joyfully blended all these inspirations to create a very distinctive style. Jewellers were not to be outdone. Under the impetus of the Emperor and his wife Eugénie, the workshops produced and fulfilled orders that were sometimes outrageous. The Empress set the trends and it was fashionable to follow and imitate her. Amethyst was one of the materials that became popular with elegant women. But what about clover? The story goes that Eugénie de Montijo marvelled at this plant during a walk with Napoleon in Compiègne. The year was 1852. A few days later, Napoleon bought a clover brooch in gold, diamonds and emeralds from Fossin (now Chaumet). The following year, he married her. For the rest of her life, she would wear this jewel, known as the "Compiègne clover", which became a symbol of this love story. The amethysts were made with great care, and their shape was truly astonishing for the time. This is certainly what makes this set so precious and memorable. As for the second proposal, although different, it also testifies to meticulous craftsmanship and opulence.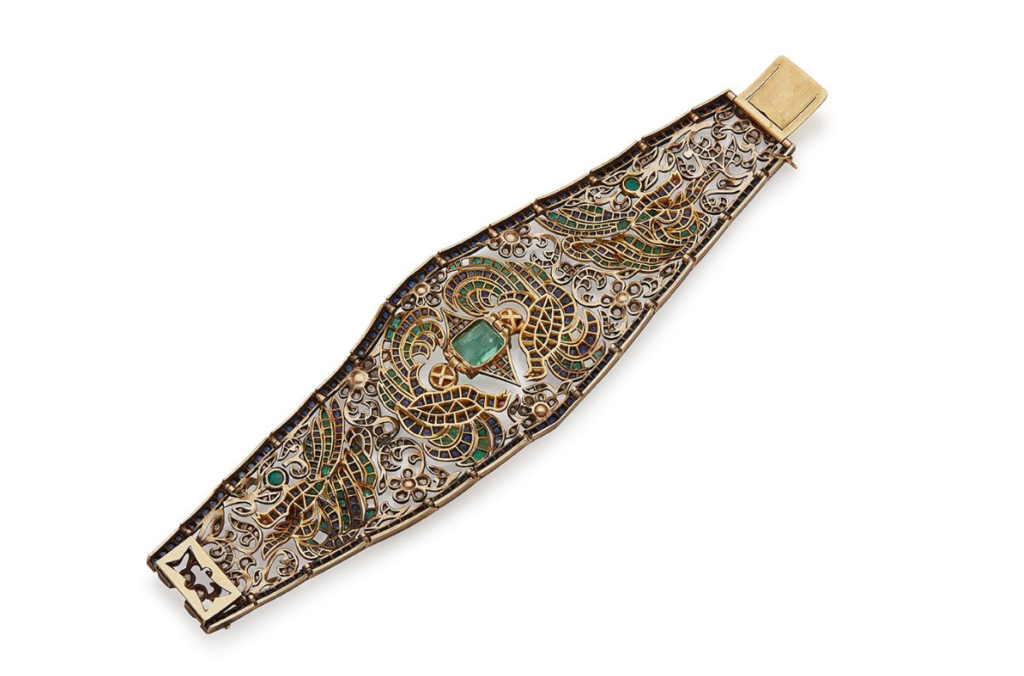 Lot 39: Gold and silver bracelet, 19th century work, diamonds, sapphires, emeralds, fine pearls. Estimated at between €3,000 and €5,000
If there is one area of expertise that characterises France, it is fine jewellery. No country in the world, with the exception of France, talks about jewellery. Elsewhere, it's always jewellery, to which we attribute qualifiers that differentiate the styles: 'couture' for costume jewellery, 'high-end' for fine jewellery, 'precious' for beautiful jewellery often with diamonds, 'studio' for jewellery created by recognised designers… This piece, adorned with peacocks, is symptomatic of the very fine work produced by French workshops in the 19th century. Since 1867 and the famous feather created by Mellerio, this motif, symbolising immortality, has been used in profusion in jewellery production. The colours of this bracelet inevitably conjure up images of the bird whose feathers have fascinated people for centuries. The suppleness of this jewel is remarkable, and the back of the piece bears witness to a high-quality workshop. Have you admired the regularity of the updates? Take my word for it, this is an exemplary piece of work. In conclusion, this is a piece that cannot be passed up.
Lot 58: Frill pin, circa 1925, symbolising a fir tree. Platinum, gold, diamonds, emeralds and enamel. Estimated at between €2,000 and €2,500.
Passionate about potted plants? If so, this piece of jewellery is sure to please. During the art deco period, these pins depicting plants, trees and shrubs in pots were a huge success, and rightly so. The rediscovery of Japan and the Asian imaginary populated the creations of the great jewellers. The bonsai tree was one of these references. The first dwarf trees were presented in France at the Universal Exhibitions of 1878 and 1889. The first French-language book on the subject dates from 1902. And these trees caused a sensation again in London at the 1910 Japanese-English exhibition. The Asia of dreams, even fantasies, was now everywhere. And bonsai trees inevitably found a place of choice. And this jewel is simply magnificent. And when it's not bonsai, it's trees in pots inspired by those that populate English and French gardens, inspired by spring on the Riviera. These are trees that are kept in winter gardens and decorated with rattan or enamelled pots in all sorts of colours. Birds can then find a little place in them…
Lot 60: Gold, diamond and jadeite brooch by Suzanne Belperron. Circa 1937. Estimate between 4800 and 5000 euros.
What would a fine Aguttes sale be without the presence of Suzanne Belperron? An obvious omission! Hence my interest in this gold and carved jadeite brooch depicting water lilies. Jade pieces by the famous jewellery designer are not so common at auctions, where we are more accustomed to her voluminous compositions and singular gemstones. Nevertheless, this unusual piece of jewellery conveys the luxurious sobriety of the woman who left a major mark on modern jewellery. The modernist style of this brooch is everywhere in this jewel, where the influence of Art Deco still shines through. If you love a beautifully signed piece, this jewel is sure to please!
Lot 102: René Boivin gold, diamond and peridot brooch. Partially legible Roger Davière hallmark. Circa 1970. Estimate between 12,000 and 15,000 euros
It's only a short step from a Belperron piece to René Boivin, as this is where the designer got her start. Boivin is a permanent firework display in the world of fine jewellery. Whatever the period, their creations never resemble those of other houses. They are unique in the shapes, volumes, colours and fabulous signatures that have populated the history of the House. This clip is no exception. It is opulent, imposing, colourful, joyful, magnificent and desirable. It's Boivin in every sense of the word. And for this piece, it's based on a drawing by Juliette Moutard, one of the company's prolific designers. There's no need for grand speeches here, so don't think too hard and just go for it. Jewellery like this doesn't come up for auction very often.
Lot 118: Gold and aluminium earrings signed JAR. Estimated at between €4,000 and €6,000.
It would be pointless to talk about JAR at length, as the jeweller's pieces are so popular at auction. His silence and discretion have become his mode of communication. JAR exists only through its creations. Long known for his grandiose creations, he has sought to make them lighter and more wearable. He quickly turned to silver, aluminium and then titanium to replace gold and platinum, which were far too heavy. Coloured aluminium pieces appeared in the 2000s. In 2002, a landmark exhibition showcased 400 pieces of jewellery signed by the designer. The exhibition was held at Somerset House in London. To thank the 145 customers who had given him their money, he sent them "Pensée" earrings in coloured aluminium. He had 1000 more made for visitors to the exhibition who wanted to buy one in the museum shop. Within a few days, they were impossible to find. A testament to the popularity of this enigmatic jeweller, Joël Arthur Rosenthal. So don't delay too long, because a pair has turned up and I have no doubt that it will quickly find a new owner. Perhaps you are reading this.
Lot 159: Gold and platinum brooch with diamonds, emerald and coral. French work by Georland. Estimated at between €7,500 and €8,000.
I close this selection with this brooch. A bird, typical of the animal brooches of the 60s. I love everything about this brooch: the materials, the movement, the texture of the gold. And the hallmark. There are no big names behind this piece, just an exceptionally discreet workshop whose expertise has been recognised by some of the biggest names on Place Vendôme, to name but a few. Founded in 1954 by Henri Marteau, the Georland workshop was hidden just a few metres from the Golden Square of French jewellery. In the 1980s, it produced almost exclusively for Fred. It remained a family-run workshop until it closed in the mid-2010s. Unknown to the general public until they emerged from the shadows in 2011, the in-house jewellers also made jewellery for an elegant and refined private clientele. This bird is a case in point. Georland is a bit of a madeleine for me too. I loved working for them as a sub-contractor and I always adored the pieces they entrusted to the workshop where I was an apprentice at the time. From the bygone era of these large family-run workshops, there remain some superb pieces of jewellery, some of them iconic. This bird is going to fly away, but I'd like to keep it in my jewellery box. Wouldn't you?
See you soon!