On 6 July, the Aguttes auction house will be holding its last jewellery sale before the autumn break. With 141 lots, this catalogue is packed with beautiful objects and exciting pieces for those who love stories, history and, to a certain extent, pretty stones. A few weeks ago, I discovered many of the lots in the company of Philippine Dupré La Tour to make this selection, which I am presenting to you today. I've chosen jewellery that I could wear, that I'd dream of wearing if I had the chance. More broadly, these are pieces that I simply love and that I hope you'll love too.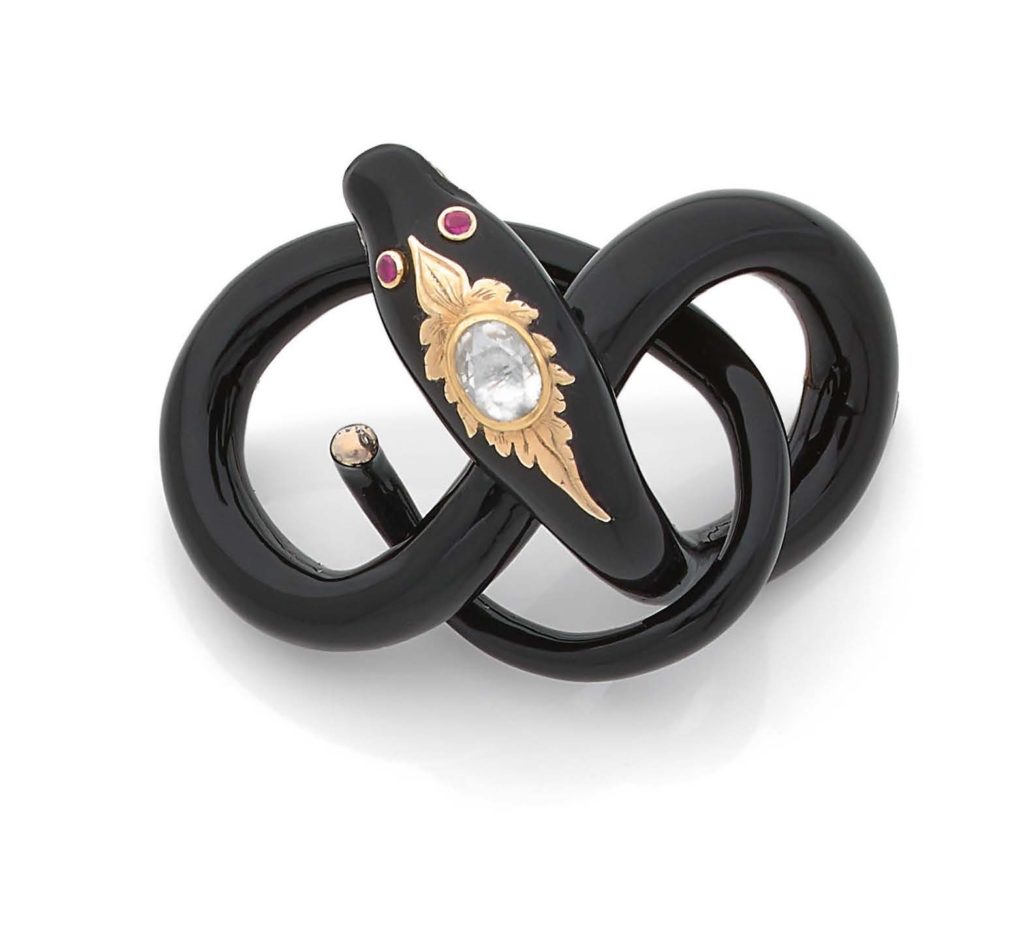 Lot 8: French 19th century gold, enamel, diamond and ruby "serpent" brooch. Estimated at between €2,500 and €3,000.
The snake is absolutely everywhere in the history of jewellery. It has been well known since the Hellenistic period, when it was used extensively by ancient Greek goldsmiths. For a long time, it was seen as the symbol of renewal, linked to the earth. Through its successive moults, the snake symbolises regeneration and even healing. Not for nothing does it appear on the staff accompanying Asclepios, the god of medicine also known as Aesculapius. But the reptile has also been associated with many other symbols down the ages: immortality, love, temptation… There's so much to say, you could write a book about it. Another very interesting feature of this 19th-century jewel is the association of the snake with the knot. This motif was also inspired by Antiquity, with the famous Heracles knot, a symbol of marriage, symbolising an indestructible union. Here, our snake is black, and it's worth noting the impeccable condition of the enamel (perhaps the jewel has been worn little or not at all). He's also relatively smiley, which is perhaps what I also liked about him. As for the symbolism of this jewel, it is certainly a jewel of mourning or at least a jewel of sentiment. Given its subject and state of preservation, it is clearly one of my absolute favourites in this catalogue.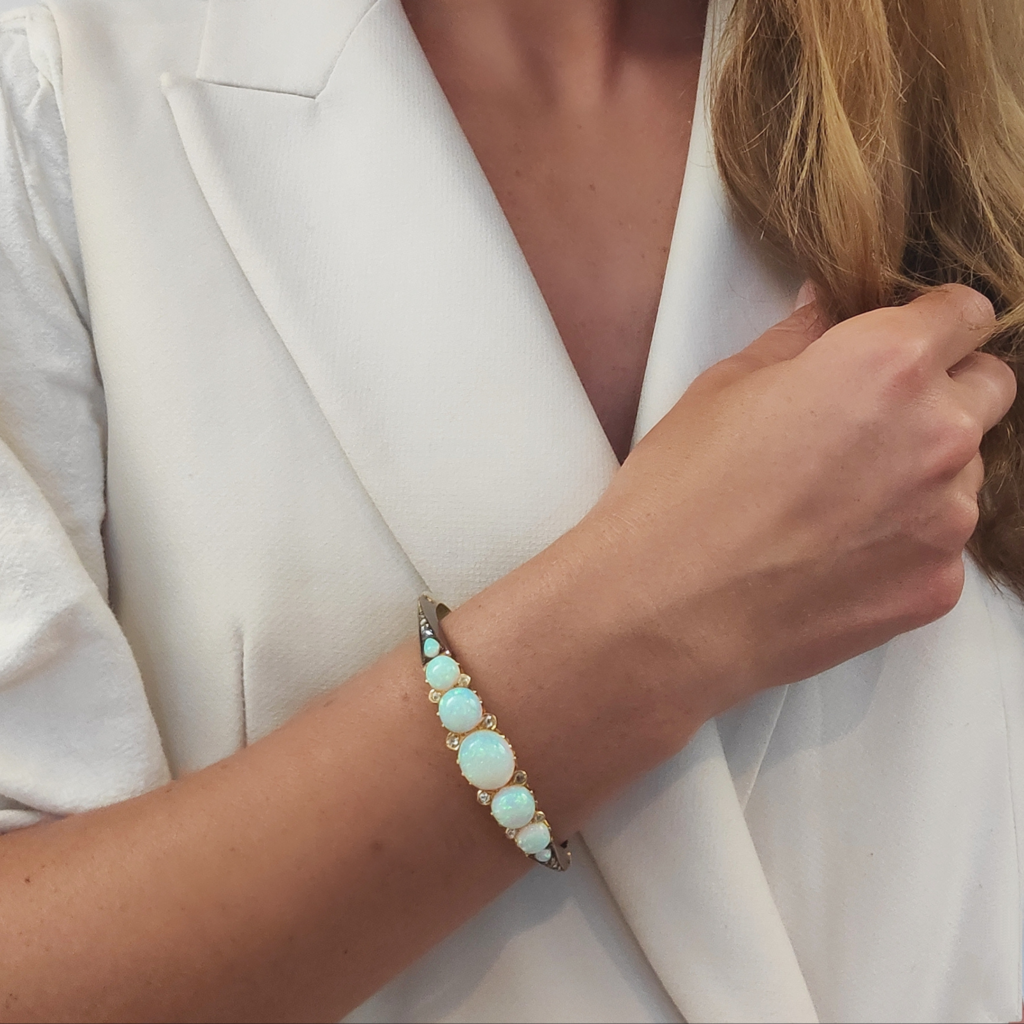 Lot 18: gold, diamond and opal bracelet. Late 19th century. Estimated at between €2,000 and €3,000.
In the 19th century, opals did not necessarily have a good reputation. For one simple reason: they were considered bad luck. As an apprentice, I remember hearing professionals who were about to retire say that they wanted nothing to do with this strange stone with its changing reflections. So when I come across beautiful pieces set with opals, I'm always happy to handle them. Our bracelet is set with Australian opals, which places this piece at least as far back as 1849, when the first opals were discovered in this country by the geologist Johannes Menge. Associated with magic, because of the lack of understanding of what caused the coloured fires in this gemstone, opals were associated with the supernatural, which was very much in vogue at the end of the 19th century. In the midst of the Industrial Revolution, high society was fascinated by questions about life after death. At a time of great change, spiritualism was a way of exploring and trying to understand a changing world. We come across jewellery with magical properties. And opals, beloved but misunderstood at the time, feature among them. This bracelet, with its imposing opals, is a rare piece for its time. The jeweller of the time also devised a system for removing them without damaging them. Perhaps they could have been replaced by a barrette set with diamonds or pearls? I'm all for it!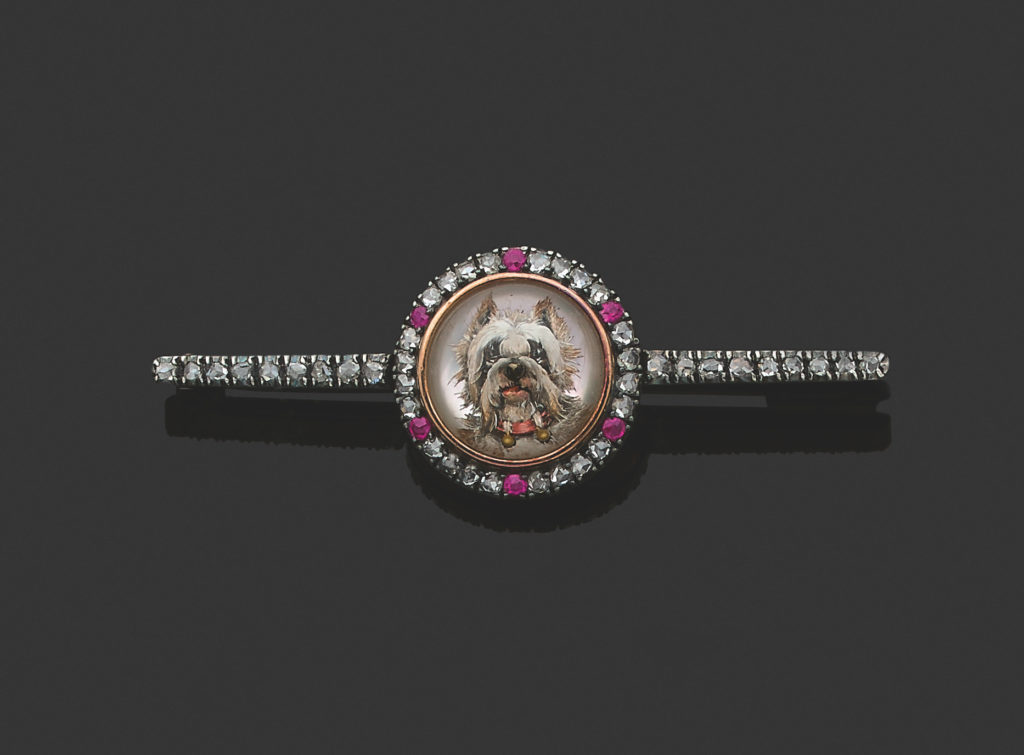 Lot 20: Silver and gold brooch with diamonds, rubies and Essex crystal. Estimated at between €400 and €600.
It's hard not to fall for the old-fashioned charm and kitsch of jewellery with Essex crystal. Among the favourite subjects of these English pieces are horses and small dogs. The name of these pieces comes from a confusion between an artist adored by Queen Victoria – Mr William Essex (he made miniatures at the time) – and William Bishop Ford – his pupil – who made enamelled miniatures intended to be mounted on jewellery, and more particularly pins. These jewels began to spread throughout England in the 1860s. Essex crystal, with its unmistakably British themes, has found its audience, but it is not very common to see it at French auctions. So I was delighted to discover this piece in the Aguttes catalogue. It seems to me that the dog pictured here is a Cairn Terrier, but I could be wrong. Of course, you'll have to be a fan of small dogs to buy this particular piece, or you'll have to have a lot of sense of humour, which can also be a very good thing. I'll let you choose your reason, but for my part, I find this jewellery as adorable as it is necessary in a jewellery landscape that sometimes lacks imagination and humour.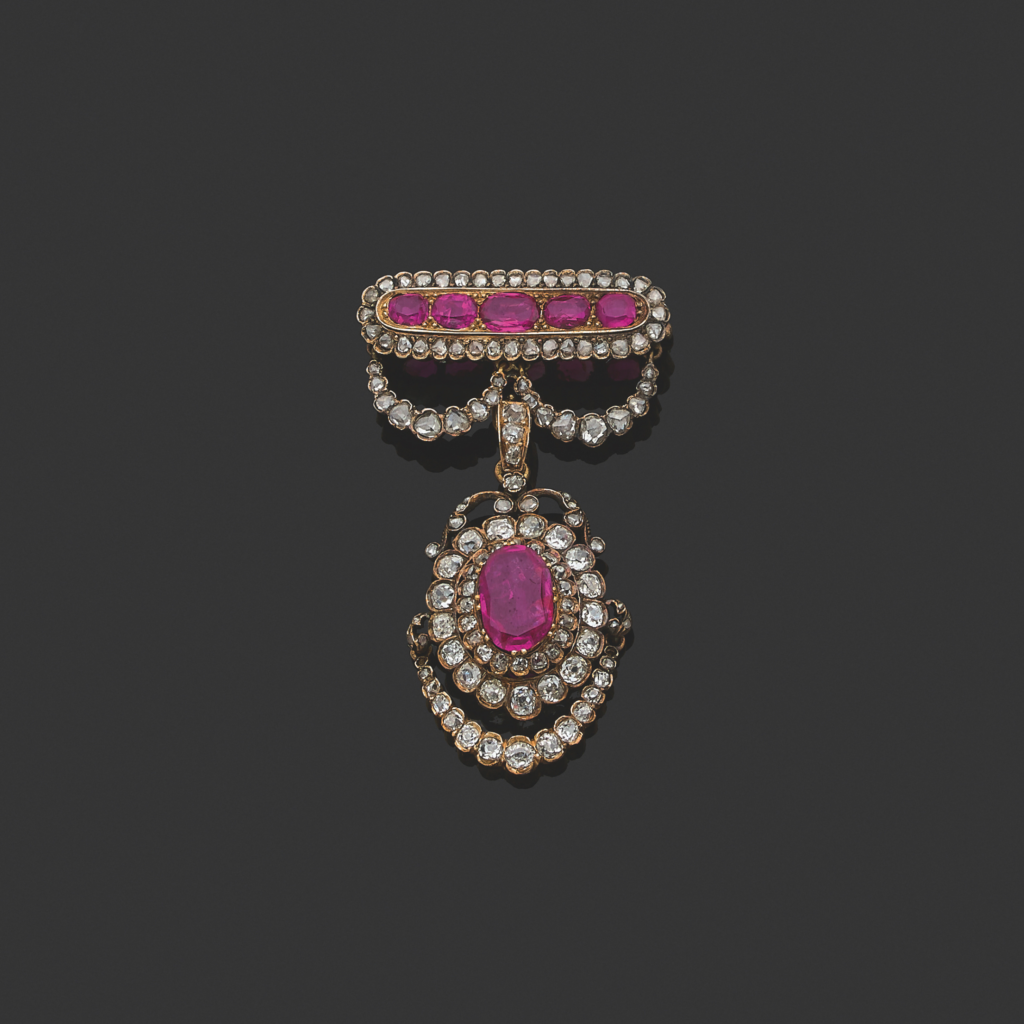 Lot 22: A gold, diamond and ruby brooch, late 18th or early 19th century. Estimate between 1800 and 2200 euros
I love it when jewels reach us. And when they have survived the vicissitudes of time and events. Like this brooch, this little "corsage front", dating from the late 18th or early 19th century. I love imagining the woman who wore it. Made from gold, diamonds and rubies, it's mobile, adorable and certainly slightly modified over the years. But it's still very elegant and very delicate. It doesn't appear to be French work, but there are no hallmarks, so it will retain all its mystery, and that's fine by me. There are quite a few brooches of this type and it tells a whole story of fashion. An era of corsets, women's bodies sculpted by clothes, jewellery delicately placed in strategic places such as the neck, décolleté and wrists. These jewels also speak of seduction, drawing men's gaze where it should be directed. These pieces also tell the stories of women, those who show off, those who can't afford sumptuous jewellery and therefore those who are less likely to win a good match, as they used to say.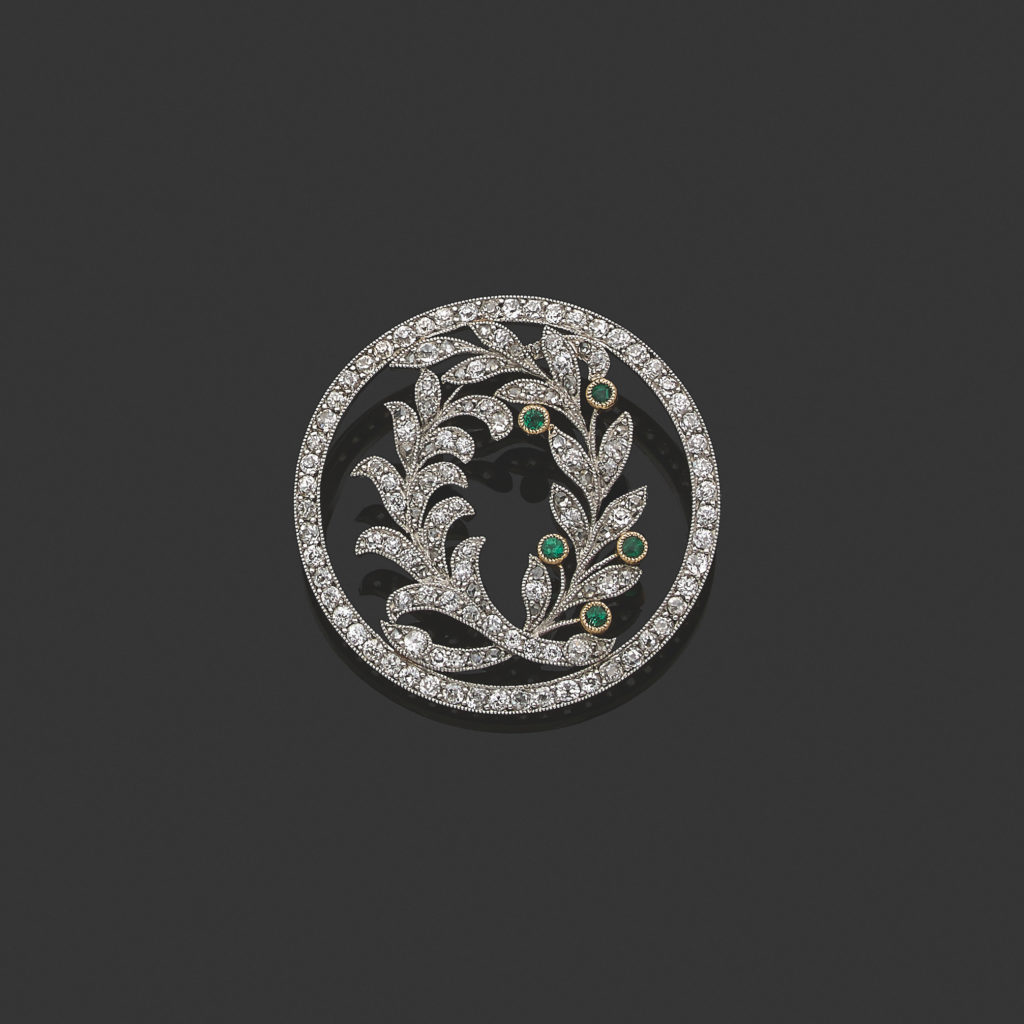 Lot 30: Platinum and gold, diamond and emerald branch brooch. Cartier, circa 1910. Estimated at between €2,000 and €4,000.
This is probably a special commission from Cartier in the 1910s. The style, materials, delicate millegrain setting and overall aesthetic of the jewel bear witness to this. This tiny brooch, measuring 3.5 cm in diameter, features olive branches, the fruit represented here by small emeralds. The olive branch, like the snake, is a mythological symbol that has been used in jewellery since ancient times. A symbol of peace, love and victory, it is also found in the Bible in the story of Noah's Ark. Opposite this branch is another plant (most likely a laurel), more stylised, whose leaves are reminiscent of the Kashmir or Boteh motif, a reminder of the extent to which the House drew inspiration from Persian culture in designing these pieces. This motif can also be seen at the feet of the two branches. What's interesting about the pieces from this period is the way in which the house was able to draw on multiple sources of inspiration, which the in-house designers then re-used with their own codes. So, was this little object intended as a gift for some kind of victory or consecration? The hypothesis is likely. Personally, I'm more inclined to think it was a piece of mason's jewellery. And this is quite possible, as the laurel and olive wreath is also the very specific Masonic symbol for the 4th degree of the Ancient and Accepted Scottish Rite.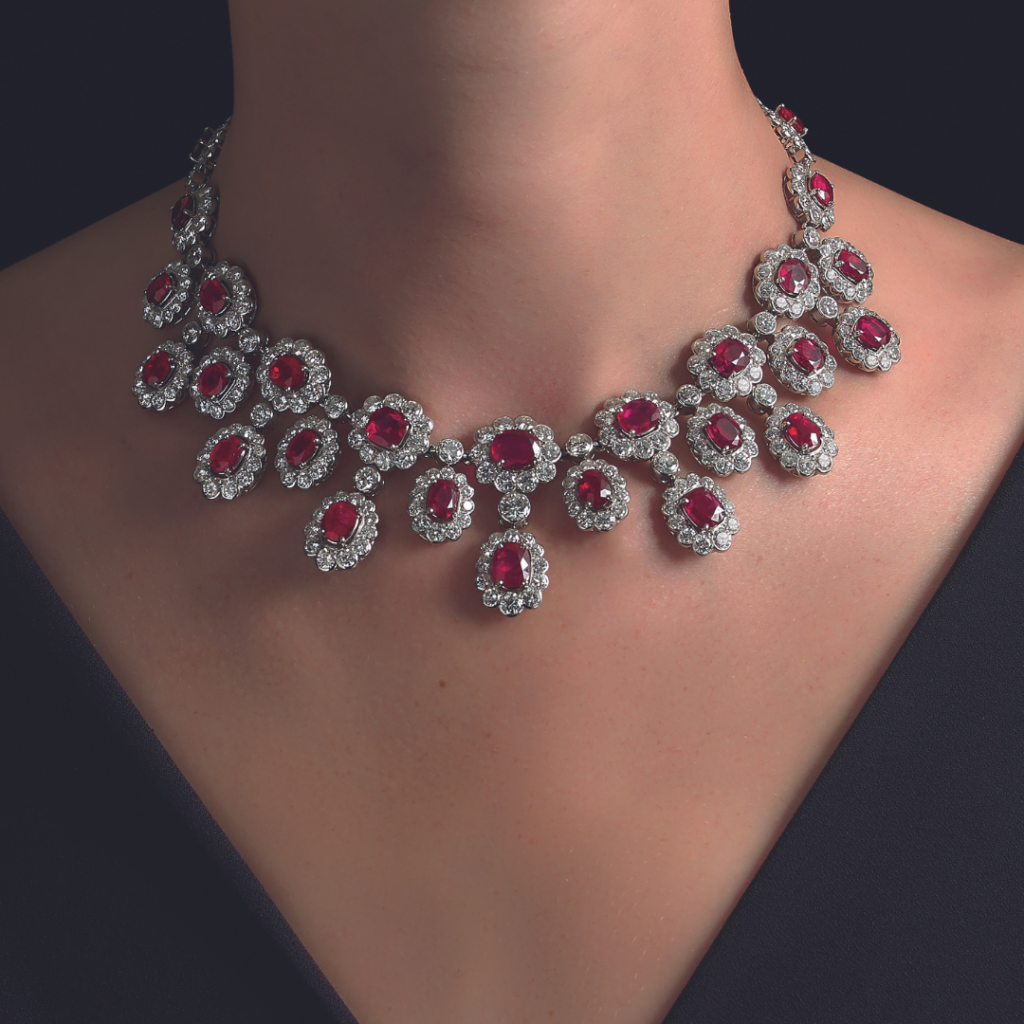 Lot 46: Chaumet platinum, diamond and ruby necklace. Circa 1980. Estimate between 100,000 and 120,000 euros
As a general rule, in my selections, I don't talk about the top lots. Those that should have no trouble finding a new owner to take care of them. But this time, I'm making an exception. Not for the design (simple and effective) but just for the stones and also – very much, in fact! – for the workmanship, which meets the highest technical standards for a piece of this type. Certainly made in the late 80s or very early 90s, this necklace would be completely designed in CAD today. But that's not the case here. When I got my hands on it at Aguttes, I simply loved it. I took immense pleasure in observing the platinum parts, the brazing of the brackets, the handmade bezels perfectly adjusted to the Myanmar rubies (almost 37 carats, unheated) that make up this necklace, in admiring the impeccable quality of the polishing, in gauging the flexibility of this necklace that adapts to all busts… and so on. Take my word for it, this is some of the very, very fine jewellery we knew so well how to make at the very end of the twentieth century, before the advent of computers. So don't think I don't like CAD. Far from it. It has brought a lot of very good things to workshops, but it is not always well used. For me, this necklace is a textbook case that all young jewellers should study. So if you are a lover of fine jewellery made to illuminate the finest stones, this necklace is for you. And if the jeweller who made it is reading this, well, congratulations again!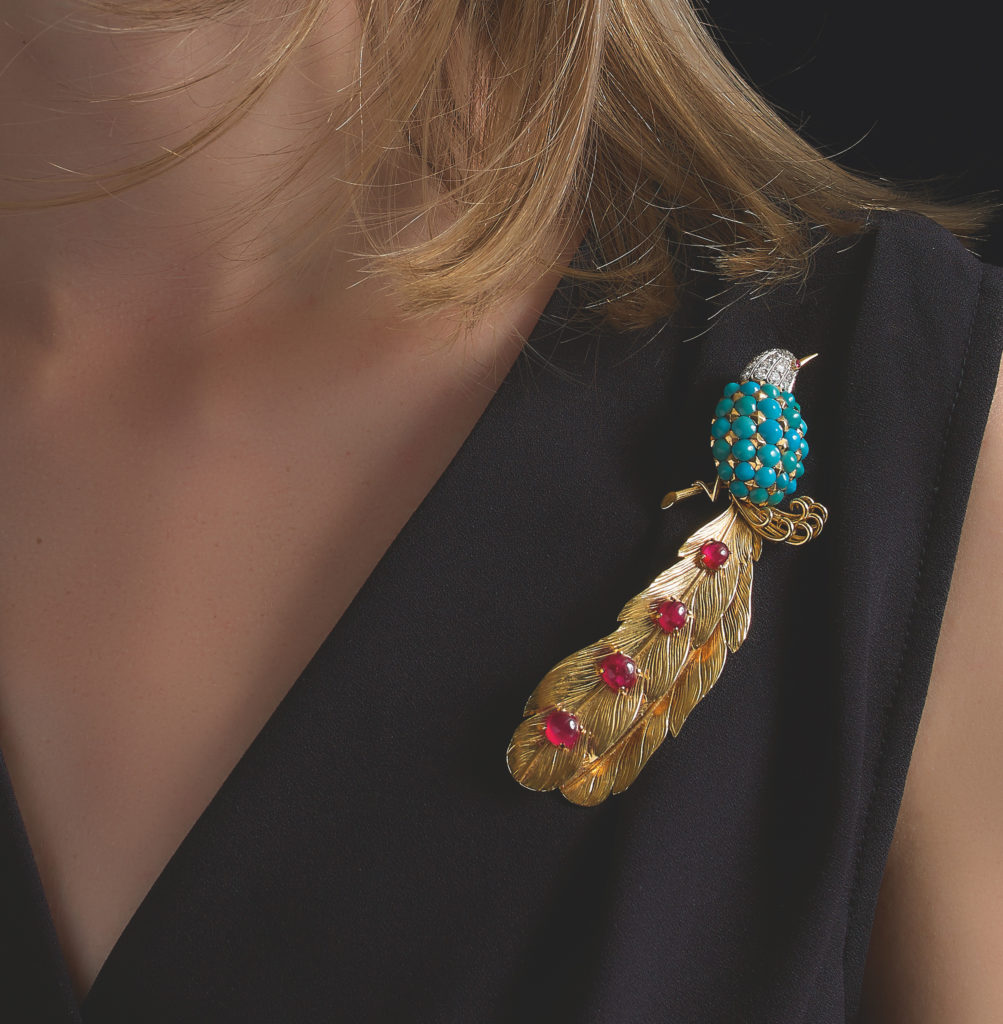 Lot 65: Gold, platinum, diamond, ruby and turquoise brooch. Estimated at between €6,000 and €8,000.
This is a big, beautiful bird like so many jewellers made in the mid-twentieth century. When you see birds, you inevitably think of Sterlé, who made such beautiful ones. But all the houses made them. And I never tire of admiring them. So when I come across one that's more discreet than the usual big names, it's even better. This piece is by Auguste Paillette, a very fine jeweller's house that was established in Paris from 10 February 1921 until 1938. Its administrative address was 109 bld Beaumarchais, but the workshop was at 1 rue Saint-Georges in the 9th arrondissement of Paris. This house is best known for having bought the Georges Bourdier house and exploiting the name. I'll have to write an article about it one day, as it has now been completely forgotten. And for the record, the sister-in-law of Théodule Bourdier (Georges' father) was married to Louis-François Cartier. The world of jewellery is like a handkerchief. What I particularly like about this brooch (in addition to its provenance) is the turquoise and its changing hue, which is indicative of natural, unstabilised stones. I love it, don't you?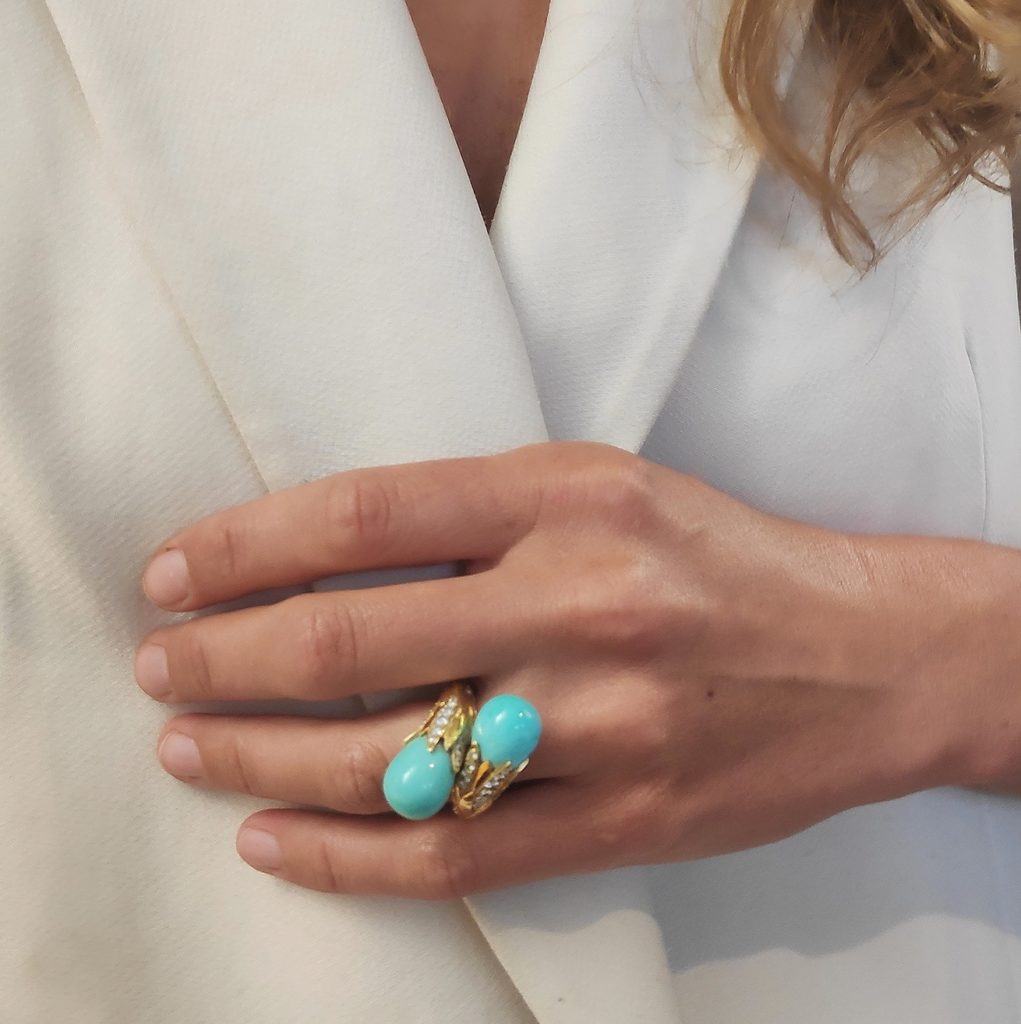 Lot 86: Gold, diamond and turquoise ring by Van Cleef & Arpels. Marked by Georges Lenfant, 1968. Estimated at between €3,500 and €6,000.
After the Paillette turquoise, I've completed this selection with the turquoise in this Van Cleef & Arpels ring, which was made by the Lenfant workshop. The sheer volume of the piece. Did you see how this ring really dresses up the hand? Then the colour of the stones. Perfect in my opinion. It's an opulent, gourmand piece of jewellery that's also really joyful. It's not a piece of jewellery that you forget about like those miniature, impersonal micro rings. I love the fact that it's in its natural state, as they say. With the patina that time has given to the gold. I love that it's a Lenfant, because it's one of my favourite workshops. In short, I love everything here and there's no need for long speeches. So do me a favour, adopt it and above all don't leave it in its box, this ring deserves to be worn!
See you soon!