I had the pleasure of meeting Florian Wicki during my first visit to Geneva almost 6 years ago. A mutual friend of mine, who will be able to identify herself, introduced us at the Christie's and Sotheby's auction houses. I remember enjoying his energy and the way he talked to me about jewellery. At the time he was still a student and I thought that I should follow this young man with a keen eye. So that's what I did. And I observed. Over the last few years, I've seen him evolve, then enter the Master's programme and I had a huge crush on his graduation collection and on the photo session where his grandmother is absolutely magnificent. There is a kindness, a joy and an exciting energy in these photos. So, a few months ago, I took a chance and asked him to do an interview. And he accepted. Let's meet him!
Mr Florian Wicki.
1- Can you introduce yourself quickly?
Hello, my name is Florian H.A. Wicki and I am a young jewellery and accessories designer from Geneva and Switzerland. I imagine collections, draw them, I realize mostly gouaches of jewels (in trompe-l'oeil), and then manufacture the imagined jewels.
2- What job did you want to do when you were a child ?
Before entering the world of jewellery, high jewellery and accessories, I had three wishes:
The first, at the age of ten, was to become a carpenter and to work for the family business Vial & Wicki S.A. in Geneva. The boss was my grandfather and he managed the construction workshops of the company created by my great-grandparents in the 1950s: Henri L.-J. Vial and Clémence A. Billon. Thanks to this company, major construction projects were carried out in Geneva.
Then my strong interest in drawing took over. My father's profession before he took up a career in the military and the fire service was that of an architect. Pencils in hand, I was already imagining a thousand constructions of buildings and objects.
And finally, it was at the age of twelve, that I went into the world of jewellery. This projection is mainly due to the family story told to me by my paternal grandmother: Mrs Myriam D. Vial-Wicki. She had a grandfather who was an entrepreneur in Geneva and the region, named Adrien J. Billon. He was interested in jewellery, mechanics and enamel design. He had developed a great deal of wealth in various fields of this branch. In particular, he manufactured spring clasps around 1910. This past, this history, Adrien J. Billon, the Belle Époque and Art Nouveau, have fascinated me to the point of making it my professional life choice.
Design and gouache by ©Florian H.A. WICKI, pin, 2019
3- And finally, what is your current job?
Today, I have the great pleasure of teaching Drawing, Jewellery Design, Technical Drawing, History of Art and Jewellery, and sometimes I supervise work in the jewellery workshop at the Saint-Eloi jewellery production school in Annecy. I try to transmit my passion! I also give a training course for adults on the world of jewellery (history, technology, workshop).
I also make gouaches for jewellery houses, and for any other company in the creative field that needs a drawing to represent an object. Drawing is not only a way for the industry to understand volumes, textures, etc., but for me it is the ultimate in luxury. Obviously it serves my purpose, but what a pleasure for your client when he receives the representation of his project.
4- What studies did you follow? And more specifically, what is your educational background in relation to the field of jewellery?
Well, I went through several schools:
After my compulsory schooling in Switzerland – at the age of sixteen – I first did a year in business school. Very quickly I got bored with that. Then, at the same time, during after-school classes, I started designing and making jewellery in the Jean-Jacques Hofstetter gallery workshop in Fribourg. He is an important person for me. He gave me the desire to pursue this path and to create freely. Through him, I met an artist: Véronique Chuard. She taught at an art school in Freiburg: eikon.EMF. I joined the preparatory class. This was necessary in order to be able to take the entrance exam to the School of Applied Arts in Geneva – today the Centre de Formation Professionnel Art Genève. I am absolutely convinced of the importance of the preparatory class. First of all, it allows you to open up to the vast world of creation, to grow, and then to refine your choices of studies and professional training.

In 2011, I had the opportunity to enter this school, in the jewellery section. It is in a way a quality apprenticeship in a recognised establishment. It is a four-year apprenticeship in a recognised establishment. In this course, the following are taught, for example: the basics of jewellery making (filing straight, respecting precise dimensions), then jewellery making (high jewellery, classic), and jewellery design plays an important role, as does gemology and history. It's a very complete course that leads to a Swiss CFC (Certificat Fédéral de Capacité) with a professional maturity (which represents the assimilation of knowledge from general courses: French, maths, German, English, history, etc.)

Then, I had a strong desire to go into teaching, and to specialise in drawing and design. My teachers strongly motivated me to continue my studies at the academic level (university). Still in the form of a competition – including grades from your school curriculum, presentation of a design project, and interpersonal skills – HEAD-Geneva (Haute École d'Art et de Design de Genève) welcomes me to follow the Bachelor's degree course (the equivalent, in France, of a Licence) in Product Design Jewellery and Accessories for three years. The HEAD is a school that has become very famous under the direction of Mr. Jean-Pierre Gref. You can meet many creators and designers there. I met for example a London designer Vicki Sarge and founder of the company Vicki Sarge and Erickson Beamon. We had the chance to work on various projects, rich and varied, with Piaget, Adler, Agenhor…etc.

In 2019, I had decided to undertake two more years of study to do a Master's in Fashion and Accessories Design. It is a very good course, but it was a very complicated two years for me. I didn't get what I expected – everything was very fashion oriented, and then came the COVID, a crisis management to continue our studies in confinement. You can imagine the anxiety that this represented! It was an obstacle course! However, some time later, I can say that it was a great time. I made do with what I had at hand: betting, gouache, a pair of scissors, archives, and especially my dear grandmother. This is how my Master's collection was born. But it was an obstacle course! During this journey, I met several major players in fashion and art, including Jean-Pierre Blanc (Villa Noailles, in Hyères). I would like to thank him for his support.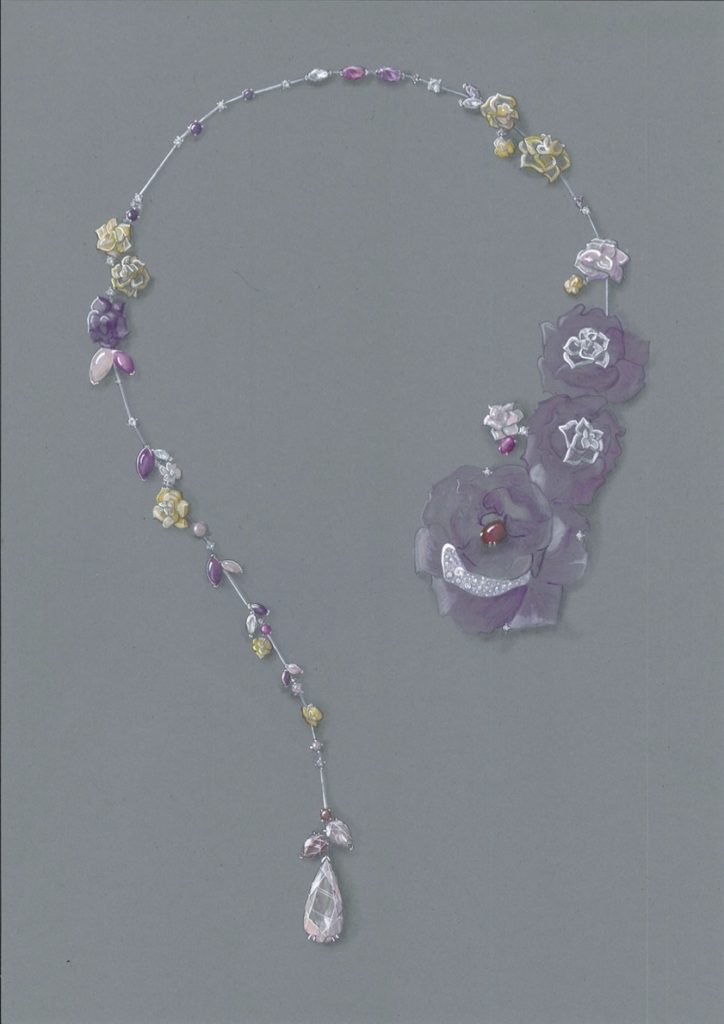 Gouache by Florian H.A. WICKI, necklace, revisiting the PIAGET rose, 2016
5- During your master's degree at HEAD, you featured your grandmother in an incredible photo series. Was this an obvious choice at the beginning of your project? Why this choice?
Yes, I did indeed make this choice. My Master's collection, Flowers of Age, is a tribute. My grandmother is an inspiring woman. She has this chic, this aura, which for me characterises the beauty, the education, of a certain era that I no longer find today. It was the marriage between the Belle Époque, the gentrification, the decline of old Europe, of the patricians, of the aristocracy, with the phenomenon of the thirty glorious years, a process of both enrichment and liberalisation, including that of women.
And now, unfortunately, as life goes on, these are the last moments of making plans with this great lady. We are very close. I lost my mother when I was two and a half years old. My paternal grandmother was the mother figure I no longer have. She has a very special place in my life.
6-How would you define your creative position?
That's a big question. One that I hate. It makes me think of my academic studies. But I'll try to answer. I seek a certain freedom in my work. I also like to build projects. But what I have noticed – for the last fifteen years – is that my eye is very attracted to: curved and counter-curved forms, the art of representing nature, an idealisation of a paradise, the use of myths. This is very reminiscent of Baroque, Classical, Napoleonic eclecticism, isn't it?
In addition to this, I particularly appreciate bringing styles up to date: that Baroque, Belle Époque, Art Nouveau, Art Deco, are not perceived as old-fashioned.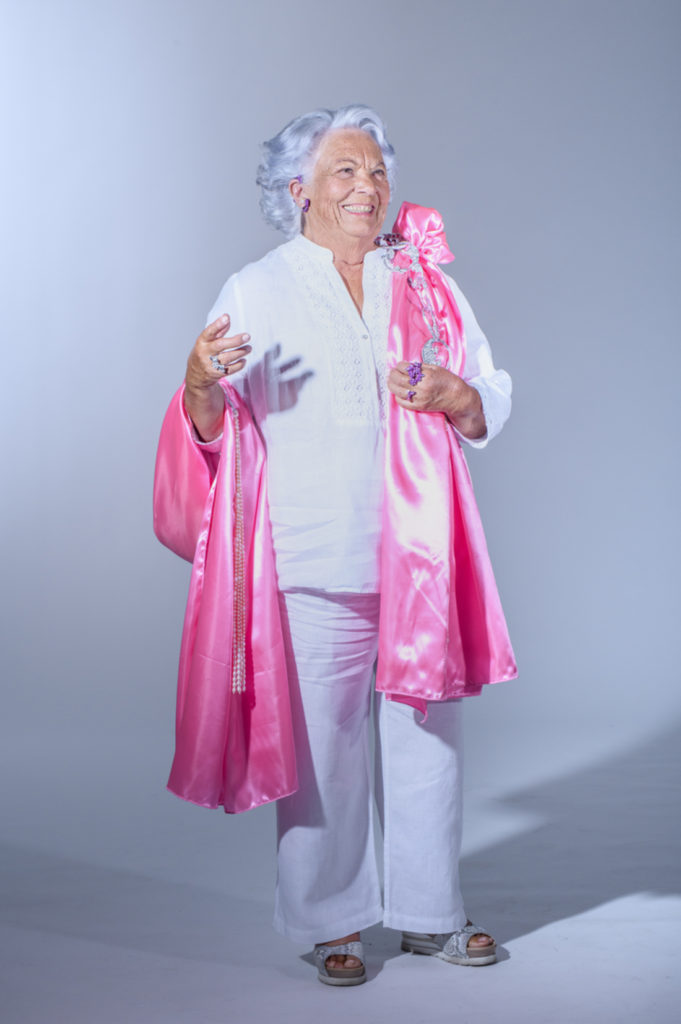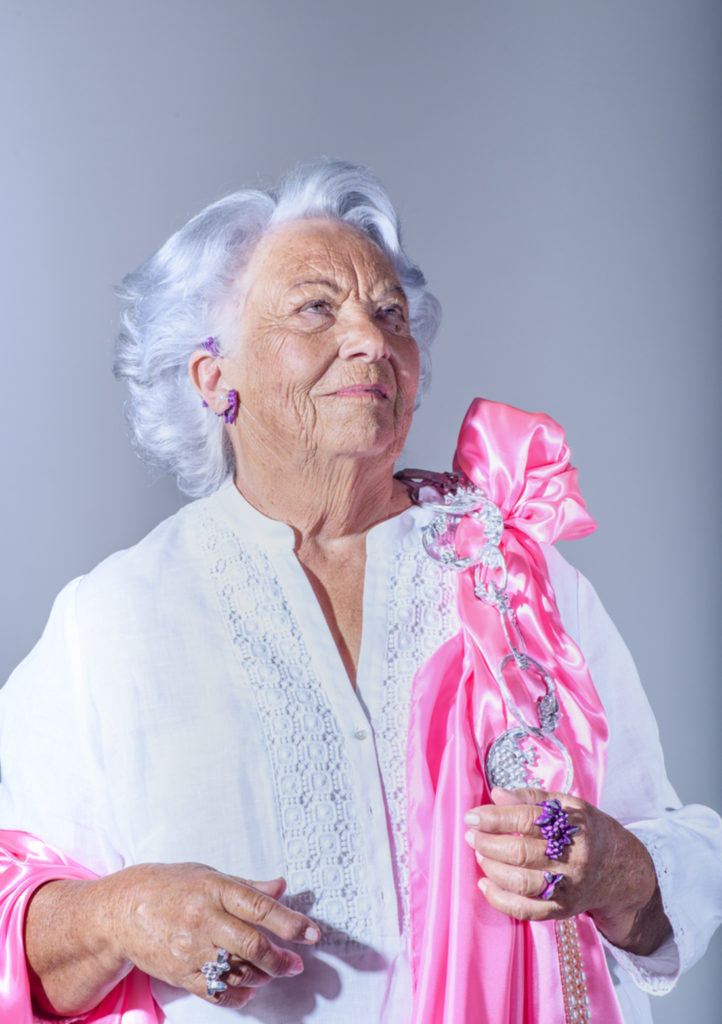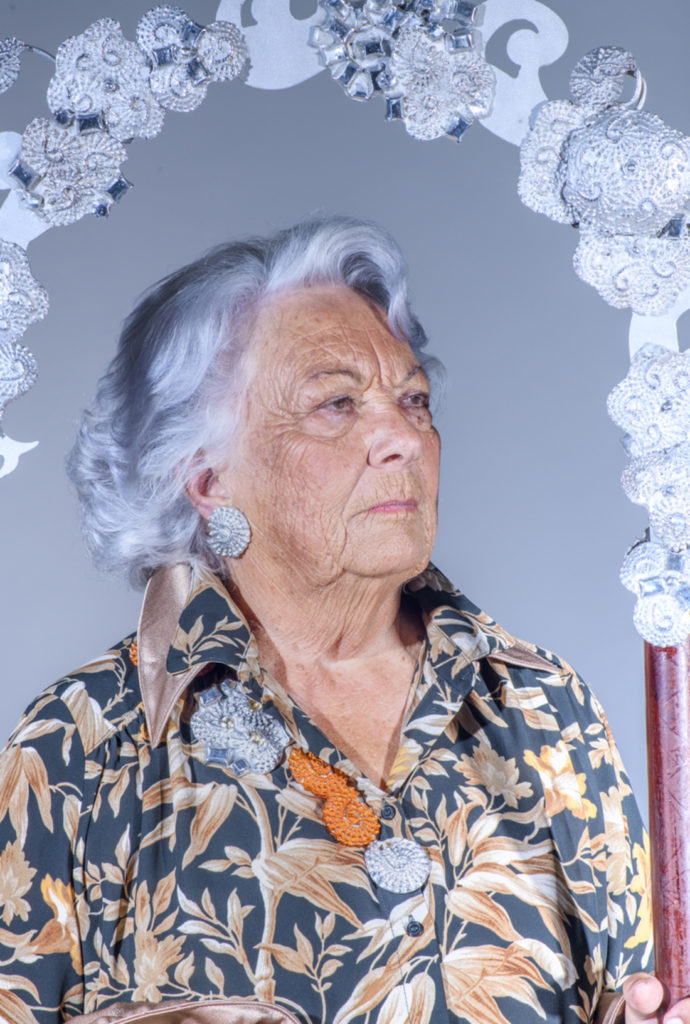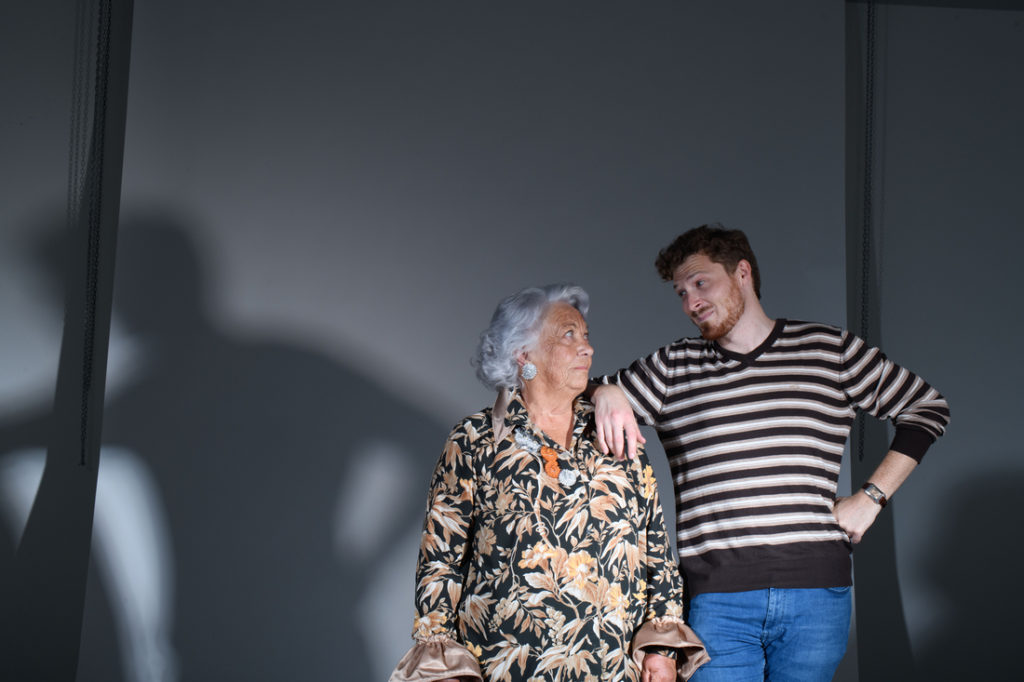 Different photos of the "Fleurs de l'âge" collection. Concept, creation, design, manufacture: ©Florian H.A. WICKI. Photography: ©Jonas Baechler. Model: Myriam D. VIAL-WICKI
7- How do you approach your job as a designer?
Designer, in French, means draughtsman, it seems to me. For me, it starts with drawing, and a series of ideas or feelings, sensations, shaped by the hand. So design is above all the work of a human being, not of machines. The role of the designer, as a creator, is also to propose a vision of the world, through aesthetics, through the choice of materials, through the ideas (through the story) that we want to transmit.
I try as much as possible to work with local materials. For a jeweller, this is not necessarily easy, but it should be. However, my choice of specialisation in design no longer involves working directly with metals and stones from abroad; I only use paper and pigments. At the same time, and in fact, I am well aware that a drawing generally involves the making and use of rare resources buried underground.
8- You work in a school that trains jewellers, among others. Can you tell us how the school works and how it differs from France (if you know it)?
Yes, I have the great pleasure of being able to teach and pass on techniques to young students in a Technical School of Jewellery Art in Annecy. The Saint-Eloi school is a recently opened establishment: in 2021. This structure operates thanks to generous patrons, thanks to orders from companies in the field of jewellery, high jewellery, and objects. This school has a very special place in the Annecy region. It allows young people to train for a trade, a CAP, and then a BMA. Many companies are looking for workers in various fields, such as polishing, cleaning cast iron, making lost wax models, etc. The management and teachers of the Saint-Eloi school are preparing for this employment context.
I would just like to say something about the apprenticeship place. From my Swiss point of view, where the training system is not the same, it seems to me that in France there is a dislike of apprenticeship. Or at least a bad image of it. What a pity! It is absolutely necessary to give the right tools to our young people. They are building their future and the future of our western society. Education is not the only thing that makes the world. If you don't have a middle class, made up of workers, craftsmen, people who know and know how to work with materials, you're not going anywhere. Our society would be nothing; luxury would not exist, nor would pride in culture. Each region cultivates its own originality. It is certainly not undignified to say loud and clear that one has done an apprenticeship. It is absolutely necessary to change this image.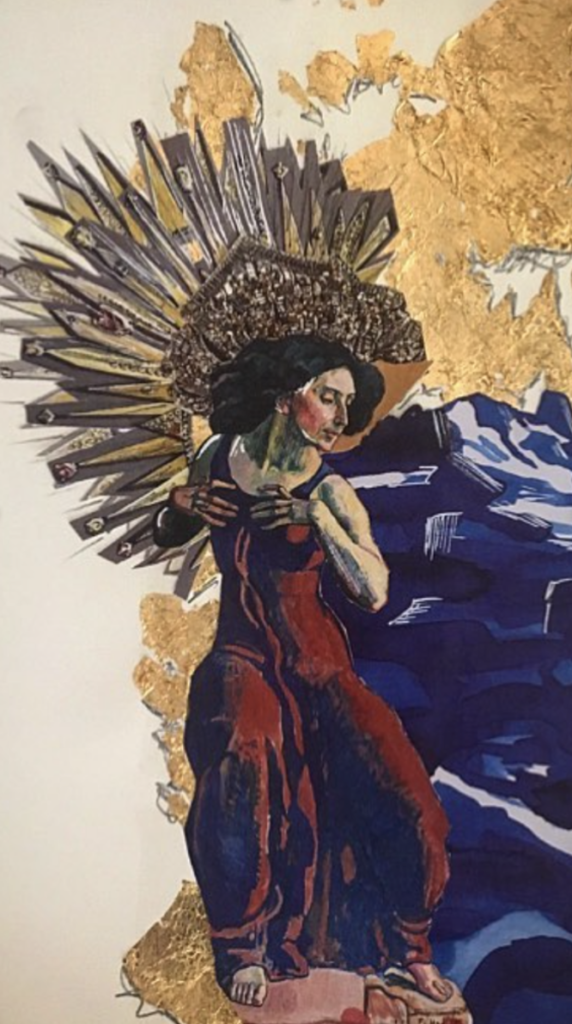 Collage, by Florian H.A. WICKI, 2019
9- An unforgettable moment to share here, an anecdote about your professional life?
I hope I won't forget anyone! Perhaps I should first thank Mrs Elizabeth Fisher (the former head of the Fashion and Jewellery pool at HEAD). She opened many doors for the students of her institution. Thanks to Mrs. Elizabeth Fisher and the HEAD-Geneva, I have, in particular, met: Mrs. Vicki Sarge. She often advised me on projects and opened my arms wide in London. I also met the Wiederrecht family, Mr. Pettavino, and Mrs. Bérénice Noel for a table watch project we had made together for the auction in favour of the ONLY WATCH foundation organised by Christie's.
I often think of my former teachers, especially from the École des Arts Appliqués in Geneva, including Mrs Emmanuelle Garcia-Gavillet (Jewellery Design teacher), Mr Yves Berney (Jewellery Design teacher), Mr Richard Carbonnelle (jewellery manufacturing teacher and head of the jewellery department), and many others.
I would also like to thank the team of the Saint-Eloi school in Annecy, who opened their arms wide to me and with whom I can fulfil my potential. And here are many other highlights..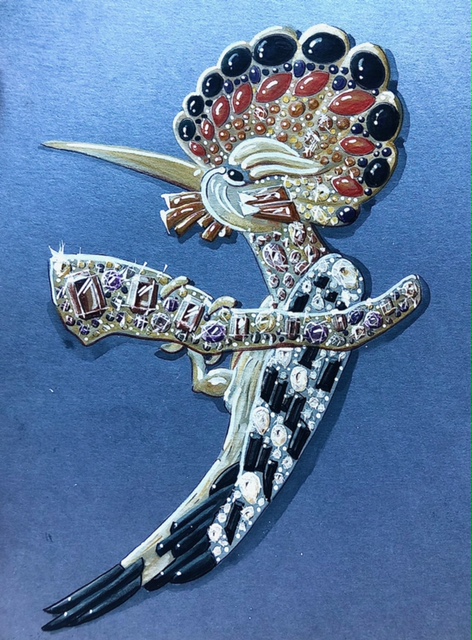 Gouache of 2022 representing a hoopoe; pin; concept and design by Florian H.A. Wicki
10- How do you see your profession evolving? How should teachers view their profession in the coming years?
I am a very young teacher. But my studies are not so far away. In my opinion, it is necessary to anchor the work in our daily lives, to make links, and above all not to forget the past. History, the different styles, are an inexhaustible basis for building the future. And then, teaching is almost a vocation. We have to help our pupils to evolve, to make them grow, to take them a little further so that they can take part in a civic life and become our peers in jewellery. But the teacher must also be accompanied by the student's family circle. It is a whole. Alone in a corner, it is difficult to achieve a result.
Table watch: 'CARP DIEM', 2017. Sold at Christie's, November 2017, in aid of the ONLY WATCH Foundation ©AGENHOR S.A. ©HEAD-Geneva ©Bérénice NOEL ©Florian H.A. WICKI
11- What advice would you give to young people who want to enter this sector? In Switzerland or elsewhere?
In Switzerland as elsewhere, you have to be passionate, or become passionate. You have to persevere. You also have to give yourself the means to achieve the desired result. There is no secret: you have to work, you have to learn a little every day, you have to draw a lot, and you have to participate in various projects. This is what I keep telling my students.
*****
In conclusion, we would like to thank Florian for his time and wish him a successful career, encourage him to continue his missions in the world of jewellery creation, design and manufacture, and support his commitment to our jewellery apprentices. Florian is also looking for projects that inspire his creativity. Do not hesitate to contact him.
To continue this beautiful meeting with Florian H.A. WICKI, we suggest you to discover some of his work on his Instagram page: florian__wicki_design.
We still put you the links of the Saint-Eloi school, in Annecy(https://www.ecolesainteloi.fr), the Haute École d'Art et de Design, in Geneva(https://www.hesge.ch/head), and the Centre de Formation Professionnelle Arts, in Geneva(https://cfparts.ch).
See you soon!