To say that an exhibition at La Joaillerie par Mazlo is a thrill is an understatement. So when I received the announcement of the exhibition and the press kit from the curator, Ms. Céline Robin, I knew I was in for a treat. Of all the places in Paris dedicated to jewellery, this gallery is one of my favourites. I always discover incredible pieces, I spend hours discussing the function of the jewel and I get my neurons moving (which don't necessarily need to, as they have their own life!). So I might as well tell you that an exhibition of Sigurd Bronger, an amazing artist who is nevertheless so rare on the French scene, could not be missed!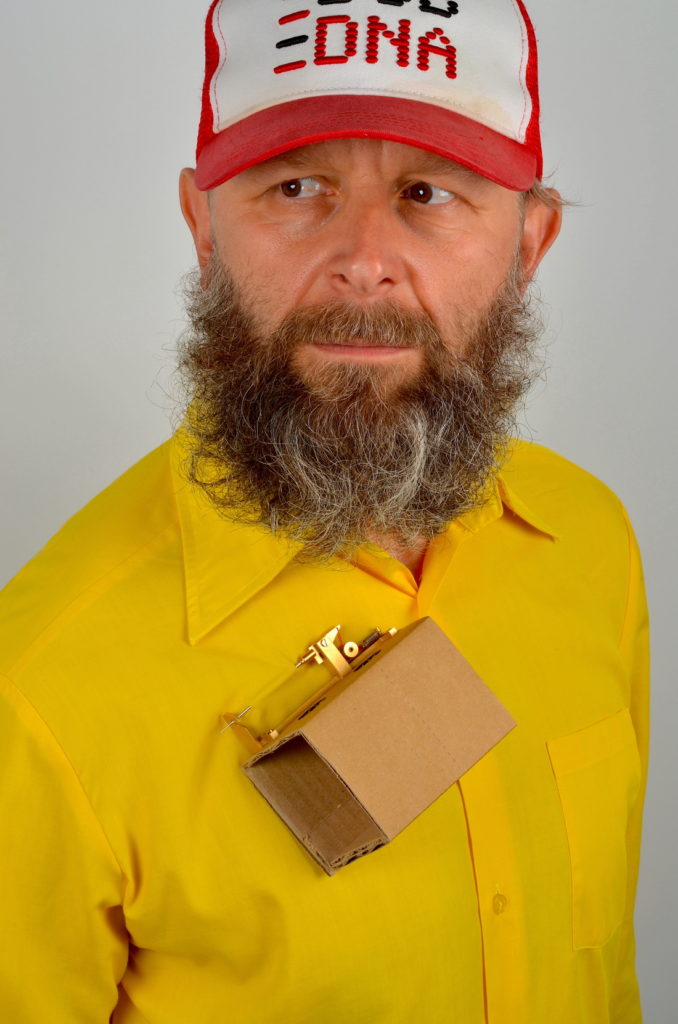 Sigurd Bronger wearing the brooch "SUSTAINABLE CONSTRUCTION NR. 657". Brooch, 2021.
Gilt brass, steel, cardboard. Photo: Jewellery by Mazlo
Sigurd Bronger is a very special artist in contemporary jewellery. He trained as a jeweller and watchmaker at the Oslo School of Jewellery between 1974 and 1975. He then continued his training in the Netherlands. He then became an engraver through his apprenticeship at the Koninklijke Fabrieken Posthumus in Amsterdam. He has been exhibiting his work since the 1980s and is regularly shown all over the world. At the same time, many museums have acquired his work, much to our delight! You can find him at the Museum of Art & Design in New York, in the Hellen Drutt-English collection in Philadelphia, and of course at the Pinakothek der Moderne in Munich. This jeweller-engineer – this definition fits him like a glove, especially as he is himself an engineer – enjoys proposing "portable devices" that allow us to stage and wear the banal objects of our daily lives, thus making them unforgettable: erasers, soaps, various boxes, etc.
(1) SIGURD BRONGER – SUSTAINABLE CONSTRUCTION NR. 341. Brooch, 2021. Chromed brass, steel, cardboard. (2) SIGURD BRONGER- SUSTAINABLE CONSTRUCTION NR. 821. Brooch, 2022. Steel, brass, silver, cardboard. Photo: Jewellery by Mazlo
The man subtly combines technique with the absurd. And the success is total. Technical because his jewellery is technical. Perfectly executed, technically perfect, they offer a vision of manufacturing that one would like to admire every time. Everything is perfectly thought out and balanced. The man is first and foremost a jeweller and this shows in each of his pieces. As for the notion of absurdity, the humorous definition of the word should be seen here. Sigurd Bonger likes to say that he doesn't mind making "a beautiful or ugly piece of jewellery" because his "idea" is to offer "an interesting object". The aim? To allow discussion and communication between the designer and the observer. Is this a form of utopia? Certainly, yes, in some of its proposals. For my part, it is impossible to resist the pine cone brooch, which fascinates me by its monumentality. By diverting the object from its primary function, he questions the purpose of objects, the primary and utilitarian vocation that we give them, while at the same time seeking a notable aesthetic when we acquire them. The exhibition lasts until 31 December and is fabulous. So don't miss it!
(1) SIGURD BRONGER – CARRYING DEVICE FOR A PINE CONE. Brooch, 2018. Gold-plated brass, steel, pine cone. (2) SIGURD BRONGER – SHELL NECKLACE. Necklace, 2011. Gold-plated brass, rubber, shell. Photos: Jewellery by Mazlo
See you soon!