Raise your hand if, like me, you received a lot of books for Christmas! Better gifts ever than books. Especially if they involve jewellery and rocks, near and far. The ones that found a little place under the tree were a source of great joy and I spent my week between Christmas and New Year's Day reading. In Nancy, in Paris, on the train, in the metro, everywhere… So, to open this new year, I offer you a small selection of the books I received in the last few days. Books that I enjoyed, of course!
1-"Au fil des épées – La vie des immortels" – Marie-Christine Lafon-De Monaghan, Marie Barlois & Hélène Carrère d'Encausse (Preface) – Michel Lafon – (🇫🇷) from 49,95 €
If there's one book that has blown away me for the holidays, it's this one. Written by Marie-Christine Lafon-De Monaghan, it presents the Académie Française and many of its immortals. Created in 1634 by Richelieu, the Académie Française adopted the green habit in 1801 and added a sword a few years later, on the model of the swords of the members of the Egyptian Institute or of military swords. But it was not until 1903 that Falize made the first sword, opening the way to a tradition that was to become established. This first sword was made for Frédéric Masson who was, among other things, secretary and friend of Prince Jérôme Napoléon. A sword in vermeil and ivory based on the uniform model, far from the artists' pieces that can now be seen at every reception under the dome. The book, remarkably documented, takes you on a journey of discovery of the men and women of letters who populate this mythical French institution. In the book, we meet Dominique Bona, Xavier Darcos, Pierre Nora, Jean-Luc Marion, Daniel Rondeau, Simone Veil and Dany Laferrière. And through these portraits, the real stars of the book appear: the swords, but above all the workshops and jewellery houses that worked on their creation. In turn, you will discover Cartier's sketches and gouaches for Maurice Genevoix, for Antoine de Lévis-Maurepoix or Jean Cocteau; Boucheron's drawings for Jacques-Yves Cousteau; the creations of Falize, who signed ten of them, or those of Lorenz Baümer, Jean Vendome or Van Cleef & Arpels, to name but a few.
The book focuses more precisely on 136 swords. It presents and explains them to you in order to better understand the symbolism surrounding them, to better know the bearers of these objects of art for which jewellers can work for many months. The book is absolutely remarkable, of an incredible richness. 550 pages of pure happiness for lovers of French culture, literature and jewellery! A must have!
2-"Bijoux, l'orfèvre et le peintre" – Brigitte Serre-Bouret – Éditions de la Falaise – (🇫🇷) from 26 euros
Another beautiful book received recently, this very complete work written by Brigitte Serre-Bouret. What jewellery lover has not hunted them down in the paintings on the walls of museums? For my part, it is one of my passions to look for jewels represented in paintings and to find them to know their history. I even sincerely believe that all jewellery history lovers share this common trait. In any case, I want to believe it!
Brigitte Serre-Bouret, doctor in art history and archaeology, draws up in this book a true panorama of the representation of jewellery through the ages. From ancient times to the 20th century, jewellery has never ceased to illuminate the representations of the powerful of this world. By observing them, we gain a better understanding of the fashion and luxury trends of the periods concerned. We also gain an understanding of all the symbolism that can surround certain master paintings. Intended as a book for the general public, this book will delight both jewellers and historians. But above all, it will help to make anyone who finds themselves in front of a painting curious. A book to add urgently in your libraries!
3-"Mémoire d'un solitaire" – Marie-Dominique Sassin – Les éditions Persée – (🇫🇷) From 15 euros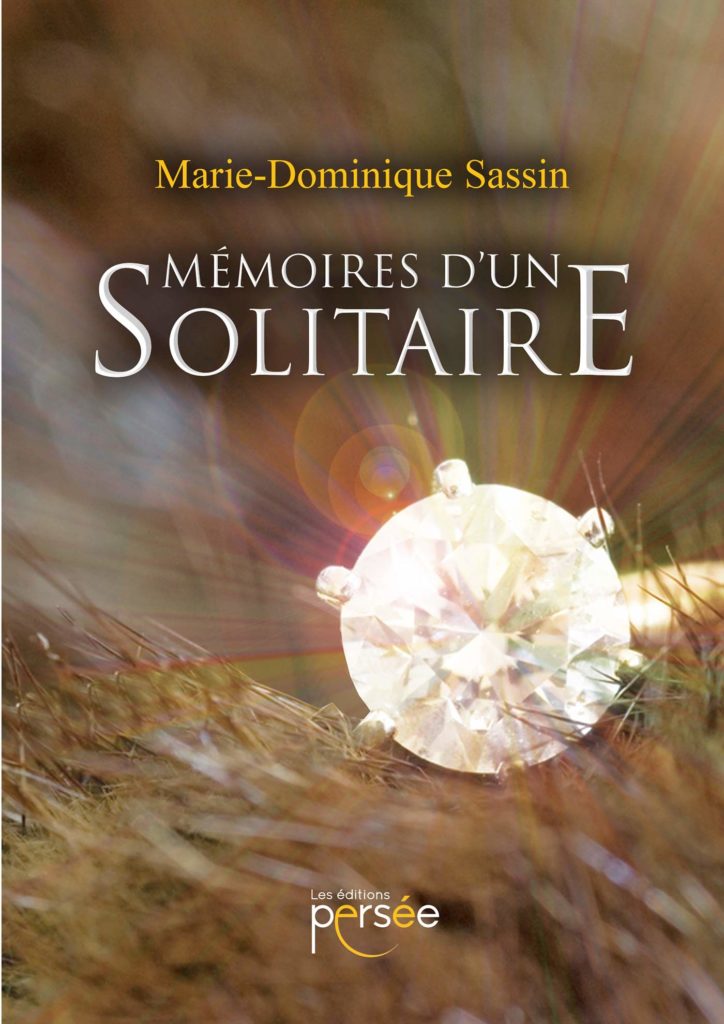 Marie-Dominique Sassin, a former journalist at Le Figaro, delivers with this novel an elegant story about the destiny of a diamond found almost 2000 years ago. Through its life adventures, the diamond becomes a storyteller and recounts the evolution of the world, the great historical upheavals, the powerful as well as the elegant who desire it. Today, from the shores of Lake Geneva where he lives, this diamond tells us about his life and scrolls through his memories, revealing to us all the passion that people have for him. I really liked this book, a little gem that can be savoured in a few hours and that makes you think about the value we have given it for centuries and centuries…
4-"Paul Brandt" – Bleue-Marine Massard – Les éditions Norma – (🇫🇷) from 55 euros
With this very beautiful book, Bleue-Marine Massard brings back to the forefront a jeweller and designer somewhat forgotten by the general public but appreciated by connoisseurs. And yet what a name! Paul Brandt was undoubtedly an essential creator of modern jewellery in the 1920s. He worked alongside great names such as Fouquet and Sandoz and is what you might call a complete artist, given his wide range of knowledge. The man was born in Switzerland, in La Chaux-de-Fonds, but arrived in Paris in November 1902. He was then just 20 years old and joined the prestigious École Nationale des Arts Décoratifs, then the following year in 1903, the École des Beaux-Arts. The creation of jewellery came quite naturally to him and he quickly specialised in this medium in which he would express himself with talent and modernity. If, like many, he made a detour through Art Nouveau, it was in Art Deco and then in Modernism that he revealed all his talent as a designer and decorator. He designed his jewellery, but also his exhibition stands and advertisements, theorising in the manner of today's luxury houses a global communication around his style. The book is remarkably well written and illustrated (350 colour and B&W illustrations from public and private sources). This first monograph is a real success and allows us to better know a designer whose pieces are rare but widely sought after. Addition to your libraries highly recommended!
See you soon!