Spring has finally returned. And the gradual emergence from winter and the dark days can only be achieved with the promise of light. Light means jewels; at least in my mind, which is obsessed with their presence. But light also means colours, the luminous and joyful colours of stones, those of gold, whether yellow, white, green or pink, those of enamels that dress the jewels and marvellously enhance these miniature objects that I have adored for so long… On 13 April, Aguttes opens the season of a Parisian spring that promises to be more than interesting. And more generally, a spring where the hammer should see some auction records. With more than 160 lots, the jewellery department offers a rich catalogue with very pretty pieces, exciting jewellery surprises and beautiful signatures. I invite you to follow me and discover the pieces that caught my eye.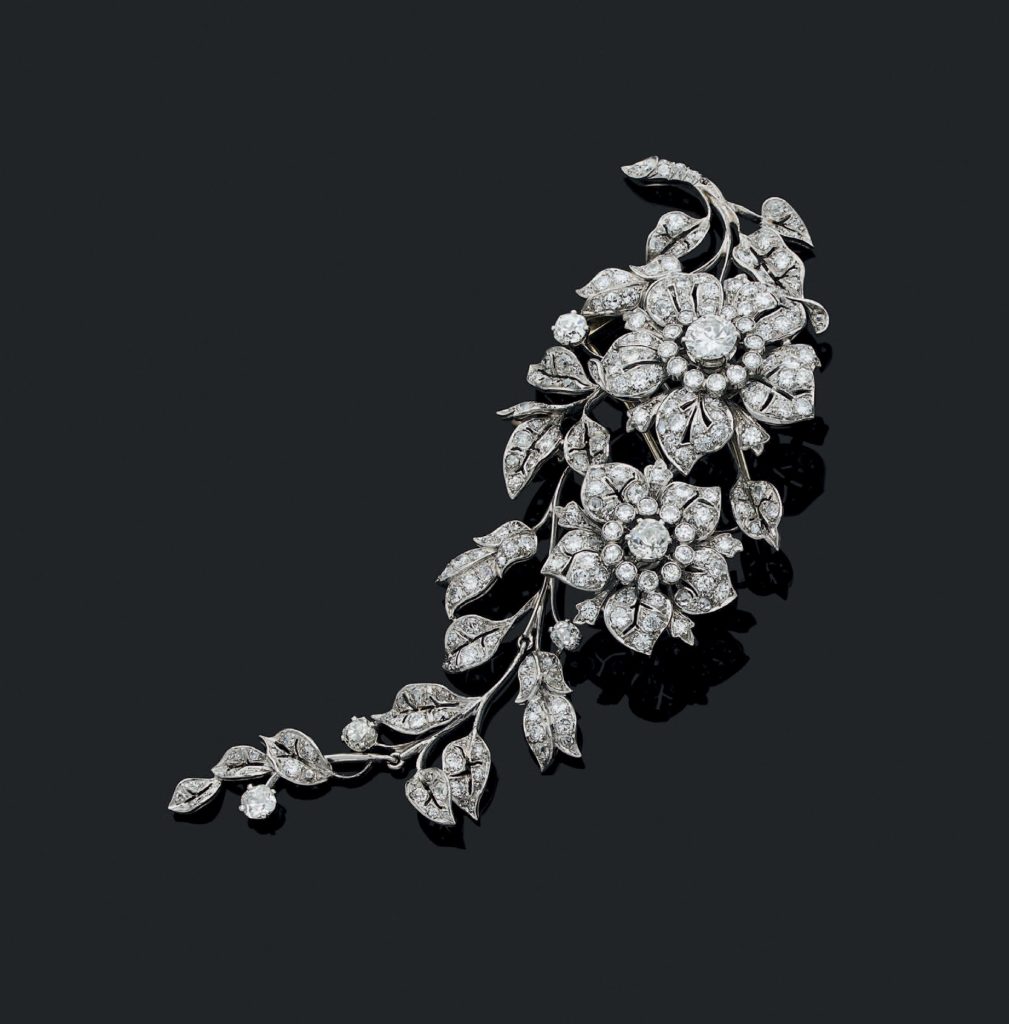 Between 15 August and 15 November 1881, France organised the International Electricity Exhibition at the Palais de l'Industrie. Located just off the Champs-Élysées, it was destroyed in 1896 to make way for what is now known as the Petit Palais, whose jewellery collection is amazing. From 1890, domestic electricity appeared in Parisian homes. The "trembleuse" or "en tremblant" brooch timidly emerged in the middle of the 19th century but expanded at the end of the century. With its delicate floral motifs mounted on springs, it captures the light and gives a permanent sparkle to the ladies' jewellery. Stomachers and tiaras glittered even more. With the arrival of platinum, which allows the creation of perfectly white jewellery, the circle is complete.
Egypt and its discovery by Europeans inspired jewellers throughout the 19th century, but there was a real craze between the 1870s and 1930s. With a real comeback in the 1920s with the opening of the tomb of Tutankhamen in 1922. Jewellers took hold of it and declined this dreamt Egypt in jewels as magnificent as they were breathtaking. Among the great signatures, we can mention Cartier, Van Cleef & Arpels, Rubel, Lacloche frères… etc. The brooch presented at Aguttes will inevitably recall the aesthetics of two other brooches signed Cartier representing an Egyptian fan or flabellum. The lion's head that adorns the piece is very close to the one that adorns the funerary bed on display at the Cairo Museum and the diamond-studded lapis lazuli is reminiscent of the symbolism worn by Nut, the goddess of the sky, whose blue body is decorated with stars.
Following the lot 32 and its Egyptian inspiration, the necklace by Suzanne Belperron (circa 1935) cannot but evoke this particular imagination. One can see a peacock feather or why not an eye of Horus adorned with kohl. Two protective symbols that jewellers have extensively used in design. Several similar necklaces exist, but one invariably thinks of " this necklace which is only a black enamel thread buttoned by a diamond, of such a pure line " (Vogue, 1933) and which was owned by Elsa Schiaparelli, a great admirer of Belperron jewellery.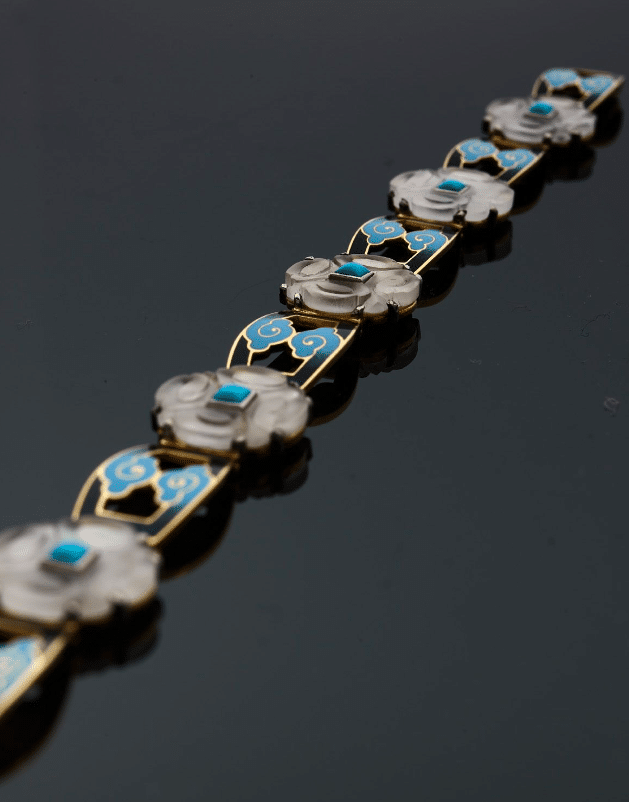 With this jewel, it is about to dive into the Asian imaginary. Welcome to a Japanese print or to the opium dens. For that is exactly what I thought of when I discovered this bracelet, which reminded me of Claude Farrère's words about "blue smoke", published in his time by Mercure de France. Everything in this play evokes a half-world where reality no longer exists completely. Have you noticed the finesse of the enamelling work, the clouds that dissolve like a light and elusive smoke. The rock crystal elements play with delicate iridescent reflections, the result of a fine mother-of-pearl plate that enhances them. With this jewel comes an archive photo of the Marzo house, a jeweller of Spanish origin based at 207 rue Saint-Honoré then 22 rue de la Paix. A similar bracelet is shown here. I agree!
There are houses whose creations are the stuff of legend. There are houses whose style is incomparable and whose pieces leave a lasting impression on the imagination. There are houses you forever fall in love with their style. For me, Marchak is one of those very special maisons that I love absolutely everything about. As for the lapel clips, I think they are one of the most chic jewels to wear. Although it's coming back into fashion, it remains discreet in the creative lexicon and the vintage models have a crazy charm. Like this gold, onyx and ruby set, signed Marchak, whose hallmark indicates the hand of René Nacart, known as Naquart, who lived at 52 rue de Sambre et Meuse in Paris from 4 November 1929.
It's a bit of a cold start to spring that allows me to show you this adorable "snowman" brooch by Cartier. This is not the house's favourite subject, but rather that of the Oscar Heyman house in New York, whose compositions around the major dates of the year (especially American) are renowned and collected. Hence the fact of saying to you, don't let it pass you by ! On this theme, I can't help but think of the delicate snowflakes from Van Cleef & Arpels that I love so much. Because, in my opinion, we have the right to celebrate winter at its most beautiful and joyful all year round..
Angela Cummings' "Positive / Negative" pieces for Tiffany & Co. are not so common on the market. It is therefore interesting to note the presence of this set in the upcoming Aguttes sale. A renowned designer, she worked with the New York house for 18 years before announcing her departure in October 1983 to found her eponymous studio. Among the leading models, pieces featuring the inlay technique, in the image of the set that is presented: black jade, mother-of-pearl, coral or even lapis lazuli. I have always found her pieces to be quite timeless and daring. It doesn't look like anything common, it's joyful and it feels great. And it's all the more interesting because there don't seem to be any reissues of these models..
I have always loved small everyday objects from luxury houses. Little boxes, ashtrays, lorgnettes, umbrella handles. Besides their adorable side, I particularly like their unexpected side, even completely unknown to the general public. And what could be more chic than a gold pillbox signed Van Cleef & Arpels? The wickerwork decoration can be seen on many objects in the house, including minaudières. But I remember a very nice set including pen and lipstick that belonged to Princess Safia Tarzi of Afghanistan. For my part, I see no reason not to be tempted!
The 60s and 70s, textured gold, long necklaces that give a crazy look, it is a whole era that tells this piece signed by the Frascarolo house speaks of, whose jewellery remains relatively uncommon in French sales. Pierino Frascarolo was born in Milan in 1928 and apprenticed with the Lunati company. Later, he joined Aldo Lenti to create his own workshop. For a long time the company was based in Corso Matteotti. His enamelled bestiary is reminiscent of David Webb's, and he is sometimes called "the Italian David Webb". His pronounced taste for shapes and luminous colours is characteristic of his creations to which one cannot remain indifferent. He was 88 years old when he left us in July 1976. For me, he is one of those jewellers who are too little known to the general public and whose work should be brought to light!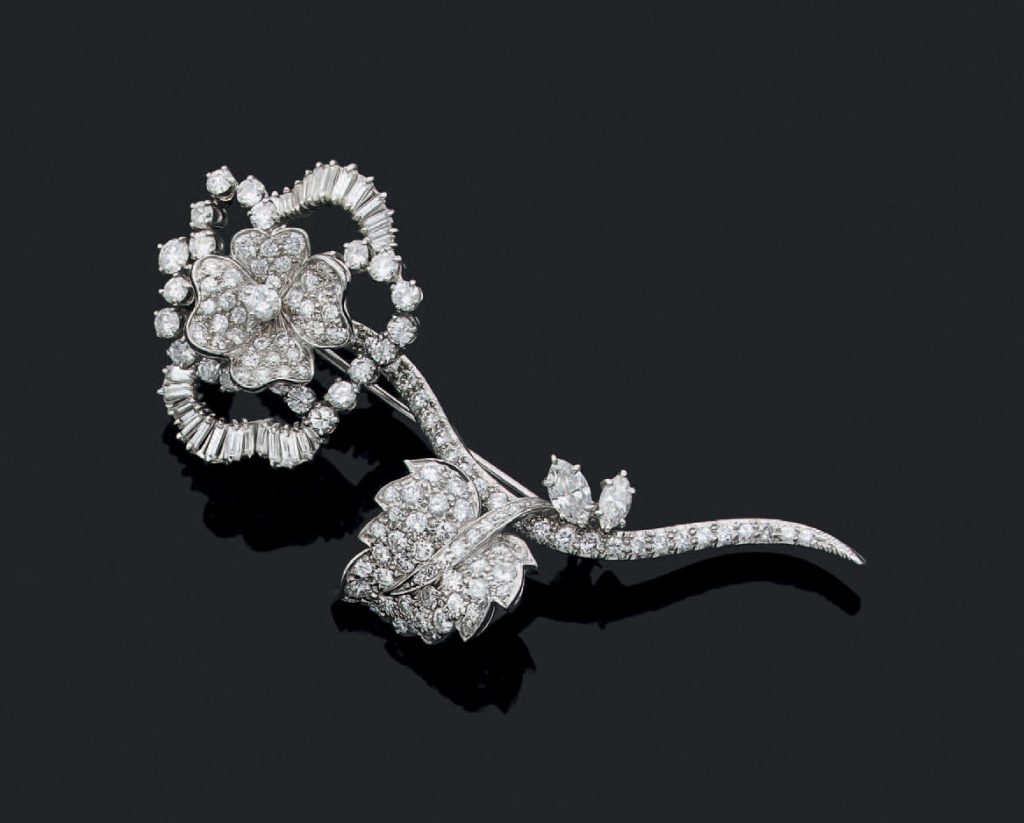 The rose is one of the favourite motifs of jewellers. There are countless remarkable and exciting variations. Like this brooch from Harry Winston, made in 1963 by the Swiss jeweller François Tavernier, who was one of its makers. Based in Geneva, he worked from 2 June 1942 to 14 October 1965. The rose is a symbol of beauty and femininity. Perhaps even its symbol par excellence. If we often associate the notion of tenderness with these flowers, they are not only offered in a loving context but also in a friendly one. However, in this case, the design of the brooch also seems to recall the double rose or "Tudor rose", a strong symbol of union inherited from the end of the War of the Two Roses in England.