Pendant plusieurs centaines d'années, les Empereurs Moghols puis les Maharadjas ont commandés d'extraordinaires parures. D'abord aux artisans indiens puis, plus tard, aux grandes maisons de haute joaillerie françaises comme européennes.
For hundreds of years, Mughal Emperors then Maharajahs have commissioned extraordinary royal jewelry – firstly from Indian craftsmen, and later from French and European high-end jewelry houses.
Portrait du Maharadjas Sir Sri Krishnaraja Wodeyar Bahadur, vers 1906. Portrait of the Maharaja Sir Sri Krishnaraja Wodeyar Bahadur, circa 1906. Photo : © Victoria and Albert Museum, London
Si de très nombreuses pièces sont conservées dans les plus grands musées mondiaux, personne – aujourd'hui – ne possède l'impressionnante collection qui appartient au Sheik Hamad Bin Abdullah At-Thani. Depuis plusieurs années, il rassemble patiemment des pièces illustrant la joaillerie indienne entre les XVIIe et XXIe siècle. Cela inclut des pièces historiques Moghols, des réalisations Art déco signées Cartier, Van Cleef and Arpels ou encore Boucheron mais aussi des bijoux contemporains par des designers comme Viren Bhagat qui illustre et rend hommage dans ses créations à l'extraordinaire opulence des anciens Maharadjas.
Although many pieces are preserved in the most important museums around the world, no-one owns a more mesmerizing collection than that which belongs to the Sheikh Hamad bin Abdullah Al-Thani. For many years, he had gathered Indian jewelry from the 17th to the 21st-century. These include Mughal Empire masterpieces, famous Art Deco works by Cartier, Van Cleef & Arpels, Boucheron or bold contemporary designers' créations inspired by Maharajahs' lifestyle.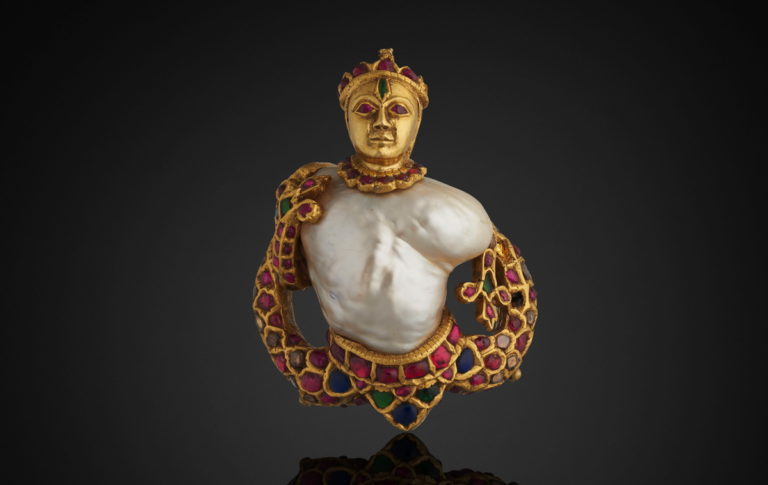 Pendentif en or, perles, rubis, diamants, émeraudes, saphirs, verre et émail. vers 1575-1625. Pendant, India, circa 1575-1625. Gold, pearl, rubies, diamonds, emeralds, sapphires, glass and enamel. Photo : ©The Al Thani Collection 2016. All rights reserved. Photographs taken by Prudence Cuming
Son Altesse Sheikh Hamad bin Abdullah Al-Thani est un membre éminent de la famille royale du Quatar. Il est le fils du Sheik Abdullah bin Khalifa Al-Thani (l'un des frères du premier Emir du pays et un cousin de l'Emir actuel). Ce collectionneur d'art et ami proche de la famille royale d'Angleterre est connu pour avoir acheté et entièrement restauré Dudley House, la maison qui appartenait à la famille Ward à Londres.
His Highness Sheikh Hamad bin Abdullah Al-Thani is a member of the Qatar's royal family. He is the son of Sheikh Abdullah bin Khalifa Al-Thani (a brother of the country's former emir Sheikh Hamad bin Khalifa Al-Thani) and a cousin of the current emir. An art collector and close friend of the Royal family, he is known to have bought and restored Dudley House, the last magnificent Ward Family residence in London.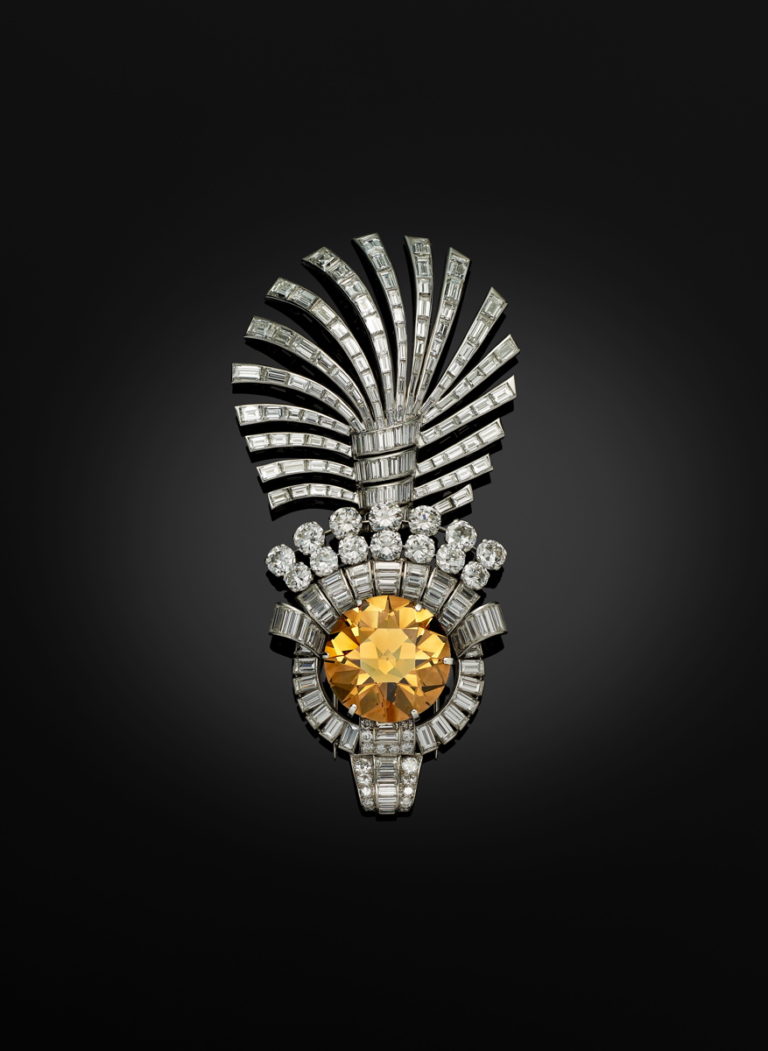 Ornement de turban en platine et diamants fabriqué par Cartier en 1934. La pierre de centre pèse 61,56 carats. Turban ornament « The eye of the tiger », platinum and diamonds. The center stone is weighing 61.56 carats. Made by Cartier London in 1934. Photo : ©The Al Thani Collection 2016. All rights reserved. Photographs taken by Prudence Cuming
Après avoir été exposée à New York (MET) en 2014 puis à Londres (V&A) en 2015, une partie de la collection arrive à Paris – au Grand Palais – et sera visible du 29 mars au 5 juin 2017. L'exposition « Joyaux des grands Moghols aux Maharajahs » invite les visiteurs à s'immerger et à comprendre l'une des plus anciennes et impressionnantes tradition joaillière de notre temps à l'image de la technique du Kundan qui consiste à sertir les pierres grâce à l'apport de feuilles d'or entre la gemme et sa monture. Mais aussi à découvrir les bijoux Bikaneri ou Jaipuri présentant un revers complètement émaillé de couleurs vives.
After being on display at the MET (New York, 2014) and the V&A (London, 2015), a part of the collection will be on display at the Grand Palais in Paris from March 29 until the June 5. The exhibition « From the Great Mughals to the Maharajahs: Jewels from the Al Thani collection » invites visitors to immerse themselves into some impressive jewelry traditions as the distinctive Kundan technique in which gemstones are set with gold foil between the stones and its mount. A popular variation is known as « Bikaneri » or « Jaipuri » jewelery where the reverse of the jewel is enameled with vivid colors and designs.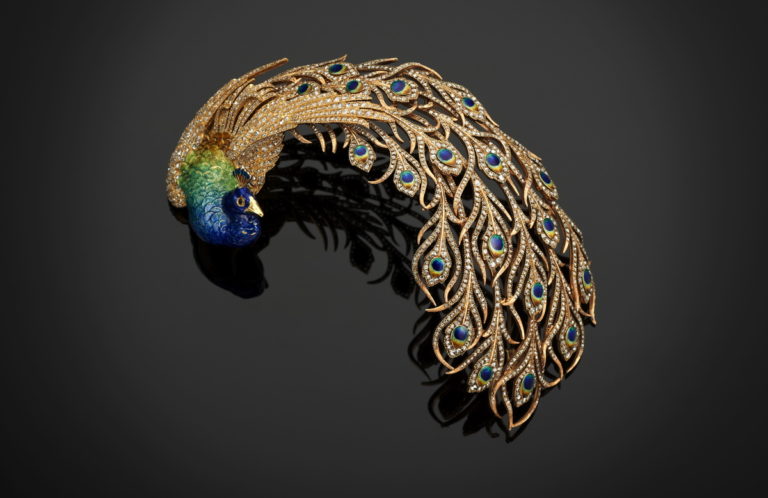 Cette broche fut achetée par le Maharadjas de Kapurthala en 1905. Fabriquée par Mellerio dits Meller, elle est en or émaillée et diamants. This brooch was bought by the Maharajah of Kapurthala in 1905. Made by Mellerio dits Meller, this enameled gold and platinum jewel is set with diamonds. Photo : ©The Al Thani Collection 2013. All rights reserved. Photographs taken by Prudence Cuming
Ce sont plus de 250 pièces qui seront présentées au public, associées à des prêts d'importance de prestigieuses institutions comme de collections privées. Des diamants historiques des mines de Golconde, des objets précieux, audacieux et spectaculaires seront exposés célébrant ainsi l'évolution des goûts et techniques joaillières indiennes au cours des cinq derniers siècles : Les diamants Agra, l'Oeil du Tigre ou l'argot II, des spinelles du Badakhshan (Afghanistan) ou des émeraudes de Colombie souvent gravées avec les noms et titres des empereurs Moghol à l'image de l'impressionnante émeraude de Shah Jahan de 30,61 carats.
Visitors will discover more than 250 pieces, together with major works on loan from prestigious institutions and private collections. Famous and historic Indian diamonds from Golconda, spectacular and bold precious objects as legendary pieces of jewelry will be publicy unveiled as an introduction to how Indian tastes and techniques have changed during the last five centuries. This exhibition highlights many different dynastic gems : Golconda diamonds such as the Agra, the Idol's Eye or the Arcot II, Badakhshan spinels or Colombian emeralds – quite often hand-engraved with the name and the title of the Mughal Emperors – such as the impressive 30.61 ct Shah Jahan emerald.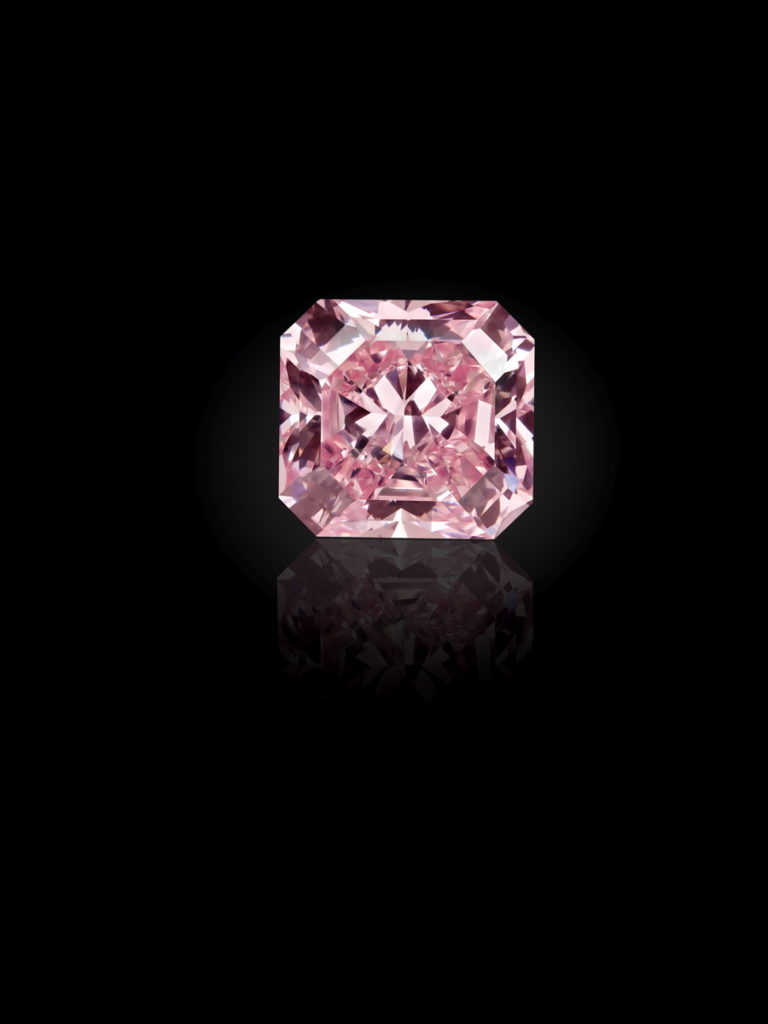 Le diamant Agra pèse 28,15 carats. Issu des mines de Golconde avant 1536, il fut retaillée dans les années 1880. The Agra diamond, 28.15 carats, Golconde, before 1536 but cut again in the 1880s. Photo : ©The Al Thani Collection 2015. All rights reserved. Photographs taken by Prudence Cuming
Parmi les plus belles pièces, se dévoileront la coupe en jade gravée de poésie persane de l'Empereur Jahangir, des éléments du trône de Tipû Sâhib ou encore un tabouret serti de gemmes issu du trésor moghol et volé par Nadir Shah lors de la prise de Dehli en 1739. S'ajoutent l'aigrette paon de la maison Mellerio dits Meller ou des colliers commandés par les Maharadjas amis de Jacques Cartier : Patiala et Nawanagar. Sans oublier des pièces signées de JAR ou Viren Bhagat.
Among the exceptional and refined pieces, the jade cup of the Emperor Jahangir hand-engraved with verses of Persian poetry, the tiger-headed finials from the throne of Tipu Sultan or a gem-set stool lent by the State Hermitage Museum which formed part of the original loot taken from the Mughal treasury by Nadir Shah, who invaded Delhi in 1739. French visitors will be able to admire rare and important jewels commissioned by Maharajas : the exceptional enamel Peacok aigrette made by Mellerio dits Meller such as the renowmed diamond necklace and ruby choker or the Tiger Eye turban ornament made for Jacques cartier' close friends : the Maharajas of Patiala and Nawanagar. To close your visit, outstanding creations with Indian gems by Cartier, JAR or Viren Bhagat which, with contemporary techniques and materials, pay extraordinary tribute to Indian jewelers and traditional techniques.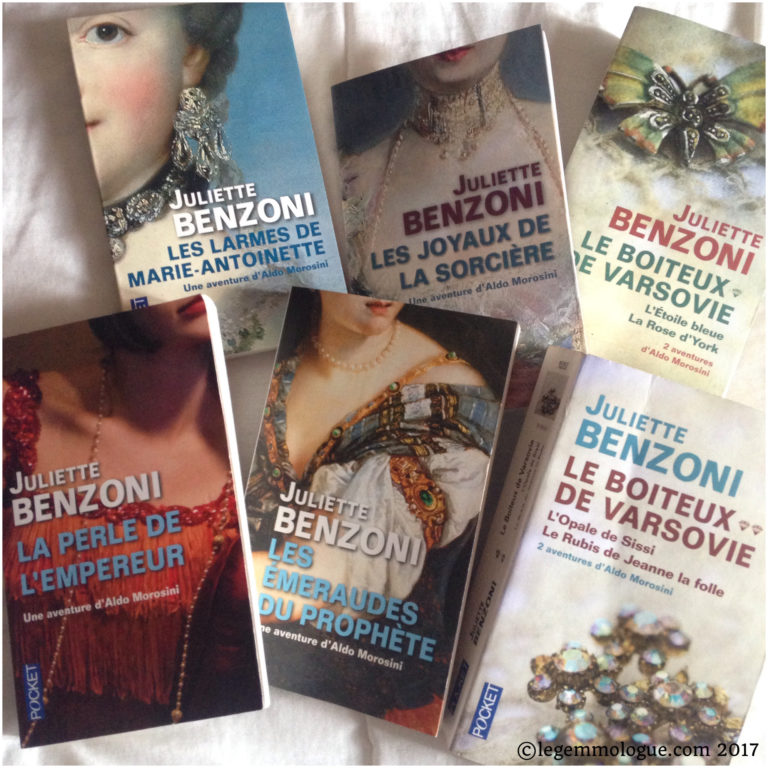 Pour ceux qui voudraient aller encore un peu plus loin, je ne peux que vous conseiller de découvrir les livres écrits par Juliette Benzoni. Publiés chez Pocket, ils mettent en scène Aldo Morosini, prince vénitien devenu antiquaire et qui traque en Europe les plus belles pièces historiques. Le titre « La perle de l'empereur » vous entraine à la poursuite de la Régente dans un Paris où les Maharadjas sont les invités permanents. A lire absolument !
For those who want to know more about this period, I have to advise you the Juliette Benzoni' books. Published by Pocket, she stages Aldo Morosini, a Venitian prince became antique dealer specialized in historical jewelry. In her book « The pearl of the Emperor » she invites you to find the famous Régente pearl when maharajahs lived in Paris. Enjoy !
À bientôt !
See you soon !