Le 24 avril prochain aura lieu une vente aux enchères inaugurale à Besançon. A cette occasion, la commissaire-priseur Astrid Guillon lancera sa maison de ventes aux enchères qui a vu le jour en ce début d'année 2021. Le hasard faisant bien les choses, Astrid s'est vu confier la vente d'une très beau lot de dessins et gouaches de bijoux par un client de sa région. Environ 150 projets de bijoux provenant principalement de la Bijouterie Clerc. Je suis presque sûre que ce nom de vous dit rien et pourtant la plupart des parisiens qui me lisent passent devant cette vénérable maison de manière régulière… Car la maison Clerc, dont le bâtiment est classé au titre des Monuments Historiques, est désormais la boutique Maty située au 4 place de l'Opéra, à l'angle du boulevard des capucines, face à la rue de la paix et à la Colonne Vendôme qui domine la place du même nom. Un emplacement de choix!
On April 24, an inaugural auction will take place in Besançon. On this occasion, the auctioneer Astrid Guillon will launch her auction house which was born at the beginning of the 2021 year. As luck would have it, Astrid was entrusted with the sale of a very beautiful lot of drawings and gouaches of jewelry by a client from her region. Around 150 jewelry projects mainly from Bijouterie Clerc. I am almost sure that this name means nothing to you and yet most of the Parisians who read me pass by this venerable house on a regular basis … Because the Clerc house, whose building is classified as a Historic Monument, is now the Maty boutique located at 4 Place de l'Opéra, at the corner of Boulevard des Capucines, opposite Rue de la Paix and the Colonne Vendôme which dominates the square of the same name. A prime location!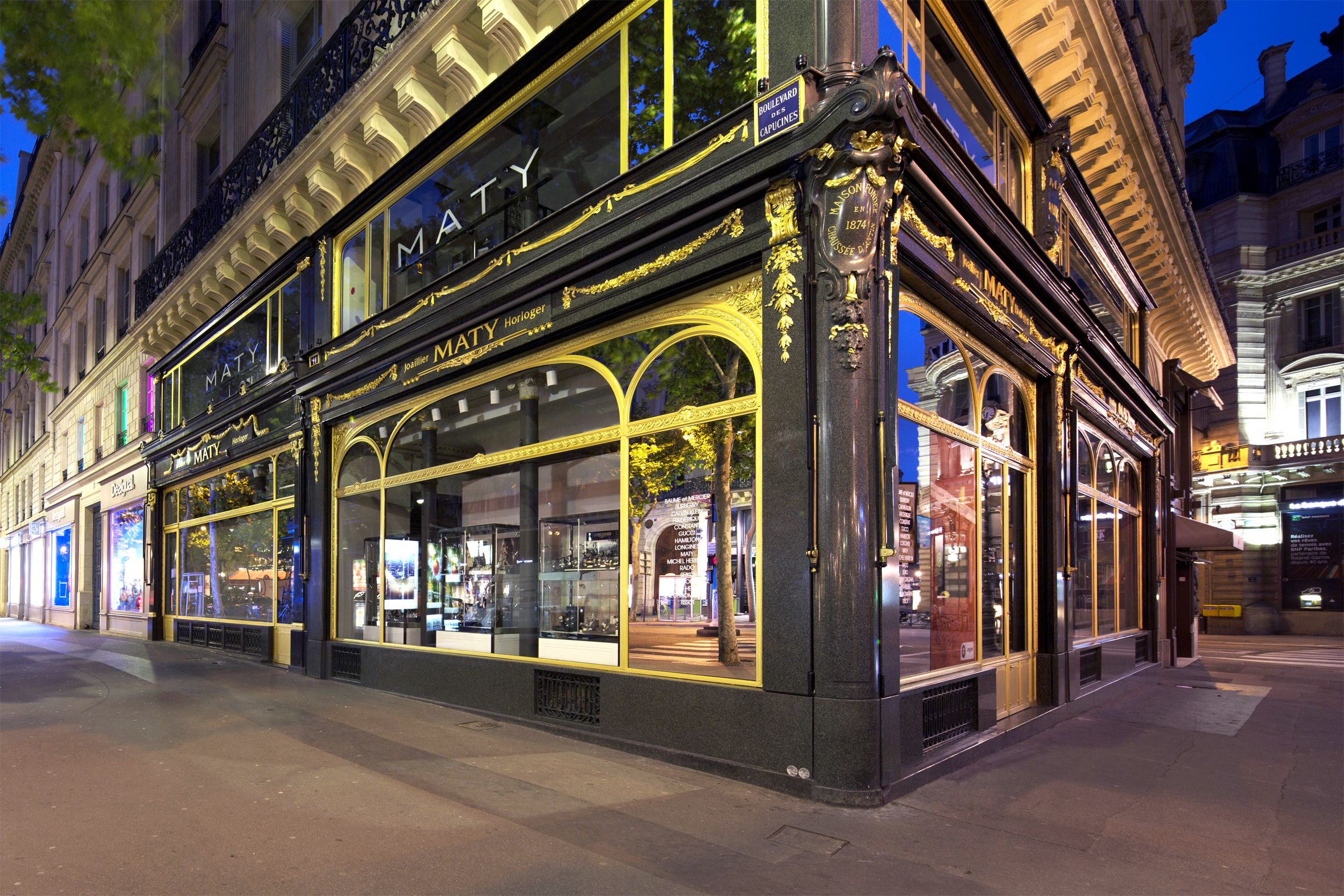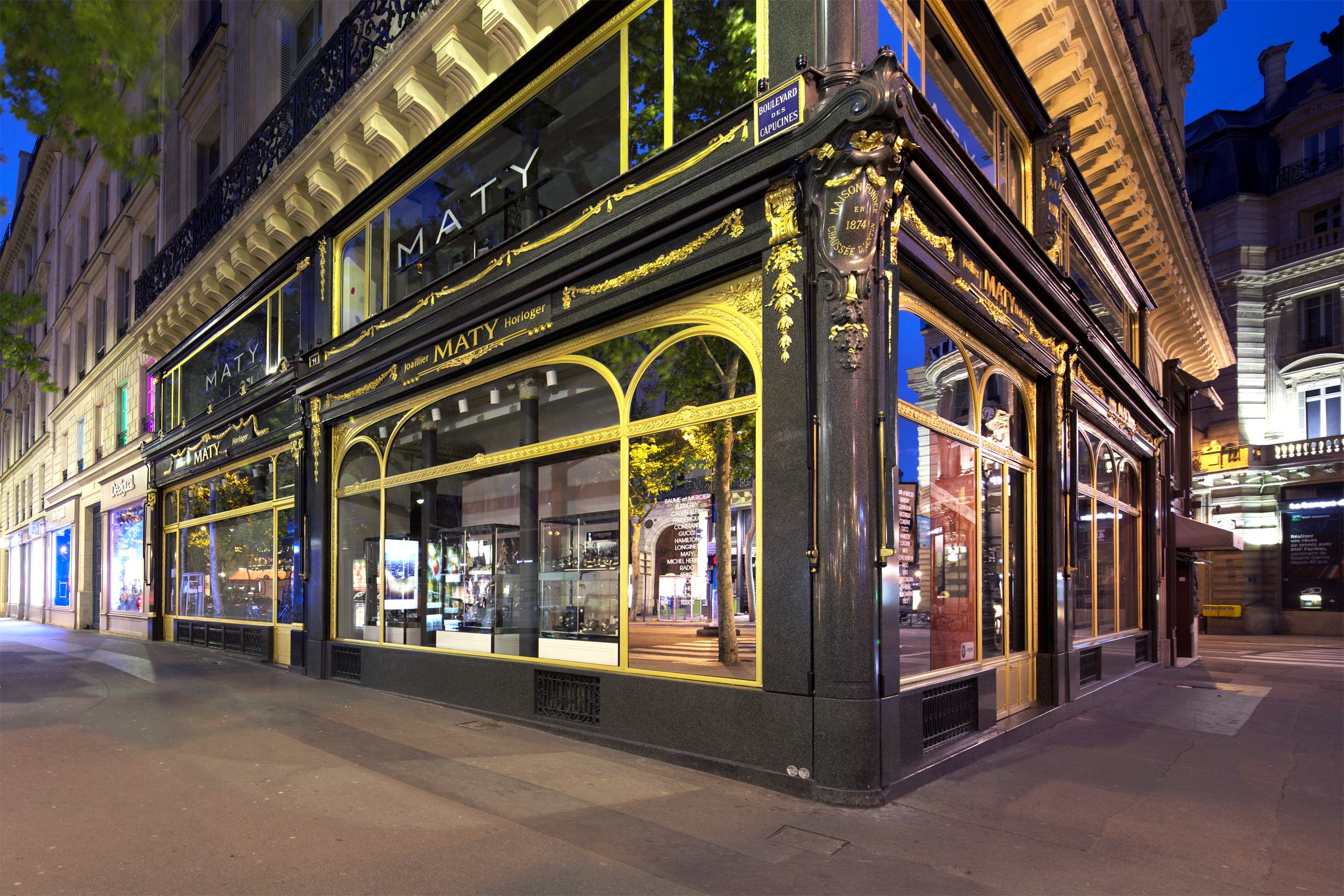 La boutique Maty actuelle, installée à l'emplacement de la Bijouterie Clerc. The current Maty boutique, located on the site of the Clerc jewelry store. Photo : Maty
La maison Clerc a été fondée par Charles Remy Clerc en 1874 au 64 rue de la Chaussée d'Antin. Si vous regardez bien la façade de la boutique de la place de l'Opéra, vous noterez, en levant les yeux, un macaron qui signale la création de la maison à sa première adresse. Le joaillier va déménager à plusieurs reprises, d'abord au 11 boulevard des Capucines quand il reprend la Bijouterie Bourguignon dont il va garder le nom. C'est important de garder cela en tête car les dessins qui passent en vente le 24 avril témoignent de l'histoire de la maison. On y découvre des tampons Clerc et des tampons Clerc & Bourguignon…
The Clerc house was founded by Charles Remy Clerc in 1874 at 64 rue de la Chaussée d'Antin. If you take a good look at the facade of the boutique on the Place de l'Opéra, you will notice, when you look up, a badge that signals the creation of the house at its first address. The jeweler will move several times, first to 11 boulevard des Capucines when he takes over Bijouterie Bourguignon, whose name he will keep. It is important to keep this in mind because the designs that go on sale on April 24 bear witness to the history of the house. We discover Clerc stamps and Clerc & Bourguignon stamps…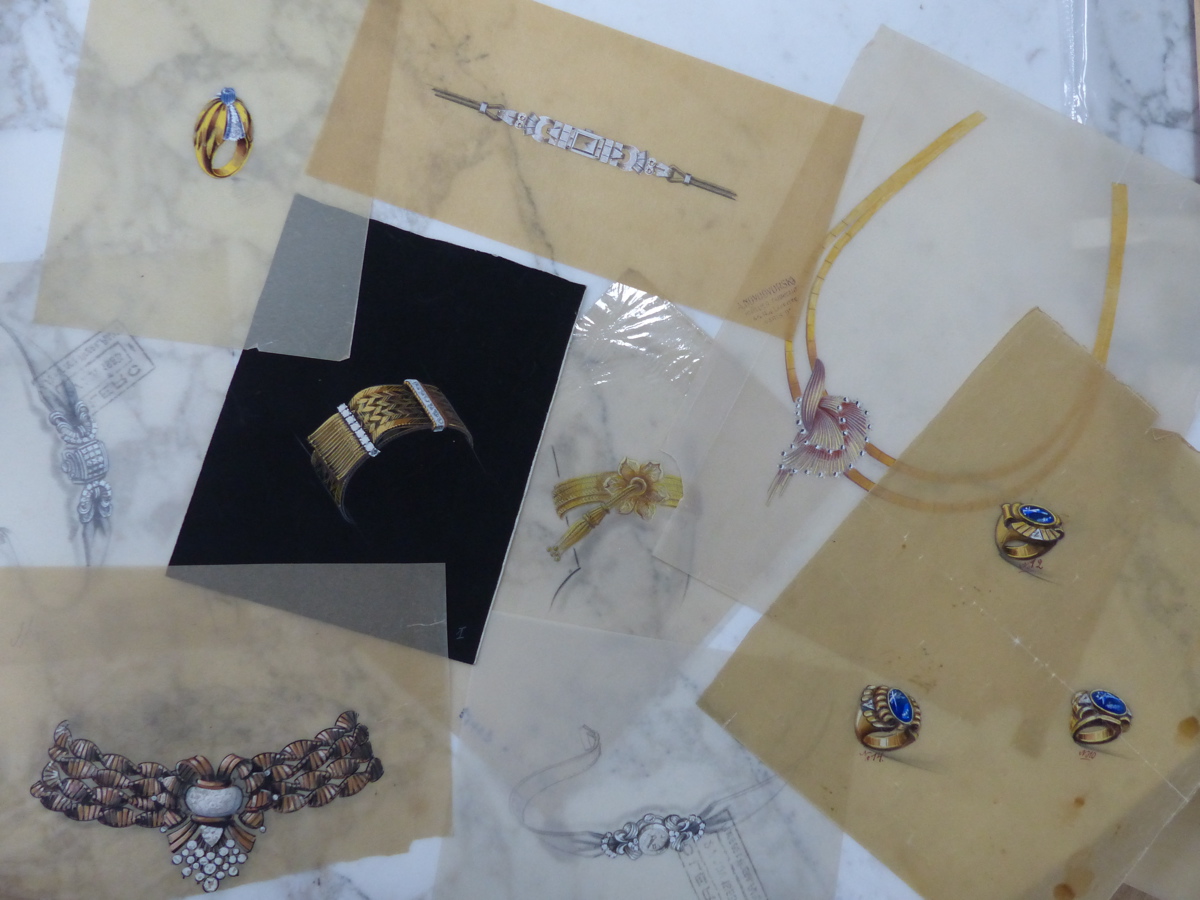 Lot 42 : ensemble d'environ 30 dessins, estimation entre 40 et 60 euros. Lot 42: Quite 30 drawings, valuation between 40-60 euros. Photo: Astrid Guillon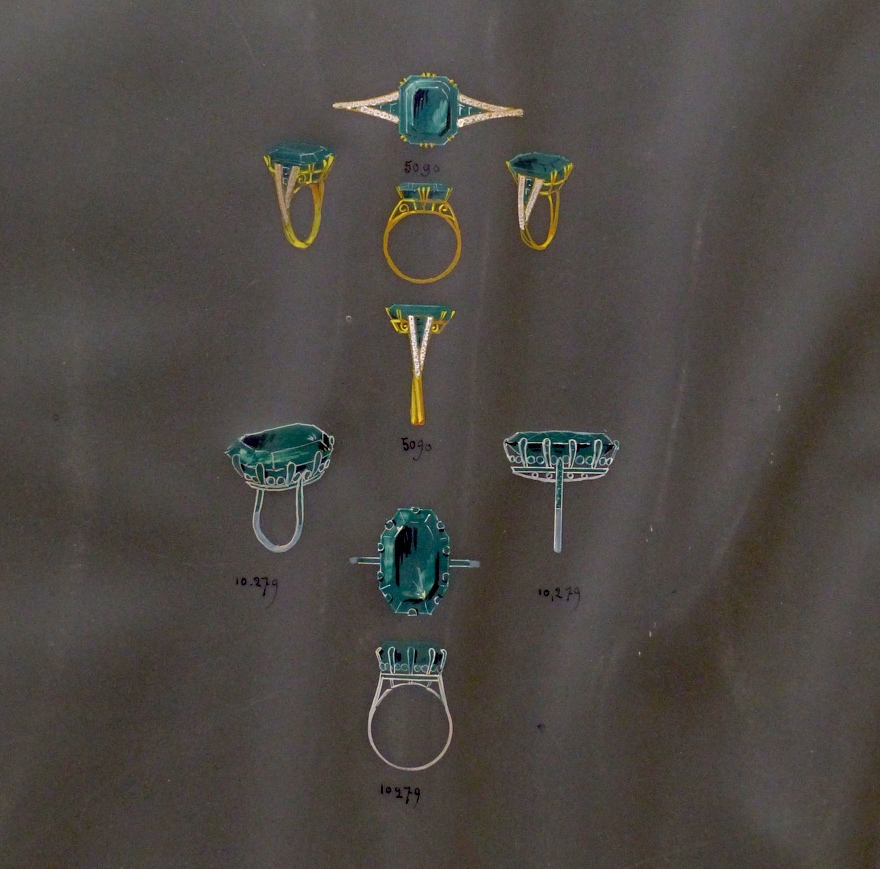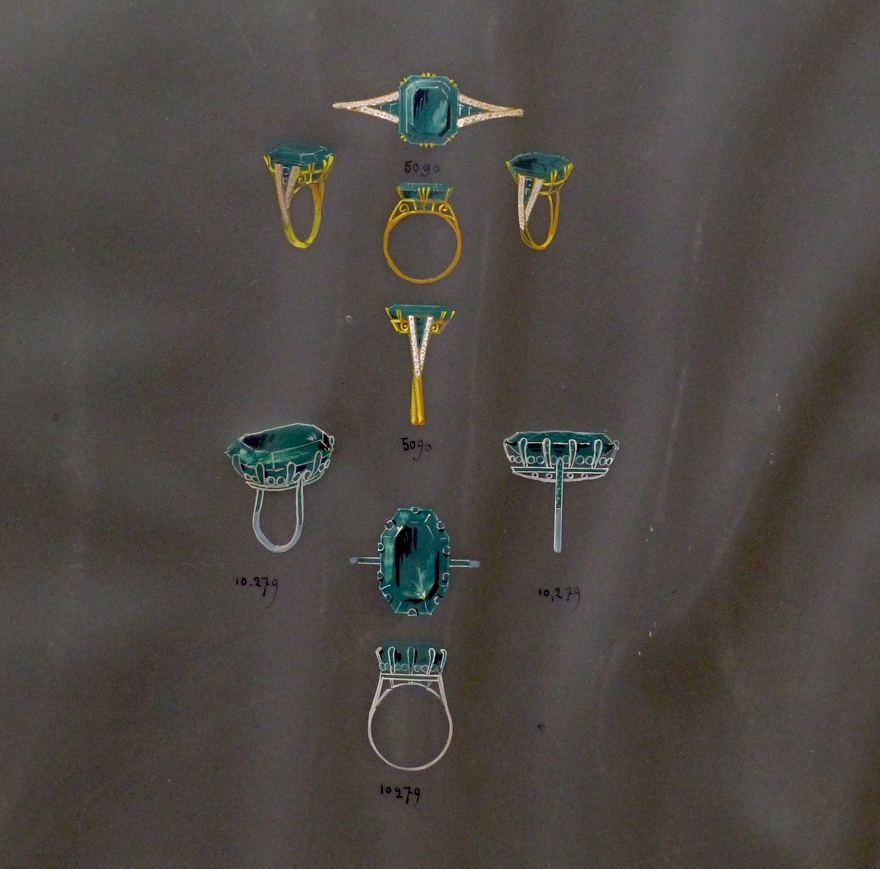 Lot 45: projet de bague, une autre projet en rubis et diamants dans ce lot. Estimation entre 50 et 80 euros. Lot 45: ring drawing, another project with ruby and diamonds. valuation btw 50 and 80 euros. Photo: Astrid Guillon
La première guerre mondiale passe et la famille Clerc est extrêmement affaiblie par les douloureux événements de 14-18. M. Clerc décède en 1915 et c'est son épouse, associée à son fils Charles, qui reprends l'affaire. Quand sa mère meurt à son tour en 1924, il continue à faire tourner la maison jusqu' la perdre en 1926. C'est après la guerre que la maison devient Clerc & Bourguignon mais la date est floue. On sait néanmoins que la maison porte ce nom dans les années 30 et jusqu'à la fin de la deuxième Guerre Mondiale. Sur son site, Bijoux et Pierres Précieuses, Jean-Jacques Richard raconte bien les déboires de la famille et l'aryanisation de la maison après 1940. Mais a cette date, il n'y a plus de membres de la famille Clerc dans l'affaire. En 1946, Paul Clerc (le frère de Charles) perd son dernier procès relatif à la succession de 1924. La maison, elle, va continuer sa vie jusque dans les années 90 où elle ferme définitivement ses portes.
The First World War passes and the Clerc family is extremely weakened by the painful events of 14-18. Mr. Clerc died in 1915 and it was his wife, associated with his son Charles, who took over the business. When his mother died in 1924, he continued to run the house until losing it in 1926. It was after the war that the house became Clerc & Bourguignon, but the date was unclear. However, we know that the house bears this name in the 1930s and until the end of World War II. On his website, Bijoux et Pierres Précieuses, Jean-Jacques Richard tells the story of the family's setbacks and the Aryanization of the house after 1940. But at this date, there are no longer any members of the Clerc family in the house. In 1946, Paul Clerc (Charles' brother) lost his last lawsuit relating to the 1924 succession. The house, for its part, would continue its life until the 90s when it closed definitely its doors.
Publicité pour la maison Clerc dans les années 50. Advertisement for the Clerc House in the 50s. Photo: Hprints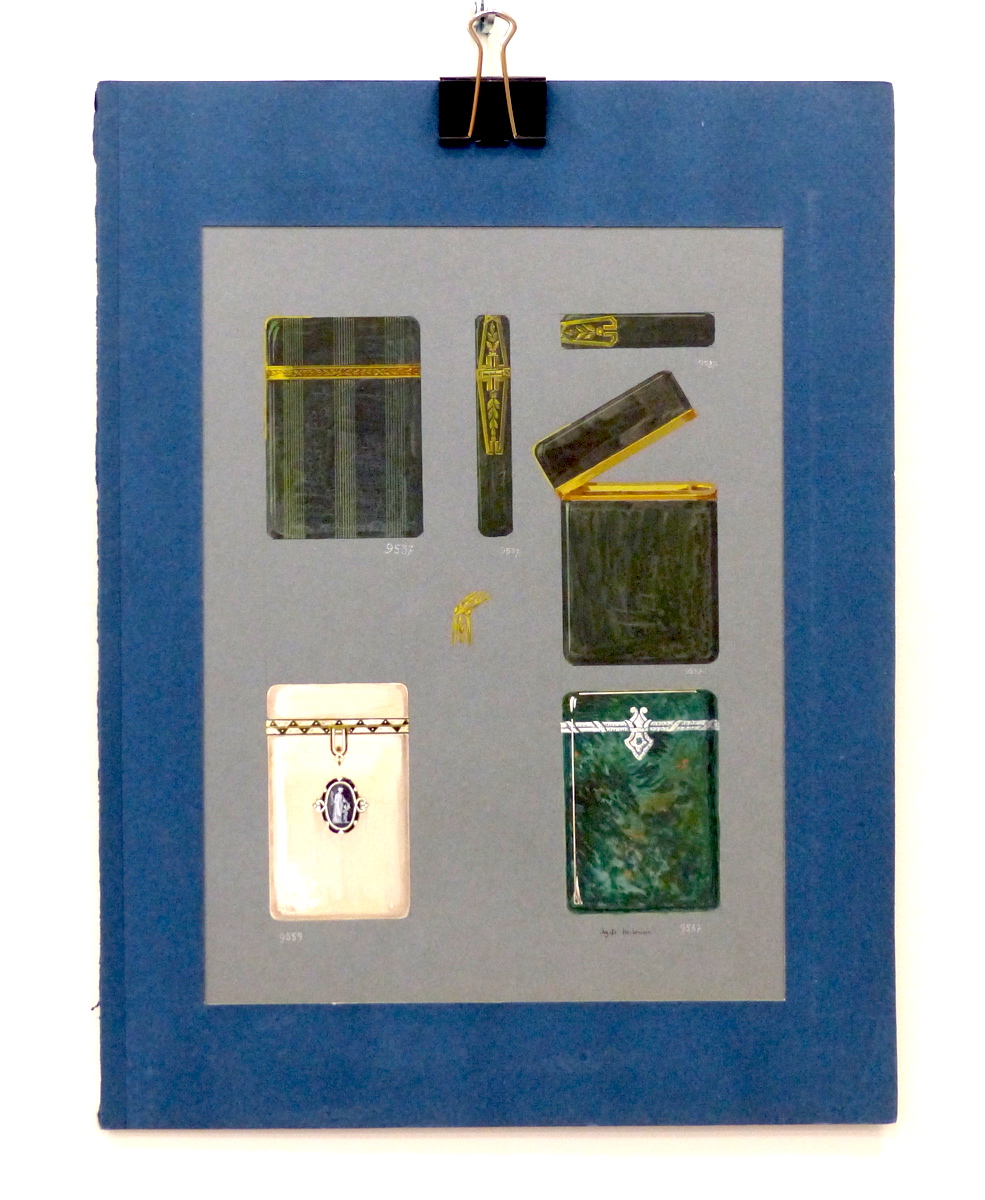 Lot 46: planche issue d'un lot de 6 autres planches représentant des étuis et des minaudières. Estimation entre 50 et 80 euros. Lot 46: board from a set of 6 other boards representing cases and minaudières. Estimate between 50 and 80 euros. Photo: Astrid Guillon
Les projets qui se présentent à la vente à Besançon sont très beaux. Ils témoignent d'une activité soutenue de la maison et de réalisation très différentes les unes des autres. La maison s'est indéniablement frottée à la créations de pièces importantes : diadèmes, colliers massifs richement sertis, bagues avec de pierres de centre imposantes… Nul doute que la clientèle de la maison était fortunée et que la marque voulait rivaliser avec les prestigieuses enseignes situées à proximité immédiate de la boutique.
The projects that come up for sale in Besançon are very beautiful. They testify to a sustained activity of the house and a range of achievements very different from each other. The house has undeniably rubbed shoulders with the creation of important pieces: tiaras, massive necklaces richly set, rings with imposing center stones … There is no doubt that the clientele of the house was wealthy and that the brand wanted to compete with the prestigious ones. signs located in the immediate vicinity of the store.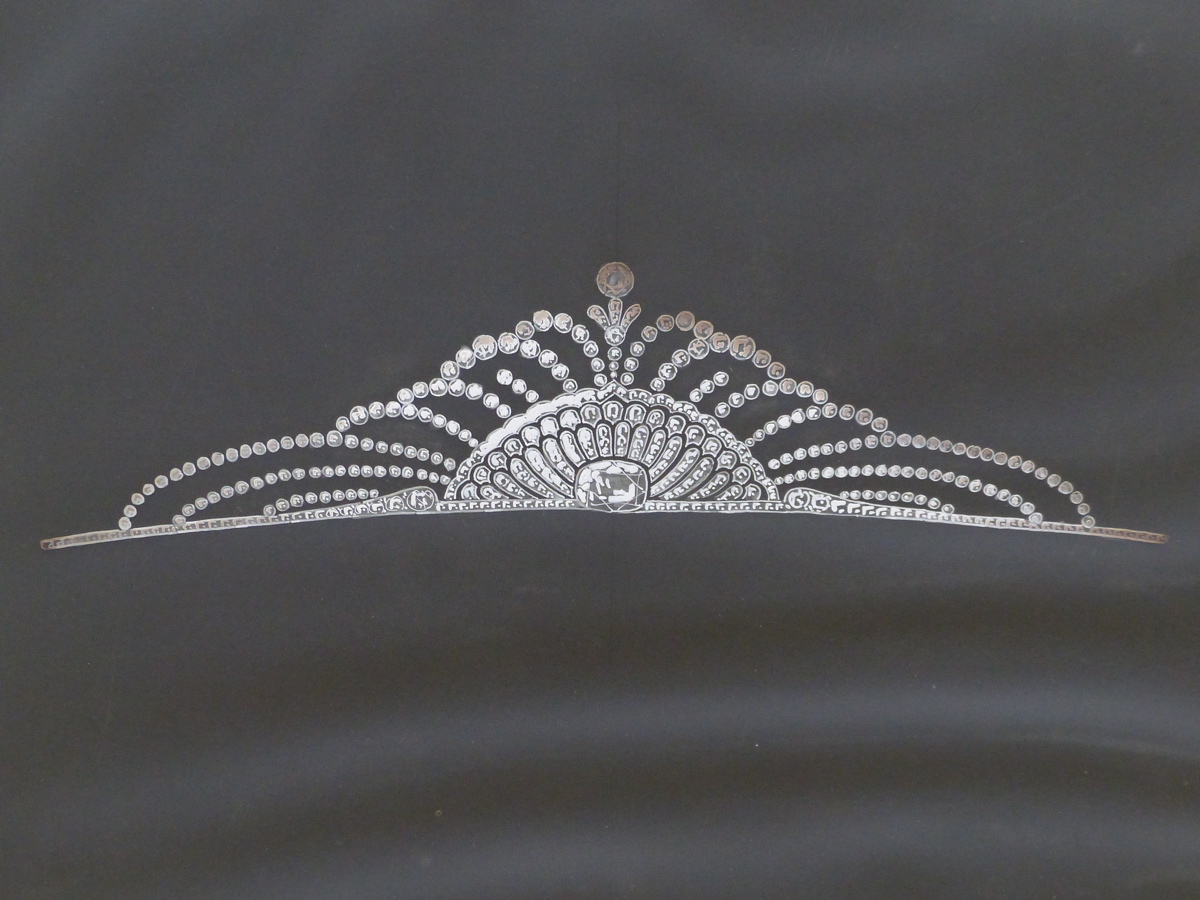 Lot 48: projet de diadème issu d'un lot de 5 autres planches. Estimation entre 60 et 80 euros. Lot 48: diadem project from a lot of 5 other boards. Estimate between 60 and 80 euros. Photo: Astrid Guillon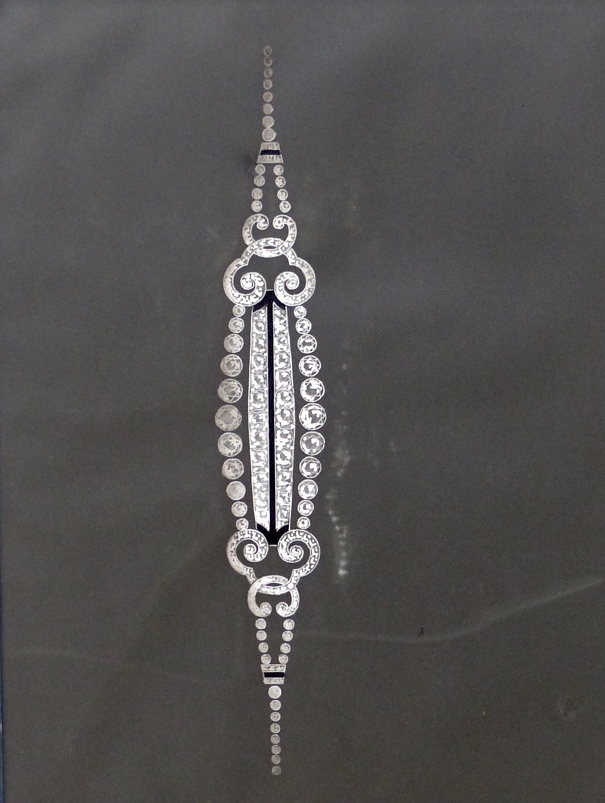 Lot 49: projet de bracelet issu d'un lot de 6 autres planches. Estimation entre 60 et 80 euros. Lot 49: bracelet project from a lot of 6 other boards. Estimate between 60 and 80 euros. Photo: Astrid Guillon
Dans les dessins conservés, on note la présence de quelques gouaches venant du fabriquant Aron Novodvorsky, installé 117 boulevard Voltaire puis 11 rue Gaillon entre le 21 mars 1916 et le 3 janvier 1967. Comment ces dessins se sont-ils retrouvés dans cette collection? Je l'ignore mais les dessins proviennent tous des archives de la Maison Clerc. Je n'ai pas pu trouver de liens entre ces deux entités, le mystère demeurera donc.
In the preserved drawings, we note the presence of some gouaches coming from the manufacturer Aron Novodorsky, installed 117 boulevard Voltaire then 11 rue Gaillon between March 21, 1916 and January 3, 1967. How did these drawings end up in this collection? I don't know, but the drawings all come from the Maison Clerc archives. I couldn't find any links between these two entities, so the mystery will remain.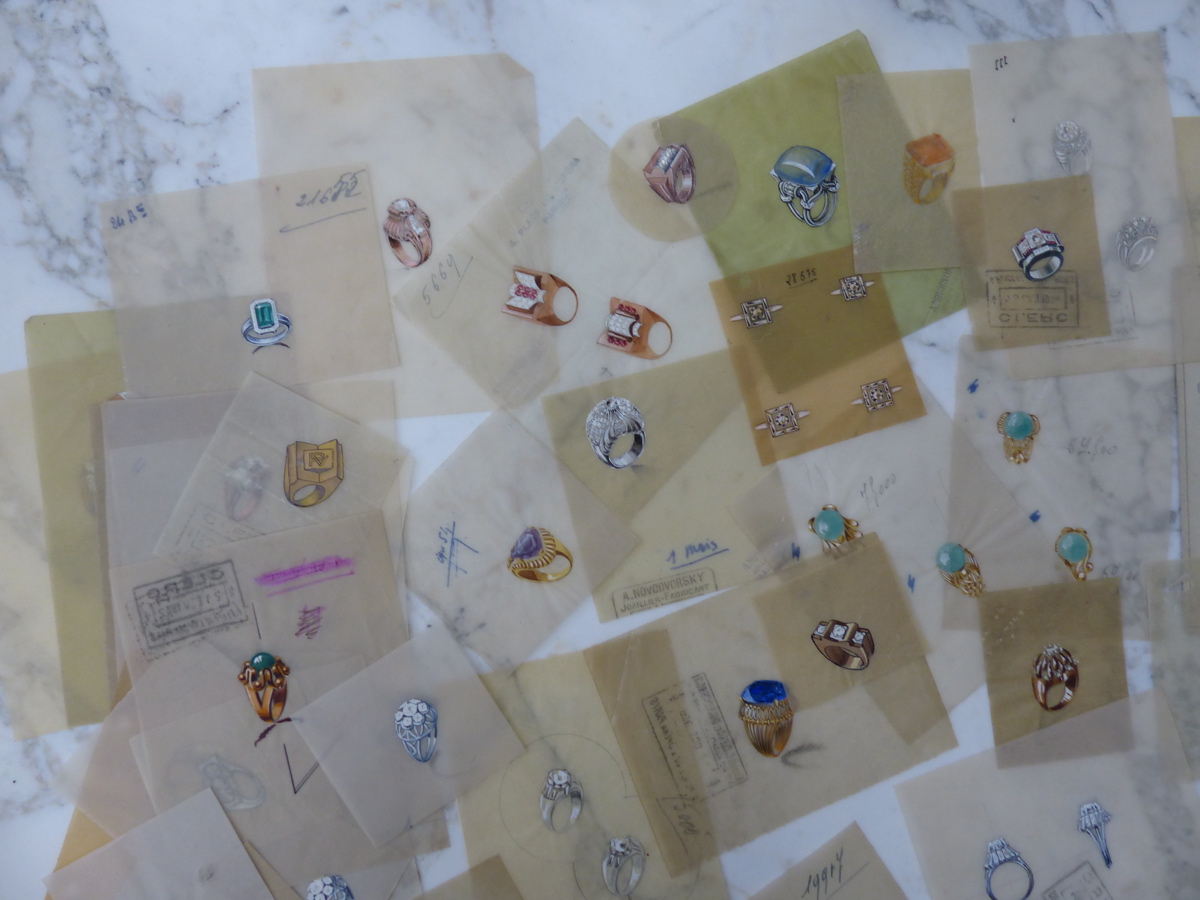 Lot 41: ensemble de 55 projets provenant des archives de la maison Clerc. Estimation entre 100 et 200 euros. Lot 41: set of 55 projects from the archives of Maison Clerc. Estimate between 100 and 200 euros. Photo: Astrid Guillon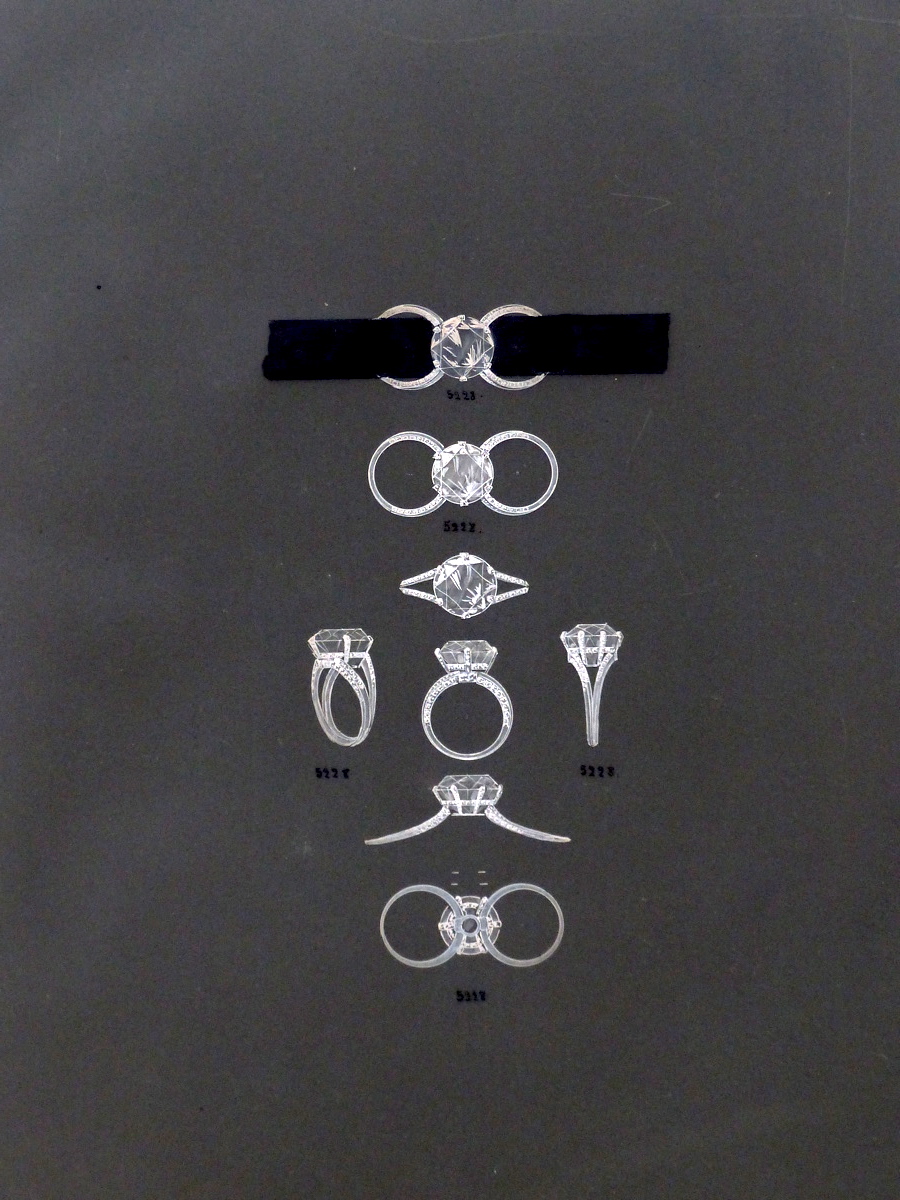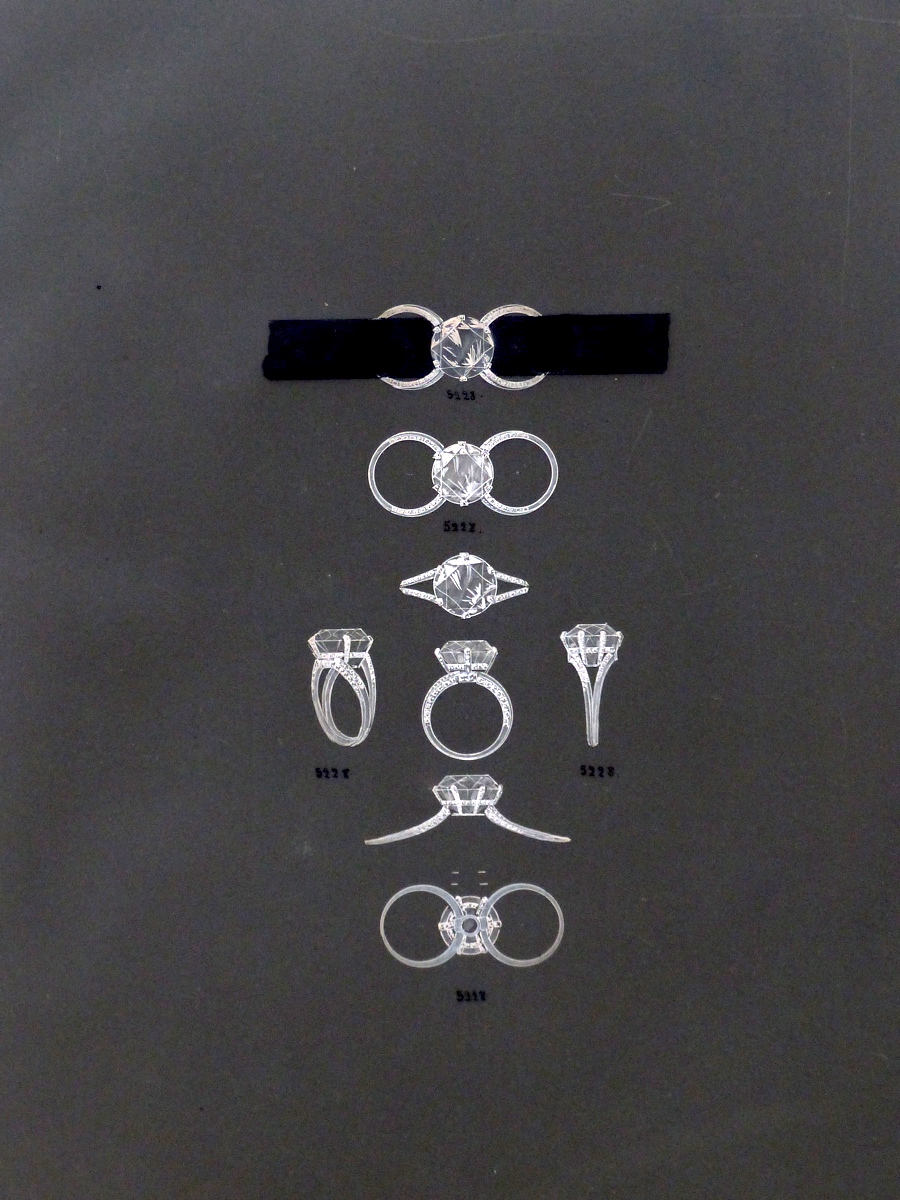 Lot 49: projet de bague/pendentif issu d'un lot de 6 autres planches. Estimation entre 60 et 80 euros. Lot 49: ring/pendant project from a lot of 6 other boards. Estimate between 60 and 80 euros. Photo: Astrid Guillon
A bientôt et bonnes enchères!
See you soon and enjoy!