Micro-mosaics are Roman, Venetian and Florentine Italian pieces. The main period of production was between the end of the 18th and the end of the 19th century. The Roman technique is to wax the pieces after assembly and gluing, unlike the Venetian pieces. Pieces produced in Venice are often considered to be of a lower quality, which is rather untrue for 18th and 19th century jewellery. There are two types of pieces: the classic micro-mosaics assembled by assembling tiny plates cut from glass rods, smalti filati, and thePietra dura which are inlaid with hard stones and are Florentine. An assembly of regular shapes is typical of Rome, whereas in Venice a great variety of shapes is used to create mosaics.
These jewels began to appear outside of Italy in the 18th and 19th centuries as a result of the Grand Tourthis was a journey of initiation undertaken by young people (and also collectors and art lovers) from the European upper middle class during – or following – their studies. At that time, photography did not yet exist and these jewels made it possible to convey the Italian landscape to Europe. Among the favourite subjects of the workshops were the landscapes of Tuscany and Italy in general, the ancient ruins and of course the great monuments of Rome and the Vatican. These pieces were also used as souvenirs to bring back from the trip.
They were made by assembling small glass plates (sometimes stones or earthenware) – tesserae – finely adjusted. This assembly was then inserted into a black glass frame (but onyx was also used for the most precious ones). Finally they were set in yellow or silver gold frames.
With time but also the increase in demand, the work will lose in finesse. The classical subjects were replaced by floral subjects. Today, these pieces are commonly mounted on copper or brass. If they are commonly sold to tourists as in the past, the pieces have absolutely nothing to do with the production of the 18th century.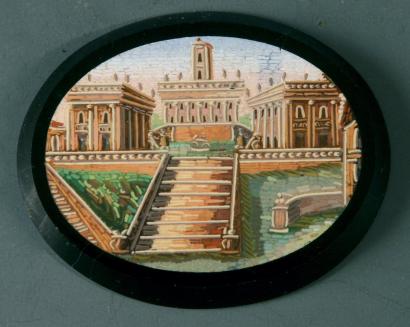 Micro mosaic (without mount) representing the gardens of Tivoli. Second half of the 19th century, 4.4 x 3.5 cm. Photo: Drouot.com.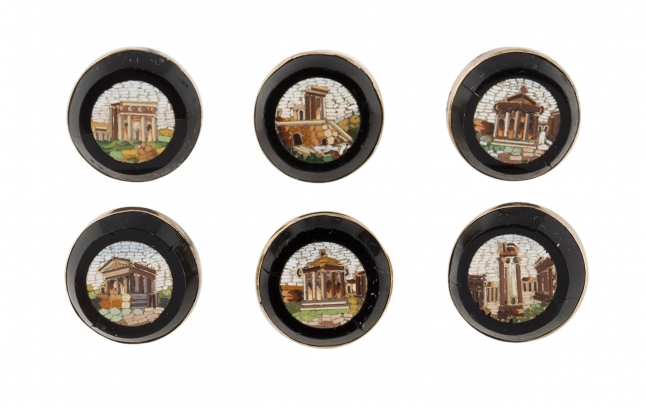 Lot of six buttons representing ancient ruins, mounted on gold, circa 1850. The mosaics measure 8 mm in diameter, the buttons measure 1,3 cm in diameter. Photo: Expertissim.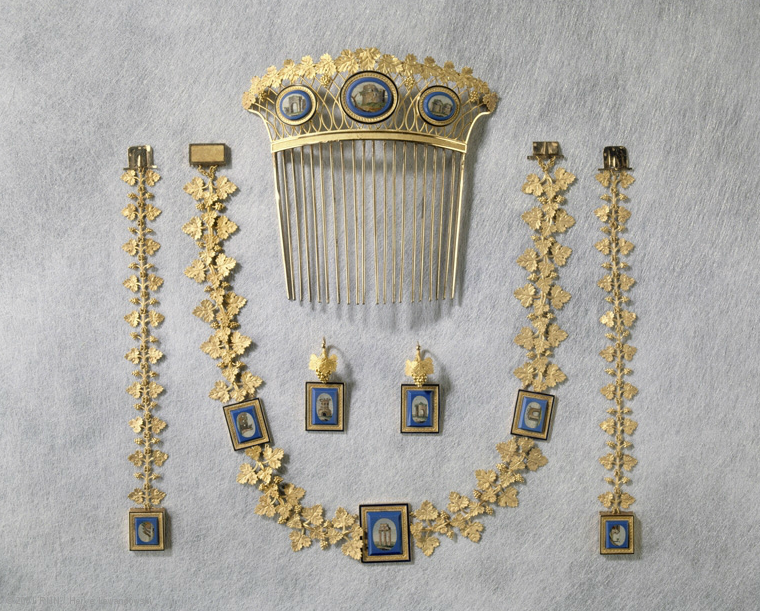 Gold and micro-mosaic set of Empress Marie-Louise. It was made by the jeweller François-Regnault Nitot (1779 – 1853). It was included in the inventory of crown diamonds in 1811. Photo: Louvre Museum.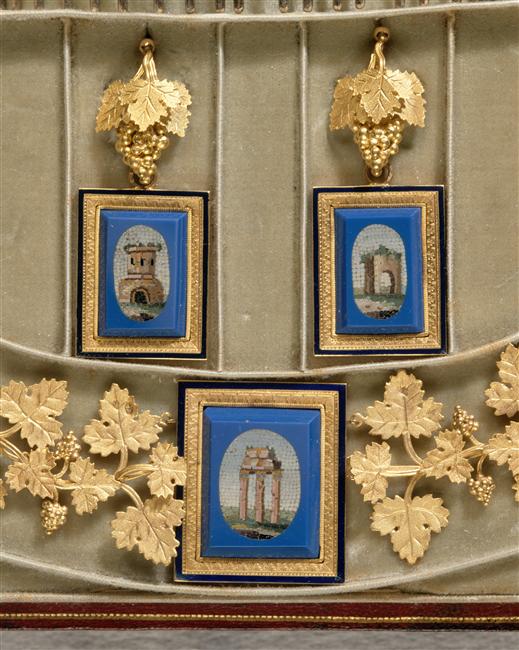 Detail of the micro-mosaics on the jewellery of Empress Marie-Louise. Photo: Musée du Louvre.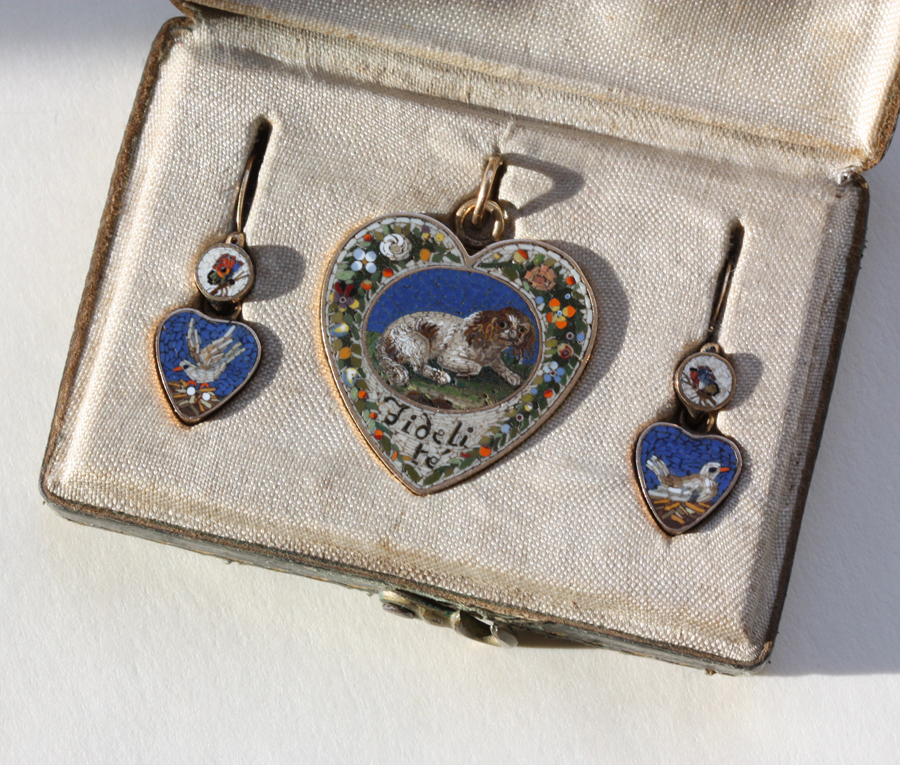 Half-adornment in its case, circa 1830, Venice. Photo: Inez Stodel.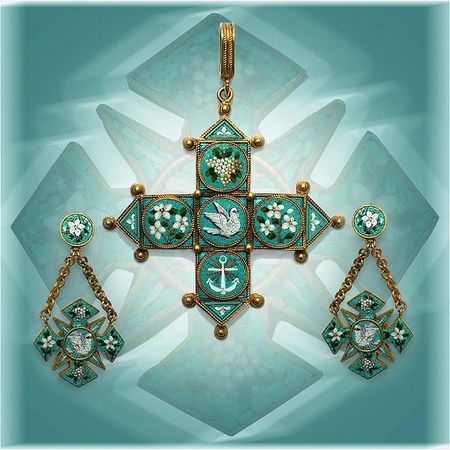 Gold half set of Venetian origin, second half of the 19th century. Photo: Chamarande (via Alaintruong.com).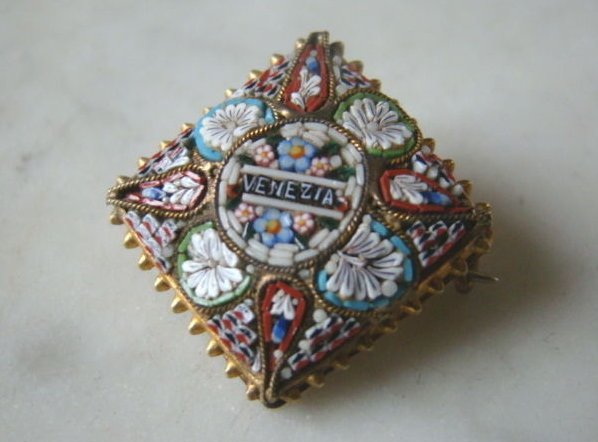 Typical Venetian micro-mosaic work mounted on copper, 20th century. The brooch is about 4 cm in diameter. Photo: Ebay.
Pietra dura are, unlike micro mosaics, inlays of hard stones: agate, jade, carnelian, malachite, lapis lazuli but also turquoise, mother-of-pearl or coral. Although the technique is ancient in Italy for both everyday and decorative objects (boxes, frames, chests, etc.), jewellery began to be popularised at the end of the 18th century and especially during the 19th century. These marquetries are also adjusted and glued in an onyx frame (sometimes in glass but more rare) and most often set in gold frames. These are very precious pieces and therefore sought after at auctions.
Floral motifs are among the favourite subjects of the workshops responsible for making these pieces. But there are also animals, mainly birds, but also shells, butterflies, etc.
It is also important to point out that these jewels can be found throughout Europe. The mosaics, which were produced in Italy, were then sold to be mounted in other countries. This explains the different types of settings that can be found.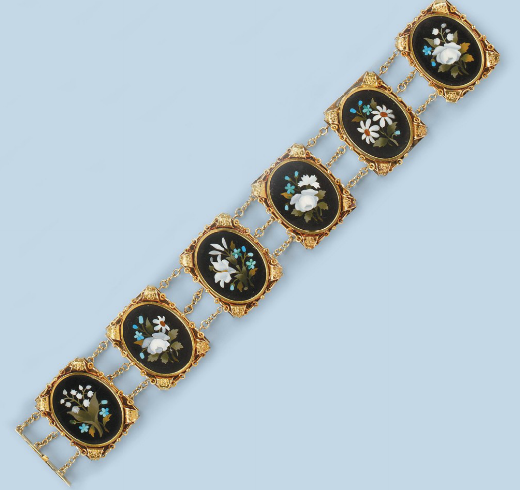 Florentine gold and pietra dura bracelet, mid-19th century. Photo: Christie's.
Florentine gold and pietra dura brooch, 19th century. Photo: Lang Antiques.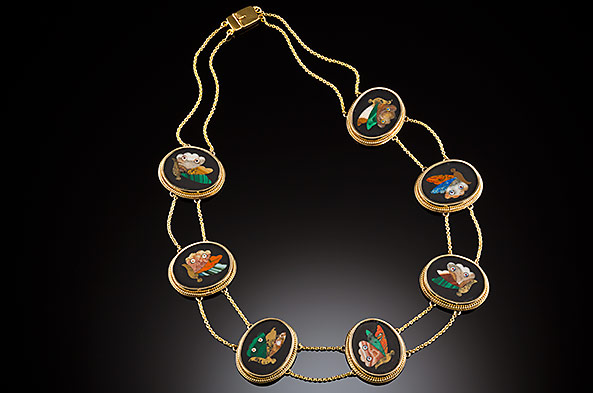 Gold necklace and butterfly medallions, circa 1850. Photo: James Alfredson Jewellers.
Gold and Pietra dura brooch in a lapis lazuli matrix (rare!), circa 1880. Photo: Rubylane.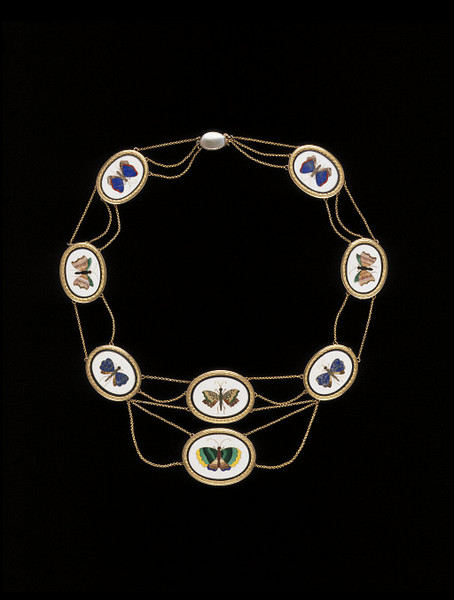 Gold slave necklace, French made, and set with Italian Pietra dura, circa 1810. Photo: Victoria and Albert Museum Collection.
See you soon!