I have mentioned Lacloche Frères on many occasions on the blog. This jewellery house, which is very famous among connoisseurs of this sector, had its hours of glory during the 20th century. I thought it would be interesting to write a short historical article on this family to allow you to get to know them better.
Bearer bonds of 500 francs for the company of the former establishments Lacloche Frères. They date from 1927. Photo : Catawiki
This company, specialized in the retail trade of very high quality jewellery, was founded in 1892. Let's take a look at the history of this family, which was influential in the Parisian jewellery industry in the 20th century.
The history of the Lacloche family is quite complicated to follow for several reasons: it is a large family with multiple branches, so it is necessary to find out about the marriages, travels and installations of its members in different European countries, and many false things can be read on the internet, including on very serious websites. It is therefore necessary to check the dates carefully before making any decisions. Fortunately, there is the Genpals website which is run by a Lacloche descendant who has tried as far as possible to sort out the information and to undertake a history of her family. However, for us, the story begins with four brothers: Jacques, Jules Henri, Fernand and Léopold.
Advertisement for the Lacloche house in Madrid, published in French in the newspaper "Le Epoca" of 21 December 1895. Photo: Genpals.eu. I will come back later on to the history of this Spanish advertisement.
We will start the Lacloche story in 1890. At this date, we know that Léopold Lacloche (1863-1921) lived in Brussels where he was a jeweller. He travelled to Paris and then returned to Brussels. On 15 November 1892, the "Société en nom collectif Lacloche Frères" was created in Paris and was located in the 9th arrondissement at 51, rue de Chateaudun. This company included Léopold and his brother Jules Henri (1867-1937). On 31 May 1898, the company was dissolved. On 1 June 1898, it was reborn from its ashes under the name "Lacloche et Gompers". In reality, it was a simple commercial formality in which a shareholder, Louis Gompers, brought in his fame and money. The Gompers family owned a jeweller's shop at 28 Place Vendôme at the beginning of the 20th century and had been working in diamonds for a long time. At that time, the company was located at 41 avenue de l'Opéra in the 2nd arrondissement, close to the Place Vendôme.
It is also known that there was a Spanish branch created before 1898. It seems that it was initiated by Fernand (1868-1931) and Jacques (1865-1900). It also seems that the two entities of Paris and Madrid were entirely dissociated. Things would change later.
In 1901, things changed again and this time the Lacloche company moved to 15 rue de la Paix in Paris. Indeed, in 1900 Jacques Lacloche died in Madrid. It seems that his brother Fernand closed the Madrid shop and joined his brothers in Paris. This explains why many documents state that the company was founded in 1901. From this date onwards, the company grew slowly but surely and in 1912, it opened a branch in London on Bond Street. The shops sold jewellery, of course, but also vanity cases, lipstick cases, cigarette holders, watches… In short, a whole range of art objects close to jewellery.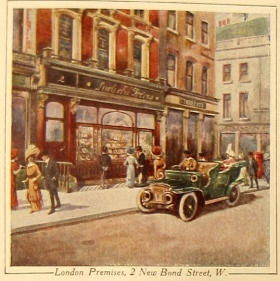 Drawing from the "Lacloche Frères" shop in London. Probably made around 1911-1912. Source: Hancocks London
We also know that they bought the shop and stock of the Fabergé jeweller in London during the First World War. Indeed, at that time, the Russian government repatriated the jeweller's staff and assets from the imperial court to Russia. Until 1925, the company was very successful and even participated in the Paris Decorative Arts Exhibition. It should be noted that it entrusted the production of Lacloche Frères creations to the greatest names in jewellery at the beginning of the 20th century: Louis Girard, Georges Lenfant and Georges Verger to name but a few. When the crash of 1929 occurred, the company had to close its branches and kept only one ground floor shop in Paris, which closed in 1935.
Jacques Lacloche II (1901-1999), nephew of the Lacloche brothers, opened his own business in 1936. He began by renting a shop window at the Carlton Hotel in Cannes, then set up a jewellery store at 8 Place Vendôme under the name "SARL Jacques Lacloche". He made a name for himself with bracelets, brooches and also high quality necklaces. Like his uncles, he called on the best craftsmen to make his creations. The shop remained operational until 1966. After this date, it closed and Jacques Lacloche turned to contemporary art. He died in 1999.
Finally, there was a Coven/Cohen Lacloche house in Buenos Aires at 325 Calle Florida. It was a branch of the family that at one time immigrated to Argentina.
The great period of the house of Lacloche was between the two wars. It was at its peak during this period and it is generally the pieces from this period that are sought after. I therefore propose you to discover some jewels which made the reputation of this company.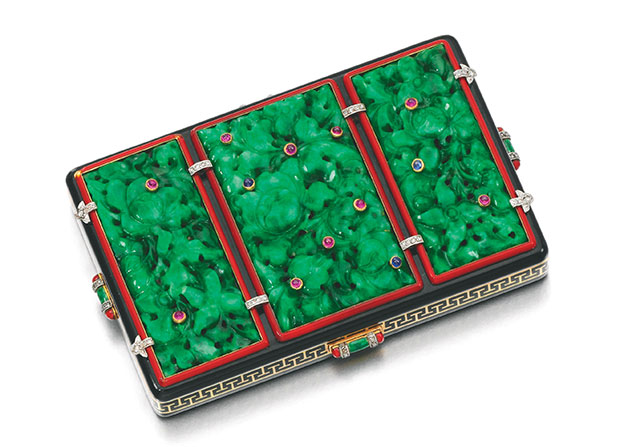 Cigarette case in gold, enamel, diamonds and gemstones (rubies, sapphires…), circa 1920. Photo: Sotheby's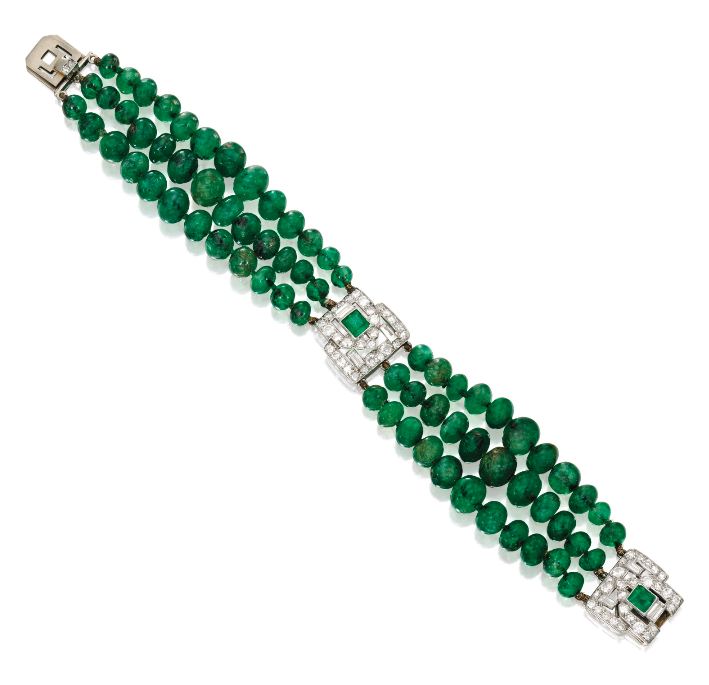 Platinum, diamond and emerald bracelet. Art Deco period, circa 1925-1930. Photo: Sotheby's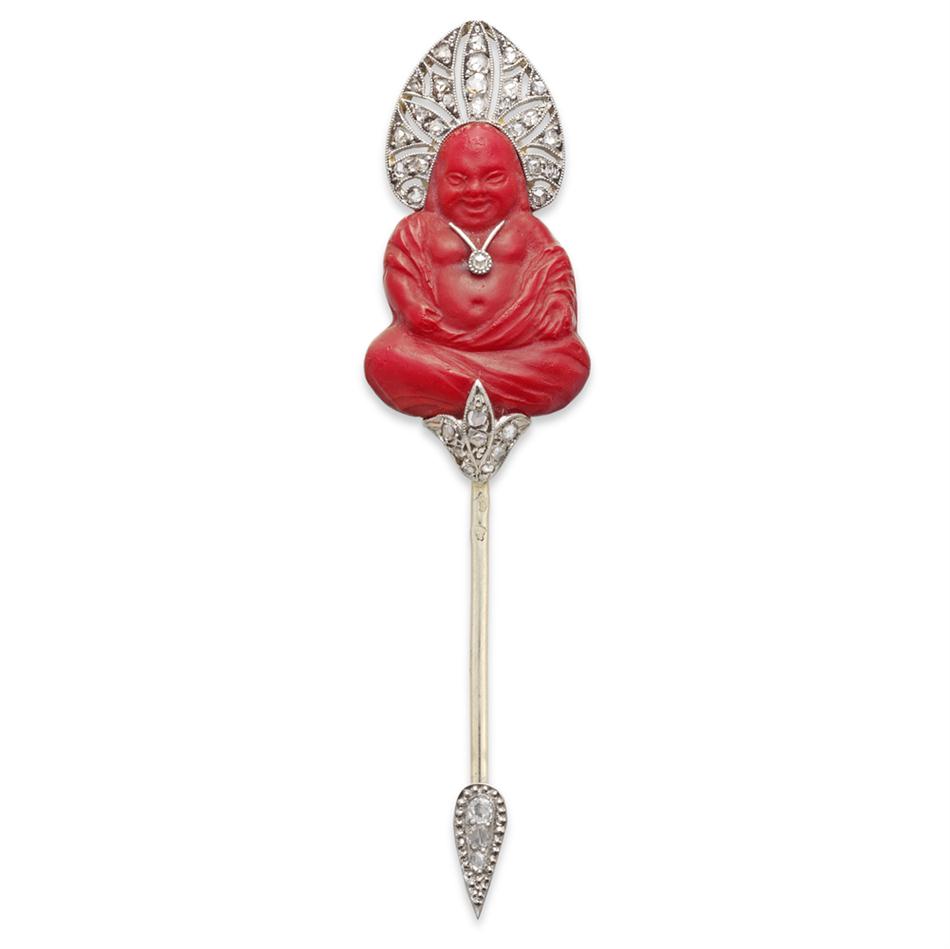 Platinum, diamond, fine pearl and carved red coral pin, circa 1920. Photo: Bentley and Skinner
A platinum, diamond and RPC (rectangle cut) sapphire centre necklace of 29.5 carats of Burmese origin. It dates from 1925. Photo: Sotheby's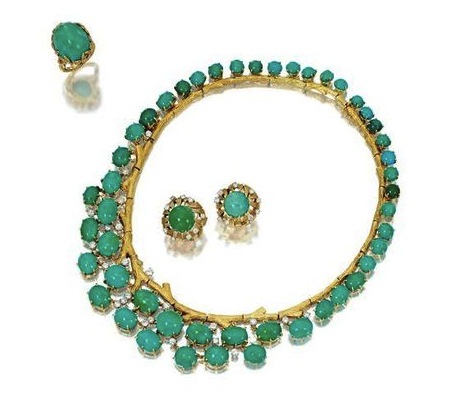 Gold, diamond and turquoise set dating from the 1950s. Photo: Alain Truong
See you soon!
P.S.: I have done this article by doing a lot of research and checking in my books but also on the internet. A lot of information came from Genpals.eu and the history of Van Cleef and Arpels. Thanks to them.