A little over two weeks ago, a federal law was passed in the state of New York. It didn't make the headlines in France, but it did agitate some people in my professional sector. That's how I heard about this new provision that greatly modifies the work of antique dealers and other sellers specialising in the antique art trade.
Several months ago, I told you about the ivory trade in France, which is particularly regulated. The legal provisions relating to this trade also provide for the procedure for taking objects out of French territory. Among others, to the USA, a major consumer of objects and jewellery made from this material, which has long been prized by manufacturers. Until now, ivory that could (already with difficulty) cross the American borders had to be certified as "pre-ban", i.e. prior to the Washington Convention or made from a tusk dating from before the Convention. Mammoth ivory was not concerned because it was not subject to regulated trade. But things have just changed.
From now on, the law that has just been passed makes the sale of elephant ivory, mammoth ivory and rhinoceros horns even more complicated. The objects offered must be at least 100 years old. Furthermore, if the object is made up of ivories from different origins, no more than 20% of the object may be made up of ivories of dubious origin. Finally, the law will make it a crime to sell prescribed ivory for more than $25,000. These are therefore particularly restrictive sales criteria for professionals in the sector.
The state's governor, Andrew Cuomo, said: "With the passage of this law, New York State has taken another crucial step in its fight against the illegal ivory trade. We no longer want to tolerate this dangerous and cruel trade in our state."
So why ban the mammoth ivory trade? For a very simple reason: this ivory is often difficult to distinguish from elephant ivory. And this difficulty often allows unscrupulous sellers to claim that the objects are made of mammoth ivory or of old elephant ivory that has turned yellow. And thus, to pass the objects off as legal.
By banning the trade in mammoth ivory, New York State hopes to counteract the trade. The law will take effect in a few weeks. The only negative point is that American sellers with valid sales permits will only be subject to the law when their permits expire. Nevertheless, within a few years, the ivory trade in New York State will be very complicated, both locally and for sellers who wish to work on imports with local clients.
In concrete terms, for the jewellery sector, things are complicated for all the houses that offer contemporary pieces or have offered antique pieces containing ivory. But we can also mention all the people who own ivory jewellery (bracelets, earrings, rings…) imported in the middle of the 20th century when ivory was fashionable.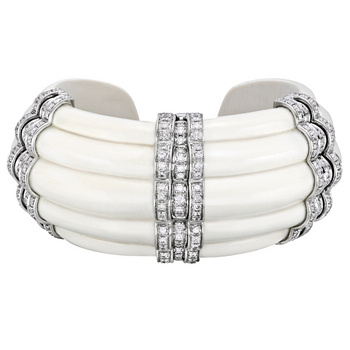 This "Rigate" bracelet from Seaman Schepps, made of mammoth ivory, white gold and diamonds, will no longer be allowed to be sold in New York State. Photo: Betteridge
See you soon!