Lucien Gaillard's work is rather unknown to the general public. And that's a shame! On the other hand, collectors and Art Nouveau enthusiasts know him well. A jeweller of the late 19th/early 20th century, he left behind a large number of particularly complex pieces of jewellery with a strong Japanese flavour. From time to time, his creations can be found in auction rooms, and some are even kept in museums, such as the Musée d'Orsay in Paris.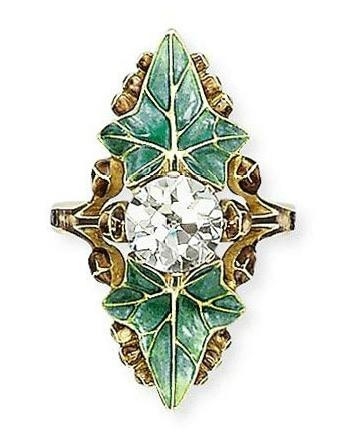 Ring by Lucien Gaillard, gold, enamel and diamond, circa 1905. Sold for CHF 40,000 in 2010. Photo: Christie's
But before we talk about Lucien, let's look back at his family, which has a long history in the Paris jewellery business. The story begins with Auguste, who made gold jewellery for ten years from 1811 to 1821. His workshop was located on rue Mandar in the 2nd arrondissement of Paris. His son Amédée, founded the Maison Gaillard in 1840. The workshop was then located at 101 rue du temple in the 3rd arrondissement of Paris. It should be noted that the clock district is a major centre of Parisian jewellery making, along with the 9th arrondissement. Amédée mainly produced pieces in gilded copper, but later developed silver ranges.
Around 1860, he left his workshop to his son Ernest. The latter definitively abandoned copper jewellery to work almost exclusively in silver. He worked on enamelling and offered his customers numerous pieces rich in flowers. He gradually added objets d'art to his production: candy boxes, cane handles, cigarette holders or salt and perfume bottles. The quality of his jewellery was rewarded with a silver medal at the 1878 exhibition. The same year, his son Lucien started an apprenticeship with him. A new medal was added in 1889, then the Legion of Honour a few years later.
Many jewellers know the name of Ernest Gaillard, because he contributed greatly to the creation of the Professional School of Drawing and Modeling of the Chambre Syndicale de la Bijouterie. He was also its director and was named honorary director in 1895. In 1870, he initiated the organisation of the Ball of the Chambre Syndicale de la Bijouterie. This event was particularly popular at the end of the 19th century.
Poster of the Ball of the Chambre Syndicale de la Bijouterie in 1904. Photo: Gallica.
When Ernest Gaillard stopped his activity in 1892, his son Lucien had already taken over. Although he continued to produce jewellery, he was also a complete craftsman and practised many other specialities: copperware, glassmaking, and specialised in metal patinas… An amazing artist!
Many artists, many of whom are Japanese, can be seen in his workshop. Specialists in lacquerware and Japanese jewellery often come to stay with him. His love and passion for this country and its artistic culture are reflected in his productions. His workshop moved to 107 rue de la Boétie in 1900. In the same year, he won the Grand Prix at the Paris International Exhibition, and in 1902, like his father before him, he was awarded the Légion d'Honneur. He practiced his art during the first half of the 20th century and died in 1933. To conclude, one piece will be auctioned at Sotheby's on 5 February 2015.
Mite pendant, gold, enamel, citrine, circa 1900. Photo: Art Nouveau in France (Flikr)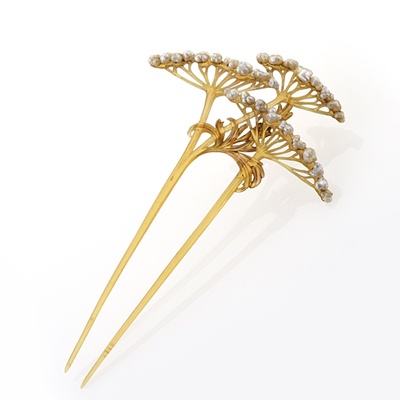 Blonde horn and fine pearl comb, by Lucien Gaillard in 1900. Photo: Maklow Gallery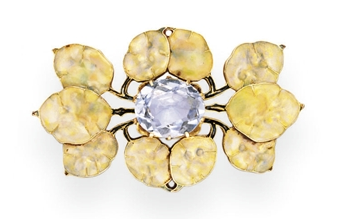 Gold brooch by Lucien Gaillard, circa 1900. Note for gemologists, this piece is adorned with a synthetic spinel. It was sold at Christie's for $7500 in 2008. Photo : Christie's
See you soon!