A few months ago, Anna Tabakhova published the book "Le fermoir en bijouterie" (The clasp in jewellery ), a remarkable work noticed by the whole profession (in France as well as internationally) which retraces the astonishing and complex history of this small element which occupies a place of extreme importance in the conception and the realization of a jewel.
Indeed, the clasp allows, as its name indicates, to close a piece and by this action, to secure the wearer who must not lose his jewel. For many centuries now, goldsmiths – and later jewellers – have been using their ingenuity to design clasps. Whether they are knotted, ratcheted, wedged, spring-loaded, hooked or screwed (and the list is still very long!), there has never been a book on this subject. In almost 300 finely documented and perfectly illustrated pages, the author has produced a work that all jewellers, students and jewellery lovers in general must have in their libraries.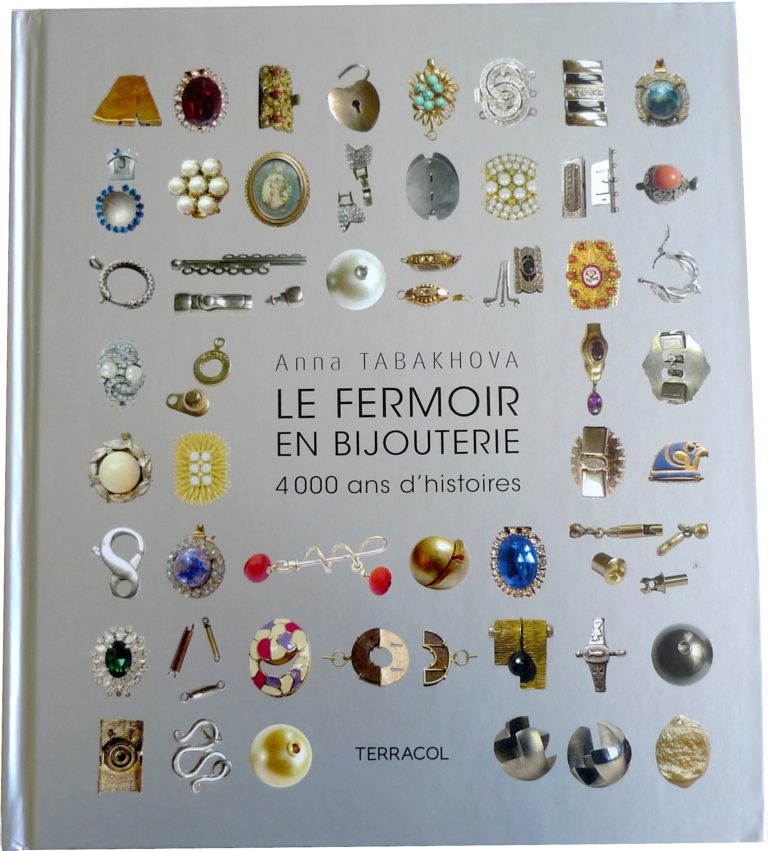 Cover of the book in French. Photo: reproduction prohibited © anna tabakhova at editions terracol
So I asked Anna to meet with me to discuss her project and its realization. Interview.
1- Hello Anna, can you introduce yourself to our readers?
For many years, my professional life was spent as a logistics manager for large industrial groups. This allows me to manage the logistics for this book. Then, for many years, I was involved as a volunteer with the Family Planning. I wanted to get involved with people. That's also what the book shows, I wanted the most beautiful book possible, which would be suitable for a very wide audience and which would be a real contribution. And then I came to jewellery design where the clasp is very important.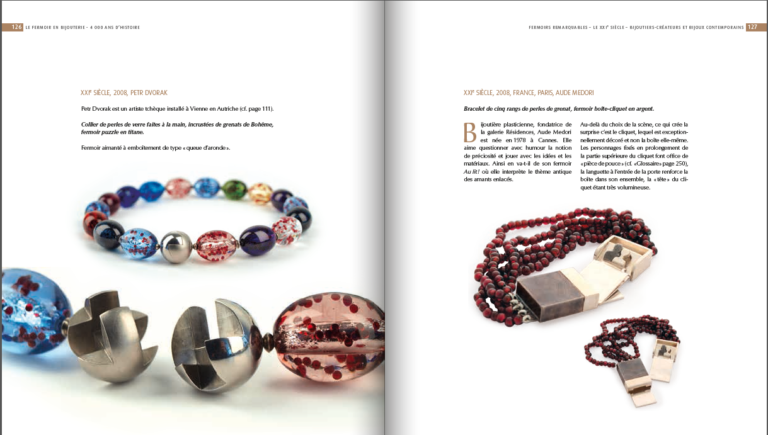 Contemporary clasps. Photo: reproduction prohibited © anna tabakhova at editions terracol
2-You have been designing your own jewellery collections for several years now. Why did you choose this medium and how did jewellery come into your life?
It's a passion that goes back to my childhood. I am a collector at heart and I started with stones, geology and also gemology. Since I was a child, I have collected photos, objects… I have a particular taste for unusual stones in jewellery: cobalt-calcite, chalcedony flowers, meteorites or even baroque pearls. Rare stones are dear to my heart: red beryls, benitoites, coloured diamonds, including chameleons, occupy a large place in this collection. There is also a set of fine pearls: conch, melo, horse-conch. It is first of all this love for minerals that guides me. I see it as "a tribute to the beauty of the world".
For the clasps, it all started with the discovery in 2005 in Geneva of interchangeable clasps that were very popular in Germany. I discovered an amazing piece by chance in a jeweller's shop and was fascinated by its design. It was like an eye-opener. I "fell" in love with this system because, in my opinion, it magnifies the jewellery by adding a notion of reversibility. And I started to think about a line of jewellery and I started my jewellery business.
The discovery of this clasp in Switzerland gave birth to a passion for these elements. So naturally I started collecting photos, visiting museums in Europe and building my own collection of antique clasps. I realised that there were no studies on the subject. The clasp was, until now, the forgotten subject of jewellery historians and schools did not have a textbook on this specific subject for their students…
I then undertook to have all my jewellery modified with interchangeable clasps. Since I liked it, I thought that others must like it. And that's how it all started!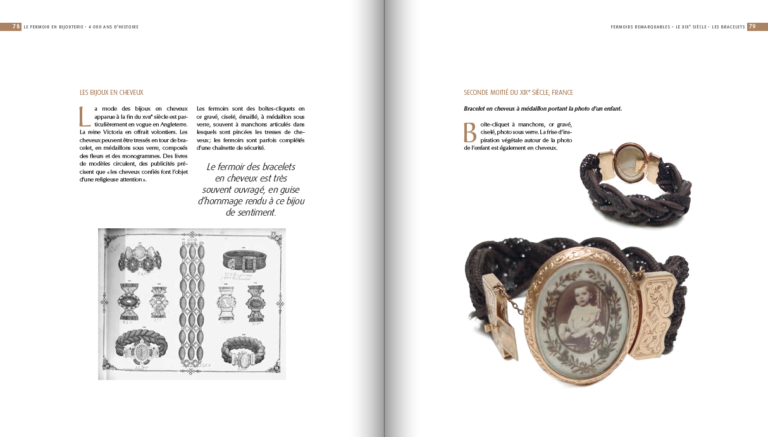 The clasps on the hair jewellery. Photo: reproduction prohibited © anna tabakhova at editions terracol
3-Did you follow a training course related to jewellery or gemology?
I am self-taught. I look for information, so I start by observing what is real and then I look more specifically for studies on the subject that interests me. I then cross-reference the information and make hypotheses. This is the same method that I applied to the functioning of certain antique clasps, some of which had never been studied. For jewellery, I worked at the workbench of Thierry Anfray, jeweller and teacher at the Ecole de la rue du Louvre. My knowledge of gemmology was nourished and enriched by extensive reading of the American magazine "Gems and Gemology".
I also remember what Jean Vendome, whom I interviewed for the book, said to me: "Itis a richness not to know". The lack of data was stimulating for my research. I searched, imagined, envisaged. I made some real discoveries for which I asked Thierry Anfray to explain the functioning of certain clasps thanks to sketches that illustrate the glossary but also the functioning throughout the book. It should be noted that 32 jewellery historians were interviewed.
4-When did the book project really come about and how long did it take to complete?
I started my clasp collection in 2007. And in 2013, as part of the "Parcours bijoux", I was invited to give a lecture at the Musée des Arts décoratifs in Paris. Given the interest aroused, I decided to make a book of it. The making of the book was like that of a jewel. It is the finishing touches that take the longest: nine months of work to design it but two years to complete it. Writing is not everything. There is a huge administrative work of documentation and publishing for which my previous life helped me: translation, copyrights to be identified and paid for, print orders to the 76 contributors, layout of the book, processing of the photos, corrections, relations with the printer and then creation of the publishing house and the online shop to market it. All this required curiosity, organisation and perseverance to finalise this project!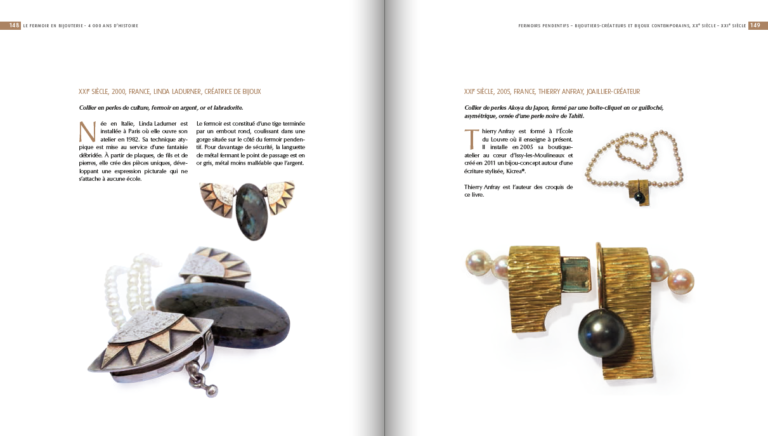 Pendant clasps. Photo: reproduction prohibited © anna tabakhova at editions terracol
5-How did you go about collecting the information needed for this book, as it is definitely the most complete work on the subject? How did you select the clasps in the book? Because I suppose you were also confronted with editorial choices.
I first gathered all the elements I had in my possession for almost 10 years. I bought "historical" clasps, old engravings, photos taken in museums during my travels and data of all kinds, exhibition catalogues, books… Then I put them into perspective, in time and space, to extract a common thread, an analysis. And so I identified four typologies of closure.
Then I looked for the missing periods in all my data. I made sure that I did not ignore any period. I did not take the easy way out, as there are 22 museums involved and 76 contributors from 30 countries.
The choice of clasps was based on the notion of "remarkable". I wanted to surprise on every page. It's not just about showing a clasp from a time or place, it has to be amazing. I have added specific studies that can be found thanks to the tabs in the book, such as the one on the origin of the boîte-cliquet, which had never been studied, 2000 years of clasps, the pendant clasps of Northern Europe or the regional jewellery with transformation. Finally, there are also 7 interviews, jewellery in sculpture, painting, literature, a historical thread, an illustrated glossary, a bibliography and finally a detailed index.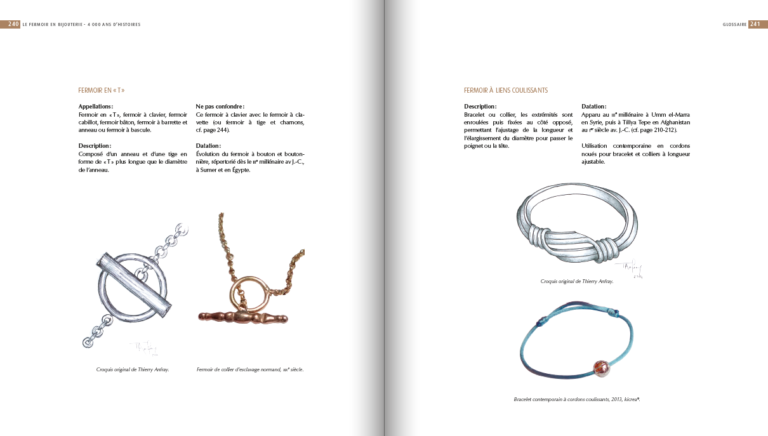 Glossary. Photo: reproduction prohibited © anna tabakhova at editions terracol
6-You have called on contributors from all over the world. How did the houses and museums welcome the subject and how did these collaborations go?
The collaborations have been wonderful because my passion has opened all the doors for me.
The museums welcomed me with curiosity and with great kindness. We made discoveries together because all the museums were intrigued by the subject. The brands too, with the great houses of Place Vendôme or Rue de la Paix, but also Hermès, Vhernier in Milan, Wallace Chan in Hong Kong.
I mobilised collectors and antique dealers in France, England and the United States who provided me with photos or, in some cases, sold me clasps.
I contacted designers, artists and visual artists from all over the world following a voluntarist research that I conducted: Czech Republic, Netherlands, Israel, UK, Australia…
7-Do you have any anecdotes to tell us about the process of making this work?
I could write a book on anecdotes!
-The most extraordinary is a 3800 year old Egyptian clasp that had never been studied as such and whose functioning I discovered with the help of the curator at the Louvre Museum
-It was also the Victoria and Albert Museum that allowed me to trace the origin of the click-box and said "Come before the opening and we will open the display cases". The same museum thanked me very highly for this work: "You have done historians and jewellers a great service".
-It was Elizabeth Gage in London who told me "thank you for what you have done on behalf of jewellery".
I was amazed by the design of the Egyptian tongue and groove clasps invented 4000 years ago. For it is an invention that was forgotten almost 2300 years ago. I went back to the original documents of Egyptologists to discover, for example, notes from 1934 written by Winlock (director of the Metropolitan Museum in New York) which described the tricks used by Egyptian goldsmiths for removable clasps. I subsequently created a clasp based on this principle which I exhibited at the Biennale des Métiers d'art Révélation, at the Grand Palais, in 2015.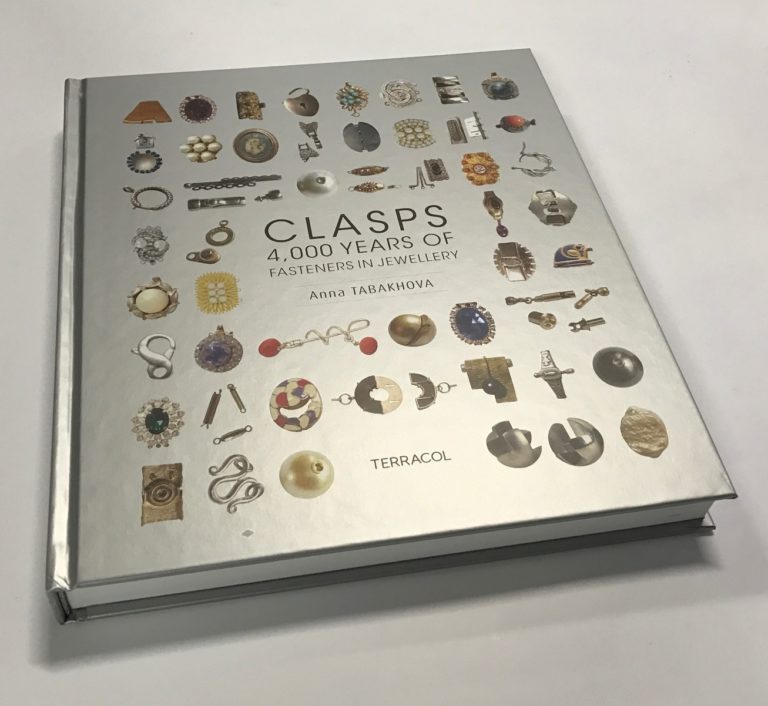 The English version of the book. Photo: Photo: reproduction prohibited © anna tabakhova at editions terracol
8-Why did you create a publishing house?

Because someone has to pay for the book and the one who pays decides.
So we started a family publishing house, just as there are "family" jewellery houses. Les éditions Terracol existed in the form of an association because my companion Christian Désagulier has been publishing literature for a long time. We created a limited company, my friend is the director of Terracol Editions and the literary director. Our daughter Julia Tabakhova is the artistic director. She came up with the idea for the cover and supervised the graphic design of the book: the historical thread that allows us to situate ourselves, the "studies" tabs, the colour of the typeface. It is thanks to her that the book is pleasant to read.
Personally, I ignored the classic editorial rules. I didn't want captions but I wanted the caption to be the title of the page. I wanted a balance between historical context and description of the clasp. You have to give pleasure and I thought of all the audiences:
A scratch-proof cover for jewellers (the book does not get dirty)
A glossary for students
Large photos for jewellery lovers
A very detailed index for historians

A small price for everyone
9-You have indeed decided on a very affordable price for a book of this quality. I have come across it in many workshops and there is great enthusiasm for it. How was this possible?

I was convinced that it was possible and I did it. The low price is so that everyone can afford it.
This book does not benefit from any subsidy or sponsorship. No contributor has paid to be in it. I paid all the copyrights to the museums and royalties.
I wanted the most beautiful book possible because the material collected deserved it. I put the book out to tender and got 80 responses. I had to manage a complete team: graphic designer, proofreader, translators, printer…
The low price (€48.50 in French, €55 in English) I wanted it to be affordable for everyone. The corollary is that it is sold in a short circuit, directly! And the logistics are assured for the whole world.
My dream is that every student, every jeweller, every jewellery enthusiast will have this book on their shelf.
*****
The book is available on the website of Terracol Editions. I can only encourage you to get it, it is a reference book to have in your library.
See you soon!