Almost three years ago, I discovered the jewellery house Goralska during the first edition of the Mes Créateurs Joailliers show, in Saint-Germain-des-Prés, in the Hôtel de l'Industrie. I remember well the jewels I saw and which had attracted my curiosity. And more particularly a gold pendant with a large rough diamond of more than 12 carats in the centre. In January 2018, during the last fashion week, the house opened its first French shop and inaugurated an elegant boutique at 12 rue de la paix. The press day, joyful and very welcoming, let me admire a resolutely modern and contemporary jewellery, where unheated sapphires with soft colours, diamonds but also stones quite different from what the surrounding shop windows can offer, clash in sparkling and slightly magical jewels. A look back at the Goralska story with its creator, the enthusiastic and passionate Corinne Evens.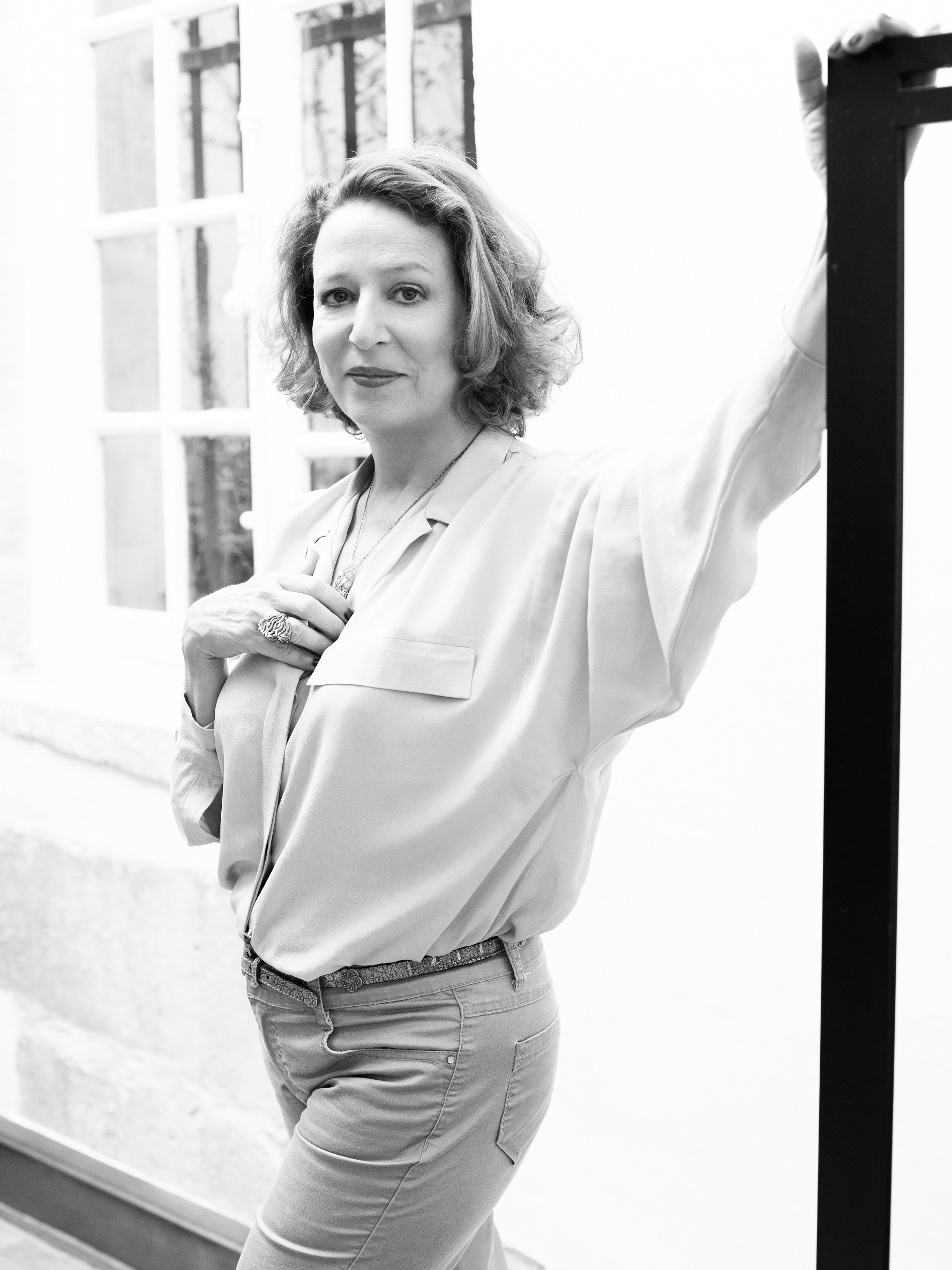 Corinne Evens. Photo: Goralska
Meeting Corinne is difficult. Not that she refuses interviews, and having spoken to her at length on the phone, I can assure you that she is an inspiring and amazing person. No, in fact, you have to be in the same place on earth as her, because the creator of the house lives between France, Belgium and the whole world. First of all, Corinne tells you the story of the Evens family and her father George Evens, a very important family of diamond dealers of Polish origin who passed through Antwerp at the end of the 1930s and finally settled in Paris. As traders in cut diamonds, the company gradually set up its own cutting factories to manage its entire supply chain. But there will never be any question of jewellery manufacturing. The diamond trade is too much work and there is not enough time to develop a range that could stand out in a highly competitive market.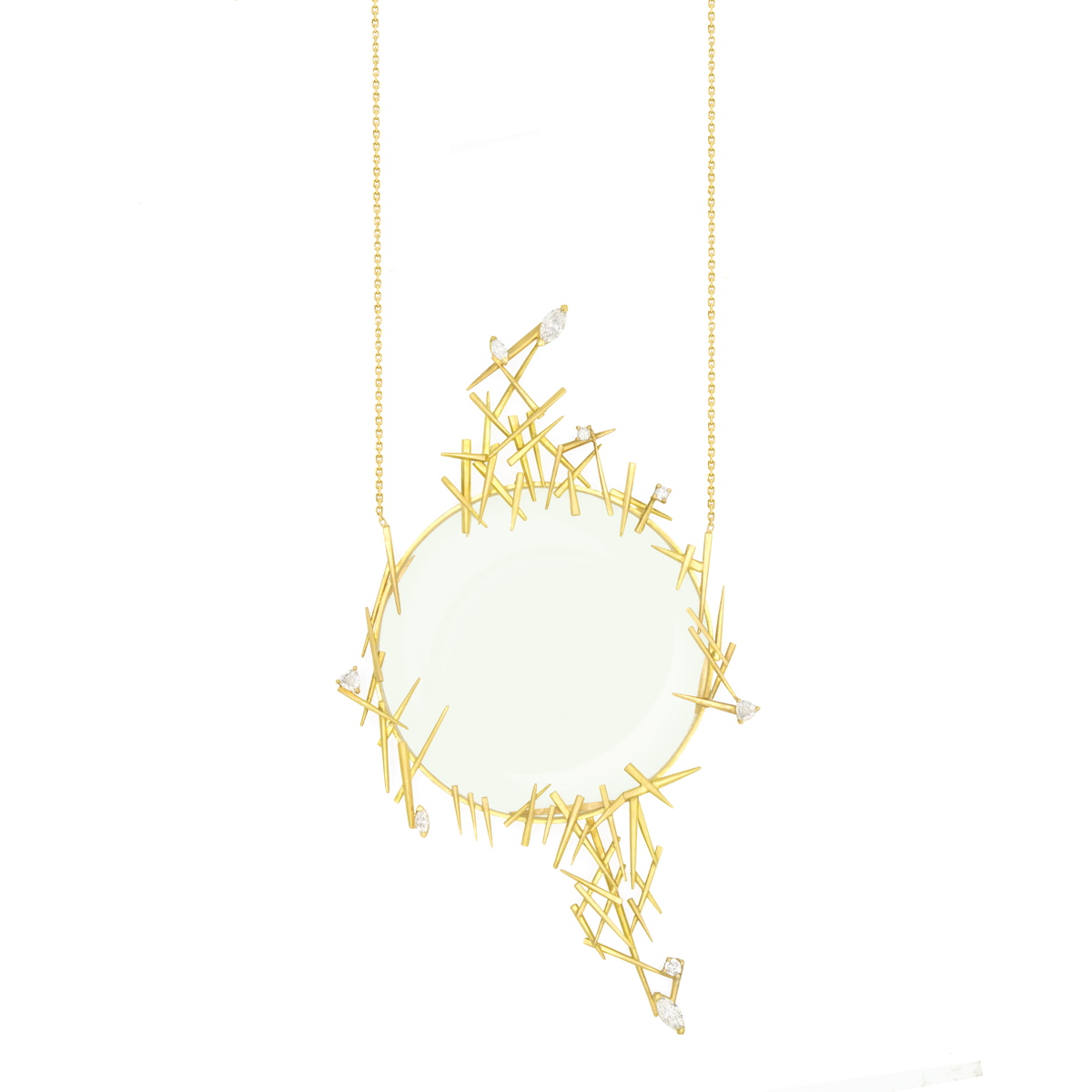 Prisme" necklace in yellow gold, diamonds and glass. The Prisme sautoir in yellow gold, diamonds and glass. Photo : Goralska
Ring "L'Olivier" in blackened white gold and sapphires, the centre weighing 8.01 carats. Photo : ©Marie Chabrol
But jewellery has been on Corinne Evens' mind since she joined the family business in the late 1980s. When the time came to close the family business and rethink the activities of the Evens group, jewellery became her priority. This is how the house of Goralska was born, whose name transcribes, in a mixture of Semitic and Slavic languages, the destiny of women, but also the importance of the soul and its link to the body. It is around this concept that the designer imagines unique pieces as accessory lines for women who like a different kind of jewellery, playful but also daring, where materials such as matte onyx, chalcopyrite or paraiba tourmaline quartz rub shoulders with diamonds. Mixed golds, atypical stones and strong symbols are the key words of this new jewellery store, which has managed to impose itself with different creative proposals far from the many ultra-marketed models that can be seen everywhere. Definitely a Parisian address to know and a house to follow!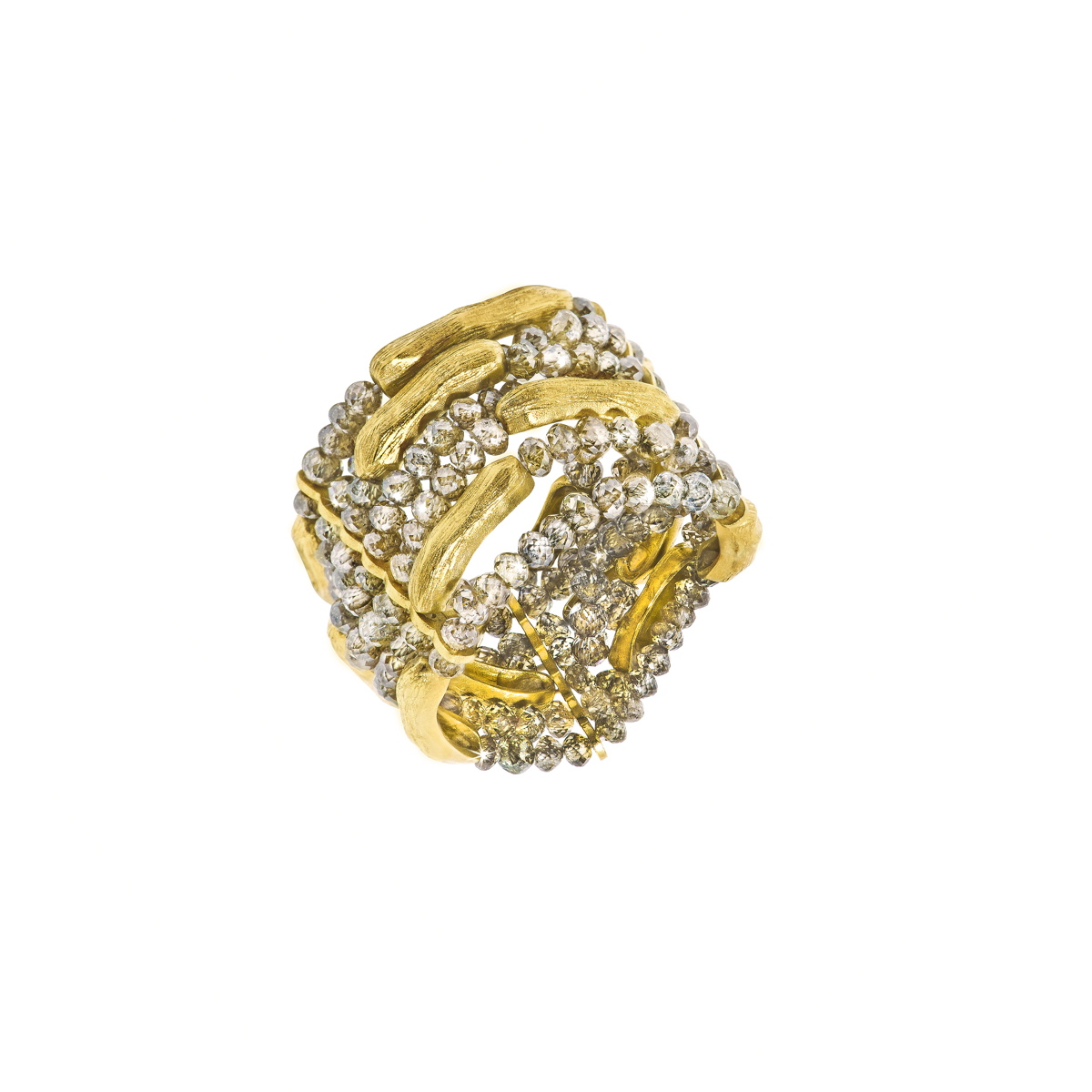 Flexible Earth ring in yellow gold and brown diamonds. Photo: Goralska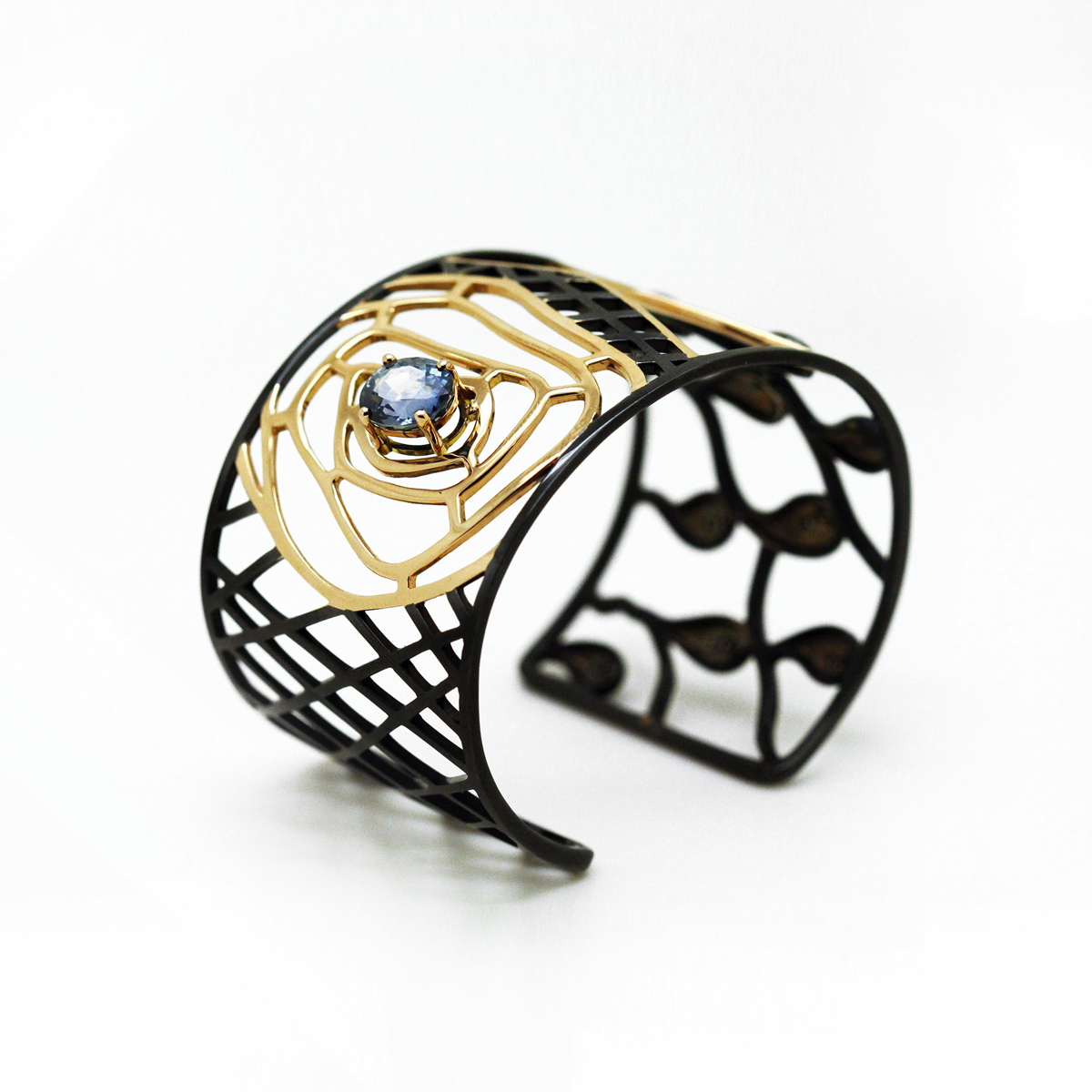 Labyrinth" cuff in yellow and black rhodium-plated white gold, diamonds including a 4.74 carat sapphire centre. Photo : Goralska
Away from the jewellery, there are Corinne Evens' commitments, which are an important – but more discreet – part of the Goralska story. It would take several articles to tell you about her. At the crossroads of business, jewellery, art and politics, she imagines a world that corresponds to her and where women commit themselves to causes they believe in. A mathematician by training, her logic is reflected in her designs, which offer strong geometries for graphic pieces, sometimes imposing, never unforgettable. A film buff, she has directed films for television and taken photographs, offering her creativity multiple supports. She explains that jewellery is one of her favourite mediums, the one that allows her – in relation with her craftsmen based in France and Europe – to deposit her emotions and transmit them.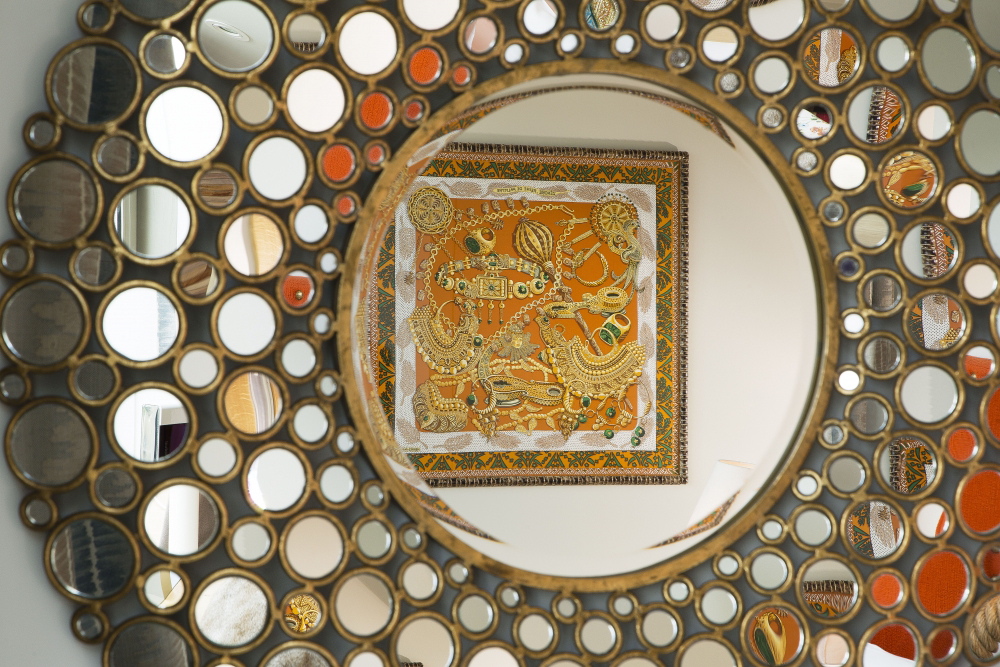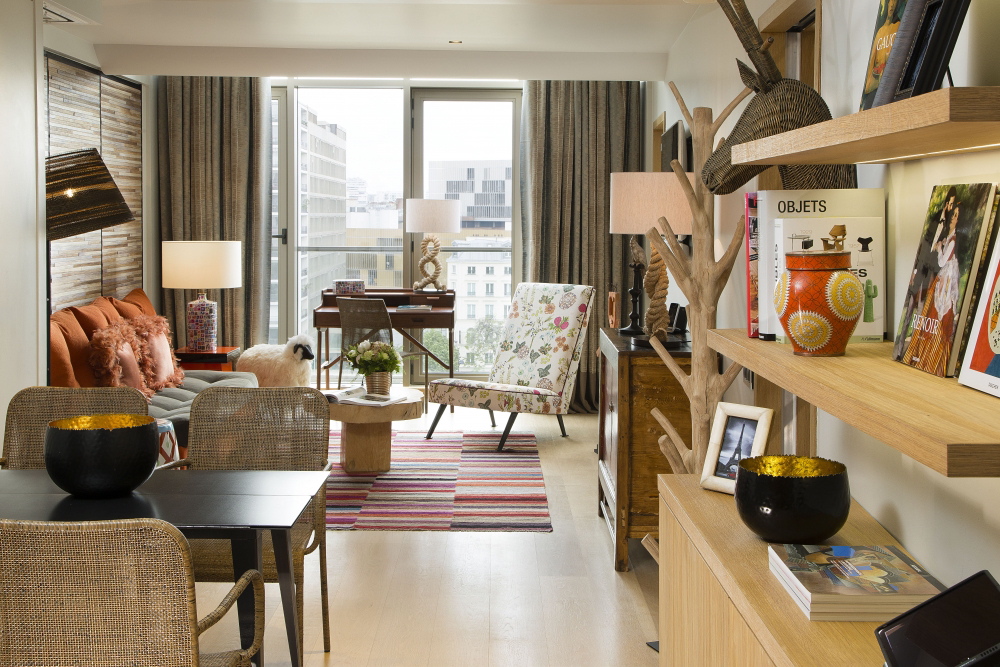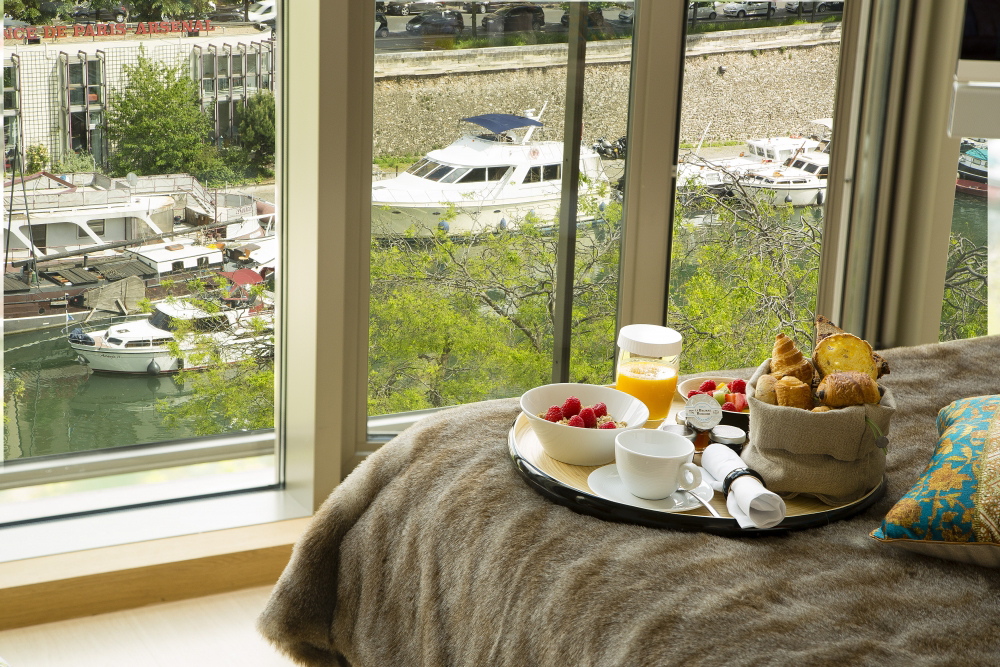 The Goralska experience is also a Parisian hotel located in the Bastille district. A former printing house that has been completely redesigned, the decoration of this place was imagined by Corinne and the decorator Daniel Jibert. If you pass by the district, go and see the concept store, discover its library café and admire the scenography inspired by sub-Saharan Africa and its warm and intoxicating colours. It's an invitation to travel that you shouldn't miss. With offers starting at €309 for two nights (and two people) with breakfasts included and tickets for various museums in Paris, this is a really good idea for all those looking for a solution between comfort, accessibility and culture. To be remembered!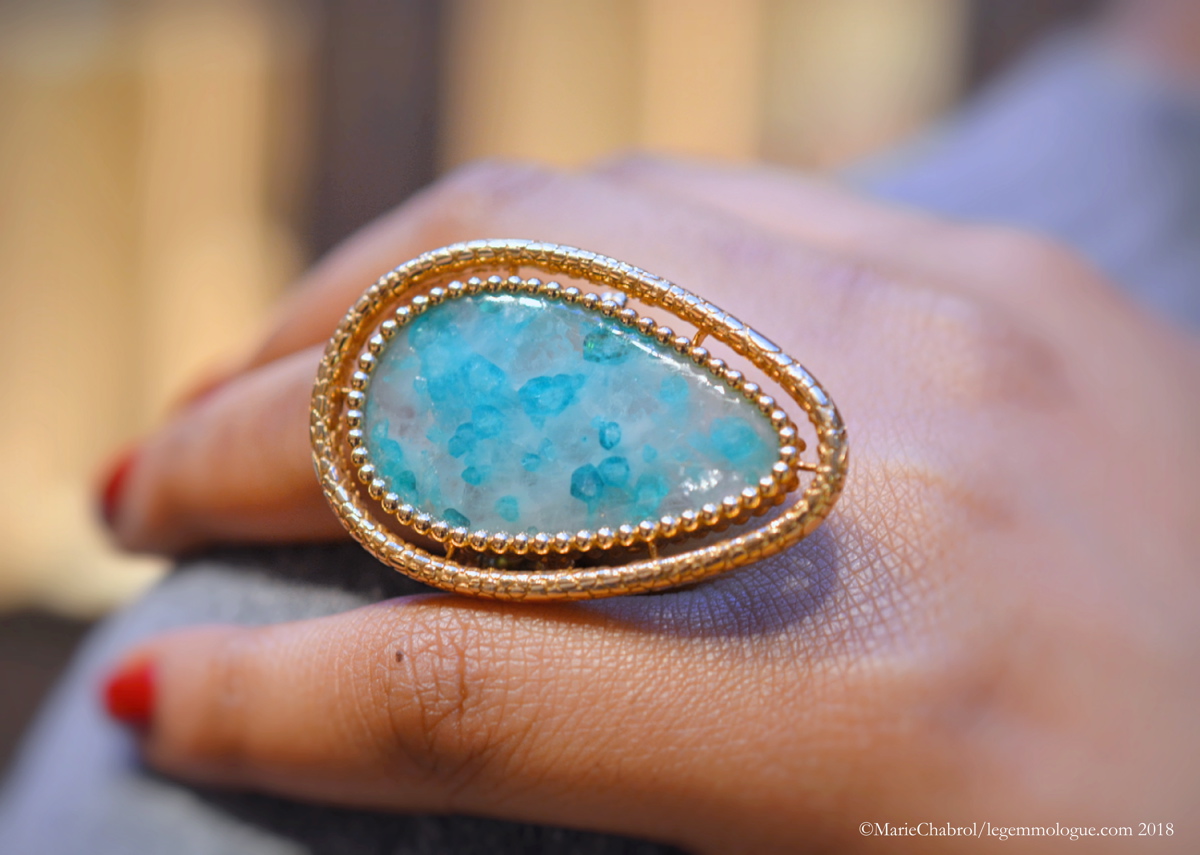 Paraiba tourmaline yellow gold and quartz Allégresse ring. Photo : ©Marie Chabrol
Finally, and this is certainly what touched me the most in his career and history, there is his political and cultural commitment. In the 1990s, the Evens family set up the Evens Foundation. Based in Antwerp, Belgium, the foundation has offices in France and Poland. Its primary goal is the development of harmonious relations between the peoples of Europe, but also the acquisition of a critical mind for European citizens. To this end, it initiates cultural programmes, reflections on contemporary issues such as European citizenship and belonging or the importance of free journalism. The foundation offers conferences and courses to learn how to decode the press and recognise modern forms of propaganda. Finally, every two years it awards prizes to personalities from the world of culture, journalism or politics, rewarding their commitment to peace, greater transparency of information or education.
It would be impossible for me not to mention one of his strongest projects: the creation of the POLIN Museum in Warsaw. Located in the former Jewish quarter of the city – Muranów and thus the former ghetto – its name, "polin", means in Hebrew "rest here". It is also the Hebrew name for Poland. Inaugurated in 2013 in an impressive modern building, it represents an essential step forward in the recognition of the successive tragedies experienced by Polish Jews, who paid one of the heaviest tributes of the Shoah. This project, which was particularly controversial in Poland, has since welcomed more than a million visitors and was awarded the European Museum of the Year (EMYA) prize in 2016 in recognition of its efforts to promote and preserve Polish Jewish history.
When Corinne Evens founded the Association for the History of Polish Jews, she had the creation of a museum in mind. It would take several years and many obstacles to make it happen. Today she is still the president and a member of the POLIN Museum Council. This commitment, perhaps one of the strongest and most important in her career, is certainly also the most beautiful. Comparable to the necessary and relevant work of the Shoah Memorial in Paris or that of Yad Veshem in Jerusalem, these different institutions allow to educate the young generations in the hope that such a catastrophe will never happen again. So, I can only advise you to visit this place and to immerse yourself in this History which must never be denied.
Miscible" mobile ring in black rhodium-plated white gold, black diamonds and 3.85 carat yellow sapphire centre. Photo: ©Marie Chabrol
Heart brooch in yellow gold, pink sapphires and sapphire glasses. Photo: Goralska
The group has many plans for the future. After Paris, the company would like to establish itself in Poland and also in London. The creation of an in-house manufacturing workshop based in Paris is also under discussion. Nothing stops Corinne Evens, businesswoman, jewellery designer, philanthropist, mother, she is today a key figure in 21st century jewellery!
See you soon!