On the occasion of the event " Le Carré Joaillier", which will take place from 14 to 24 June 2018, I invite you to discover the designers who will participate in the ephemeral boutique at 5 place Saint-Sulpice. Today, I take you to meet a jewellery designer whose charitable commitment I recently discovered: Véronique Ragagnon.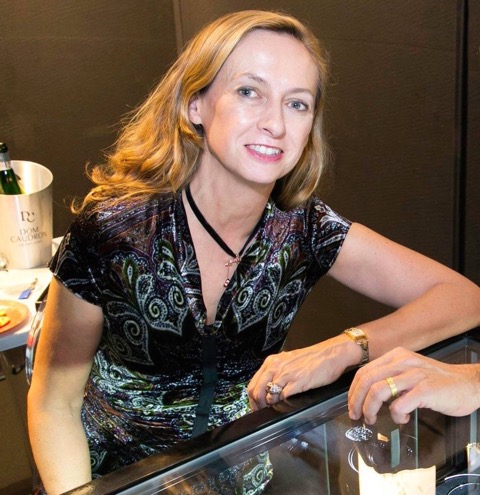 Véronique Ragagnon. Photo: Soligems
Before entering the jewellery business, Véronique began her professional life in finance. After a faultless course in business school, she took up a position that based her for several years in the trading room where she worked more specifically on the bond market. She readily admits that she really enjoyed this period of her life, which she describes as exciting, although the pressure was extremely high. It was during this period that she met her husband. When her first child was born, she began to take a step back from her job. Gradually, she came to the conclusion that she wanted to change her way of working in order to take care of her family.
"The days were extremely long and I needed to function differently. Jewellery came into my life completely by chance

Véronique Ragagnon
White gold, diamond and heated pink sapphire ring, 1.88 carats. Photo: ©MarieChabrol
But to understand her new direction in life and her commitment to philanthropy, we must first look back at her childhood. Véronique is the daughter of pharmacists. Her father and mother both work in the same profession. But her father is also a career soldier. And so she was born in Madagascar, where her family was based for several years.
"For a long time I considered Madagascar a lost paradise. Yet I was very young when my parents left this country. But more than a real memory, it was a kind of feeling. Yet I never sought to return. It was a trip organised by the Association Française de Gemmologie that gave me this opportunity

Véronique Ragagnon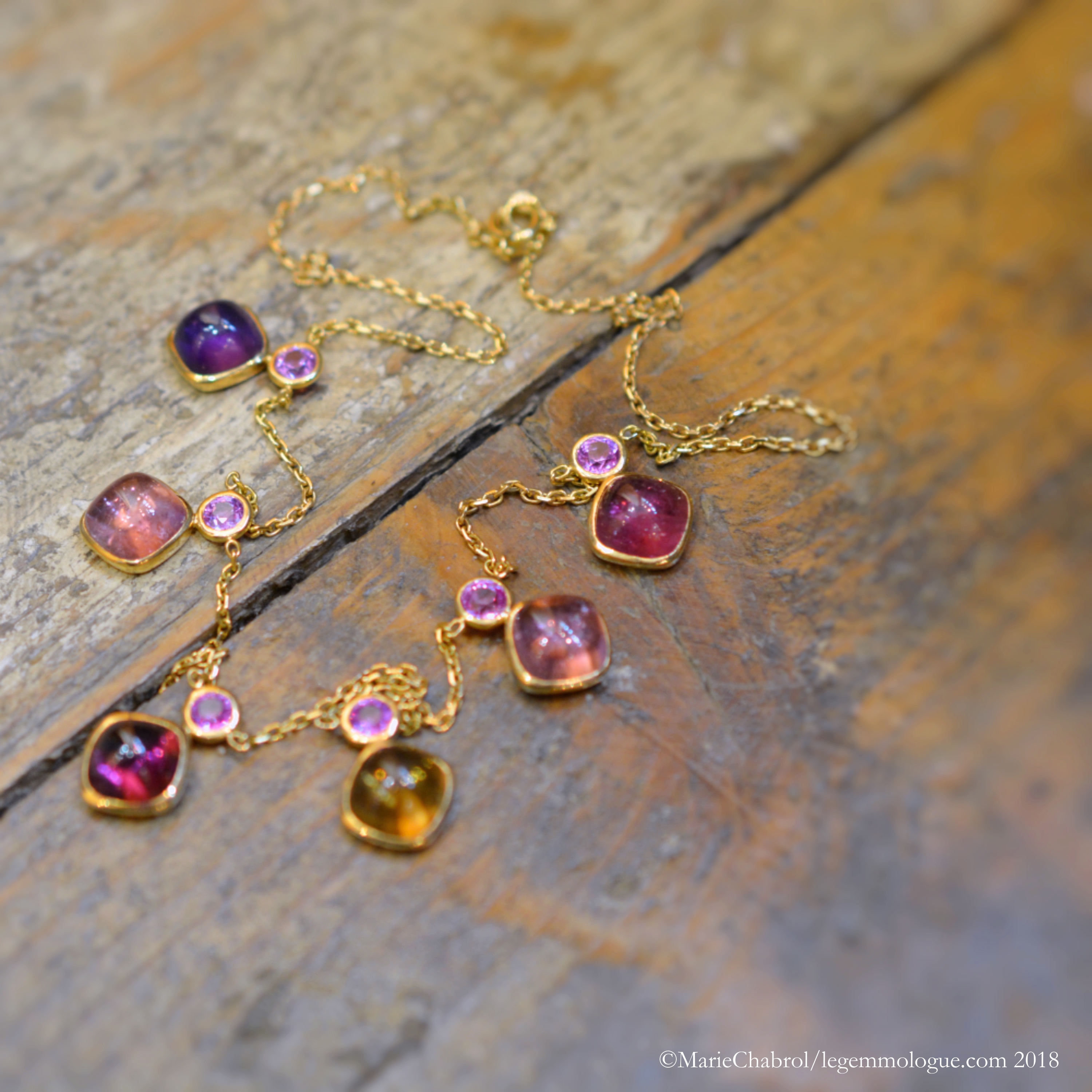 Yellow gold necklace, pink sapphires, amethysts, citrines and tourmalines. Photo: ©MarieChabrol
When the question of reorganising her family life arose, she decided to draw on her own memories. Minerals have always been part of her life and that of her mother, who wore a lot of jewellery. In Madagascar, the house was decorated with stones, often raw… In 2006, she enrolled at the ING, validated her diploma and then followed the courses of the University Diploma of Gemmology at the Faculty of Sciences of Nantes. She then obtained an internship for a few months with the Piat company and flew to Madagascar for a few weeks with the AFG. This trip allowed her to discover the country in which she was born but also to become aware of the richness of the subsoil and the extreme poverty of its inhabitants. This is how she made her decision to do something for this territory
Yellow gold ring with a 1.96 carat heated ruby. Photo: ©MarieChabrol
In 2009, she met the head of the jewellery department at Christie's and decided to opt for jewellery, which allowed her to create her own business and to combine her love for gemstones with an objective: to discover and offer as many materials of Madagascan origin as possible. Finally, she joined forces with NGOs such as Don Boule de Neige, Enfance Espoir and Bel Avenir, which, in the middle of the mining area of Ilakaka (Madagascar), founded the École des Saphirs, where more than a hundred Madagascan children attend school. The same year, she finalised the creation of Soligems (contraction of gem and solidarity, editor's note) and undertook to donate a percentage of the sale price to one of the associations mentioned above. To date, more than 8000 € have been allocated to projects aimed at improving living conditions on the island of Madagascar.
Véronique first imagines the jewellery she would like to wear and works with artisans based in France and Paris to have it made. Her jewellery is sober, elegant but also very colourful. Her primary objective is to highlight the stones she selects with particular care. If diamonds are present, they are mainly there to embellish a little more the garnets, spinels or acid tourmalines that she acquires during her travels or from her suppliers. But all stones are favoured because she knows how to appreciate them and combine them with talent.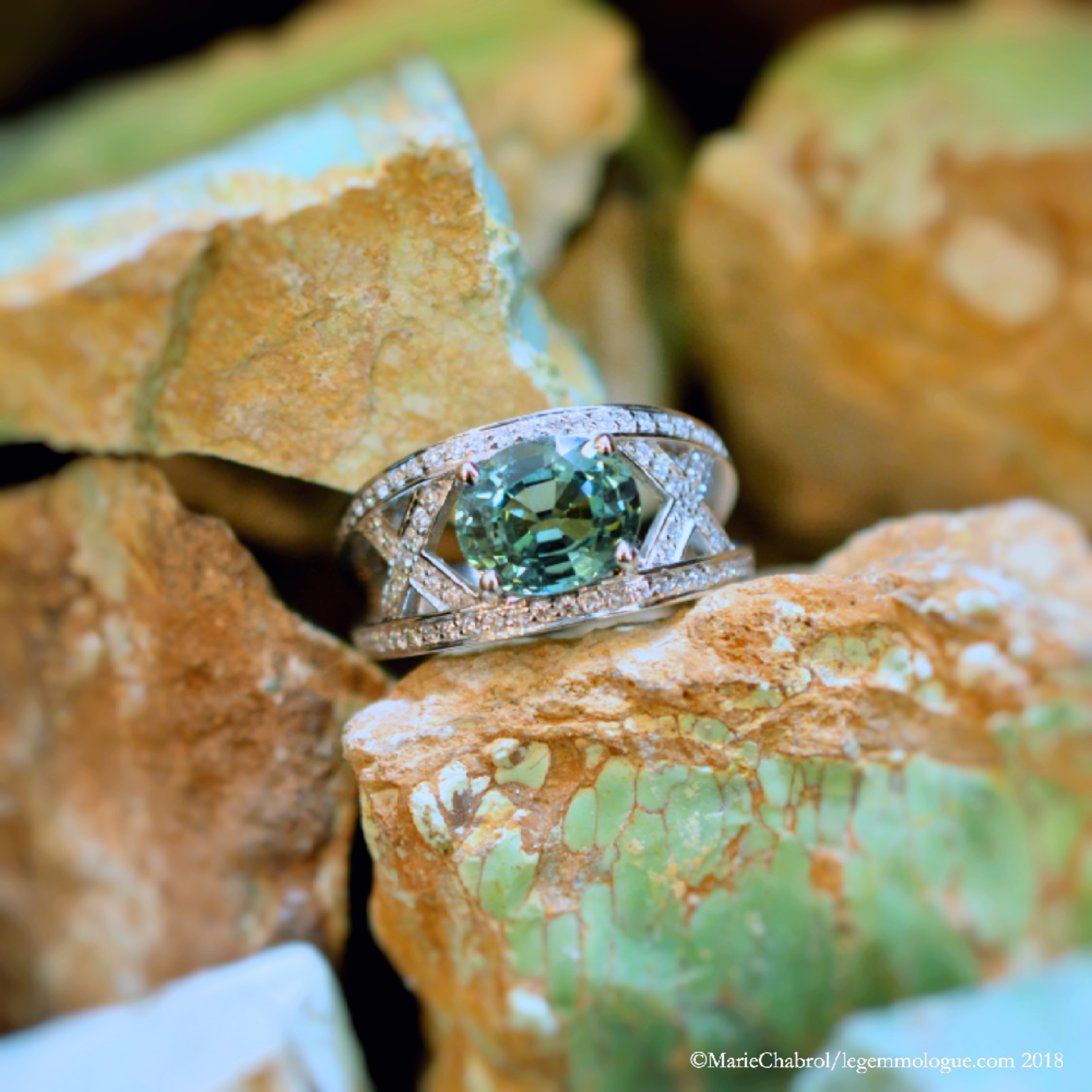 White gold, diamond and green tourmaline ring, 2.79 carats. Photo: ©MarieChabrol
She finds inspiration in everything around her. Confessing to living"with her nose in the air", she is enriched by what she sees and captures: buildings, a detail on a façade, a perfume, a plant… From there are born joyful and refined jewels that you can discover at the Hôtel Recamier in a few days, from 14 to 24 June 2018. No doubt you will appreciate them and why not adopt them!
See you soon!
*****
From 14th to 24th June 2018
5 Place Saint-Sulpice, 75006 Paris