While jewellery is traditionally made of metal (whether precious or not) and embellished with gemstones, ornaments or enamel, there are many other categories of jewellery pieces. For a long time, the presence of elements from the human body served as a symbol and a souvenir. Before the advent of photography (which makes it possible to preserve a visual memory of the living), hair was used in mourning jewellery. As the only element that can be preserved almost indefinitely over time, hair is very durable and can be worked remarkably easily, provided it is not treated. It therefore naturally found its place in the jewellery of feelings until the beginning of the 20th century. But the human body produces other elements such as teeth, blood or maternal milk. I therefore propose to list these atypical jewels here and to explain the approach behind these pieces. It is not a question here of criticizing this one but rather of analyzing the bias and understanding it.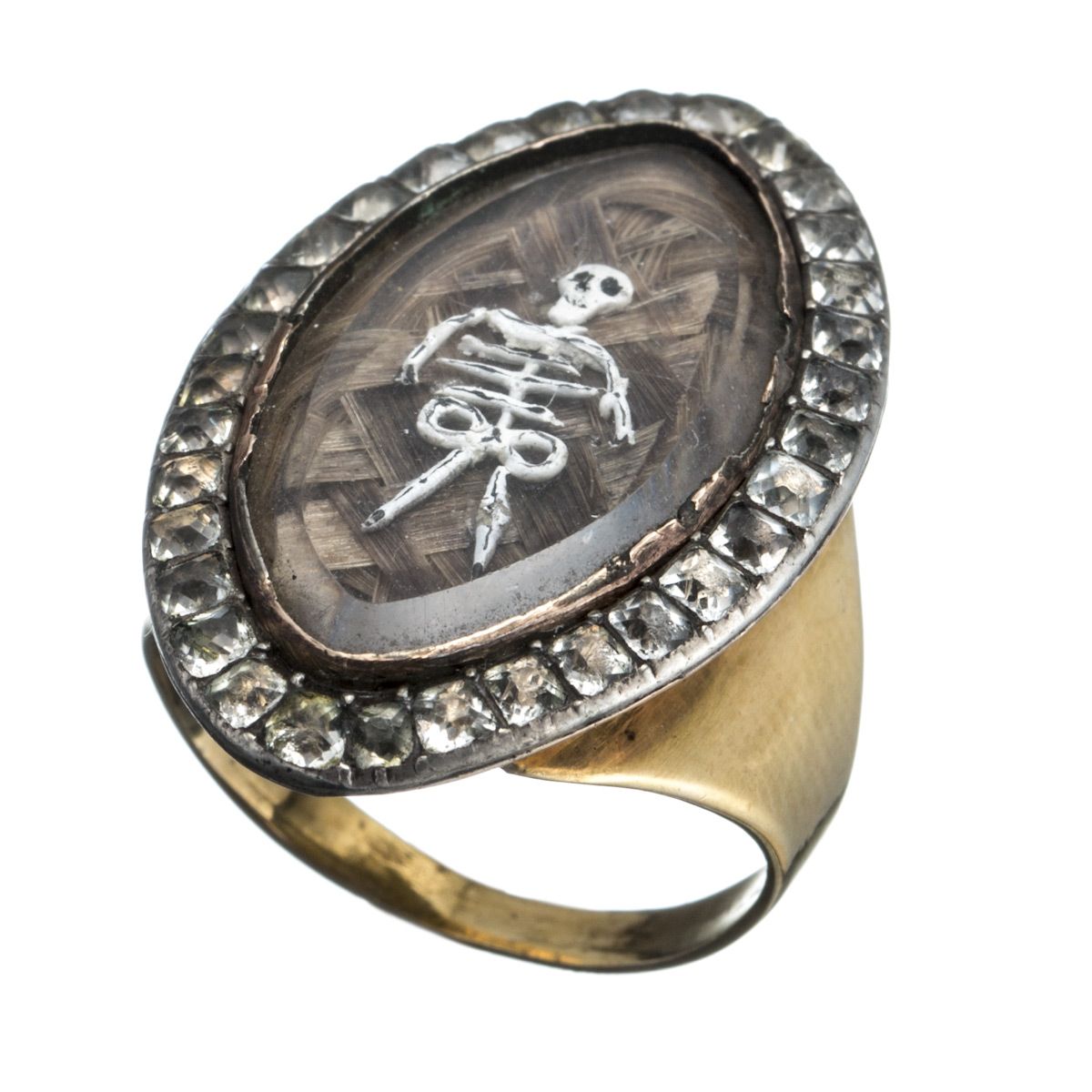 Victorian ring circa 1880 in gold and hair. Photo: Pinterest
As mentioned in the introduction, hair has been used in jewellery for a very long time. Whether in mourning jewellery made from the hair of the deceased or in love jewellery that contains a lock of the loved one, hair is a common material in jewellery. It has a memorial function and among the usual pieces are, for example, medallions containing the first lock of hair that is cut from a child.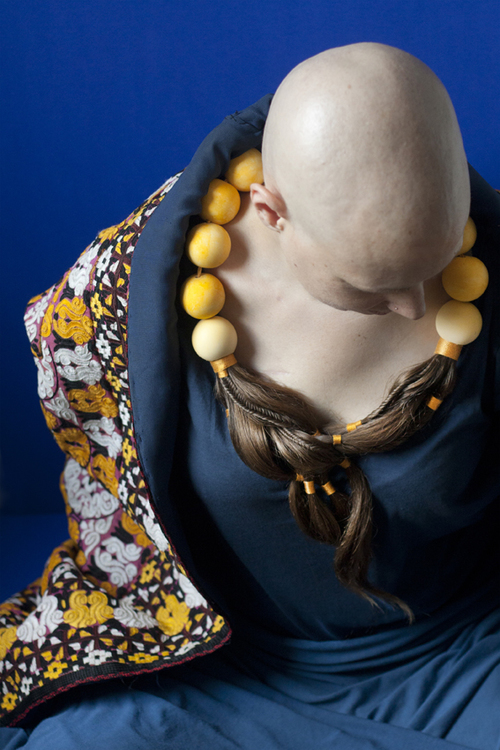 This hair piece was made by Sybille Paulsen for Mary Beth, who was the first patient to ask her to make a piece of jewellery from her hair cut in preparation for chemotherapy. Photo: Sybille Paulsen
While the tradition has gradually faded, it is not completely dead. The jewellery continues to be popular in the United States, where the hairwork tradition is still quite strong. If they have often lost their evocation of mourning, they often remain the witness of an important moment. Because hair is fundamentally linked to the evolution of our lives and sometimes to important decisions. It is said that"a woman who cuts her hair changes her life". If the saying exists, it is because it is rooted in a certain reality. Many designers work with this material, like Syblille Paulsen, who makes a work with the hair of cancer patients.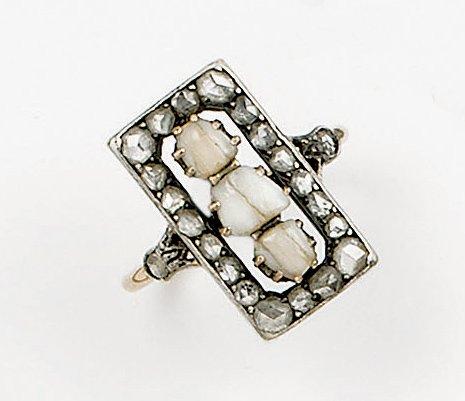 19th century ring in silver and gold, diamonds and baby teeth. Photo: Gros & Delettrez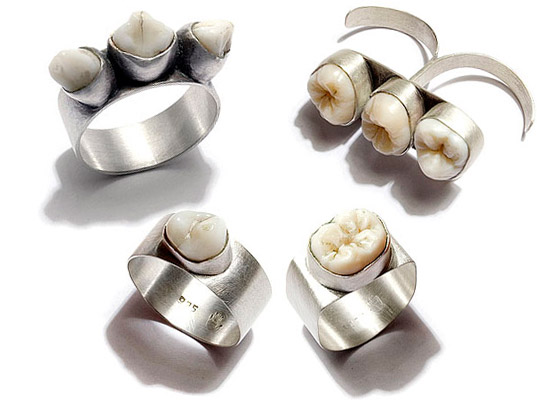 Silver rings with human teeth. Photo: Polly Van der Glas
Jewellery containing teeth is extremely rare today. They were mainly made during the 19th century and were used to preserve a child's first baby tooth. As if to remember his passage to adulthood. Some pieces may have mixed teeth and hair. Today, it is a very little used material. However, the contemporary Australian designer Polly Van Der Glas works with this material, even using nails in her creations. She explains her approach by the interest we take in these elements during our lifetime: we brush our hair, brush our teeth and maintain our nails. If they are beautiful while we are alive, why should they cease to be so when we die? It's a great question, the answer will be more controversial for some, but I'm an absolute fan of the result.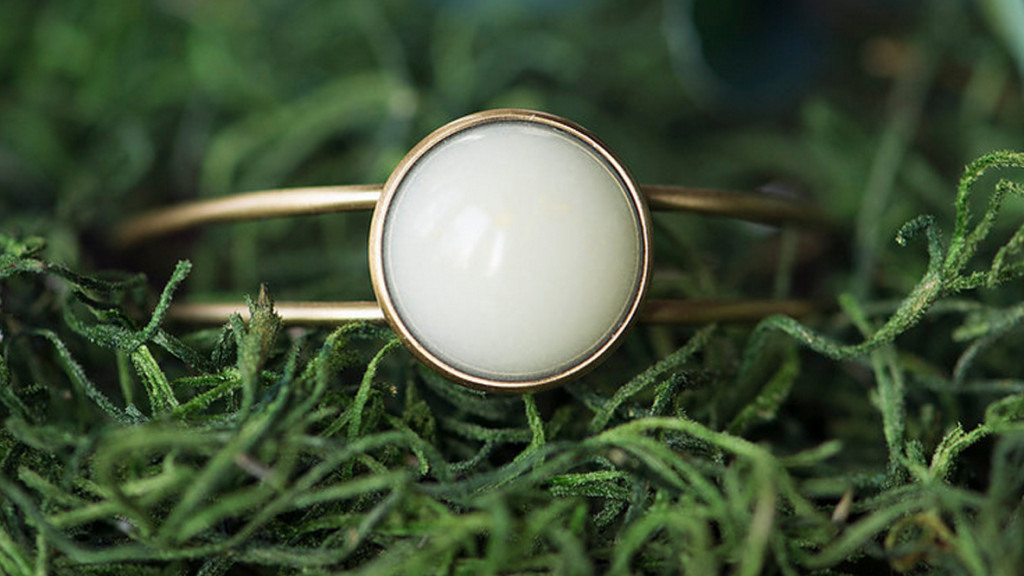 Gold ring with a cabochon of solidified breast milk. Photo: Mama's liquid love
Breast milk / Le lait maternal
Preserving breast milk in jewellery is a fairly recent concept. For a few years now, some companies specialising in objects for pregnant women and young mothers have been offering this type of piece, such as Mon Bijou Lacté or Ouistiti &Co. for example. But the movement is international, since this type of proposal can be found all over the world, especially in Anglo-Saxon countries. Rings or pendants, it has never been so easy to keep with and against you this testimony of the moment when the female body gives birth. You will find on the market simple containers but also manufacturers who propose to solidify the maternal milk in the form of resin to give it the shape of faceted stones or cabochons. There is not enough time to tell you how these pieces will react over time. See you in a few decades.
The HIV brooch by Serena Holm. Photo: ArtAurea
Using blood in a piece of jewellery is not a trivial act. It takes a lot of nerve, but above all it takes a real philosophical bias. The only example I can think of is that of the Swedish designer Serena Holm who, by creating the HIV brooch "Hero in Vitro", raises the question of our relationship to blood, to disease and above all to life. Because, yes, blood is above all the essential fuel for the life of our organs. It can therefore be seen as the hidden jewel of our body, the most precious material. Something to think about! Note that this piece is visible in Paris at the Galerie La Joaillerie by Mazlo until July 2018. But I'll talk to you soon on the website.
*****
In the course of my research, I have of course found manufacturers who offer containers to store far more controversial materials such as semen or urine. Long denied in today's creative approaches, we often forget that jewellery is first and foremost intimately linked to the body that wears it. Do I agree with these approaches? Not all the time. But I must admit that creative audacity is always a good thing because it has the merit of moving the lines. Jewellery is an amazing territory, it explores unusual mediums, often with success. No doubt it will continue to surprise me and make us all think.
See you soon!