For its last exhibition of the year, before a particularly exciting autumn, the Galerie La Joaillerie Par Mazlo, which I talk about regularly on the site, is organising a double event with two completely new exhibitions that question the passing of time:"Sign of the Times" &"Rationnés".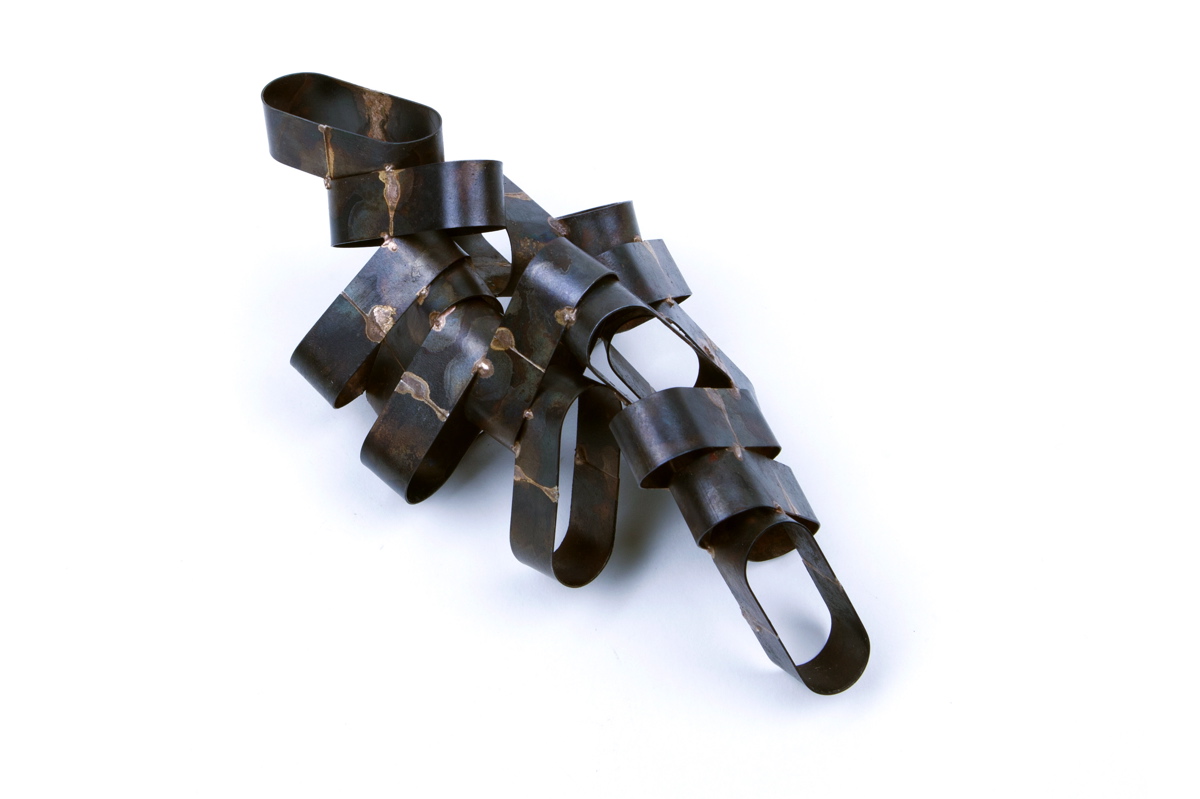 Born in 1984 in Glasgow, Scotland, Paul Adie lives and works in Munich. The pieces in the exhibition were created with thelyrics of the song Monument by Röyksopp and Robyn in mind , which I chose because it touches on subjects that interest me such as life and death, love, control and personal renewal .MONUMENT II, Brooch, 2018. Steel. Photo: Paul Adie

The Sign of the Times exhibition is rooted in two distinct elements that serve as the basis for the artists who created the pieces you will see. Firstly, Prince's song – an anthology from 1987 whose melody you can only hum afterwards – in which he denounces an era ravaged by AIDS, wars, the excessive use of hard drugs but also materialism. A great Prince and a text that is completely topical when we analyse our times in a balanced way. But 1987 was also the year of transition for the artist: with this complex and strong song, he showed how much he could exist as a solo artist and how much more his music was than commercial pop. A sign of the times on which music critics are still in perfect agreement today!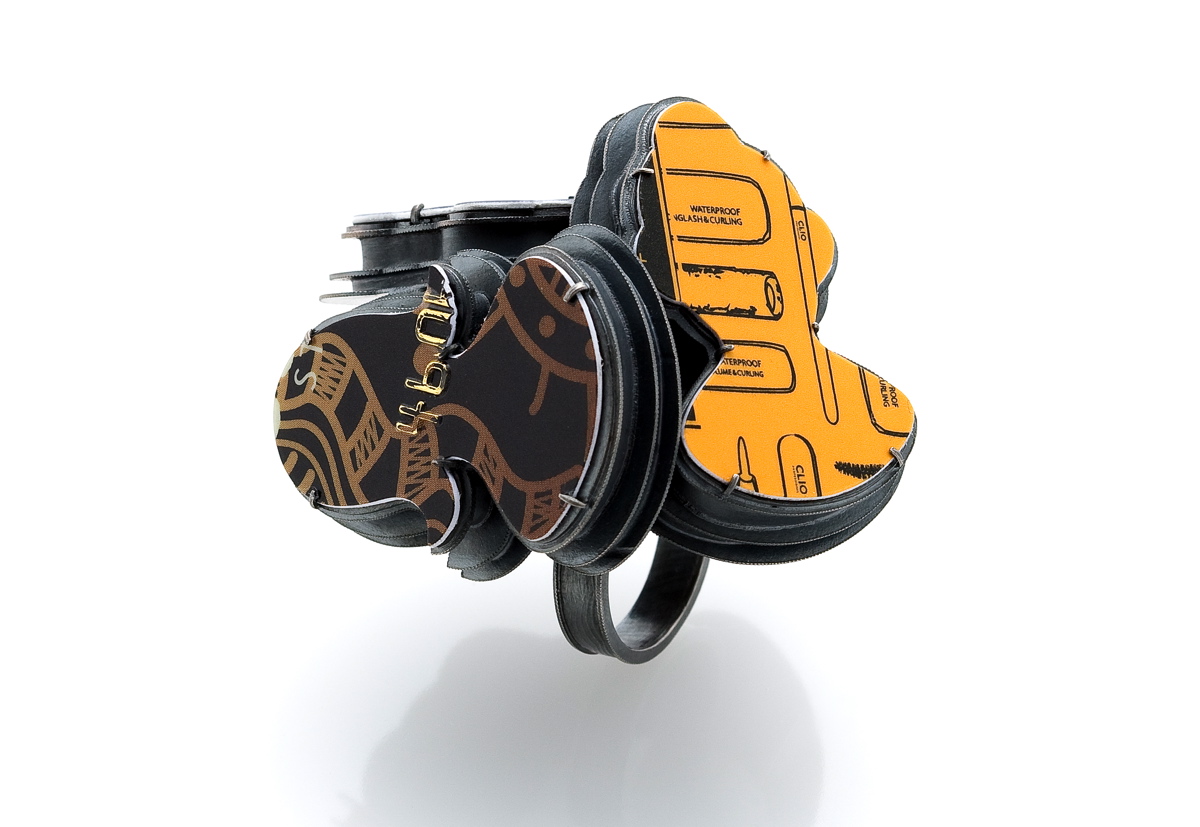 Born in 1975 in Cheongsong, Korea, Sungho Cho graduated from Seoul National University with a degree in metal art and jewellery. Thanks to plastic cards, especially the credit card, we can track many things, perhaps almost everything, such as economic level, life changes and range in "time". PEOPLE, Ring, 2017. Clubclio, Outback Steakhouse and Kyobo Book Club membership cards, silver. Photo: Sungho Cho

Secondly, this event uses Max Lüscher's theory, which clearly posits that jewellery is an extension of the wearer and a sign of their personality. It is tempting to think that the more personality a piece of jewellery has, the more"full of surprises" its owner is. A view that I can't help but share!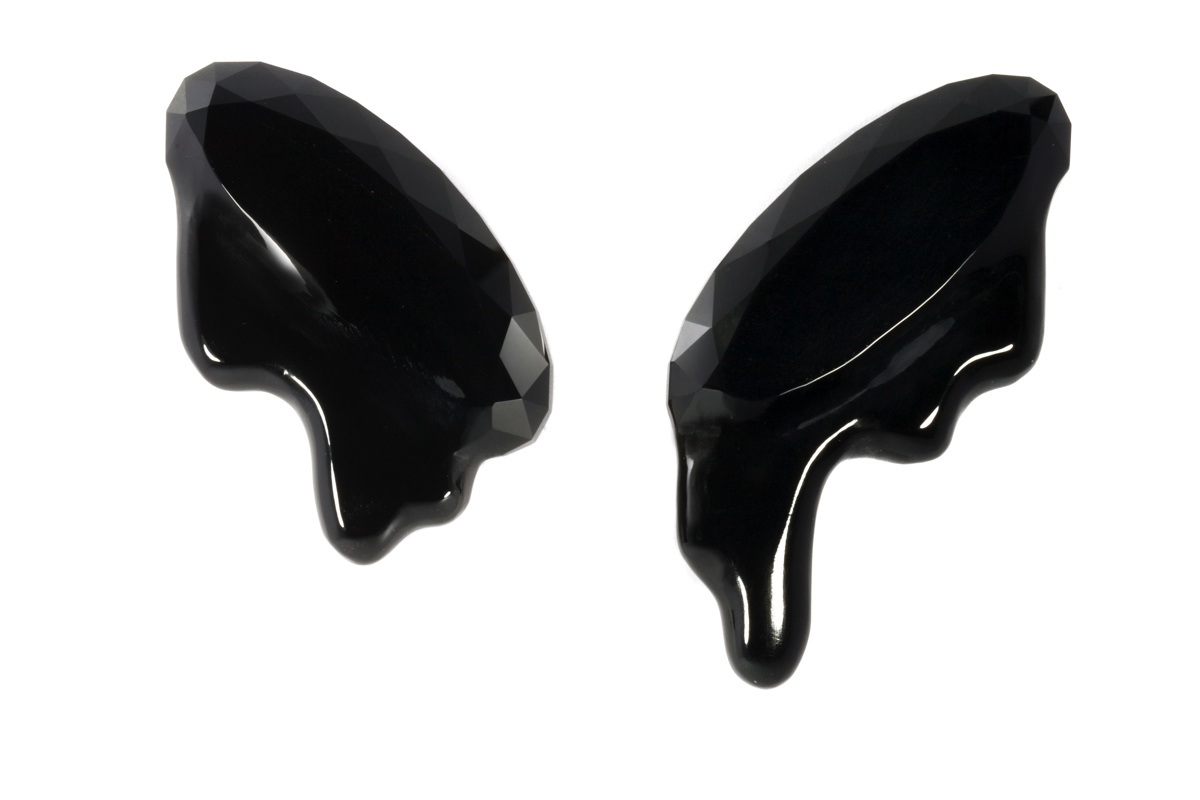 Julia Maria Künnap holds an MFA in Jewellery Art from the Estonian Academy of Fine Arts and a degree from Konstfack, University College of Arts, Crafts and Design in Stockholm, Sweden. "I don't usually consider the tools used to make my work important enough to talk about, but the questions that have arisen about these cast stones prove that an explanation is necessary .( …) There isno trickery, magic or prestidigitation in my work. All the stones are cut from a single block of raw material, without glue or resin." FROM BLACK TO BLACK IV, Earrings, 2018. Obsidian, rhodium-plated silver. Photo: Julia Maria Künnap
For this presentation, the artists therefore called upon their references around pop-culture. And so they proposed jewels that are anchored in our time and testify to their authors' intimate relationship with the passing of time. The result is absolutely sublime, it raises fascinating questions about the continuity of time, of our era and questions our way of moving and adapting to a society in full transformation. By now you know my enthusiasm for the gallery's events, so this one is no exception. Among my favourites are the pieces by Korean Sungho Cho, the birds of Lisa & Scott Cylinder, the patient work of Japanese jeweller Arata Fuchi, the pieces of Julia Maria Künnap and of course the explosive jewellery of Serena Holm!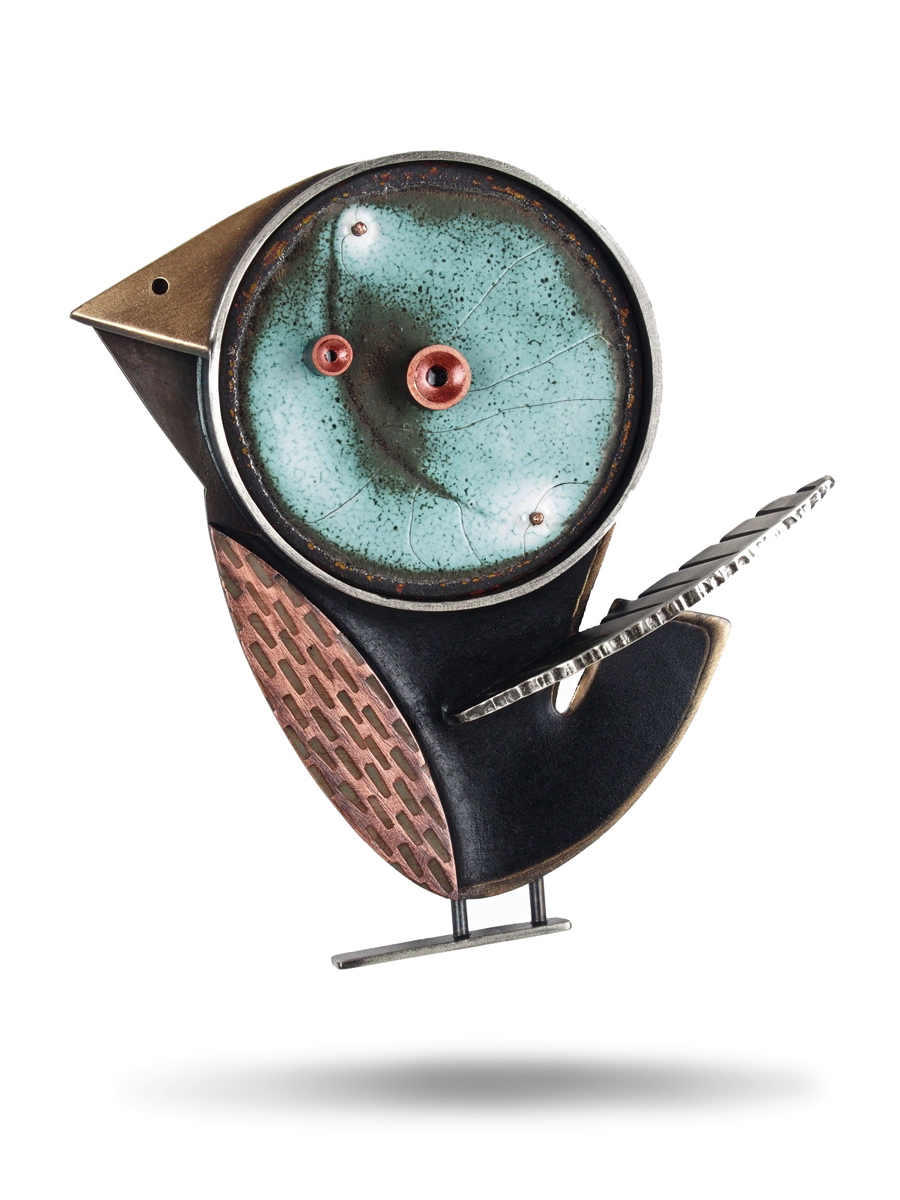 Husband and wife Lisa and Scott Cylinder began their artistic collaboration in 1988 shortly after graduating from the Tyler School of Art in Philadelphia with a degree in jewellery design and silversmithing. Both artists and teachers, they run their own jewellery design studio together in Oley, Pennsylvania, U.S.A. "It's all about the soul… the objects we use have been touched by someone. Once you see these particular objects, you associate them with a time in your life. There is sweat and effort on the tool that a person has used to create an object. (…) The human touch is part of our work and is the reason we select the objects. Audacia Beetle, Brooch, Starrett vintage caliper, vintage enamel military medal, bronze, pencils, nickel silver, epoxy resin. Photo: LISA & SCOTT CYLINDER
To discover Jo Pond is to open a box of touching and precious memories. Her new exhibition is presented for the first time in Paris. For this new opus, the British designer has drawn on a collection of diaries written by her grandmother – Lily Liberty Pond – during the Blitz. With this new set of pieces, the designer lifts the veil on the difficult and painful existence of women during wartime. By reusing common objects, Pond gives – through her creative work – new life to domestic items whose stories have often been forgotten or kept quiet because they were not meant to be written.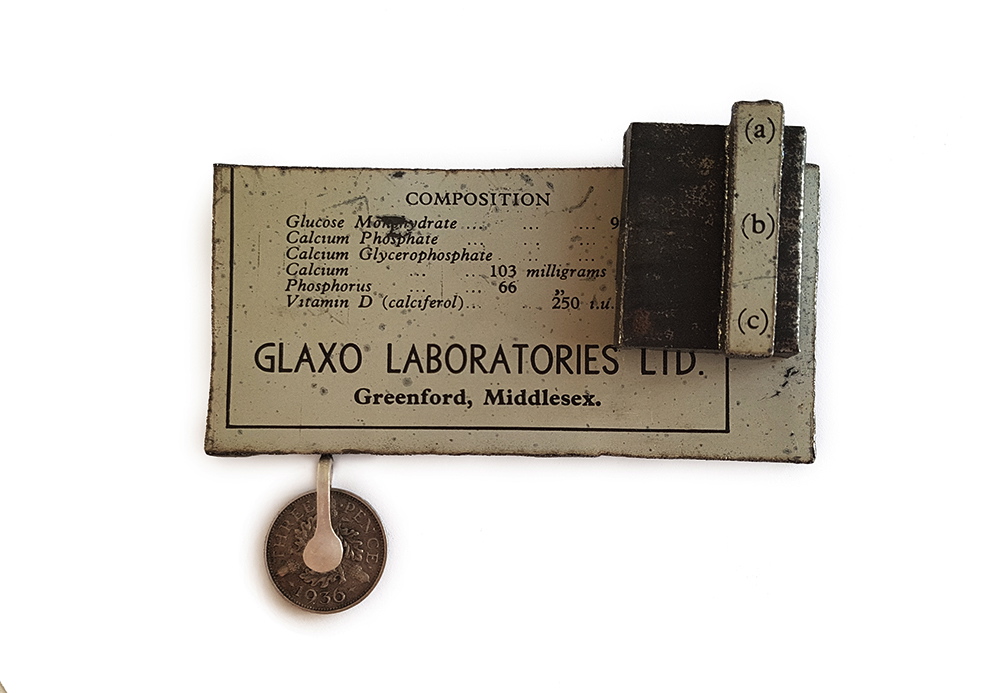 Born in the London Borough of Chiswick, Jo Pond is an artist and designer of contemporary jewellery. She was first introduced to the art of jewellery at the Berkshire and Loughborough Colleges of Art & Design, but it was during her Masters at the Birmingham School of Jewellery that she laid the foundations for her current practice. Jo Pond's work can beseen as reincarnated objects, relics of the everyday. Brooch from the set GLAXO TIN, aset ofseven brooches, 2017. Recycled steel box, steel, iron, leather, nes stones, silver, celluloid, bone. Photo: Jo Pond
This exhibition is absolutely beautiful. Its sobriety and apparent simplicity is a testament to what life was like under the German bombing. It describes with English pragmatism how families organised themselves to make each day liveable. She tells the story of her family with a particular gentleness, and more particularly of this terrible period which marked the entire population of London. It is a must to discover by taking the time to read Lily's texts, whose strength of character can be discovered through her words written in the little almanacs that she religiously kept.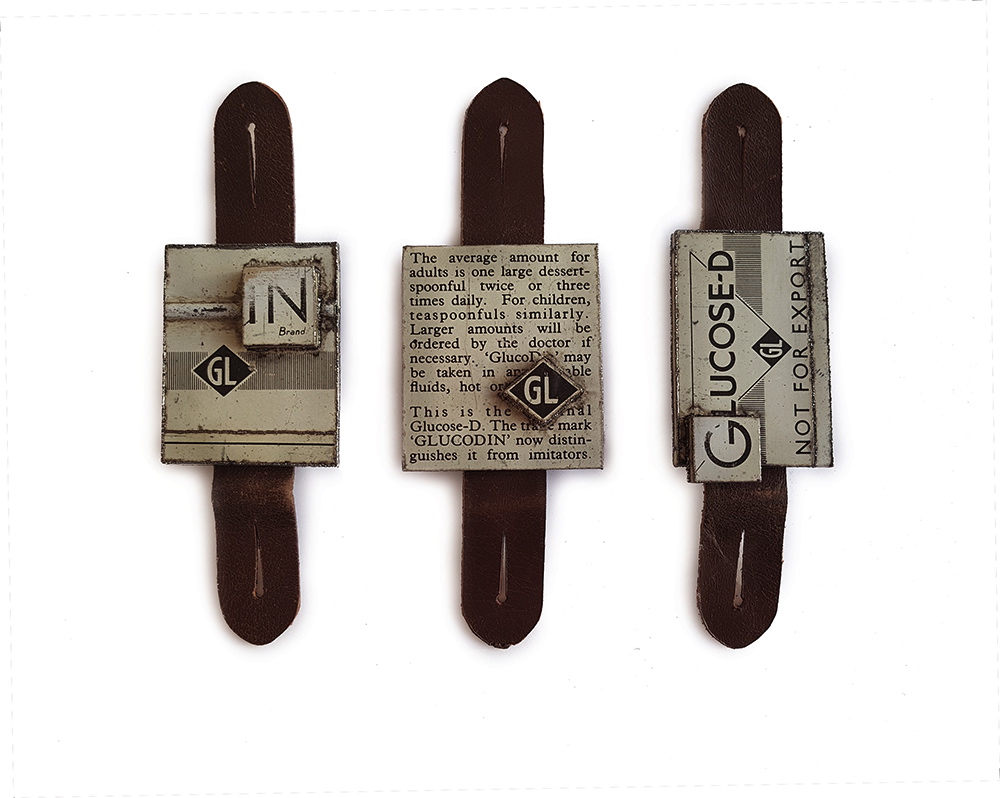 BUTTONHOLE BROOCH, Brooch, 2017. Recycled steel box, steel, iron, leather. Photo: Jo Pond
These two exhibitions are a must-see. They bear witness to our lives and the way we conceive of the time we are given on earth. More than that, it questions our relationship to society, to the events that surround us and to our intimate perception of this whole in which we evolve. Don't miss it!
See you soon!
*****
Galerie La Joaillerie Par Mazlo
31 rue Guénégaud, Paris 6
Tuesday to Saturday from 2 to 7 pm