On 12 November 2018, Sotheby's auction house will certainly offer what should be The Sale of the 2018-2019 season by offering the Bourbon-Parme Family jewellery collection to international buyers. An incredible collection that traces several centuries of a European royal history full of twists and turns. Among the pieces on offer are several that belonged to Queen Marie Antoinette. Pieces that were thought to have been lost forever…
Daniela Mascetti in May 2017. Photo: Sotheby's
In May 2018, I went to Geneva to discover GemGenève but also the exhibitions of the big spring sales of Sotheby's and Christie's. On this occasion, I had the chance and the privilege to meet for more than an hour with Mrs Daniela Mascetti, the European Director for Jewellery and one of the greatest specialists in this field. It was a truly remarkable and particularly enriching moment. I therefore asked her to tell us about herself through this interview, which I am giving you today before telling you again in a few weeks about the jewels of a queen whom the French remember for her more than tragic fate.
1- Jewellery is your passion. Why did you finally choose to work in this field? Was it an opportunity, did you love jewellery for a long time or was it linked to your family history?
It was a real chance! I was an archaeologist and I was tired of the excessive bureaucracy of Italian museums and universities. I first went to London to improve my English. As my level was not bad at all, I decided to find a course on art and I enrolled at Sotheby's for a nine-month programme: "Sotheby's Works of Art". Designed to be completely immersive, this programme allowed me to learn about all the art forms that the house was lucky enough to have in its different departments. I loved those few months and I must say that it was one of my best years. After that I was ready to go back to Italy, to go back to archaeology and to go back to the Italian bureaucracy. Then I received a proposal for an interview at Sotheby's and after ten minutes of discussion I was offered a position in the house. I said yes before I even knew what it was about. In fact, it was a position to join and start in the jewellery department in Milan. So I said "I don't know anything about jewellery – I like it a lot, but I'm not an expert!"; and they said "Do you think that's a problem? You could learn! That was the beginning of a long learning process. And here I am today!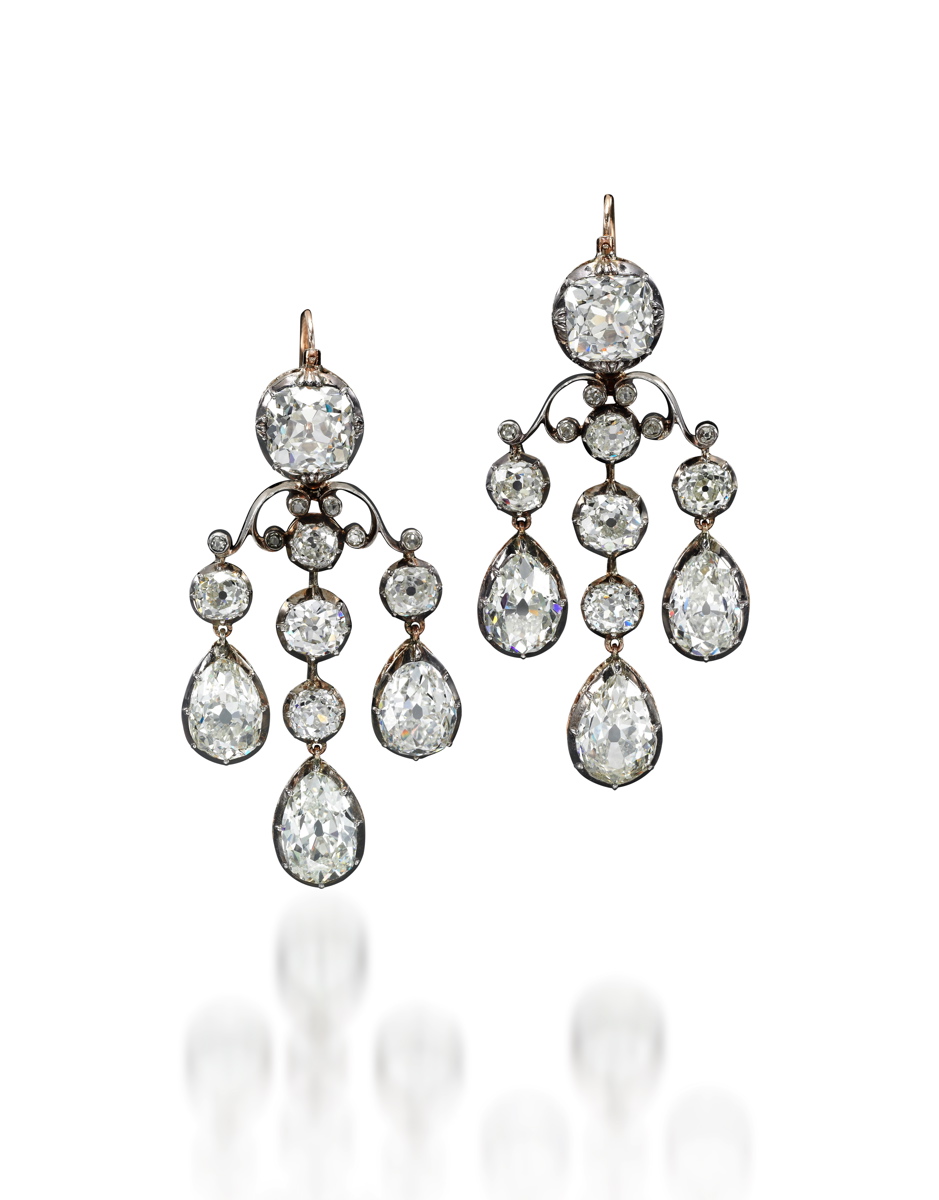 Pair of gold and silver earrings, diamonds, 19th century. From Maria Theresa of Savoy, Duchess of Parma. Estimated at $150,000 to $250,000. Photo: Sotheby's
2- You joined Sotheby's in 1980. How would you describe your last forty years with this venerable house?
I started from scratch with some extremely basic knowledge: sapphires are blue and emeralds are green… It would be difficult to describe the long learning process, but I went through many gemmology courses, I learned the house's customer approach, the psychology of buyers and sellers. Finally, I learned to hold the hammer and become a real auctioneer for Sotheby's.
3- What was your best memory of your career at Sotheby's?
Well, I think I can say that one of the most exciting moments in my career was being one of the first people to see the Duchess of Windsor's caskets. That was in 1986. We were preparing for the sale which took place a year later in Geneva in April 1987. It was a truly special and moving moment to be able to hold in my hands the jewels offered by a king, who had decided to abdicate for a twice-divorced American woman, to the woman he loved all his life. This love story was one of the most beautiful of the 20th century and the jewels that tell the story were absolutely sumptuous. This 1987 sale really established something in our field: the importance of the provenance of jewellery to buyers. It was a momentous change for jewellery auctions.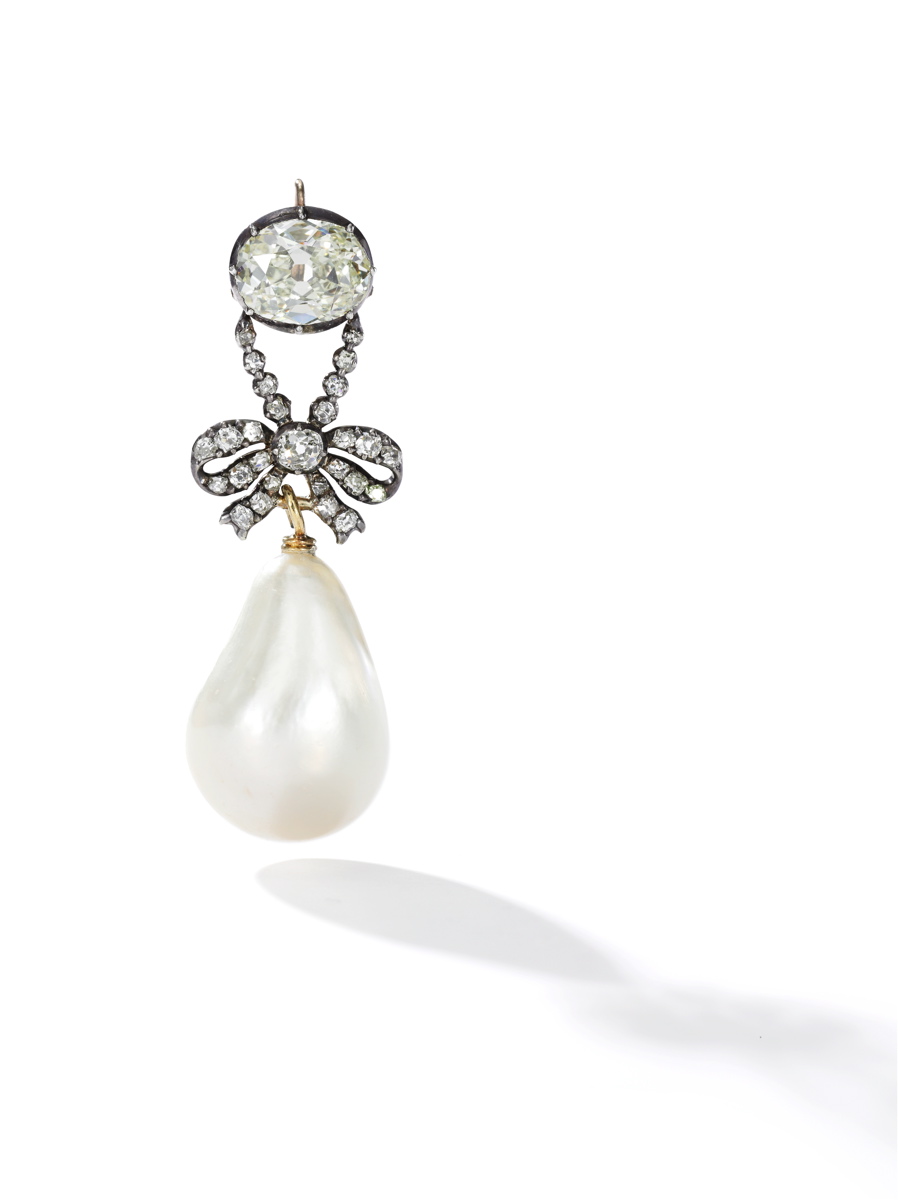 Gold and silver pendant, diamond and fine pearl. From the jewellery box of Queen Marie-Antoinette. 18th century. Estimate between 1 and 2 million dollars. Photo: Sotheby's
4- Sotheby's has sold many fine collections, but the Bourbon-Parme collection is certainly one of the finest ever presented in recent years. While Bourbon-Parme pieces may have been admired from time to time, this collection remains incredible. What is the appraisal process like when such a collection comes to a department?
It's a really exciting process! There is this sort of 'electricity' throughout the department and the 'key' members all start working together. It's absolutely fascinating to see all the little people buzzing around the pieces. For example, the coloured stone specialist will go crazy over the incredible Burmese rubies that turn up; a historian will focus on the genealogy that accompanies the jewellery; and another historian will try to find the record of how the objects were made. For example, this piece of jewellery that we thought was made in the 1870s, well, we get confirmation that it's from 1869 because we find it in family documents. And it's a great pleasure to be able to detail the history of these pieces. It's a real team effort. It is so rare and so extraordinary to have to document such a treasure chest. It's a moment we want to make the most of.
5- How many months did it take to be sure of the real provenance of the pieces and to be able to communicate with certainty about the collection?
But the research continues. We have not yet finished documenting everything. But it has taken us many, many months to get to the stage where we are.
6- Discovering the lost jewels of Marie-Antoinette is a rare moment. How were you able to estimate the value of these objects?
This is certainly the biggest challenge of our work. You can calculate the price per carat of a diamond or give an estimate for a pearl based on its lustre, weight or perfection of shape. But you can't quantify the market's appetite for a historical provenance in any scientific way. So, for example, for the Marie Antoinette diamond and pearl pendant, we gave an estimate of between $1 and $2 million. Considering its provenance and the fact that the Queen had this object in her hands, it didn't seem extravagant. But perhaps it will do much more and that is what we hope!
7- During the appraisal process, did you discover any hallmarks, signatures (especially on the Marie-Antoinette pieces) that would allow us to know more about the jewellers who worked for her?
At the time these pieces were made, jewellers hardly ever signed their pieces. So we didn't expect to make a big discovery. And we didn't make any. But the later pieces do have hallmarks and signatures. This allowed us to document them even more.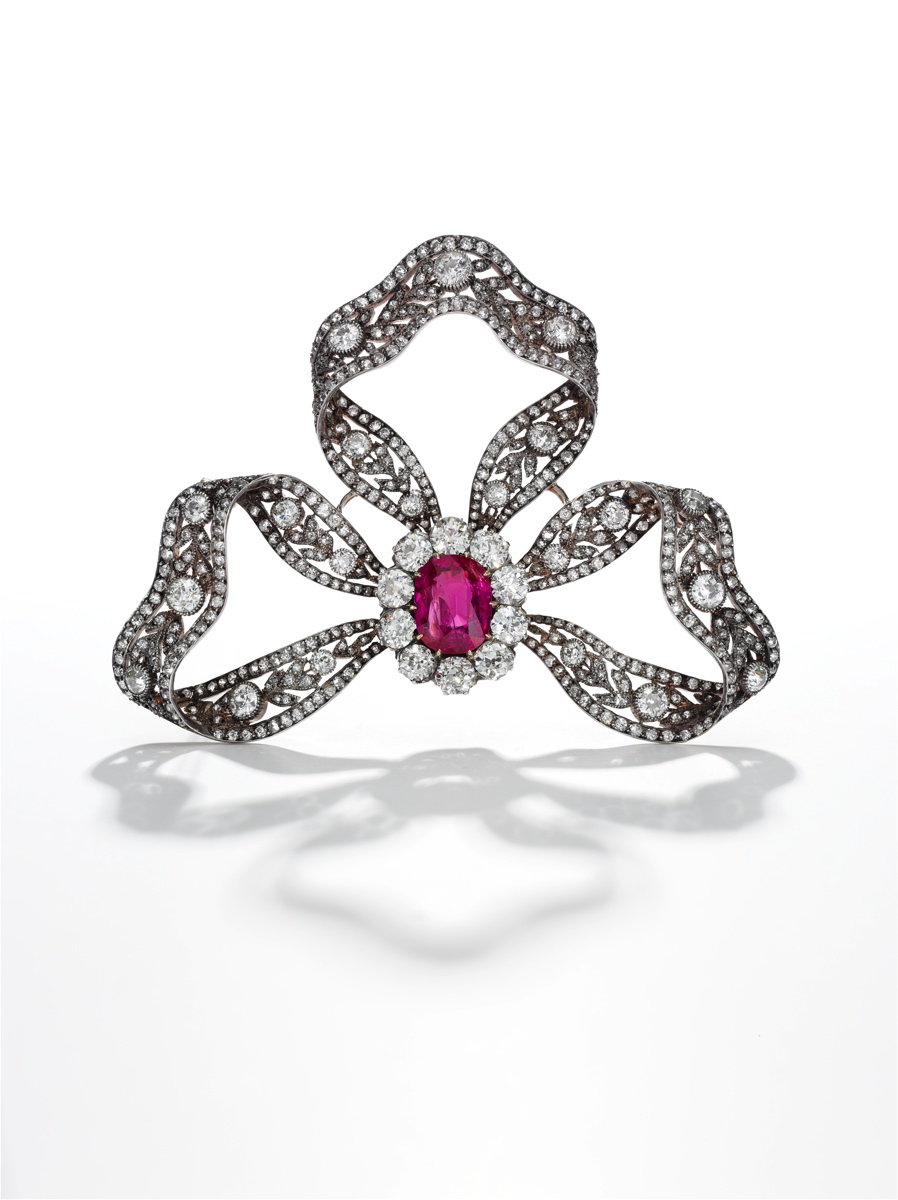 Silver and gold, diamond and ruby brooch, 6.89 carats, signed Bachruch, given to Archduchess Marie-Anne of Austria – Princess Elie de Bourbon-Parme – for the birth of her son Charles in 1905. Estimated at $200,000 to $300,000. Photo: Sotheby's
8- As a French woman, I would like to see some of the pieces in a museum like the Louvre. Have any European museums expressed an interest in these pieces?
First of all, you have to keep in mind that the pieces come from the collection of Marie-Antoinette but also from the Bourbon-Parme family. Of course, we would be happy to see them in our museums, but it is up to them to decide.
In the past, several pieces of jewellery sold by our house have been acquired by museums. For example, the tiara of Empress Eugenie (which was part of the Thurn & Taxis family collection) is now in the Louvre. This piece was sold in 1887 at the Crown Diamond Sale and was acquired by the Thurn & Taxis family 17 years after the end of the Monarchy. But the November coins are from personal private collections. They are not Crown diamonds.
9- Finally, I would like to ask you what your ideal sale would be like? Is there a particular piece that you would like to see on sale?
As a jewellery historian, I think I would like to see a collection that covers the whole range of jewellery creation from 1700 to the 2000s. It would be wonderful to find a set where each decade is represented by a typical and outstanding piece. It would be quite incredible to see 300 years of history and stylistic periods perfectly summarised in 30 pieces!
See you soon!