"Morphogenesis", the genesis of form, the genesis of forms. In a few words, this is the field of possibilities that opens up with the new exhibition at the Galerie La Joaillerie par Mazlo, which we regularly talk about on the site. As part of the 2018 France-Israel season, this Parisian mecca of international contemporary jewellery welcomes two artists that you owe it to yourself to discover, rediscover and get to know: Attai Chen and Carina Shoshtary. Two fundamental references of the sector. A real and intense discovery for us that we hope to share with you.
The exhibition will be on display at 31 rue Guenegaud until 29 December 2019. Photo : La Joaillerie par Mazlo
Attai Chen comes from a family of artists. Born in 1979 in Jerusalem, he has lived and worked in Munich since 2007. He is the recipient of several prestigious awards, such as the Oberbayerischer Prize for Applied Arts (2011), but defines himself primarily as a sculptor. Jewellery is one of the mediums he explores with great interest and talent. His favourite material remains paper, which he uses almost compulsively, combining it with the poorest salvaged materials such as wood, graphite or even small found objects that are integrated into his creations.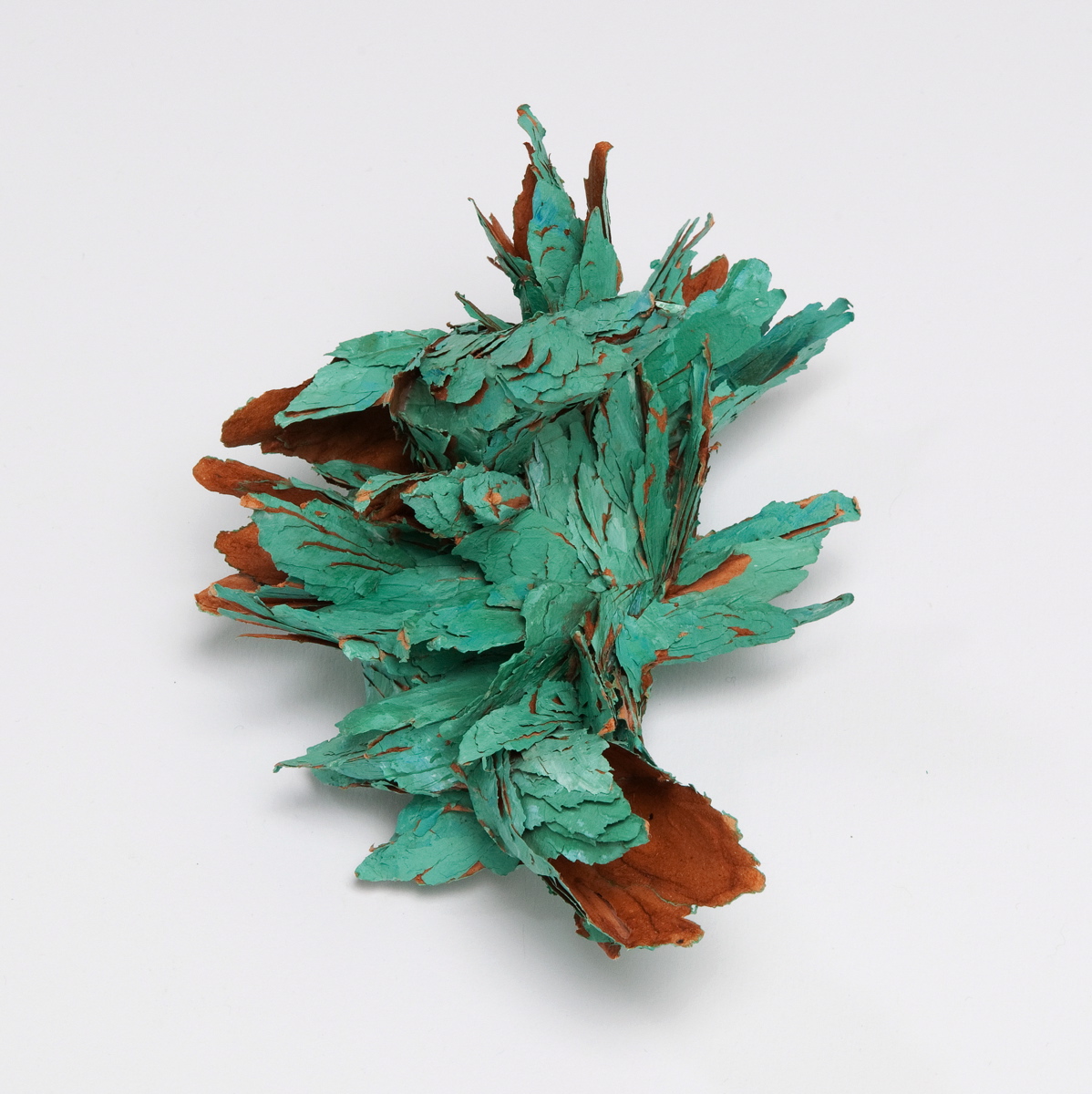 ATTAI CHEN. UNTITLED (15). Compounding fractions series. Brooch, 2011. Paper, paint, glue, silver, brass, steel. 155 x115 x105 mm. Photo: Jewellery by Mazlo
Born in Israel, he is marked by the harshness of the landscapes and the deep contrasts they offer. From these places, he has kept a palette of colours that characterises his works: brown, ochre, sand, off-white… Everything evokes the raw light of the desert and the hues of the geological formations that populate it. Germany, and more particularly the Bavarian countryside, would later bring new and more pronounced shades. His classical training in jewellery at the Bezalel Academy then led him to Munich and the teaching of Professor Otto Künzli, which considerably opened up his perception of what a jewel should be. His creations question the mutation of the material, its deconstruction then its reformation, different. They refer to fundamental questions about transformation.
CARINA SHOSHTARY. MULTICLAVULA 4. Karma Chroma series. Necklace, 2017. Graffiti, glass, shells, silver. Pendant: 14.2 x 16.5 x 3.3 cm. Photo: La Joaillerie by Mazlo
Carina Shoshtary is German-Iranian. She was born in 1979 in Augsburg, Germany. Her studies of traditional goldsmithing allow her, like Attai Chen, to perfectly master the techniques of making the jewellery and objects they design and create. She also studied under Professor Künzli at the Munich School of Fine Arts. Winner of several international prizes, her creations can also be found in numerous museums such as the Röhsska Museum in Göteborg or the International Design Museum in Munich.
ATTAI CHEN. CLASHES. Terra Mutantica series. Necklace, 2014. Wood, paint, plastic, brass, porcelain, iron, cardboard, linen. 330 x 210 x 90 mm. Photo: La Joaillerie by Mazlo
If salvaged materials are the essence of her creative process, the comparison with Attai Chen ends there. Carina collects, saves and reuses elements that are often insignificant to the average person: hazelnut or almond shells, pieces of wood, paper or even shells… But it is the fragments of graffiti that really sign her pieces. From urban paintings, she collects these fragments when they are on the ground. After having reduced them into sequins, she uses them to form a kind of mosaic, patiently covering natural fragments with them. Here dried fruit shells, there a starfish, elsewhere a branch evoking deer antlers or coral. She then gives a second life to this "waste" and transforms it into something beautiful. A form of rehabilitation and perhaps even redemption. The transformation that she carries out with immense talent and great poetry questions, of course, the durability and urbanity of things. As if to show that life can only be reborn from chaos.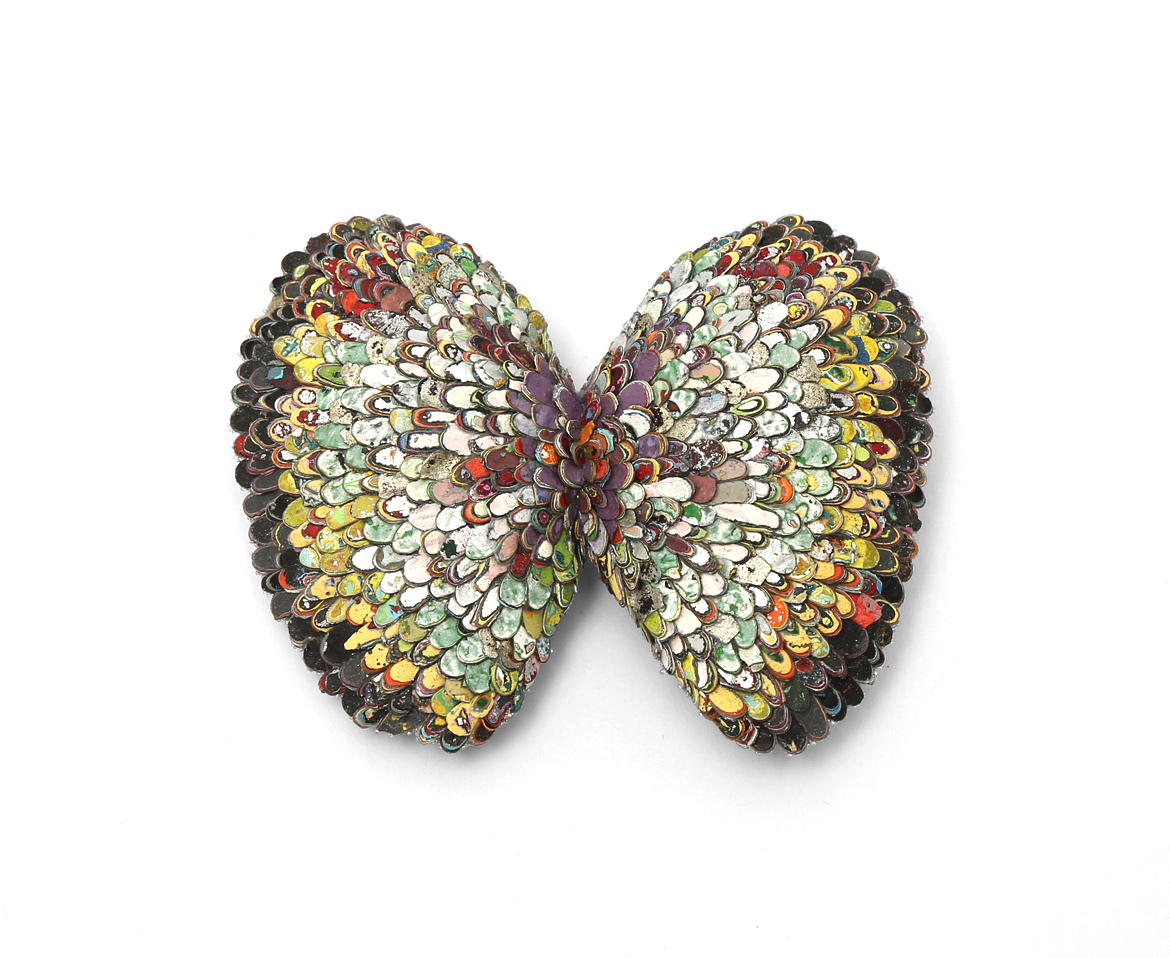 CARINA SHOSHTARY. VENUS 6. Karma Chroma series. Brooch, 2018. Graffiti, glass, silver, shells, steel. 7.3 x 6.0 x 1.5 cm. Photo: La Joaillerie by Mazlo
The pieces of these two artists deserve your visit and your attention. It is important to take the time to observe them, to look at them in detail to understand the creative processes at work. It is also about questioning what a jewel should and can be. Attai Chen and Carina Shoshtary both have a particular talent for sublimating materials that few people would take an interest in. Like a jewellery echo to Lavoisier's statement: "In nature, nothing is lost, nothing is created, everything is transformed".
See you soon!
*****
The "Morphogenesis" exhibition is open until 29 December 2018. It will be closed on Christmas Day and according to Parisian events.