Of Samarkand, you will certainly have in mind the bright blue domes that are often one of the first visions that visitors to the Registan have of the city, whose perfect location on the Silk Road has brought misfortune and prosperity to its inhabitants.
Samarkand ring in white gold, diamonds, aquamarines, enamel and turquoise. Photo: Ilgiz F.
Ilgiz F. in Samarkand. Photo: Ilgiz F.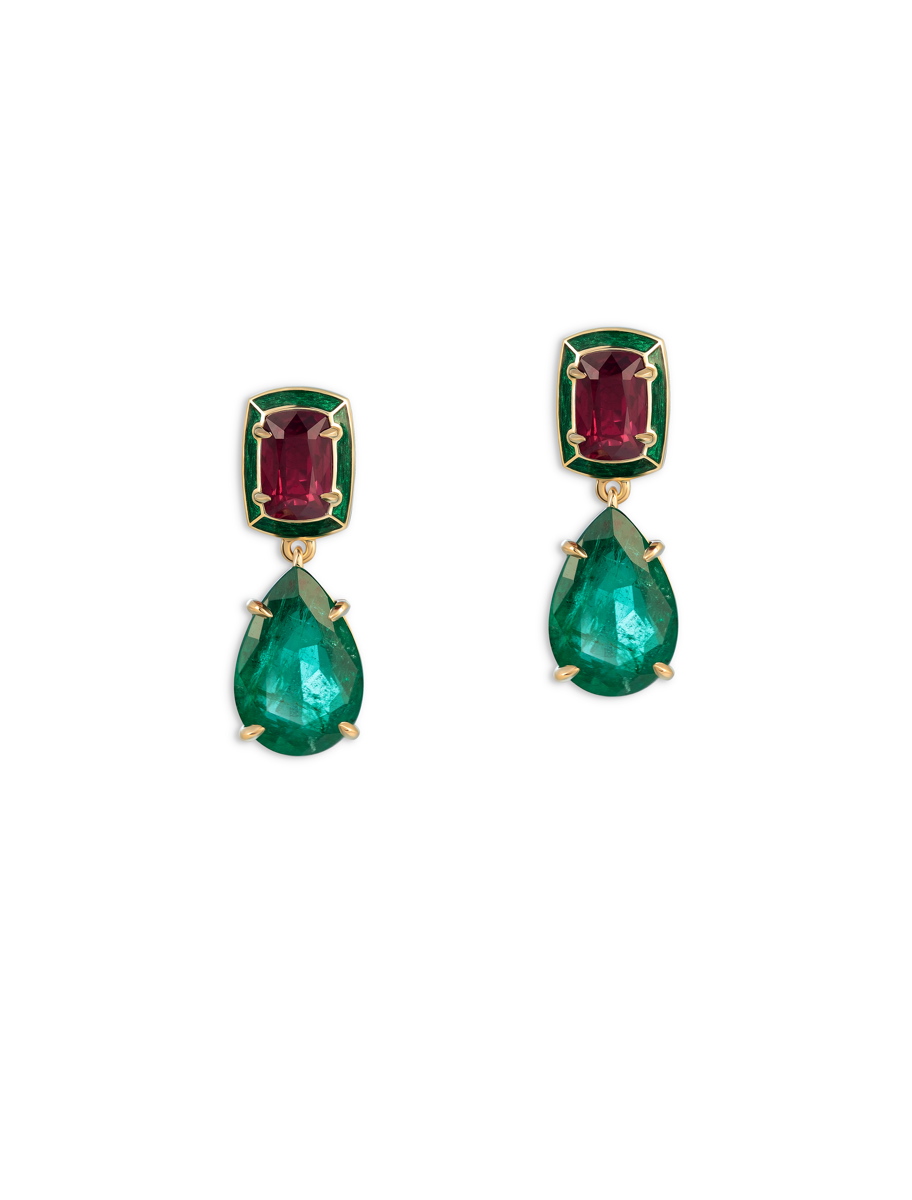 Earrings in yellow gold, enamel, rubies and emeralds. Photo: Ilgiz F.
And yet, there is so much to say about this city located at the crossroads of the worlds, whose geographical position is the ideal link between the West and the East. Known as early as 329 BC, it was first referred to under the Greek name of Marakanda. Along with Bukhara, Samarkand is listed as one of the oldest inhabited cities in Central Asia. During its various occupations, Samarkand was home to various religious communities and became the focus of several religions such as Buddhism, Zoroastrianism, Hinduism, Manichaeism, Judaism, Church of the East and Islam.
Earrings made of white gold, enamel, pearls and garnets. The motif represented here is a pomegranate flower. This fruit is famous all along the Silk Road and is particularly cultivated in Central Asia where its medicinal properties have been recognised for thousands of years. This motif can also be found on fabrics and mosaics in this region. Photo: Ilgiz F.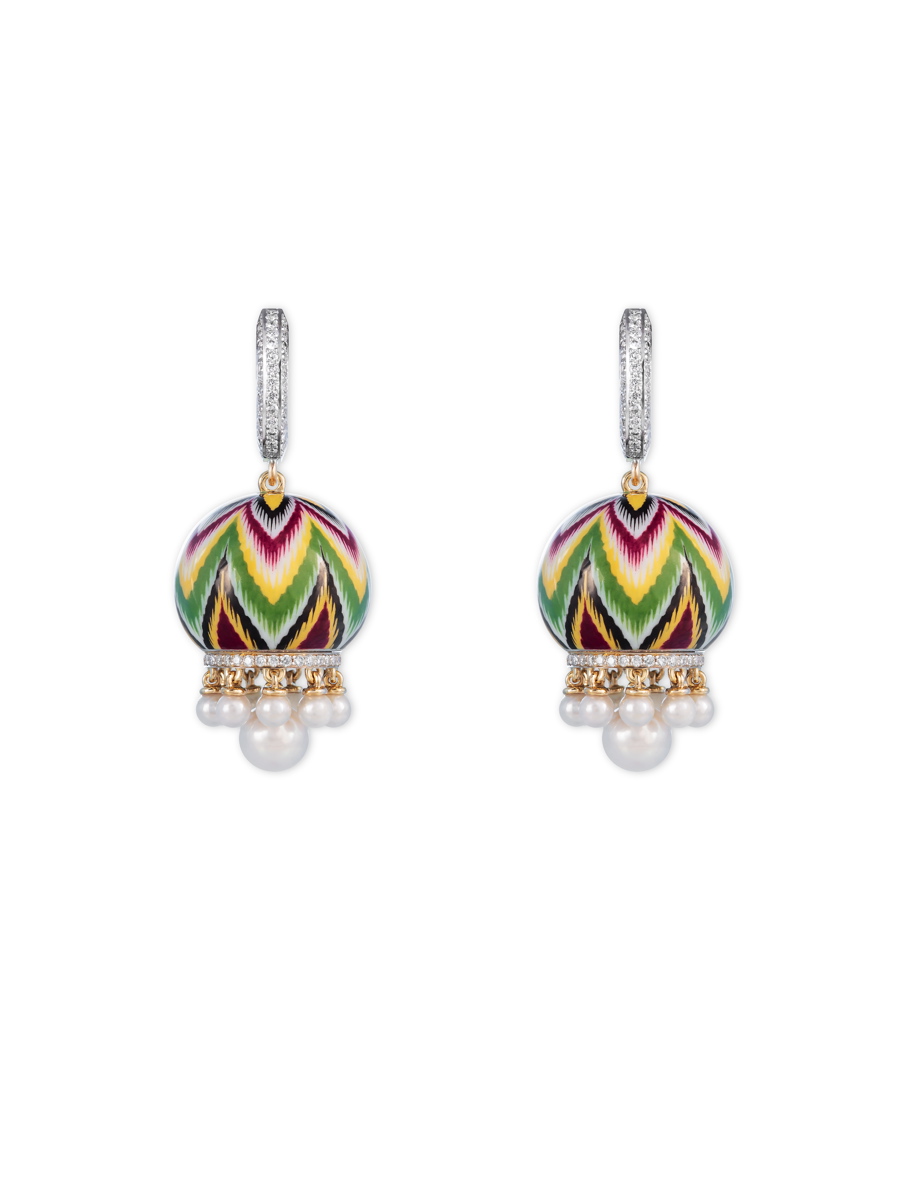 Ikat" earrings in yellow and white gold, enamel, diamonds and pearls. The design is inspired by the traditional Uzbek technique of painting on fabric, which gives the earrings their distinctive and recognisable look. Photo: Ilgiz F.
I mention this mythical city briefly because it is the starting point for the new collection by Russian jeweller Ilgiz F., whose sixty pieces are each more beautiful than the last. Presented in Moscow in September, the collection was so successful that most of the pieces were sold out very quickly. But we had the pleasure of admiring some of the pieces in December during her visit to Paris.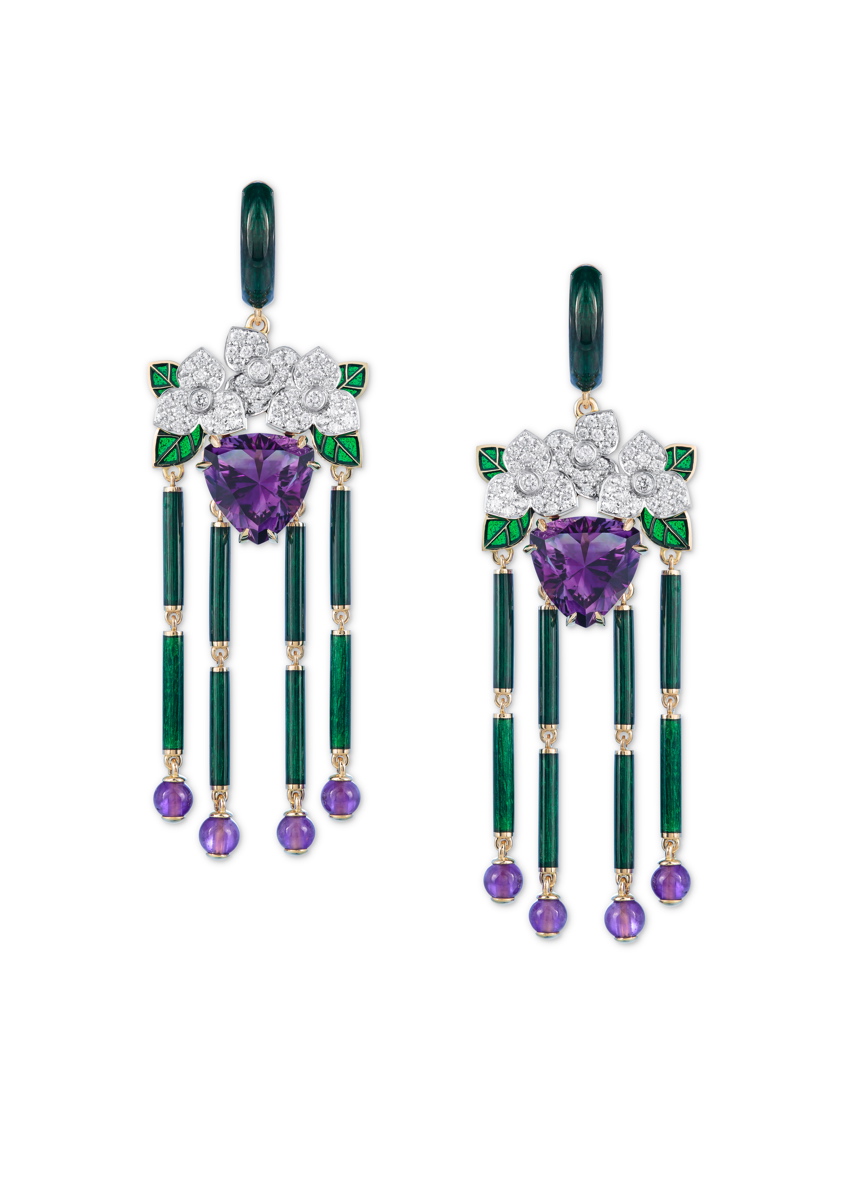 Earrings in yellow and white gold, enamel, diamonds and amethysts. Photo: Ilgiz F.
Bracelet in yellow and white gold, enamel, diamonds and amethysts. Photo: Ilgiz F.
In keeping with his work, the collection highlights his workshop's remarkable mastery of enamel as well as beautiful turquoise, emeralds, rubies, amethysts and – of course – diamonds. The jeweller has thus transcribed the admirable mosaics of the Registan Medersa, the gardens of the city and the Mausoleum of Gour Edir into jewellery. The pieces reflect the architectural mastery of these monuments, which are now listed by UNESCO. A real success.
White gold, enamel and diamond earrings. Photo: Ilgiz F.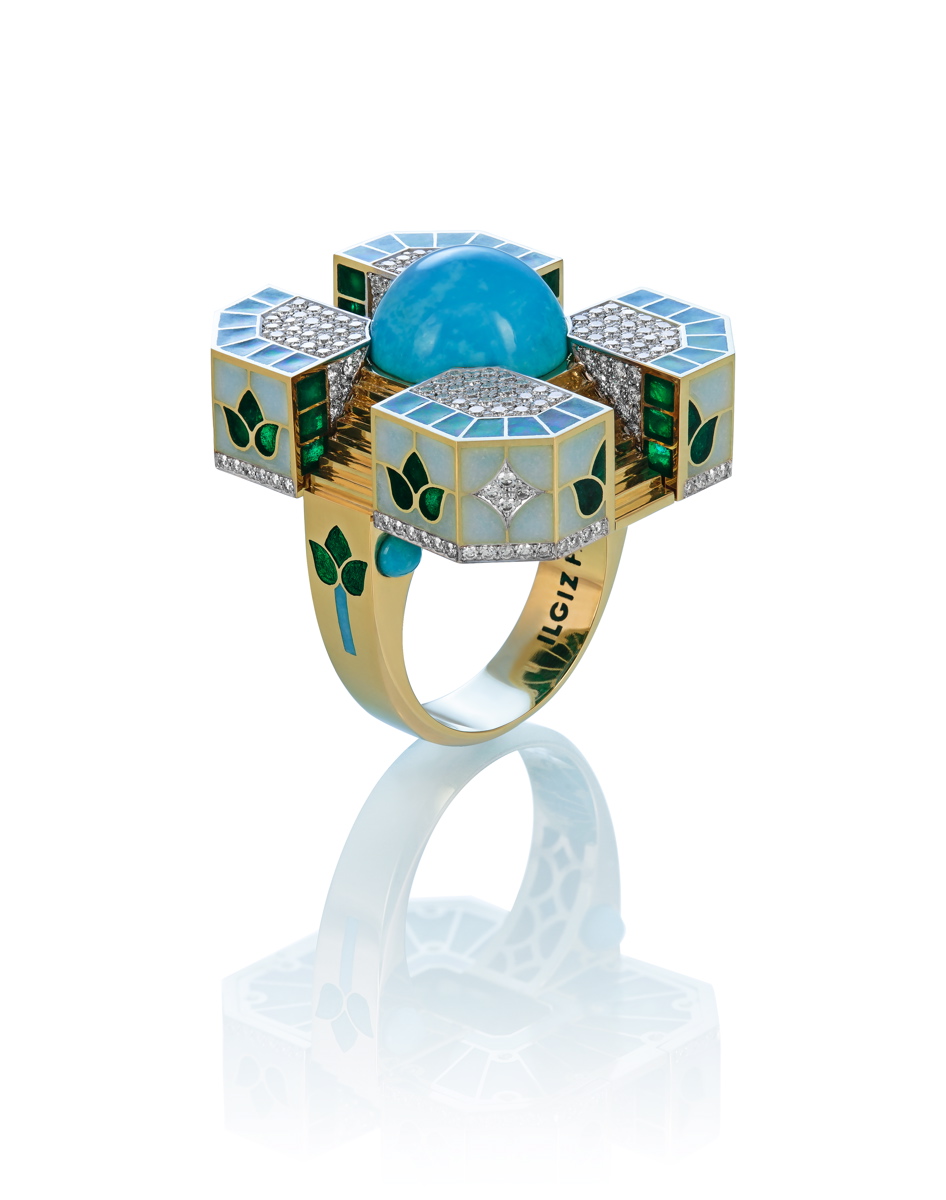 Ring inspired by the Uluk Bek Observatory (Ulugh Beg). Made of yellow and white gold, enamel, diamonds and turquoise. Photo: Ilgiz F.
Also, you should know that there are still some pieces available. You can find them in Paris, Moscow and – recently – in Saint Petersburg where the jeweller has recently opened a corner in the famous shop "Au pont rouge". Don't hesitate to go and discover them, you won't regret it!
See you soon!