For several years now, July's fashion week has become the event not to be missed by those who work in and frequent the world of fashion and jewellery. After having presented the outstanding pieces of the French and Chinese houses , I wanted to focus on eight houses that offer very different jewellery. Some communicate a lot, others are more confidential. What they all have in common is that they choose Paris to unveil their latest collections. I invite you to a tour of the jewellery world!
1- Buccellati
A few months ago, the house inaugurated its new boutique at the foot of the Hôtel Costes, at 239 rue Saint-Honoré. 150m2 dedicated to the art of the Italian jewellers who offer one of the most delicate jewels currently on the market. It was also an opportunity to celebrate the brand's 100th anniversary by unveiling a vintage corner and a new diamond cut: the Buccellati Cut, the development and production of which was entrusted to Taché Diamonds. The selected diamonds come mainly from Botswana, South Africa and Russia. For the new high jewellery collection, the company has proposed a number of new pieces, the creation of which is again in keeping with the company's expertise: gold lace, enamel, luminous central stones such as a 16.31 carat tourmaline or a 19.20 carat kunzite.
Budelli ring in gold, diamonds and 19.20 carat kunzite. Courtesy of Buccellati
Bluebell watch in gold, diamonds and enamel. Courtesy of Buccellati
2- David Morris
When I receive invitations from the London-based house now headed by Jeremy Morris, I already know it's going to be exceptional. The house is renowned for its stones and its creations that are as imposing as they are remarkable. This latest presentation was no exception with, among others, a necklace featuring over 110 carats of exquisite pink conch pearls! But I prefer to let you admire the pieces, words – here – are not really necessary..
20.48 carat white gold, diamond, sahir, paraiba tourmaline and black opal ring. Courtesy of David Morris
Necklace in white gold, colourless and pink diamonds for approximately 83 carats. In addition, there are 110 carats of pink conch pearls. Courtesy of David Morris
3- De Beers
For its new collection, the brand – founded in London in 2001 and a subsidiary of the eponymous company founded in 1888 – presented a collection imagined around nature and wildlife. The number of fancy coloured diamonds was impressive, with bold and colourful combinations. The most remarkable line? Without a doubt Knysna, inspired by the polychrome ability of the Knysna Chameleon to change colour.
Knysna ring in white gold, colourless and coloured diamonds. The centre is a 4-carat fancy diamond. Courtesy of De Beers
Knysna necklace in white gold and diamonds with a centre of more than 5 carats. Courtesy of De Beers
4- Objet d'Émotion
Paris also hosted one of the finest selections of contemporary jewellery. Valérie Demure took up residence at the Hôtel du Crillon to present Objet d'Émotion, a group of the most inspiring designers of the moment, including : Melanie Georgacopoulos (Greece), who uses mother-of-pearl in an unparalleled way and also imagines pieces for Tasaki; Francesca Villa (Italy), who reuses found elements, integrating them into her jewellery with undeniable poetry; Sharon Khazzam (USA), who loves gemstones and creates colourful and fun jewellery; and Alice Cicolini (Great Britain), a jeweller and Research Associate at Central St. Martins, where she graduated in 2009 with a Master's degree in Jewellery. A former Director of Arts and Culture for the British Council in India, Alice Cicolini continues to be involved with Indian design and craft. Her jewellery combines gold, meenakari enamel and stunning gemstones, such as the emeralds in her Jaipur Bougainvillea earrings.
Alice Cicolini – Jaipur Bouganvillea earrings in yellow gold, enamel and Muzo trapiche emeralds (55.56 ct). Courtesy of Objet d'Emotion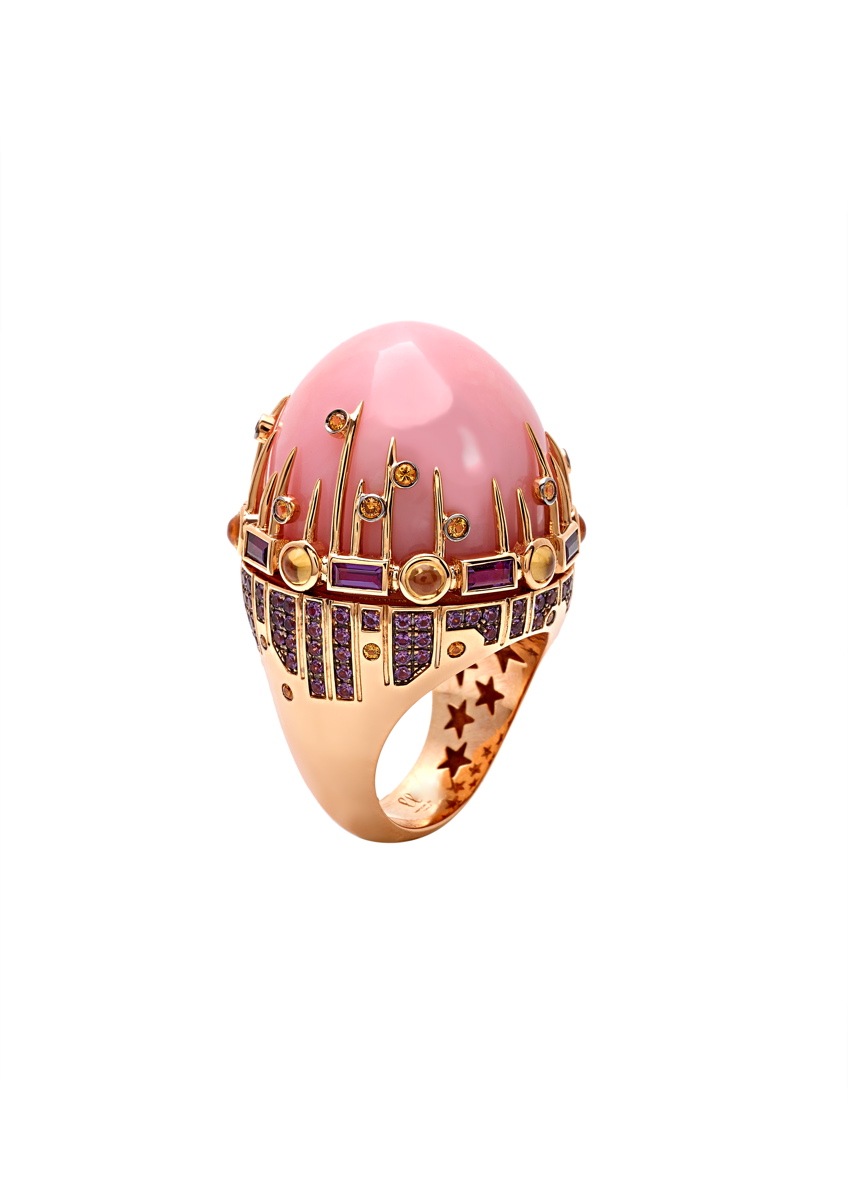 Francesca Villa – Above the cloud ring in pink gold, amethysts, garnets and pink opal. Courtesy of Objet d'Emotion
Mélanie Georgacopoulos – Double ring in gold, mother-of-pearl and freshwater pearls. Courtesy of Objet d'Emotion
Sharon Khazzam – Tavous necklace with a pendant in pink, white and yellow gold set with numerous gemstones, the centre being a 12.14 carat apatite. Courtesy of Objet d'Emotion
5- Piaget
Switzerland continued to shine with the presence of Piaget, which presented the Golden Oasis collection with, among other things, cascades of marquise-cut diamonds, sapphires and malachites. It also unveiled a magnificent pair of diamond and emerald earrings. The brand continues to offer exquisite quality centre stones in ever more vibrant colours. That said, I was a little disappointed with the collection. I had in mind the superb January 2019 collection and while the pieces unveiled in July are still very beautiful, I didn't find that sparkle of the last presentations. To be continued..
Sun Gleam ring in pink gold, diamonds and spinel, 1.72 carats. Courtesy of Piaget
The Altiplano 36 mm Titanota Bright Garden watch in pink gold, diamonds, pink sapphires and tsavorite garnets. The dial is composed of coral, jade, chrysoprase, pink opal, white mother-of-pearl and enamel. This piece was made possible by the collaboration between Anita Porchet and Dick Steenman. The movement is a 430P ultra-thin manual winding. Unique piece. Courtesy of Piaget
6- Rubéus
The first day of Fashion Week was marked by a stunning presentation from Milanese house Rubeus. Founded by a Russian couple – Nataliya and Viktor Bondarenko – the brand presented its first high jewellery collection, which was produced by the French atelier Ebroussard. They included about 16 pieces designed by the French designer Frédéric Mané. Their main feature is the central stones: Russian alexandrites from the Urals (Mariinsk mine), mined before the Russian revolution of 1917. Although this deposit is now known for its emeralds, it produced some very fine alexandrites in the first half of the 19th century.
The Rubeus collection brought to light 47 alexandrites, the largest weighing over 69.37 carats. One ring contained a stone weighing over 29 carats. The gems showed an extremely pronounced colour change phenomenon. Rubeus' unique pieces apparently interested many buyers. Although prices have not been released, it has been whispered that the necklace could be worth several million dollars. This seems rather obvious, as we know that some alexandrites trade around $25,000 per carat. The Gübelin laboratory has certified the stones as natural and untreated. Another noteworthy event was the lecture by Dr. Laurent Massi, who enlightened the audience about this atypical stone.
The Imperial Necklace in white gold, titanium, diamonds, spinels and a Russian Alexandrite centre of 69.37 carats certified natural and untreated by the Gübelin laboratory. Courtesy of Rubeus
White gold, diamond, sapphire, tanzanite and Russian alexandrite ring. Courtesy of Rubeus
Gold ring with diamonds and two Russian alexandrites. Courtesy of Rubeus
7- Suzanne Syz
With Suzanne, surprises have become habitual. She never fails to dazzle with unlikely materials and patterns. Translucent enamel, Brazilian Paraiba tourmalines, raw spinels and matte aluminium are part of her new opus of unique pieces. We love it!
Gold, enamel and Paraïba tourmaline bracelet. Courtesy of Suzanne Syz
Gold, diamond and rough spinel earrings. Courtesy of Suzanne Syz
8- Tasaki
Tasaki's collection left me a little underwhelmed with the exception of one set: the Elysium collection, which features (treated) blue topazes rarely used in fine jewellery The collection was designed by New York-based designer Prabal Gurung, who has been designing for the house since 2017.
The Elysium earrings in white gold, blue topaz (treated), sapphires and diamonds. Courtesy of Tasaki
See you soon!