La semaine de la mode du mois de juillet est devenue depuis plusieurs années le rendez-vous à ne pas manquer quand on travaille et fréquente le monde de la mode et de la joaillerie. Après vous avoir présenté les pièces marquantes des maisons françaises et celles des maisons chinoises, j'ai eu envie de m'attarder sur huit maisons qui proposent des bijoux très différents. Certaines communiquent beaucoup, d'autres sont plus confidentielles. Elles ont en commun de choisir Paris pour dévoiler leurs dernières collections. Je vous invite donc à un tour du monde joaillier !
The fashion week of July has become for several years the unmissable appointment when working into the world of jewelry. After showing you the striking pieces of French and Chinese houses, I wanted to dwell on eight houses that offer very different jewelry. Some communicate a lot, others are more confidential. But, all have chosen Paris to unveil their new collections. I invite you to a jeweler world tour !
1- Buccellati
Il y a quelques mois, la maison inaugurait sa nouvelle boutique au pied de l'Hôtel Costes, au 239 rue Saint-Honoré. 150m2 dédié à l'art des joailliers de la maison italienne qui propose l'une des joaillerie les plus délicates actuellement sur le marché. L'occasion aussi de fêter les 100 ans de la marque en dévoilant un corner vintage et une nouvelle taille de diamant : la Buccellati Cut dont le développement et la réalisation ont été confiés à la maison Taché Diamonds. Les diamants sélectionnés provenant principalement du Botswana, d'Afrique du Sud et de Russie. Pour la nouvelle collection de haute joaillerie, la maison a proposé quelques nouvelles pièces dont la réalisation est encore et toujours à la hauteur du savor-faire de la maison : dentelles d'or, émail, pierres centrales lumineuses à l'image d'une tourmaline de 16,31 carats ou d'une kunzite de 19,20 carats.
A few months ago, the house inaugurated its new store near the Costes Hotel, at 239 rue Saint-Honoré. 150m2 dedicated to the art of the in-house jeweler of this Italian brand which proposes one of the most delicate jewels currently on the market. The occasion also to celebrate the 100 years of the brand by unveiling a vintage corner and a new diamond size : the Bucellati Cut whose development and realization were entrusted to Taché Diamonds. The selected diamonds mainly come from Botswana, South Africa and Russia. For the new collection of jewelry, the house has proposed some new pieces whose achievement is still and always at the height of the house savoir-faire : gold lace, enamel, cool central stones like a tourmaline of 16.31 carats or a kunzite of 19.20 carats.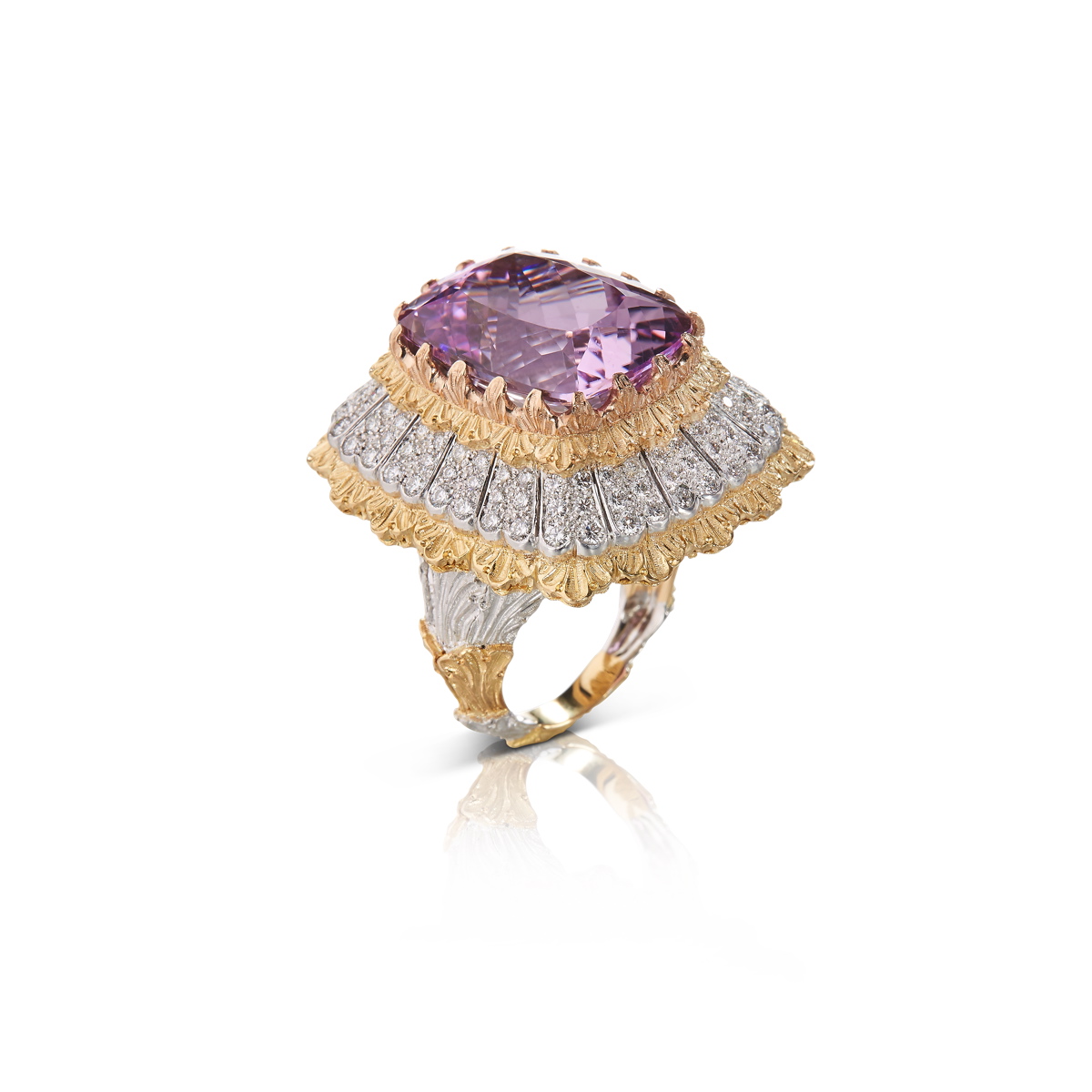 Bague Budelli en or, diamants et kunzite de 19,20 carats. The « Budelli » ring in gold, diamonds and a 19,20 kunzite. Courtesy of Buccellati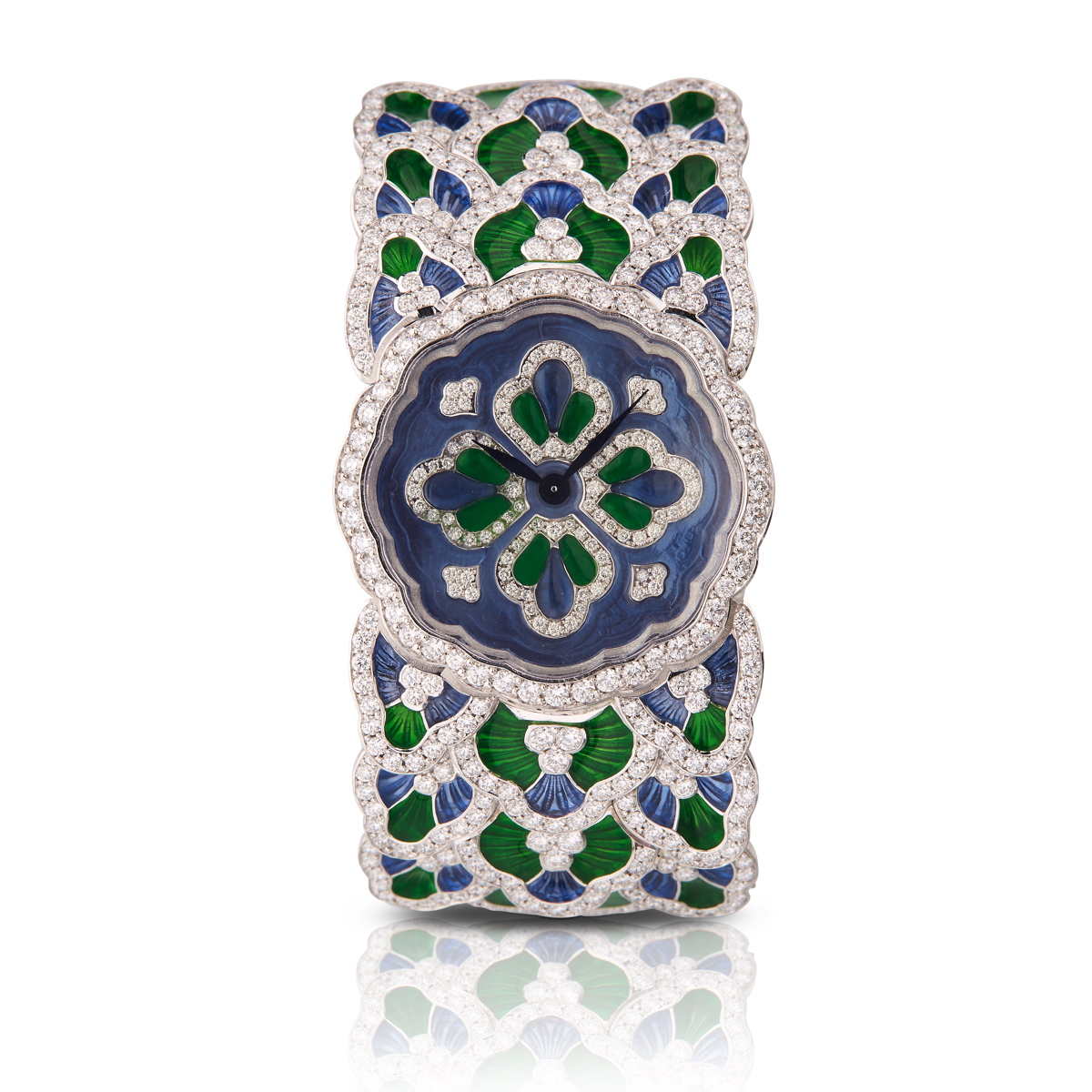 Montre Bluebell en or, diamants et émail. The « Bluebell » jeweled watch in gold, diamonds and enamel. Courtesy of Buccellati
2- David Morris
Quand je reçois les invitations de la maison londonienne emmenée désormais par Jeremy Morris, je sais déjà que cela va être exceptionnel. La maison est réputée pour ses pierres et ses créations aussi imposantes que remarquables. Cette dernière présentation n'a pas fait exception à la règle avec, entre autres, un collier où figure plus de 110 carats de perles de conques d'un rose exquis ! Mais je préfère vous laisser admirer les pièces, les mots – ici – ne sont pas vraiment nécessaires…
When I receive the invitations from the London house now headed by Jeremy Morris, I already know that it will be exceptional. The house is famous for its stones and its impressive, remarkable creations. This last presentation was no exception with, among other things, a necklace featuring more than 110 carats of exquisite pink conch pearls ! But I prefer to let you admire the pieces, the words – here – are not really necessary…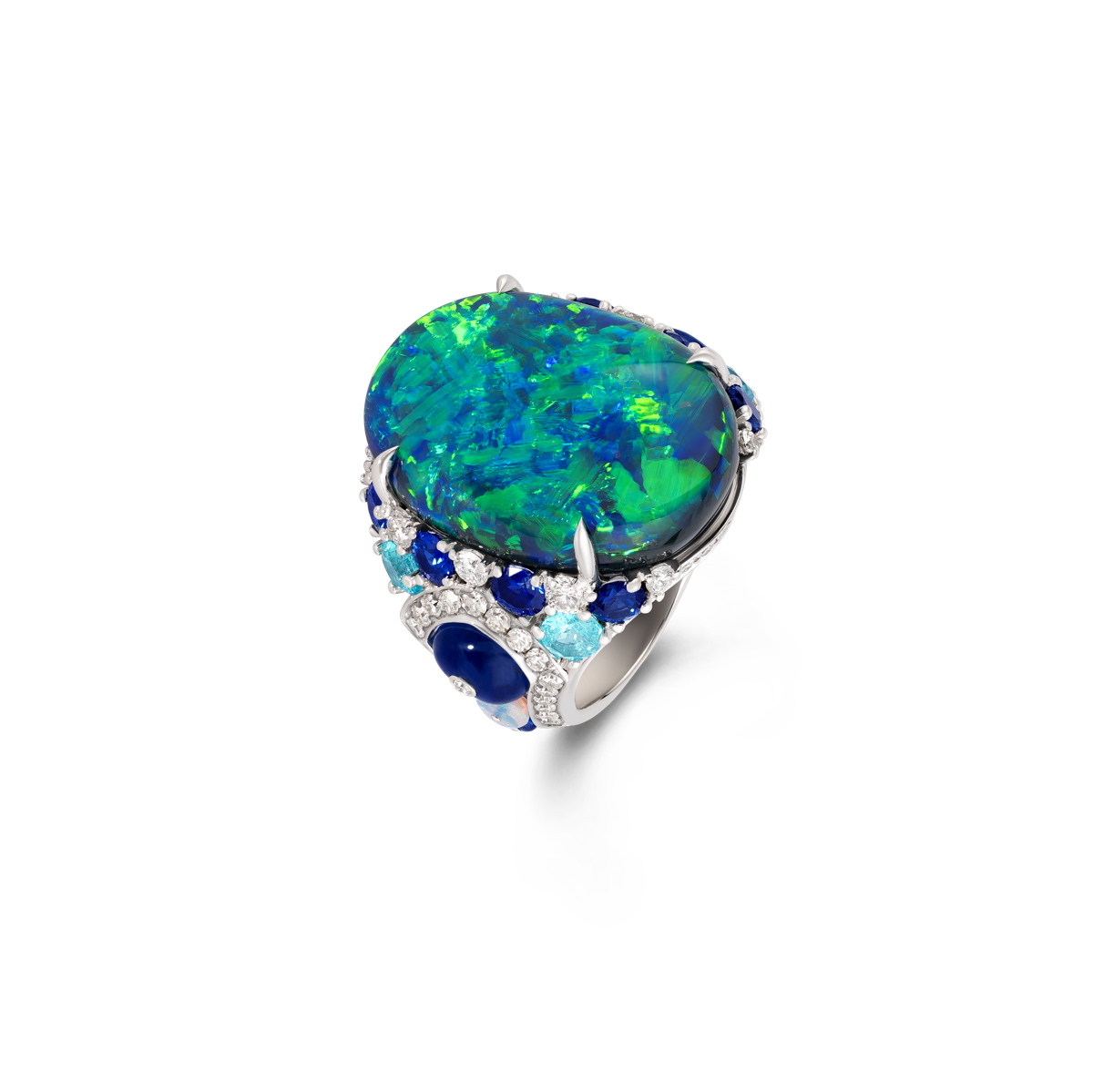 Bague en or blanc, diamants, sahirs, tourmaline paraïba et opal noire de 20,48 carats. A 20.48ct opal ring with paraiba, blue sapphires and white diamonds set in 18ct white gold. Courtesy of David Morris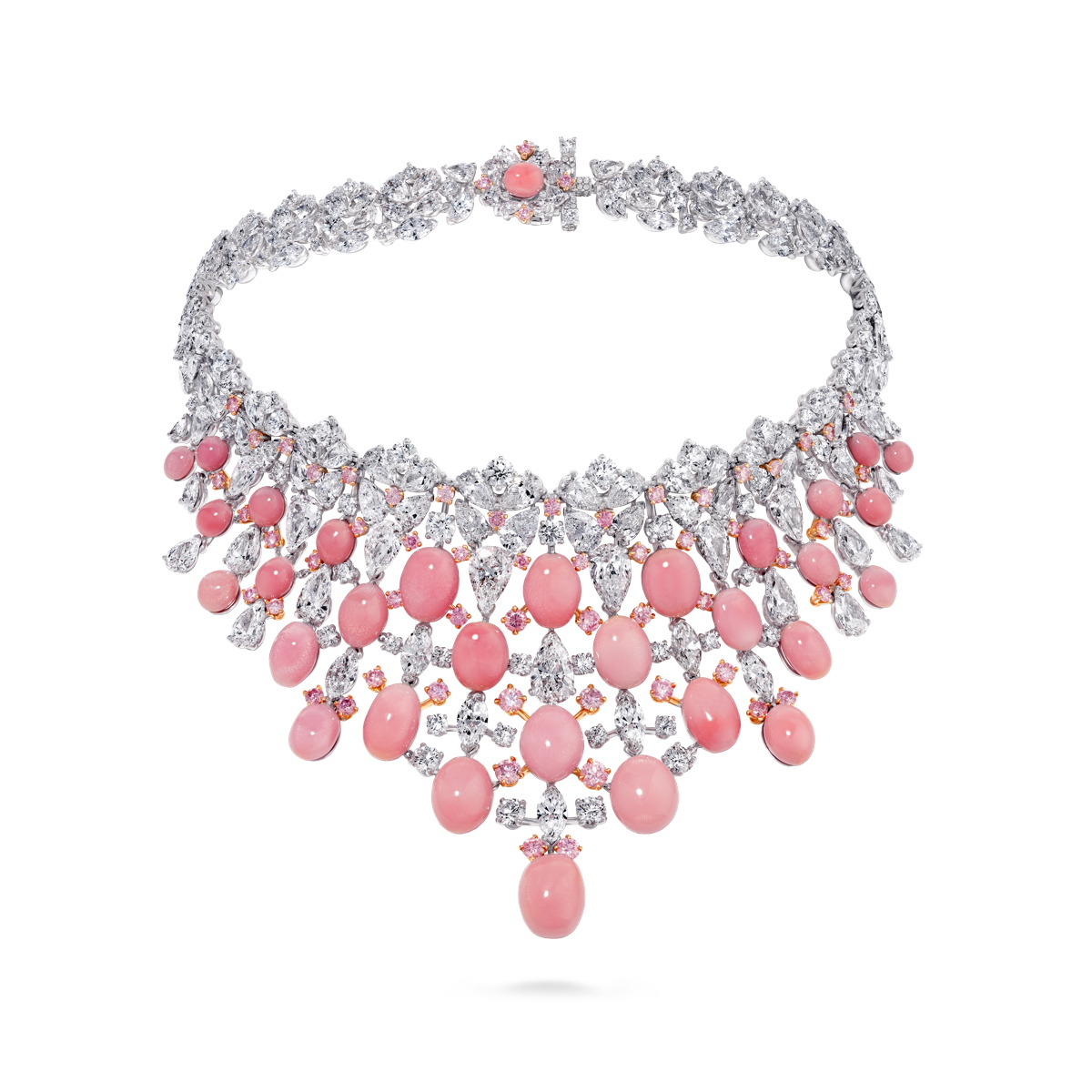 Collier en or blanc, diamants incolores et roses pour environ 83 carats. S'ajoute 110 carats de perles de conques roses. 110ct Pink pearl necklace with 83ct fancy pink diamonds and fine white diamonds set in 18ct rose and white gold. Courtesy of David Morris
3- De Beers
Pour sa nouvelle collection, la marque – fondée à Londres en 2001 et filiale de l'entreprise éponyme fondée en 1888 – a présenté une collection imaginée autour de la nature et de la faune. Le nombre de diamants de couleur fantaisie était impressionnant, avec des combinaisons audacieuses et colorées. La ligne la plus remarquable ? Sans aucun doute Knysna, inspirée par la capacité polychrome du Knysna Chameleon à changer de couleur.
For its new collection, the global diamond brand, founded in London in 2001 and subsidiary of the eponymous enterprise founded in 1888, presented a collection developed around Nature's ora and fauna. The number of fancy color diamonds was impressive, showcased with bold and colorful combinations. One of the most memorable was the Knysna line, inspired by the polychromatic ability of the Knysna Chameleon to change color.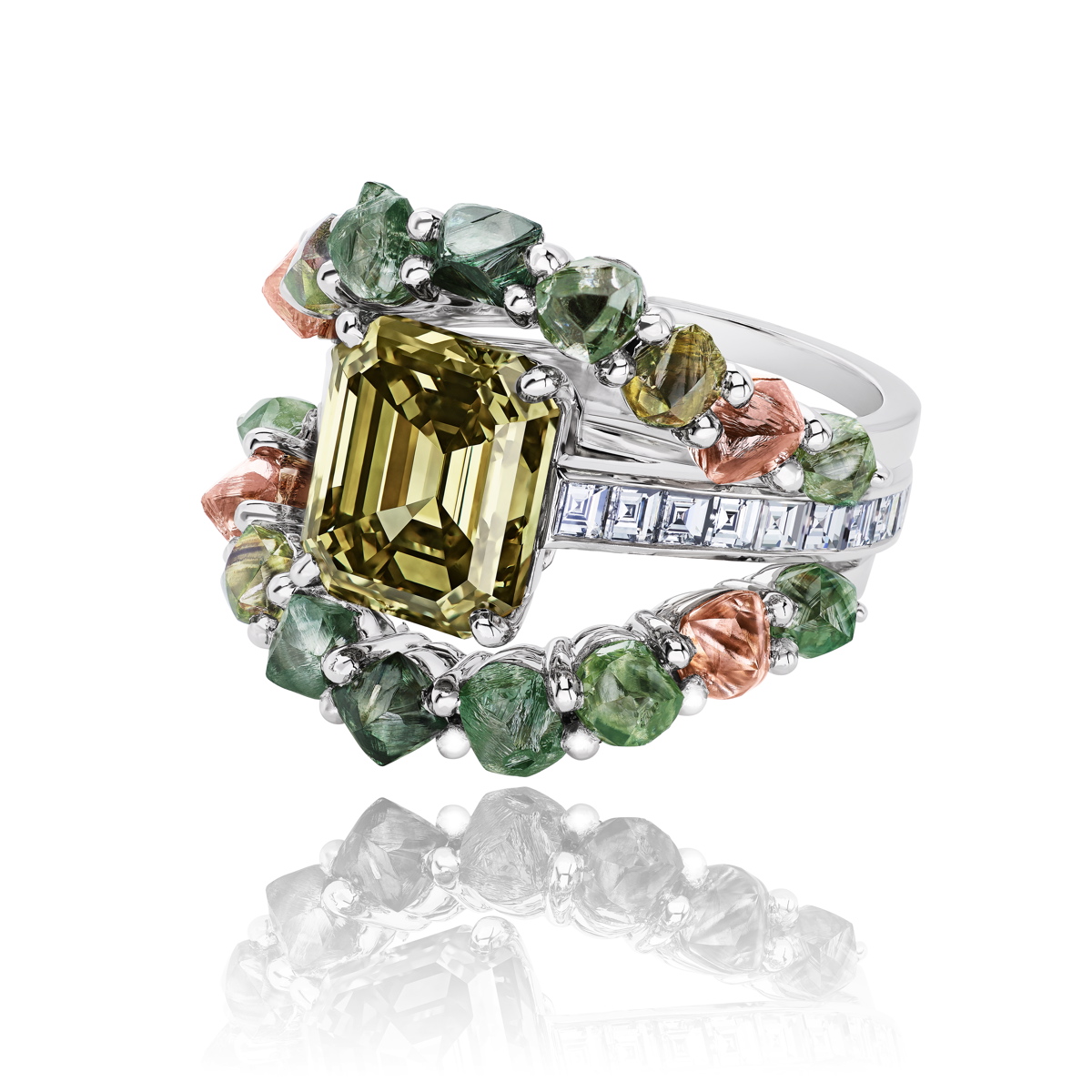 Bague Knysna en or blanc, diamants incolores et de couleurs. Le centre est un diamant fancy de 4 carats. The Knysna Chameleon ring. Two lines of colour rough diamonds embrace a 4 carat emerald-cut, fancy colour solitaire. Courtesy of De Beers
Collier Knysna en or blanc et diamants dont centre de plus de 5 carats. The Knysna Chameleon necklace. Detachable coloured rough diamond rows surround a polished recut baguette diamond line necklace suspending a 5 carat pear-shape diamond. Courtesy of De Beers
4- Objet d'Émotion
Paris a également accueilli l'une des plus belles sélection de bijoux contemporains. Valérie Demure s'est installée à l'Hôtel du Crillon pour présenter Objet d'Émotion, un groupe de designers parmi les plus inspirants du moment, dont : Mélanie Georgacopoulos (Grèce), qui utilise la nacre de manière incomparable et qui imagine aussi des pièces pour Tasaki ; Francesca Villa (Italie) qui réutilise des éléments trouvés en les intégrant dans ses bijoux avec une poésie indéniable ; Sharon Khazzam (États-Unis), qui aime les pierres précieuses et crée des bijoux colorés et amusants ; et Alice Cicolini (Grande-Bretagne), bijoutière et Research Associate à Central St Martins, où elle a obtenu son diplôme en 2009 avec un Master en joaillerie. Ancienne Directrice des Arts et de la Culture du British Council en Inde, Alice Cicolini est toujours en lien avec le design et l'artisanat indiens. Ses bijoux mêlent or, émail meenakari et pierres gemmes étonnantes, telles que les émeraudes de ses boucles d'oreilles Jaipur Bougainvillea.
Paris also hosted one of the most beautifully curated collections in contemporary jewelry. Valerie Demure set up at the Hôtel du Crillon to present Objet d'Emotion, a group of some of today's most inspiring contemporary designers, including : Mélanie Georgacopoulos (Greece), who uses mother-of-pearl like no one else and who also designs for Tasaki ; Francesca Villa (Italy) who repurposes items, integrating them into her jewelry with undeniable poetry ; Sharon Khazzam (USA), who loves gems and creates colorful and fun jewelry ; and Alice Cicolini (Britain), a jeweler and Research Associate at Central St Martins, where she graduated in 2009 with a Masters in Jewelry Design. Formerly Director of Arts & Culture for the British Council in India, Cicolini is still involved with Indian craft and design, whose jewels blend gold, meenakari enameling traditions and amazing gemstones, such as the emeralds in her Jaipur Bougainvillea earrings.
Alice Cicolini – Boucles d'oreilles Jaipur Bouganvillea en or jaune, émail et émeraudes trapiche de Muzo (55,56 ct). The Jaipur Bougainvillea Muzo earrings. Alice Cicolini by Objet d'Emotion
, 18k yellow gold with lacquer enamel and Muzo trapiche emeralds (55.565ct). Courtesy of Objet d'Emotion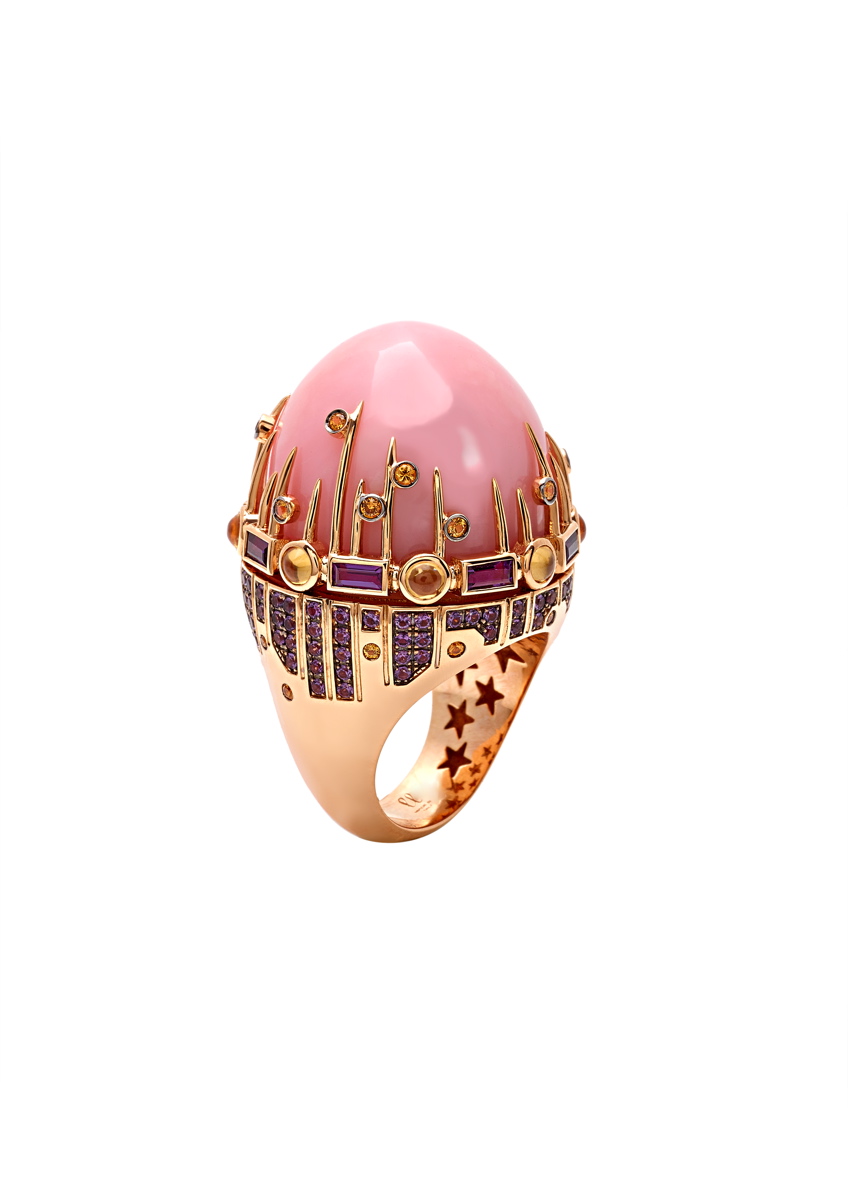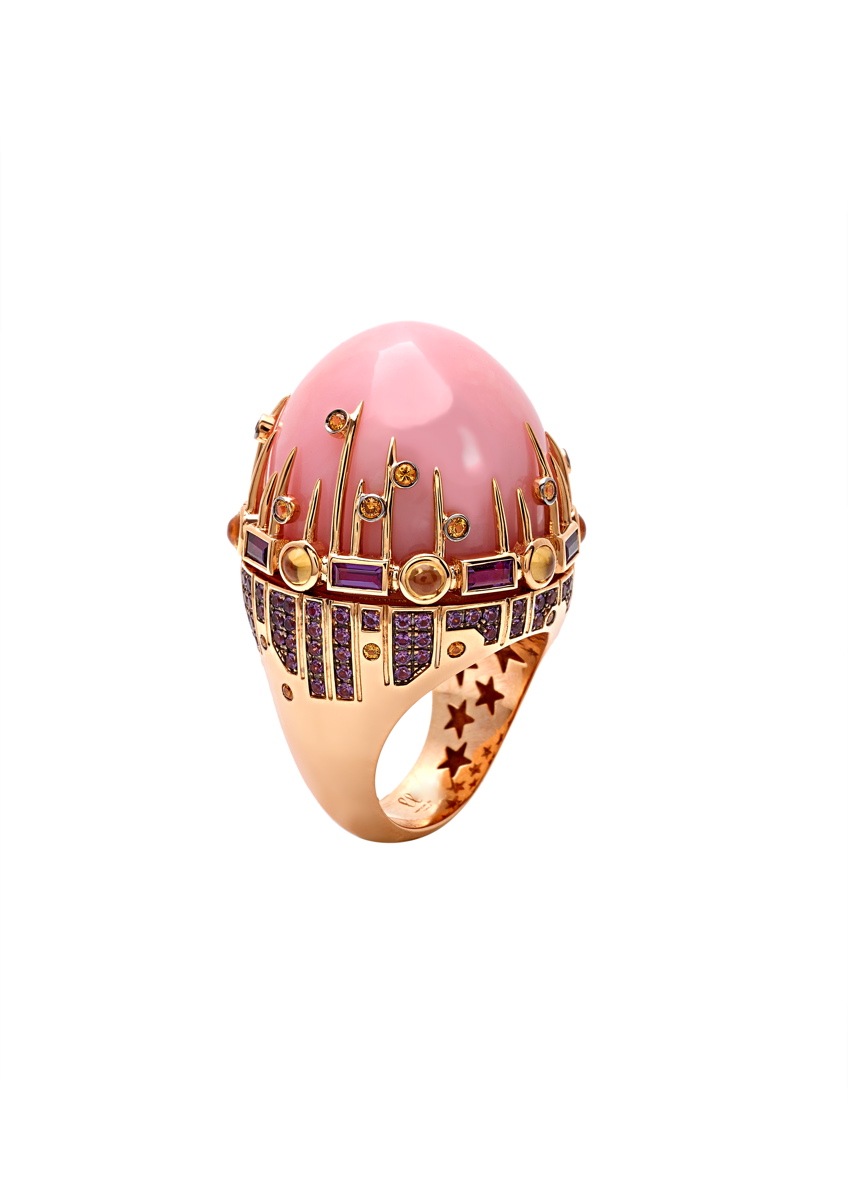 Francesca Villa – Bague Above the cloud en or rose, améthystes, grenats et opale rose. The Above The Cloud ring. Francesca Villa by Objet d'Emotion
18k rose gold with amethyst (1.60ct), garnets (1.60ct) and pink opal. Courtesy of Objet d'Emotion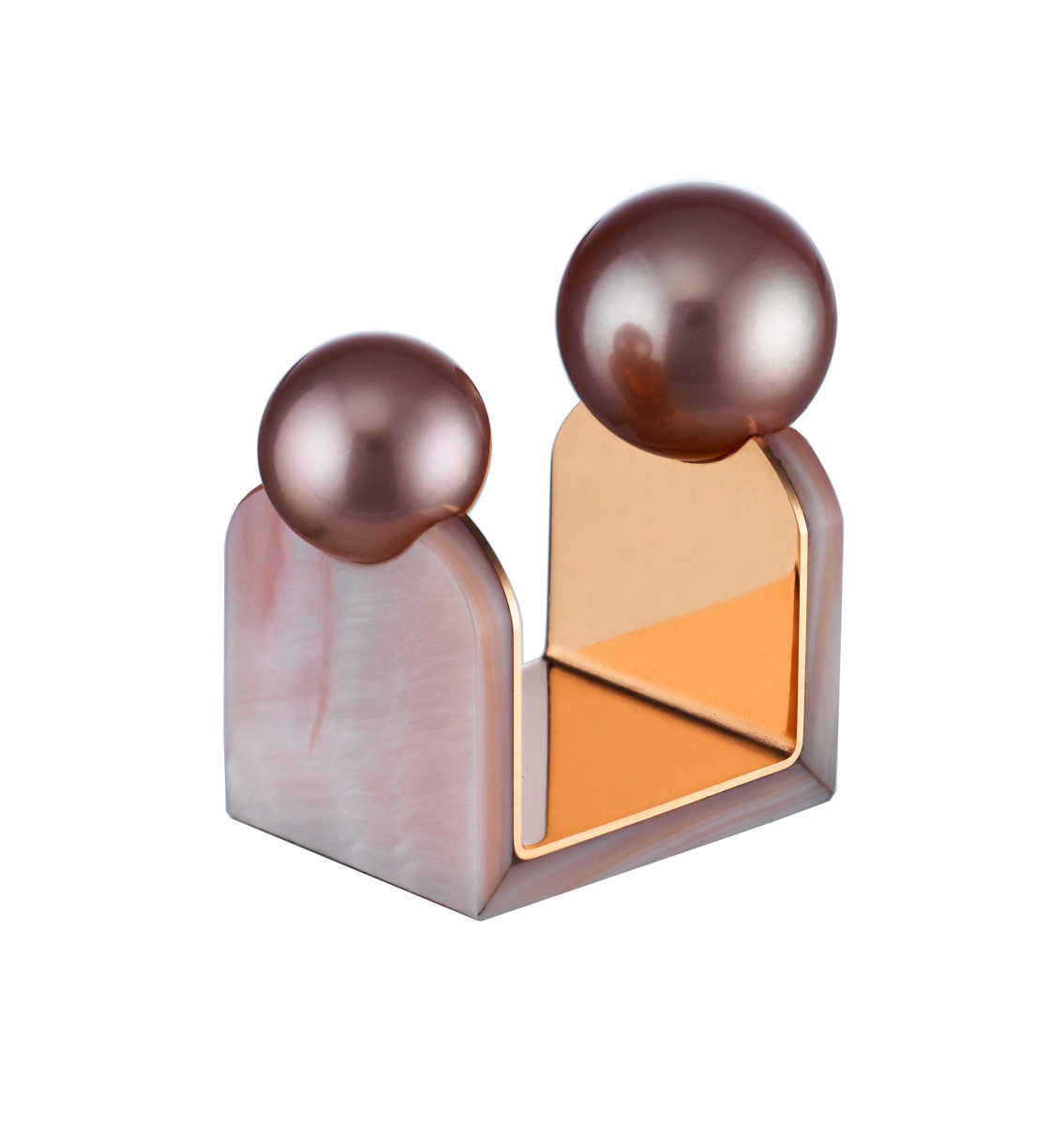 Mélanie Georgacopoulos – Bague double en or, nacre et perles d'eau douce. The Double Pearl Nacre ring. Melanie Georgacopoulos by Objet d'Emotion
18k rose gold with lavender mother of pearl and 13mm & 11mm lavender freshwater pearls. Courtesy of Objet d'Emotion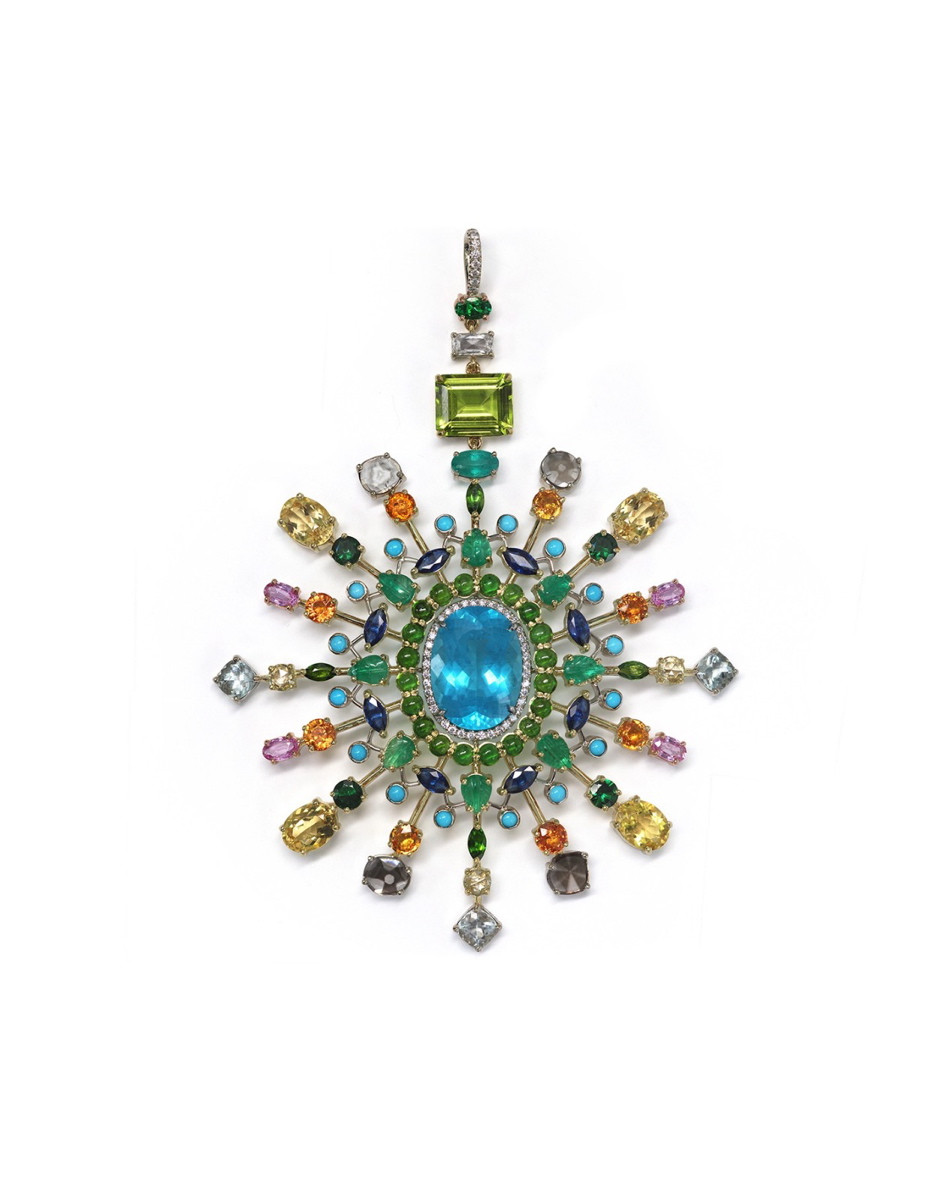 Sharon Khazzam – Collier Tavous dont le pendentif en or rose, blanc et jaune est serti de nombreuses pierres gemmes dont le centre est une apatite de 12,14 carats. The Tavous Necklace by Sharon Khazzam. An eighteen-karat pink, yellow and white gold necklace, showcasing a large central medallion.  This primary motif, composed of an interesting collection and combination of gemstones and diamonds, features a dynamic 12.14 carat ovular facetted apatite. Courtesy of Objet d'Emotion
5- Piaget
La Suisse continue de briller avec la présence de la maison Piaget qui a présenté la collection Golden Oasis avec, entre autres, des cascades de diamants taille marquise, des saphirs et des malachites. Elle a également dévoilé une magnifique paire de boucles d'oreilles ornée de diamants et d'émeraudes. La marque continue à proposer des pierres centrales de qualité exquise aux couleurs toujours plus vives. Cela dit, la collection m'a un peu déçu. J'avais en tête la superbe collection de janvier 2019 et si les pièces dévoilées en juillet restent très belles, je n'ai pas retrouvé cette étincelle des dernières présentations. Affaire à suivre…
Switzerland continues to sparkle with the presence of the Piaget house which have presented Golden Oasis with cascades of marquise-cut diamonds, sapphires and malachites. It also unveiled a beautiful pair of earcuffs adorned with diamonds and emeralds. The brand continues to offer center stones of exquisite quality with ever brighter colors. That said, the collection disappointed me a little. I had in mind the superb collection of January 2019 and if the pieces unveiled in July are very beautiful, I do not found this spark of the last presentations. To follow …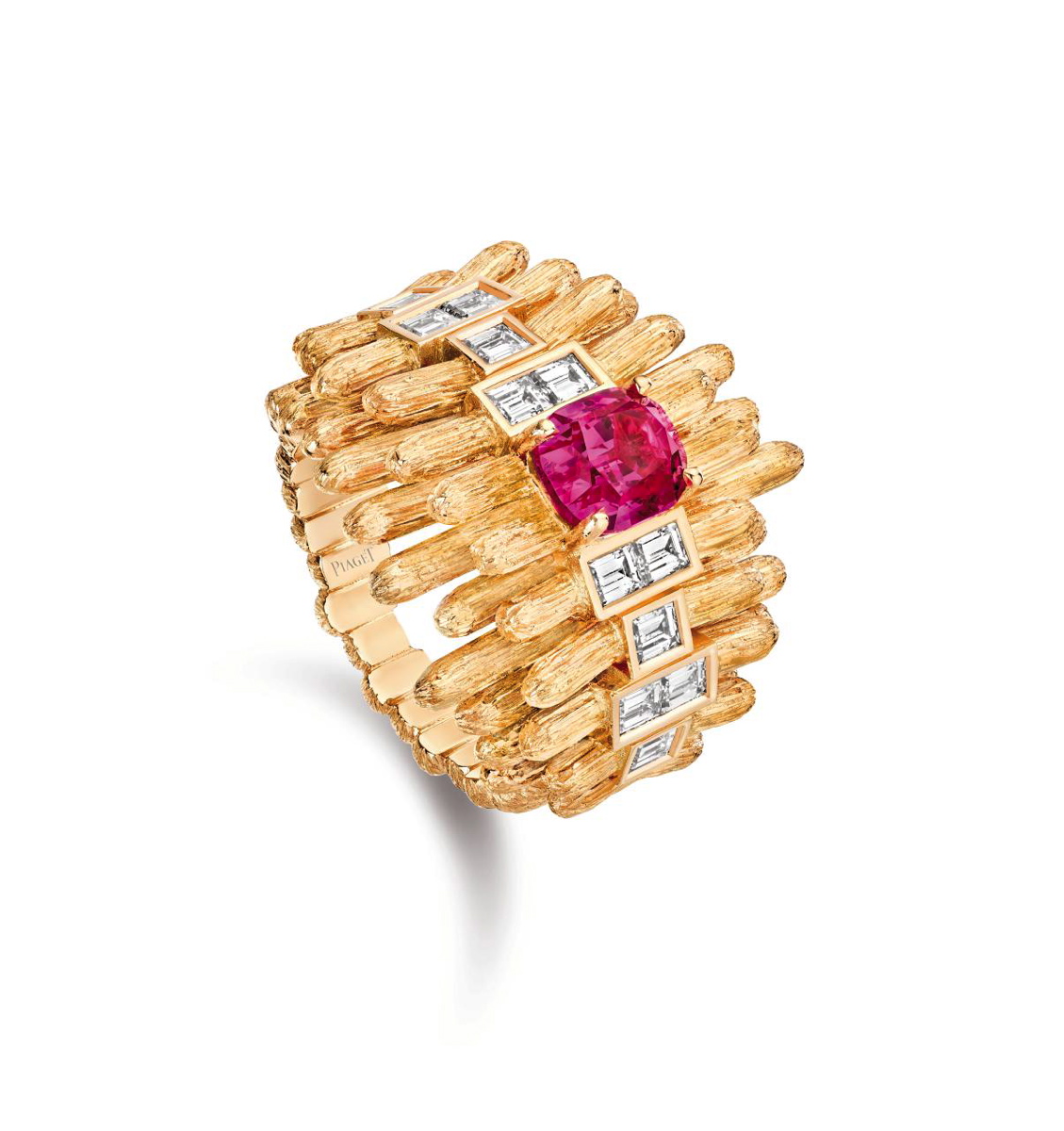 Bague Sun Gleam en or rose, diamants et spinel de 1,72 carats. The Sun Gleam ring made in rose gold, a 1,72 pink spinel and diamonds. Courtesy of Piaget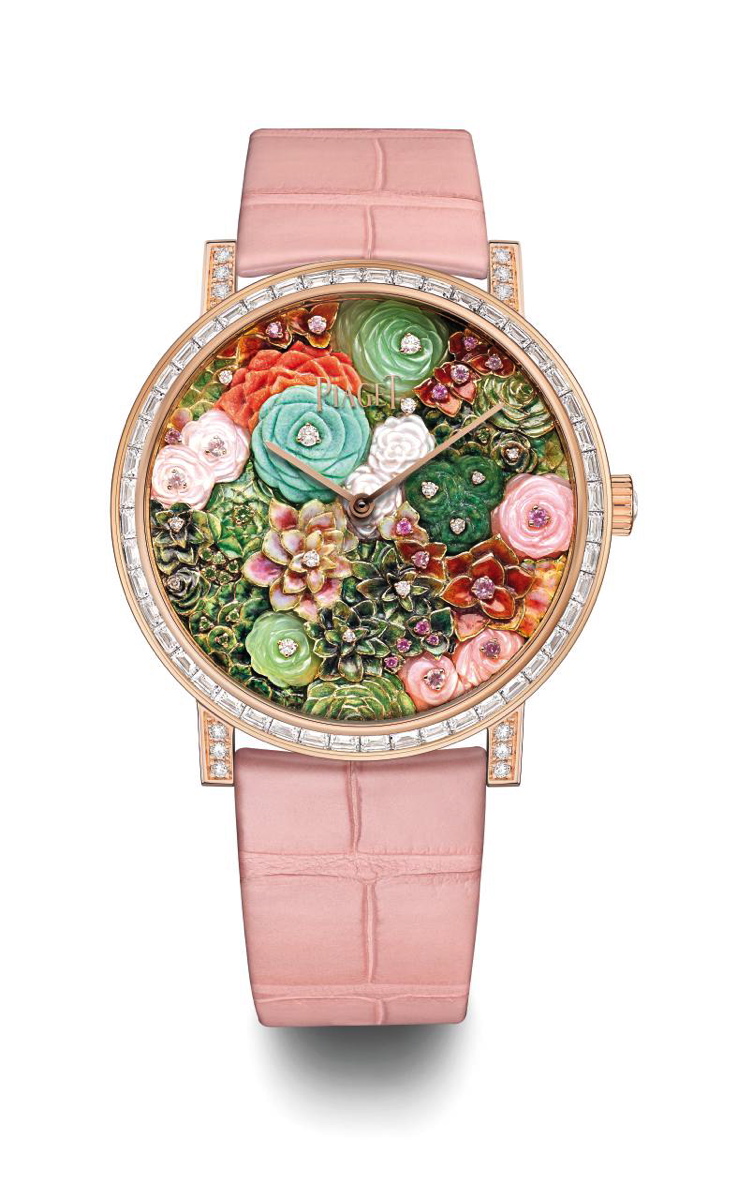 La montre Altiplano 36 mm Titanota Bright Garden en or rose, diamants, saphirs roses, grenats tsavorites. Le cadran se compose de corail, jade, chrysoprase, opale rose, nacre blance et émail. Cette pièce a été rendue possible grâce à la collaboration entre Anita Porchet et Dick Steenman. Le mouvement est un 430P ultra fin à remontage manuel. Pièce Unique. The Titanota Bright Garden watch. 18K rose gold Piaget Altiplano 36mm watch set with baguette-cut diamonds, brilliant-cut diamonds, brilliant-cut pink sapphires and brilliant-cut tsavorites. Glyptic dial made of coral, jade, chrysoprase, pink opal, white mother-of-pearl, malachite and enamel flowers. A creation realized thanks to a collaboration between Anita Porchet and Dick Steenman. 430P Ultra-thin hand-wound mechanical. Unique creation. Courtesy of Piaget
6- Rubéus
Le premier jour de la Fashion Week a été marqué par une présentation étonnante de la maison milanaise Rubeus. Fondée par un couple russe – Nataliya et Viktor Bondarenko -, la marque a présenté sa première collection de haute joaillerie, dont la réalisation ont été confiée à l'atelier français Ebroussard. Elles comprenaient environ 16 pièces conçues par le designer français Frédéric Mané. Leur principale caractéristique réside dans les pierres centrales : des alexandrites russes de l'Oural (mine de Mariinsk), exploitées avant la révolution russe de 1917. Bien que ce gisement soit maintenant connu pour ses émeraudes, il a produit de très belles alexandrites au cours de la première moitié du XIX ème siècle.
The first day of Fashion Week was marked by a noteworthy presentation by the Milanese company, Rubeus. Founded by a Russian couple — Nataliya and Viktor Bondarenko — the designer brand presented its first collection of high-end jewelry whose designs are entrusted to the French atelier Ebroussard. They included about 16 pieces designed by French designer Frederic Mané. Their primary characteristic revolves around the center stones — Russian alexandrites from the Urals (Mariinsk Mine) that were mined before the Russian Revolution of 1917. Although this deposit is now known for its emeralds, it produced some very beautiful alexandrites during the first half of the 19th century.
La collection Rubeus a mis en lumière 47 alexandrites, la plus importante pesant plus de 69,37 carats. Une bague comportait une pierre de plus de 29 carats. Les gemmes présentaient un phénomène de changement de couleur extrêmement prononcé. Les pièces uniques de Rubeus ont apparemment intéressé de nombreux acheteurs. Bien que les prix n'aient pas été publiés, il a été murmuré que le collier pourrait dépasser plusieurs millions de dollars. Cela semble plutôt évident, car nous savons que certaines alexandrites se négocient autour de 25,000 $ par carat. Le laboratoire Gübelin a d'ailleurs certifié les pierres comme naturelles et non traitées. Concernant la présentation, un autre événement digne d'intérêt a été la conférence du Dr. Laurent Massi, qui a éclairé le public sur cette pierre atypique.
The Rubeus collection highlighted 47 alexandrites, with the largest weighing in at more than 69.37 carats. One ring featured a stone of more than 29 carats. The gems presented an extremely pronounced color-change phenomenon. Rubeus' unique pieces apparently interested many buyers. While prices were not published, it was whispered that the necklace could exceed many millions of dollars. This seems on the high side, since we know that some alexandrites are trading at around $US25,000 per carat. The stones have been reported to be untreated by Gübelin Laboratory. Speaking of alexandrites, another worthy event was the conference by Dr. Laurent Massi, who enlightened the public on this beautiful gemstone.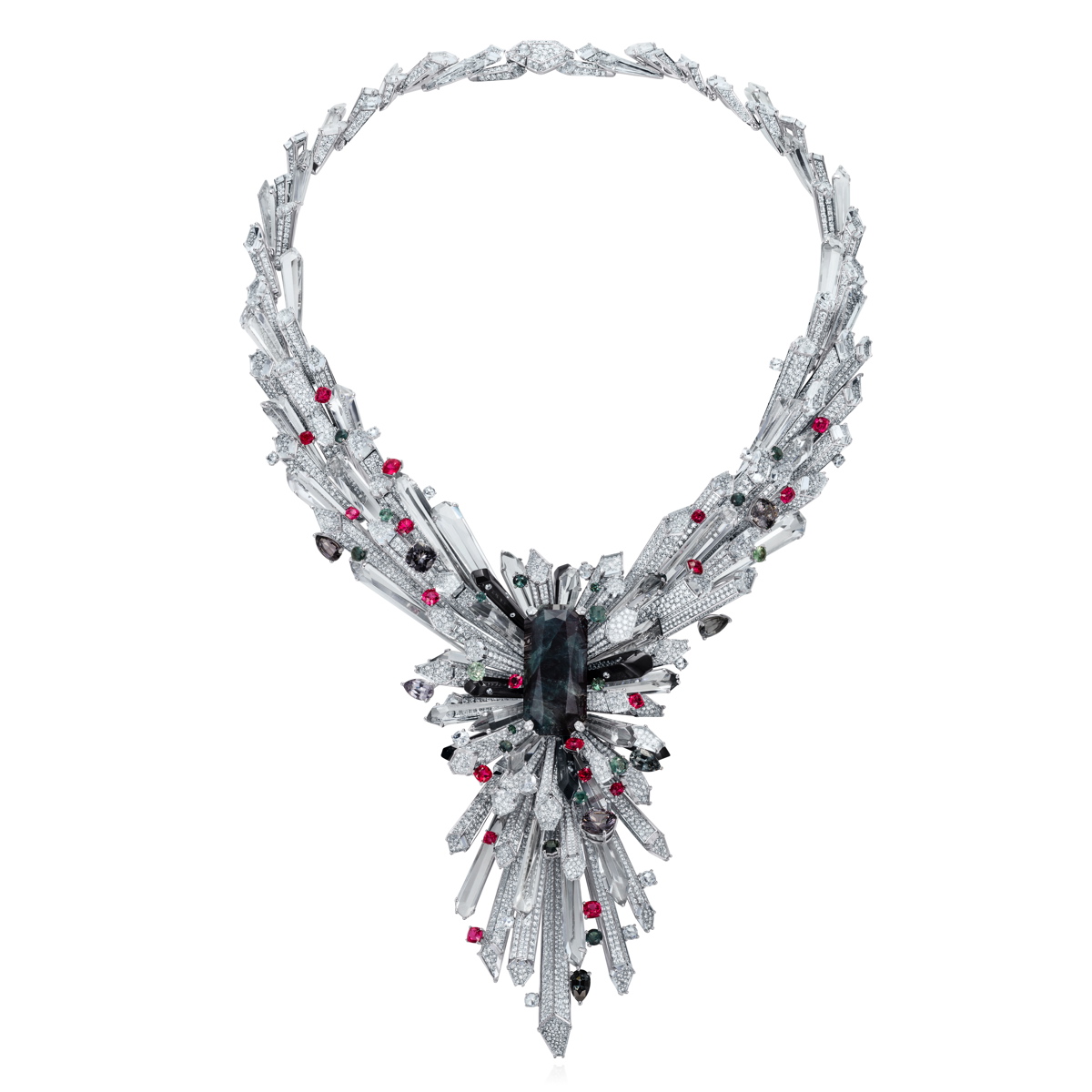 Le Collier Impérial en or blanc, titane, diamants, spinelles et centre alexandrite russe de 69,37 carats certifée naturelle et non traitée par le laboratoire Gübelin. The Imperial necklace made in gold, diamond, spinel, and an impressive Russian alexandrite of 69,37 carats reported natural and untreated by Gübelin laboratory. Courtesy of Rubeus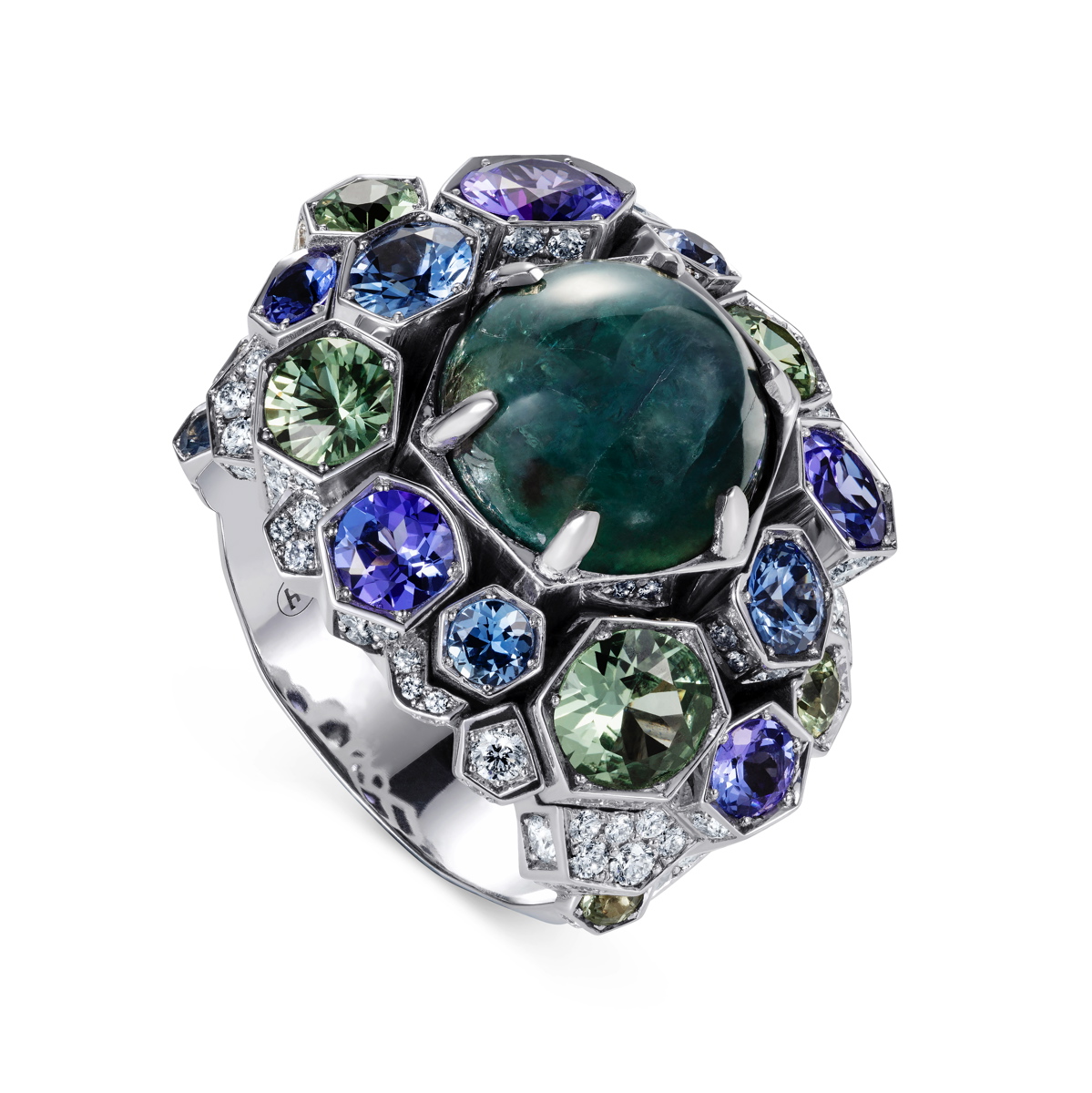 Bague en or blanc, diamants, saphirs, tanzanites et alexandrites russes. Ring in gold, sapphires, tanzanites and Russian alexandrites. Courtesy of Rubeus
Bague en or, diamants et deux alexandrites russes. Ring in gold, diamond and two Russian alexandrite. Courtesy of Rubeus
7- Suzanne Syz
Avec Suzanne, les surprises sont devenues habituelles. Elle ne manque jamais d'éblouir avec des matériaux et des motifs improbables. L'émail translucide, les tourmalines brésiliennes Paraïba, les spinelles bruts et l'aluminium mat font partis de son nouvel opus de pièces uniques. Nous, on aime !
At Suzanne Syz, surprises have become routine. She never fails to dazzle with unlikely materials and designs year after year. Translucent enamel, Brazilian Paraïba tourmaline, rough and polished spinels and matte aluminum are just a few of the stanzas in her new opus of unique pieces. We are absolutely in love !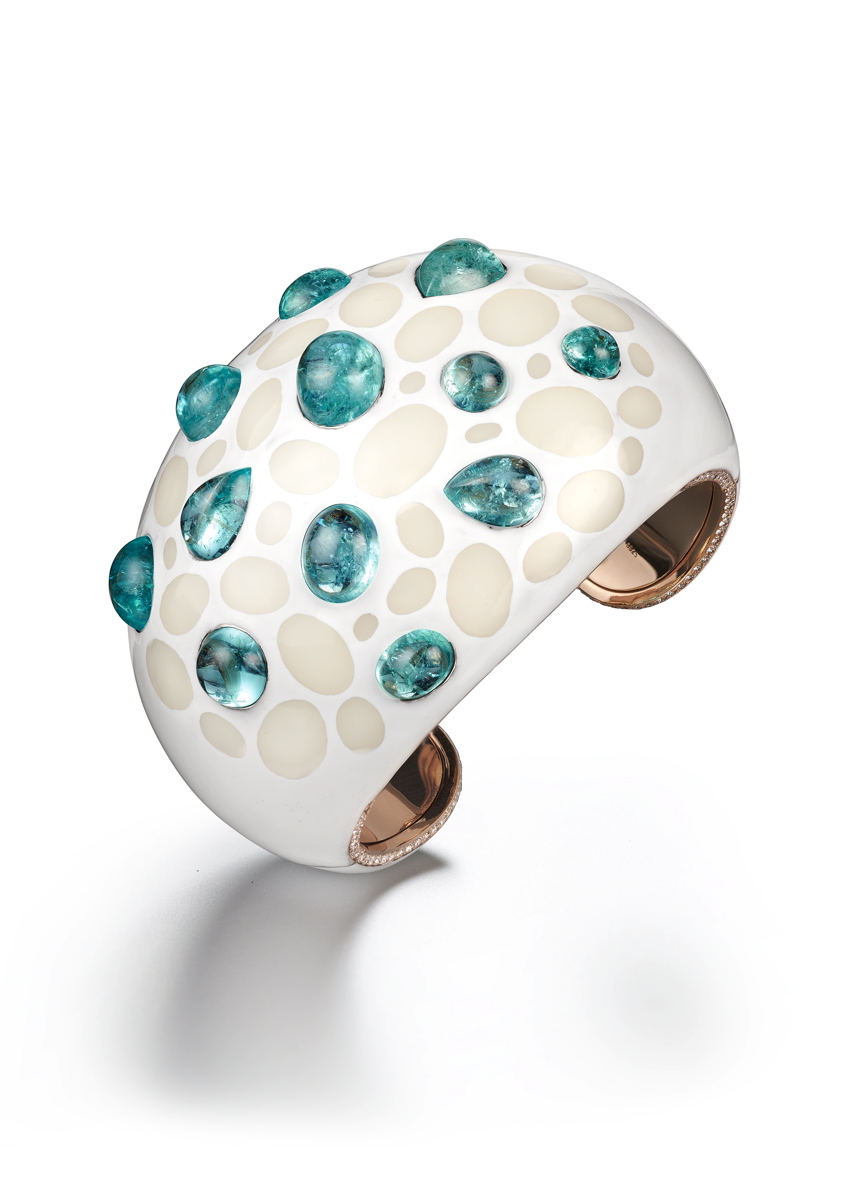 Bracelet en or, émail et tourmaline Paraïba. Gold bracelet with enamel and Paraïba tourmalines. Courtesy of Suzanne Syz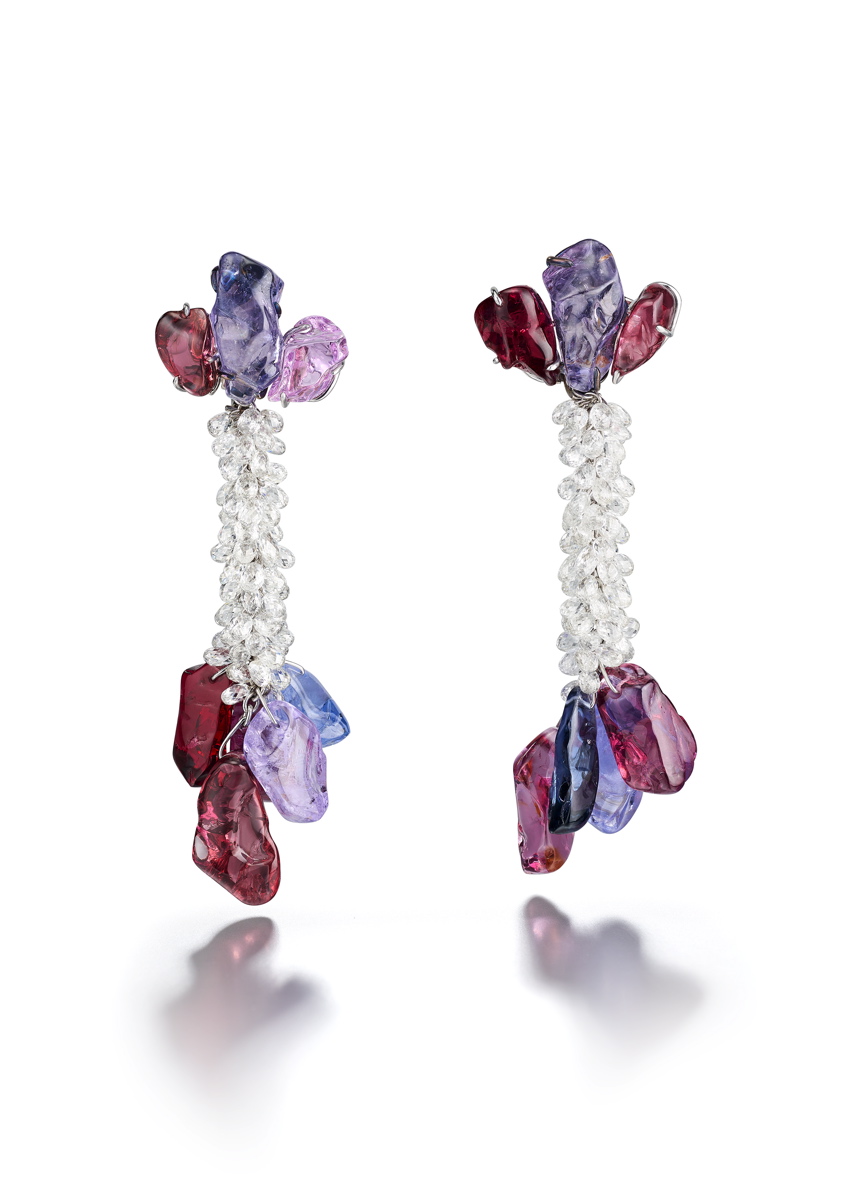 Boucles d'oreilles en or, diamants et spinelles bruts. Earrings in gold, diamonds and rough spinels. Courtesy of Suzanne Syz
8- Tasaki
La collection de la maison Tasaki m'a laissé un peu sur ma fin à l'exception d'une parure : la collection Elysium qui se distingue par ses topazes bleues (traitées) rarement utilisées dans la belle joaillerie La collection a été conçue par le designer new-yorkais Prabal Gurung, qui dessine pour la maison depuis 2017.
The collection of the house Tasaki disappointed me a  bit with the exception of a set : the Elysium collection which stood out with its artistic use of blue topaz, rarely used in jewelry. The collection was designed by New York-based designer Prabal Gurung, who has been designing for the house since 2017.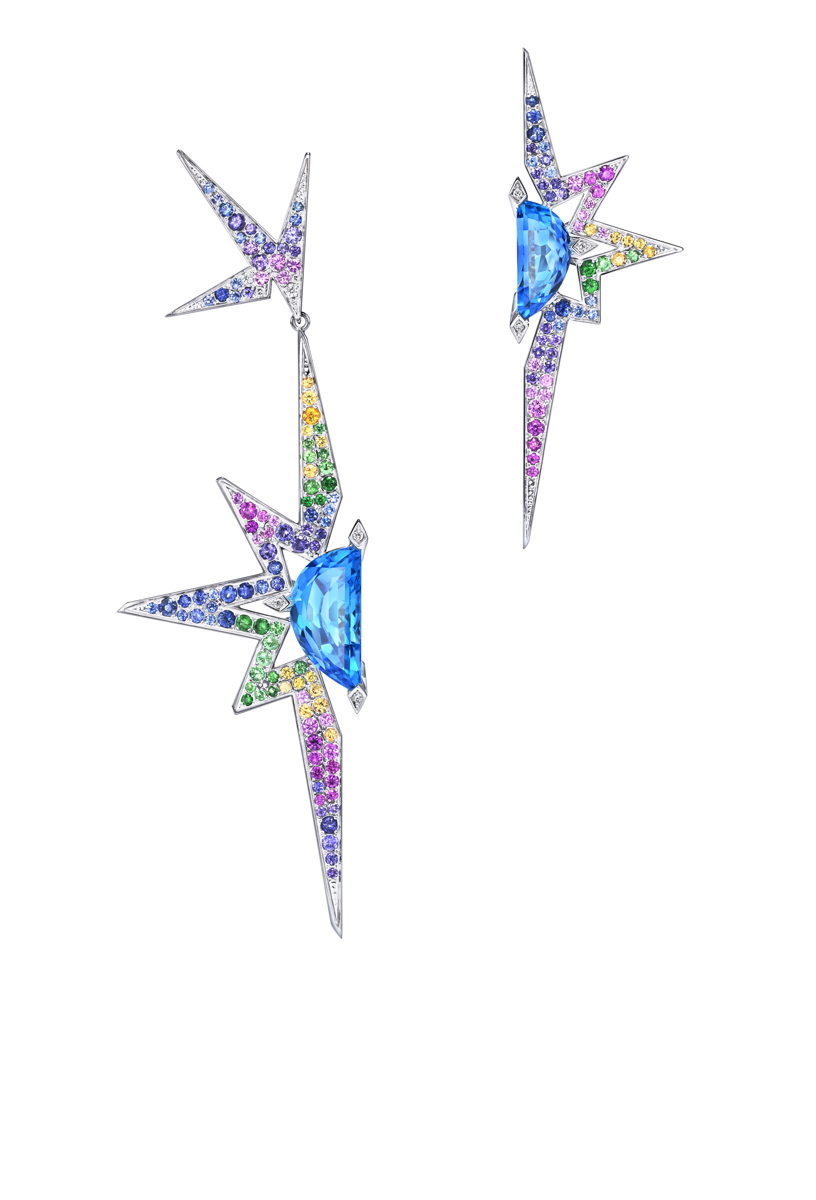 Les boucles d'oreilles Elysium en or blanc, topazes bleues (traitées), saphirs et diamants. The « Elysium » earrings in white gold, blue topaz, sapphire and diamond. Courtesy of Tasaki
À bientôt !
See you soon !