Fashion weeks come and go, but they continue to amaze me. I take this as a good omen, even though I'm a little less present on the site, I still want to write about jewellery. January 2020 was a small jewellery week. And I've mostly decided not to fight to get the visuals from the houses that didn't offer me to cover their presentations. Too bad for them. So I had about ten appointments during these few days and what I saw pleased me enormously. So I'll take you with me to discover the houses that made an impression on me!
1- Chanel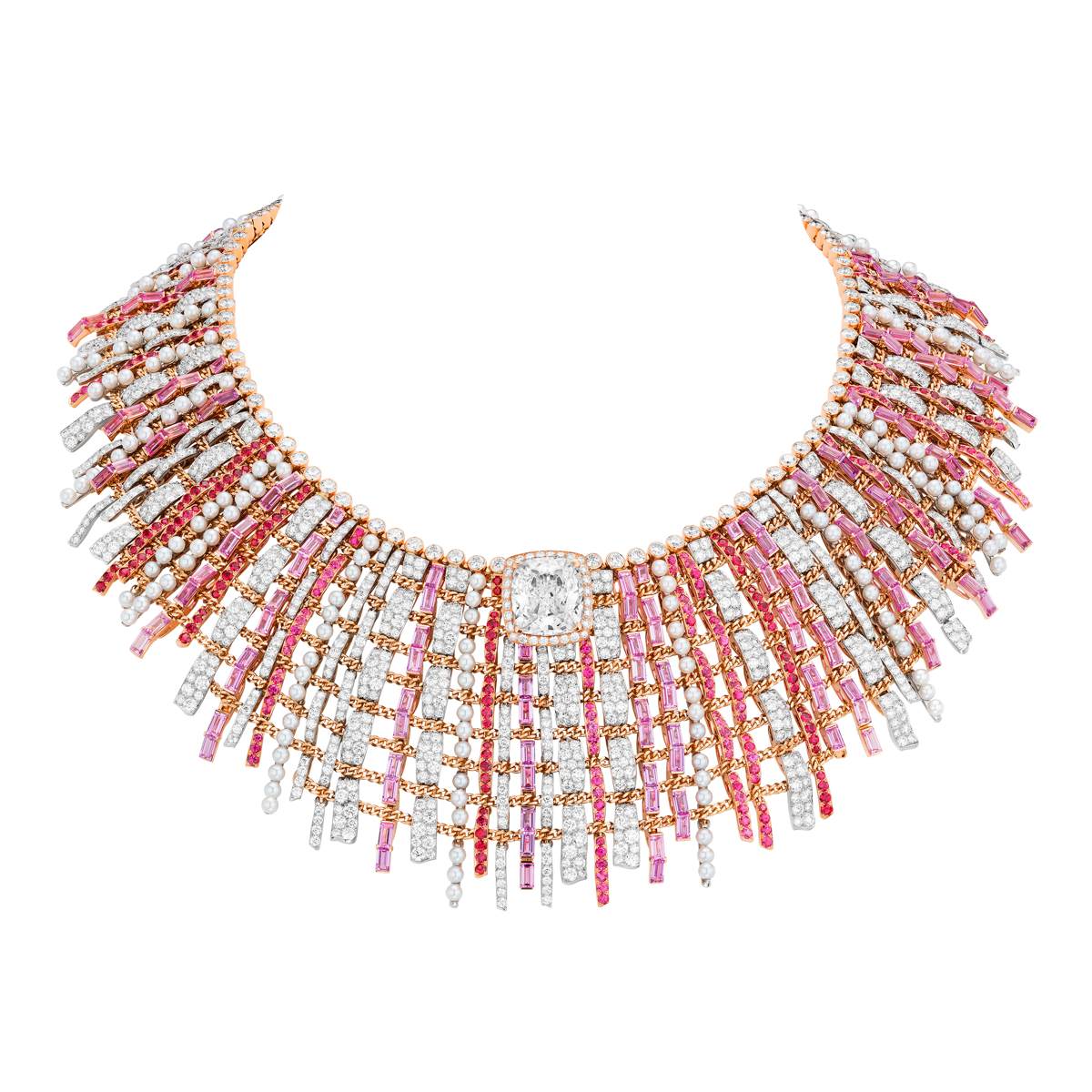 TWEED COUTURE necklace in pink gold, platinum, pink sapphires, spinels, diamonds, set with a 10.20 carat cushion cut diamond. Photo : Chanel Joaillerie
I will long remember the time I spent in the house's lovely salons on Place Vendôme. This year, the house presented us with the "Tweed de Chanel" collection, a vibrant tribute to the house's signature fabric. the collection consists of 45 pieces, for which technical prowess was required to create the numerous swaddles that make up the pieces. The "Tweed Couture" necklace alone has almost 1,000 of them… The house mixes white and yellow gold, diamonds, pearls, sapphires and onyx to recreate the famous hand-made wool. Gabrielle Chanel was the first to use this masculine fabric to adapt it brilliantly to women's clothing. Who hasn't dreamed of one day putting on one of the famous suits that still make the fashion house famous today.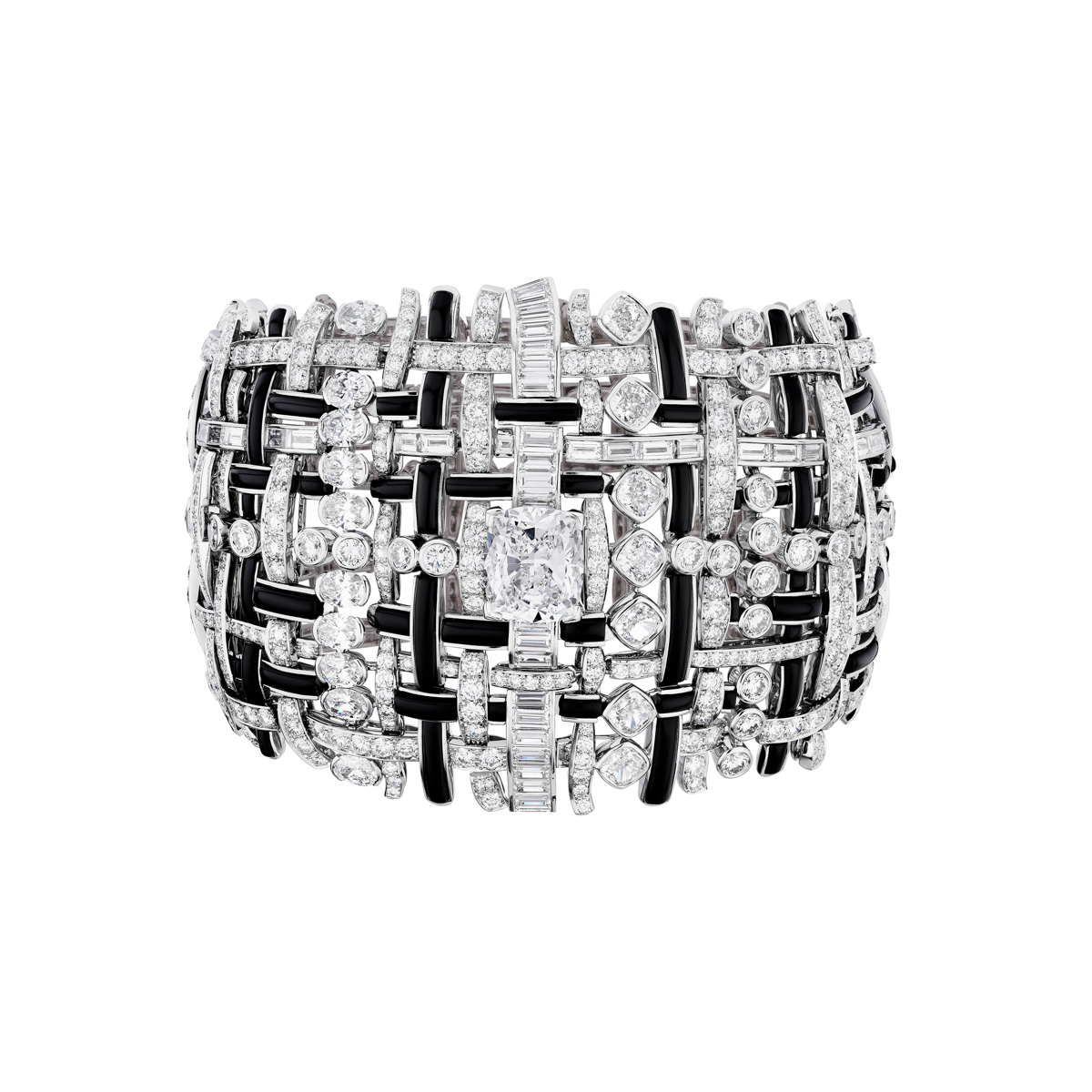 TWEED GRAPHIC bracelet in white gold, onyx, diamonds, set with a 5.05 carat cushion cut diamond. Photo: Chanel Joaillerie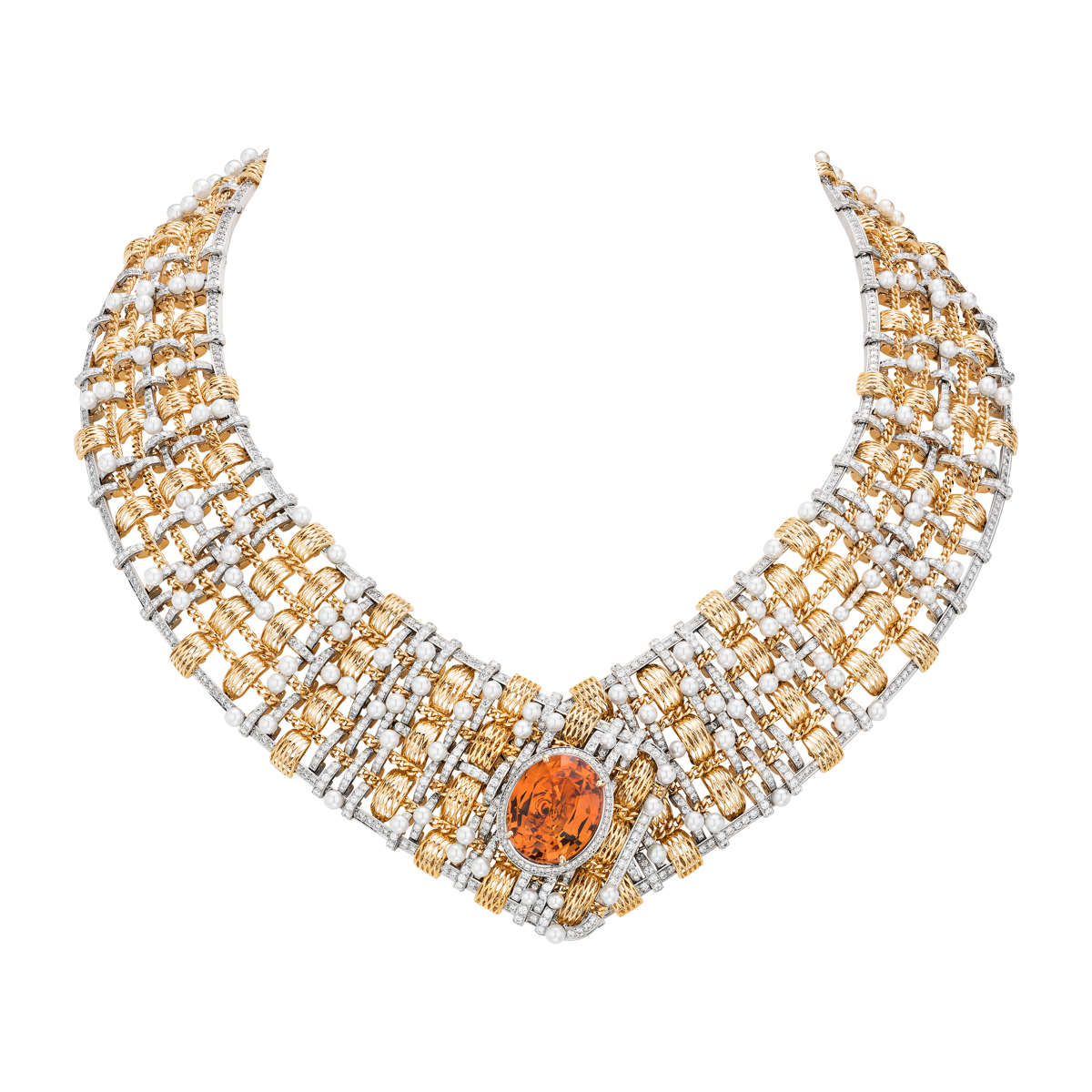 TWEED D'OR necklace in yellow gold, platinum, cultured pearls, diamonds, set with a 20.40-carat oval imperial topaz. Photo: Chanel Joaillerie
2- Suzanne Syz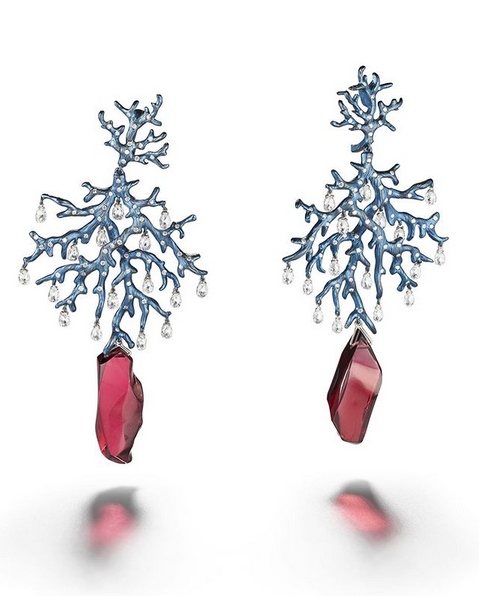 Sea Breeze" earrings in titanium set with semi-cut diamonds and spinels. Photo: Suzanne Syz

I love Suzanne's presentations. I love the designer for her humour, her incredible culture (I could listen to her for hours) and her way of conceiving jewellery as a game. Who else but her could imagine a bracelet representing a bunch of asparagus? Nobody! The piece sold out within 20 minutes of being posted on her Instagram… That's how popular it is! In this month of January, she put her pretty windows full of colourful and joyful sweets in Paris: a tyre bracelet, an aluminium ring adorned with an imposing tourmaline or earrings representing baskets of fruit and vegetables as greedy as they are generous!
Shop till you drop" earrings in ceramic and titanium set with diamonds. Photo: Suzanne Syz

Rubelitte on a Chesterfield" ring in aluminium, gold and diamonds. Photo: Suzanne Syz

3- David Morris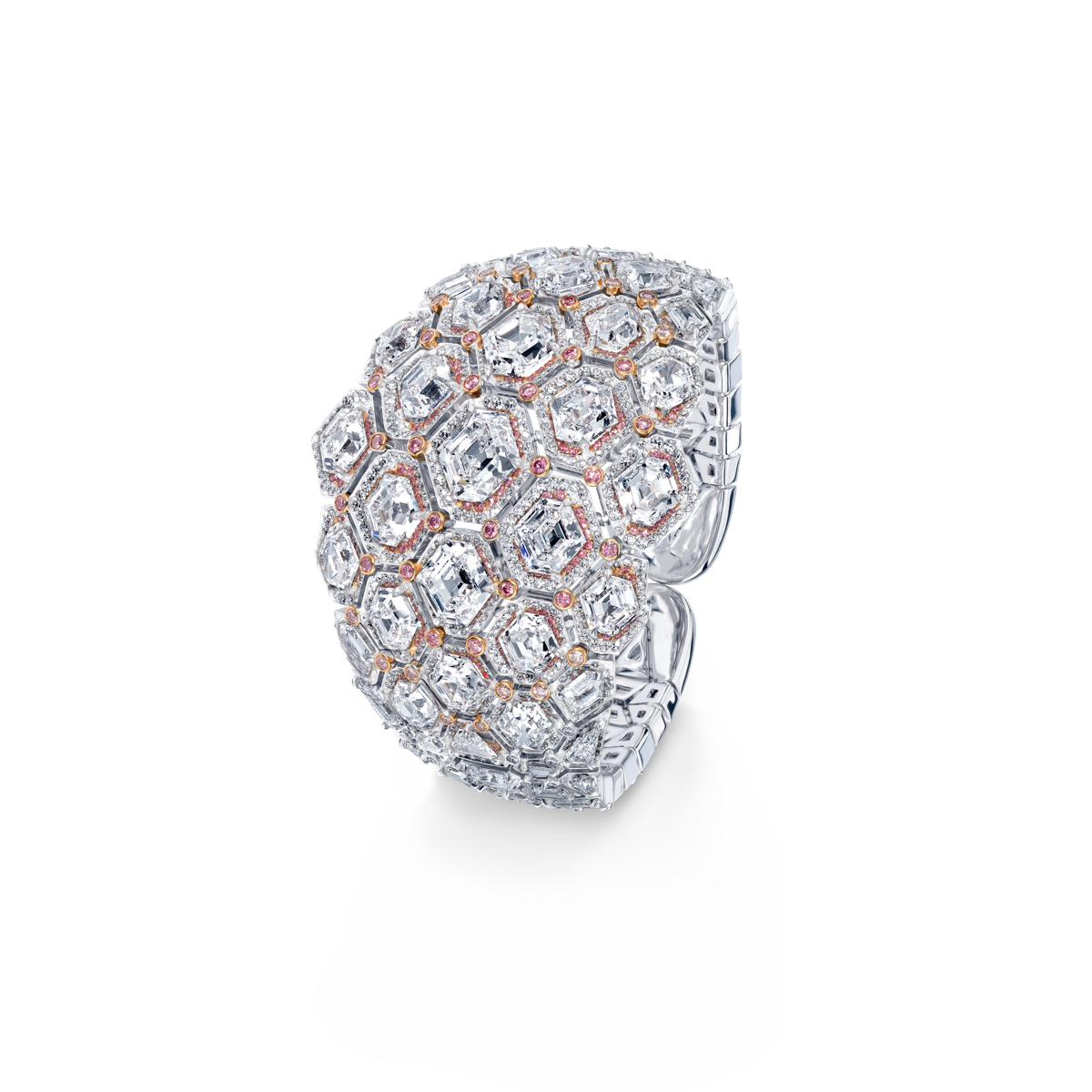 Hexagonal cuff, cut white and pink diamonds, fancy brilliant and triangle for 69.79 carats. Photo: David Morris
If you are looking for a jeweller who knows how to talk to women who love big diamonds, you have come to the right place. The Parisian boudoir was the place to be to discover a dozen pieces, each one as sumptuous as the next. Jeremy Morris managed to find Paraiba tourmalines (Brazil) that are now rare on the market. He proposed two very beautiful pairs of earrings among the new creations. But I was thrilled by a diamond bracelet with hexagonal diamonds. A real wonder!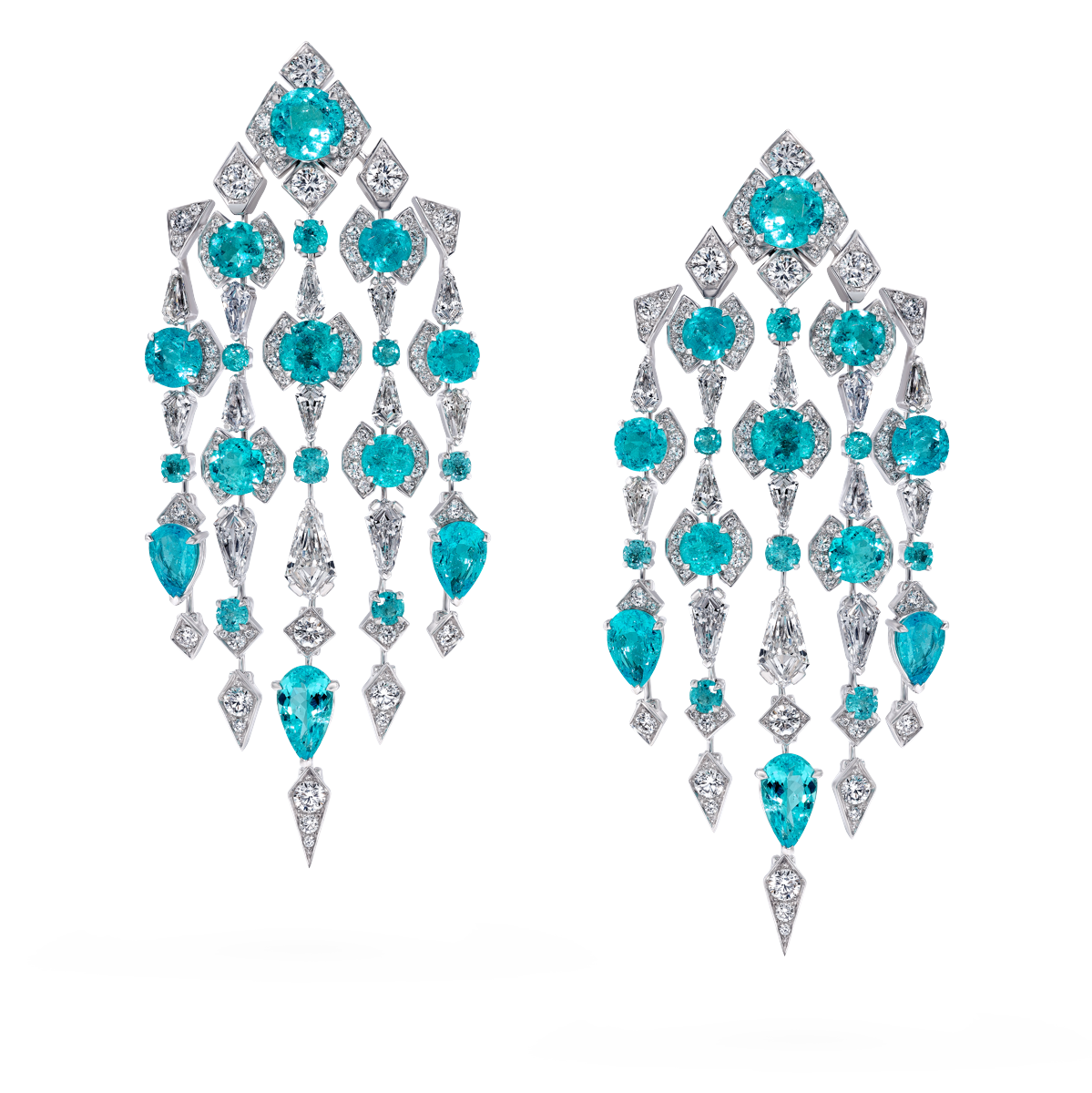 White diamond cascade earrings 11.02 carats, Brazilian Paraiba tourmaline 18.21 carats, in white gold. Photo: David Morris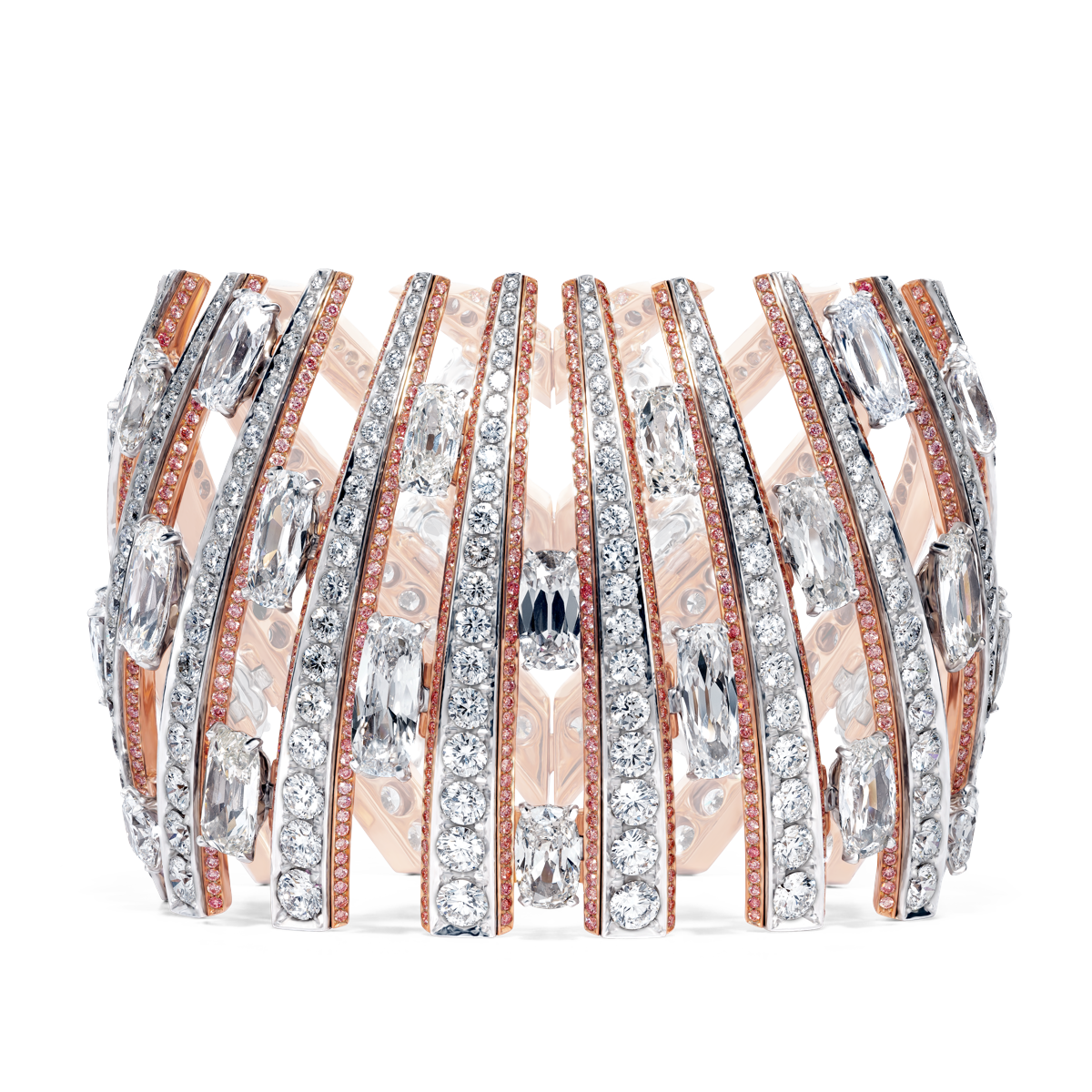 Sunrise bracelet in rose and white gold, diamonds (62.21 carats). Photo: David Morris
4- Boucheron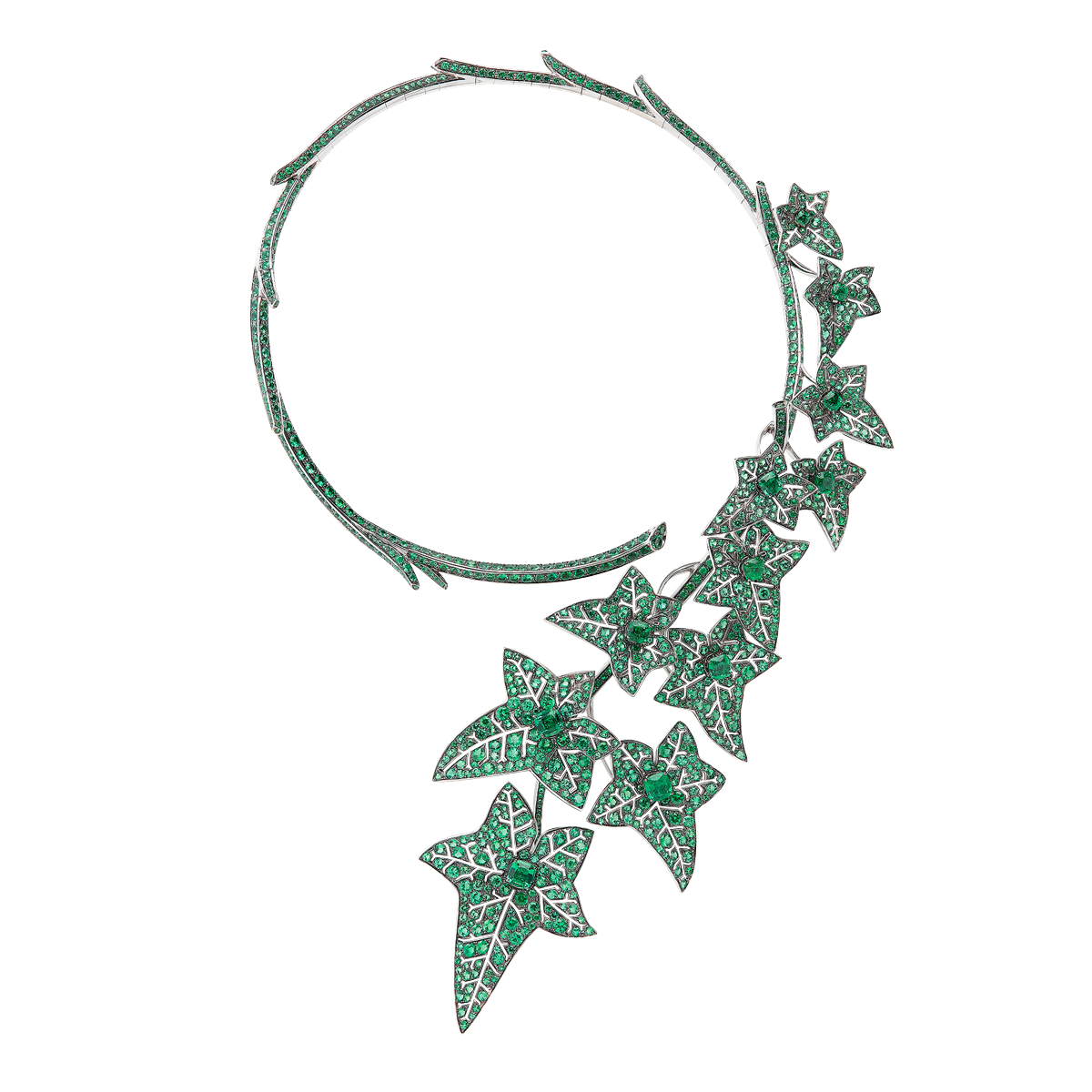 Emerald-set Paris ivy Interrogation Point necklace. Photo: Boucheron
For this January, Boucheron reinterprets a timeless piece of its heritage: the question mark necklace. Here, it comes in a series of extremely elegant models. The only weak point is that the repetition is a bit monotonous, although the technicality of all the pieces unveiled must be acknowledged. What I really liked, however, was the campaign that accompanies this new collection: pop music and modern wear give a contemporary look to this high jewellery, distancing it from the idea that it can only be worn for very special occasions.
Nuage de Fleurs question mark necklace set with mother-of-pearl and diamonds on white gold. Photo: Boucheron
5- Dior
Double ring in white, yellow and pink gold 750/1000, diamonds,
black opal, red spinel, emerald, turquoise and lacquer. Photo: Dior Joaillerie
January 2020 marks the completion of the Gem Dior collection, which was presented with great fanfare last summer and which I wrote about here. 39 pieces under the name Dior & Moi have been produced by the Parisian fashion house's high jewellery workshops. Rings, pendants, earrings inspired by both the antique jewels known as "Toi & Moi" and the jewels with secrets that Victoire de Castellane loves. The result is a collection full of pep, with a dialogue between "fine" stones and majestic centre stones: sapphires with powerful pinks, emeralds with deep, intense greens or greedy opals that the company selects from the best suppliers. The only regret is that the photo file is somewhat disappointing because it does not allow us to understand all the magic of the manufacture of the pieces, which required delicate work and great precision in the workshops. The lacquered elements, for example, can be dismantled and the jewels in this collection are wonderful mini constructions. Dior does not compromise on the quality of its pieces and asks all its jewellers to surpass themselves with each new opus!
Earrings in yellow gold 750/1000, diamonds, malachite, cultured pearl, opal, emeralds and green lacquer. Photo: Dior Joaillerie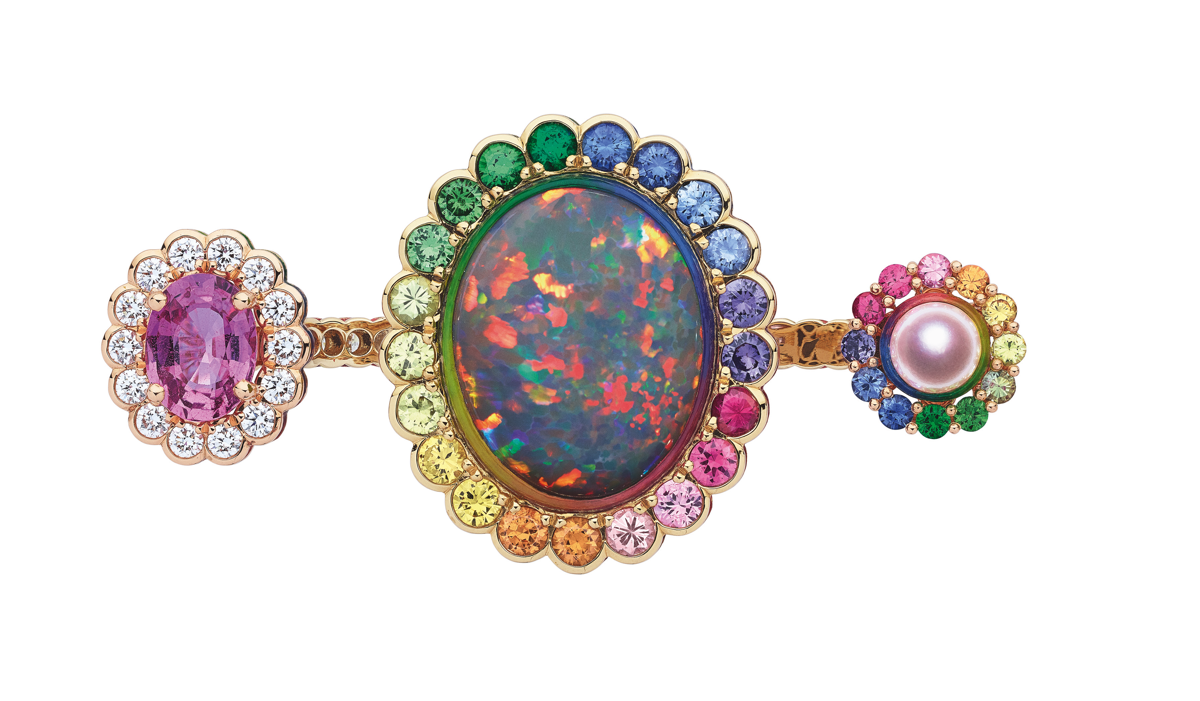 Yellow and pink gold ring 750/1000, diamonds, black opal, pink sapphires, cultured pearl, blue and yellow sapphires, mandarin garnets, purple sapphires, tsavorite garnets, peridots, emerald and lacquer. Photo: Dior Joaillerie
6- Swarovski
Synthetic diamonds presented by the house in January 2020. Photo: Swarovski
In January 2020, Swarovski has chosen the Ritz Paris to present its latest innovation with a collection of 16 synthetic diamonds with very special colours that the company has taken the time to develop over the last two years. The stones will be available in several sizes but the house has chosen the cushion cut for the January event. Finally, the availability will range from 0.25 to 2.5 carats for the most important ones. Of course, the stones will be engraved "Swarovski Created Diamond" to avoid any confusion. I really liked this presentation for the bold colours the brand showed. I'm still sceptical about the ecological impact and need to be convinced. If a laboratory creating synthetic diamonds reads me, don't hesitate to offer me a visit to its facilities! That said, the technological performance in creating these stones, guaranteeing production and monitoring the colours is worth noting. So are you ready for Androgyny Flamingo, Heavy Metal Cherry or Gothic Cognac diamonds? I am, and I'm already looking forward to it!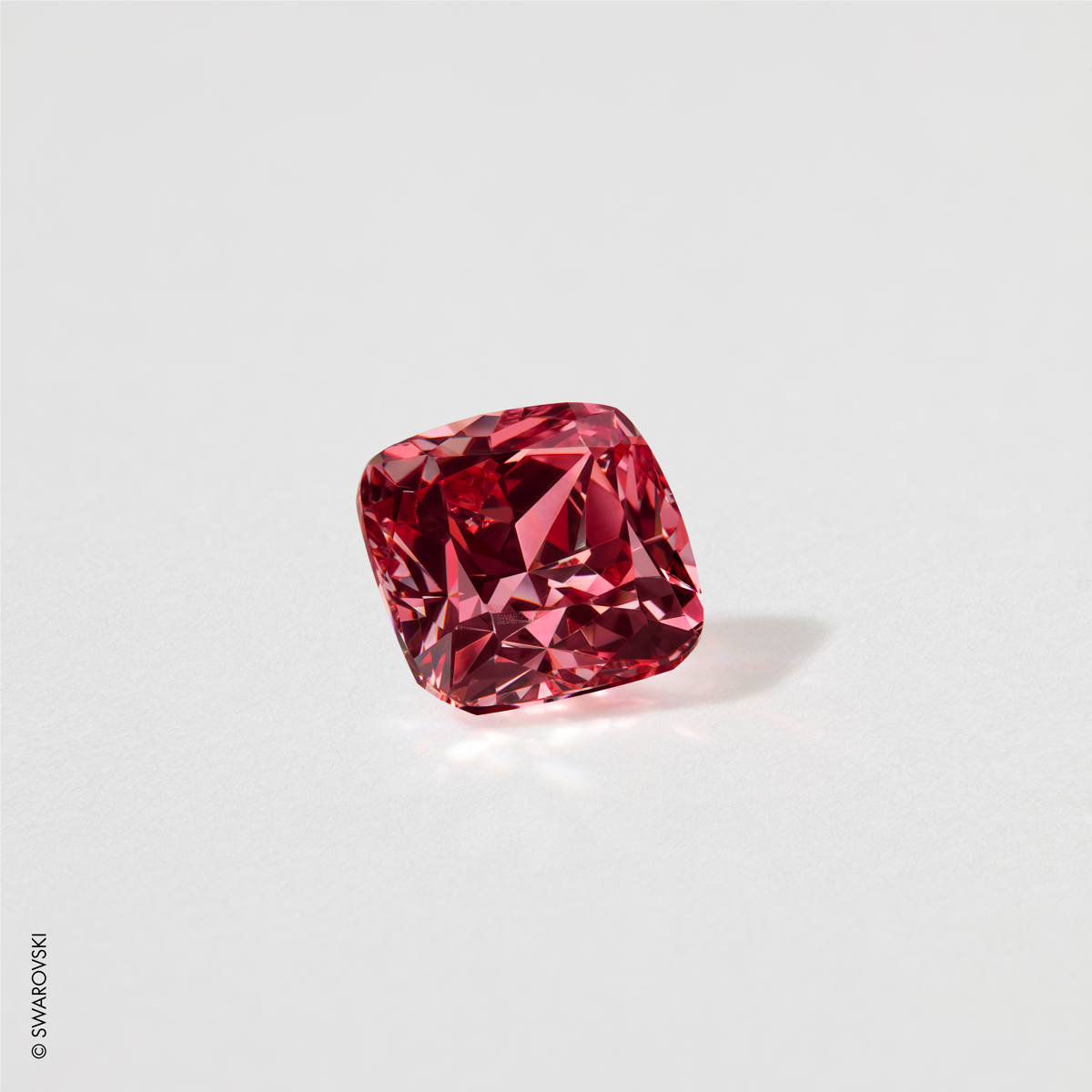 The Androgyny Flamingo ™ synthetic pink diamond by Swarovski. Photo: Swarovski
7- Lydia Courteille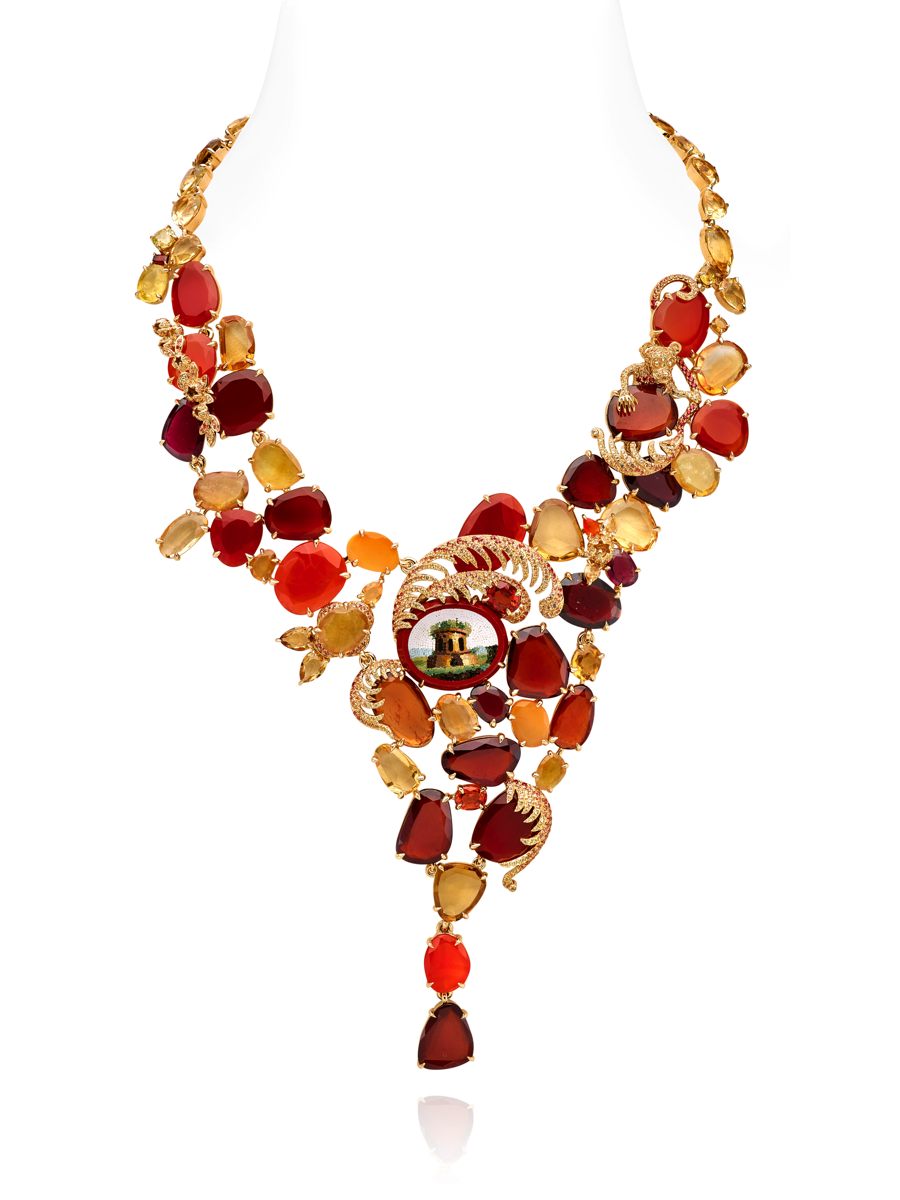 Micromosaic necklace 750 GOLD 109.9 grs, 618 sapphires 5.73 cts, 46 citrines 16.05 grs, 18 garnets 19.08 grs, 10 calcedonies 10.82 grs, 2 opals 0.58 gr, 1 red jasper 4.37 gr. Photo: Lydia Courteille
A fashion week without a collection from Lydia Courteille would not be a complete week. For the beginning of 2020, the house reinterprets a classic of Russian culture: the famous Amber Room that made Russia famous. Stolen by the Germans in 1941 and never found, it is considered lost. A reconstruction has been on display since 2003 in the Catherine Palace in Tsarskoye Selo. The designer has succeeded in offering a collection inspired by amber without ever using the precious resource in the pieces unveiled last January. Instead, opals, citrines, yellow sapphires, hessonite garnets and chalcedonies respond to each other and dialogue with precision; suggesting here the softness of the precious fossilised resin and recalling elsewhere all the possible nuances offered by this astonishing production of Mother Nature. It is daring, opulent, joyful. It's a collection in the image of Lydia, as joyful and vibrant as the last ones she offered us. You have to like yellow, brown and orange, the collection will not please everyone and that's okay. This is precisely what I ask of high jewellery: to have character and personality. The bet, here, is won!
Ring Angel 750 GOLD 24.52 grs, 222 sapphires 2.85 cts, 2 red garnets 2.03 grs, 2 citrines 0.82 gr, 1 chalcedony 0.8 g, 1 opal 0.5 gr. Photo : Lydia Courteille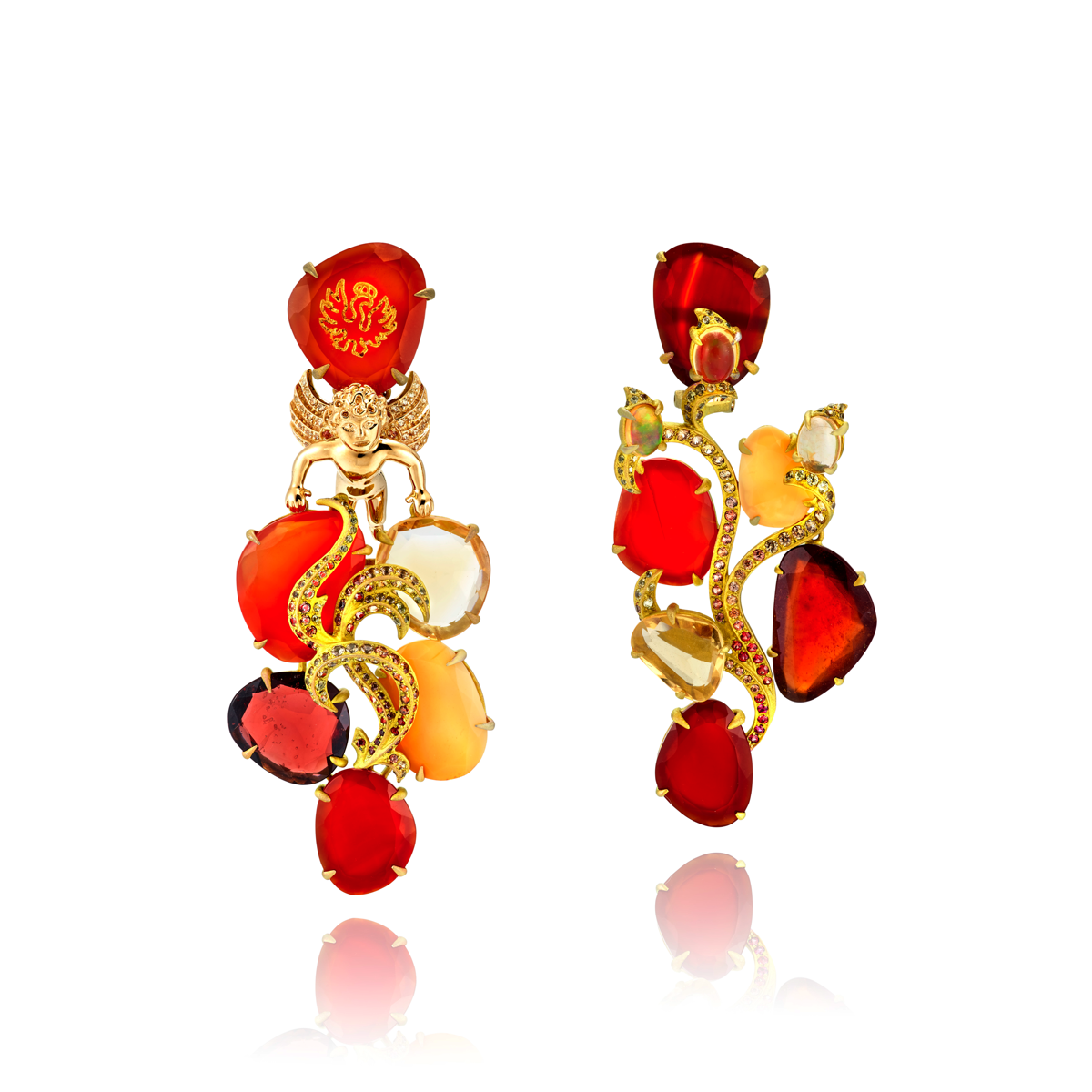 Earrings in yellow gold, titanium, sapphires, chalcedony, opal, citrines. Photo Lydia Courteille
See you soon!