Les semaines de la mode se suivent, se ressemblent mais elles continuent de m'émerveiller. Je prends cela pour un bon présage, même si je suis un peu moins présente sur le site, j'ai encore envie d'écrire sur les bijoux. Janvier 2020 a été une petite semaine de la joaillerie. Et j'ai surtout décidé de ne pas me battre pour obtenir les visuels des maisons qui ne m'ont pas proposé de couvrir leurs présentations. Tant pis pour elles. J'avais donc une dizaine de rendez-vous durant ces quelques jours et ce que j'ai vu m'a énormément plu. Je vous emmène donc avec moi pour découvrir les maisons qui m'ont marqué !
Fashion weeks follow each other, look alike but they continue to amaze me. I take this for a good omen, even if I am less present on the site, I still want to write on the jewelry. January 2020 was a short week and I especially decided not to fight to get the visuals of the houses who did not offer me to cover their presentations. Too bad for them. So I had a dozen meetings during these few days and what I saw greatly pleased me. So I take you with me to discover the houses that marked me !
1- Chanel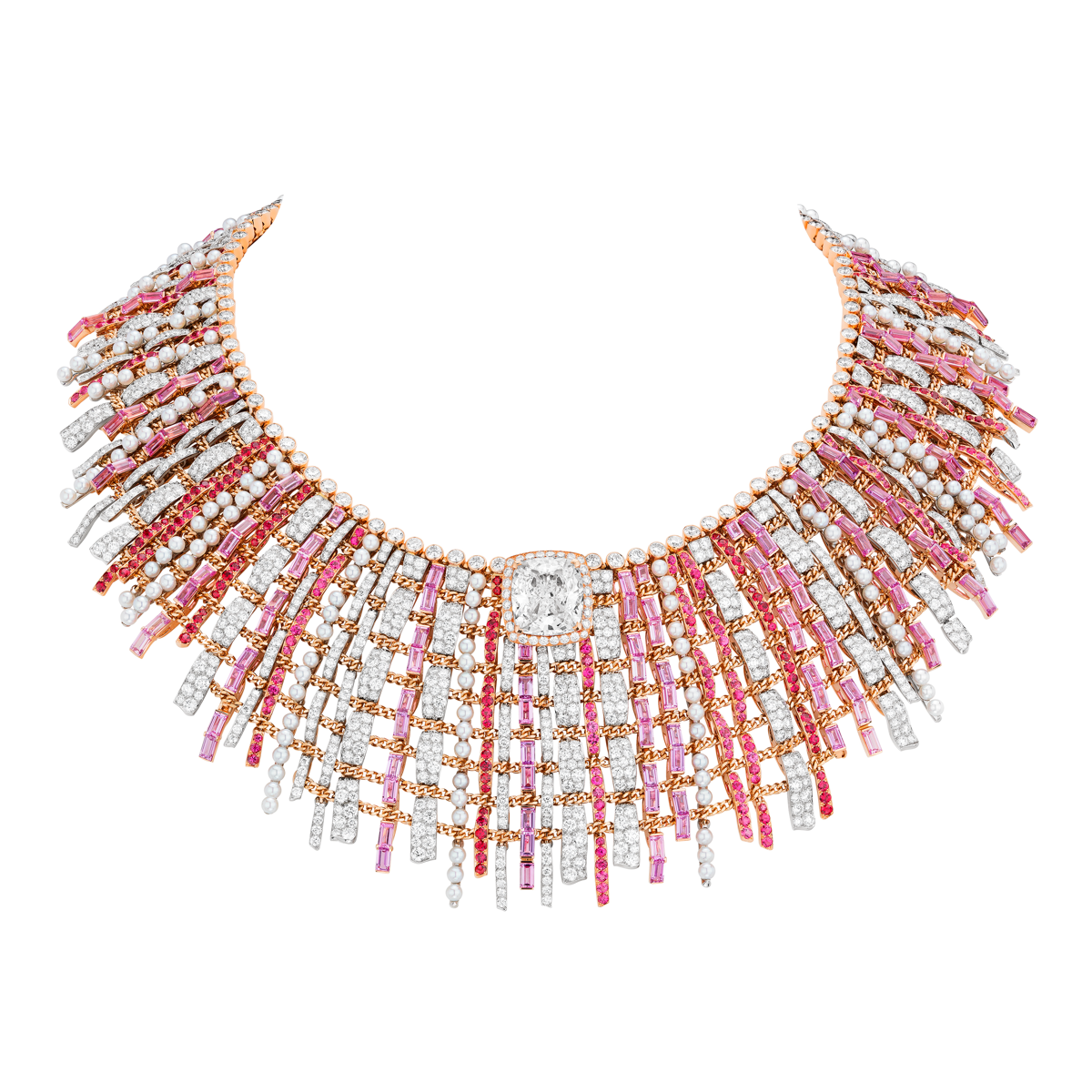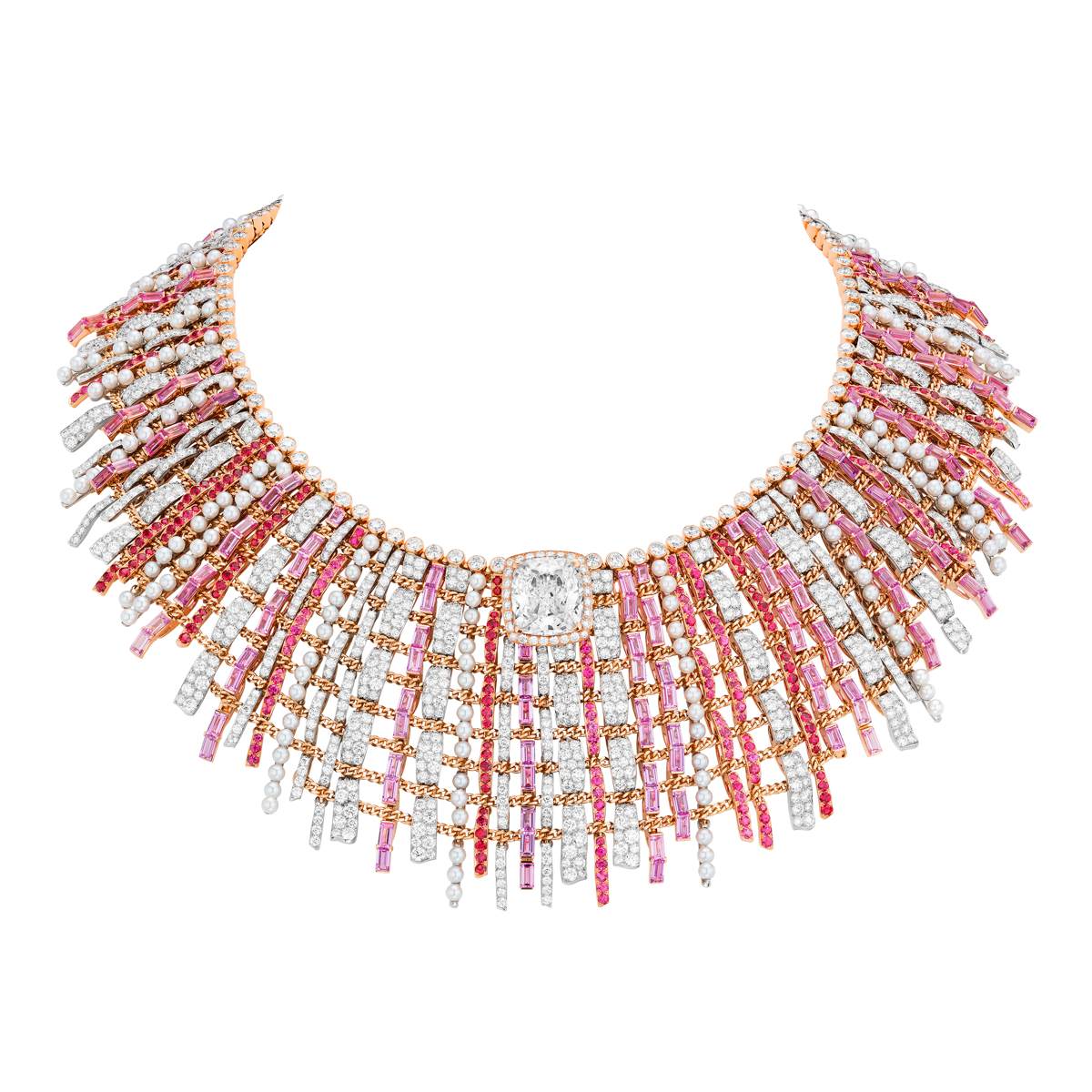 Collier TWEED COUTURE or rose, platine, saphirs roses, spinelles, diamants, serti d'un diamant taille coussin de 10,20 carats. TWEED COUTURE necklace in pink gold, platinum, pink sapphires, spinels, diamonds, set with a 10.20 carat cushion cut diamond. Photo : Chanel Joaillerie
Je me souviendrais longtemps du temps passé dans les jolis salons de la maison qui se situent Place Vendôme. Cette année, la maison nous a présenté la collection « Tweed de Chanel », un vibrant hommage à cette étoffe signature de la maison. 45 pièces composent la collection pour laquelle il a fallu réaliser des prouesses techniques pour la réalisation des emmaillements nombreux qui composent les pièces. Rien que sur le collier « Tweed Couture », il y en a presque 1000… La maison mélange ici l'or blanc et l'or jaune, les diamants, les perles, les saphirs, l'onyx pour recréer ce fameux lainage façonné à la main. Gabrielle Chanel est d'ailleurs la première a détourner ce tissu masculin pour l'adapter avec brio au vestiaire féminin. Qui n'a pas rêvé un jour d'enfiler un des fameux tailleurs qui font encore aujourd'hui la renommée de la maison de couture.
I will remember for a long time my visit in the pretty salons of the house located in Place Vendôme. This year, the house presented the « Tweed de Chanel » collection, a vibrant tribute to this signature fabric of the house. 45 pieces make up the collection for which it was necessary to achieve technical prowess for the realization of the numerous links that make up the pieces. Just on the « Tweed Couture » necklace, there are almost 1000… The house mixes white and yellow gold here, diamonds, pearls, sapphires, onyx to recreate this famous woolen fabric shaped by hand. Gabrielle Chanel is also the first to divert this masculine fabric to adapt it brilliantly to the feminine wardrobe. Who has not dreamed of one day putting on one of the famous tailors who still make the fame of the fashion house today.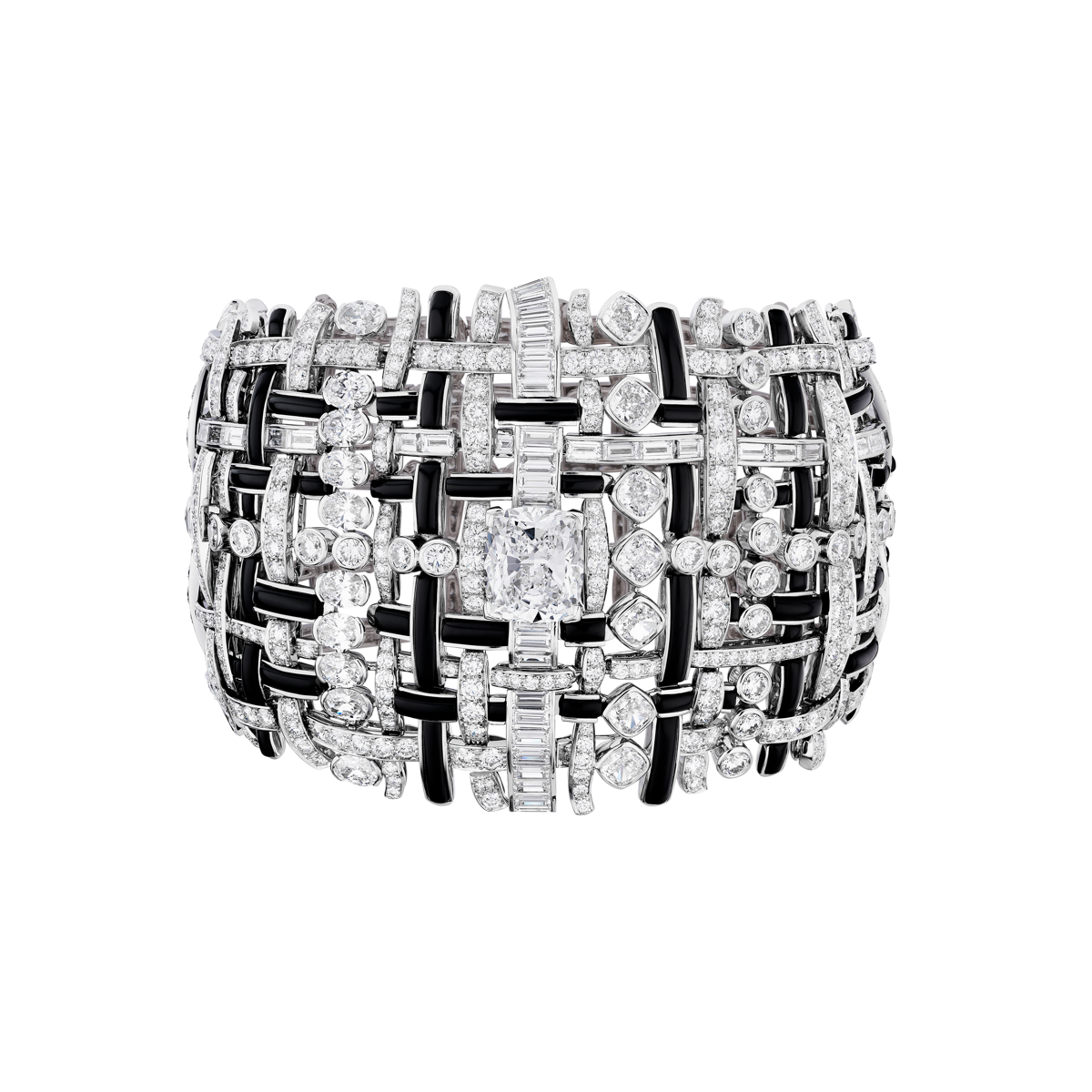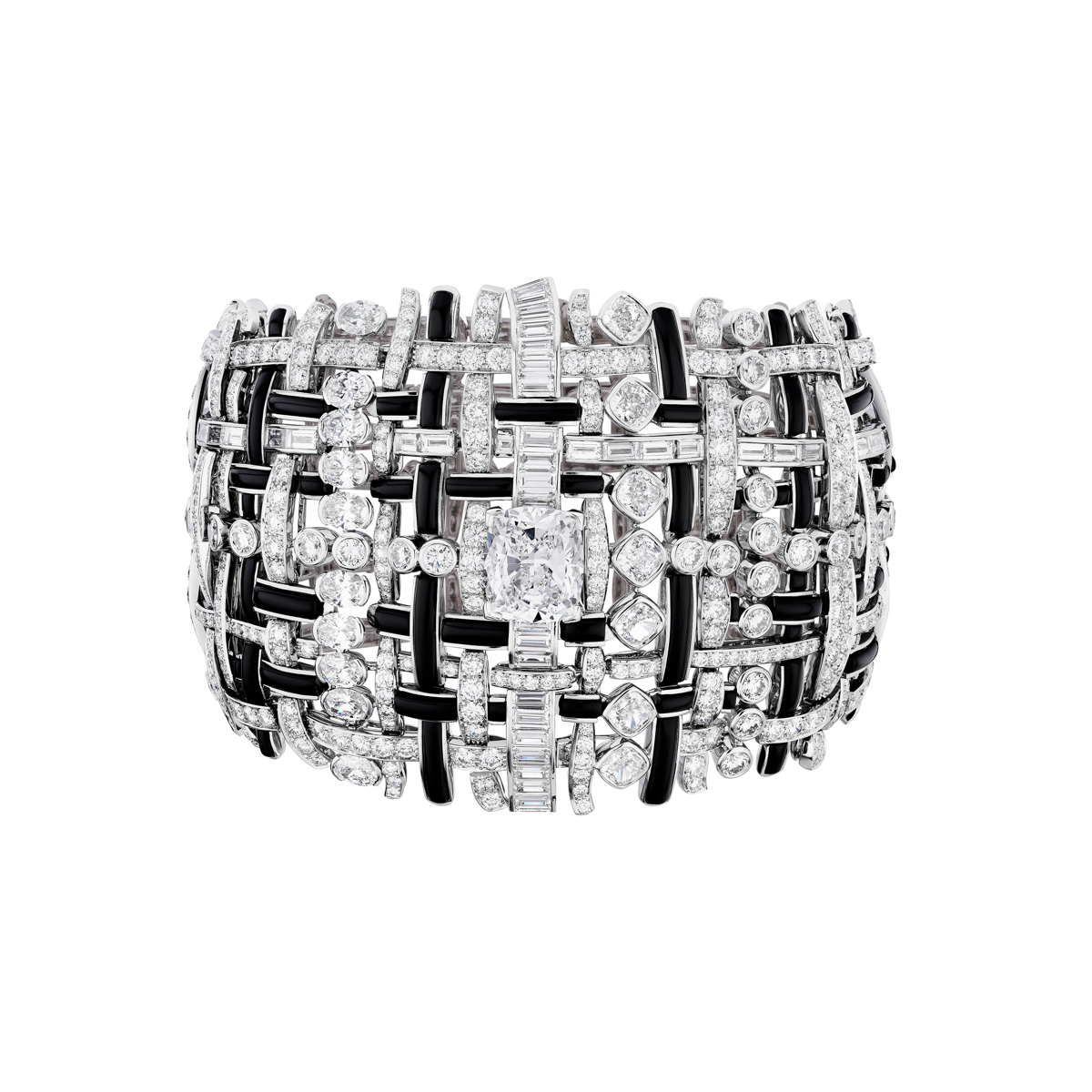 Bracelet TWEED GRAPHIQUE en or blanc, onyx, diamants, serti d'un diamant taille coussin de 5,05 carats. TWEED GRAPHIQUE bracelet in white gold, onyx, diamonds, set with a cushion-cut diamond of 5.05 carats. Photo : Chanel Joaillerie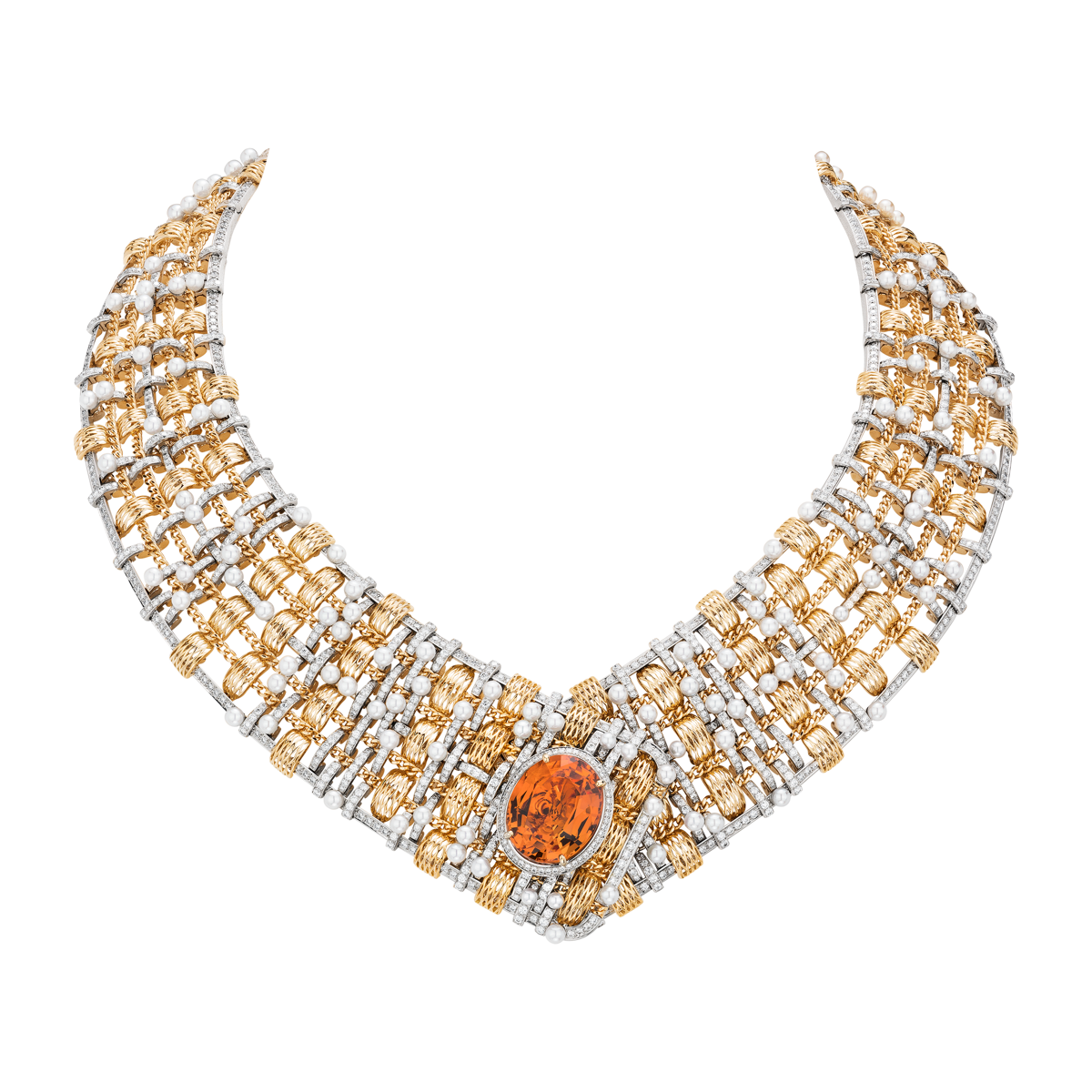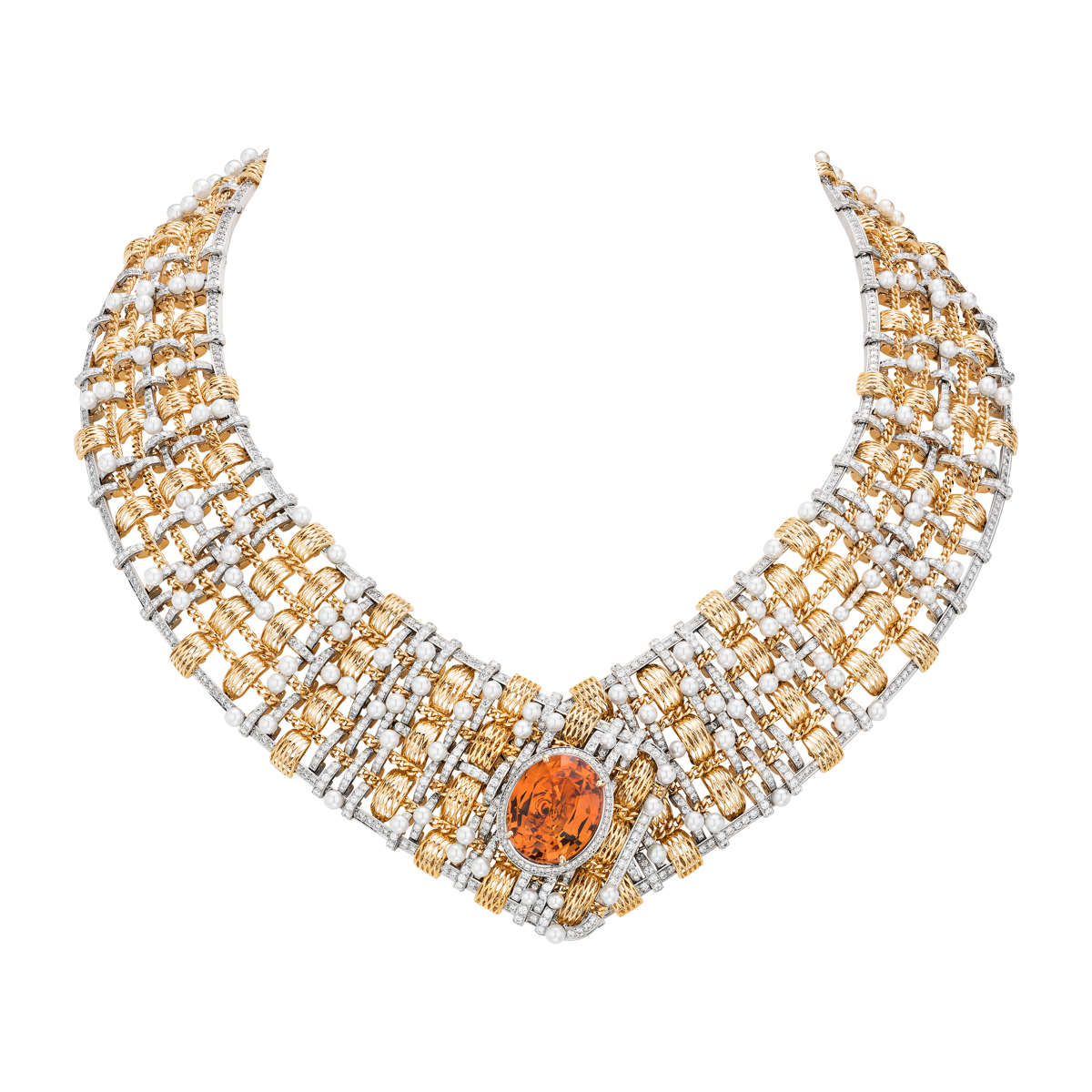 Collier TWEED D'OR en or jaune, platine, perles de culture, diamants, serti d'une topaze impériale taille ovale de 20,40 carats. TWEED D'OR necklace in yellow gold, platinum, cultured pearls, diamonds, set with an oval cut imperial topaz of 20.40 carats. Photo : Chanel Joaillerie
2- Suzanne Syz
Boucles d'oreilles « Sea Breeze » en titane serties de diamants et spinelles semi-bruts. Sea breeze earrings in titanium set with diamonds and semi-rough spinels. Photo : Suzanne Syz

J'aime passionnément les présentations de Suzanne. J'aime la créatrice pour son humour, sa culture incroyable (je pourrais l'écouter pendant des heures) et sa façon de concevoir la joaillerie comme un jeu. Qui a part elle peut imaginer un bracelet représentant une botte d'asperges ? Personne ! La pièce a été vendue 20 petites minutes après avoir été publiée sur son instagram… C'est dire l'engouement qu'elle provoque ! En ce mois de janvier, elle a posé à Paris ses jolies vitrines pleines de bonbons colorés et joyeux : un bracelet pneu, une bague aluminium ornée d'une imposante tourmaline ou encore des boucles d'oreilles représentant des paniers de fruits et légumes aussi gourmandes que généreuses !
I passionately love Suzanne's presentations. I love the designer for her humor, her incredible culture (I could listen to her for hours) and her way of conceiving jewelry as a game. Who can imagine a bracelet representing a bunch of asparagus ? Nobody ! The piece was sold 20 minutes after being published on her Instagram … This is to say the craze she causes ! In this month of January, she posed in Paris her pretty windows full of colorful and happy candies : a tire bracelet, an aluminum ring adorned with an imposing tourmaline or even earrings representing baskets of fruits and vegetables as delicious as they are generous !
Boucles d'oreilles « Shop till you drop » en céramique et titane serti de diamants. « Shop till you drop » earrings in ceramic and titanium set with diamonds. Photo : Suzanne Syz

Bague « Rubelitte on a Chesterfield » en aluminium, or et diamants. « Rubelitte on a Chesterfield" ring in aluminum, gold and diamonds. Photo : Suzanne Syz

3- David Morris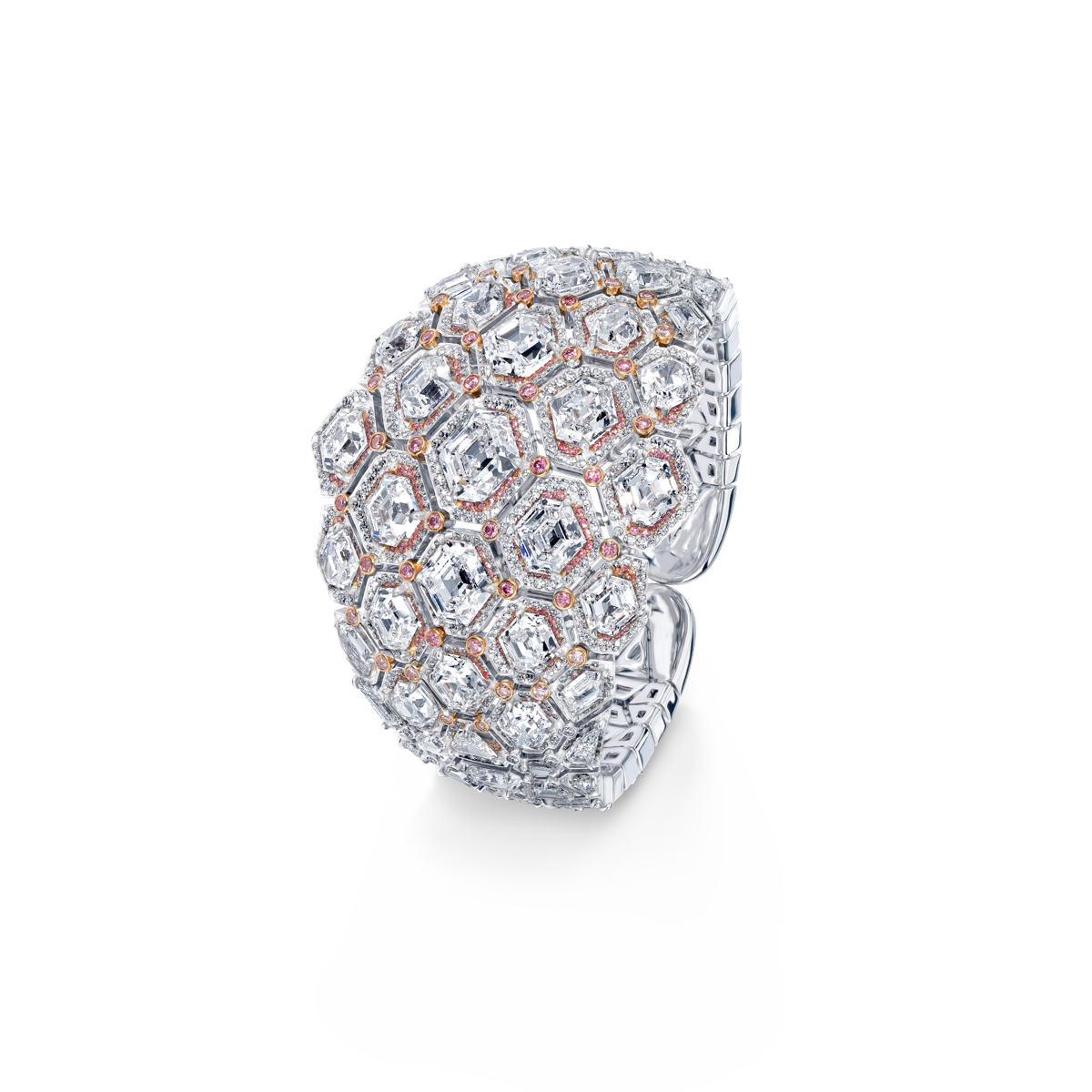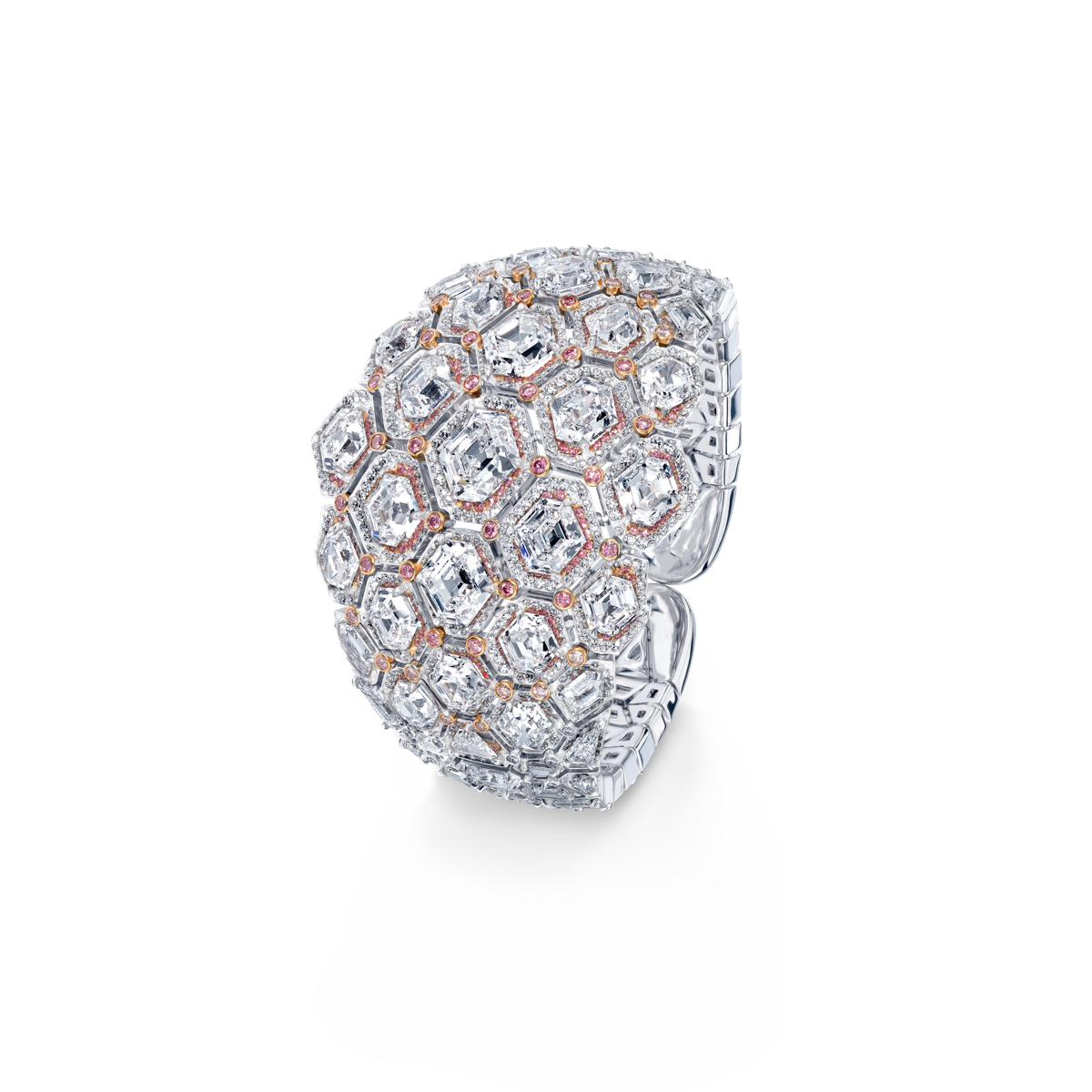 Manchette hexagonale, diamants blancs et roses taillés, brillant fantaisie et triangle pour 69,79 carats. Hexagon Cuff, crafted with 69.79ct brilliant, fancy and triangle cut white and pink diamonds. Photo : David Morris
Si vous cherchez un joaillier qui sait parler aux femmes amoureuses des gros diamants, vous avez sonné à la bonne porte. Rendez-vous était pris dans le boudoir parisien pour découvrir une dizaine de pièces toutes aussi somptueuses les unes que les autres. Jeremy Morris arrive à trouver des tourmalines Paraiba (Brésil) désormais rares sur le marché. Il proposait deux très belles paires de boucles d'oreilles parmi les nouvelles créations. Mais moi, ce qui m'a fait vibrer, c'est un bracelet en diamant avec des diamants hexagonaux. Une véritable merveille !
If you are looking for a jeweler who can speak to women in love with big diamonds, you have come to the right place. An appointment was made in the Parisian boudoir to discover a dozen pieces, each as sumptuous as the other. Jeremy Morris manages to find Paraiba tourmalines (Brazil) now rare on the market. He proposed two very beautiful pairs of earrings among the new creations. But what made me vibrate was a diamond bracelet with hexagonal diamonds. A real wonder !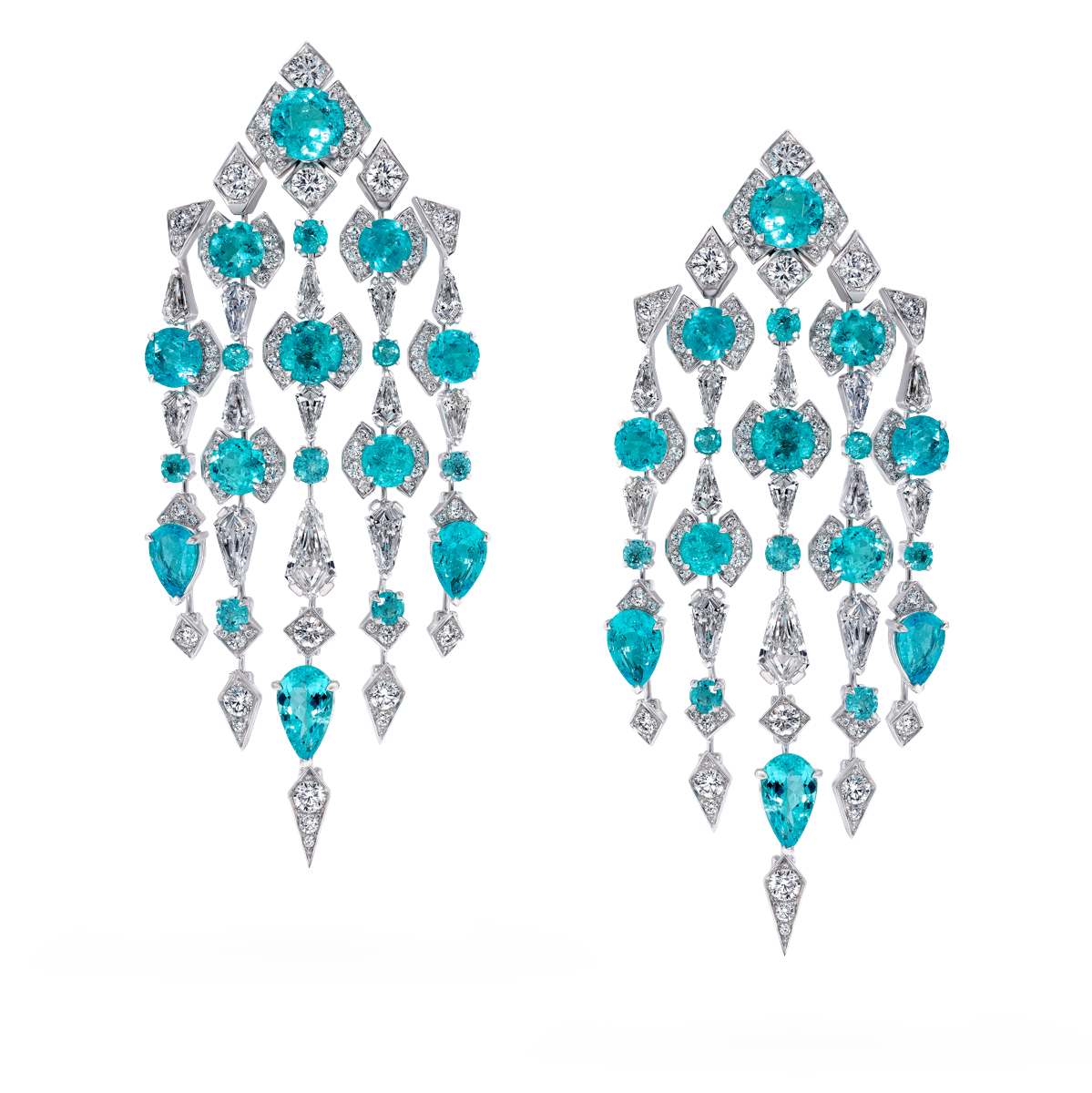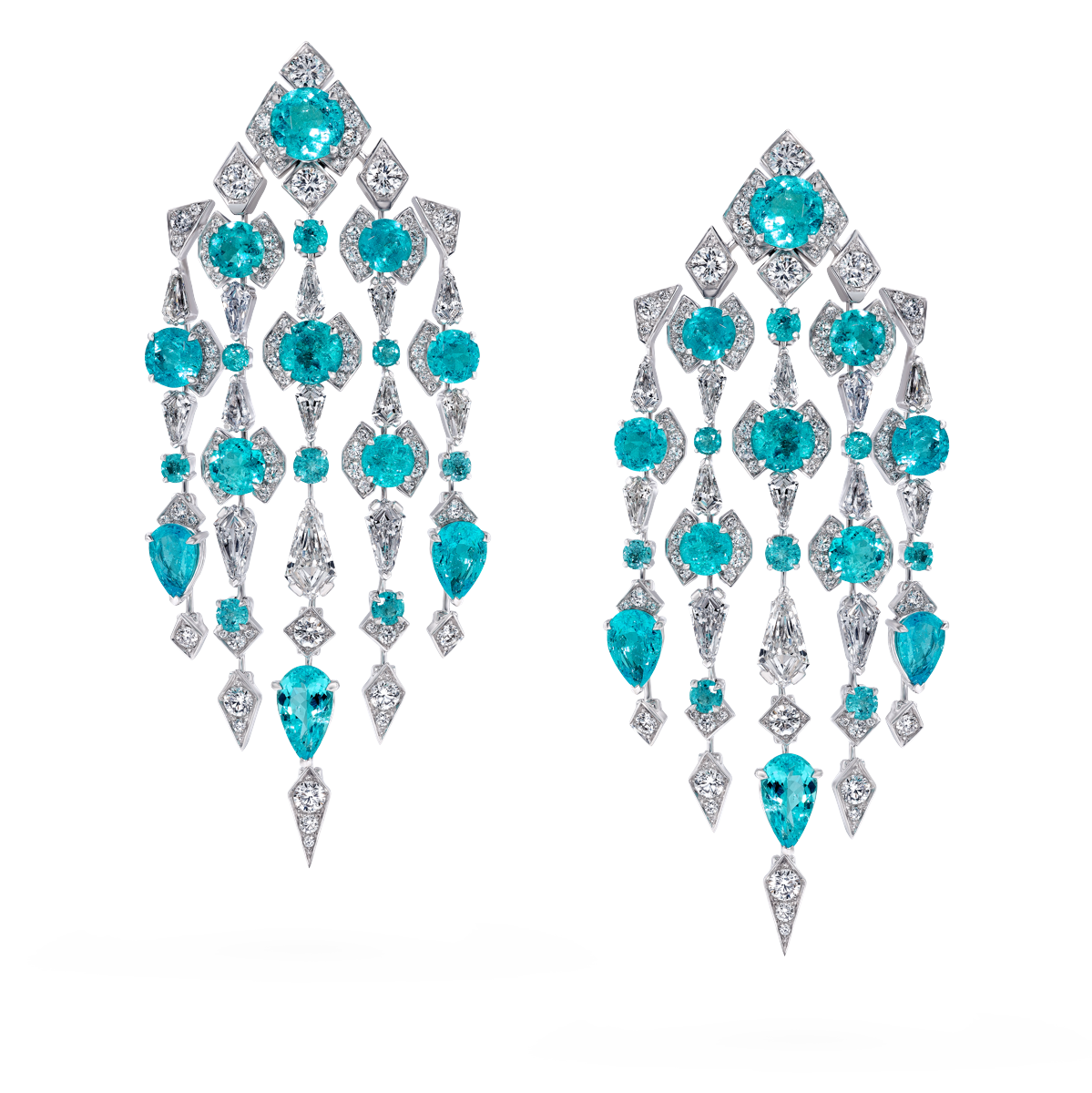 Boucles d'oreilles cascade en diamants blancs 11,02 carats, tourmaline brésilienne Paraiba 18,21 carats, en or blanc. Waterfall earrings crafted 11.02ct white diamonds 18.21ct Brazilian Paraiba tourmaline set in 18ct white gold. Photo : David Morris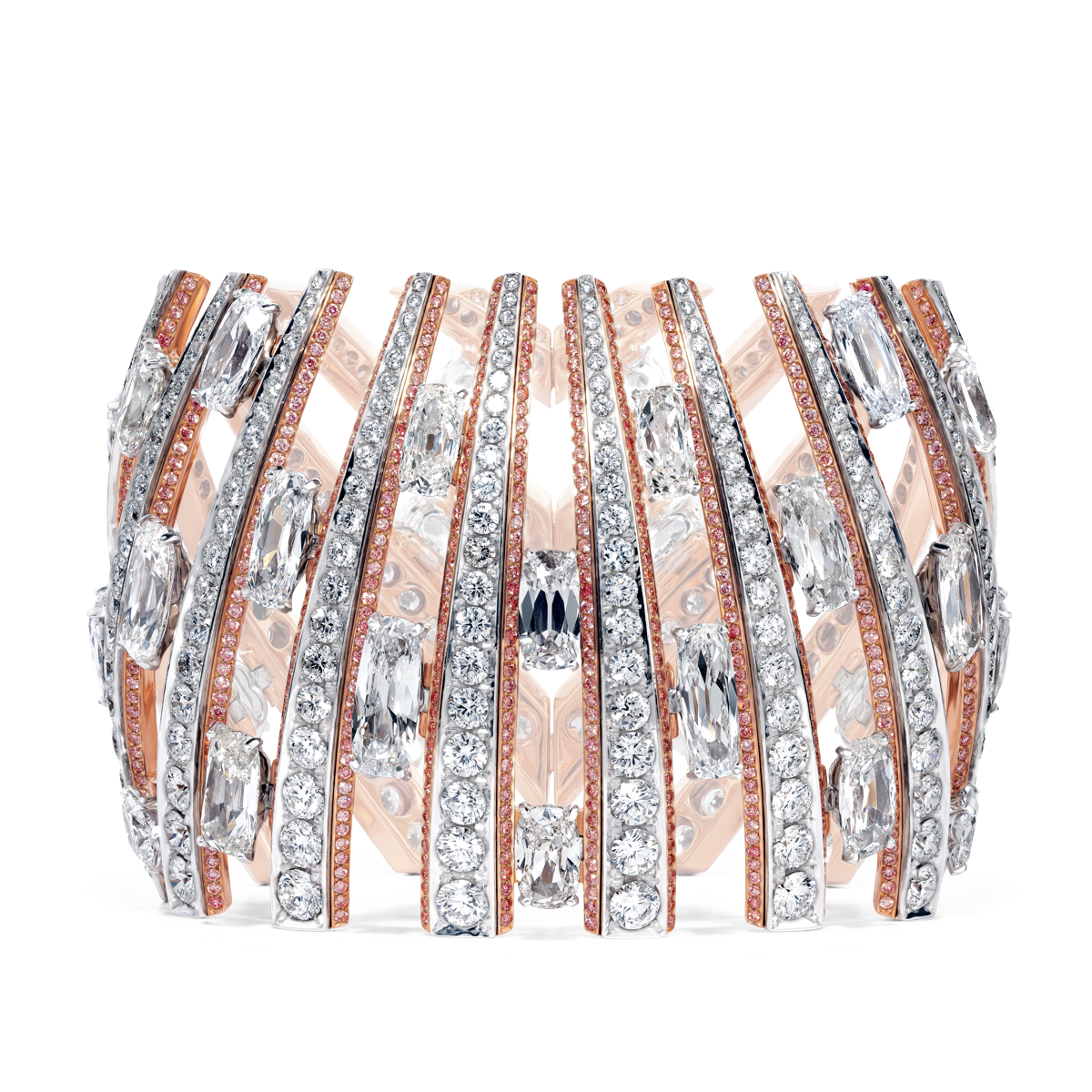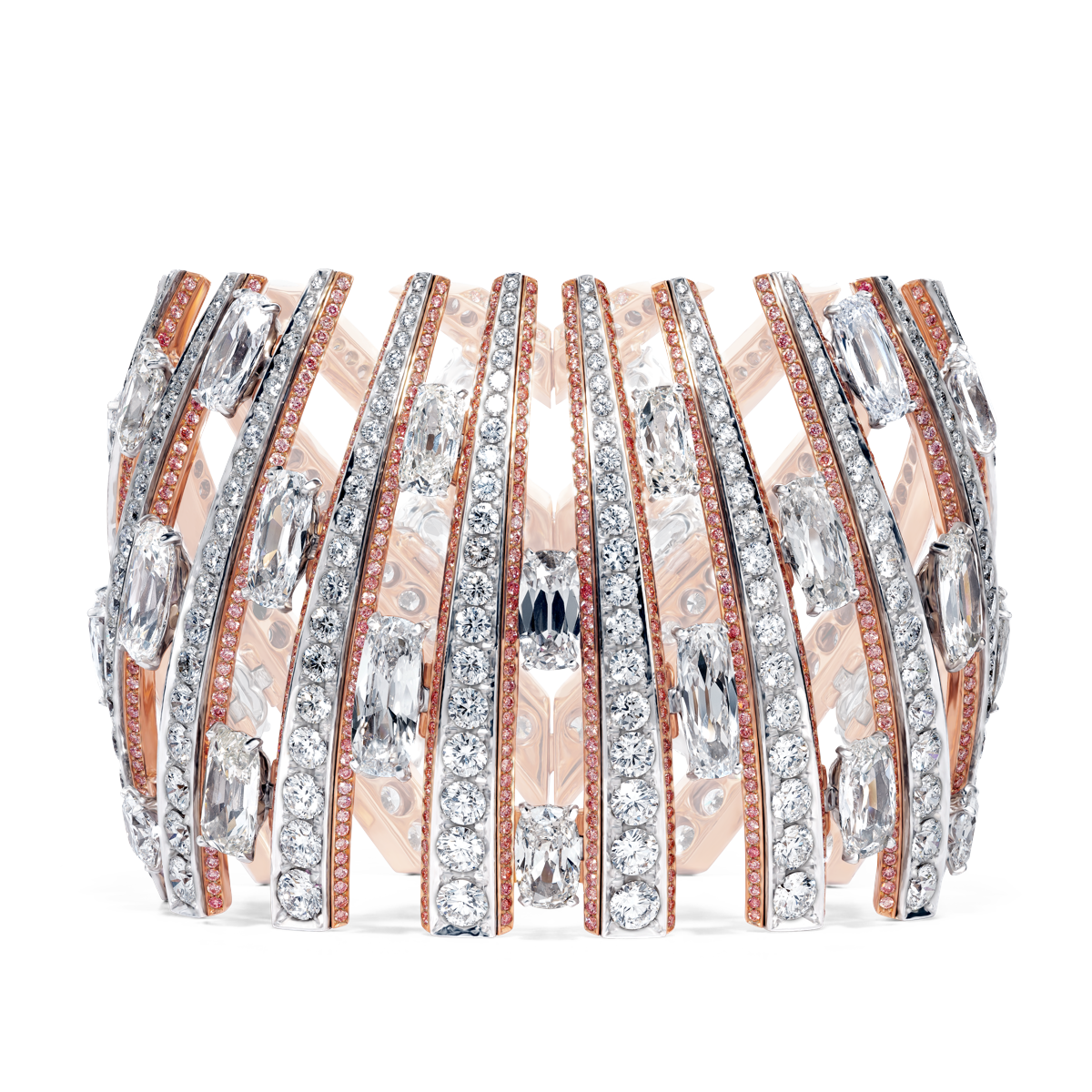 Bracelet Sunrise en or rose et blanc, diamants (62,21 carats). Sunrise cuff in pink and white gold with diamonds. Photo : David Morris
4- Boucheron
Collier Point d'Interrogation Lierre de Paris serti d'émeraudes. Point d'Interrogation Lierre de Paris necklace set à)p »e »with emeralds. Photo : Boucheron
Pour ce mois de janvier, la maison Boucheron réinterprète un intemporel de son patrimoine : le collier point d'interrogation. Elle le décline ici en une série de modèles extrêmement élégants. Seul point faible, la répétition est ici un peu monotone bien qu'il faille reconnaitre la technicité de toutes les pièces dévoilées. Ce qui m'a énormément plu par contre, c'est la campagne qui accompagne cette nouvelle collection : musique pop et portés modernes donnent ici une allure contemporaine à cette haute joaillerie en l'éloignant de l'idée qu'on ne peut la mettre que pour de très grandes occasions.
For this month of January, the Boucheron house is reinterpreting a timeless piece of its heritage: the question mark necklace. Here it is available in a series of extremely elegant models. Only weak point, the repetition here is a bit monotonous although it is necessary to recognize the technicality of all the pieces unveiled. What I really liked, however, is the campaign that accompanies this new collection : pop music and modern worn here give a contemporary mind to this fine jewelry away from the idea that we can not put it only for very special occasions.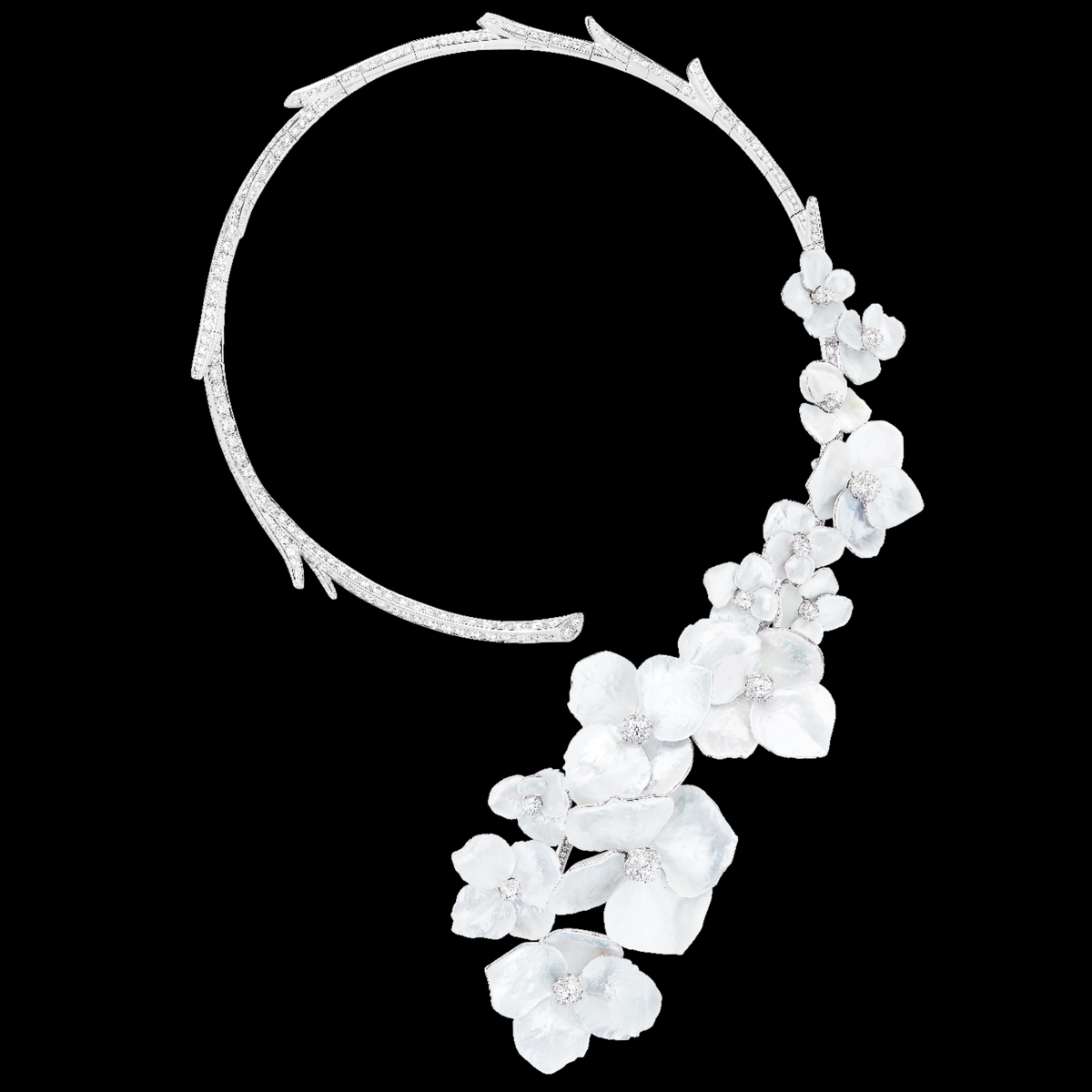 Collier Point d'Interrogation Nuage de Fleurs serti de nacre et de diamants sur or blanc. Point d'Interrogation Nuage de Fleurs necklace set with mother-of-pearl and diamonds in white gold. Photo : Boucheron
5- Dior
Bague double or blanc, jaune et rose 750/1000e, diamants,
opale noire, spinelles rouges, émeraude, turquoise et laque. White, yellow and pink gold ring 750 / 1000e, diamonds, black opal, red spinels, emerald, turquoise and lacquer. Photo : Dior Joaillerie
Janvier 2020 signe le complément de la collection Gem Dior présentée en grande pompe l'été dernier et dont je vous avais parlé ici même. 39 pièces sous l'appellation Dior & Moi sont sorties des ateliers de haute joaillerie de la maison de mode parisienne. Bagues, pendentifs, boucles d'oreilles inspirés tant par les bijoux anciens dits « Toi & Moi » que par les bijoux à secrets qu'affectionne Victoire de Castellane. En découlent une collection pleine de pep's où dialoguent pierres « fines » et pierres de centre majestueuses : saphirs aux roses puissants, émeraudes aux verts profonds et intenses ou encore opales gourmandes que la maison sélectionne auprès de fournisseurs pointus. Seul regrets, le dossier photo est quelque peu decevant car il ne permet pas de comprendre toute la magie de la fabrication des pièces qui ont demandé un travail délicat et d'une grande précision aux ateliers. Les éléments laqués sont par exemple démontables et les bijoux de cette collection sont de merveilleuses mini constructions. Car, la maison Dior ne transigent pas sur la qualité de ses pièces et demandent à tous ses joailliers de se dépasser à chaque nouvel opus !
January 2020 signs the complement of the Gem Dior collection presented  last summer and which I had told you about here. 39 pieces under the name Dior & Moi came out of the high jewelry workshops of the Parisian fashion house. Rings, pendants, earrings inspired as much by the ancient jewelry known as « Toi & Moi » as by the jewelry with secrets which Victoire de Castellane likes so much. The result is a collection full of pep's where « fine » stones and majestic center stones interact : sapphires with powerful roses, emeralds with deep and intense greens or gourmet opals that the house selects from sophisticated suppliers. Only regrets, the photo file is somewhat disappointing because it does not allow to understand all the magic of the making process which required delicate work and great precision in the workshops. The lacquered elements are for example removable and the jewels of this collection are wonderful mini constructions. Because, the Dior house does not compromise on the quality of its pieces and ask all its jewelers to surpass themselves with each new opus !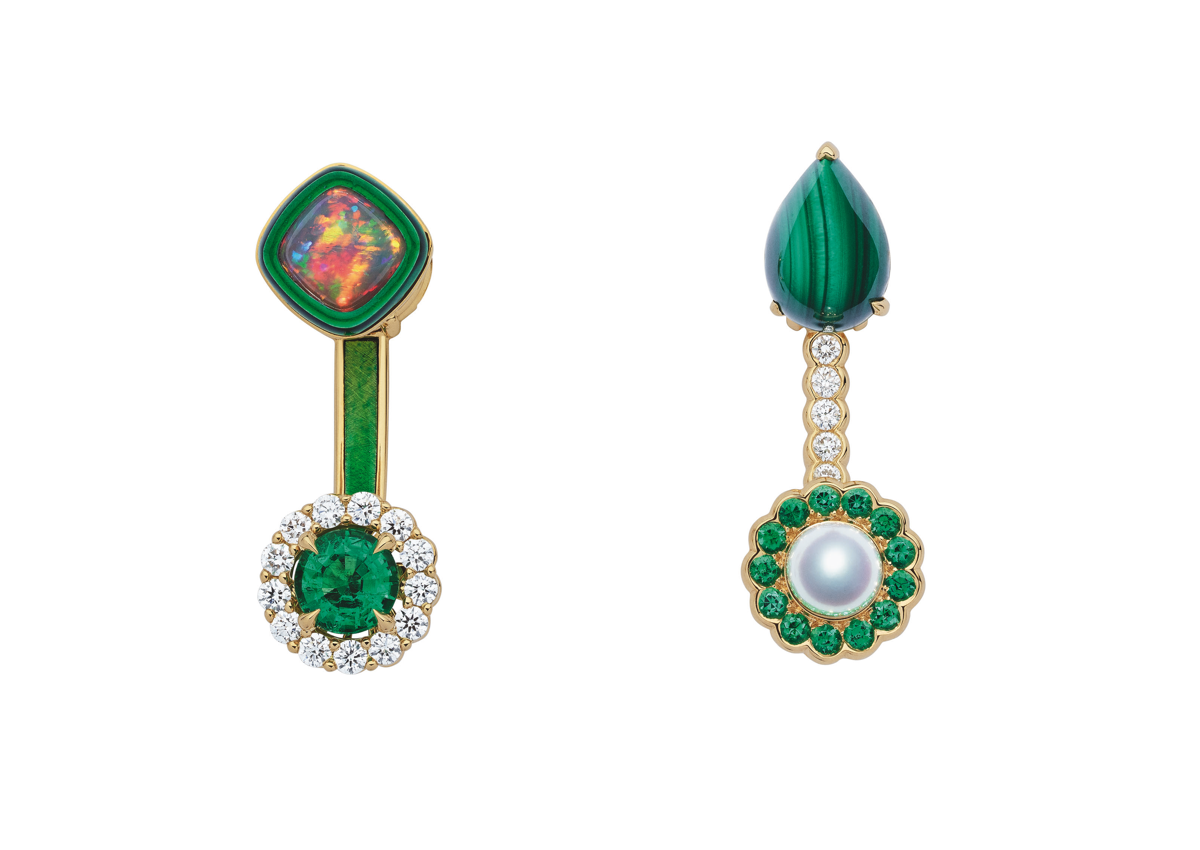 Boucles d'oreilles or jaune 750/1000e, diamants, malachite, perle de culture, opale, émeraudes et laque verte. 18kt yellow gold earrings, diamonds, malachite, cultured pearl, opal, emeralds and green lacquer. Photo : Dior Joaillerie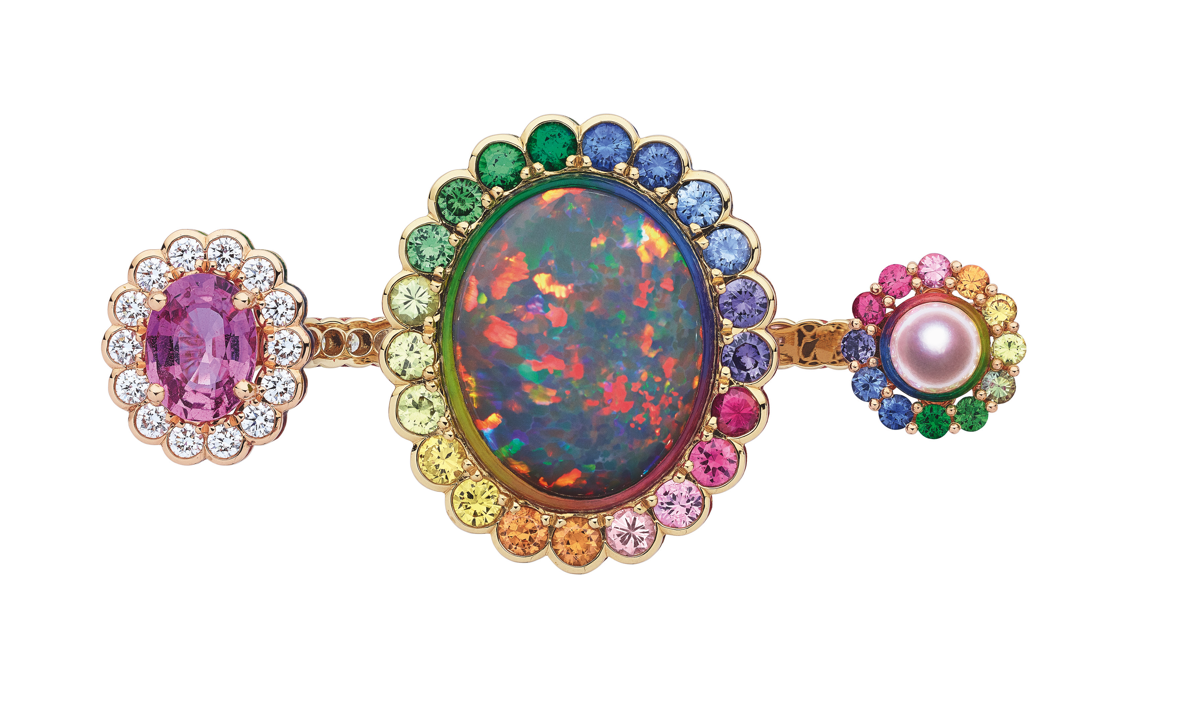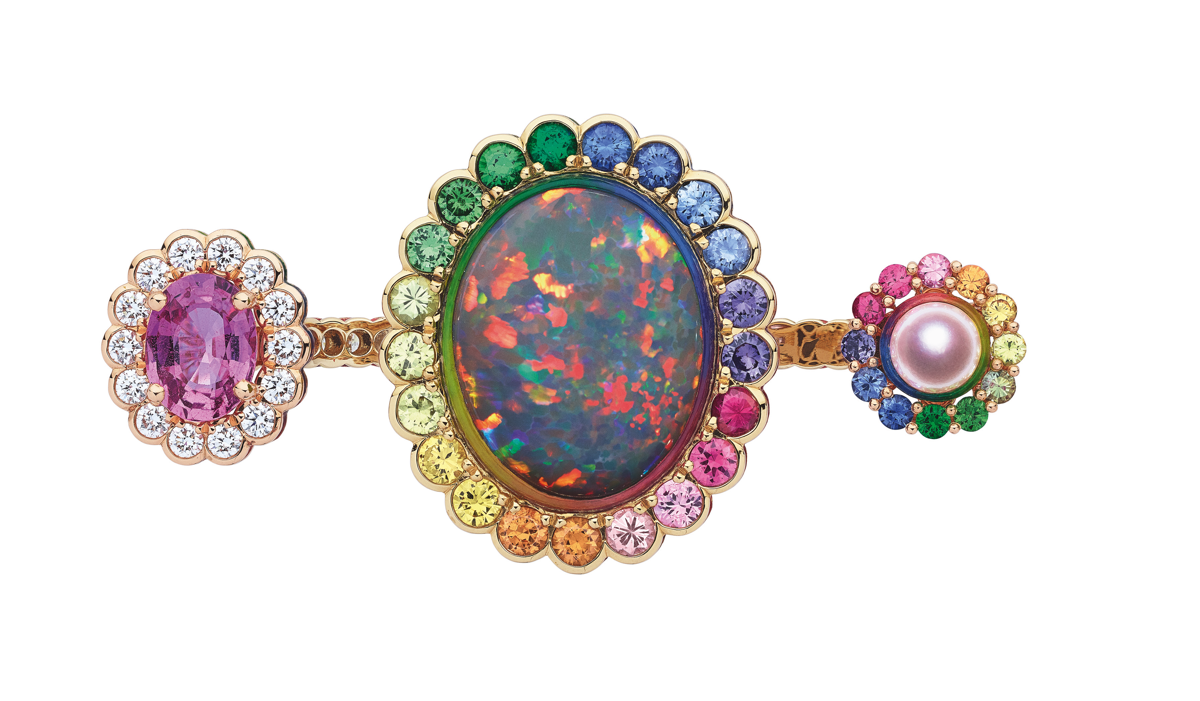 Bague or jaune et rose 750/1000e, diamants, opale noire, saphirs roses, perle de culture, saphirs bleus et jaunes, grenats mandarins, saphirs violets, grenats tsavorites, peridots, émeraude et laque. 18kt yellow and pink gold ring, diamonds, black opal, pink sapphires, cultured pearl, blue and yellow sapphires, mandarin garnets, purple sapphires, tsavorite garnets, peridots, emerald and lacquer. Photo : Dior Joaillerie
6- Swarovski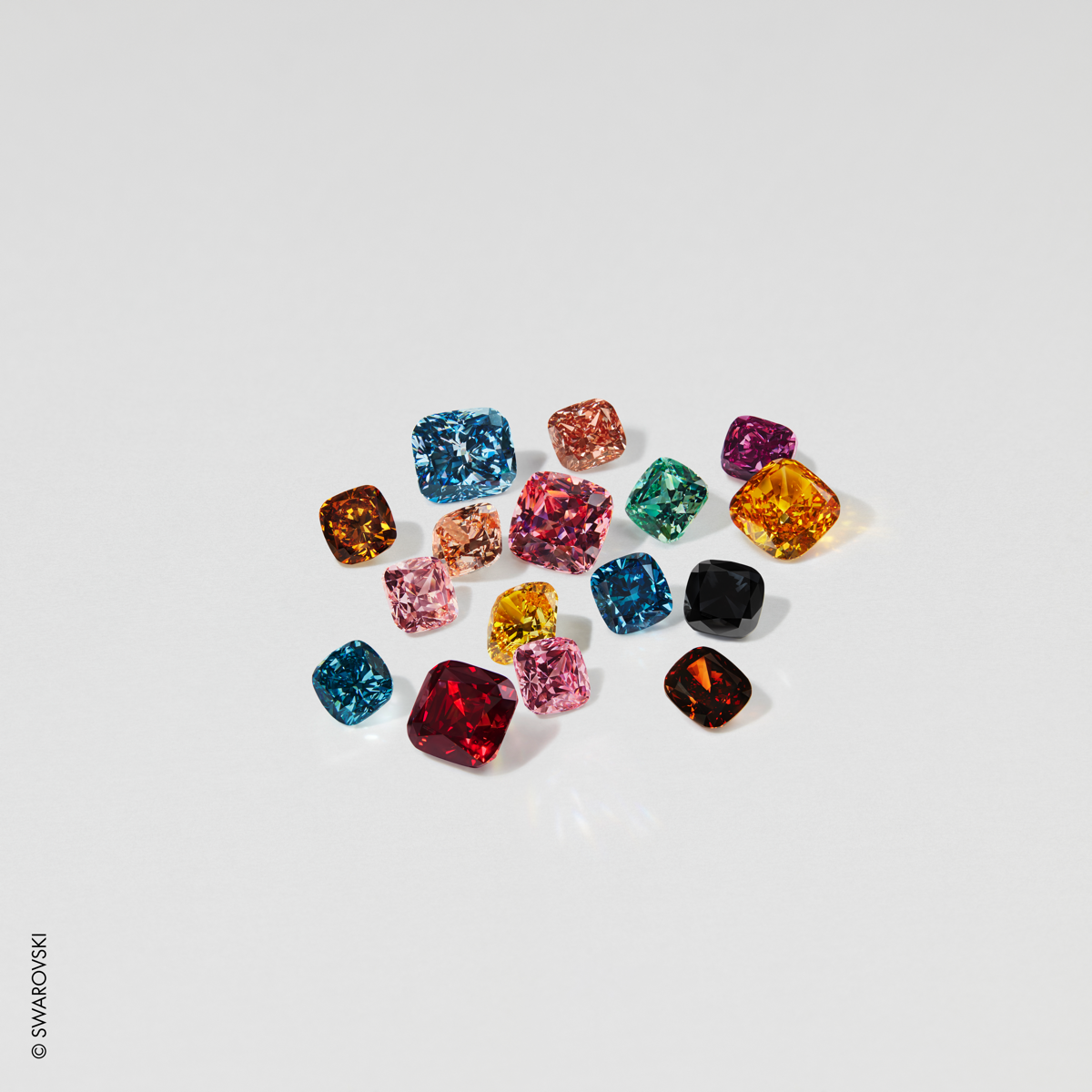 Les diamants synthétiques présentés par la maison en janvier 2020. The Swarovski's synthetic diamonds unveiled in january 2020. Photo : Swarovski
En ce mois de janvier 2020, la maison Swarovski a choisi le Ritz Paris pour présenter sa dernière innovation avec une collection de 16 diamants synthétiques avec des couleurs bien particulières que la maison a pris le temps de develloper au cours des deux dernières années. Les pierres seront disponibles dans plusieurs tailles mais la maison a choisi la taille coussin pour l'événement de janvier. Enfin, les disponibilités iront de 0,25 à 2,5 carats pour les plus importantes. Bien entendu, les pierres seront gravées « Swarovski Created Diamond » pour éviter toute confusion. J'ai beaucoup aimé cette présentation pour les couleurs audacieuses qu'a montré la marque. Je reste encore sceptique sur l'impact écologique et ne demande qu'à être convaincue. Si un laboratoire de création de diamants synthétiques me lit, qu'il n'hésite pas à me proposer une visite de ses installations ! Cela dit, la performance technologique pour créer ces pierres, garantir une production et un suivi des couleurs mérite d'être signalée. Alors êtes-vous prets pour les diamants Androgyny Flamingo, Heavy Metal Cherry ou Gothic Cognac ? Moi oui, et je trouve déjà cela réjouissant !
In this month of January 2020, the house Swarovski has chosen the Ritz Paris to present its latest innovation with a collection of 16 synthetic diamonds with very particular colors that the house has taken the time to develop over the past two years. The stones will be available in several sizes but the house has chosen the cushion-cut for the January event. Finally, the availability will range from 0.25 to 2.5 carats for the largest. Of course, the stones will be engraved with « Swarovski Created Diamond » to avoid any confusion. I really liked this presentation for the bold colors that the brand showed. I still remain skeptical about the ecological impact and only ask to be convinced. If a laboratory for the creation of synthetic diamonds reads to me, let them offer me a tour of their facilities ! That said, the technological performance to create these stones, guarantee production and color tracking deserves to be mentioned. So are you ready for Androgyny Flamingo, Heavy Metal Cherry or Gothic Cognac diamonds? I do, and I already find it gratifying !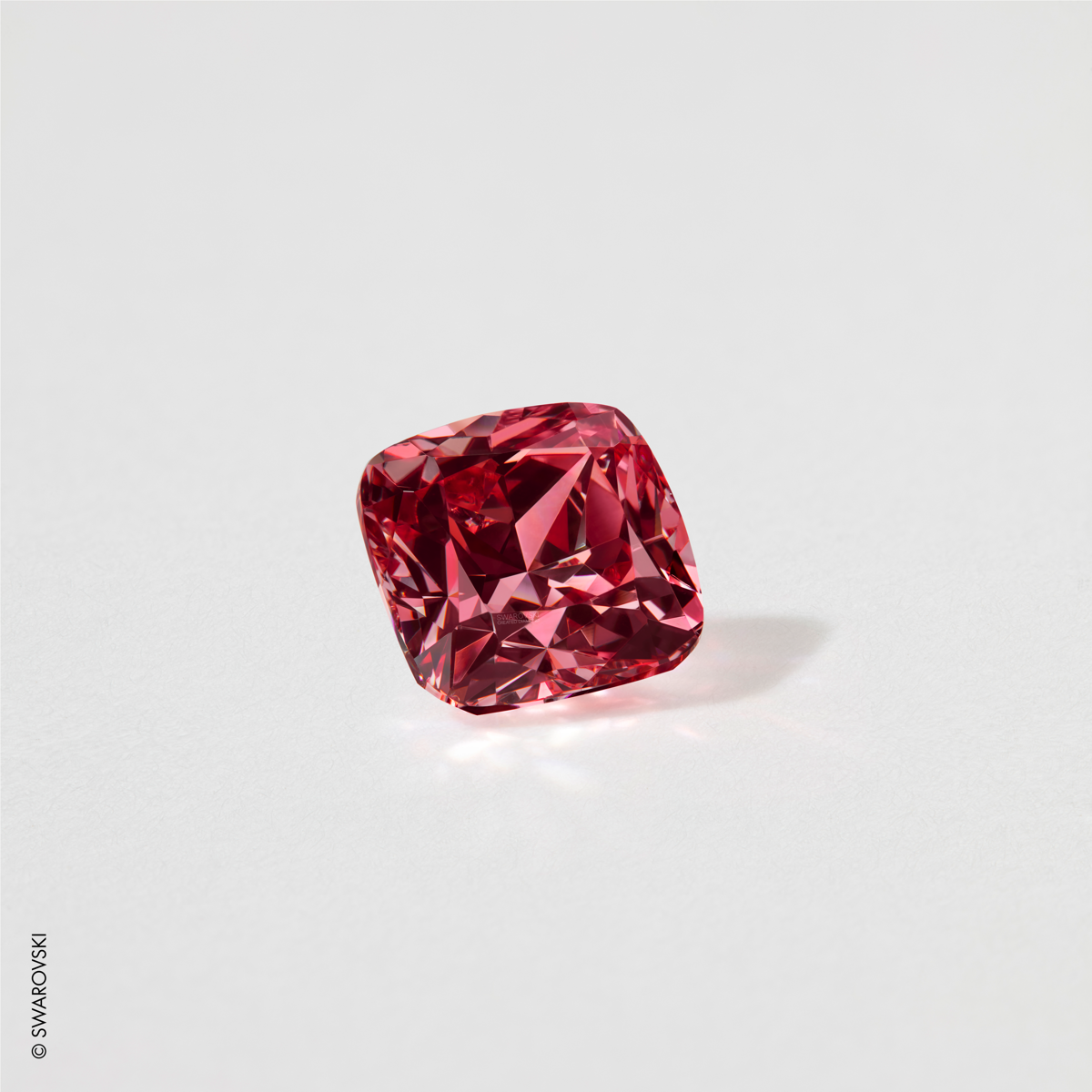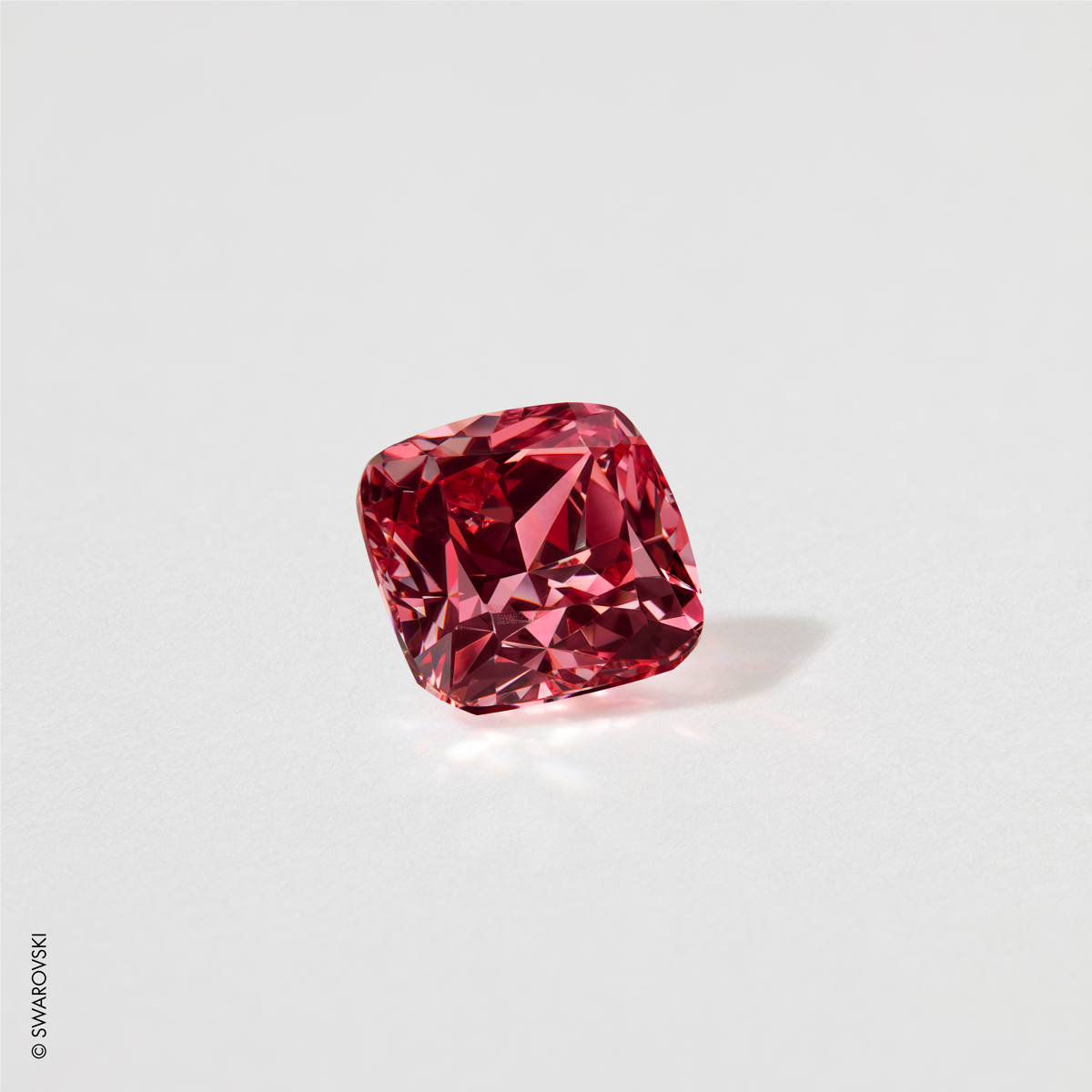 Le diamant rose synthétique Androgyny Flamingo ™ par Swarovski. The pink Androgyny Flamingo ™ synthetic diamond by Swarovski. Photo : Swarovski
7- Lydia Courteille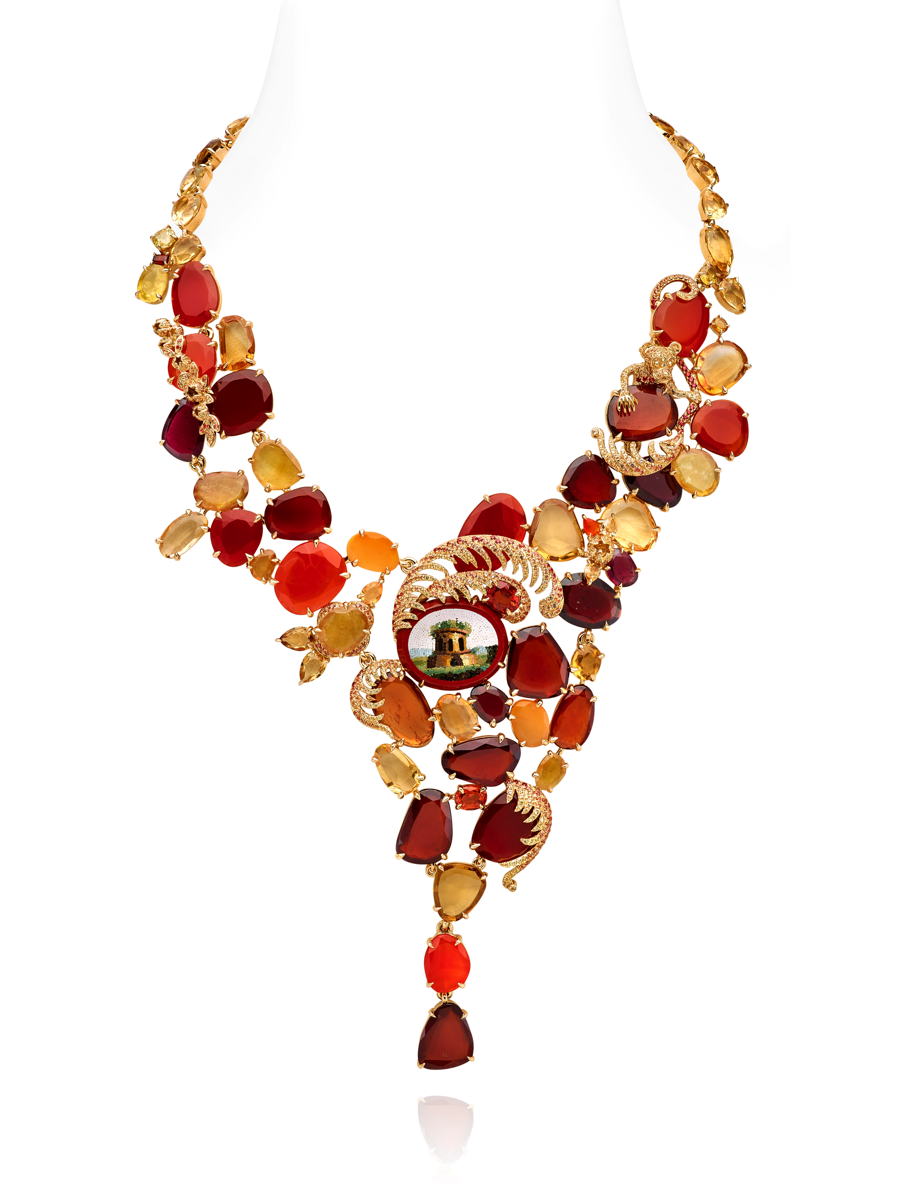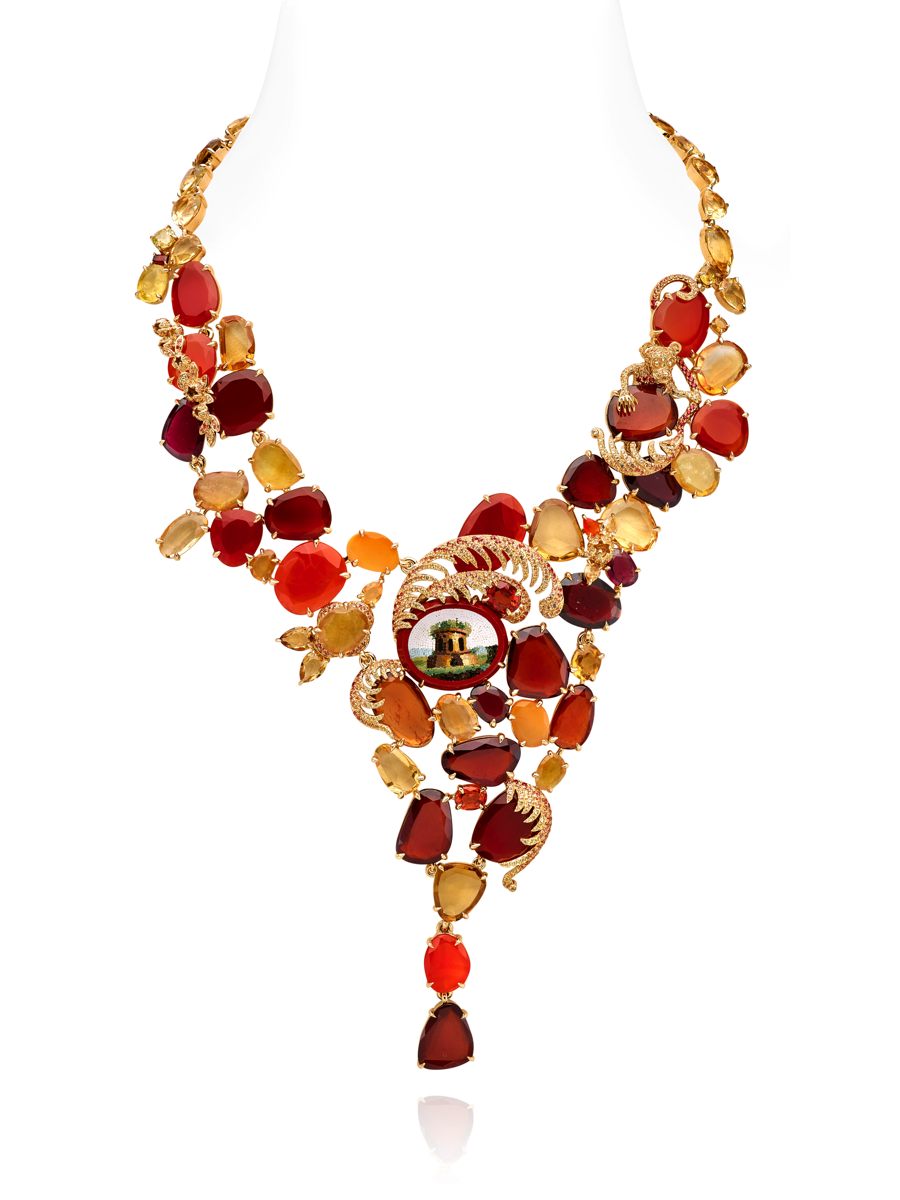 Collier Micromosaique 750 OR 109.9 grs, 618 saphirs 5.73 cts, 46 citrines 16.05 grs, 18 grenats 19.08 grs, 10 calcedonies 10.82 grs, 2 opales 0.58 gr, 1 jasper rouge 4.37 gr. Micromosaic necklace 18 k OR 109.9 grs, 618 sapphires 5.73 cts, 46 citrines 16.05 grs, 18 garnets 19.08 grs, 10 calcedonies 10.82 grs, 2 opals 0.58 gr, 1 red jasper 4.37 gr. Photo : Lydia Courteille
Une semaine de la mode sans une collection de Lydia Courteille ne serait pas une semaine complète. Pour ce début 2020, la maison réinterprète un classique de la culture russe : la fameuse Chambre d'Ambre qui fit la gloire de la Russie. Volée par les allemands en 1941 et jamais retrouvée, elle est considérée comme perdue. Une reconstitution est désormais visible depuis 2003 dans le Palais Catherine à Tsarskoïe Selo. La créatrice réussit ici le pari de proposer une collection inspirée par l'ambre sans que jamais elle n'utilise la prècieuse ressource dans les pièces dévoilées en janvier dernier. A la place, opales, citrines, saphirs jaunes, grenats hessonites, et calcédoines se répondent et dialoguent avec justesse ; suggérant ici la douceur de la précieuse résine fossilisée et rappelant ailleurs toutes les nuances possibles qu'offrent cette étonnante production de mère nature. C'est osé, opulent, joyeux. C'est une collection à l'image de Lydia, aussi joyeuse et vibrante que les dernières qu'elle nous a proposé. Il faut aimer le jaune, le brun et le orange, la collection ne plaira pas à tout le monde et ce n'est pas grave. C'est justement ce que je demande à la haute joaillerie : d'avoir du caractére et de la personalité. Le pari, ici, est gagné !
A fashion week without a Lydia Courteille collection would not be a full week. For this beginning of 2020, the house reinterprets a classic of Russian culture : the famous Amber Room which made the glory of Russia. Stolen by the Germans in 1941 and never found, it is considered as lost. A reconstruction is now visible since 2003 in the Catherine Palace in Tsarskoye Selo. The designer succeeds here in the challenge of offering a collection inspired by amber without ever using the precious resource in the pieces unveiled last January. Instead, opals, citrines, yellow sapphires, Hessonite garnets, and chalcedonies respond and dialogue with accuracy ; suggesting here the softness of the precious fossilized resin and recalling elsewhere all the possible nuances that this amazing production of mother nature offers. It's daring, opulent, happy. It is a collection in the image of Lydia, as joyful and vibrant as the last she offered us. You have to like yellow, brown and orange, the collection will not please everyone and it does not matter. This is precisely what I ask of high-end jewelry : to have character and personality. The bet here is won !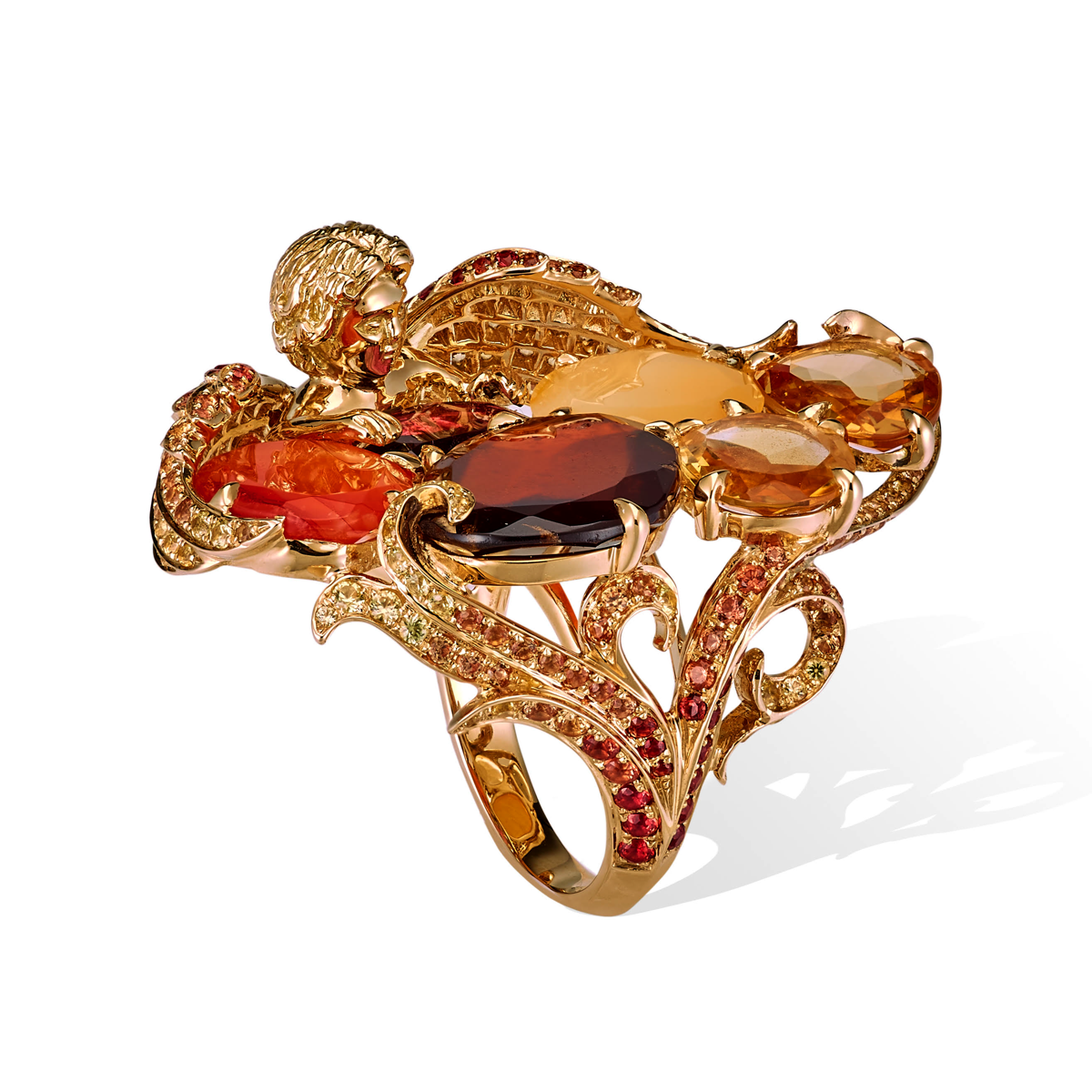 Bague Ange 750 OR 24.52 grs, 222 saphirs 2.85 cts, 2 grenats rouge 2.03 grs, 2 citrines 0.82 gr, 1 calcedoine 0.8 g, 1 opal 0.5 gr. Ring Angel 18 k OR 24.52 grs, 222 sapphires 2.85 cts, 2 red garnets 2.03 grs, 2 citrines 0.82 gr, 1 chalcedony 0.8 g, 1 opal 0.5 gr. Photo : Lydia Courteille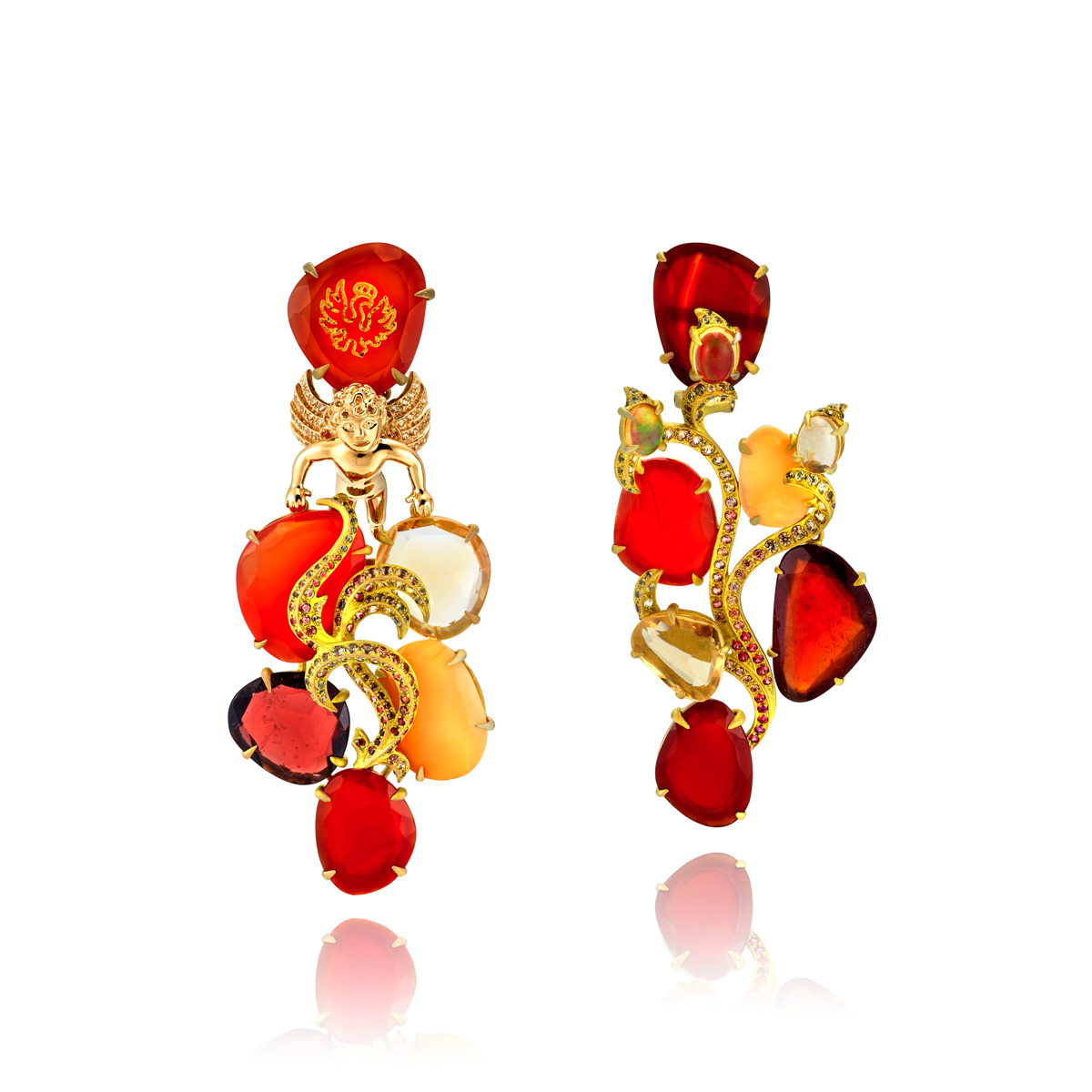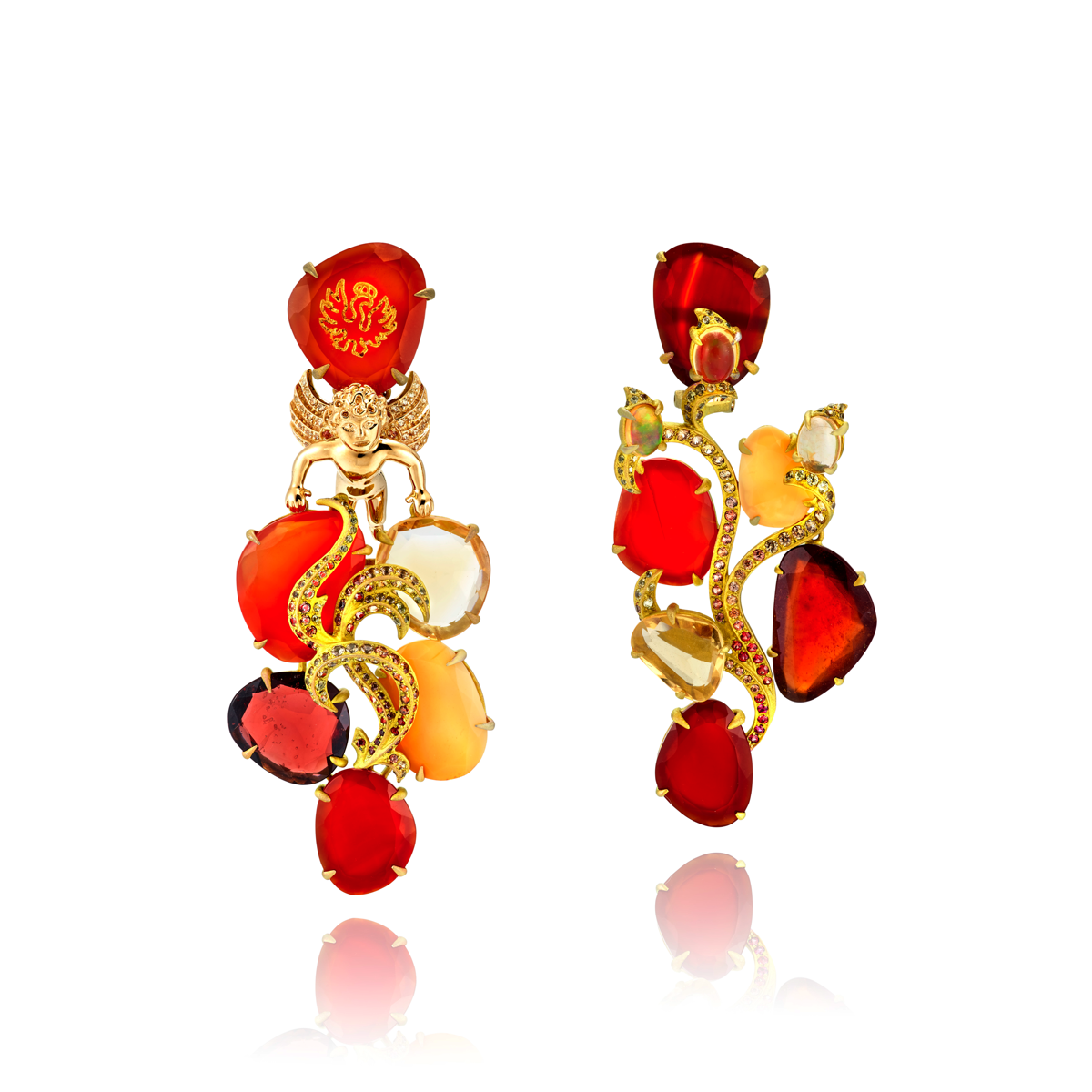 Boucle d'oreilles en or jaune, titane, saphirs, calcédoine, opale, citrines. Yellow gold earrings with titanium, sapphires, chalcedony and opals. Photo Lydia Courteille
À bientôt !
See you soon !