While the Parcours Bijoux has just started in Paris,the Galerie La Joaillerie par Mazlo is proposing a new exhibition that is part of this beautiful event. The only difference is that you will have until December 19 (the Parcours Bijoux ends on October 25) to discover the new and exciting selection of works by the Robert Mazlo Endowment Fund and the Alice Art Foundation.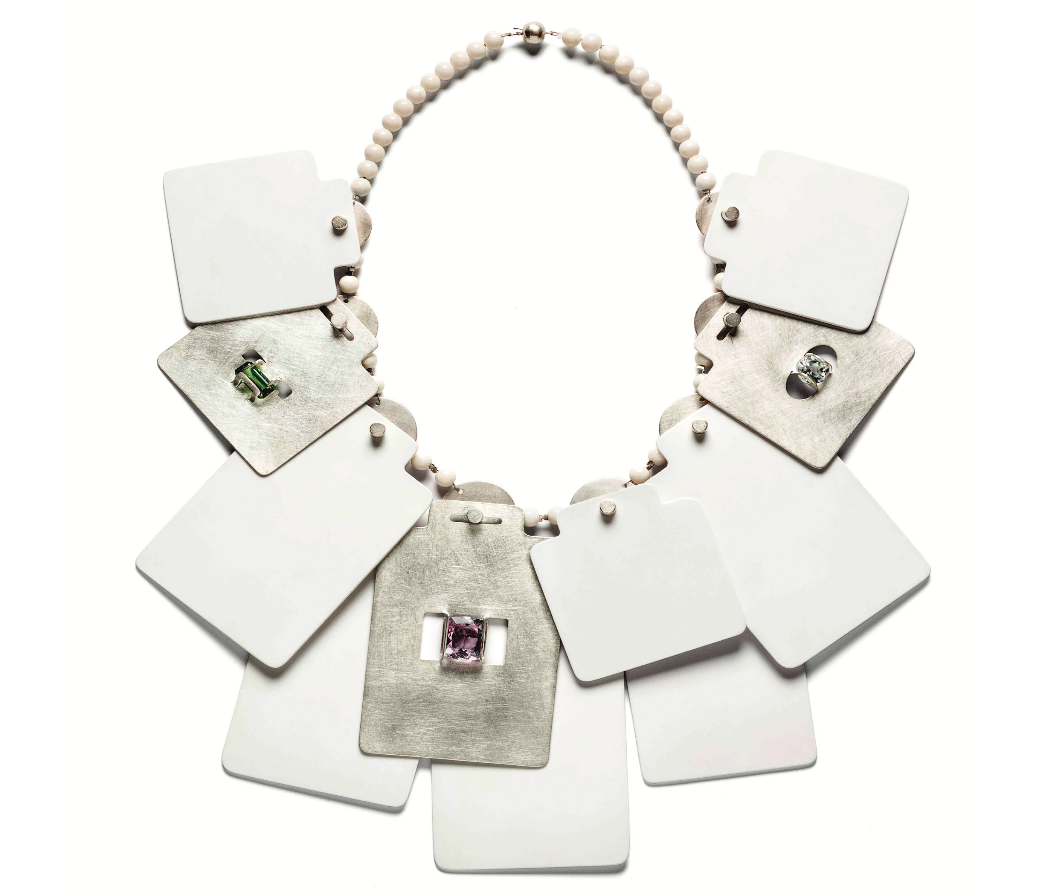 Getting Off The Rack #1; Necklace, 2018. Tourmaline, amethyst, topaz, white coral, polystyrene, wire, metal. Photo: Dorte Krogh.
With "nOrd – contemporary Danish jewellerywith "nOrd – Contemporary Danish Jewellery", the gallery presents some of the finest names on the Danish scene. The Danish spirit has long been associated with Nordic design: a false simplicity, clean and elegant lines or a perfectly mastered balance of shapes and volumes. In the field of jewellery design, the famous Georg Jensen and Viviana Torun have left an indelible mark on Danish creativity.
Mrs Beige walking her dog; Necklace, 2020. Milliput, wood, leather, silver, plastic, glass beads. Mrs Beige walks her dog; Necklace, 2020. Milliput, wood, leather, silver, plastics, glass beads. Photo: Dorte Krogh
On this occasion, five confirmed and remarkable names will be exhibiting their pieces in Paris. Per Suntum and Kaori Juzu, Annette Dam, Castello Hansen and Marie-Louise Kristensen will be present with great pleasure. These five artists all have one thing in common: they all have at least one work that has been acquired by the Danish Art Foundation, one of the most extraordinary collections of contemporary jewellery in the world.
As with every exhibition, you will be surprised and questioned. Here you will wonder about the forms, there about the materials. You may come away with more questions than when you entered the gallery, and so much the better! Galerie Mazlo's exhibitions are always perfectly thought out and orchestrated; the jewellery impeccably presented. So go and discover the enamels of Kaori Juzu and Per Suntum. On a very personal note, I always find them fabulously poetic and I admire the technical mastery of these two artists who live on the island of Bornholm where wild nature plays a big part in their creative approach.
Ubi Signum – Signs of No Thing. Set of four brooches, 2019. Reconstituted coral, various metals, steel, enamel. Photo: Per Suntum
While the pieces on display resonate, they are all very different from each other. The work of Castello Hansen is particularly surprising. Trained at the jewellery house of Ole Lyngaard, he focuses on clean, minimalist contemporary jewellery. Like the other designers in the exhibition, his technical mastery is perfect, and his creations – often symbolic – are intended to bear witness to an era and express all the complexity of Man's relationship with jewellery. The jewel, here, is a phenomenon but not a fashion.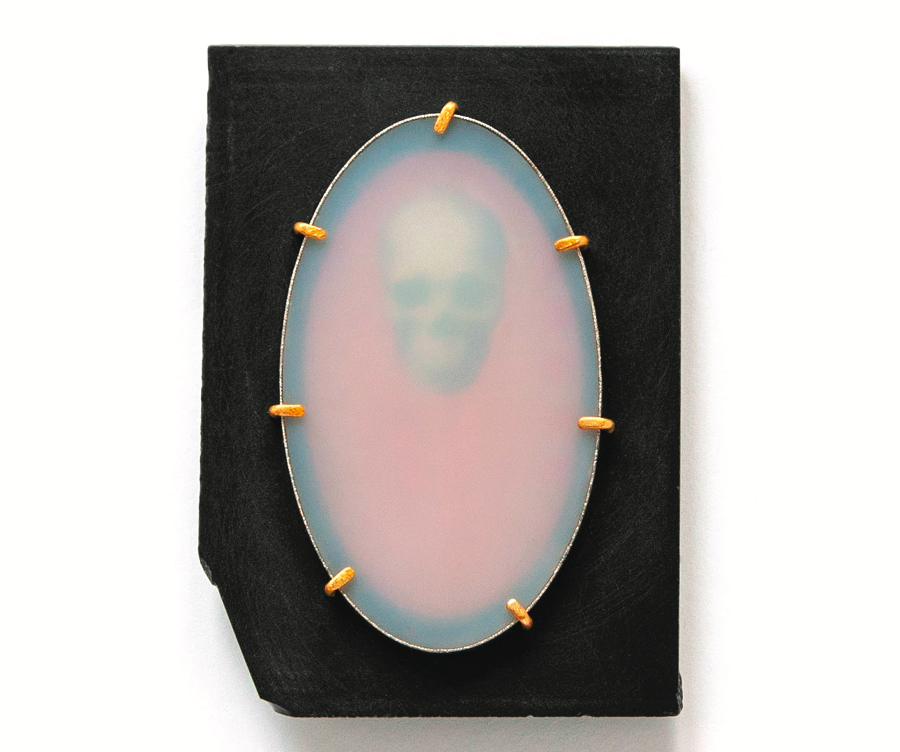 Joy Joy Joy. Brooch, 2018. Enamel, steel and copper. Photo: Castello Hansen
Finally, Annette Dam and Marie-Louise Kristensen are inseparable in their shared commitment to the recognition of contemporary jewellery. Both curators, they founded Art Jewellery Copenhagen in 2017. Yet their respective creations are very different and Kristensen's are as curious as they are surprising and funny. Halfway between jewellery and sculpture, her narrative objects tell stories where the viewer's feeling is the key. Her necklace Mrs Beige walks her dog is a perfect example. Humorous and touching, her pieces appeal to our memories and impressions. It is up to each of us to make them our own. Annette Dam's latest series explores the relationship between handmade and mass production. She sublimates simple forms that everyone will recognise by transforming them into precious objects enhanced with gems. Like the other designers, her work is infused with the modern poetry that we tend to forget too easily.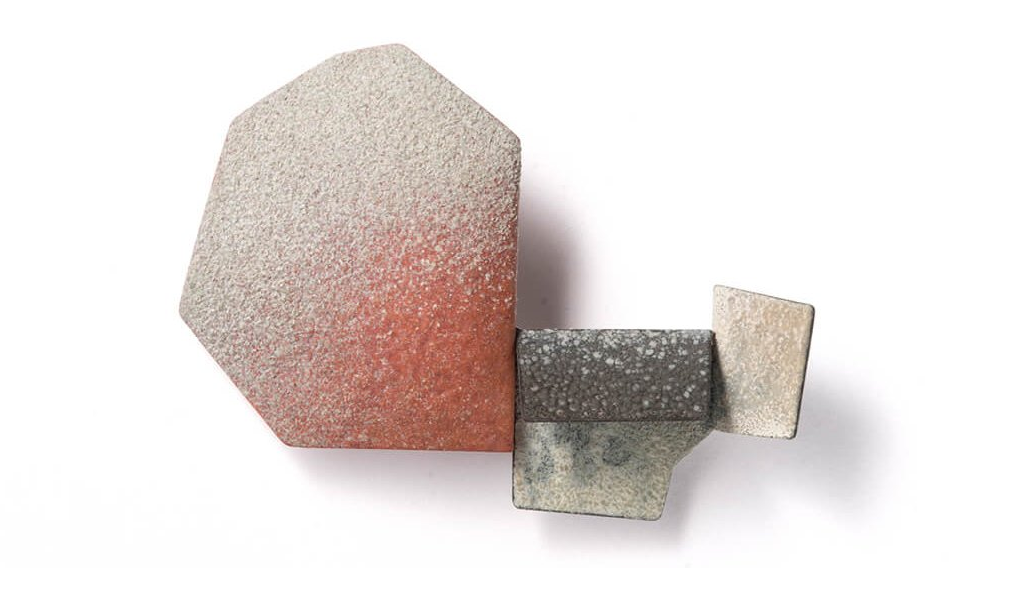 Brooch. Copper and enamel. Photo: Kaori Juzu
So, make a note of this event in your diaries and go and see this new exhibition which I hope you will enjoy!
See you soon!