The Aguttes Neuilly sale of 16 December 2020 will take place in ten days' time. On the programme of this beautiful sale, 128 lots carefully selected by the director of the jewellery department: Philippine Dupré la Tour. As winter slowly settles in and our towns and homes put on their lights for the festive season, it would be a shame to miss out on this beautiful catalogue, which could well give you some ideas for gifts to put under the tree. Among the different lots, we note that fine pearls are always in great demand on the market. This catalogue contains no less than 20 lots offering this natural wonder which testifies to a time when cultured pearls did not yet exist. Undoubtedly, Aguttes has established a real climate of confidence, asserting itself as one of the houses specialising in this resource so special and so sought after by amateurs. Beyond the fine pearls, I have selected 7 lots that I had great pleasure in discovering and which, I hope, will not leave you speechless!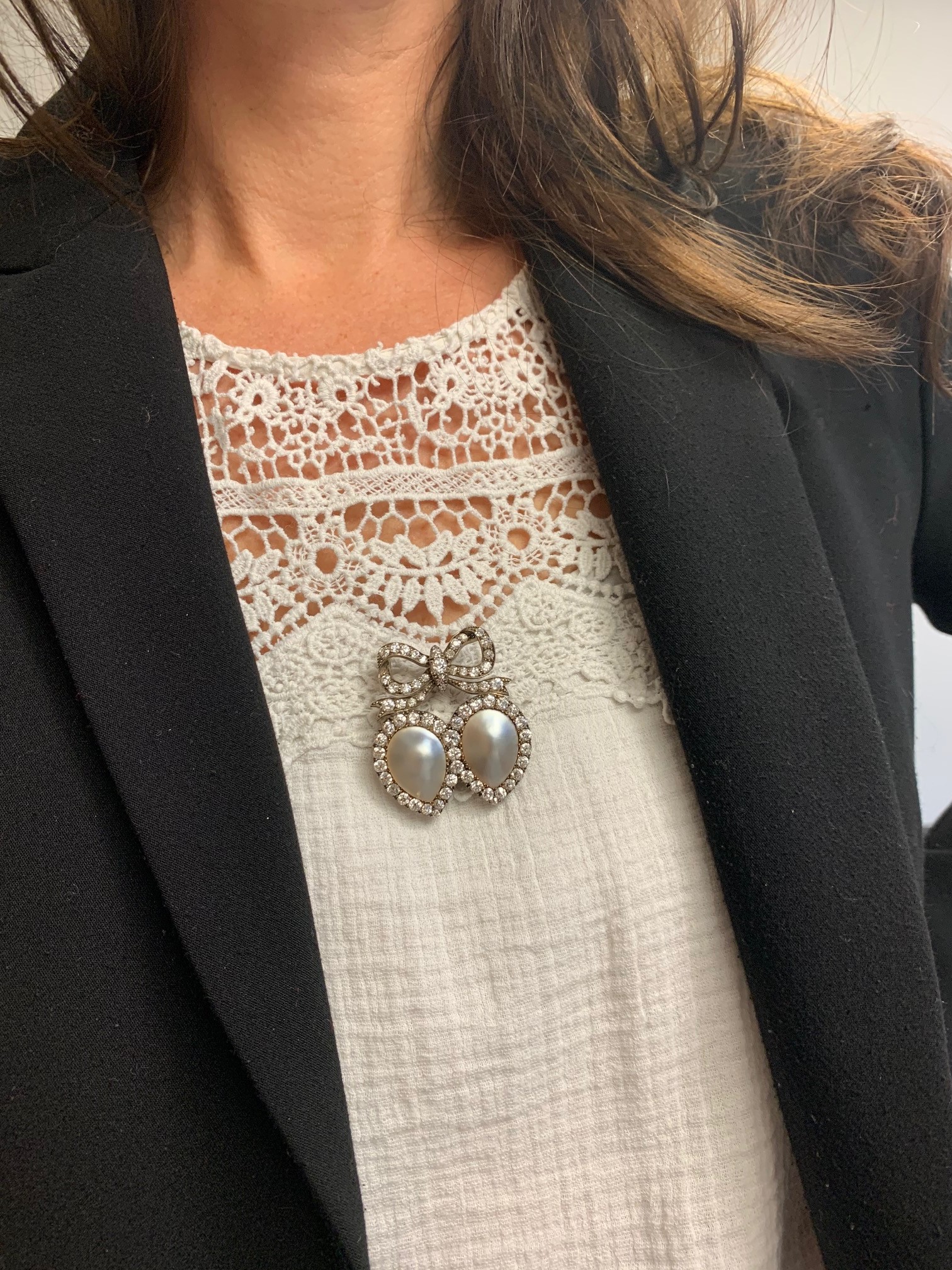 lot 5: Romantic brooch in silver, gold, diamonds and mother-of-pearl. Work of the 19th century. Estimate between 3000 and 4000 euros. Photo: Aguttes
The first lot that caught my eye was lot 5, as this type of jewellery is not very common in sales. For a simple reason, these pieces have a very special meaning and are often family jewels that are kept. This so-called "romantic" coin is in fact a piece of jewellery symbolising a union. Made of gold and silver, it is completed with mother-of-pearl and old cut diamonds. We know of very beautiful rings made in the 19th century when such a precious piece of jewellery was a testimony to the union of two families. Similar examples include the hearts of the Vendée, for example, and the Vendée wedding jewellery which symbolises two intertwined hearts topped by a crown and a Catholic cross, a symbol from Poitou known since Gallo-Roman times. So if you have a piece of this type in a jewellery box, you will now know what it symbolises. This rather imposing piece of jewellery, as it measures almost 5 cm, is estimated at between 3000 and 4000 euros. It would be a serious shame to pass it up as it symbolises nothing but beautiful things.
Lots 37 and 38: two necessaries, the first signed Jean Trotain, the second signed Lacloche. Estimates between 2000 and 3000 euros for the first & between 8000 and 10000 for the second. Photo : Aguttes
If nowadays, most women own a handbag – in which we tend to carry all our lives and our homes – it is not the same in the 1920s! The Aguttes sale will present two remarkable examples of what the era produced. With lot 37, we discover a beautiful gold and silver set enriched with coral and black enamel. It is signed by Jean Trotain, a man known for having worked with Raymond Templier and Gérard Sandoz. He was based in Paris at 2bis rue Vivienne and worked between 1924 and 1935. His hallmark symbolised a mortar launching a rocket with a star above it. His pieces regularly appear in sales but the general public has retained his principals more than his own work. It seemed necessary to me to draw your attention to this delicate little box estimated between 2000 and 3000 euros. With lot 38, it is the Lacloche company that is on display. It is a house that, I believe, one must know and that one can only love so much their pieces were all more sublime the ones than the others. A jewellery meteor, their story was short. You could discover them with the exhibition organised at the École des Arts Joailliers and with the superb book by Laurence Mouillefarine. The piece presented at auction dates from 1925 and was made by the famous Strauss Allard Meyer workshop. Made of gold, enamel and diamonds, this set is as chic as the era in which it was created. Its estimate, in line with the enthusiasm of collectors, is between 8000 and 10000 euros. Both pieces are in a superb state of conservation, testifying to the care taken by their respective owners to preserve them. I never tire of admiring them, of observing the meticulous care that was necessary to achieve them, of completing the adjustments of phenomenal precision… The talent of the craftsmen who worked on the making of these little marvels is expressed in the smallest details of these objects.
Lot 40: Gold and diamond brooch signed by Boivin. Estimated at 7,000 to 10,000 euros. Photo: Aguttes
This brooch is particularly representative of René Boivin's pure and striking style. This "S" clip exists in gold and diamonds, like this jewel which is being presented on 16 December, but there are also variations set with sapphires or emeralds. It seems that this jewel appeared in 1938 with Juliette Moutard who took over from Suzanne Belperron, who had just left the company to become independent, in 1931. There is an almost permanent timelessness to the brand's creations. The pieces, entirely handmade, bear witness to an era that no longer really exists, except in rare cases. So if you want a beautiful piece of jewellery, which you will wear with pleasure, easily, without a single false note, this type of piece is a perfect choice and an ideal compromise between love and investment.
Lot 41: Art Deco Platinum, Diamond, Enamel and Rock Crystal Brooch. Estimate between 4000 and 4500 euros. Photo: Aguttes
There are lots in sales that make a lasting impression on you because they tick off everything you love. Brooch 41 is a perfect example. Singular, I find it also delicate and yet very present. Although it is small, barely 3 cm, the mix of platinum, diamonds and rock crystal gives it an identity all its own. The enamel underlining the elaborate cabochons adds that final touch to this piece of jewellery that cannot be missed. I admit to having a certain passion for art deco, perhaps because I find that we haven't really done better since… I would have liked to know the maker, but there you go, you can't always know everything. Antique jewellery often likes mystery and that's good. Anyway, I remember its impeccable manufacture, its state of preservation, its resolutely modern look. I always marvel at the modernity of these pieces and the fact that they seem to have been made only recently. Estimated between 4000 and 4500 euros, I would see it under my Christmas tree!
Lot 49: Mellerio gold, platinum and diamond brooch pendant. Estimate between 4000 and 5000 euros. Photo: Aguttes
Passion Mellerio Joaillier with this rare yellow gold and diamond pendant/pin representing an ostrich feather fan. The feather fan in its modern version did not appear until 1855 when Jean-Pierre Duvelleroy – Jury in the Paris Universal Exhibition – pointed out the skill of Mr. Dourlet who made feather screens. It was not until 1868 that the first ostrich farms appeared on the arms of elegant women… This very pretty jewel in gold, platinum and diamonds folds and unfolds according to the wearer's mood. It will be offered at Aguttes during the sale of 16 December 2020. Estimate between 4000 and 5000 euros. Not to be missed!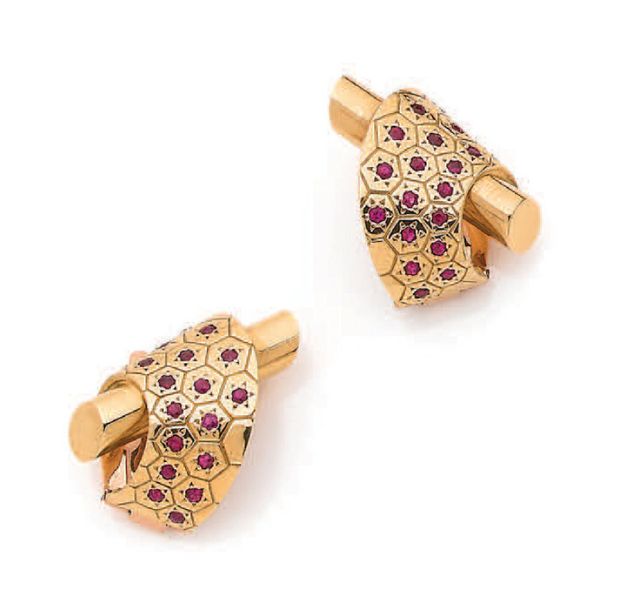 Lot 64: Ludo yellow gold and ruby earrings by Van Cleef & Arpels. Estimate between 4500 and 6000 euros. Photo: Aguttes
"Ludo" for Louis Arpels whose nickname it was. The range was created in 1934 and offers pieces of great flexibility composed of small gold hexagons set with diamonds, sapphires or rubies whose star setting has become iconic. The collection includes bracelets inspired by a belt buckle and sometimes earrings that are no longer made by the company. Designed in the late 1930s, these massive pieces of jewellery have the particular elegance of 1940s jewellery known for its false opulence, as they are often hollow. But the "ludo" are not, they are imposing pieces but very pleasant to wear, visually massive but supple as possible, evoking a ribbon. If the earrings are necessarily less so, they nevertheless take up all the codes – from the hexagons to the timeless star setting – of a jewel that adapts to all situations. And that's exactly what I like about jewellery, that moment when it stops being a simple performance and goes back to the essential.
Lot 106: A pair of silver and gold cufflinks. Signed Mellerio, estimate 950-1000 euros. Photo: Aguttes
I end this selection with this small lot that I find simply adorable. It's not a great piece of jewellery but I'm pretty sure that its owner, who must have loved horse riding, really liked this pair of cufflinks. I have already mentioned the house of Mellerio in this selection and I still believe that this house is still very much underestimated by collectors at auctions. Yet the pieces are often atypical, surprising, eclectic even, reflecting the diversity of the clientele of this venerable jewellery institution as well as the creative freedom taken by the house whose speciality is to be at the service of its clients' wishes. Mellerio is still very affordable on the auction market and the pieces are always perfectly made because the house's know-how is no longer in question. So, if you want to start a collection and/or acquire a piece of jewellery with a nice identity, I will direct you to this lot which will not disappoint you.
See you soon!