28 February 2020, I publish an article with some reading updates. march 12, 2020, in an almost empty Paris, I go to a last conference about gemmology. That evening, the fine team from Imagem presents its work at the Laboratoire Français de Gemmologie. Chris Price, magician of opals, is there to talk about his life and the stones he loves above all else. The atmosphere outside is as bizarre as it is joyous inside. When the soundtrack of the evening resounds – the Men at Work are going to give rhythm to the whole evening with their track Down Under (it is necessary to read this paper with this music) – the certainty of a good evening is confirmed. One of the partners of the house asks me when we're going to do this article! The"when you want" answer took two years, but Laurent, Margaux and Cloé sat down around a table, received me in their office in the centre of Paris and answered my many questions. For me, Imagem is one of the most beautiful gem trading houses in Paris. If they specialise in all materials, they are renowned for Australian opals, of which they offer some of the most beautiful specimens in France. Their energy is communicative, as is their good humour. And at Le Gemmologue, we love it. Meet them!
Aquamarine, Indigolite Tourmaline, Ceylon Sapphire, Paraiba, Burmese Sapphire. Photo: Imagem
1-Imagem was born in 2003. How and why did the Imagem adventure begin? What is the history of this company? What are your respective backgrounds?
Laurent has been the Managing Director of IMAGEM since its creation in 2003. His career began in Colombia, when he first discovered emeralds. While travelling as a marketing professor at the University of Bogota, he fell in love with this stone as much as he was in love with Colombia. He decided to dive into this exciting business and the knowledge of emeralds. He created his first company and soon began working for the big brands of the Place Vendôme. In the early 2000s, his son Brice joined him and together they created IMAGEM. Father and son take care to work with natural materials and always of very high quality. Together they diversify the activity by working with sapphires, rubies and fine stones, and particularly the Australian Black Opal. They fell in love with this stone immediately and with their Australian partner Chris Price, they built a solid and long-lasting partnership.
Margaux, after a Master's degree in International Business, joined the team in 2013 and became a partner of Laurent and Brice in 2020. A new passion was born when she discovered the world of gemstones. She added to her initial training a diploma in gemology from the ING.
Cloé, a gemmologist by training, joined the team in 2015. She completes this quartet thanks to her extensive expertise in gemmology. In parallel to her position at IMAGEM, she gives courses in various gemmology schools.
2-Why did you decide to specialise in opals and more particularly Australian opals?
We chose to work with Australian Black Opal for several reasons:
First of all, it is a very special stone whose beauty has charmed us. Each opal is unique, and we are lovers of rarity. Each new stone selected is a new discovery, and we can't get enough of looking at them…! Opals awaken the creativity of those who look at them.
This material was relatively unknown in the early 2000s, when Laurent and Brice started marketing it. We wanted to distinguish ourselves by offering a new and original product, which has seduced jewellers who love colour
It is a very good example of stones extracted under responsible conditions. Australia is a developed country where the social and environmental rules related to mining are strict and regulated
It is a sustainable gem, which has been used in jewellery on the Asian continent since its discovery.
Australian black opals – Lightning Ridge mine. Photo: Imagem
3-How did the partnership with Chris Price come about? Why did you choose to focus on Lightning Ridge opals?
A meeting at a trade show, a mutual love for opals and a common desire to promote this stone. Chris was a miner in the Australian opal fields before he started marketing this material. He created his company in Sydney, and works mainly with Asia, as well as some German merchants before our meeting. Our partnership is based on each other's specialities and strengths: Chris knows the material better than anyone else, he is on the spot and can react quickly when a new seam is discovered. IMAGEM is based in Paris, close to the most important clients, the team on site is reactive to respond to the requests and research of French and European jewellers.
4-How do you ensure a regular and high quality supply?
Chris, through his experience as a miner, has built up very strong relationships at Lightning Ridge, and is always on the lookout for new stones. We pay close attention to the quality of the opals, and only work with miners that Chris trusts completely. He knows where each stone comes from, which miner discovered it. He cuts the rough himself with his long-time lapidary. If a stone reacts badly to cutting, it is immediately withdrawn from the sale.
5-During the last GemGenève, I was able to admire coloured stones other than opals. What types of gems do you offer?
We work with all coloured stones, precious and fine. Historically, Laurent worked a lot with emeralds, especially those from Colombia which are very sought after. Above all, we love colour, and we select the material that catches our eye. Over the years we have built other strong partnerships for sourcing stones; for example, in Namibia for lagoon tourmalines and indigolites. Since 2019, we have also developed a partnership with a stone cutting workshop in Bangkok, where we cut shaped paving stones, in plan cut or work cut, in all shades of coloured stones. This new activity has enabled us to gain a foothold in the world of fine watchmaking and precision cutting. We offer our stones on request of course, but also at fairs such as GemGenève, Singapore, Tucson, and the EPHJ in Geneva for calibrated stones.
Yellow sapphire, pink spinel, Melaya garnet, Mandarin garnet, orange spinel. Photo: Imagem
6-How do you position yourself in the debate around responsible and ethical sourcing? Do you have any specific process(es) in place in your company?
We have been RJC certified since January 2021. We have always wanted to base our activity on trusting partnerships and long-term professional collaborations. This allows us to have a better knowledge of the origin of the stones and therefore of the traceability. Our partners know our customers, and we know the supply channels of our partners/suppliers. Regular visits and meetings help us to perpetuate this open and honest mindset.
7-You recently wrote a beautiful book on Australian black opals. Where did this adventure start and what did it bring you?
We have indeed published a book dedicated to the Black Opal in 2021. After more than 15 years of work and promotion of the Black Opal, and multiple conferences given to professionals in the field, we realised that there were still few books available on the subject. Meeting Didier Brodbeck, himself the author of several books on gemstones, launched us on this adventure. "Back Opals, only from Australia" pays tribute to this magical stone through the brilliant creations of jewellers from around the world. The GRS (Gem Research Swisslab) and the LFG (Laboratoire Français de Gemmologie) enlighten us on the techniques of analysis and certification; while Chris Price and his son Joël share with us the history of this gem and its extraction methods.
After a lot of work to collect photos of jewellers' creations around black opal, what a pleasure to leaf through our book and to see the works of all these creators together in one book! Gemmology is a fascinating field, which links different professions together around the same passion. The adventure of publishing this book has allowed us to talk about opals with all these actors: jewellers, laboratories, miners, merchants, lapidaries, journalists, professors… A real human adventure!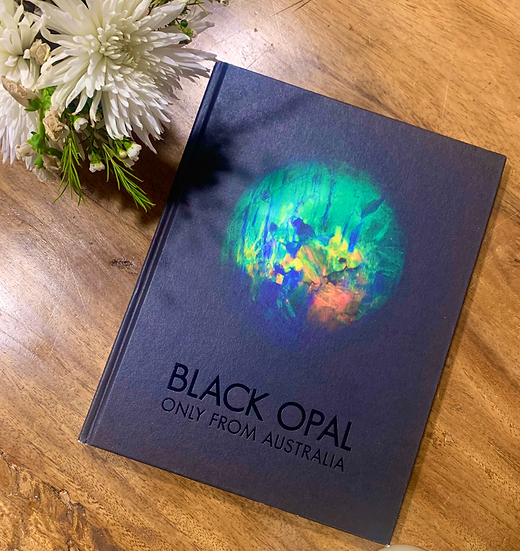 2019 Imagem Editions, France. 196 pages
Shipped worldwide on: https://www.imagem-paris.com
Available at: Galignani in Paris, and Librairie Letu in Geneva (Switzerland)
8-Some remarkable anecdotes to tell us?
Anecdotes are not written down, they are told orally… (laughs)
9-What advice would you give to young people who want to work in a company like yours?
The world of gemstone trading is a rather secret environment that makes future gemologists dream. You can imagine yourself on an adventure to the four corners of the world, with your feet in the mud and your pockets full of stones. It's a wonderful job in which you see beautiful things all day long, but you mustn't forget that working with valuable materials brings great responsibilities. Good organisation to keep track of your stock, thoroughness and accuracy, and knowledge of customs and trade policies are essential skills for this job. It is a trade based on trust; interpersonal skills take precedence over all other skills to run a sustainable business. If you want to be self-employed, you will also need to know how to manage all the administrative tasks involved in running a business.
Multiply your experiences: meet as many people as possible who know this trade, observe as many stones as possible in order to train your eye, be curious! You need to be patient and take the time to assimilate your knowledge.
See you soon!