I met Anaïs several years ago. I remember loving her enthusiasm, her humour and her deep-rooted desire to change her life and become a jeweller. She has been doing just that for several years now, with her jewellery brand Siana Swieca. Her enthusiasm and good humour are still there. Anaïs is a very pretty person, bright and with a communicative energy. She recently moved into a shared workshop in Saint-Maur-des-Fossés, I introduce you to her if you don't already follow her on social networks. Her work with recycled silver and plants is particularly appealing to me. But I'm also totally in love with her creations based on pieces of frosted glass that she finds on beaches… So let's meet.
1- Can you quickly introduce yourself to our readers?
Hello, my name is Anaïs Swieca and I'm the designer of my jewellery brand Siana Swieca Bijoux, which will be celebrating its 3rd anniversary at the end of the year. I was a photographer for 10 years, reporting on social issues. I gave classes in prisons and made multimedia documentaries.
And then I was pretty worn out by the world of the press. So I changed direction and took a Vocational Diploma in jewellery making. I did internships with a jeweller and then in a workshop designing jewellery for the catwalks of a major French brand. Then I decided to set up my own business. Once independent, always independent!
2- What did you want to be when you were a child?
I wanted to be an archaeologist. I already had this passion for finding treasures! It's not surprising that I still do and that I incorporate it into my creations!
3- And finally, what is your current profession?
I define myself as a jeweller.
4- How did you come to do what you do now?
My experience in a workshop didn't make me want to be a slave to infernal work rates and a bad atmosphere. It's certainly not like that everywhere, but I didn't want to be unhappy at work after retraining. And I've always been self-employed, so I think that suits me best.
So I took a year to experiment, find my 'style' and make jewellery that I was proud of (and have my 2nd daughter!). Then I created the brand Siana Swieca Bijoux, and after sorting out all the paperwork in our beloved French system, my brand was officially born!
5- You were a photographer for several years. Do you still use it in your current business? Why did you decide to change career direction?
Yes, of course, it helps me to take beautiful photos of my jewellery! It's not everyone who has an eye for light and understands it, and it's often a tricky subject for designers and a big budget. And I still love making images, both videos and photos. I really enjoy editing and creating reels for my Instagram com.
I have to admit that the first few months in the CAP were tough. I thought "what the hell are you doing here, you've got a great job meeting great people, travelling to the ends of the earth…". But deep down I was worn down by the lack of recognition and the precarious status of authors. The last time I did a story for a women's magazine, a reader contacted us to say that she'd been touched by our work and that she'd volunteered for the Maison des Femmes, which we'd written about. That could have given me a boost and made me want to carry on, but in the end it was a wonderful conclusion to my career!
6- Talking of a change of direction, what did you study to get there?
I have a Vocational Diploma in jewellery making that I took in one year at the Académie des Métiers d'Art. It took me a year, alongside my work as a photographer, to pass competitions and find the funding to pay for the training. I also did a short work placement with a jewellery designer and went out to meet brands to be sure of my choice.
Various pieces of recycled silver and gold-plated recycled silver jewellery. Photos: Siana Swieca
7- How would you define your creative work?
Three words: raw, precious and committed.
It's important for me to have a committed approach and my customers are sensitive to that. I don't do any greenwashing and I think it's important to explain to my customers where the precious metals I buy come from and that they are recycled by my supplier.
And then there's the link with nature, which is very strong in my creative work. More than an inspiration, I use what I glean from nature to create. Always on the lookout for new plant and organic textures, I use flowers, coral and tree bark to play with materials. The lacy impressions of hydrangea flowers are an example of the poetry I like to put into my work.
My jewellery is raw, but the finesse of my work with precious metals adds a delicate touch to the pieces. I don't use gemstones, or only if they've been found. I recently had some pebbles I found by the sea cut and they turned out to be real gems!
I also work with sea glass for capsule collections of unique pieces. I select rare colours and I love the idea that the sea has shaped the piece of glass over decades. I've come up against the disdain of some glass setters who laughed at my little 'pebbles' when I asked them to set them. When a customer entrusts me with a glass that she has found on a trip and that has great sentimental value, there's no point in breaking it – it's irreplaceable! Sea glass, with its unique shape and the rarity of certain colours, is priceless to me!
9- What's the day like for an independent designer?
The days are pretty intense and they're never the same. I think we always see the glamorous side of independent designers, and social networks accentuate this. After a story in which I showed a lot of the orders I'd had, someone said 'lucky me'. I replied with a nice smiley face, but I wanted to say: I work 50 hours a week in the workshop, not counting my shifts in the shops, I'm exhausted when I get home, I buy myself peanuts, and the stress of creating a successful business is enormous! I know I'm selling the dream! But I think it's important to say things.
I'm digressing. My days: the priority is obviously the orders I get and the trips back and forth to the foundry. I have to manage the restocking of the boutiques, my stocks of raw materials and respond to requests from customers for made-to-measure products. I've had several trainees too, so it's pretty intense having to think about your own work and at the same time manage someone else's while training them.
Then there's the communication on social networks, which is important for me because most of my online orders are placed there. And then there's managing the things that aren't on my 'to do list': finding new boutiques, applying for trade shows, imagining, creating and putting capsule collections online for the web, doing the accounts, etc
10- You've just taken a workshop. Why did you make this choice? What motivated you to take the plunge?
I moved to a new studio in Saint-Maur-des-Fossés in February 2023. My little paradise. I dreamt about this place and it became reality. I've gone from 3m2 under the stairs in my basement to 12m2 in a superb location alongside two studios run by talented craftswomen. It's a major financial challenge, but there comes a time when you have to invest to grow.
I take on trainees, so I needed more space, and even for myself I needed to enlarge my workbench and my office. And then there was the need to break away from the house. The fact that there's a master glassmaker and a ceramist made me sign without doubting my choice. We want to build things together in this exceptional place. Our workshops are in an old foundry and the owner has kept the old machines as they were, so it's well worth a look! We opened our doors for JEMA, our first event, and it was great!
11- What's on your agenda for the coming months?
We're going to open our workshop doors in September for an event with the town of Saint-Maur. And I'm waiting to hear from people interested in doing some arts and crafts fairs at the end of the year!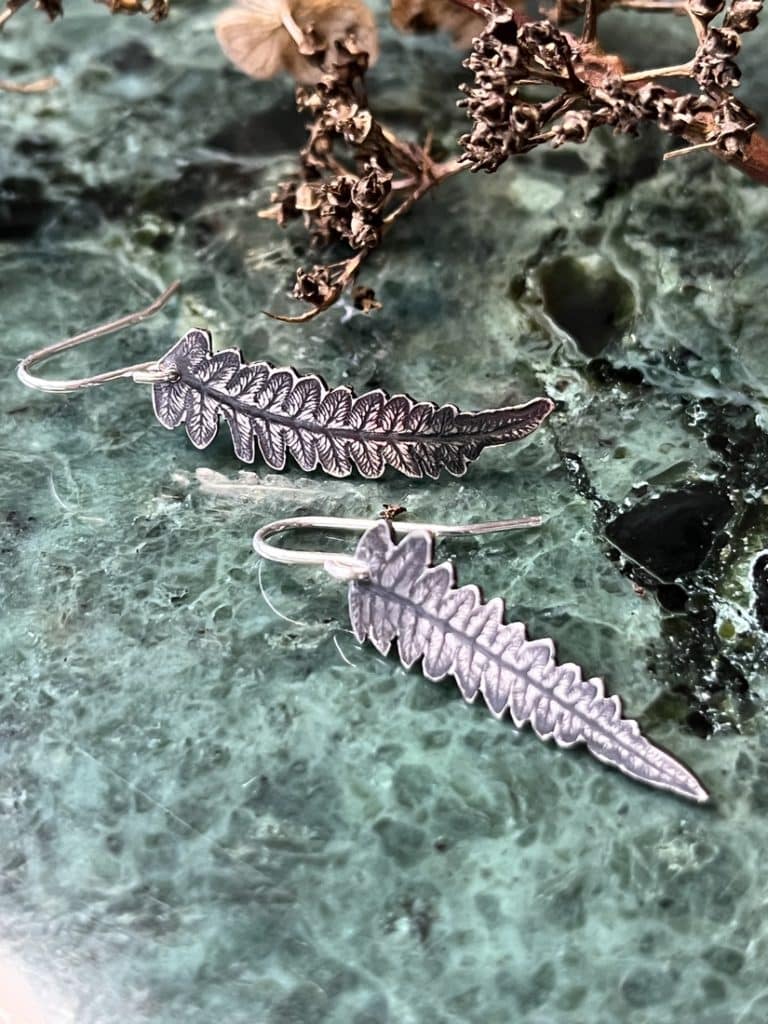 12- What advice would you give to a young person who would like to try their hand at what you do one day?
Patience and perseverance! Accept that doubt is part and parcel of being an entrepreneur, but don't let it get in the way of the pleasure of creating. The importance of realising how far you've come! Hang on, I think I'm talking to myself here!
See you soon!