I discovered the Dangleterre brand a few months before the first containment. From now on, there will be a before and after. But this allows me to put things into perspective and to meet this very beautiful brand. Opulent and greedy rings as I like them, "juicy" stones as the Americans would say, colourful and sparkling as the French would say. Because that's certainly what you notice when you look at the unusual jewels of Ségolène, the creator of this house which should be talked about without any difficulty. It took us a while to do this interview, and maybe that's just as well. I like to give myself time, especially when I see that jewellery is not just the result of a long artistic and cultural reflection. Because with Dangleterre, it's not just about jewellery, but also about art, architecture, design, and references that are as multiple as they are exciting. Let's meet a designer with a rare singularity.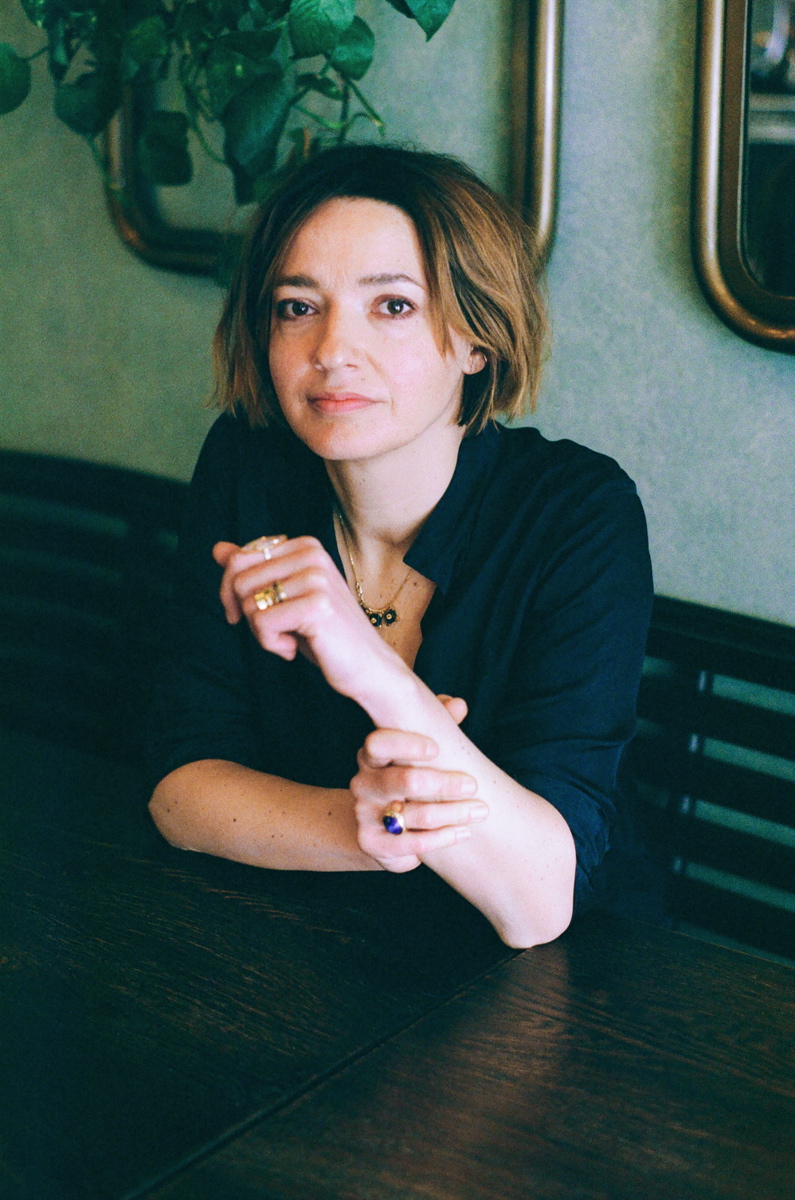 Ségolène Dangleterre. Photo: Céline Villegas
"A first career in design" is how Ségolène presents herself, and I wanted to explore with her what was before Dangleterre. At the end of the 90s, she was at the École Supérieure d'Art et de Design in Reims. In the early 2000s, the future jeweller began her professional career at the IICP, the International Institute of Communication in Paris. She quickly became a press attaché for the 14 September agency. This was an impressive start with design in an agency that specialises in the field of top-of-the-range lifestyle, in conjunction with some of the greatest manufacturers in the country. She quickly took the plunge and set up her own company – Choses – at the age of 25. Shortly before, as a photo assistant for ELLE magazine, she had developed an eye and expertise on the object and its legitimacy.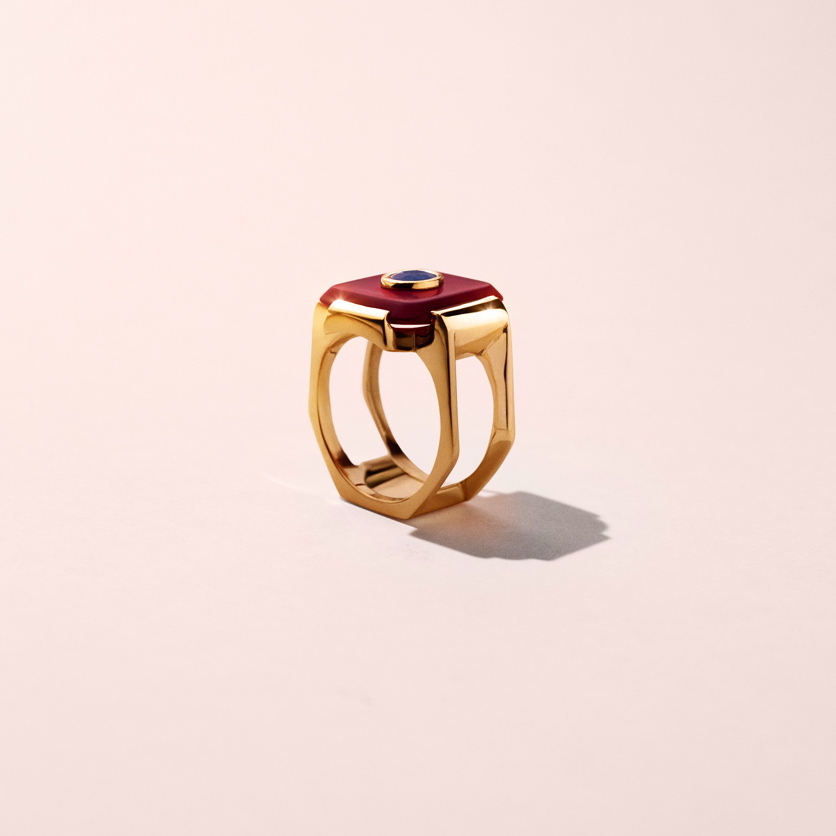 Villa Esperada ring, 750 yellow gold, carnelian and yellow sapphire. Photo: Remy Lonvis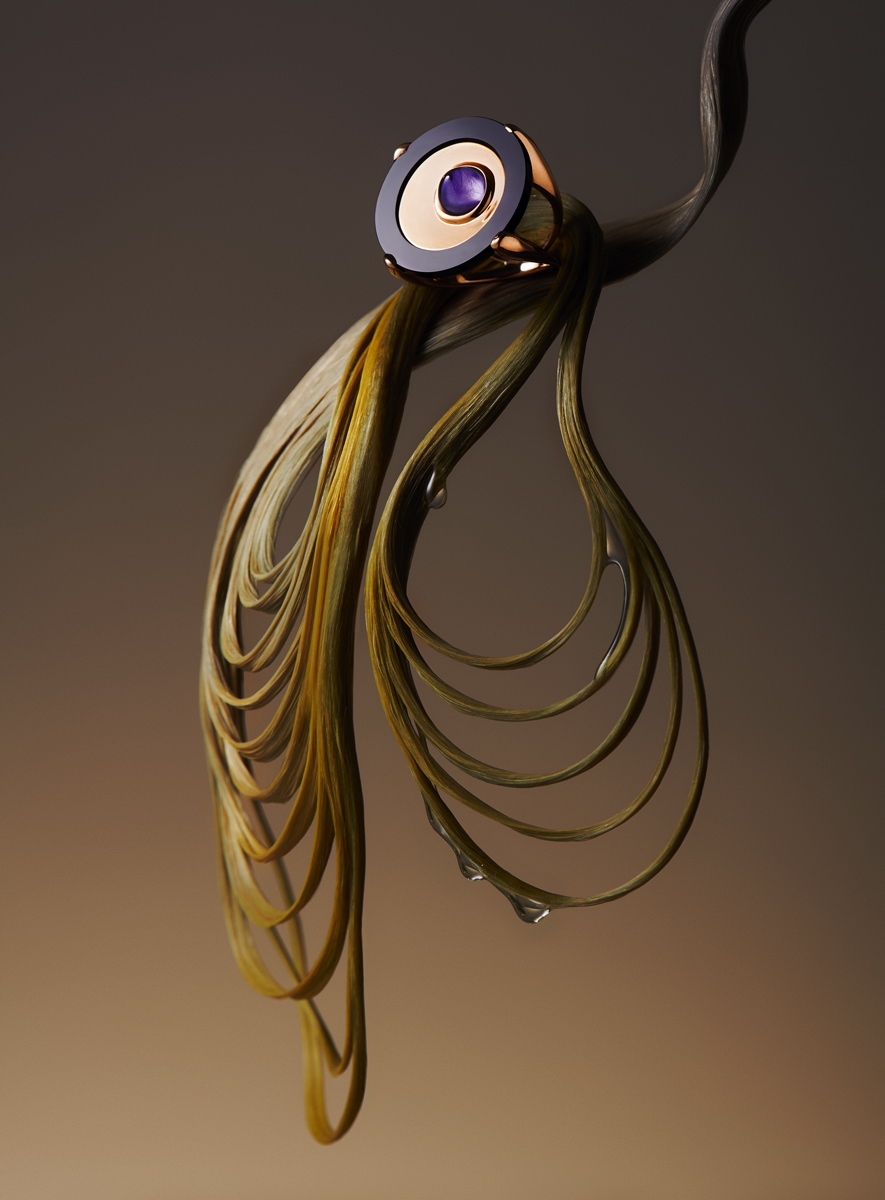 Regent ring in 750 yellow gold, onyx and cordierite, photographed on hair by Roberto Greco.
Until 2019, she stays in the communication field, the energy of the press feeds her, but the jewellery starts to appear. She takes the plunge and decides to train at the Haute Ecole de Joaillerie to learn the wax model. The medium is ideal for someone who wants joyful volumes, pieces with inimitable proportions. The jewel becomes a magical object, a totem, a pleasure object, for those who want to make it their own. Since jewellery is in itself a non-essential object, but – mind you – it can become one, it is therefore the perfect object for experimentation. It is, in itself, the vector of unlimited creativity for those who want to get away from the boring four-claw solitaire. For Ségolène, it is a question of building her argument and her legitimacy, Dangleterre was born.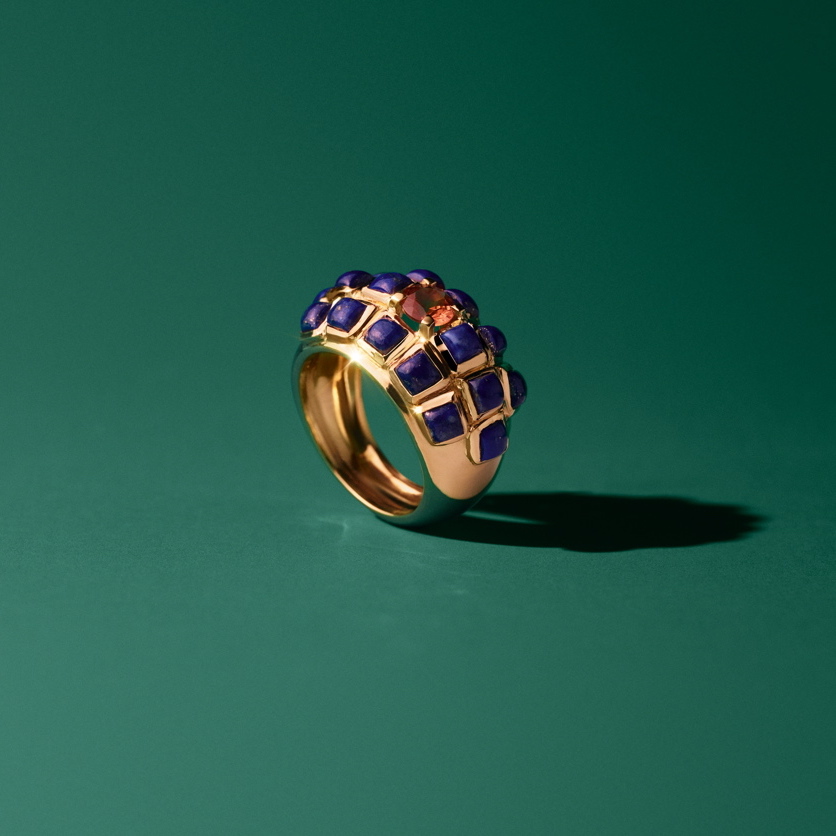 Diva ring in yellow gold 750, lapis lazuli and malaya garnets. Photo: Remy Lonvis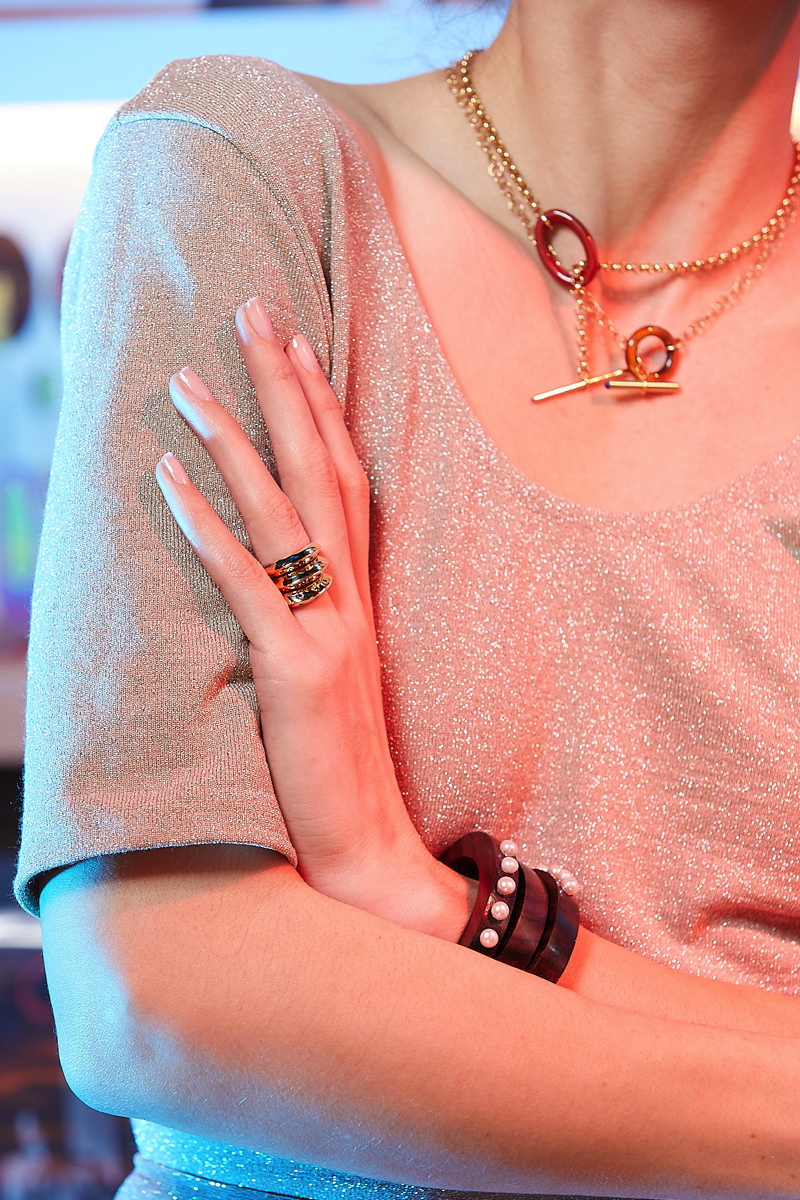 TOGGLE JASPE (750 gold, red jasper and blue sapphires) and TOGGLE TIGER EYE (750 gold, tiger eye and lapis lazuli cabochons). Flat Wood rosewood and cultured pearl bracelets. Constantin rings in 750 yellow gold, yellow sapphires, tsavorite garnets, sapphires and diamonds. Photo: Nohan Ferreira
So what characterises Dangleterre's creations? First of all, the volume, then the gemstones that the designer uses. Then there is the modularity of the pieces, which she is exploring for her latest models. Although Ségolène works almost entirely by hand, sculpting her desires directly in wax, she does not shy away from exploring what technology can bring her. 3D is sometimes used to concretise an idea and a first volume to which she will then give life manually. After the wax model, she also discovered the art of lapidary and cuts some of the stones that are found on her creations. Committed, she does not conceive her creative approach without associating a form of recycling: thus she acquired the stock of ornamental stones of a watchmaker who was retiring to use them in her jewellery. Like a passing of the torch.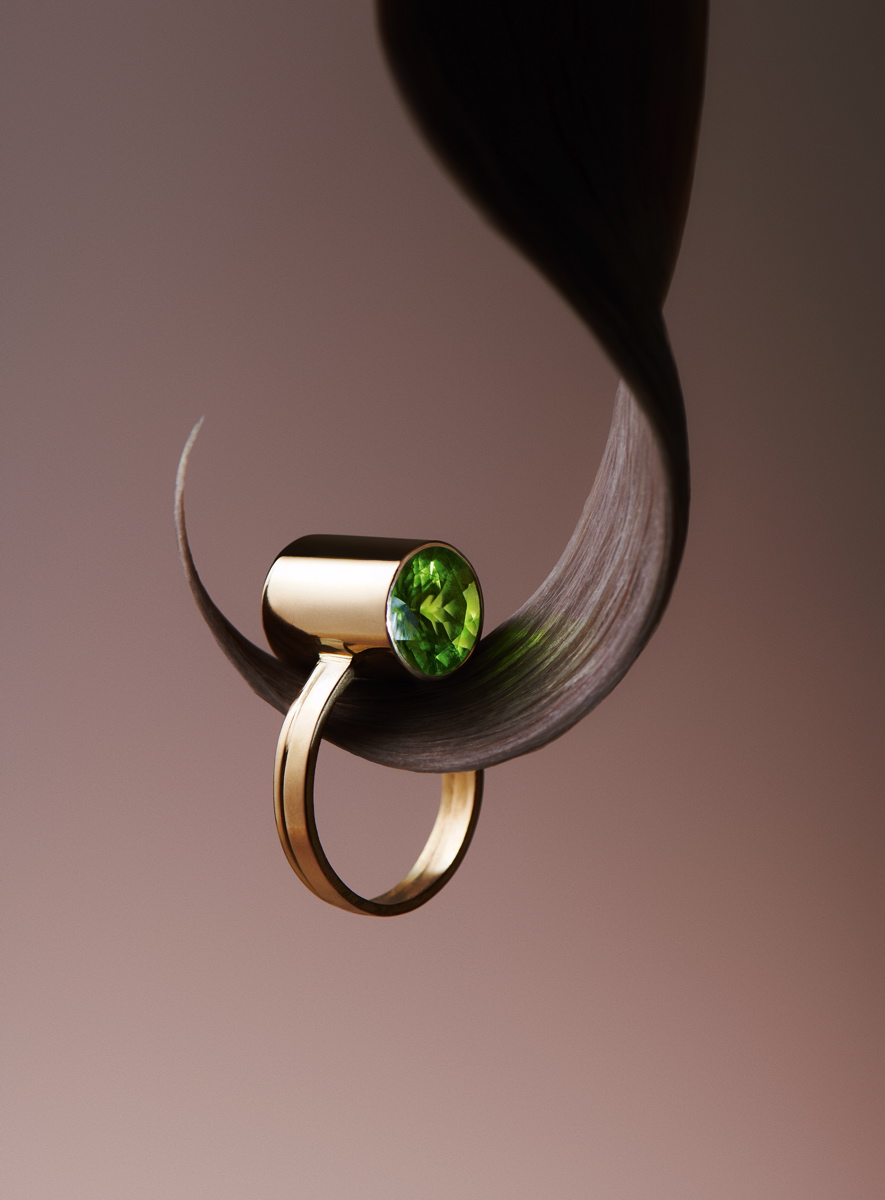 Mirage ring in 750 yellow gold and peridot, photographed on hair by Roberto Greco.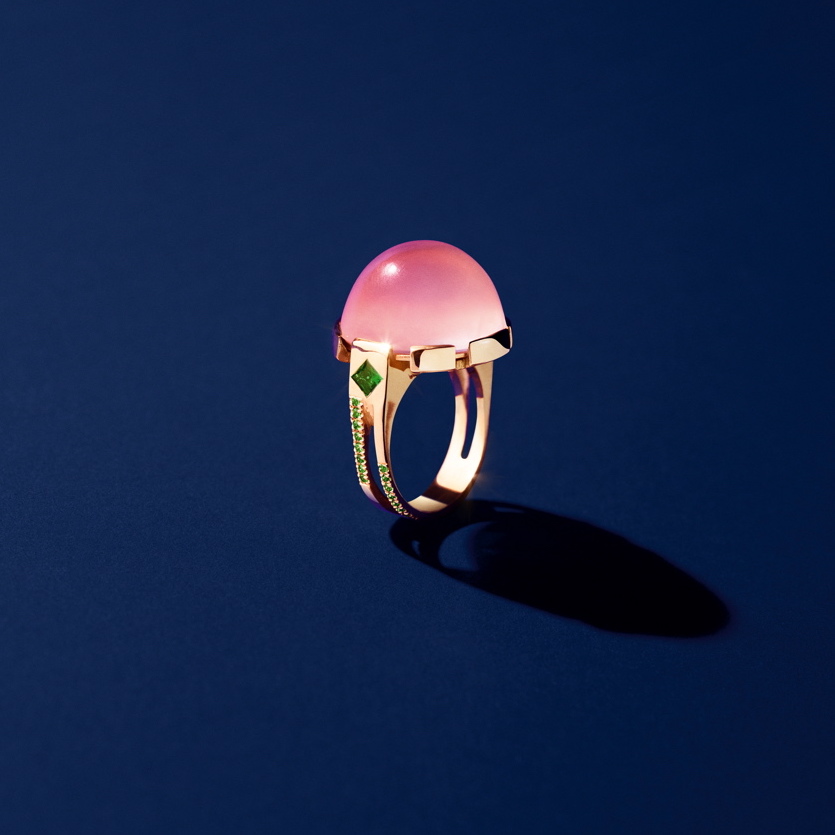 Fredaine ring in 750 yellow gold, rose quartz and tsavorite garnets. Photo: Remy Lonvis
As for the aesthetics, there is something about the bold volumes that echoes the 1970s. We have spoken of opulence, but we must also look for what the Americans call costume jewelry, that is to say, this joyful, colorful, often imposing, fancy jewellery that we will find in France at Chanel or Yves Saint-Laurent. It is Ségolène's talent to have been able to transcribe it in a more precious form, in gold, diamonds, atypical gemstones, often forgotten, such as jasper or wood. Among his latest pieces, bracelets in Indian rosewood adorned with cultured pearls, toogle clasps... Massive pieces, Belperronesque perhaps because Ségolène confides a passion for her work, which dress women, but also men, in search of a jewel without taboos.
See you soon!