When the press release from Fawaz Gruosi Geneva arrived in my mailbox, I was initially surprised. So he was back. Then curiosity quickly got the better of me. The man had disappeared from the jewellery radar for over two years. And the least we can say is that discretion had become his modus operandi. A 180° turn for the man who was used to jet-set parties, red carpets and models, each one more sumptuous than the last. Who has forgotten his grisogonesque appearance on the arm of an undressed Bella Hadid by Alexandre Vauthier in Cannes in 2016? But those days are long gone, as the House of De Grisogono did not survive the Luanda Leaks* scandal. Fawaz knew to jump ship in 2018.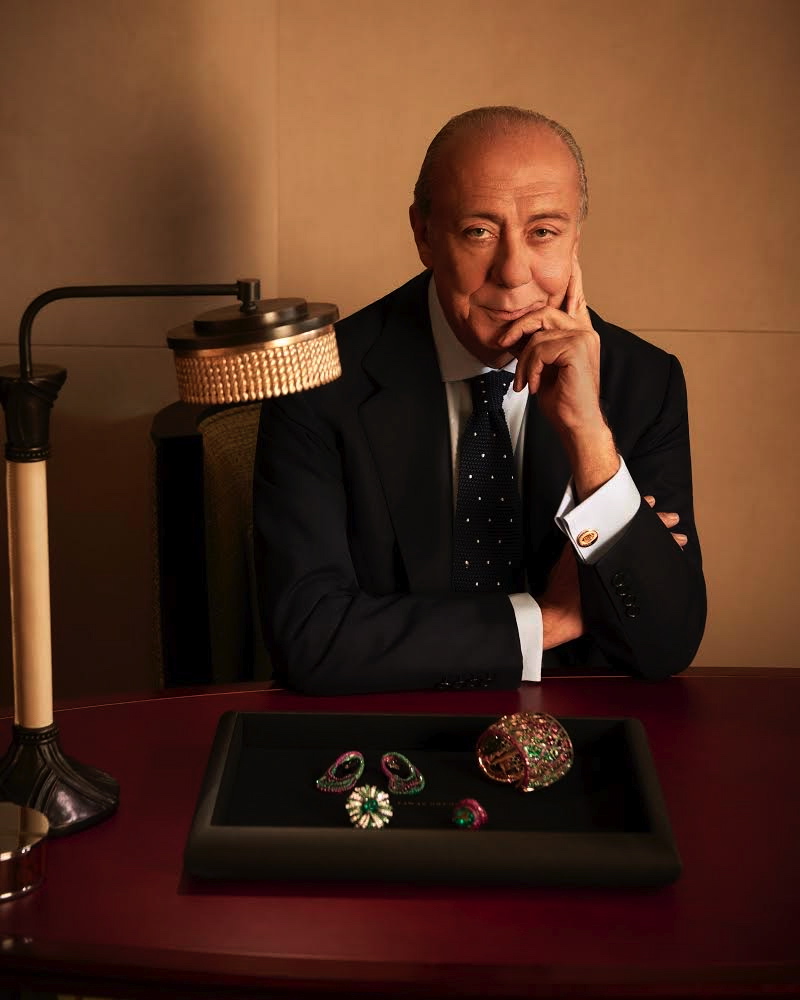 Fawaz Gruosi by Damian Foxe
So Fawaz took his time, joining his London-based daughters and grandchildren. The spotlight faded and – in the shadows – the man rebuilt his image and perhaps a bit of his legend. Often described as a phoenix, he has reinvented himself, rebuilt, surrounded himself, gathering his loyal collaborators, his craftsmen who have followed him since the creation of his first house in 1993. His eponymous boutique has just opened in London's renowned Mayfair district, with his name engraved above it, but the workshops remain in Geneva, hence the name of the house: Fawaz Gruosi Genève. As elegant as ever, the man whose clear eyes fascinate tells his story. A meeting with a sacred monster of the jewellery industry.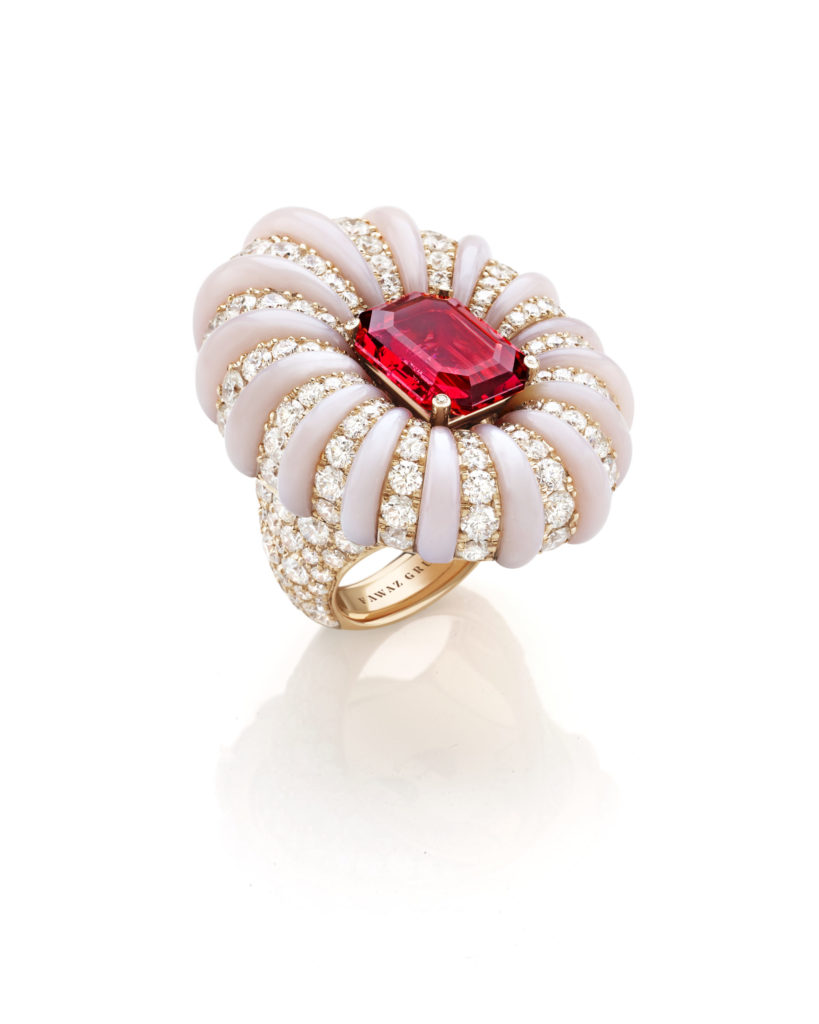 Ring in pink gold 750 (~ 22,90 Gr) set with 1 emerald-cut rubellite (~ 4,35 Ct), 253 brilliant-cut white diamonds (~ 10,80 Ct) and pink opal (~ 34,70 Ct). Photo: Fawaz Gruosi Geneva

"Born on August 8, 1952 in Damascus", the man grew up in Lebanon where he spent a large part of his childhood. An Italian mother, a Lebanese father who disappeared when he was eight years old, and the great departure. The family left Lebanon for Italy and settled in Florence. "I stayed until I was 22 in this incredible city which had a very strong influence on the formation of my taste and my vocation as an aesthete", he adds, speaking also of his father, a man who"had a sense of business, a Mediterranean character, who loved good food and had a great joie de vivre. I missed him enormously, even though I lost him as a child
Because he had to work and was not interested in studying, he left school at 17 and accepted the offer to join the Torrini company, one of the oldest jewellers in the world, dating back to 1369. "My mother was furious," he says, "because I had to work when I had just got married and I didn't know what to do, I was 19 and my wife was pregnant with our first child At the time, the man did not have the lifestyle he would have in recent years and he entered the jewellery business somewhat by chance, it must be admitted. His encounters, his baguette and his ease in dealing with people did the rest, and he ended up leaving for London, still for the Italian company. Because there is something about Gruosi that always lands on its feet…
Necklace in white and pink gold 750 (~ 79,75 Gr) set with 531 brilliant-cut white diamonds (~ 18,55 Ct), 520 brilliant-cut rubies (~ 19,30 Ct) and 93 Zambian emerald balls (~ 735,85 Ct). Photo: Fawaz Gruosi Geneva

Spotted by Harry Winston himself, he left for Saudi Arabia. He was then 21 years old. Then the call of Italy resounds again… "I joined Bulgari. There, I was responsible for private sales of the high jewellery collections. In search of success and recognition, I quickly made a name for myself in this luxurious and very closed world. Often considered a great salesman, I travelled the world to preview high-end selections to a select audience of celebrities, jet-setters and millionaires. But I wasn't fully satisfied with just selling jewellery
Meeting and marrying Caroline Scheufele in 1995 marked the beginning of a new life for the man who had just set up his own company in 1993. The De Grisogono adventure was launched. Fawaz has a nose for business and a talent for creating trends. Black diamonds, that's him. The icy diamonds, it's him again. We remember the"Spirit of De Grisogono diamond" ring with a black diamond of more than 300 carats. The largest carbonado in the world at the time. In 2012, he sold his business and left in 2018. A life worthy of the big studios, a breathtaking destiny, that's also Fawaz Gruosi.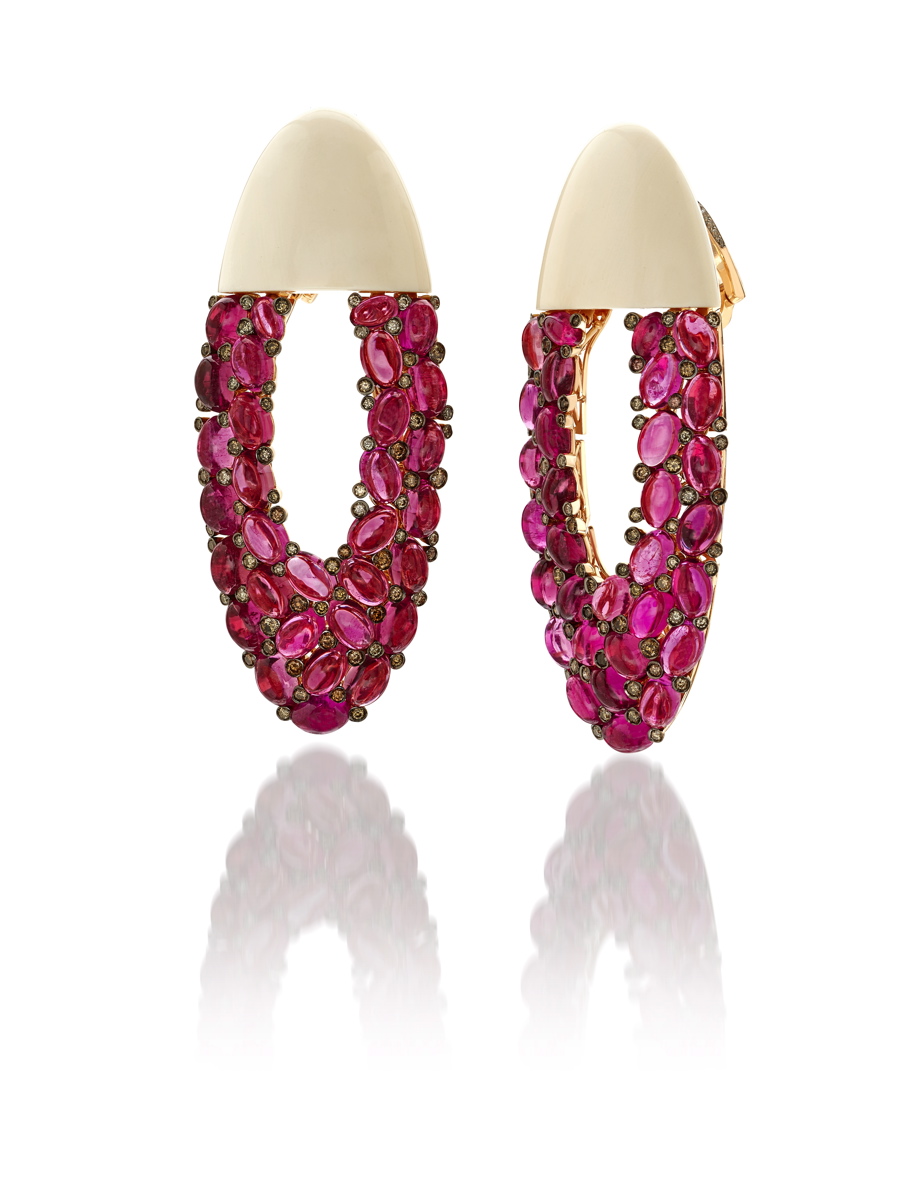 Earrings in gold, brown diamonds, rubellites and mammoth ivory. Photo: Fawaz Gruosi Geneva
But in this new life in London, there aren't many diamonds, at least not black ones, and maybe that's good news! So why initiate a new brand? "I started this brand because I felt I could do even better than before! My new collections are different: they are of our time. I created them with a lot of love. I have always believed in my taste, in my choices, however original they may be. Until now, this intuition has always served me well. So this new jewellery adventure will reveal a more intimate side of my personality and therefore bears no assumed name but my name, naturally" he says calmly.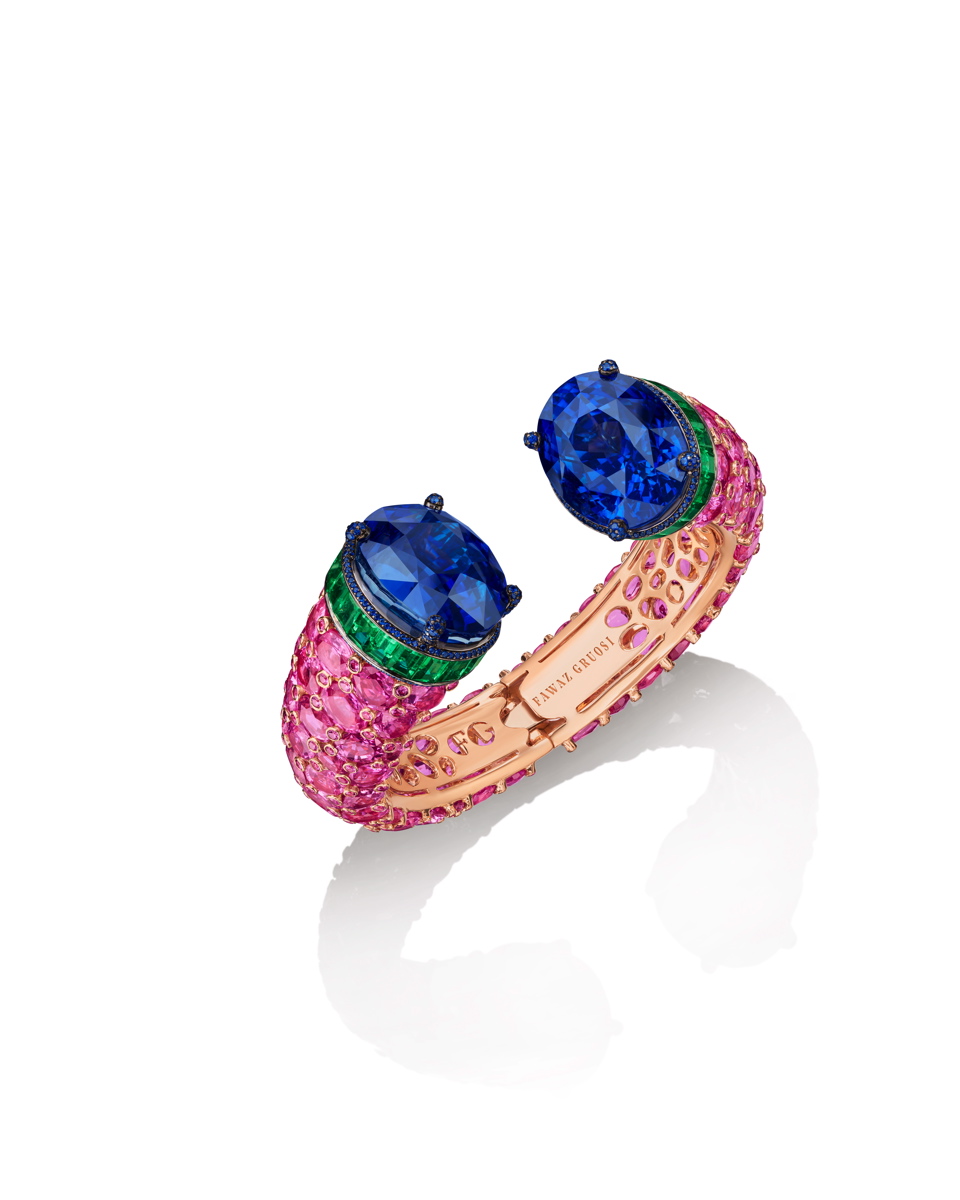 Bracelet in white and rose gold 750 (~ 80,95 Gr) set with 2 oval cut Sri Lankan blue sapphires (121,62 Ct), 40 baguette cut Zambian emeralds (~ 9,40 Ct), 108 oval cut pink sapphires (~ 153,10 Ct), 234 brilliant cut pink sapphires (~ 4,15 Ct) and 453 brilliant cut blue sapphires (~ 1,40 Ct) Photo: Fawaz Gruosi Geneva

So what do we find in the first few rooms of the house? Colour! Because that's what stands out when you see the first visuals. It sparkles, bursts, almost splashes. There is joy everywhere, colour is omnipresent. Sumptuous rubies, emeralds with warm hues, remarkable turquoise, but also peridots, amethysts, diamonds, rubellite, pink opal, coral… One does not know where to turn. The manufacture is assured in Geneva. Mr Patrick Affolter is at the head of the workshop:"For this new adventure, Patrick, my former workshop manager, is at my side. He is the interpreter of my imagination, of my dreams. It is upto him to transform my ideas from our workshop in Geneva" explains Mr. Gruosi. The past is what it is, but the future is there. You don't have to be a mind reader to see that the 69-year-old's passion for creating exceptional pieces is as strong as ever. When the photos show a purity on the edge of possibility, he talks about the colours. Perfect saturation, exquisite homogeneity, this is what can be said of the materials he has patiently acquired. "I am inspired by everything around me, I look at the shape of things and I am inspired by it, or the colours. Also, I've been working with the same team for years, so we hardly need to talk to each other," adds the man who is clear that he knows exactly where he wants to go with his now eponymous brand:"the infinity of the sea, the tumult of the waves, the elegance of a woman… everything inspires me. I want to create jewellery that tells stories and generates emotion in the wearer or viewer."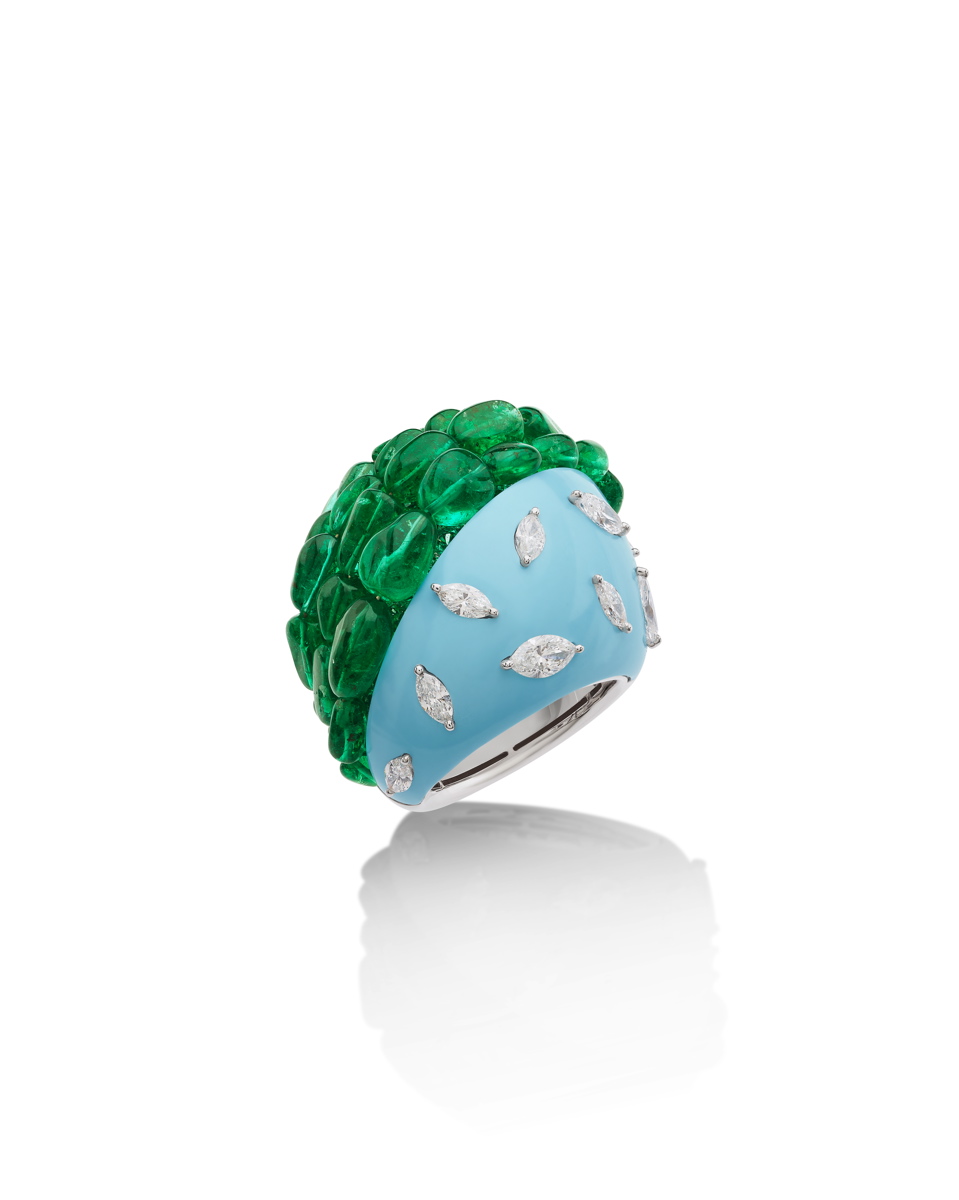 Ring in 18K white gold (~ 21,30 Gr) set with 9 white navette cut diamonds (~ 1,70 Ct), 31 cabochon cut emeralds (~ 32,00 Ct), 246 brilliant cut emeralds (~ 4,05 Ct) and turquoise (~ 22,45 Ct). Photo: Fawaz Grusi Geneva

The house has also surrounded itself well in sourcing the stones. Some choices are also bold: pink opal is making a comeback, as is jade. "As you can imagine, the sourcing of stones to set up a fine jewellery house requires an important supply of stones. It will grow further with sales, exhibitions and other events as soon as the world situation allows. As far as transparency is concerned, this is total since all the important stones are put on sale with a certificate delivered by the greatest certified authorities in the world in the field, as much for diamonds as for coloured stones. As far asthe smaller stones, known as pavé stones, are concerned, we use the best recognised and certified suppliers," explains the man who has also just introduced amber in his latest pieces. Are the creations different from what he is used to? Not so much, we find in each of the pieces his spirit and the opulence to which he has accustomed us. The shapes are generous, the colour contrasts striking, the materials flamboyant. There is no trend here, just a creative bias that Mr. Gruosi confirms by explaining that his house has"a very special place since it works primarily out of passion." He adds,"I have always been against the grain of other brands and that is what has made us successful. For some years now, brands have been racing to sell mass-produced products, and as a result they have been producing more or less the same collections, with or without success. I have always asked my teams not to look too closely at what others are doing, but rather to let their passion take over, and with a very different mindset in their daily work. Of course a thoughtful, accomplished difference that offers our customers something different."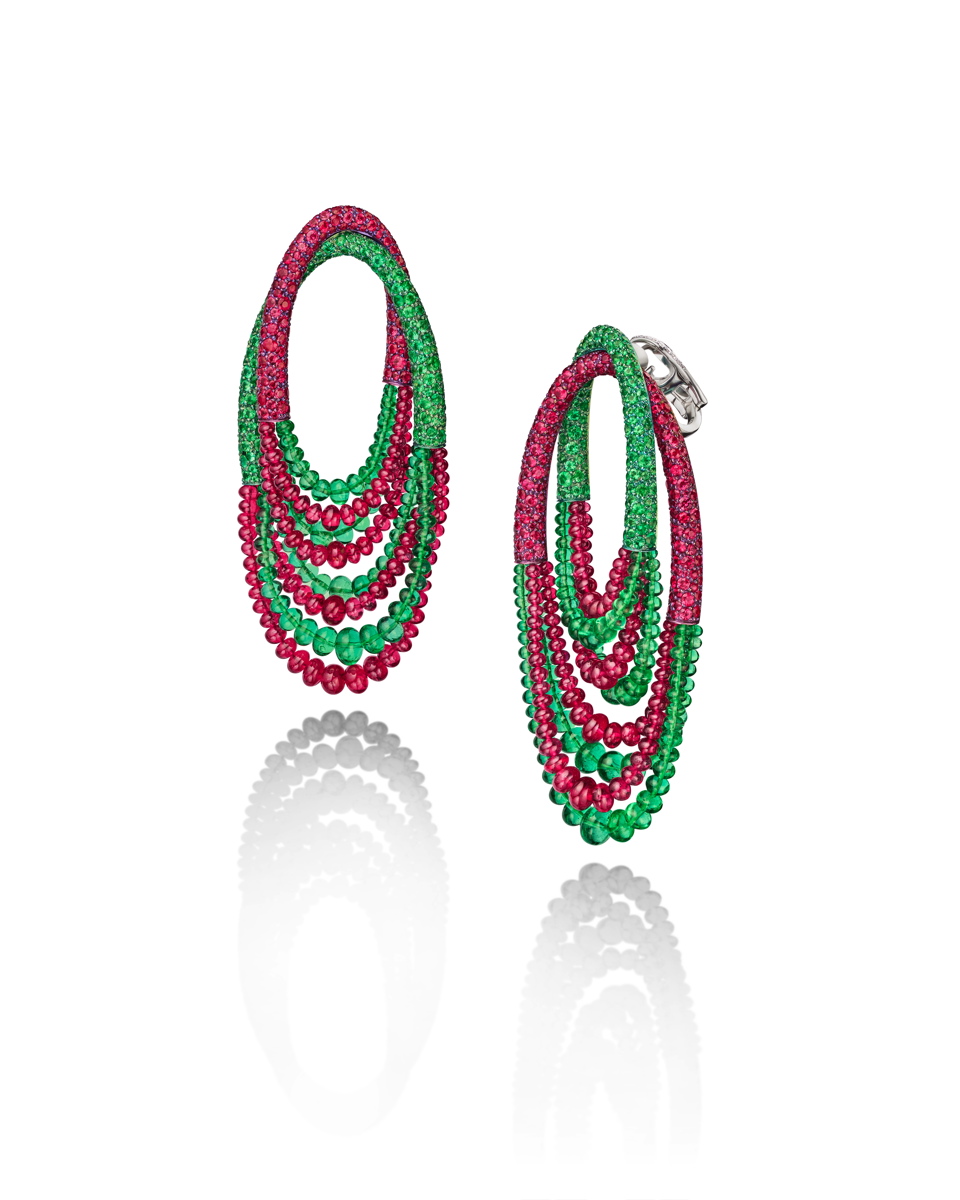 White gold, emerald and ruby earrings. Photo: Fawaz Gruosi Geneva
It seems clear that the house will find or regain its clientele. The current context is certainly not conducive to events, but the designer and his team have designed nearly 400 pieces, accessory ranges are also coming in and watches have recently left the Geneva workshops. Some of them are already travelling around the world thanks to a few employees. And he concludes, optimistically, in his own image, "Yes, I do plan to open other boutiques outside London and I can't wait to be able to travel again to see my customers around the world! Godspeed Mr. Gruosi and may it be good to you!
See you soon
Luanda Leaks: in January 2020, the International Consortium of Investigative Journalists (ICIJ) showed how Isabel Dos Santos, the daughter of the former Angolan president, embezzled €1 billion in public funds from Angolan companies. By analysing a leak of 715,000 documents, 36 international media outlets including the BBC, the New York Times and Le Monde explained how an army of Western financial firms, lawyers, accountants, civil servants and management companies helped the 48-year-old to hide nearly a billion dollars from the tax authorities. These revelations led to the freezing of her assets and the nationalisation of her shares in the Portuguese company Efacec. The legal dispute is still ongoing as in March 2021, the Angolan businesswoman filed documents with the High Court of Justice in London to contradict the ICIJ revelations. Fawaz Gruosi has not been troubled by the revelations.