A few years ago, in 2016, I met Alice Fournier at a party in the 9th arrondissement of Paris. Since then, I have seen her evolve over the last few years until she has set up her own business and opened her office a few blocks from the Cadet metro station. After meeting her, talking with her, sharing the Paris-Geneva TGV over a coffee, I felt like introducing her to you and offering to tell you about her life at 100 km/h between stones, jewellery, France and Switzerland… Switzerland, by the way, where she will welcome you from October 3rd to 8th at Francioli's at 11 rue de l'Hôtel de Ville in Geneva. So, if you are passing through this magnificent city, go and see her and discover her pieces. I have absolutely no doubt that you will love her as much as her colourful jewellery creations.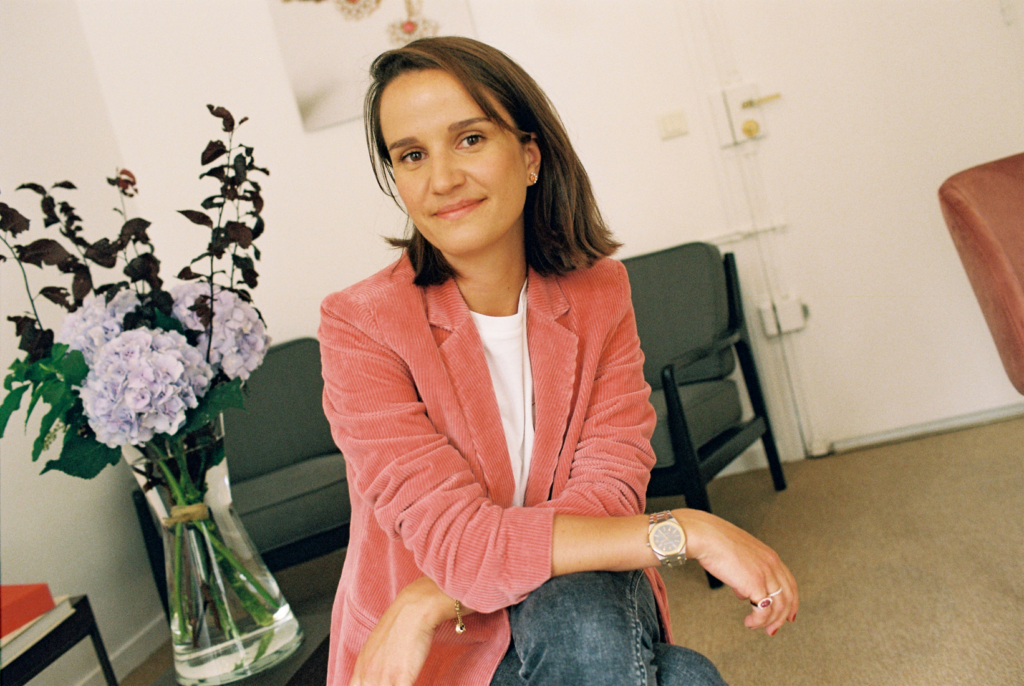 Alice Fournier. Photo : Chloé Bruhat
1- Can you introduce yourself in a few lines?
I grew up in Switzerland, in Geneva, between lake and mountains. I have an infinite passion for nature and the outdoors and yet I live in the city, in Paris. Some people will say that I am a Parisian now, but I am not convinced by this idea! My family is not at all from the jewellery world, but my parents passed on to me the values of know-how and the taste for beautiful things.
2- What was your career path before the launch of your eponymous brand?
I started working as a designer for a Parisian brand, then I was hired to open the Paris office of a German supplier, one of the world leaders in the coloured stone market. After 4 years in the business, I decided to go back to my first love, design, and set up my own business at the end of 2018.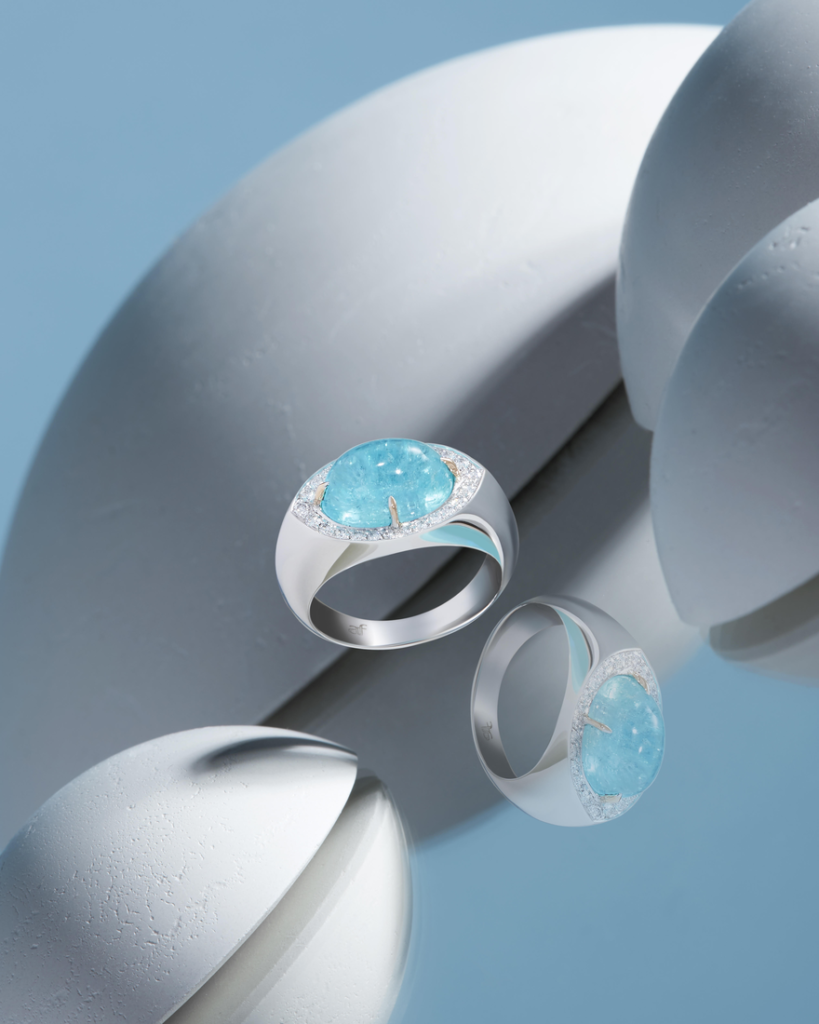 Yukon ring in pink blancet gold, diamonds and Paraïba tourmaline. Photo: Alice Fournier
3- Why did you decide to start your own business and what does it bring you?
At the time I had no children, no loans, no commitments… I told myself that if I didn't do it now, I would never do it. And that if it didn't work out, I wouldn't lose much in the end. With the support of the people around me and the company I was leaving, I started. And it's probably one of the best decisions I've ever made! I'm lucky enough to be able to manage my time as I see fit, which is extremely precious. I work with beautiful materials, craftsmen who work wonders, it's magical to have eyes that shine every day.
And then the meetings with the customers are very pleasant, I accompany them for beautiful events in their lives, it's still nice to think that we bring a little happiness into people's lives.
4- What inspires you in your daily life and how does this translate into your work?
Contrasts! Of colours, materials, volumes, situations… I find that two elements that contrast highlight each other. To transcribe this in my work, I obviously play on my favourite terrain, coloured stone, by associating it with polished, chiselled and brushed metal. I try to add details where you wouldn't necessarily expect them. I like the idea that a piece of jewellery is set with stones in places you don't immediately see, it adds surprise, it's exciting.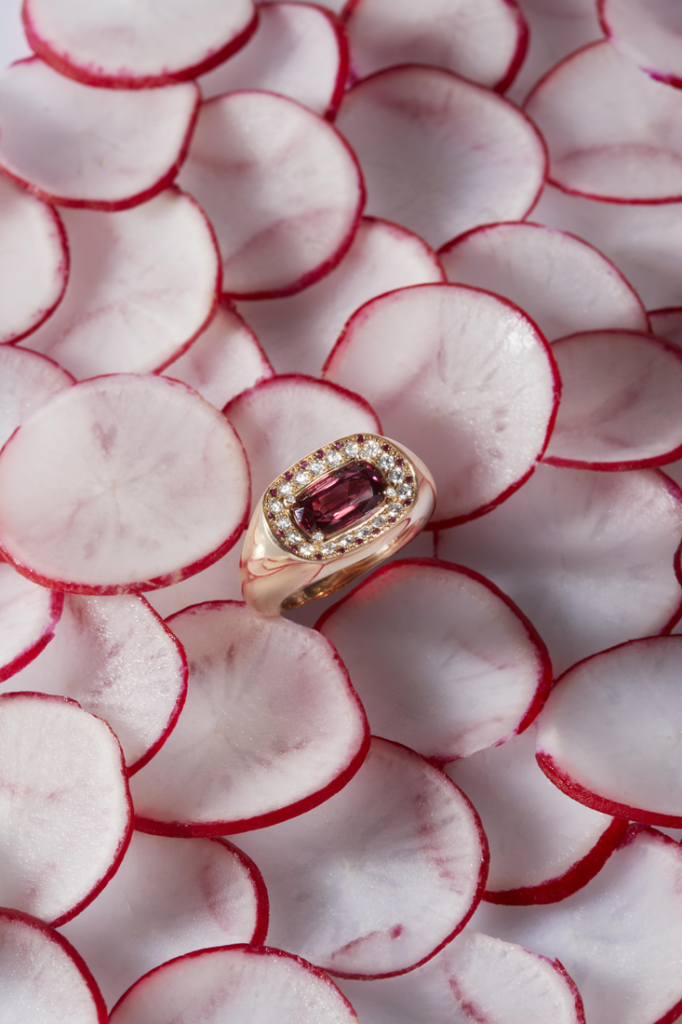 Sasha ring in rose gold, diamonds, rubies and spinel. Custom-made project. Photo: Alice Fournier
5- What is your favourite material, the one you can't help but imagine a piece of jewellery with?
I was going to say stones in general! Honestly, I love coloured stones so much that some of them turn my stomach… it sounds crazy, but I know you know what I mean. However, when I imagine a piece of jewellery, there is always metal. I work a lot with red gold, which I find very soft and comforting.
6- And what about jewellery, is it more for women or men? Or both?
The requests I receive are mainly for women. But I have made pieces for men too, necklaces, especially with coloured stones.
7- You are Franco-Swiss. What is your favourite jewellery city: Paris or Geneva?
Joker? I can say Geneva, because it is in this city that my desire for this profession was born.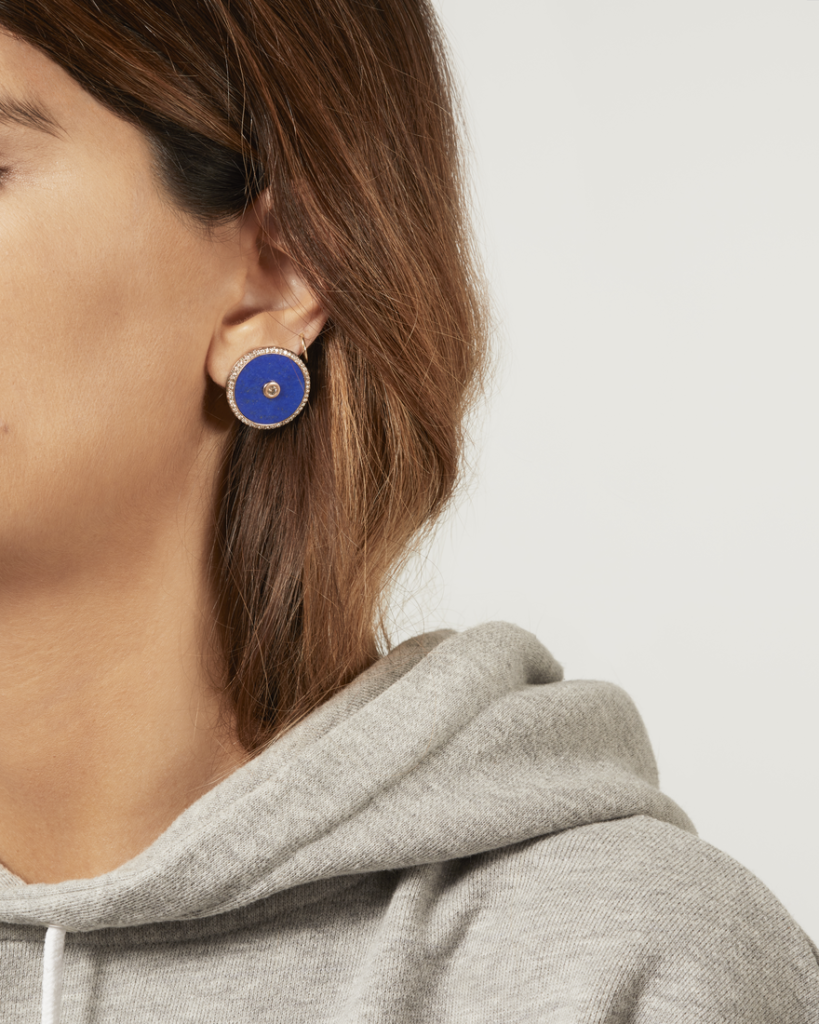 Opotiki earrings in pink gold, diamonds and lapis lazuli. Photo: Alice Fournier
8- Your two good addresses in each city?
So as you know, my passion apart from stones and jewellery is eating… So I'm going to recommend our little restaurant in Paris that we both love, Abri Soba, rue Saulnier in the 9th arrondissement. The food is divine, warm in winter, cool in summer and always comforting! A quick trip to Japan. In Geneva, the Bains des Pâquis! You're right on the water, you can swim from the rocks, with a crazy view and you can enjoy a fondue (Swiss of course), nothing better to be happy.
9- How do you feel about the challenges of traceability and manufacturing that are changing the jewellery landscape?
This is a vast subject that cannot be put aside today. Customers are demanding transparency and I understand that. I think that there is a big part of education (in the good sense of the word!) that we professionals must provide, it is finally normal to explain where the materials come from, how it happens to extract them, to cut them …. It seems to me that this is part of the dream that we sell to our customers, it also allows us to involve them, so that they take 100% part in the project.
However, I think it's a pity that we are falling into the madness of certificates. I'm afraid that the customer will no longer pay attention to the stone itself, but only to the paper, for the sake of traceability. This is what is already happening with certain varieties.
For my part, I have decided to work as closely as possible with my suppliers in order to guarantee traceability to my customers. Some stones are certified, not all. I like the idea of working with totally natural, untreated, unheated stones, but this is not always the case – the idea is to get as close as possible to the budget given by the client and this is a determining factor. I design all the models, I sometimes create the volume and then the manufacturing is entirely done in Paris, in the RJC workshops that also work with the Place Vendôme houses. This allows me to follow all the stages and it's precious.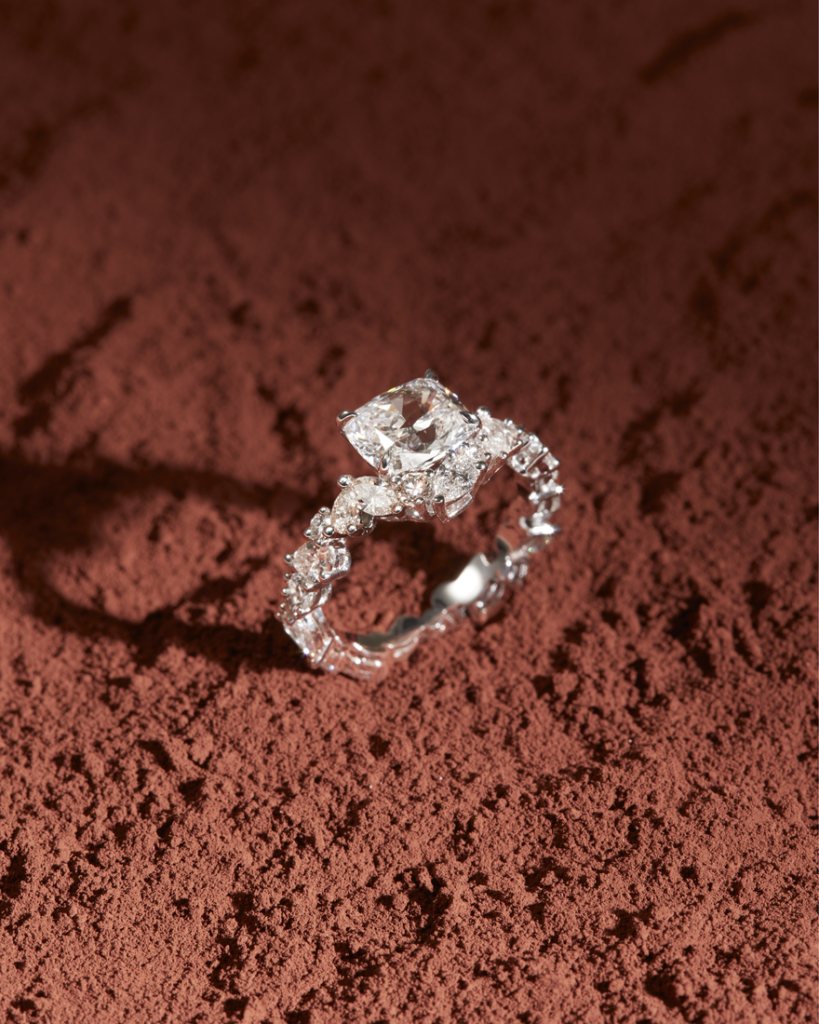 Baku ring in white gold and diamonds. Photo: Alice Fournier
10- If you imagine yourself in ten years, where do you see yourself?
The truth? Creating just as much jewellery and never having to sell it. It's a privilege to make a living out of your passion, but I pay an emotional price for every piece I sell that I see go out the door… In 10 years, I don't necessarily see myself in Paris. But I said that 10 years ago, so we'll see! But more seriously, I'd like to work more with the international market, the United Kingdom, the United States, Brazil… I hope that I'll have developed all this, that I'll continue to find beautiful and colourful projects that will amaze my clients! Incidentally, if Beyoncé could wear one of my jewels while singing Halo, I could leave this world with peace of mind!
11- A story to tell us?
A few months ago, a customer called me to tell me that she was in the metro and that a very elegant young woman wearing a ring was sitting in front of her. My client noticed the ring, recognised the style and started talking to this person, asking if it was an Alice Fournier ring. It's silly but it's heartwarming. I'm still confidential, I don't have a sales outlet and everything is direct. If, in addition to creating jewellery, I create contacts and links, then I am the happiest!
12- Your biggest dream or the jewellery personality you dream of meeting?
I think I would love to have lunch with Suzanne Belperron, it sounds a bit compromised but it is a dream!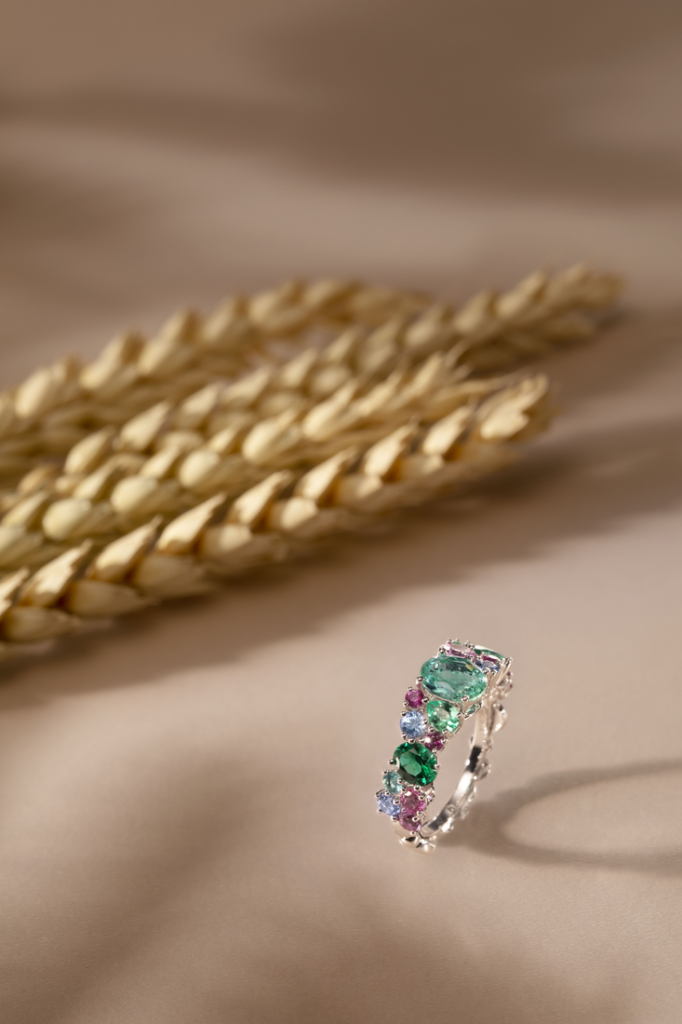 Nicole ring in white gold, emeralds, sapphires and tourmalines. Photo: Alice Fournier
13- And to conclude, what would you say to a young person who wants to do what you do and start a business one day?
To be self-employed in jewellery creation is ultimately 20% creation and 80% management, logistics, customs, everything else. I think it's important to know the business in order to be able to deal properly with all your partners. From the stone supplier, to the lapidary, to the jeweller… and even the polisher! You have to be curious, find out about the market, what's going on, how it's evolving. You have to be attentive to the customer, listen to him. Looking, I spent hours observing stones. And of course learning, listening… but looking, comparing, that's the best way to get an idea; you mustn't be afraid to ask for help, to ask for the opinion of those around you, close and not so close, it creates a network and people are often very flattered to be asked for their advice. It allows you to take a step back by having an outside opinion. Finally, you have to want to! You shouldn't be afraid of roller coasters and loops, enjoy the journey, everything will be fine I'm convinced!
See you soon!