On 6 November, Bonhams will be auctioning the Barbara Walters collection. An American television icon who died in 2022, the auction will take place in New York, the city she chose to live. Around a hundred pieces of jewelry will be auctioned. The collection, which is relatively eclectic, includes everything from antique jewelry to JAR, Harry Winston, David Webb and Tiffany & Co. In short, it is as American as its owner, whose entire collection is estimated to fetch over 8 million dollars.
1- Barbara Walters, a remarkable career
Journalist, well-known American television presenter and, above all, hard worker, Barbara Walters' career is the stuff of envy. Born in Boston in 1929, she began her career at NBC in 1953. In 1974, she became the first woman to co-host the flagship American programme TODAY, which has marked the lives of millions of Americans since 1952 and continues to do so to this day, starting at 7am.
From 1976, she appeared on ABC as co-presenter of the ABC Evening News programme. By signing a 5-year, $5 million contract with ABC, she became the highest-paid presenter of the day and remained with the news channel until 2004. A seasoned interviewer, she met some of the world's greatest personalities and also landed several interviews that left a lasting impression on Americans, such as the one with Monica Lewinsky, which attracted more than 74 million viewers. An all-time record.
Barbara Walters also interviewed Elizabeth Taylor about her jewelry. In 2002, Taylor met the journalist to talk about her fabulous jewelry collection, which sent collectors into a frenzy when it was sold in 2011. It was a moment as moving as it was memorable for jewelry lovers.
In terms of style, Barbara Walters was known for her imposing belts, colourful floral blouses and strict tailoring, but above all for her jewelry, especially her earrings. So it's hardly surprising to find so much of it in the sale of her estate. A collector and buyer, she loved jewelry with an assertive character that she imposed in both private and professional settings. In her collection, American houses and designers are well represented, alongside remarkable pieces by JAR. So here are five pieces to keep in mind from this sale, so that you can perhaps wear a piece of American television history.
2- A pair of earrings by Maz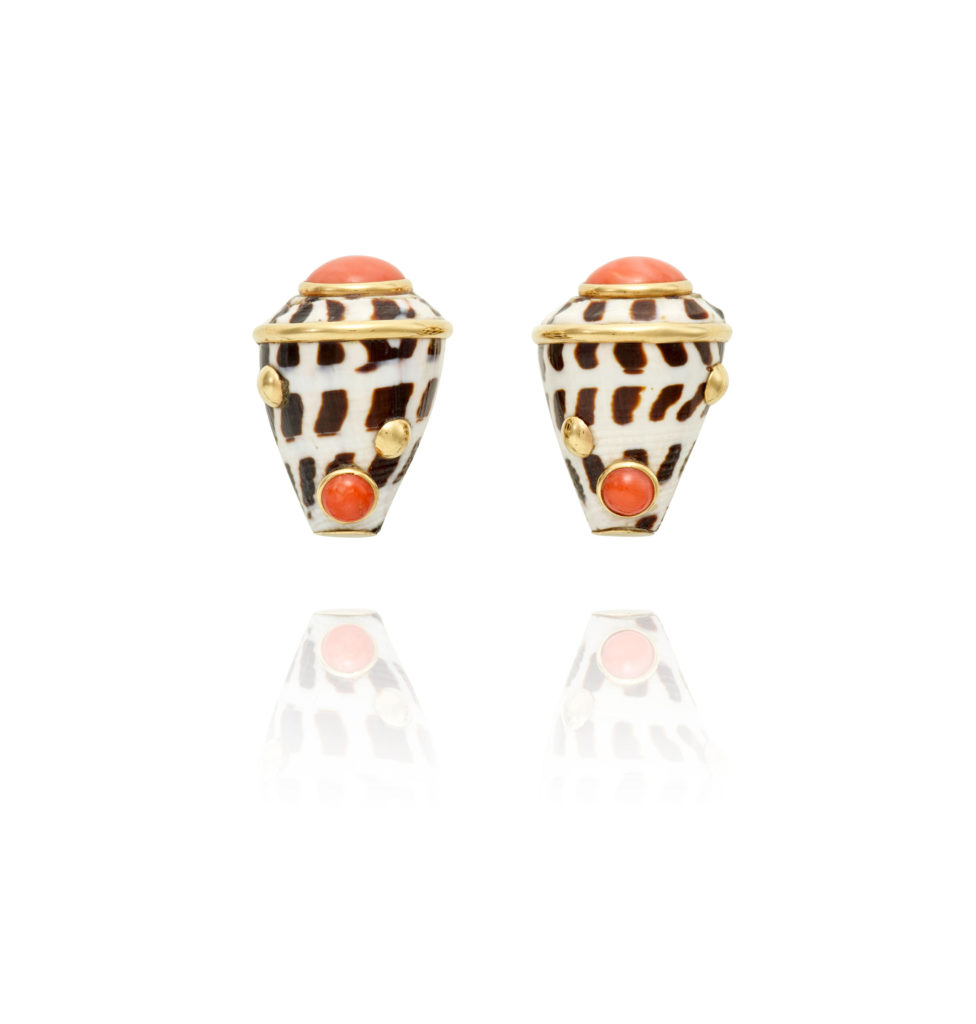 Seashell earrings by MAZ are not uncommon at auction. But they have a special allure. MAZ is the MAZZA Company, a jewellery company founded in 1840 in Torre del Greco, Italy, the city of coral. At the beginning of the 20th century, the family moved to the United States and worked with American houses. It wasn't until the 1970s that it began to produce its own collections. More specifically, the Grotto collection, which includes the famous earrings with shells as colourful as they are varied. Estimated at between $1,200 and $1,500.
3- An Ostertag bracelet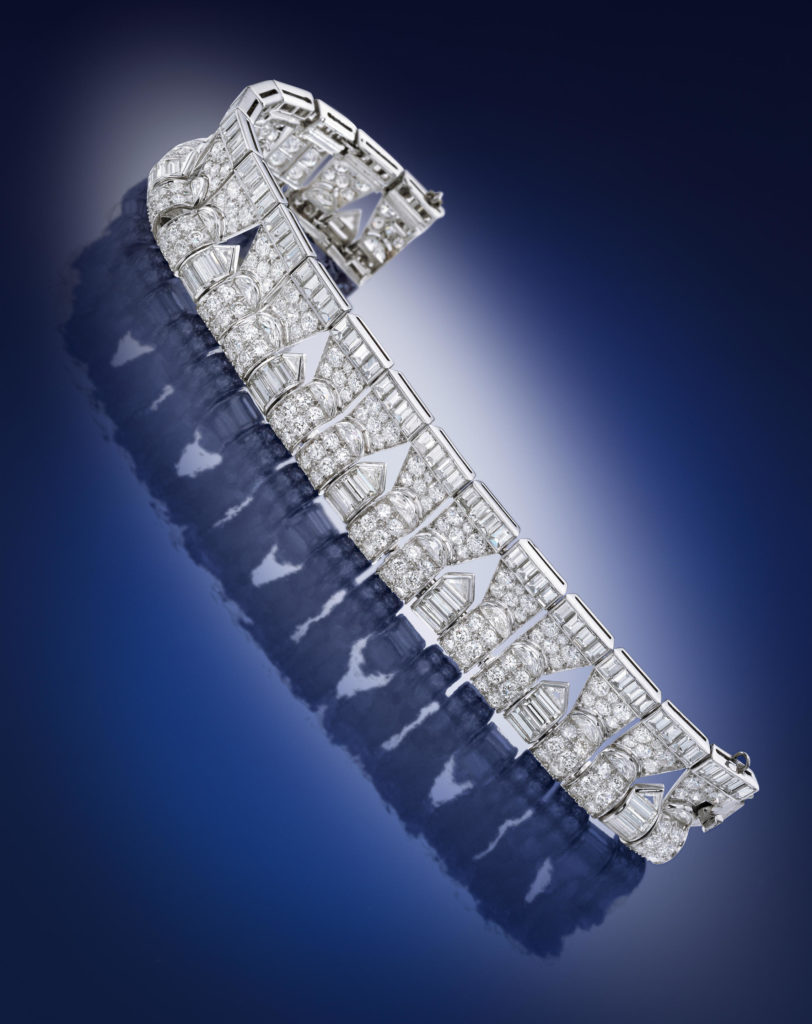 Ostertag is certainly one of the finest jewelry houses of the 20s and 30s. Some very pretty pieces come up for sale from time to time, and prices soar quite regularly. The company was renowned for the quality of its jewelry and the elegance of its designs. Arnold Ostertag was officially in business between 1923 and 1927 (when his hallmark first appeared), but he continued to manufacture and sell until 1939, when he left for the USA. He died shortly after his arrival and his company closed in 1941. Estimate for this elegant bracelet between $40,000 and $70,000.
4- A pair of Angela Cummings earrings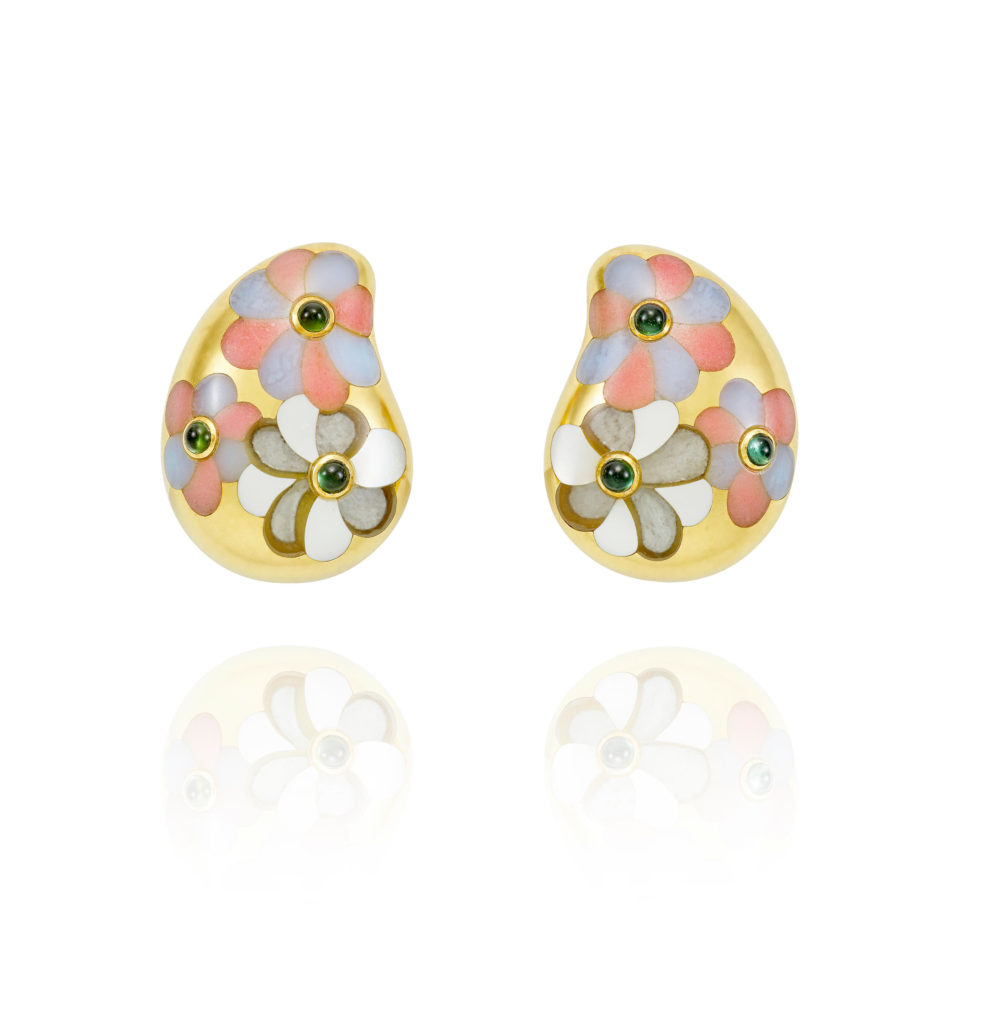 I think it's simply impossible not to love the work of Angela Cummings. One of Tiffany & Co.'s leading designers, she has also imposed her style and her love of theinlay technique. You'll also notice that Barbara Walters loved the shell shape – the sale catalogue for her collection is full of them. I sincerely believe that when it comes to jewelry, you should only buy what you love. Don't you? Estimate between $1800 and $2500
5- JAR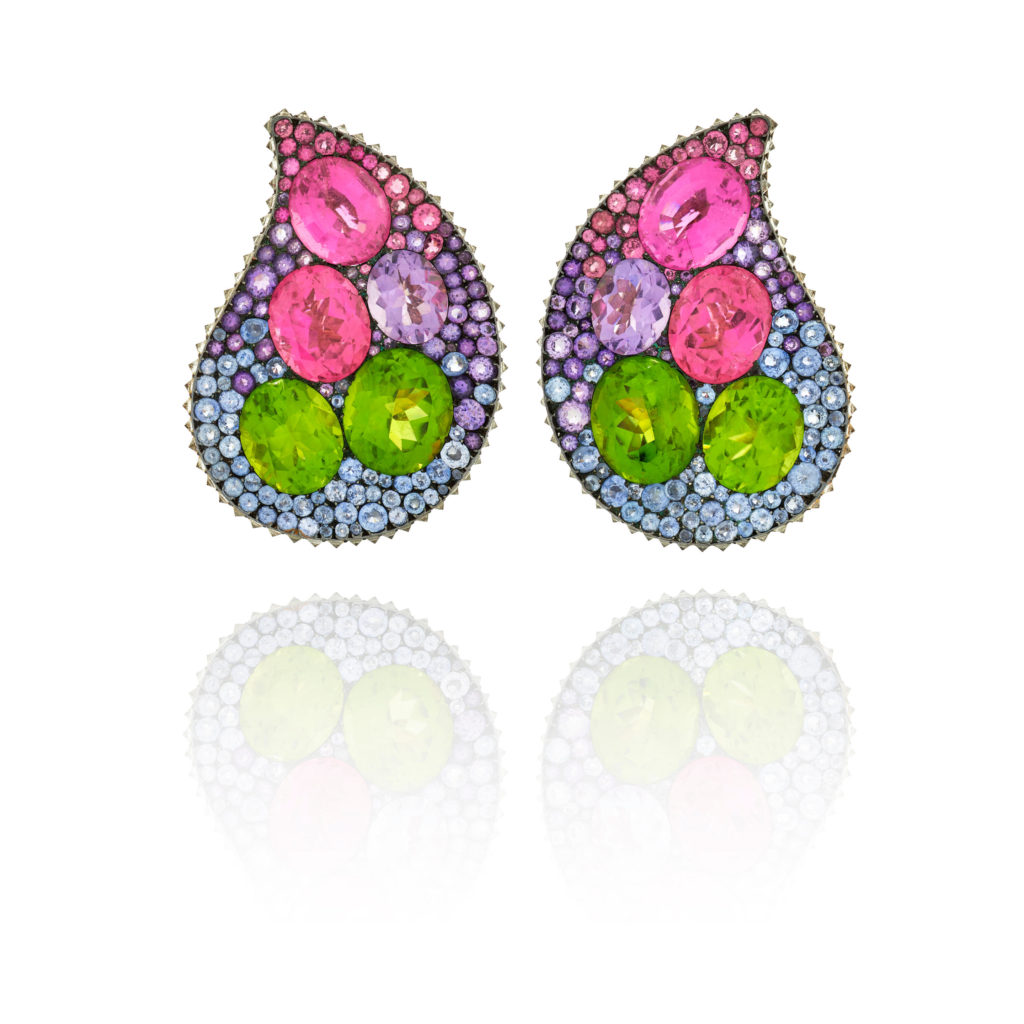 JAR is a big part of Barbara Walters' collection, and no wonder. No fewer than three lots signed by the designer featured in this sale. I particularly like lot 86, with its shape (the boteh motif is a traditional Persian design) and colours. Set with tourmalines, sapphires, diamonds and peridots, I find the colours of these earrings fascinating. Estimated at between $180,000 and $250,000.
6- "B" for Barbara
To round off this small selection, it's impossible not to mention this 'B' brooch in gold and diamonds. "B' for Barbara, of course, but the next owner can adapt it to his or her first or last name, provided they begin with the same letter. The diamond-set initial is a jewellery classic. So it's no surprise to find an example in this collection. Estimated at between $1,000 and $1,500.
See you soon!